When it comes to traveling, "I can't afford it" is probably the most common excuse people seem to make. So today I am sharing with you ways that I get good travel deals and make the most of my travel budget in terms of airfare. Basically, you do not have to break the bank or go broke in order to travel. Here are some simple yet effective ways to get good deals on airfare. (Updated October 28th, 2016)
Using Google Flights
The trick to getting the best deals on airfare is flexibility. Flexibility of location and dates is very important if you want to get very good deals.
I particularly like Google flights. This is my holy grail when it comes to finding flights compatible with my time and budget. It shows you different options and also adds a brief description of the prospective city. It is especially helpful when you do not have a particular location in mind and looking for destination ideas. It is equally useful when you do know where you want to go but not sure when, either way, there are several options.
Say it's your birthday in August and you want to go on a trip with your friends, you can select 'August' and 'Everywhere' and 'Any destination' and it will put together some of the places you can visit from your current location. If you are a foodie and in search of a location that offers great food, you can play with the 'Interests' tab. There are so many cool features on this platform and if you haven't already, you should check it out. Google is so much more than just a search engine!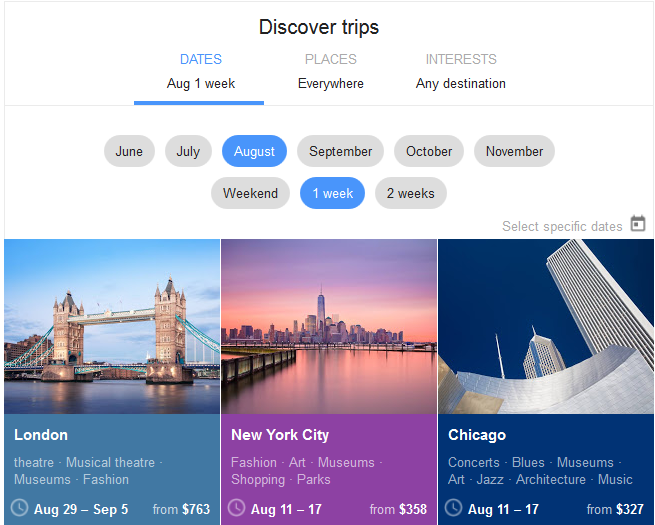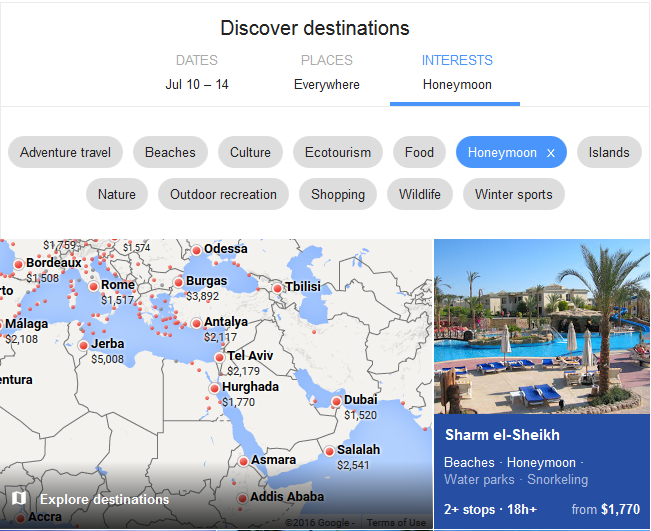 Using ITA Matrix Software
Love how this software sounds like I'm talking quantum physics. Thanks for making a girl feel "techy"! Haha. Really though, this software, ITA Matrix is great. It scans ALL the ticket prices and shows you the best/cheapest ones at a glance. I will recommend using this before buying any ticket as it just might show a cheaper option. Actually, it will. This is usually my last step so say I find a good flight on Google Flights, or wherever else, I run it through ITA Matrix to be sure I am getting the best deal.
As you can see below, the cheapest flights are highlighted in red. Also, can you see how traveling on the 30th ($331) as opposed to on the 25th ($713) can make a huge difference? Flexibility guys, flexibility!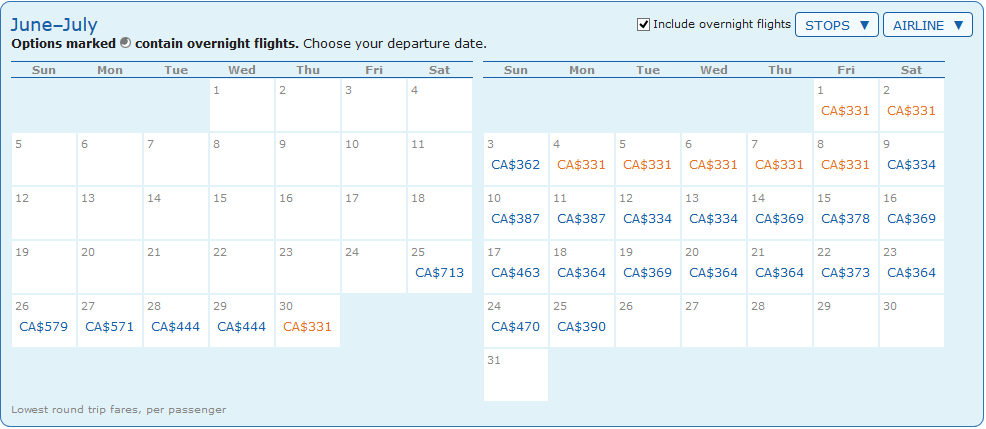 Using Online Travel Sites
I usually use Kayak, Skyscanner, FlightHub, Travelocity, Hopper Flights and Expedia when in search for tickets. I, however, find FlightHub to so far be the cheapest. It's crazy how the same flight at the exact same time for the same class can be a totally different price so it is left to you to do some research.
Signing Up for Price Alerts
Say you have a country, city and date in mind, you can start monitoring ticket prices before you eventually buy. This can be risky because it can sometimes work against you i.e a price hike. But positive vibes only, ticket prices might drop so sign up for alerts with Skyscanner. When there is a change in your price, it will alert you via email and you can then proceed to buy it if it is in your favor.
This is a typical real life example of when alerts can work in your favor so hop on it.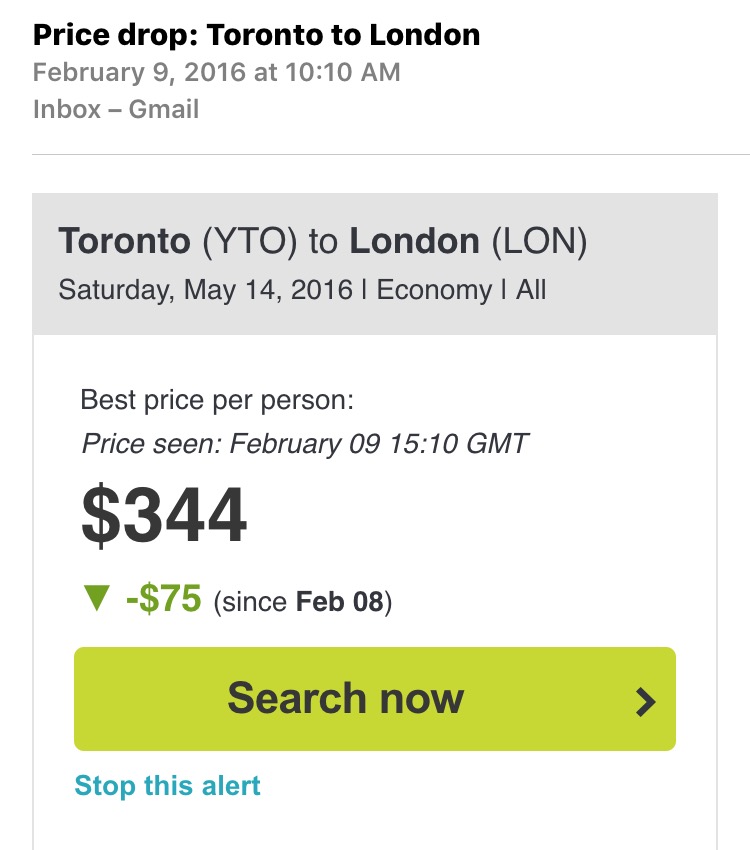 Sign Up for Travel Deals
Signing up for travel deals with airlines is also a good idea and if you are as concerned as I am about email spamming, then you can create a separate email account for things like this. (Subscriptions, newsletters, travel deals, etc). I find that KLM and WestJet always have good deals that can be taken advantage of, so don't overlook these things- you might be lucky.
This is a good example. Geneva usually goes for $1100 round trip and they had it on sale for $799 that's $300 worth of savings that you can put towards things like your accommodation and/or food.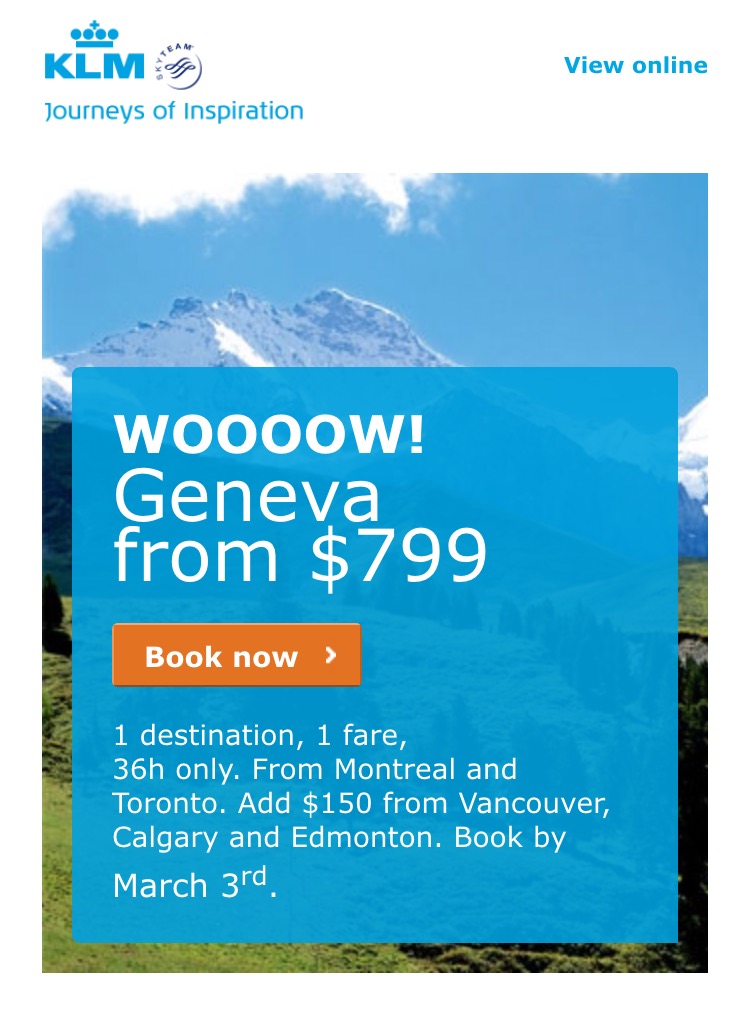 A Change of Airport
Sometimes the difference maker can be the airport you are flying to especially when going to big cities like New York or London. Flying into JFK Airport is typically more expensive than La Guardia. Both in New York but one more expensive than the other. Be careful though, if the amount you will be spending on transportation from the alternative airport is more than the price difference, then it is not worth it.
Credit Card, Mileage Points, Travel Clubs
Another way to get travel deals is through the above. If you are in a country that provides credit card, get the one that lets you gather points on airfare. The WestJet rewards credit card is a good one. You should also sign to get a frequent flyer card from your favorite airline where you can accumulate mileage points to travel for free or get a discount off your airfare. A lot of people do not do this because they think they wouldn't be flying too often so there is no point (pun not intended 🙂 ) but I highly recommend it because the cards are usually free and you never know, these things add up. What's there to lose?
Secret Flying
Secretflying.com is heaven when it comes to travel deals and as they say, those are the deals nobody else knows about. Need I say more? Check them out.
One-Way Ticket vs Round Trip Ticket
Sometimes buying two one-way tickets can be  cheaper than buying one round trip ticket so keep that in mind too.
Extra Tips and Unconfirmed Generalizations
Flying on the weekend is generally more expensive than flying on a weekday.
Clear your cache after doing travel searches, I hear appearing "desperate" by searching for a particular ticket can cause the price to rise from your end- not personally confirmed but worth keeping in mind.
Red eye flights (overnight flights) are typically cheaper than traveling in the day.
Sales on tickets usually occur Tuesdays and Wednesdays.
Buy your tickets 60 days ahead of time.
So, did I miss anything? I hope I have been a little bit helpful- at the very least. Remember, you do not have to be rich to travel, you just have to place value and importance on it, just like you do other things.
If you have found these tips helpful or learned a thing or two, share with your friends and if you want more tips on accommodation, location ideas or whatever else, let me know and I'll do my best to help.
Talk later,

Join my awesome subcribers who get weekly updates on new blog posts, travel deals, tips and more! Let's get you closer to your starting (or continuing) your travel journey.
Save
Save
Save
Save
Save
Save
Save
Save
Save
Save
Save
Save
Save
Save
Save
Save
Save
Save
Save
Save
Save