A Travel Guide to Japan: Kyoto and Tokyo in One Week
I just returned from the most incredible 7-day trip to Japan where I traveled through Kyoto and Tokyo and it was one for the books. Japan is a country that never fails to enchant its visitors, offering a unique blend of ancient traditions and modern innovations. From the food, to the people, to the history, this country has it all. If you're planning your first trip to Japan, here is a detailed travel guide. I hope this guide will be a helpful resource for planning your own adventure in this incredible country. Let's dive in.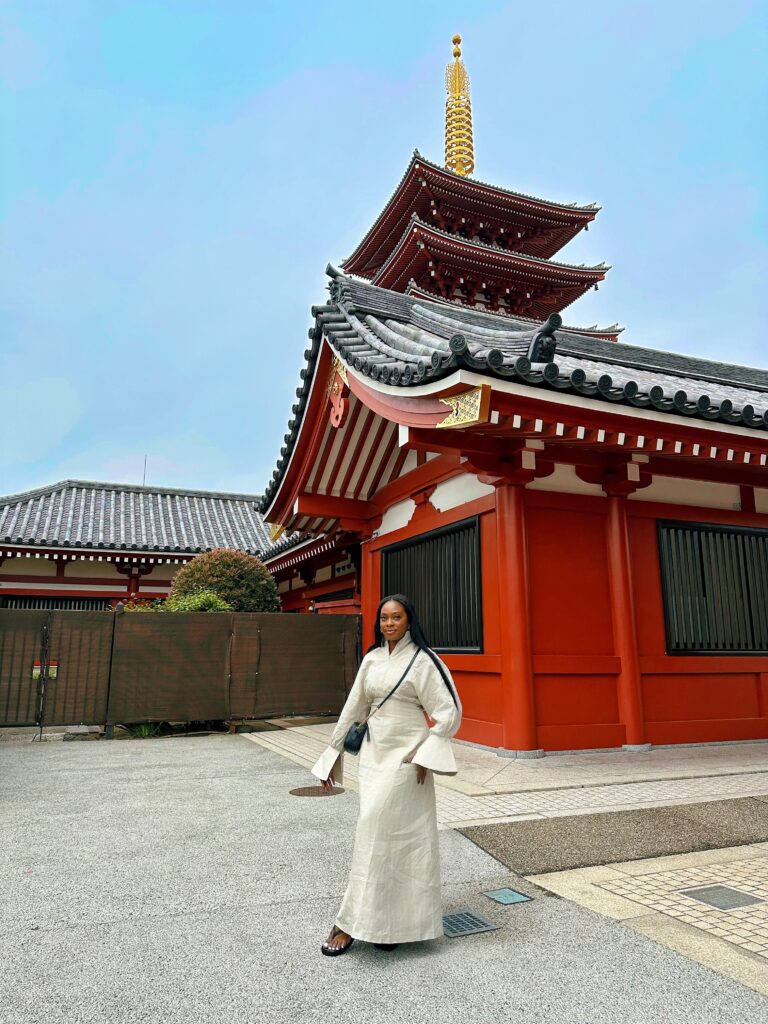 Content of this Article
hide
A Travel Guide to Japan: Kyoto and Tokyo in One Week
Japan is a very diverse country with varying landscapes all around. You can spend months exploring the country and still not tick everything off. However, if you only have one week in Japan, fear not. You can still immerse yourself in the culture and experience the best of the country – with strategic and careful planning, of course. I spent 7 days and had the best time. Please check out my itinerary below to see how I spent my days. But first, let's talk about Japan.
A little about Japan – the land of the rising sun
Japan is a fascinating country located in East Asia, consisting of four main islands and numerous smaller islands. With a population of over 126 million people, Japan is renowned for its rich history, culture, and traditions, as well as its cutting-edge technology, innovative cuisine, and breathtaking natural scenery. From the bustling cities of Tokyo, Osaka, and Kyoto to the serene countryside, Japan offers a diverse range of experiences for visitors.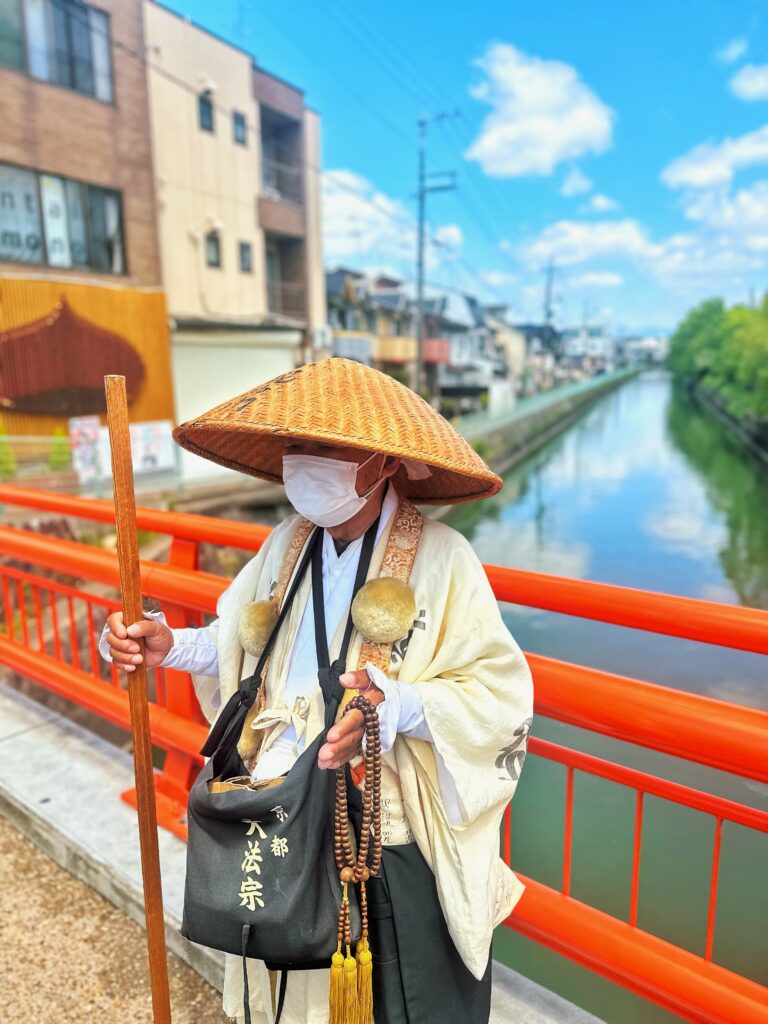 Preparing for your trip to Japan
Before you travel to Japan, you need to prepare for your trip. Here are some ways to prepare for it.
Get a Japan Rail Pass in advance, if you plan on traveling to multiple cities in Japan, or at least Tokyo to Kyoto.
Get your travel documents in order: Make sure you have a valid passport for at least six months and any necessary visas or travel permits. Research entry requirements for your nationality and apply for visas well in advance. More details below.
Book your accommodations: Book your accommodations early, especially during peak travel seasons. See my recommendation below on where I stayed.
Learn basic Japanese phrases: While many Japanese people speak English, it's helpful to know some basic phrases like "hello," "thank you," and "excuse me." Download language learning apps like Duolingo or download the offline Google translate app.
Visa Requirements to Japan
Check if you need a visa to Japan. Citizens of many countries, including the US, Canada, UK, Australia, and many European countries, do not need a visa to enter Japan for tourism or short-term business trips of up to 90 days. See if you need a visa here.
Getting to Japan
Most people fly into Tokyo, Japan's capital city. This is often a great place to start. I flew American Airlines from Toronto, Canada to Tokyo, Japan. There was a short layover in Dallas, Texas. Note that there are two main airports in Japan –
Narita International Airport and Haneda Airport. Narita International Airport (NRT) is the larger of the two airports and primarily handles international and domestic flights. Narita is farther away, about 60 kilometers (37 miles) from central Tokyo. Narita Airport is known for its modern facilities, including numerous restaurants, shops, and lounges, as well as efficient transportation connections to Tokyo and other parts of Japan.
Haneda Airport (HND), on the other hand, is located closer to central Tokyo, only about 20 kilometers (12 miles) south of the city center. It is primarily a domestic airport, but it also handles international flights to and from Asia, Europe, and North America.
TIP: If possible, fly into Haneda Airport because it is closer to Tokyo and getting from the airport to your hotel will be less stressful.
How to get to your hotel from the airport
There are several ways to get to your hotel from the airport and this also depends on your budget and the airport you land in. Personally, I used a private taxi as that was the most convenient, but the most expensive option. Here are some options available based on the airport you arrive in.
From Narita International Airport:
Narita Express (N'EX) Train: This is a fast and comfortable train that runs from Narita Airport to major stations in Tokyo, including Tokyo Station, Shinjuku Station, and Shibuya Station. The journey takes about 1-1.5 hours and costs around 3,000-4,000 yen.
Limousine Bus: This is a convenient option if you have a lot of luggage or if your hotel is not close to a train station. Limousine buses operate between Narita Airport and major hotels and destinations in Tokyo. The journey takes about 1.5-2.5 hours and costs around 3,000-4,000 yen.
Taxi: Taxis are available at Narita Airport, but they can be expensive. The journey to central Tokyo can take 1.5-2 hours and cost around 20,000-30,000 yen.
From Haneda Airport:
Tokyo Monorail: This is a fast and convenient train that connects Haneda Airport to Hamamatsucho Station in central Tokyo. From Hamamatsucho Station, you can transfer to other train lines to reach your hotel. The journey takes about 20-30 minutes and costs around 500-700 yen.
Keikyu Line Train: This train connects Haneda Airport to Shinagawa Station and other major stations in Tokyo. The journey takes about 20-30 minutes and costs around 400-600 yen.
Limousine Bus: Like at Narita Airport, limousine buses operate between Haneda Airport and major hotels and destinations in Tokyo. The journey takes about 30-60 minutes and costs around 1,000-2,000 yen.
Taxi: Taxis are also available at Haneda Airport, and the journey to central Tokyo can take 20-60 minutes and cost around 5,000-10,000 yen.
Whichever transportation option you choose, make sure to check the schedules and fares in advance to avoid any confusion or unexpected costs. Note: prices may vary.
Traveling to Japan in 2023: Entry requirements
I visited Japan in April 2023 and it was required to have three vaccine shots (two shots and a booster) OR present a negative COVID test taken within 72 hours of departure. However, as of April 29, this is no longer required. Please check out this page to stay up to date with the latest requirements.
Things to know before visiting Japan
Before you pack your bags to Japan, these are the things you need to know.
Transportation: Japan has an extensive and efficient public transportation system, including trains, subways, buses, and taxis. Consider purchasing a Japan Rail Pass if you plan to travel between cities by train. Also, note that rush hour can be very crowded, especially in major cities like Tokyo.
Make sure to have travel insurance before you go. In general, don't travel anywhere without travel insurance, including on your trip to Japan. Here's the travel insurance I use.
Cash is king: While credit cards are accepted in some places, Japan is still largely a cash-based society. Make sure to have enough yen on hand for things like transportation, food, and shopping. Also, don't forget to bring a coin bag.
Language: While many Japanese people speak some English, don't rely on it as your sole means of communication. Consider learning some basic Japanese phrases before your trip, or use a translation app or phrasebook.
Food: Japan is known for its delicious cuisine, but it can differ from what you're used to. Be open to trying new things, and be aware of any food allergies or dietary restrictions.
Etiquette: Japan has a unique culture and customs, and it's essential to be aware of them before your trip. For example, removing your shoes when entering someone's home or certain places like traditional Japanese inns (ryokans) is customary. Also, it's considered impolite to talk loudly on public transportation or eat while walking.
Convenience stores: Japan has a widespread network of convenience stores (konbini) that are open 24/7 and offer a variety of goods, including food, drinks, toiletries, and even concert tickets.
Respectful behavior: In Japan, respect for others is highly valued. Ensure to respect local customs and traditions, and avoid behaviors that may be considered rude or disrespectful.
The best time to visit Japan
The best time to visit Japan is generally in the spring (March – May) or fall (September – November) when the weather is mild and pleasant. These seasons also offer beautiful scenery, with cherry blossoms in the spring and autumn foliage in the fall. However, keep in mind that these seasons are popular with tourists, so expect higher prices and bigger crowds.
The things you need when traveling to Japan
When packing for your trip to Japan, here are some essential items you may want to consider:
Cash: Japan is still a cash society, so it's important to have yen on hand for purchases.
Airalo SIM: An eSIM card for your phone can provide data and calling while in Japan. Use this link to get started.
Google Translate: A useful tool for communicating with locals and reading signs in Japanese.
Coin bag: Japan has lots of coins, so it's helpful to have a small bag or pouch to store them.
Comfortable shoes: You'll likely be doing a lot of walking, so make sure to bring comfortable shoes.
Electrical chargers: Japan uses a unique electrical outlet, so make sure to bring a converter or adapter.
Pocket Wi-Fi: Portable Wi-Fi devices can provide internet access while on the go, and are available for rental at many airports and tourist locations.
Two cities in one week. Tokyo and Kyoto
Spending one week split between Tokyo and Kyoto is a great way to experience the diversity of Japan. Tokyo is a bustling metropolis with modern architecture, world-class shopping and dining, and a vibrant nightlife. Meanwhile, Kyoto is known for its rich history, traditional architecture, and serene atmosphere.
How to get from Tokyo to Kyoto using the JR Pass
The easiest and fastest way to get from Tokyo to Kyoto is by taking the shinkansen, also known as the bullet train. The shinkansen is operated by Japan Railways (JR), and you can use the JR Pass to ride it. You can only purchase a JR Pass outside of Japan.
Here are the steps to take the bullet train from Tokyo to Kyoto using the JR Pass:
Purchase a JR Pass before arriving in Japan. The pass can only be bought outside Japan.
Make a seat reservation at a JR ticket office or through a travel agent. Seat reservations are free with the JR Pass.
Take the JR Tokaido Shinkansen from Tokyo Station to Kyoto Station. The journey takes approximately 2 hours and 15 minutes.
When you arrive at Kyoto Station, you can use your JR Pass to take the local trains and buses around Kyoto.
It's important to note that the JR Pass is only available to foreign tourists, and you need to exchange your voucher for the actual pass once you arrive in Japan. Also, the JR Pass is not valid for all shinkansen trains, so be sure to check which trains you can ride with the pass.
You'll want to spend three days in Tokyo and four days in Kyoto. Here's an itinerary for each city.
Itinerary for Tokyo
Day 1:
Senso-ji Temple: Visit Tokyo's oldest and most famous Buddhist temple in Asakusa.
Tsukiji Market: Explore the world's largest seafood market and sample fresh sushi.
teamLab Borderless: Experience a digital art museum featuring interactive exhibits and immersive installations. Book tickets here.
It is a good idea to book a personalized Tokyo tour on your first day, so you have guidance moving around. You can book one here.
Day 2:
Shibuya Crossing: Observe the world's busiest pedestrian crossing in the heart of Shibuya.
Shibuya Sky: Enjoy panoramic views of Tokyo from an observation deck.
Tokyo Tower: Visit a famous landmark and observation deck with stunning city views.
Meiji Jingu Shrine: Wander through a serene and beautiful Shinto shrine located in a forested park.
Day 3:
Akihabara: Shop for anime, manga, and electronics in Tokyo's electronics district.
Shinjuku Gyoen National Garden: Stroll through a peaceful oasis with beautiful gardens and landscapes.
Tokyo National Museum (or Sumida River walk): Discover a collection of Japanese art and artifacts or take a relaxing stroll along the Sumida River.
Itinerary for Kyoto
Day 1:
Kinkaku-ji Temple: Visit the famous "Golden Pavilion" and its beautiful surrounding gardens.
Arashiyama: Explore a scenic district on the outskirts of Kyoto, famous for its bamboo groves, temples, and shrines.
Nishiki Market: Stroll through a traditional food market and sample local delicacies.
Day 2:
Do some cultural immersion by:
Renting a kimono from a kimono rental shop and respectfully participate in the culture. There are lots of kimono rental shops all around in Kyoto. Rented mine in Kiyomizu. This is the link.
Indulge in a Japanese tea ceremony. You can book it here.
Day 3:
Fushimi Inari Shrine: Hike through thousands of vermilion torii gates at this iconic Shinto shrine.
Gion District: Take a walk through the historic geisha district and experience traditional Japanese culture.
Kodai-ji Temple: Visit a beautiful Zen temple with stunning architecture and a serene bamboo garden.
Day 4:
Nijo Castle: Explore a historic castle with beautiful gardens and impressive architecture.
Kiyomizu-dera Temple: Visit a UNESCO World Heritage site and enjoy a panoramic view of Kyoto from the temple's veranda.
Ginkaku-ji Temple: Visit a beautiful Zen temple with a unique sand garden and a stunning view of Kyoto.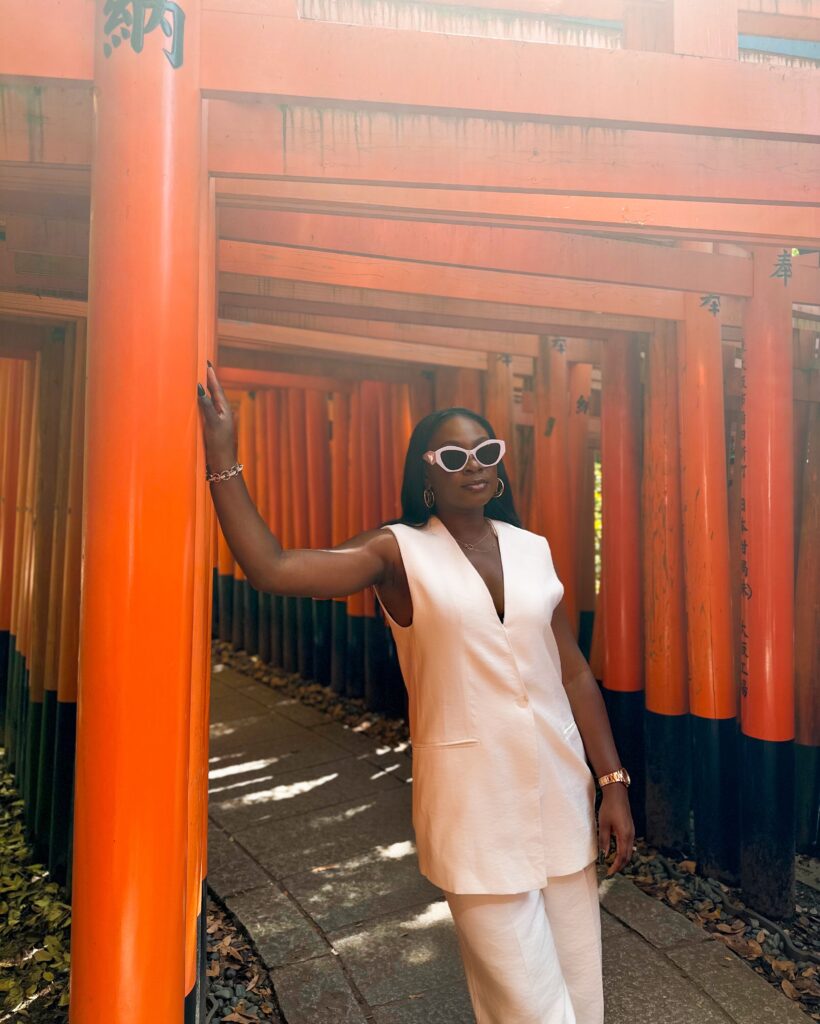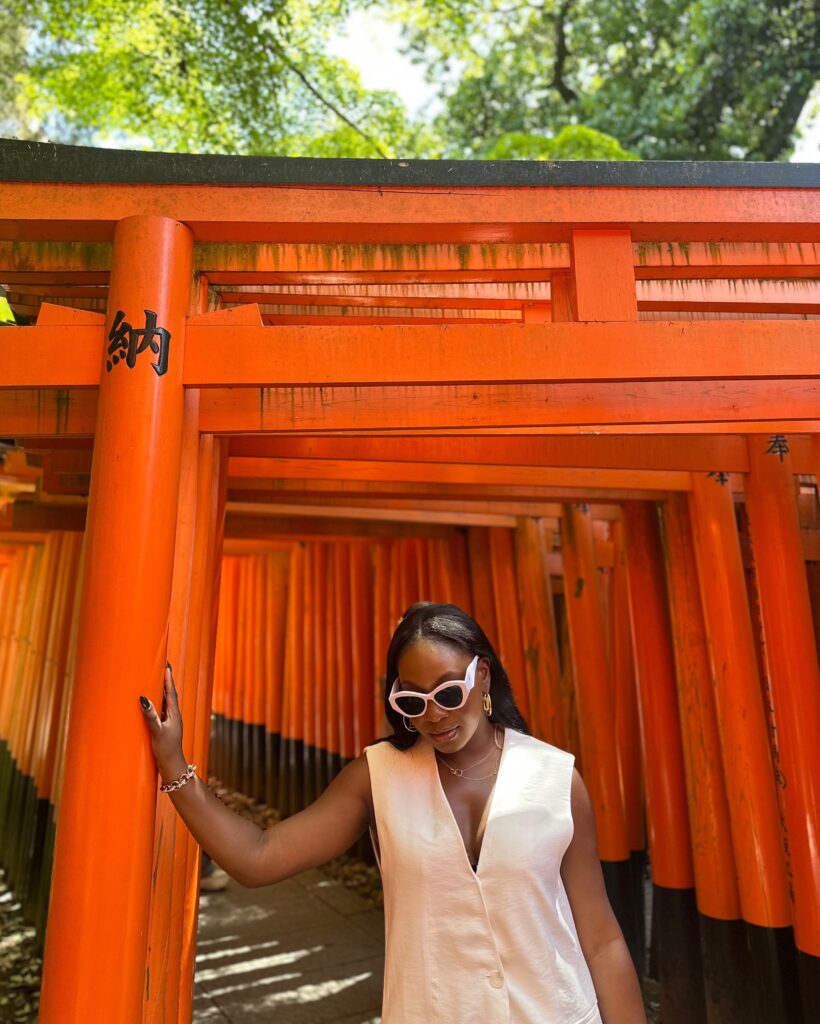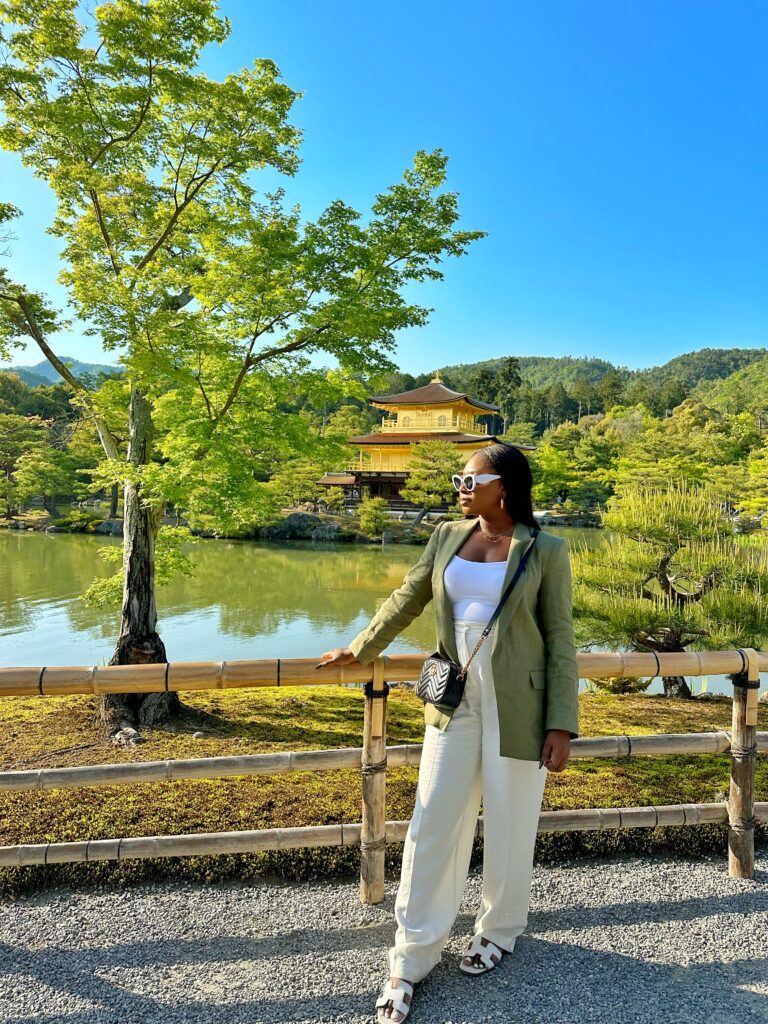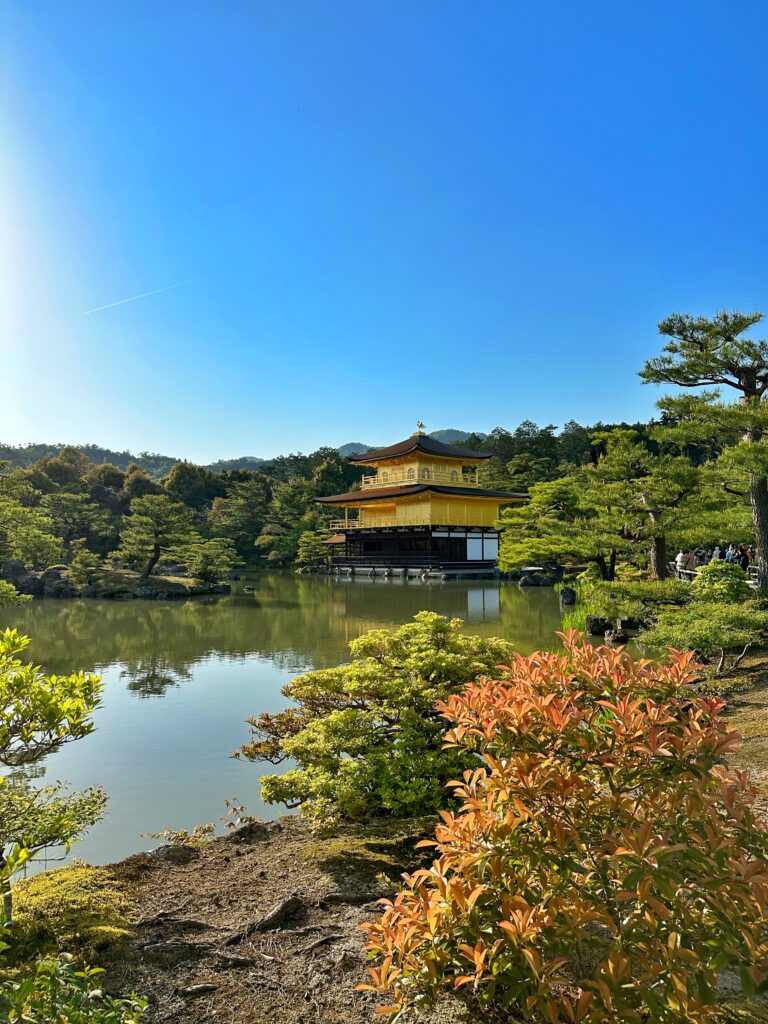 Where to stay in Tokyo
There are so many options to choose from when choosing a hotel in Tokyo. You'll want to choose the right neighborhood to stay in. Here's a breakdown of some of the popular neighborhoods.
Shinjuku: A lively district with many options for entertainment and transportation.
Shibuya: A popular district for young people and fashion lovers with trendy shops and nightlife.
Asakusa: A charming neighborhood with traditional Japanese culture and architecture, including the famous Senso-ji Temple.
Ginza: A high-end shopping and dining district with luxury stores and upscale restaurants.
I stayed at The Gate Hotel Tokyo by Hulic. The Gate Hotel Tokyo by Hulic is a great choice for travelers looking for a modern and stylish accommodation option in Tokyo. Located in the popular Ginza district, it's in a prime location for shopping and dining experiences.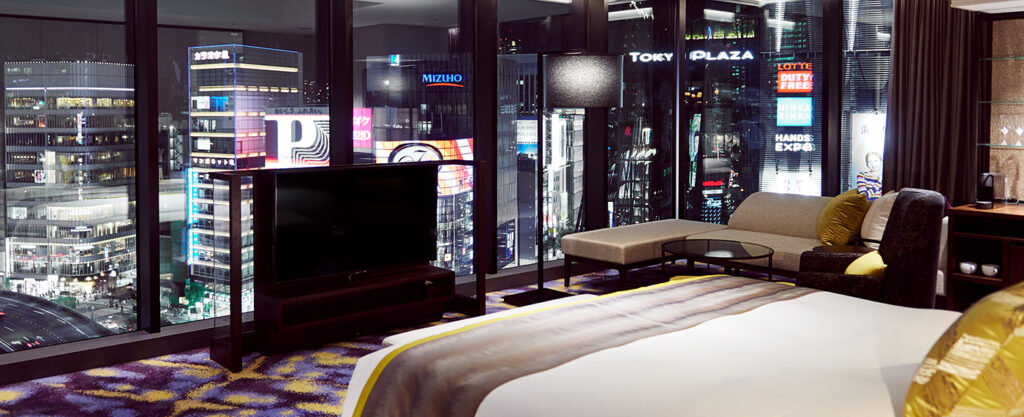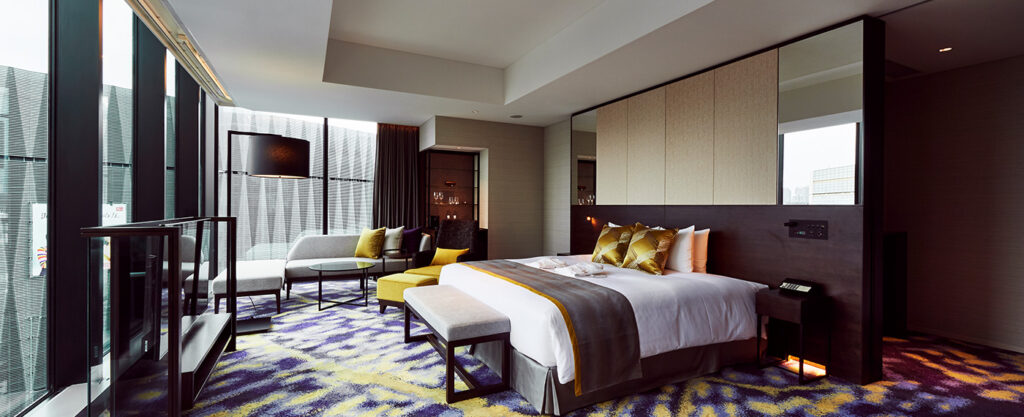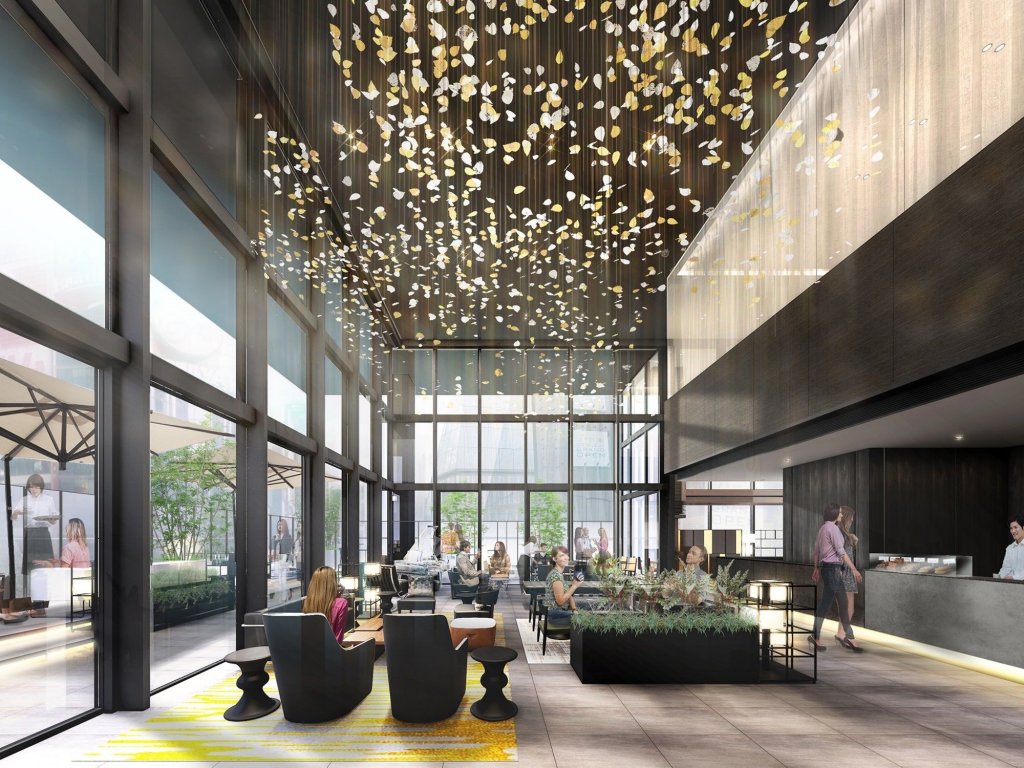 Where to stay in Kyoto
I stayed at the beautiful Good Nature Kyoto Hotel and it was the best choice ever. The Good Nature Hotel Kyoto is a great choice for travelers looking for a comfortable and convenient accommodation option in Kyoto. Located in the bustling central district of Kyoto, it's in a prime location for easy access to public transportation and popular attractions, such as Nijo Castle and the Imperial Palace.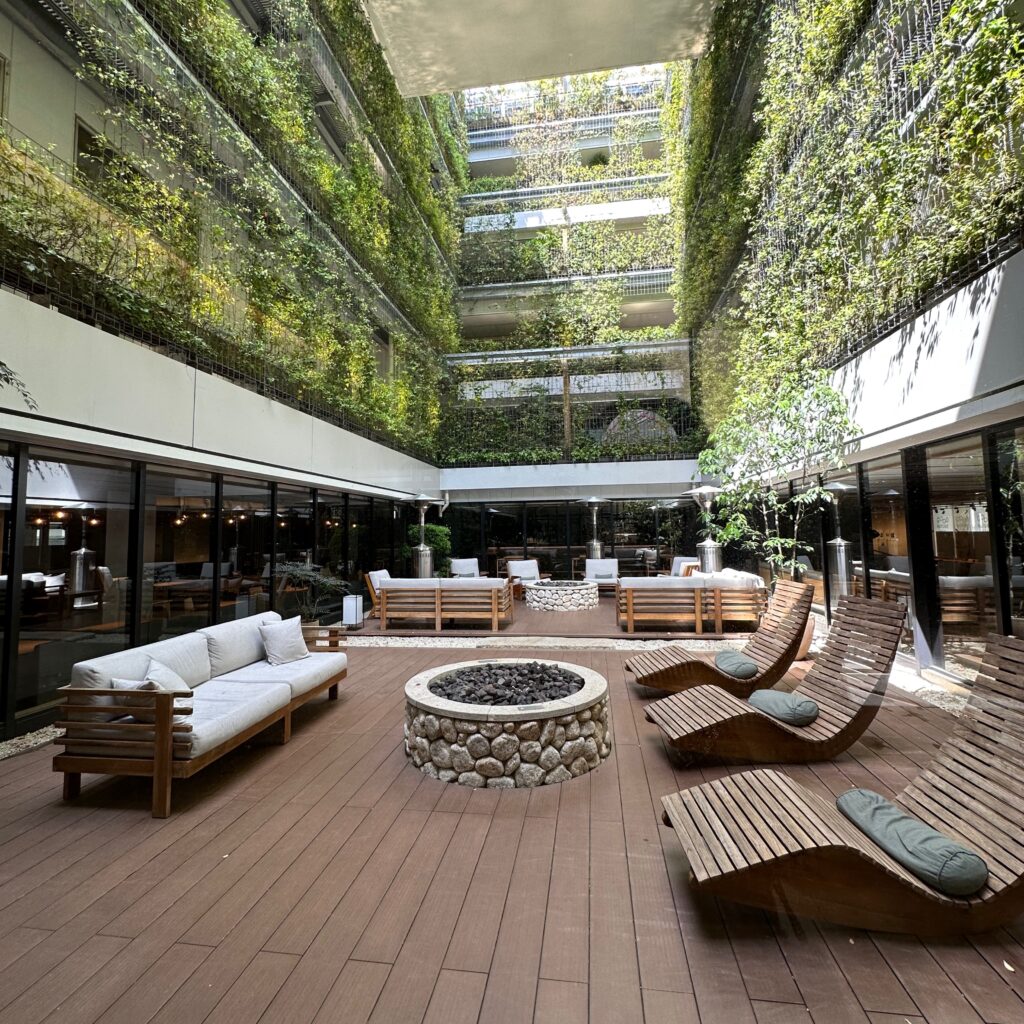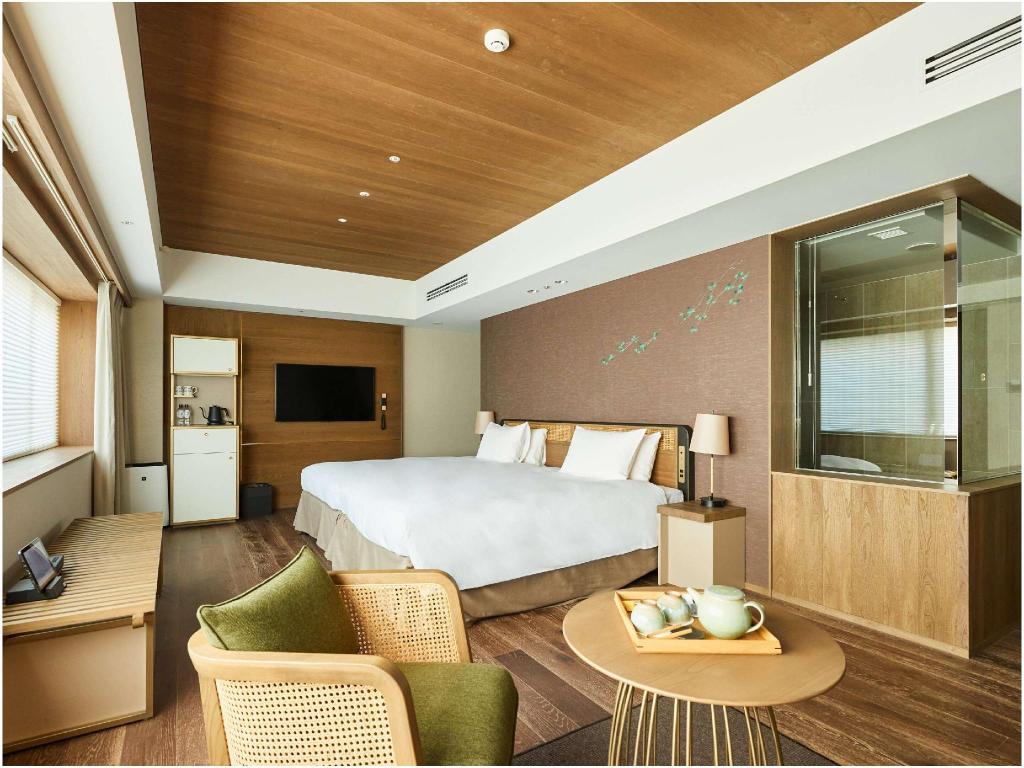 Food in Japan – where and what to eat
Japan offers a diverse and unique cuisine, with plenty of delicious dishes to try during your visit. During my visit, these are the dishes I tried. You can use this list as inspiration for your own trip.
Sushi
Ramen
Yakiniku, also called Japanese barbecue
Rice burgers
Yakitori
Mochi, also called Rice cakes
Takoyaki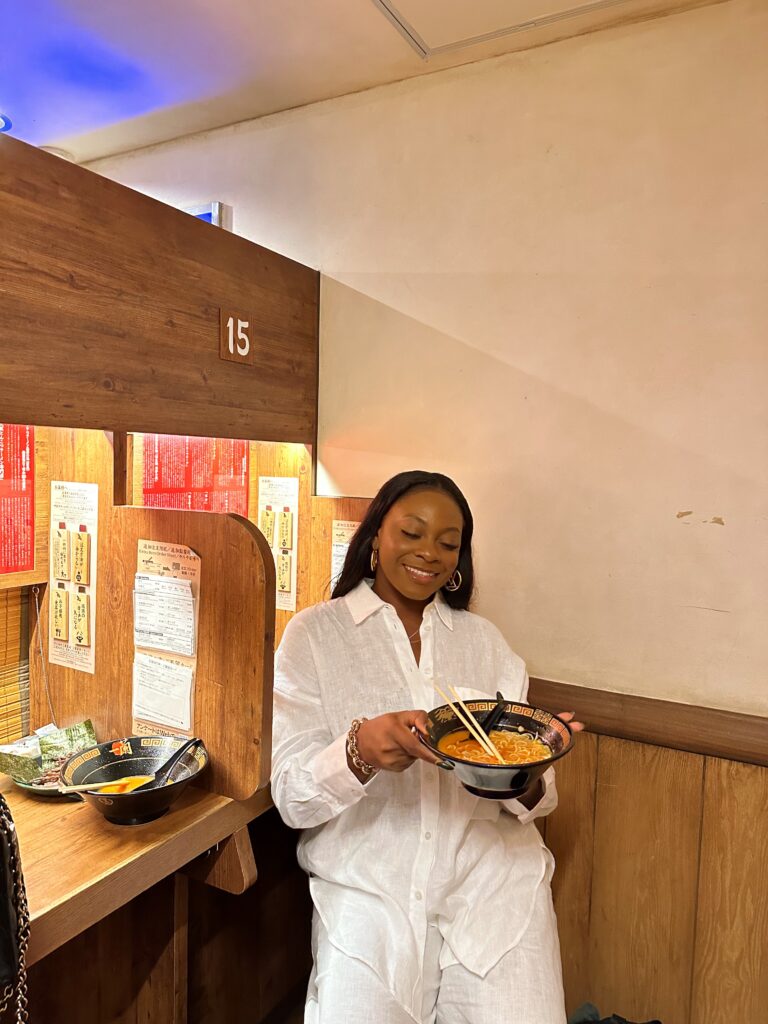 Where to eat in Tokyo (Restaurant recommendations)
There are so many good restaurants to eat at in Tokyo.
Toromasa
Necchuya
Rakuzo Stage
SUSHI KO at Tsukiji Fish Market
Abagura
Where to eat in Kyoto
Ueno
Futago Pontocho
Yakiniku Taisho
Ichiran Ramen (Highly recommend this ramen spot).
Conclusion
Japan, in my opinion, is a country that everyone should experience at least once in their lifetime. The people, the culture, the history and traditions will bring a unique and memorable trip you won't forget in a while. I hope this guide helps you plan a wonderful trip to Japan. Got questions? Comment below and I'll be sure to get back to you.
Wishing you safe travels.