23 Must-Have Travel Essentials for your 2023 Trips
Over my years of traveling, I've mastered the art of doing something well – packing only the things I need. This can be tough in a capitalist world where you feel like you need everything. I've put together a round-up of 23 items that will help enhance your travels this year, because they help me on my trips too.
This list is divided into five categories. Find what you need below.
Travel bags – carry-on, luggage sets, duffel bags, etc.
Beauty, hair and skincare
Camera gear
Everyday essentials
Electronics
Travel bags
I used to be the one who thought it didn't make sense to spend hundreds of dollars on a travel bag, after all there were some that costs $70 in Walmart. I shortly realized I was playing myself. Investing in quality luggage makes financial sense in the long run, and you'll never have to worry about the embarrassing feeling of your bag ripping apart at the airport. Also, in an age where most quality luggage brands offer a lifetime warranty, investing makes total sense.
Carry-on bags
I love these three carry-on bags for my trips. Monos, July and Roam Luggage.
Monos is a classic – it has a sleek design, and it is very functional. The only downside, if at all, is that the brand has grown so popular that you can expect to see someone with the same bag as you at the airport, and maybe a little challenging at the bag carousel.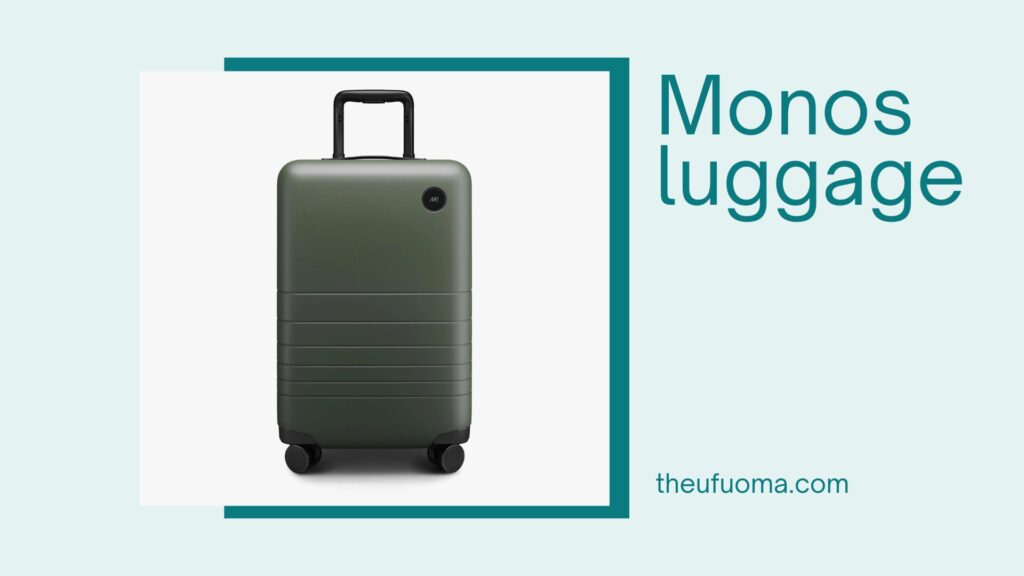 Roam Luggage takes care of that hassle, as you can customize your bag to your liking. I was able to create a luggage with my own unique colors and it is now one of my favorite carry on bags. Nothing beats having unique luggage with your personal style in mind. If you pick up a Roam Luggage, I have a code for $50 off. Use "THEUFUOMA" at checkout.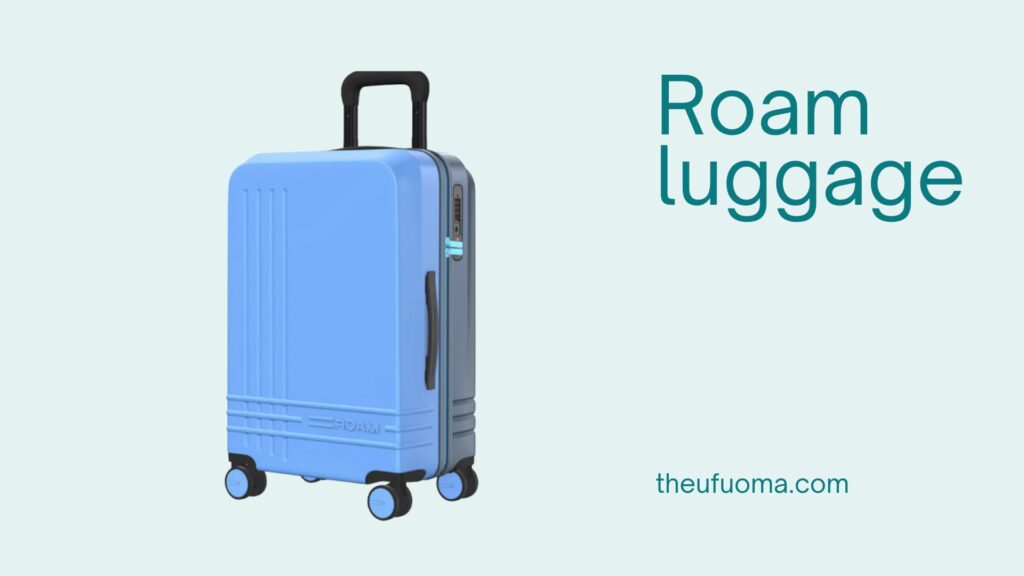 July luggage is a recent addition to my carry-on luggage collection and the quality is just beyond. I think this is the most quality of the three and the price point definitely shows for it.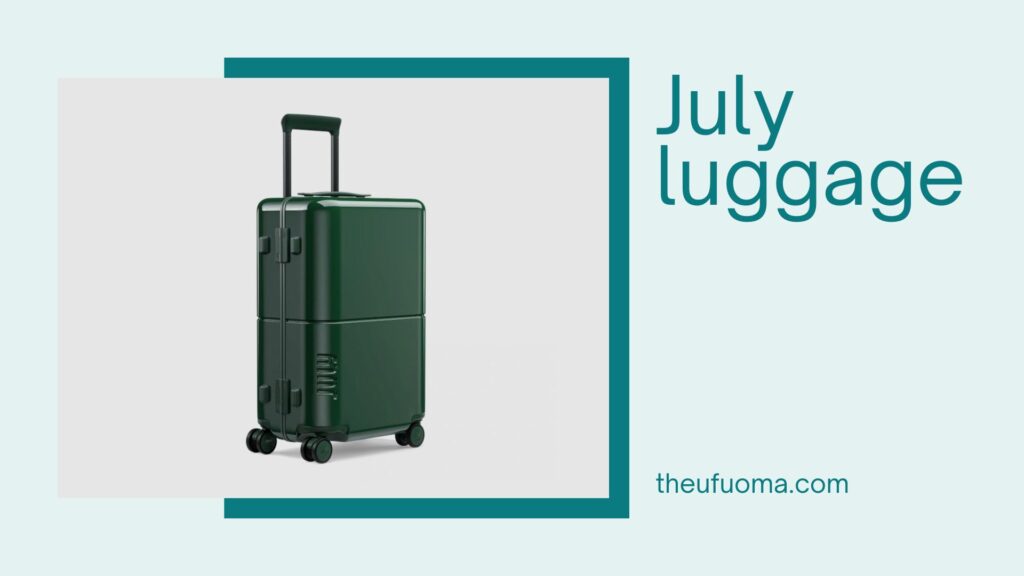 Luggage sets
I have used a number of luggage sets in the past. If I am carrying more than a carry on, I love all my luggage to match – there's something about it that makes me feel well put together. Here are the two luggage sets I really like. One is from Amazon and I used it for about two to three years before upgrading to my now Monos luggage set. The one from Amazon is still in good shape and compared to how much I paid for my Monos set, is a steal.
Monos Set – It's hard to beat how incredible the Monos set is. I absolutely love traveling with the set. I have my set in the color Olive Green and it just looks so sleek and so well put together. Note that you will have to buy all the pieces separately to get the set as they do not appear bundled on the website. You can get the check in large. check in medium and carry on to build a set. Personally, I only have a two-piece set as that's all I really need but if you want a three-piece, you can go for it.
Cost for full set – $1,000 with tax. Monos allows you save some money when you buy a set.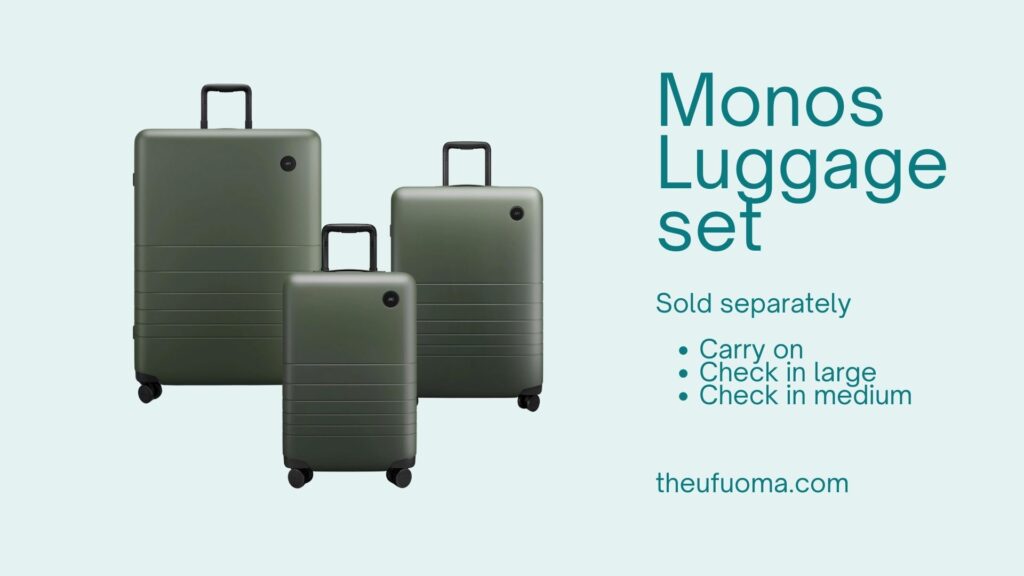 Coolife set from Amazon. Now, not everyone will be able to get the Monos luggage just yet (and if you can, trust me, it is a worthy investment) but everyone still deserves good and sturdy luggage. Before I could justify spending thousands on a luggage, I tried many and the one that worked best on a budget for me was this coolife set from Amazon.
Cost for full set – $189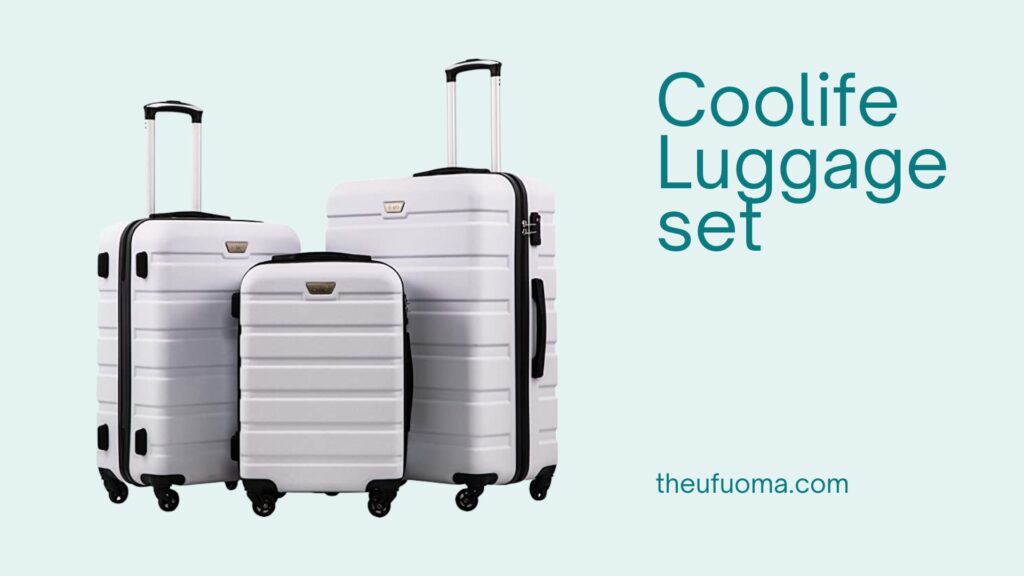 Duffel bags
I love using duffel bags as a personal item bag for my flights. Most airlines allow one personal item bag that can be put underneath the seat in front of you. My three favorite duffel bags at the moment are The Monos Metro Duffel, The Luka Duffel by Calpak and the Roam Tote bag (technically not a duffel but I love it nonetheless.)
The Monos Metro Duffel is one of the best works of bag art I have ever seen. I know I've talked a lot about Monos in this post and none of this is sponsored. They just create really great pieces and I can't hate on them. The Metro Duffel just might be my favorite piece of Monos I own. It is beautiful. I got it in vegan leather in Ivory. I always save my Monos duffel for special trips (can't blame me!)
The Luka Duffel is brilliant too. I think it is near perfect. It can fit in a lot without feeling like you are squeezing in too much. It is also rugged enough that you can carry it without babysitting it but it still looks classy. I especially love the shoe compartment that comes with the bag.
My tote bag by Roam is one I use on shorter trips – like a road trip or a weekend away. It doesn't have a lot of compartments though but I fully customized it and that made it extra special. This was kindly gifted to me by the Roam team. Use my code "THEUFUOMA" to get $50 off your order.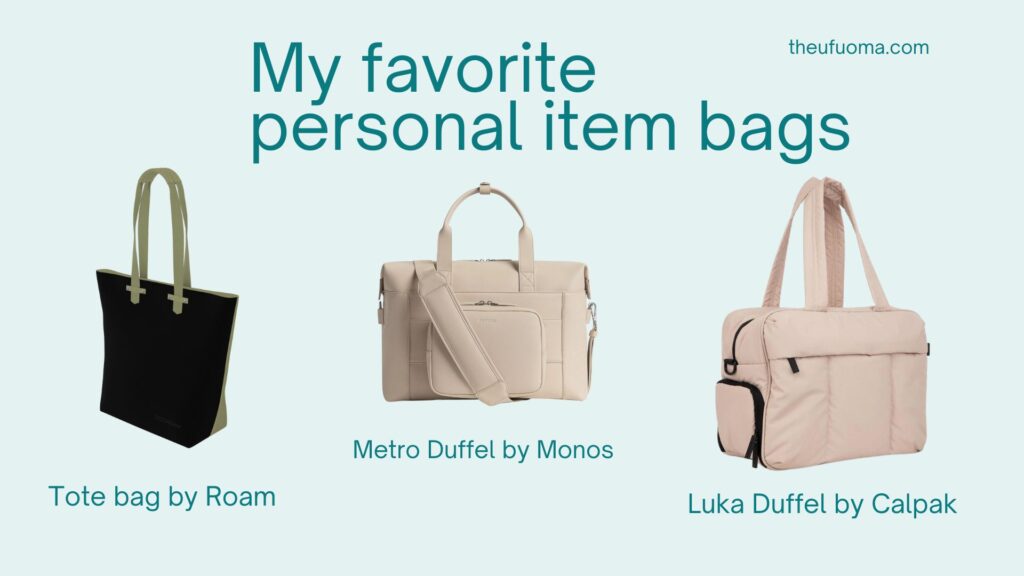 Beauty, hair and skin care
As a woman, traveling does not mean I neglect my beauty and wellness. Self-care will always be important to me – so I always find travel-friendly products to take me with on the go. Here are some of my favorite beauty items that I pack with me on every trip.
These are the hair, makeup, beauty and skincare products I never leave home without.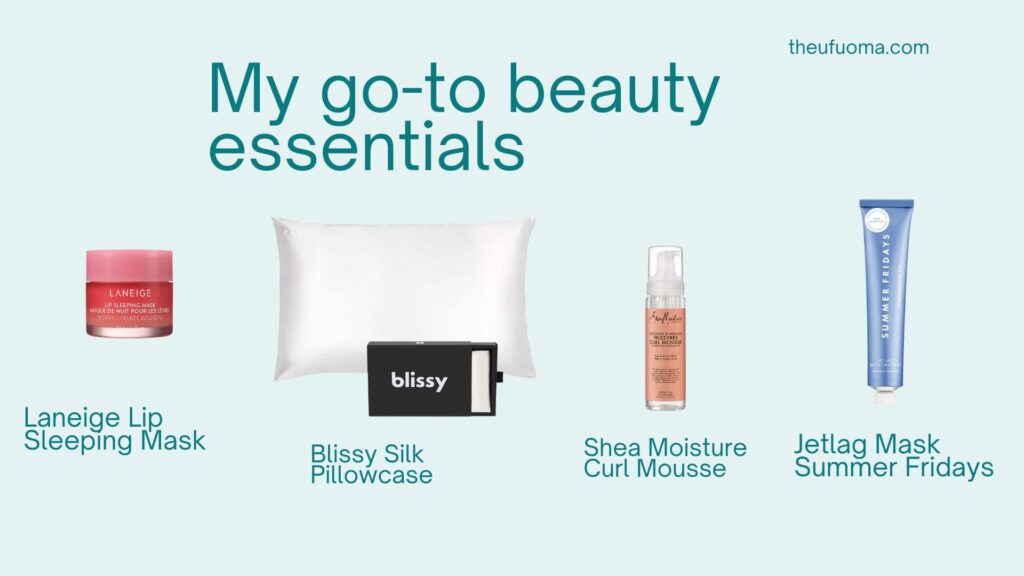 This Blissy silk pillowcase that many people may not consider a beauty item? I love it. I never use the pillow covers at the hotel, no matter how luxurious it is. I always carry my own silk pillow case as it is good for my skin and hair (for those times when my bonnet falls off mid-sleep #blackgirlmagic). The Blissy pillowcase is my favorite. It is 100% pure mulberry silk and helps keep my skin and hair protected especially while traveling.
This Laneige lip sleeping mask brings back the hydration to my otherwise dry lips that can come from a day of traveling. I wake up with supple lips, ready to take on my day's adventures.
The Shea Moisture Mousse is everything my hair needs every time. Whether I'm rocking a fierce weave or I am channelling my inner African goddess with some knotless braids, I can trust this mousse to take care of my hair and bring back the moisture and bounce that would have my confidence on a 100.
The Jetlag mask by Summer Fridays is truly all the rave. The airplane can be very dry with stiff air, leaving your skin feeling dehydrated. I especially love to use this mask on long-haul flights to bring back some hydration to my skin and it works wonders. Keep in mind that while it is called a mask, it can be used as a moisturizer which is what I use it for. Keep it on for 10 minutes, and it turns into a mask.
Camera gear
Capturing the memories of a trip is one of the best ways to make it last even longer. I love to do this and take photos and videos of the places I visit. Reliving them when I get back home keeps me feeling inspired and ready to go on another trip. Here are some of my favorite camera gear to capture the moment.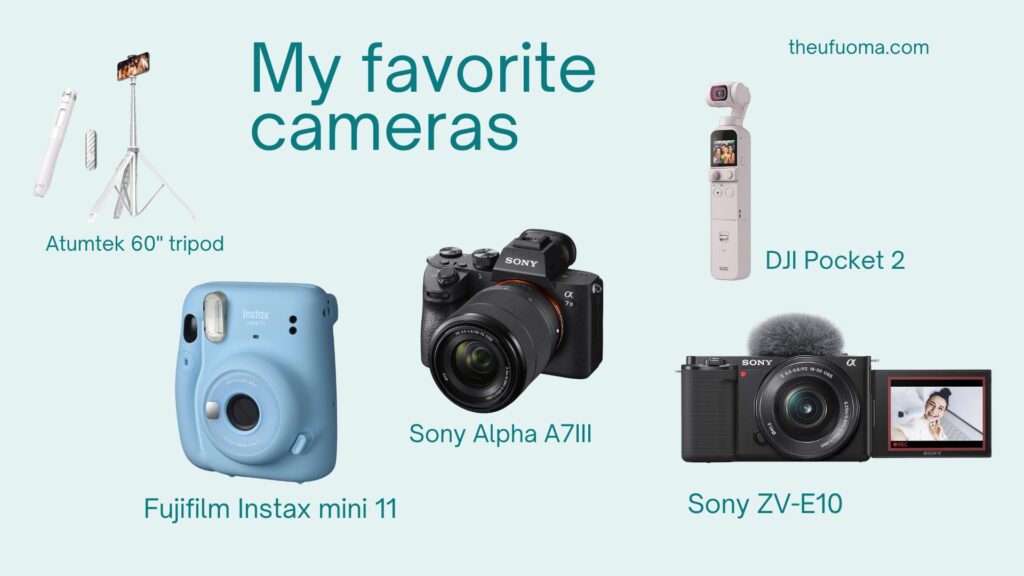 An Instant Camera by Fujifilm Instax – Not only are instant cameras cute, they are also quite functional and force you to really be in the moment. You can capture yourself and your travel buddy, and also print it out immediately. They make for really cool keeps sakes as you travel. Take it up a notch by turning them into decorations for your fridge or bedroom.
A DJI Pocket II camera – I absolutely love my DJI Pocket II camera as it is incredibly lightweight, portable and perfect for traveling. It is one of my favorite portable cameras for videos, especially. I can't recommend it enough. The quality is great – you can shoot in 4K and the gimbal and camera stability is just awesome.
A Sony ZVE-10 camera – This is a very beginner-friendly camera that everyone should have. It captures some of the smoothest footage and is just a joy to have as a photographer.
The Sony A7III is my absolute favorite camera of all time. If you have more room in your budget and just want a camera that would stand the test of time and take some of the best shots, then look no further. This is an investment, but it is well worth it.
The Atumtek tripod is perfect for those who want a portable solution for their phones. I love taking this tripod with me on every trip. It even fits in my duffel bag.
Everyday essentials
These are the everyday travel essentials you'll need to have stashed somewhere in your suitcase.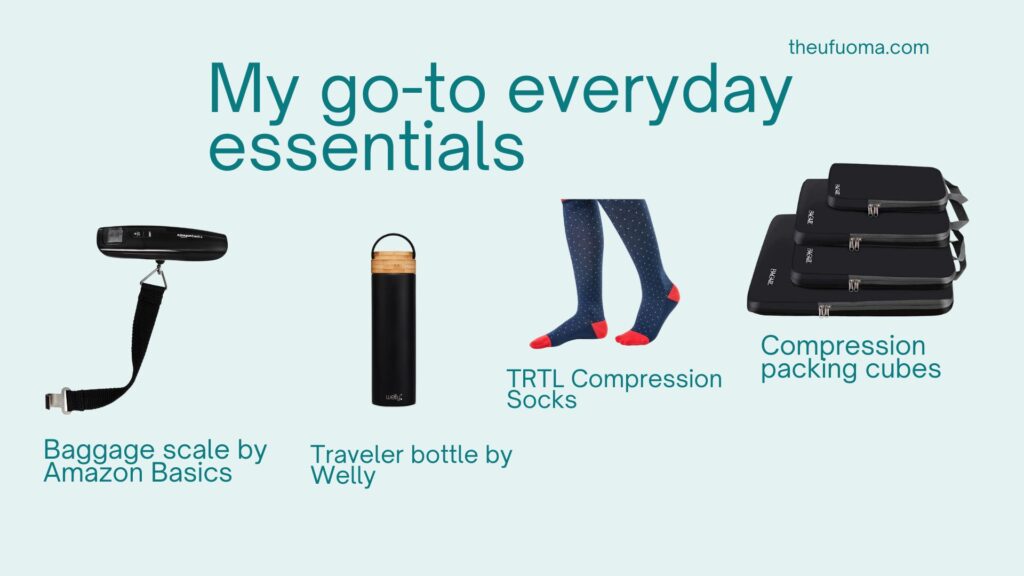 A luggage scale to always know what your bag weighs just before heading to the airport.
A water bottle so you can stay far away from single-use plastics. My favorite is Welly.
Compression socks to keep your feet from swelling on long haul flights. I love these ones from TRTL.
Packing cubes so you can pack efficiently. Bonus points if they are compression cubes. This one from Amazon works so well for me.
Electronics
For electronics, I can recommend three things besides of course, your phones and tablets. These three items are a game-changer for me.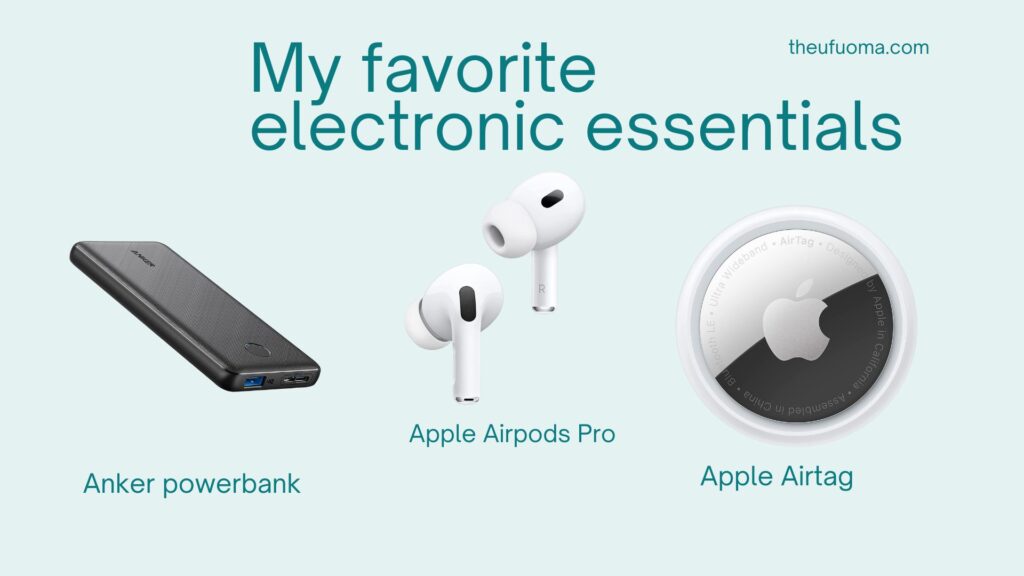 An Apple Airtag – I can't tell you enough how this has helped me with my checked luggage. It helps you know exactly where your luggage is at every given point so you can have more peace of mind.
A power bank by Anker – If there is one thing you definitely need to have on your trip, it is definitely a portable power bank. There is nothing worse than running out of battery on your phone.
The Apple Airpods – Whether you go with the AirPods pro or AirPods max, or both like me, you definitely need a pair of noise cancellation headphones to block out the noise, especially on airplanes.
Conclusion
And there you have it, 23 travel essentials that would make your 2023 travels a bit more delightful. These are my absolute favorite essentials that I would recommend in a heartbeat. Did you find this helpful? Don't forget to share it with someone who may need it.
Happy travels this year.