A Mini Travel Guide to Park City, Utah
I often refer to myself as a sunshine traveler – someone who travels and chases the sunshine wherever she goes. You can't blame me though – I live in Canada and with the winter weather can be unforgiving sometimes. However, for a change, I got the opportunity to visit Park City, Utah in December and I absolutely enjoyed it. I enjoyed it so much that I now want to take at least one winter vacation every year. If you're curious or shopping for winter destinations, here is a mini guide to Park City, Utah.
Here is your mini travel guide to Park City, Utah
Park City, Utah is a popular mountain resort town located about 32 miles east of Salt Lake City. It is known for its world-class skiing and snowboarding, as well as its vibrant après-ski scene. The town is home to several ski resorts, including Park City Mountain, Deer Valley Resort, and Canyons Village.
Visiting Park City during the holidays was a delight. I felt like I was in a hallmark movie. The scenery was breathtaking and I thoroughly enjoyed myself there. I think that Park City is an excellent choice for a winter holiday.
Disclaimer: My trip to Park City, Utah was sponsored by Expedia. However, all views are mine.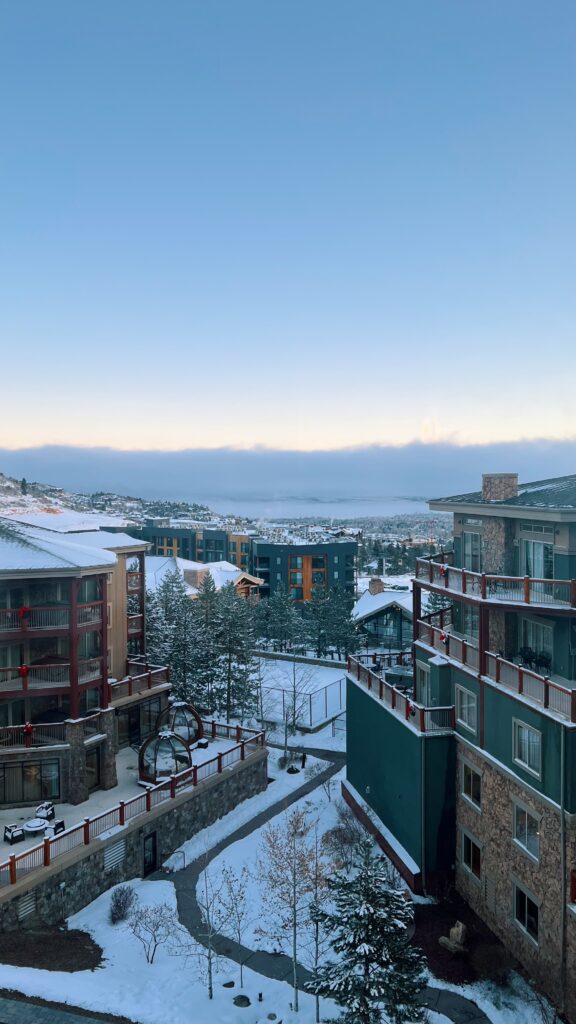 Getting to Park City, Utah
Park City is about 32 miles east of Salt Lake City. To get to Park City, you'll need to first fly into the closest major airport which is Salt Lake City International Airport (SLC). It is located about 36 miles (58 km) away from Park City. From there, you can rent a car, take a shuttle, or take a bus to get to Park City.
Coming from Toronto, Canada, I caught a direct flight via Delta Airlines and it took about 4 hours to get to Park City. Most major airlines like Air Canada, Delta and United, fly into SLC. I did, however, notice more Delta flights in that area. My flight from Toronto to SLC cost around $600 economy round-trip. I think this is pretty reasonable. It can be as low as $300 if booked well in advance.
Getting around in Park City
Many people who visit Park City rent a car to move around. If you don't want that option, know that there is a really good bus system in Park City and the best part is that it is FREE to use. I love convenience, so I advise that if you can, try to rent a car as that might end up being better for you and make moving around a lot easier. If not though, the bus totally works.
Where to stay in Park City
There are a lot of cool hotels and resorts to stay at when in Park City. Personally, I stayed at Pendry Park City and absolutely loved it. It is a brand new hotel (about a year old) with some of the most picturesque areas. The rooms are sparkling clean, the service is next level, and it is just all round luxury personified. This contemporary mountain resort is beyond breathtaking. I stayed there for four nights and loved every second. The rooftop terrace is where I fell in love with it.
With rates starting at about $1400 per night, this is a luxury property and a place you go to when you want the best of the best. However, if this property is beyond what you've budgeted for, that's okay as there are so many good options to choose from in Park City.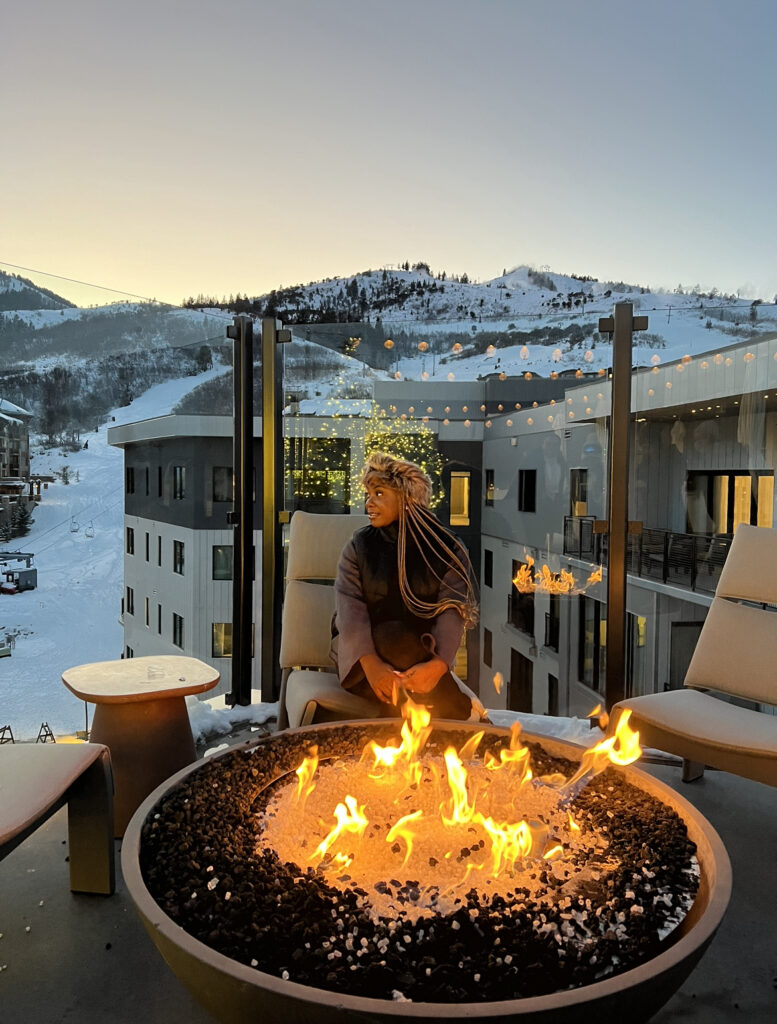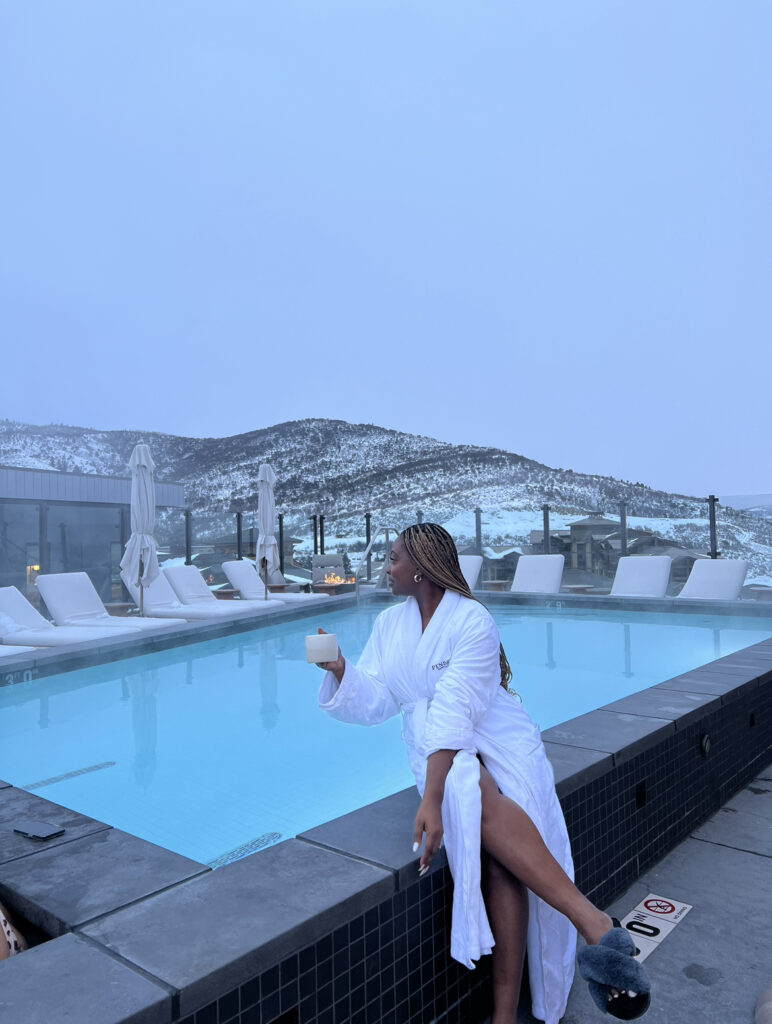 Mid-range accommodation options
A quick disclaimer that I did not stay in these places, these are only my recommendations based on the research I did on the internet, overall value for money and reviews.
Some great options I found are: Sundial Lodge by All Seasons Resort Lodging (about $450 per night), Black Rock Mountain Resort (about $350 per night) and New Park Resort (about $350 per night). All three have fantastic reviews, are close to all the action and I think would make good value for your money.
What to do in Park City
While I was only in Park City for a short time, I thoroughly enjoyed my stay and there was never a dull moment. Here are some of my favorite things I did.
1.) Dog Sledding Adventure
I'm not much of a skier so I did not participate in any skiing adventures while in Park City. If you can, please do. However, I still wanted to enjoy the snow and enjoy doing snowy activities and a dog sledding adventure was the next best thing. I loved it. If you love dogs (or even if you don't), I recommend doing this.
To book, I recommend Rancho Luna Lobos for a dog sledding experience. They are usually booked up well in advance so I recommend planning well and checking out if they have any spots. It cost around $450 for two people for this experience.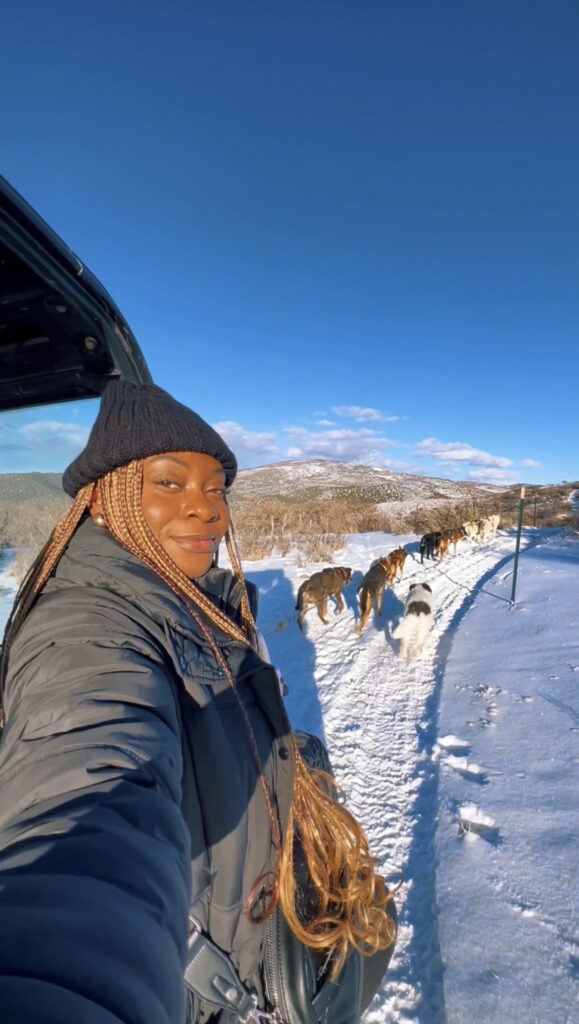 2.) Sound bathing experience at The Lodge at Blue Sky Auberge Resort
One of the coolest things I did in Park City was visit the beautiful Blue Sky Auberge Resort (hint: This place screams luxury and serenity) and do a sound bath experience called Movement, Meditation and Sound. Thoroughly enjoyed. It forces you to slow down and embrace quietness and stillness. It is also generally a good experience to kickstart your day.
It cost about $350 for two guests. If you have the budget, I recommend.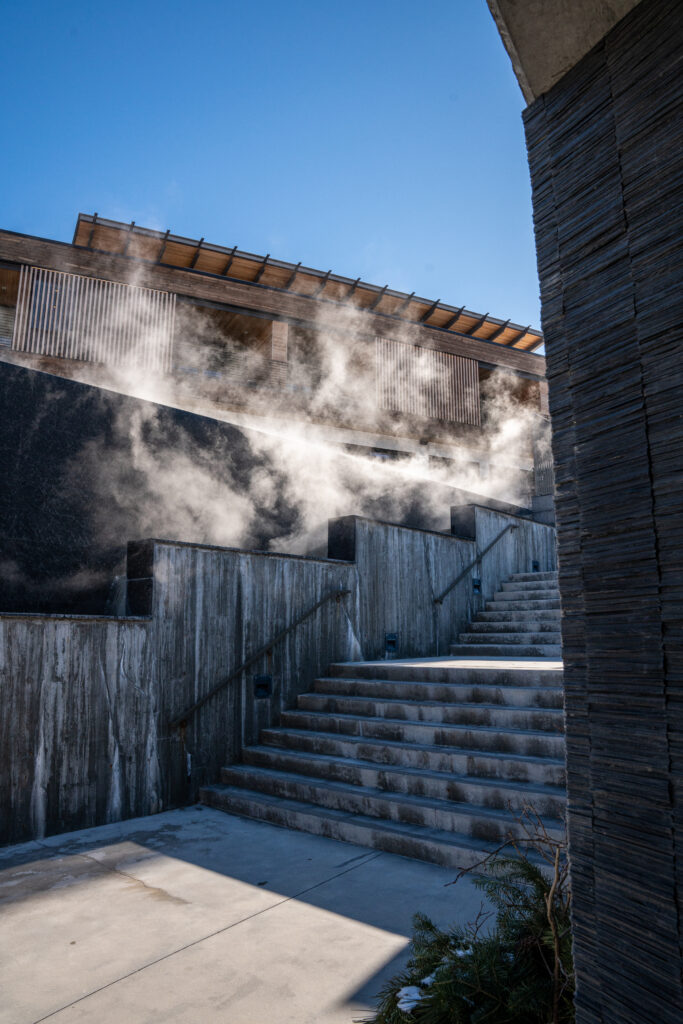 3.) Explore Main Street
Park City can be expensive to visit, but it does not have to be. There are lots of free things to enjoy in the city, including exploring the Main Street of Park City. Main Street of Park City is lined with restaurants, bars, and shops, making it a popular destination for dining and shopping. I loved walking through Main Street, window shopping, getting a coffee and just being in awe of this little town.
While on Main Street, you can also head to the Park City Museum. The Park City Museum is a historical museum that tells the story of the town and its surrounding area. The museum features permanent and rotating exhibits that showcase the history of Park City and the surrounding area, including the mining industry, skiing and winter sports, and the Park City community.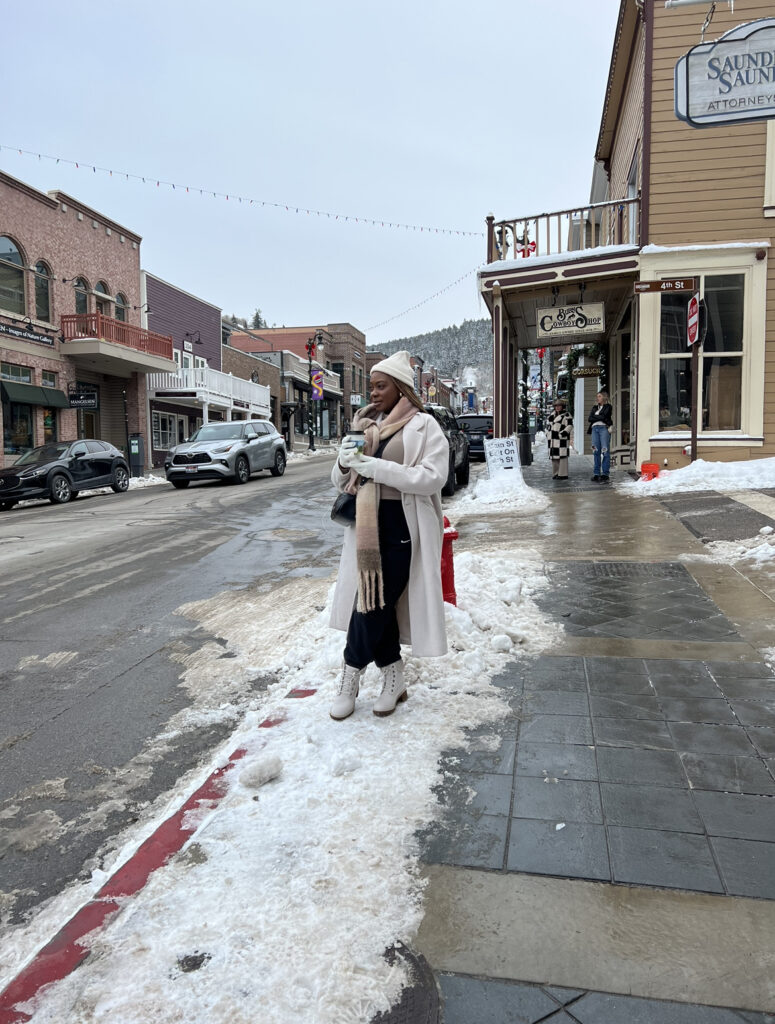 4.) Visit a distillery for a tequila tasting experience
Another thing to do while in Park City is visit Alpine Distilling for a tequila-tasting experience. Alpine Distilling is a distillery located in Park City, Utah that produces a variety of small-batch spirits using locally-sourced ingredients. The distillery is known for its unique blend of traditional distilling techniques and modern innovation.
While there, you can do a tequila, gin or whiskey tasting experience, depending on what you're feeling like at the moment. I do believe there is no reservation required but you can read more about this place here.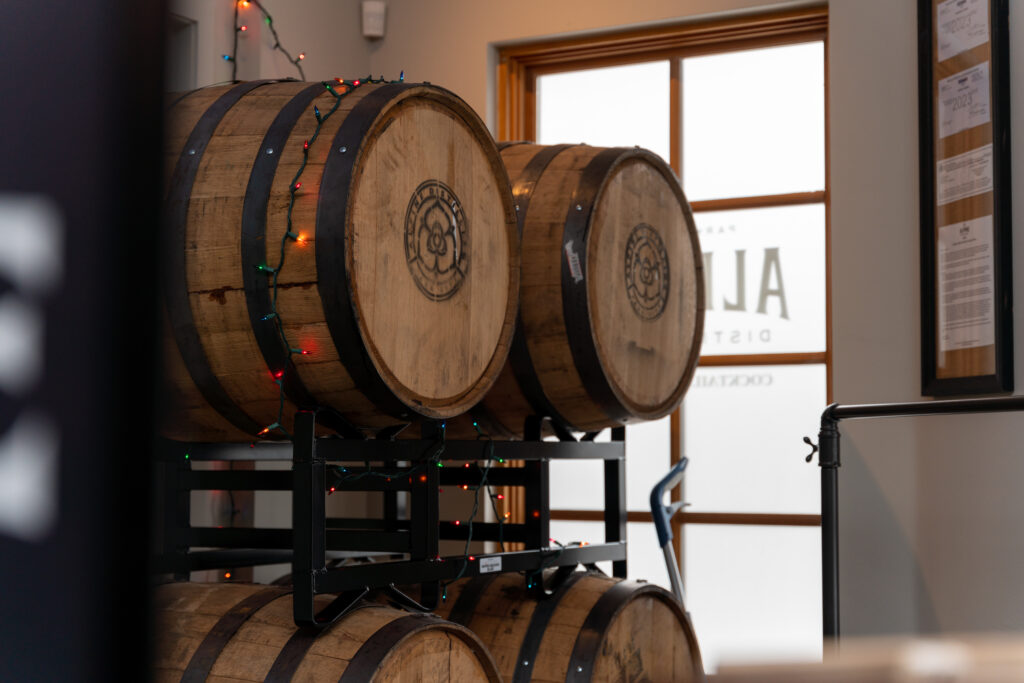 Those are some of my must-do activities to do in Park City.
Now, let's go on to my favorite restaurants to eat in Park City.
Where to eat in Park City
Some of the best restaurants in Park City are located on Main Street. Here are some of the ones you need to check out if you visit.
Twisted Fern
Firewood
Yuki Yama
Riverhorse
What to pack for your winter getaway to Park City
This mini guide would not be complete if I didn't share a packing list for your winter getaway. As someone who was only used to travelling to warmer weather, packing for a winter holiday can be challenging. Here is a packing video I created to see a glimpse of what I took with me. But see below my recommendations and links to prepare for your trip and pack right.
When packing for a winter trip to Park City, Utah, it's important to consider the cold temperatures and potential for snow. Here are some essential items to pack for a winter trip to Park City:
Warm clothing: Pack layers of warm clothing, such as thermal underwear, fleece or wool tops, and a warm jacket or parka. Make sure to pack a hat, gloves or mittens, and a scarf to protect your head, hands, and face from the cold.
Ski or snowboard gear: If you plan on skiing or snowboarding, make sure to pack your skis or snowboard, boots, poles, goggles, and a helmet. You can also rent ski or snowboard gear at the ski resorts, but it's always better to have your own gear with you.
Waterproof boots: Pack a pair of waterproof boots or insulated shoes to keep your feet warm and dry in the snow.
Hand Warmers: These small disposable packs can be placed in gloves or pockets to provide extra warmth.
Thermos or insulated water bottle: It is important to stay hydrated, and a thermos or insulated water bottle will keep your drink warm and prevent it from freezing.
Camera: Park City is a beautiful place, and you will want to capture the memories.
Sunscreen and Lip balm: Even though it is cold, the sun's UV rays can still be intense, especially at high altitudes.
Medications: If you take any medications, make sure to pack enough to last the duration of your trip, plus an extra day or two.
First Aid Kit: Pack a basic first aid kit, including band-aids, pain relievers, and any other items you may need.
Extra phone charger or power bank: You'll probably be using your phone a lot for pictures, navigation, and to stay in touch with friends and family, so make sure you have an extra charger or power bank.
By packing these essentials, you will be well-prepared for your winter trip to Park City and be able to enjoy all the great activities the town has to offer.
Check out my winter getaway store on Amazon to shop some of the winter bits I packed for this trip. Click HERE.
Conclusion
I hope you enjoyed this mini guide to Park City and it inspires you to book that winter getaway. Sometimes you have to try something different – after all, that's what travel is all about.
Until next time,
Safe travels.