A Travel Guide to Cartagena, Colombia: Things to Do, See, Experience
I recently traveled to Cartagena, Colombia and I have to say, it was an incredible experience! From the moment I stepped into the charming Old City, I was completely enchanted by its rich history, stunning architecture, and vibrant culture. It was not my first time in Cartagena, I actually went there on a solo trip in 2019, but I was still blown away by just how much this city had to offer. Here is a Travel Guide to Cartagena, Colombia: Things to Do, See, Experience.
I spent a week in Cartagena in January 2023, exploring the city's sights, sounds, and flavors. And now, I want to share my tips and recommendations with you to help you plan the perfect trip. Whether you're a first-time visitor or a seasoned traveler, I hope that my guide will make your time in Cartagena even more memorable. So let's start planning your next adventure to Cartagena.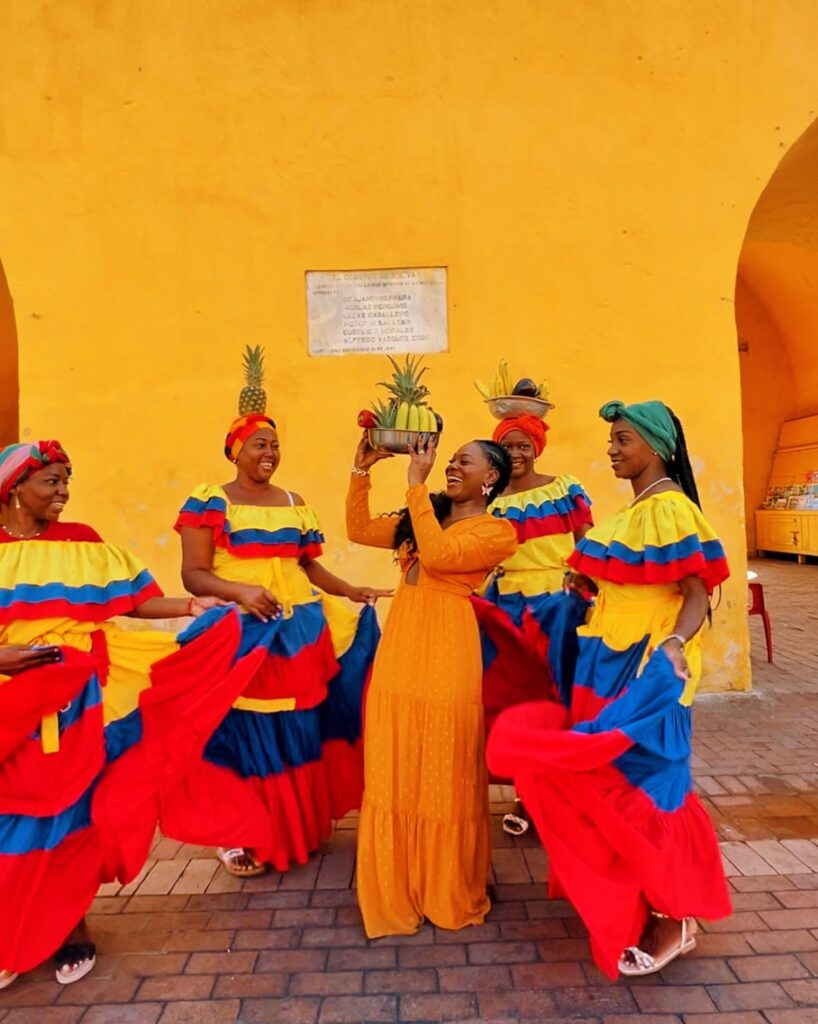 Content of this Article
hide
A Travel Guide to Cartagena, Colombia: Things to Do, See, Experience
A little about Cartagena, Colombia
Cartagena's history dates back to the 16th century and is known for its colonial architecture, museums, and cultural events. It is one of the most visited cities in the world, and there is so much to enjoy there – the warm Caribbean climate, beautiful historic Walled City, unique blends of cultures and nearby beaches. There is no one singular attraction in Cartagena because the city itself is the attraction. Everyone who visits Cartagena falls in love with it, and I was not an exception.
To visit Colombia in 2023, you must complete a health declaration form called CHECK MIG. You may not be allowed entry if you do not have it. I got mine through the iVisa site. Here is the link to the form.
Traveling to Cartagena, Colombia in 2023 – The entry requirements
To my surprise, Colombia was still one of the countries that still had some COVID-19 travel restrictions. Here are the entry requirements as of January 2023. Please note that the restrictions can change at any time, I advise checking this website for the latest travel restrictions. Here are the requirements:
All passengers above 12 must present a vaccination certificate (2doses/2) to enter Colombia. For passengers with no vaccination or a partial vaccination (1 doses of 2) or a vaccination of less than 14 days, a negative PCR or antigen test result is required.
Every passenger must fill out the health declaration form called CHECK MIG, which you can find here. You may not be allowed entry into Colombia without this form.
You must wear a mask at the airports in Colombia, but are not required to wear a mask in public spaces.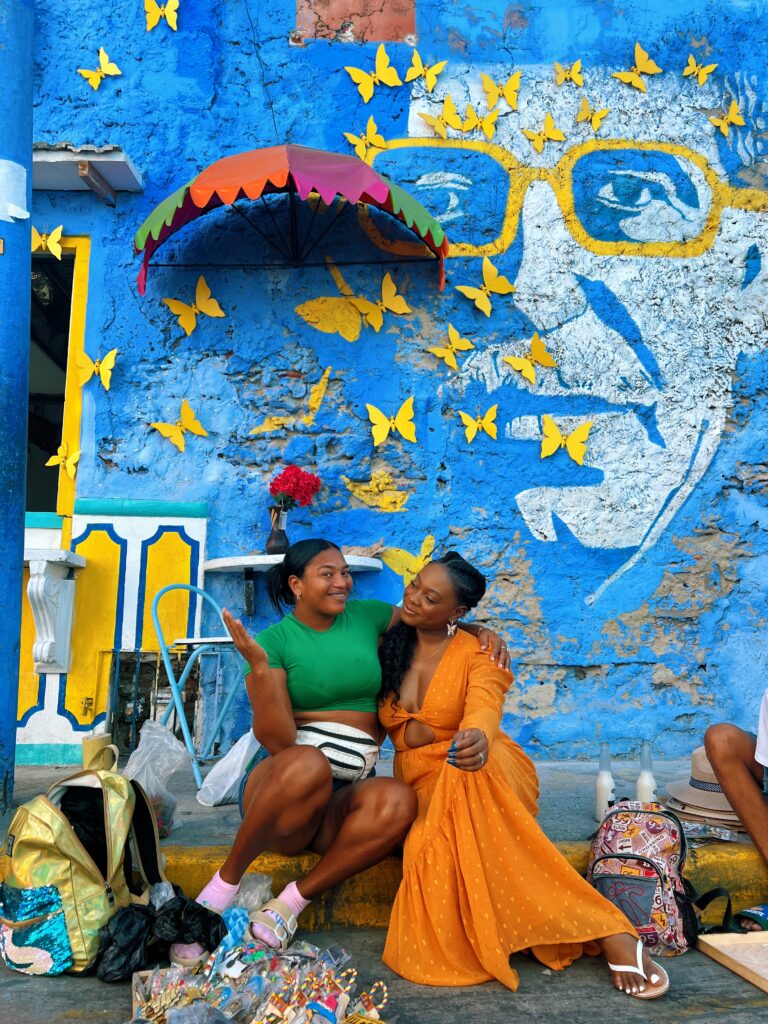 Things to know before visiting Cartagena, Colombia
Here are some important things you should know before visiting Cartagena, Colombia.
Weather: Cartagena has a tropical climate, with temperatures averaging around 30°C (86°F) year-round. Make sure to pack accordingly, with lightweight, breathable clothing and plenty of sunscreen.
Prepare for the heat: With high temperatures and high humidity, it's important to stay hydrated and take breaks from the sun. Consider bringing a hat, sunglasses, and a refillable water bottle.
Familiarize yourself with the local currency: The Colombian currency is the peso. Make sure to exchange some money before arriving in Cartagena, or withdraw from an ATM when you arrive. Also, the Colombian peso can be a bit confusing but keep in mind that 100,000 pesos is about $30. Also mil in Colombia is thousands, not millions. Trust me, you'll get used to this after you've spent sometime in Cartagena. Just make sure to double check before paying.
Have cash, and very importantly, change. You should have cash when traveling to Cartagena as some places don't accept credit cards. Restaurants do, but roadside vendors will want cash. Also, make sure to get smaller bills like 10 mil, 20 mil, etc as you will need this for tips.
Learn some Spanish: You will find a few locals in Cartagena that speak English, but some of them don't, so it is helpful to know a few basic Spanish phrases to make your travels easier. I recommend getting the Google translate app and downloading Spanish for offline use.
Know the safety and security situation: Cartagena is generally considered safe for tourists, but it's always a good idea to take precautions, such as avoiding walking alone at night and keeping an eye on your belongings. Personally though, I have visited both solo and with a group and had no safety concerns. Cartagena is very touristy and if you stay in the Old Town or Getsemani, you should be okay as the touristy places benefit from a safety in numbers.
Get ready to say no: While I felt safe in Cartagena, some of the sellers can be aggressive in the way they sell things. They use a lot of persuasion, and this is something to keep in mind. Just say "no gracias", avoid eye-contact and keep it moving.
Make sure to have travel insurance before you go. In general, don't travel anywhere without travel insurance, including on your trip to Cartagena. Here's the travel insurance I use.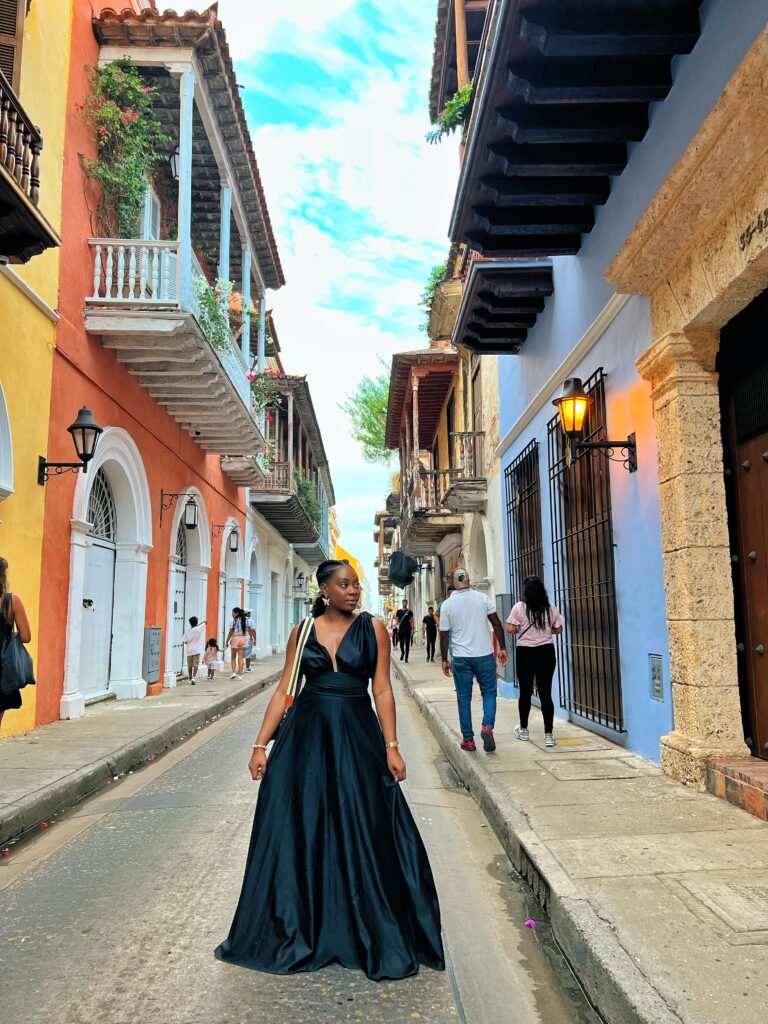 The best time to travel to Cartagena
I have visited Cartagena twice now. The first time in March, and the most recent time in January – both times the weather was perfect and sunny like you would expect on any Caribbean holiday. That said, the best time to visit Cartagena depends on personal preferences and travel style, but generally, the dry season from December to April is considered the peak tourist season. During this time, the weather is warm and sunny, and there are plenty of events and festivals to enjoy. However, this is also when prices tend to be higher and crowds are larger.
The rainy season from May to November offers lower prices, fewer tourists, and greener landscapes, but heavy rain showers can disrupt outdoor activities.
For those who want to avoid the crowds and enjoy milder temperatures, September and October are good options. This is also a great time to experience Cartagena's annual Film Festival.
Ultimately, the best time to visit Cartagena is whenever it works best for you. Just be sure to check the weather forecast and plan accordingly, as well as book accommodations in advance during peak season.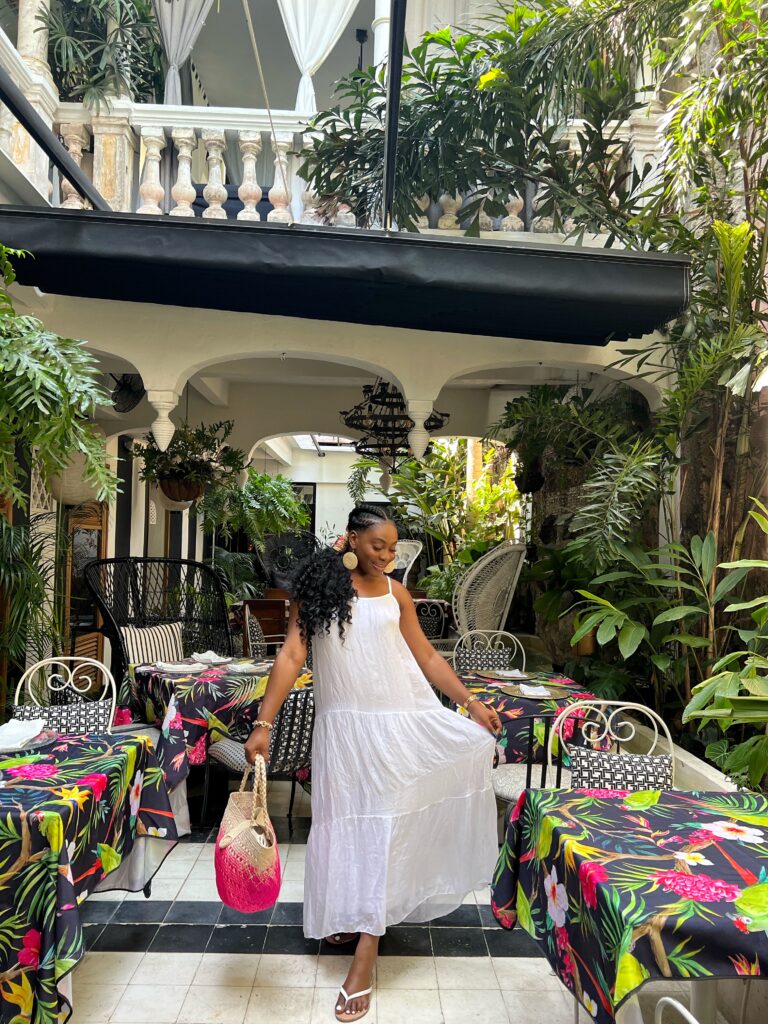 Where to stay in Cartagena
When it comes to finding the perfect place to stay in Cartagena, Colombia, you're spoiled for choice. From luxurious hotels in the heart of the Old City to more budget-friendly options in the surrounding neighborhoods, there's something for everyone.
So far throughout my stay, I have stayed in three hotels which I absolutely loved. My most recent hotels are Hotel Casa Lola Deluxe Gallery Hotel and Radisson Cartagena Oceanfront Hotel. I enjoyed them both. When I went in 2019, I stayed at the Hotel Casa San Agustin. For the sake of this guide, I will zero in on Hotel Casa Lola as it was a highlight of my Cartagena experience.
Hotel Casa Lola Deluxe Gallery Hotel
If you're looking for a luxurious and stylish place to stay in Cartagena, look no further than Hotel Casa Lola Deluxe Gallery. During my recent trip to Cartagena, I had the pleasure of staying at this fantastic hotel and I can confidently say that it exceeded my expectations.
Nestled in the heart of the Old City, Hotel Casa Lola Deluxe Gallery offers guests a unique blend of colonial charm and contemporary comfort. But what really sets Hotel Casa Lola Deluxe Gallery apart is its stunning rooftop pool and bar, offering breathtaking views of the city and the Caribbean Sea. The hotel's staff is friendly and knowledgeable, always ready to provide recommendations or help with any needs. I enjoyed my stay.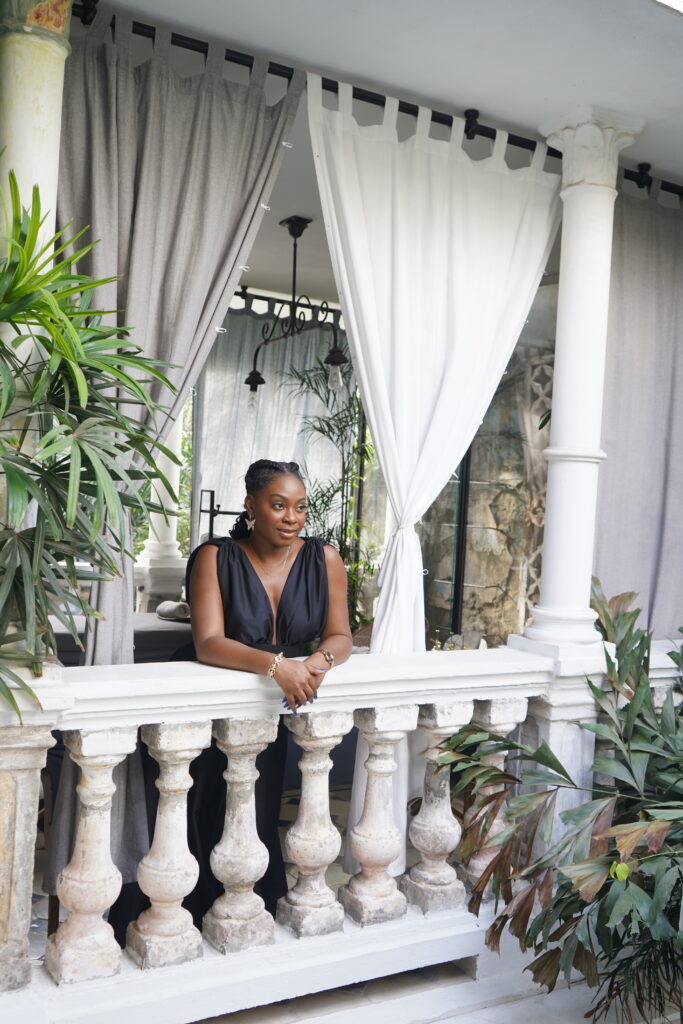 Things to do in Cartagena, Colombia
Whether you're interested in exploring colonial architecture, trying new cuisine, or soaking up the sun on nearby islands, there's something for everyone in Cartagena. There's so much you can do in Cartagena. Here are my top highly recommended things to do during your visit and the links to book the same tours that I did.
1.) Do a walking tour of Cartagena's charming streets
Discover the charming streets of Old Town and Getsemani. These two neighborhoods are at the heart of Cartagena's colonial heritage and are filled with history and charm. Take a stroll through the colorful streets, admire the architecture, and sample the local cuisine. If you are up for it, do a photoshoot as well, to capture the colorful memories.
TIP: While wandering the streets of Cartagena, you will likely come across the beautiful colorful women with fruit baskets on their heads. They are called Palenqueras. You will want to take a picture with them as that is an iconic Cartagena photo. Make sure to have cash with you for tips, as they expect it, and would not take a photo with you if you don't give them their tips. I recommend giving at least 10,000 Colombian pesos (about $2 USD). That is their day job.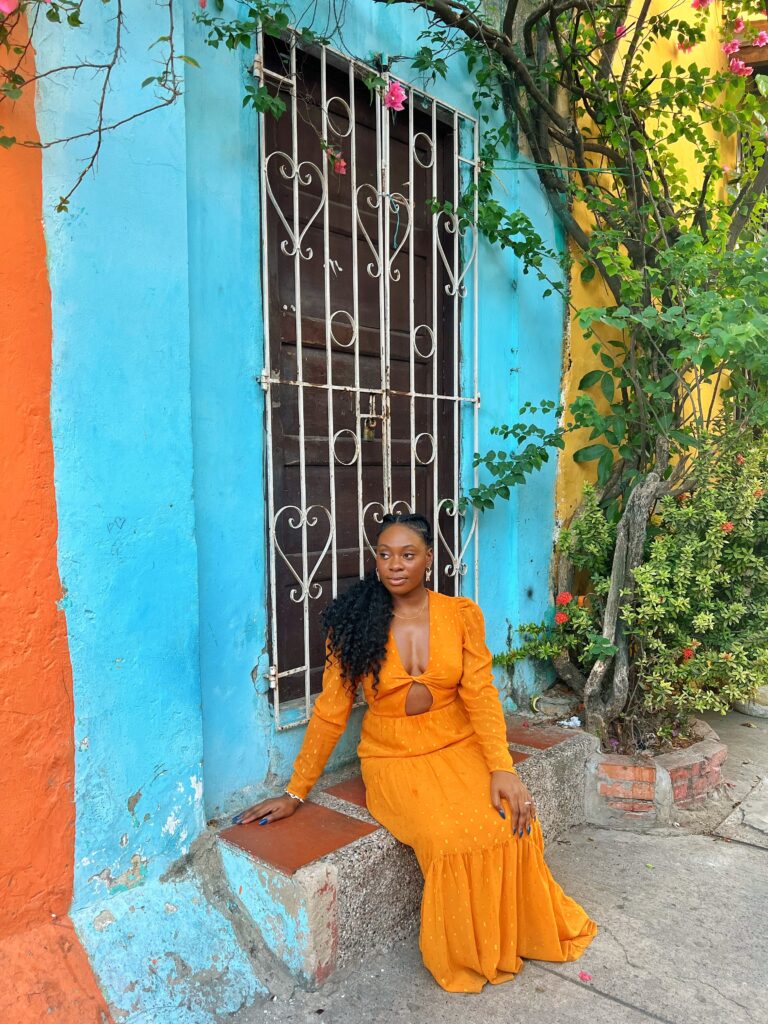 2.) Indulge in a Colombian cooking class
Learn to cook traditional Colombian dishes. Cartagena is known for its delicious cuisine, and a cooking class is a great way to experience it for yourself. Learn how to make dishes like Arepas, Ceviche, and Ajiaco, and visit local markets to see where the ingredients come from.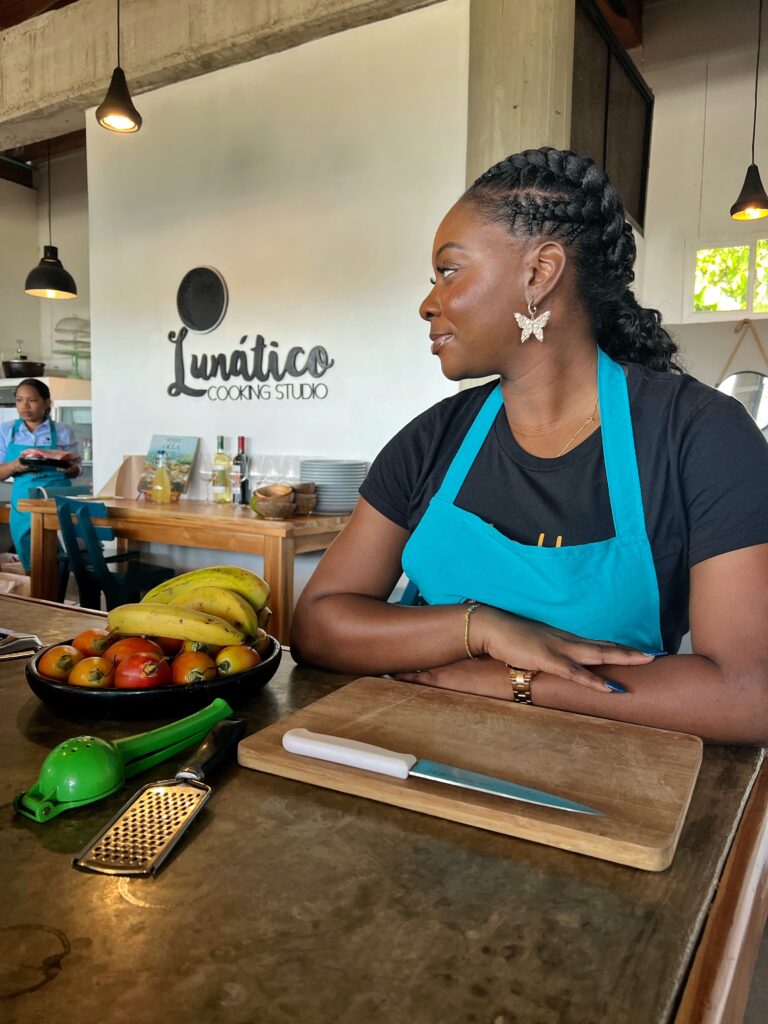 3.) Take a salsa dance class
I danced salsa on a rooftop and it was so incredibly special. Cartagena is famous for its nightlife, and dancing salsa is the local dance of choice. Head to a rooftop bar and dance the night away with the locals, while learning how to master the art of Salsa.
4.) Visit Volcan Totumo
Volcan Totumo is a bucket list experience in Cartagena. This unique mud volcano is said to have therapeutic properties, and is a fun and unusual day trip from Cartagena. Here are a few tips to keep in mind before visiting.
Arrive early: To beat the crowds, aim to arrive at Volcan Totumo early in the morning, at about 8am when it opens. This will also give you the best chance of finding a quiet spot to relax in the mud. I recommend doing a private tour if you have room in your budget. Shared tours and transportation means you will be arriving when the crowd is arriving.
Wear appropriate clothing: Volcan Totumo is a mud bath, so be prepared to get muddy! Wear a swimsuit and bring a change of clothes to wear after your soak.
Relax and enjoy: Volcan Totumo is a fun and unique experience, so be sure to take your time and enjoy it. Soak in the mud, float on the surface, and relax in the tranquil surroundings.
Bring change for tips. Bring smaller Colombian pesos so you can tip the people who help you during the experience – from the camera guy, to the masseuse and more.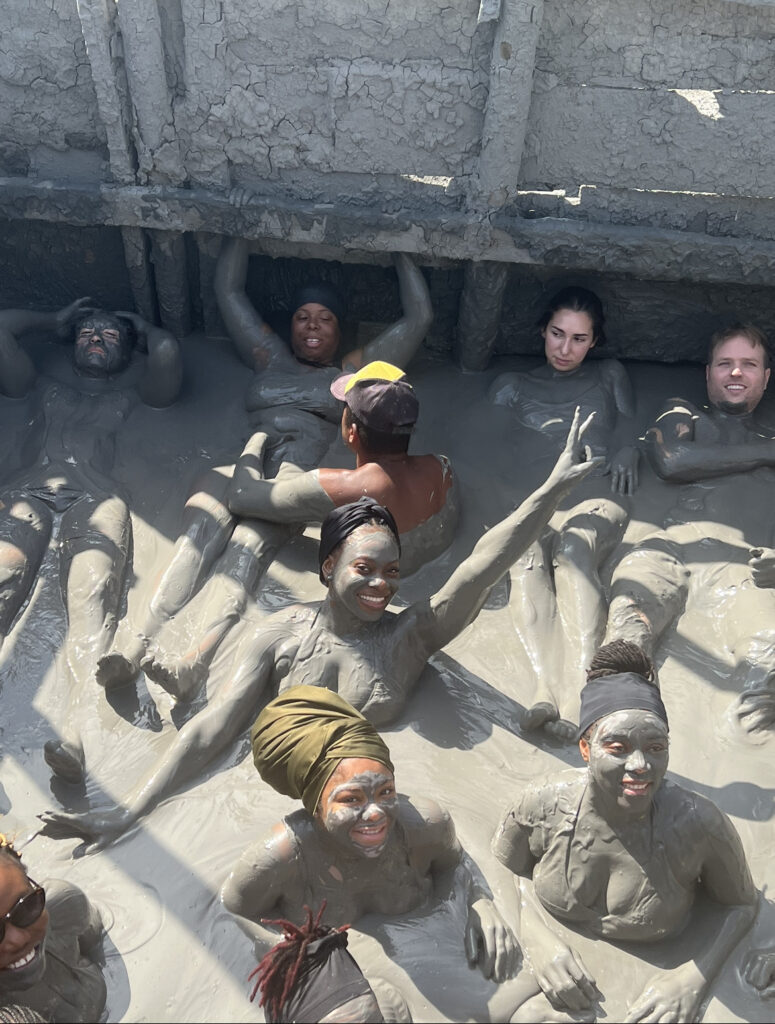 5.) Go Island Hopping
Cartagena is located on the Caribbean coast, and there are plenty of nearby islands to explore. Take a boat tour to the Rosario Islands, Isla Baru, and Playa Blanca for a day of sun, sea, and relaxation. Again, you can either do a private boat or a shared boat depending on your budget. If you go the private route, you should stop by at Paue Beach Lounge for lunch. It costs about 125,000 pesos per person (100,000 pesos goes towards your meal and 25,000 is the entry fee.) I have shared the exact private tour I booked for my group and I below. Highly recommended.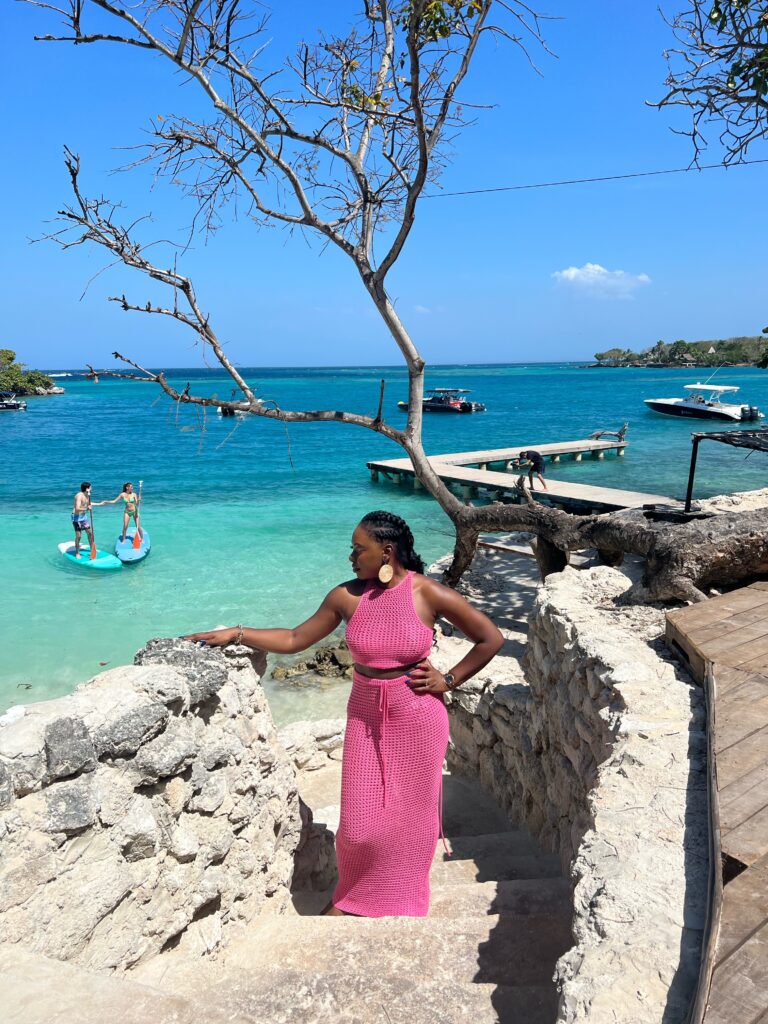 6.) Enjoy the nightlife of Cartagena
Whether you're looking for a relaxed night out or an all-night party, Cartagena has a lively and diverse nightlife scene. Actually, that is putting it very lightly – the city never sleeps. Here's a list of my favorite places for you to check out:
Terrazar bar
Donde Fidel
Alquimico Bar
Mirador Gastro Bar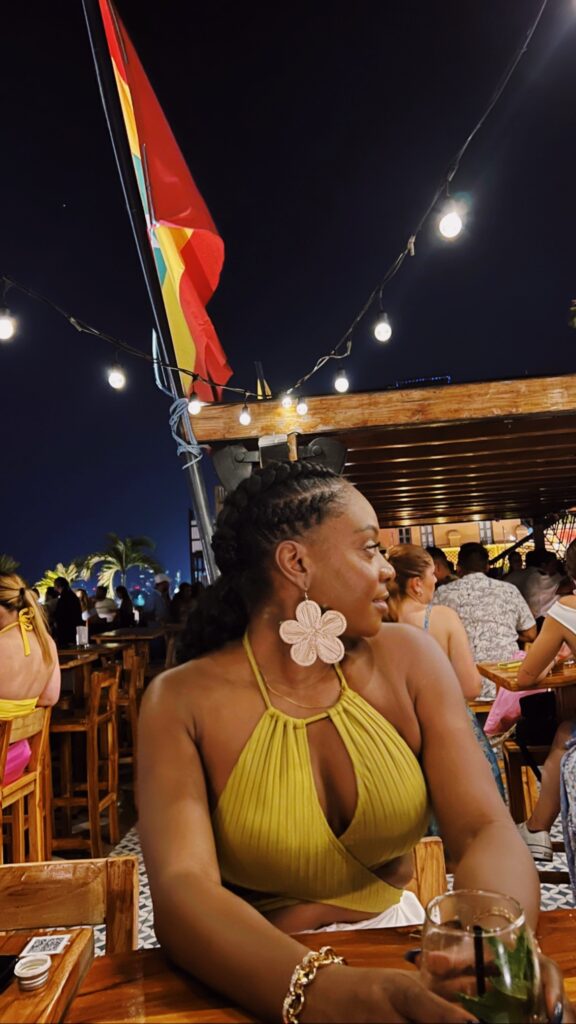 Where to eat in Cartagena
When it comes to food, Cartagena is a true culinary delight. With its rich history and cultural heritage, the city has developed a diverse and flavorful cuisine that reflects its diverse influences. Whether you're in the mood for fresh seafood, hearty traditional dishes, or fusion cuisine, you'll find something to satisfy your taste buds in Cartagena. Here are some of the top places to eat during your visit:
Alma Restaurant: Alma Restaurant is a chic and stylish eatery that serves contemporary Colombian cuisine. The menu features dishes made with locally sourced ingredients and is inspired by the flavors and traditions of the Caribbean coast. With its elegant atmosphere and innovative menu, Alma Restaurant is the perfect place for a special occasion or romantic dinner.
Restaurant Cande: Restaurant Cande is a relaxed and informal eatery that serves traditional Colombian dishes with a modern twist. The menu features favorites like Ajiaco soup, Bandeja Paisa, and seafood dishes, all made with fresh, locally sourced ingredients. With its cozy atmosphere and delicious food, Restaurant Cande is a great option for a casual lunch or dinner.
Donde Lola Restaurant: Donde Lola Restaurant is a charming eatery that serves traditional Colombian dishes with a touch of Mediterranean influence. The menu features dishes like grilled seafood, ceviche, and paella, as well as vegetarian options. With its outdoor seating and lively atmosphere, Donde Lola Restaurant is a great place to relax and enjoy a leisurely meal.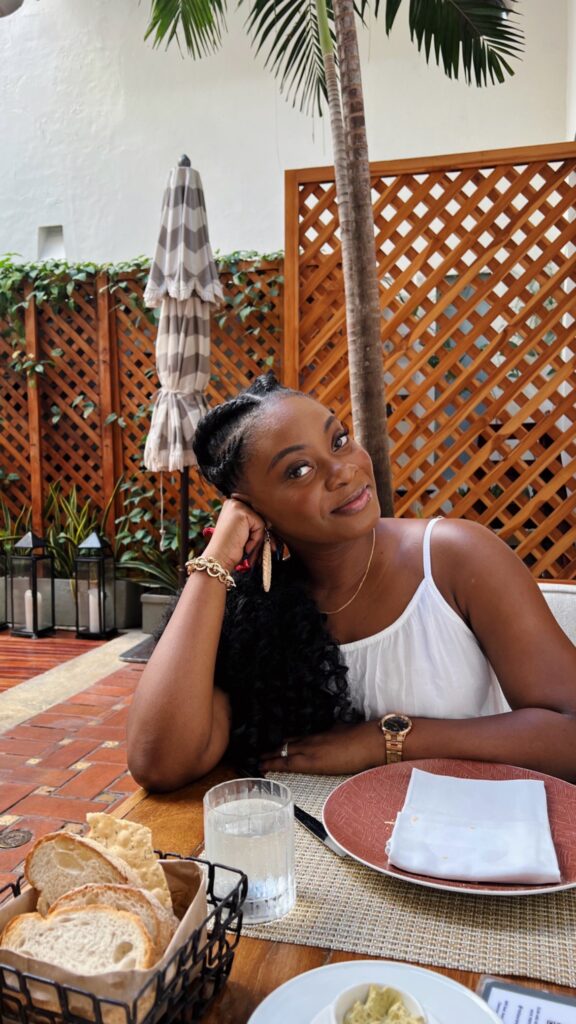 My seven-day Cartagena itinerary
Day one – Arrivals. Check into hotel. Evening: Dinner at Dona Lola Restaurant.
Day two – Morning: Walking tour of Cartagena. Afternoon: Lunch at Cande Restaurant. Evening: Night out and dinner at Terraza Bar Cartagena.
Day three – Morning: Cooking class and market tour. Afternoon: Free time. Evening: Salsa class and dinner at Casa Del Tunnel restaurant.
Day four – Morning: Day trip to Volcan Totumo. Afternoon: Free time. Evening: Night out and dinner at Mirador Gastro Bar.
Day five – Slow day. Morning: Shopping at City center (Centro Historico) and wandering around Cartagena. Afternoon: Lunch at Alma Restaurant. Evening: Dinner and night out at Alquimico.
Day six – Full day: Island tour to Isla Baru. Afternoon: Lunch at Paue Beach Lounge. Evening: Playa Blanca beach and Sail back to Cartagena
Day seven – Departures.
Moving around in Cartagena
While there is Uber in Cartagena, it is actually illegal to use one and you can get fined for doing so. Taxis are pretty affordable and if you stay in a central location, you may be able to walk to most places. For example, staying in Hotel Casa Lola means that I could walk everywhere in Getsemani. We did have a private driver who took us to places farther away like Volcan Totumo and to the port when going to Isla Baru. I would prefer not to put his number on a public forum to wade off bots and spam so feel free to email me privately: info@theufuoma.com and I can pass on his contact details.
Note that using a private driver is much more expensive, but convenient. I advise using licensed taxis while there if you need to move around. Just go to the front desk of your hotel and ask for them to call you a taxi.
You should pre-book airport transfers though, to avoid overpaying at the airport. You can do so using this link.
Shopping in Cartagena
I barely shop abroad, except it is something I may not find at home and I come across unique pieces. Cartagena is one of those places you can shop from, as you will see beautiful handmade pieces. If you want to shop, I recommend going to Centro Historico de Cartagena and wandering around the shops there. More specifically, there is a shop called Artesanias y Galeria Roman and I got about two bags from there because it was just so beautiful.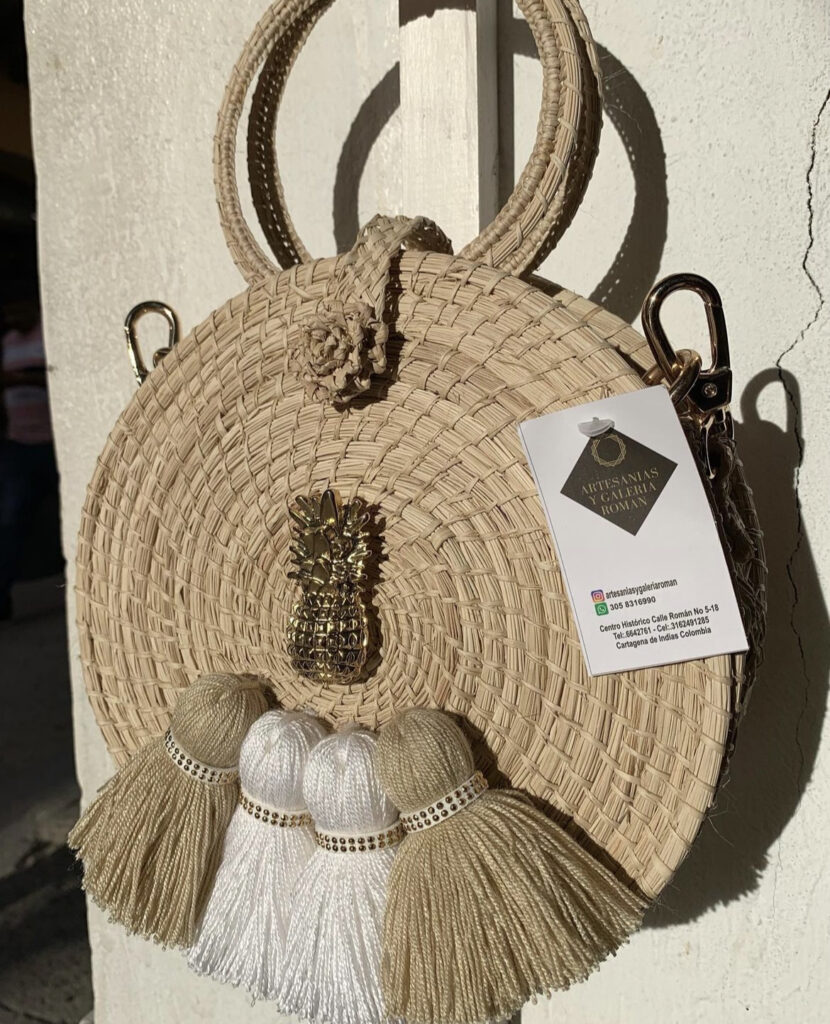 What to pack to Cartagena
To make the most of your trip to Cartagena, it's important to pack smart and bring along the essentials. Whether you're strolling through the charming cobblestone streets of the Old City or soaking up the sun on the beach, this packing list will help you prepare for a comfortable and memorable trip to Cartagena.
Clothing: Pack light, comfortable clothing, such as cotton t-shirts, shorts, and dresses. Also, include a lightweight jacket or sweater for cooler evenings.
Footwear: Bring comfortable, closed-toe shoes for walking and exploring, and a pair of sandals for the beach.
Sun protection: Pack a hat, sunglasses, and sunblock to protect yourself from the sun.
Toiletries: Basic toiletries such as toothbrush, toothpaste, shampoo, and conditioner.
Medications: Pack any prescription medications you may need, and consider bringing over-the-counter remedies for common ailments.
Cash and cards: Bring a combination of cash and credit/debit cards.
Travel documents: Make sure you have a passport, visas (if required), travel insurance, and copies of important documents.
Camera: Don't forget a camera or smartphone to capture memories.
Swimwear: Bring swimwear if you plan to visit the beach or pool.
Staying safe in Cartagena, Colombia
Due to the movies and what is depicted on the news, tourists often wonder if Colombia is a safe place to travel to. Personally, I have been to Cartagena twice and had no issues, and even being there solo and explored the nightlife. Here are some safety tips to keep in mind.
Be aware of your surroundings: Stay alert and aware of your surroundings, especially when walking in unfamiliar areas or at night. Avoid isolated areas, and don't carry large amounts of cash or valuables.
Watch your belongings: Keep an eye on your belongings, especially in busy tourist areas where pickpocketing can be a problem. Consider using a money belt or other secure storage option for valuables.
Use caution when taking taxis: Official taxis are the safest way to get around, but make sure the taxi is registered and the driver has proper identification. It's best to ask your hotel or restaurant to call a taxi for you.
Get travel insurance: Make sure you have comprehensive travel insurance that covers medical expenses and emergency evacuation. You can get one here.
Conclusion
In conclusion, I hope this travel guide to Cartagena was helpful in planning your future trip. With its rich history, vibrant culture, delicious food, and stunning beaches, Cartagena is a destination that is sure to provide a memorable experience. Don't forget to comment below with your thoughts and let me know if you have any further questions. I wish you a fantastic trip to Cartagena!
Thank you,
Jessica Ufuoma