Beach Bum: My Swimsuit Collection + Favorite Beaches in the World
I am an unapologetic beach bum, and I know somewhere deep down, if you search very keenly, you are too. I think we can all bond over the fact that we all love the good feeling that comes with being at the beach. There's never enough beach time and certainly no such thing as too many.
We are always so hard at work and so a calm and relaxing day where we can hang our feet in the air, catch some R&R, listen to the waves of the ocean and stare at beautiful palm trees is right up our alley, right?
Pro-tip: I love to leave my beach days to the last part of any vacation. As an avid tourist who loves being adventurous when I travel, sneaking in a beach day or two where I can do nothing but adjust my hair when the wind blows is how I ensure I do not leave the vacation more fatigued than I started. How do you like to relax during your holiday?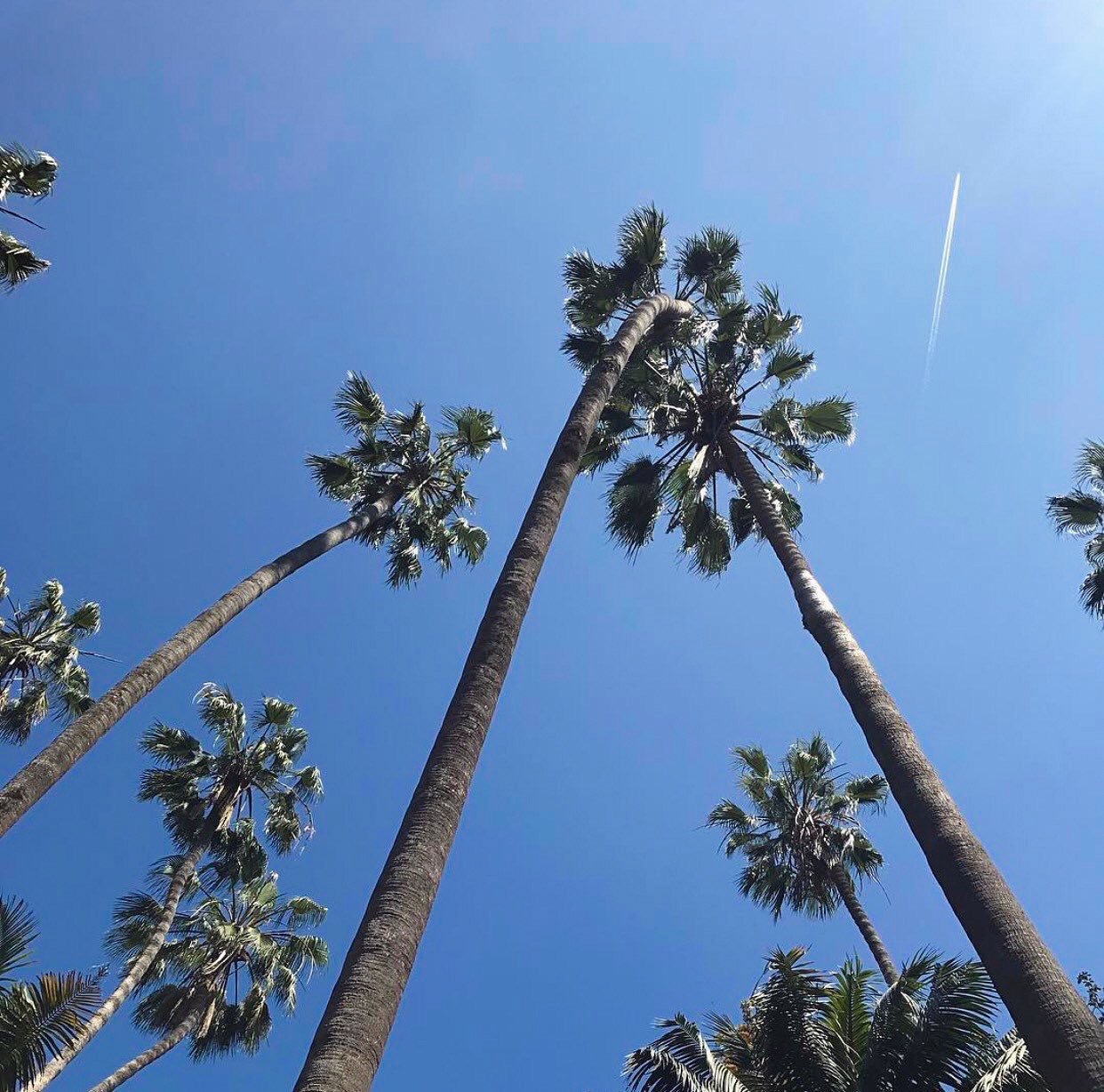 Today though, I am talking about some of my favorite beaches in the world and my swimsuit collection (because for some reason, that seems to be a question I get asked quite a bit."Hi Ufuoma, where do you get your swimsuits from? I love them!") Well thank you. Today, you'll get the deets.
First, let's dive into my swimsuit collection…
I am a hoarder of swimsuits, ah. It's almost embarrassing to admit that I have a couple of swimsuits with tags still on waiting for the perfect vacation. Maybe I can call them faith buys. Are you like that as well? Buy something when there is no present need for it but hoping that the need will come. Surely, I can't be the only one.
I have too many bikinis. Said no one ever.
I love a good swimsuit and I like finding ones that are not only flattering on my petite frame, but also look great and if I do say so myself, I have been quite fortunate. I also love looking out for two things, fit and affordability. On a side note, one pieces are my thing but I'll rock a good two piece as well, especially the ones with high waisted bottoms.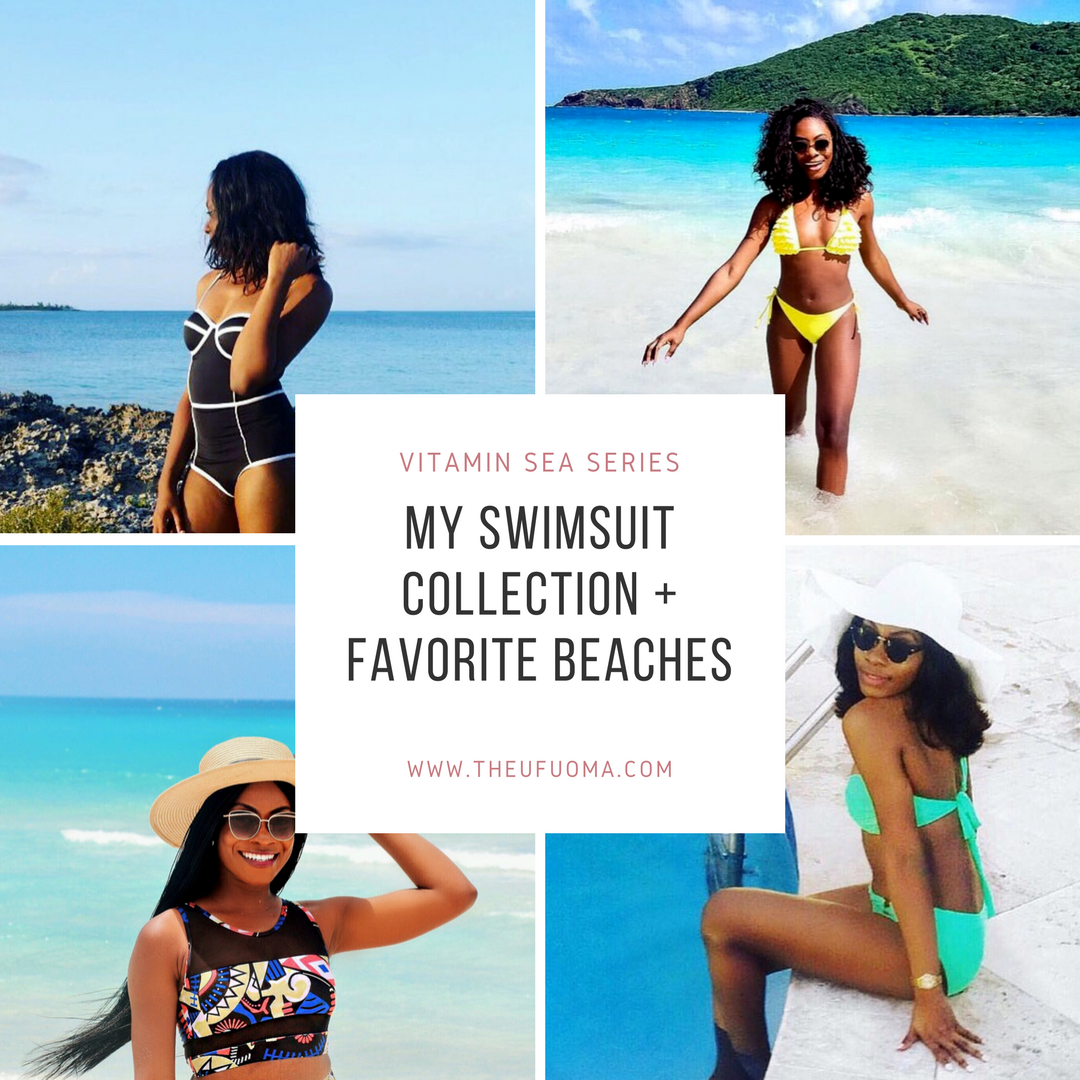 Multicolored tribal swimsuit
This is my most recent swimsuit purchase and I love that it gives me an ethnic vibe. The high-waisted bottoms are my absolute fave and the mesh detailing on the top just adds a great touch to the entire piece. Love it. I bought it off amazon and fortunately, it is still available, so you can snag up one for yourself here. It's also currently on sale at the moment.
You can't buy happiness but you can buy a bikini and that's pretty close.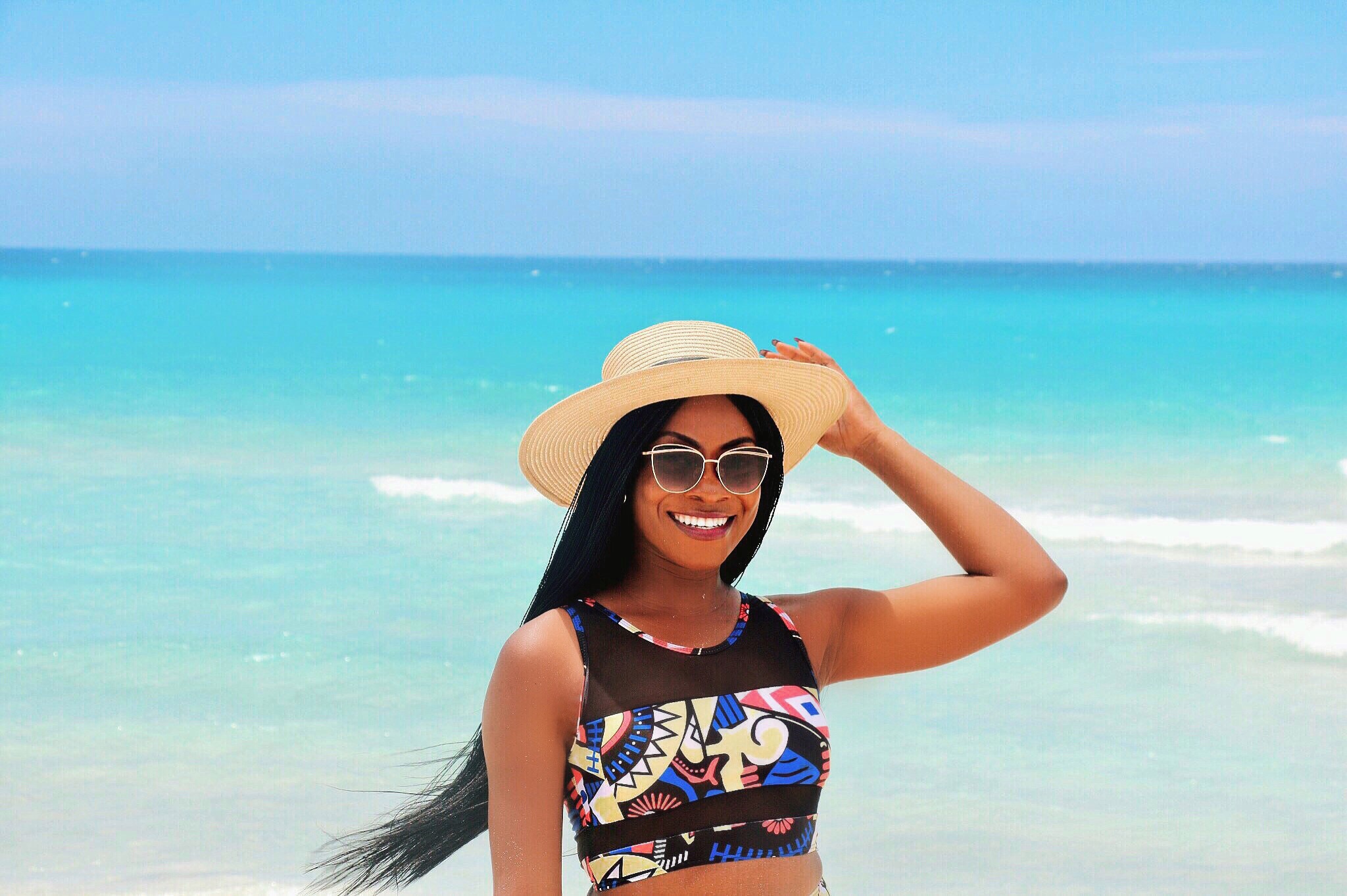 Red monostrap swimsuit
This one-piece swimsuit was a hand-me-down from my sister. (Perks of being the little sister. Hehe!) I love how great and different it looks. Almost like I should be wearing an egyptian headband to complete the look. The brand is called Magic Suit. I couldn't find it anywhere online but you can find similar Asos pieces here.
Bikinis are like fries, you can't just have one.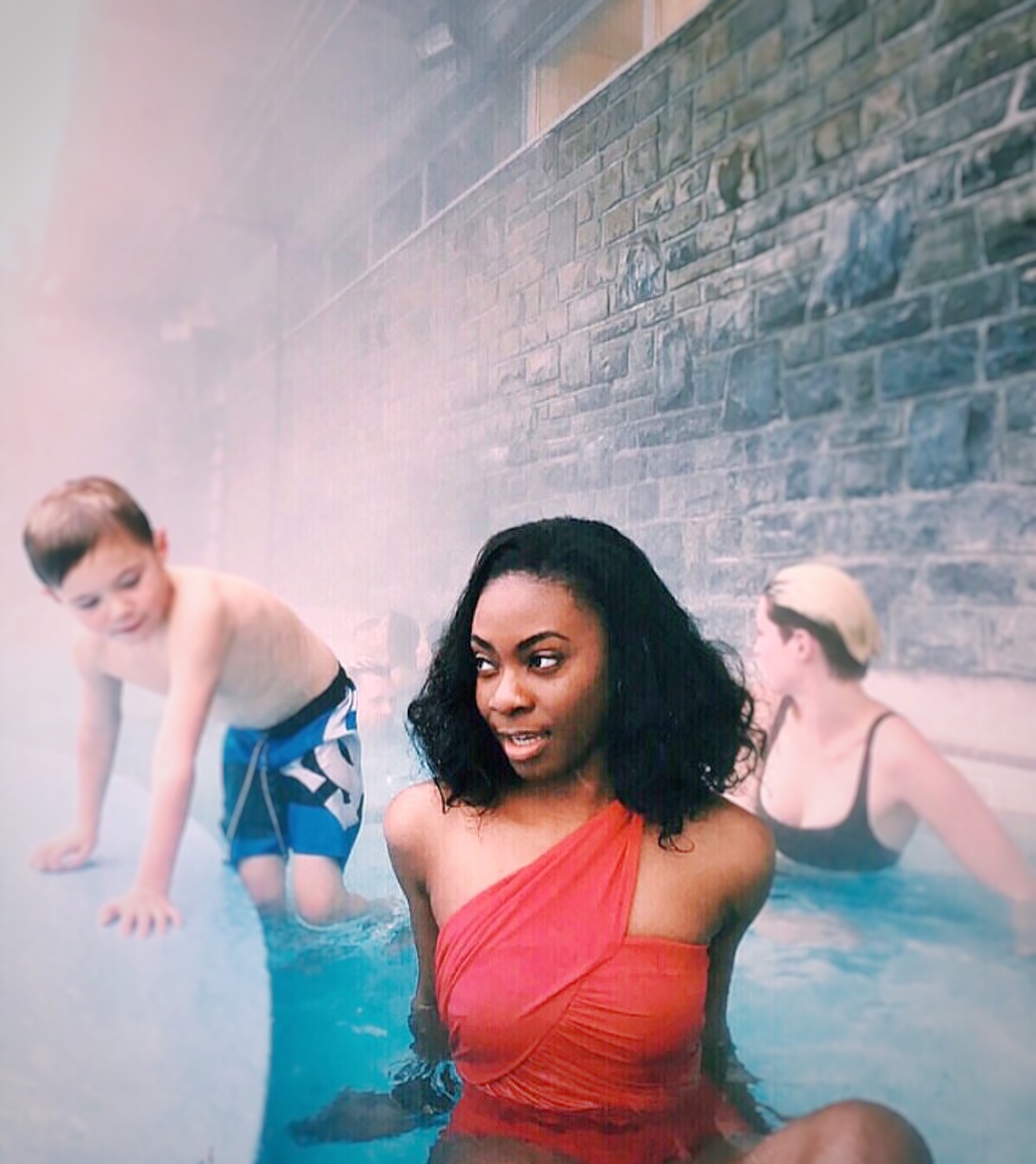 Green tropical swimsuit
This is my absolute favorite as it just looks so good on and had me feeling very tropical. Even though it was a little bit on the high end for a swimsuit (in my opinion), it was worth it. You can tell from the texture and feel of it that it's of such great quality. I got it in the Sporting Life store but the brand is called Prana.
Bikinis speak louder than words.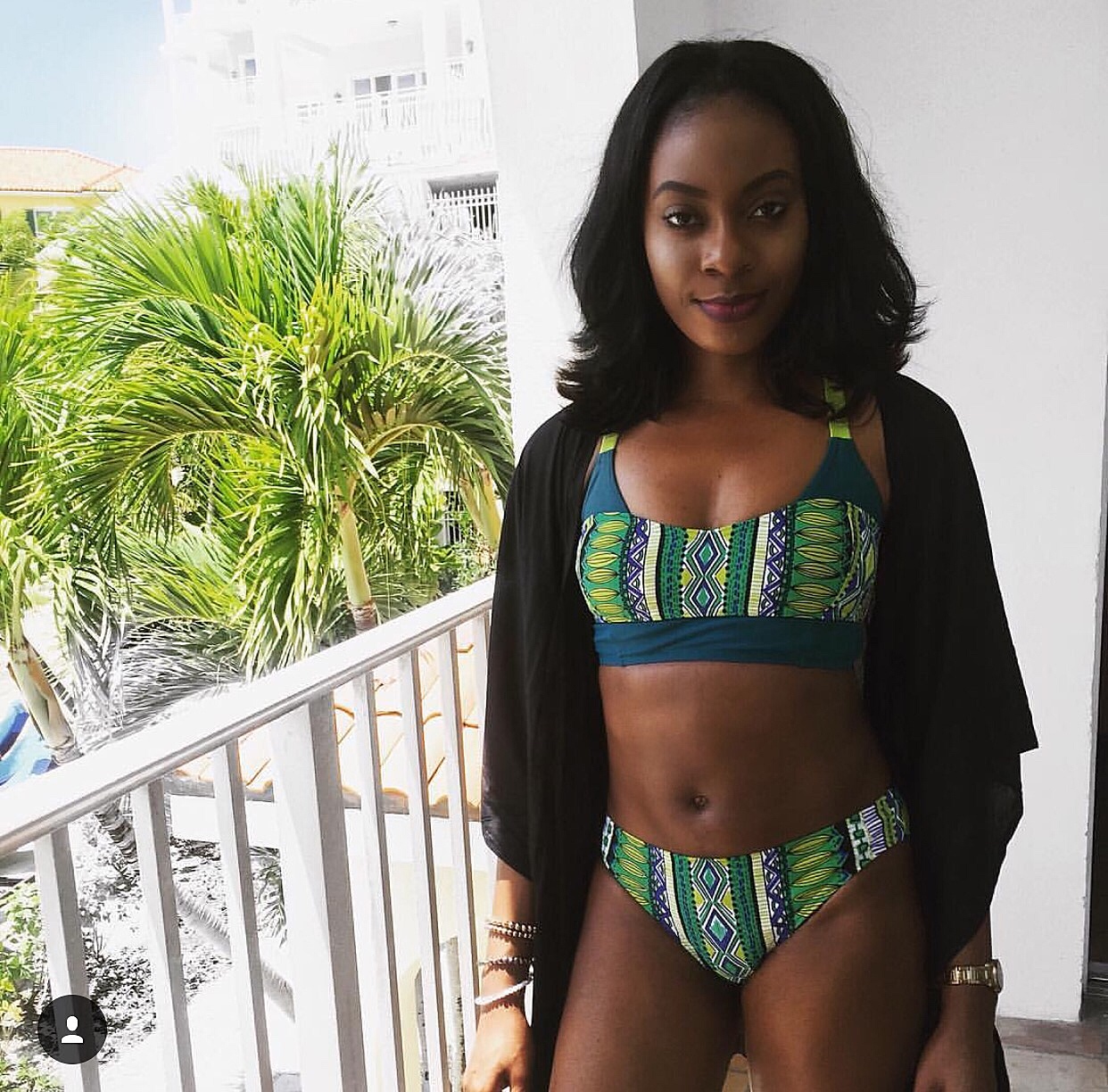 Orange one-piece swimsuit
This is a one-piece but has a tie-on at the back that makes it look like a two-piece. It's like the best of both worlds. I love that it can be worn in two ways, with or without the straps. You can find it here. I am not so sure about the color but I do like how it fits. It has some padding at the chest area so that is cool for those of us who narrowly escaped the itty bitty community.
If it requires a bikini, my answer is yes.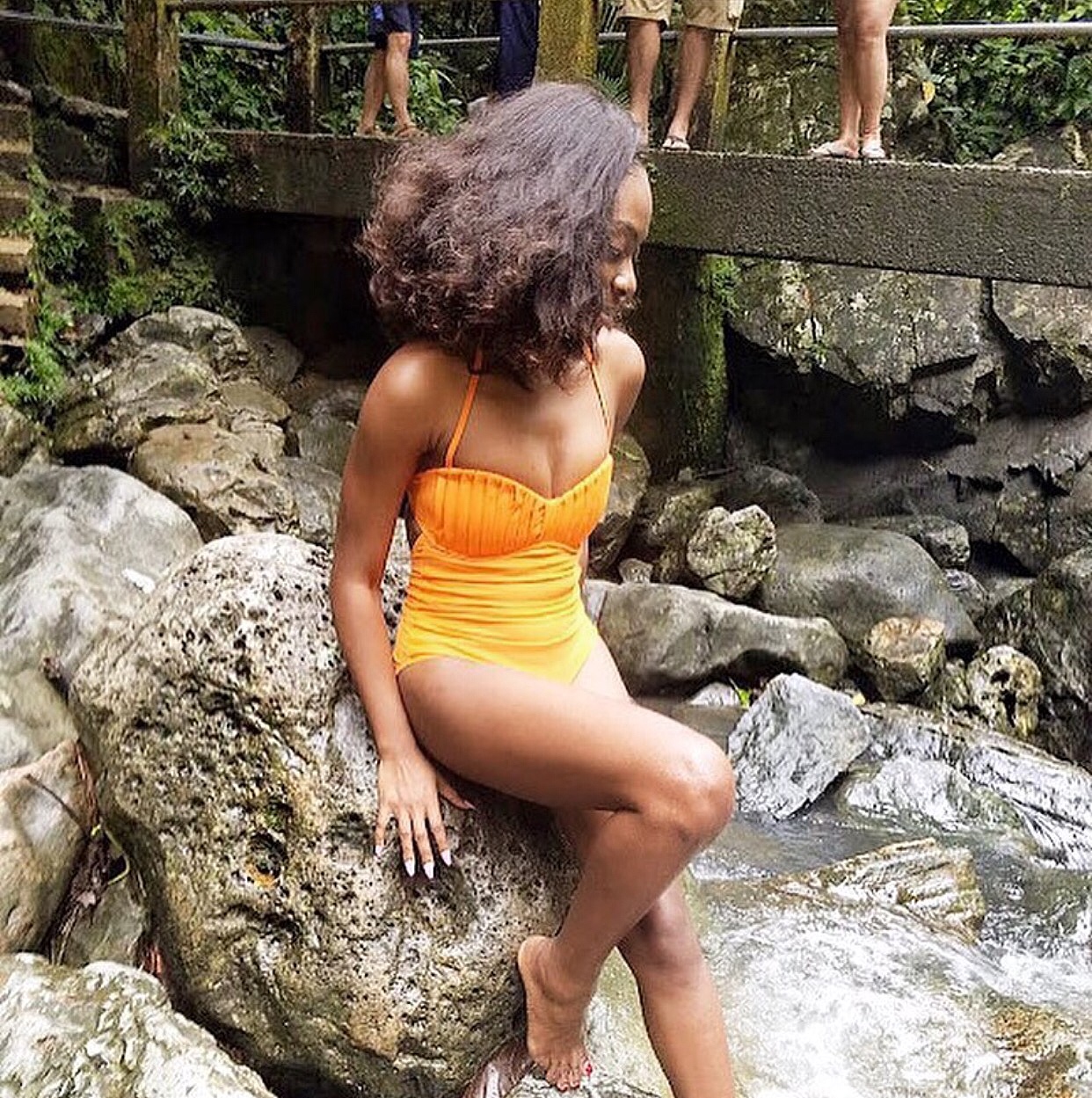 Yellow frilled swimsuit
For someone who says she is not a yellow person, I have a ton of photos of me in a yellow outfit. I particularly love this swimsuit. I was skeptical at first because it was way out of my comfort zone. I mean, it was not only yellow, it was a two-piece AND had frills. But I loved it on and felt so beautiful in it. Oh, I got it off Amazon and it is still available, guys.
Life isn't perfect but your swimwear can be.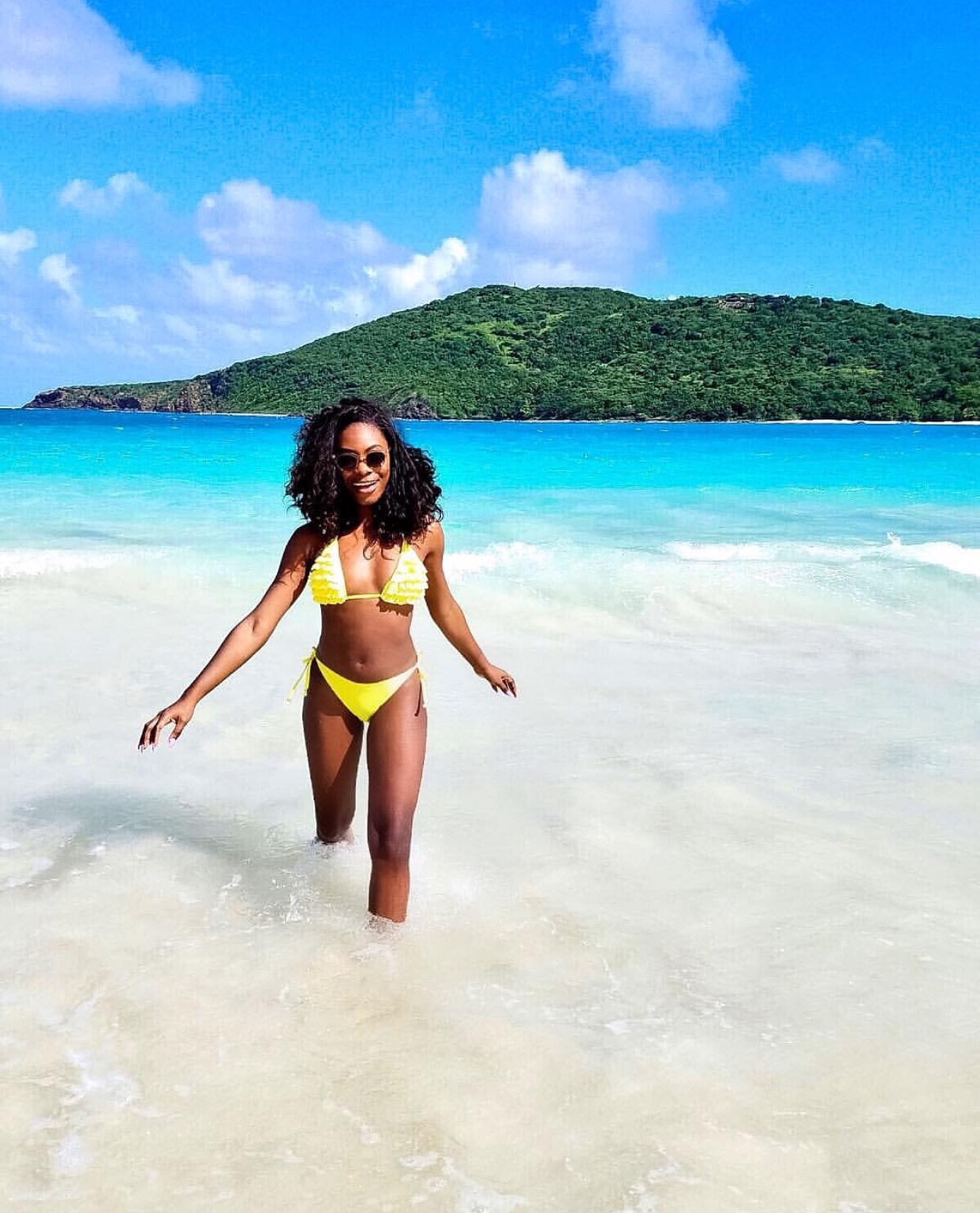 White and black swimsuit
This white and black swimsuit I scored off Misguided. It fits like a glove and looks like it was made just for me. It is up there as one of my favorite swimsuits. It's gorgeous! You can shop for it here.
Fill your life with experiences.. and bikinis.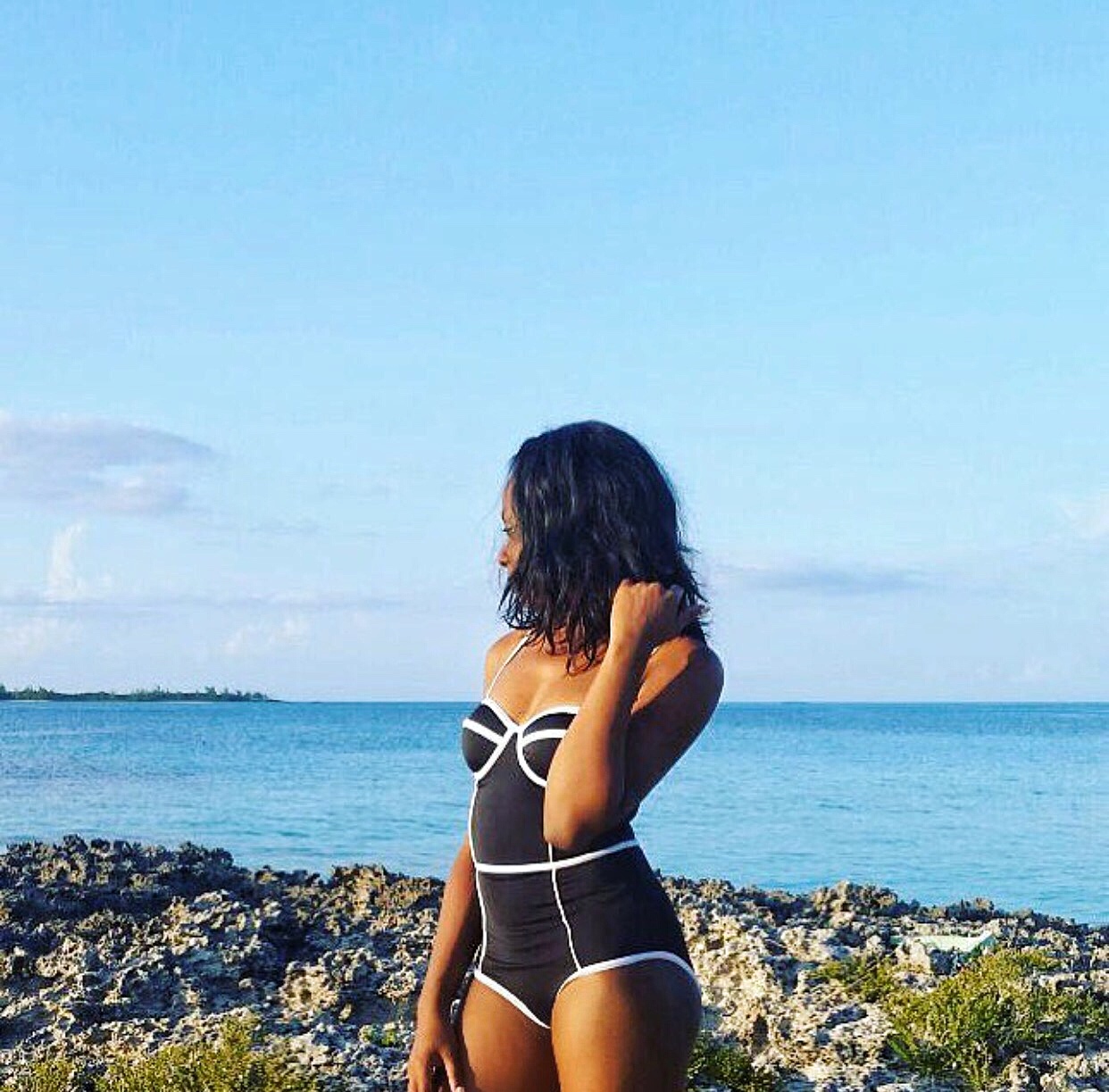 Blue two-piece swimsuit
(Or is this the color green?)  I love this two-piece swimsuit. I especially love the color (which I am not really sure of, to be quite honest with you.) and the fact that the bottoms are high-waisted. Perfect for my frame. You can find it here.
Be as picky with your men as you are your bikinis.
Light blue one-piece swimsuit
Great one-piece which I paired with a white cover-up. I love how simple and effortless it is and the color kind of matches the ocean, doesn't it? It's from Forever 21, who knew? Not sure they still carry, can't find it anywhere online but you can find a very similar one here.
I don't need to work on my bikini body, you need to work on your bikini mind.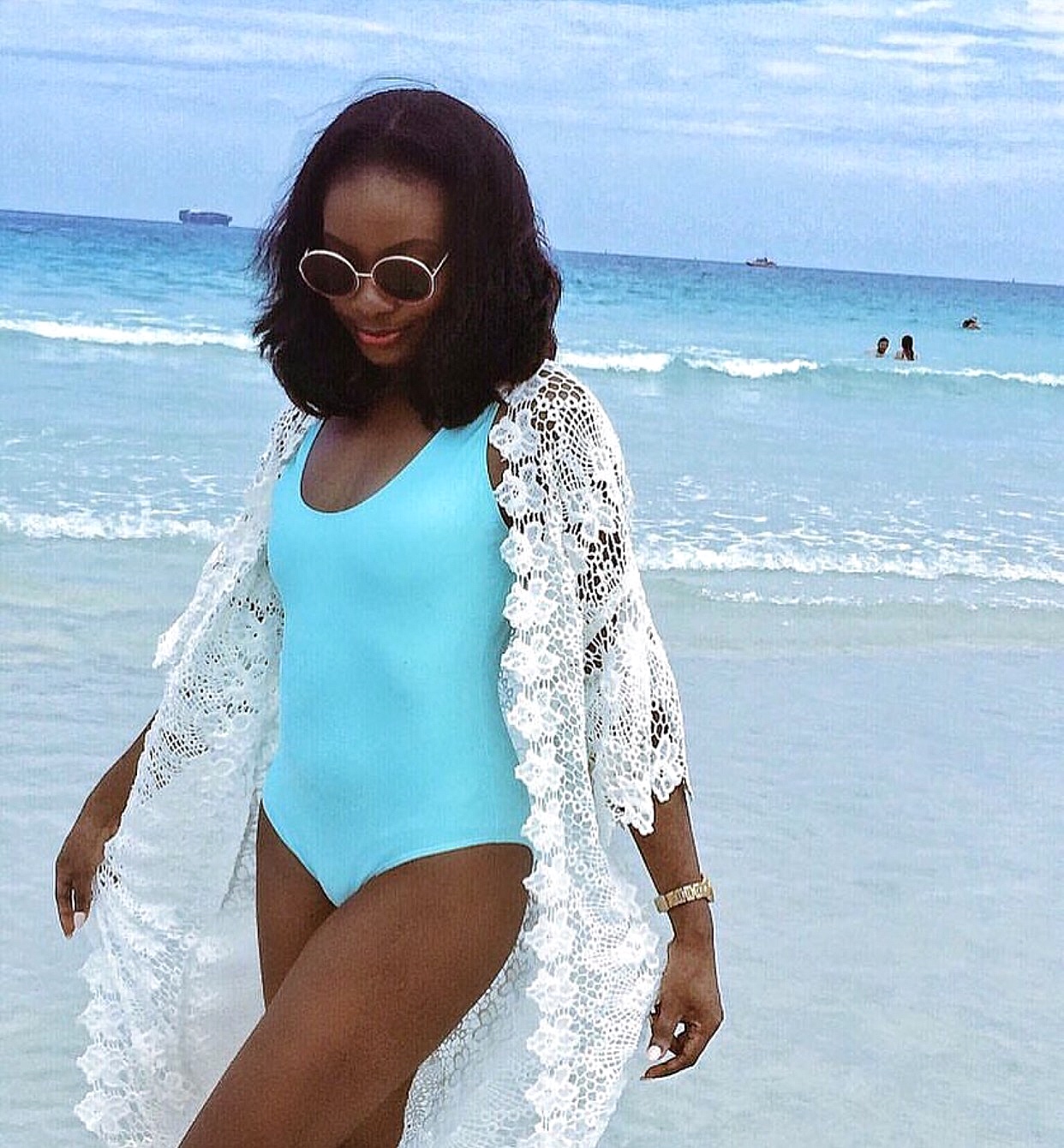 So that's about it for my swimsuit collection. I think misguided have some of the most beautiful pieces and I am still saving up to get my first andrea iyamah piece. You will be the first to know when that happens. Haha. Which one's your favorite? And are you a one-piece or two-piece person? Let me know your thoughts in the comments.
Now onto my favorite beaches. Ready?
I have visited a fair amount of beaches but here are three of my absolute favorite ones. One thing's in common: Lots of sun, palmtrees, blue skies, white powdery sand and clear blue water.
Flamenco Beach, Puerto Rico
This beach is beautiful to say the least. It not only features a beautiful mountain that is absolutely picture-esque, it has one of the clearest blue waters I have ever seen and that a white powdery sand. It is about two hours away from San Juan, Puerto Rico but definitely worth the stop.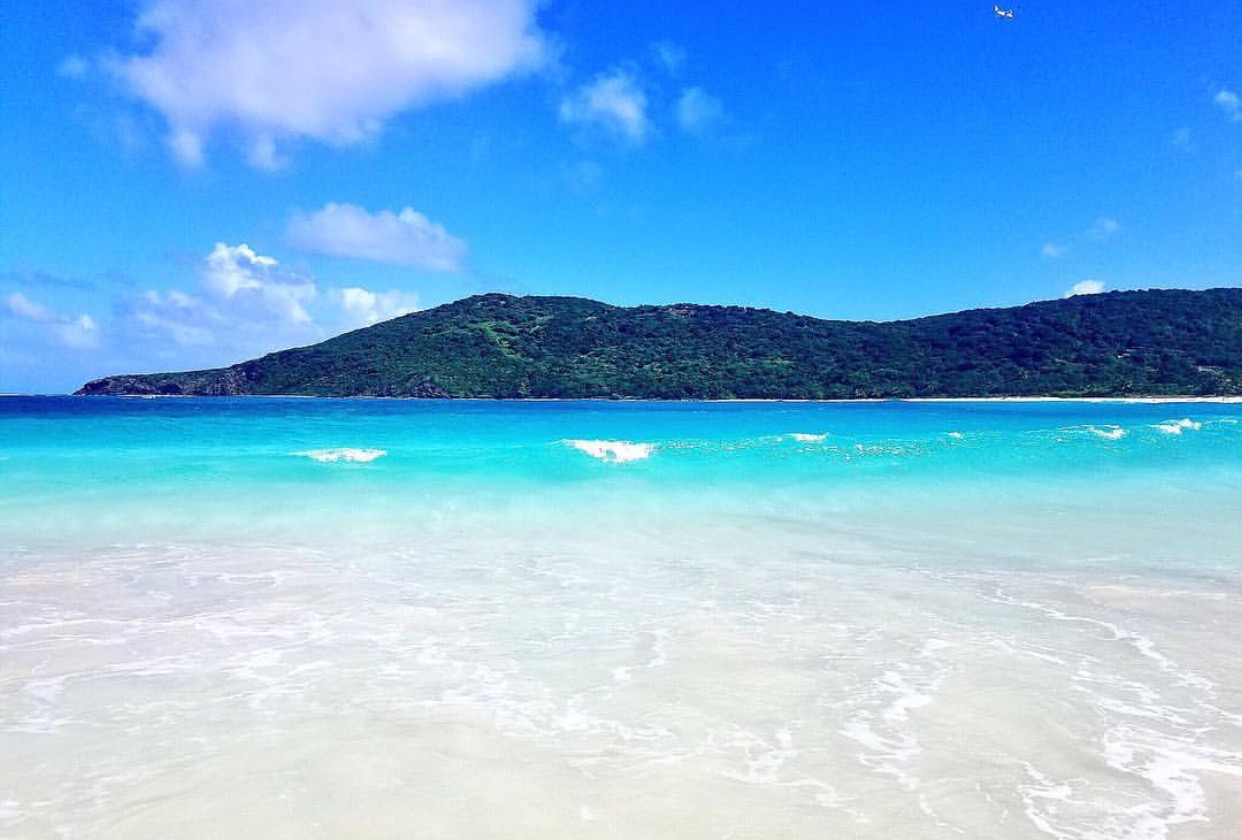 Paradise Island, Bahamas
Not even kidding, as soon as I stepped into this beach, I was like, "Omg, omg, omgggg" Wow, it's literally like you have stepped into heaven but like the name implies, it really is paradise. As I described it in this Instagram post, it is the definition of blue skies, white sand, aqua water.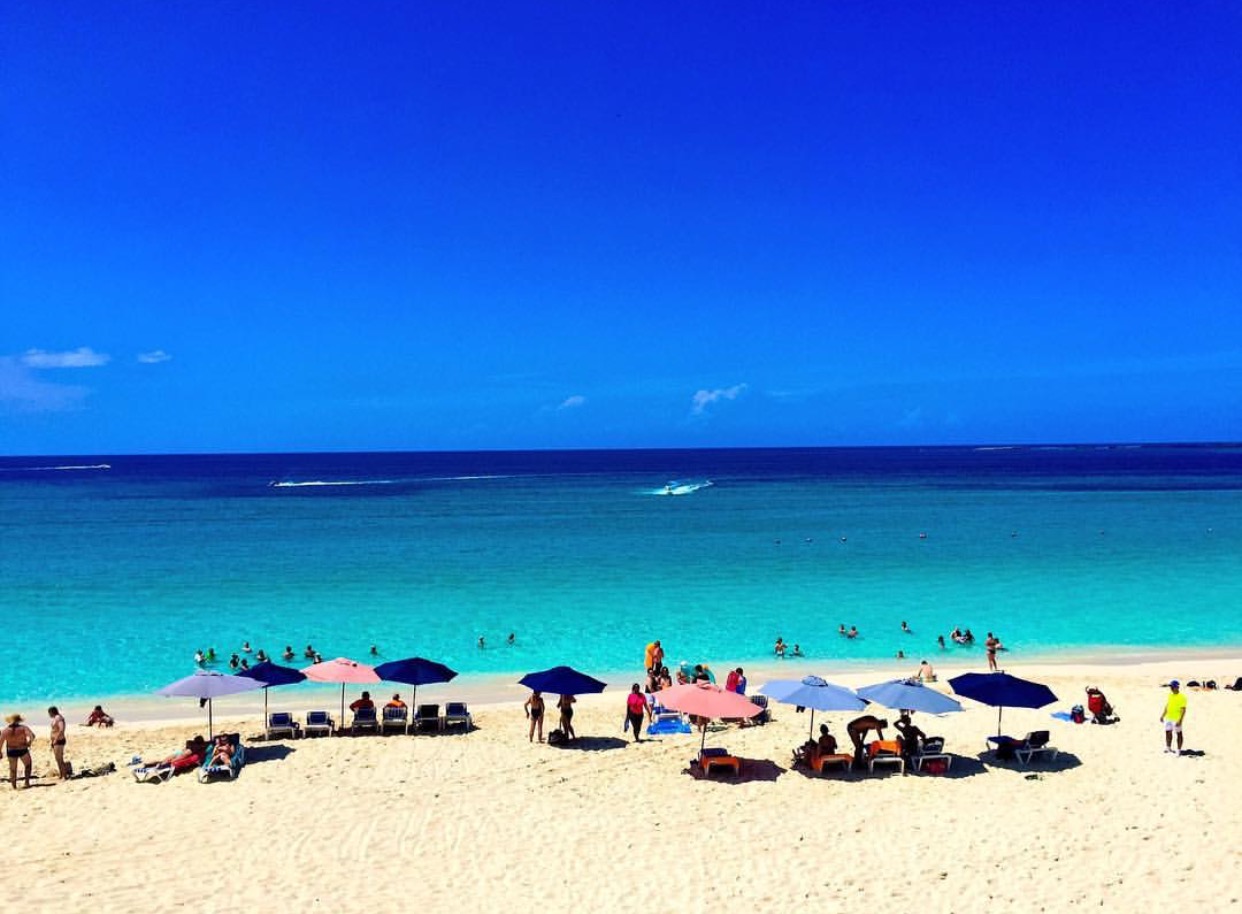 Varadero Beach, Cuba
This beach is an absolute beauty. It is about three hours away from Havana, Cuba but worth the trip. I kept asking my sister who went on the trip with me if they mixed a turquoise blue color into the beach. It was unrealistically turquoise blue, like those ones that look like filters. Sigh.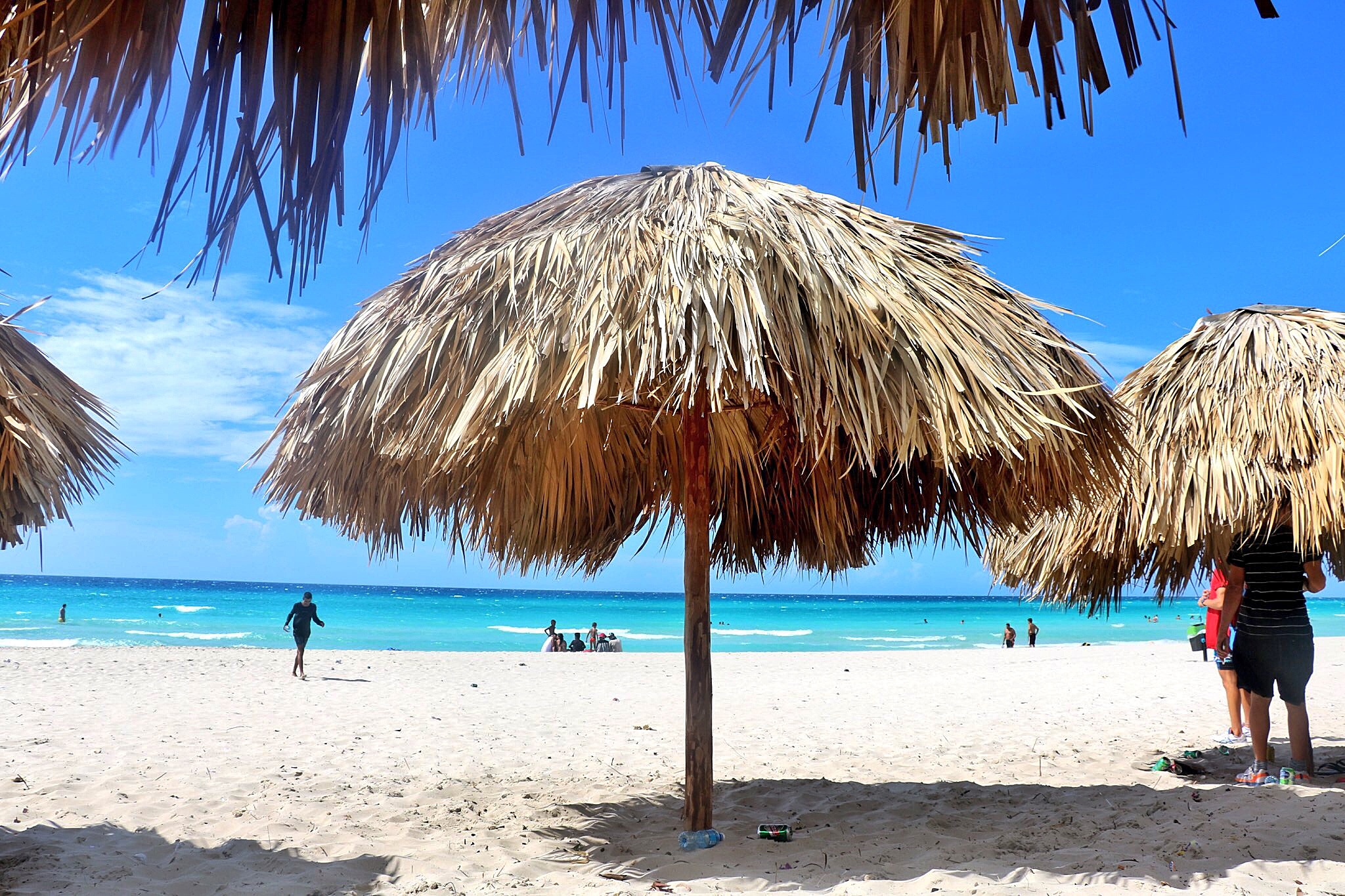 Bonus: Want to know my least favorite beach? Miami Beach. I thought it was rather bland and a tad poorly maintained. But, Miami city is an absolutely buzzing place so I will give that a pass!
What are your favorite beaches? What beaches will you like to visit? Let me know in the comments. (P.S: Not sure I know how to correctly pronounce beaches. So, thankfully I only get to type this. Haha!
I hope you have enjoyed this post. Do subscribe to the blog to stay in the loop. And if you snag anyone of these items, don't forget to let me know.
New content every Fridays, so see you next Friday where I'll be sharing a personal travel experience aka travel diaries. If you'll like to see other of my travel experiences, browse this category.
Until next time,
Love always.