A Travel Guide to Barbados: What to Know, See and Experience
Barbados is truly an island that has it all. From its powdery sand beaches to its great-tasting food, friendly people and bustling nightlife, there's something for everyone on this Caribbean island.
Thanks to an invitation from the Barbados Tourism Board, I had the pleasure of visiting Barbados in late July. I was a part of the media team covering its very famous Crop Over Season that starts from June to the first week of August. I went there for 7 days at the final stretch of Crop Over leading up to the big day called Grand Kadooment. Carnival season on the island is always a lot of fun on the island so I am glad to have experienced it all.
For those planning a trip to Barbados or even considering it as a possible destination, here is a guide to help you plan your trip there and make the most of it. Enjoy.
To get more up-to-date information about Barbados, click here.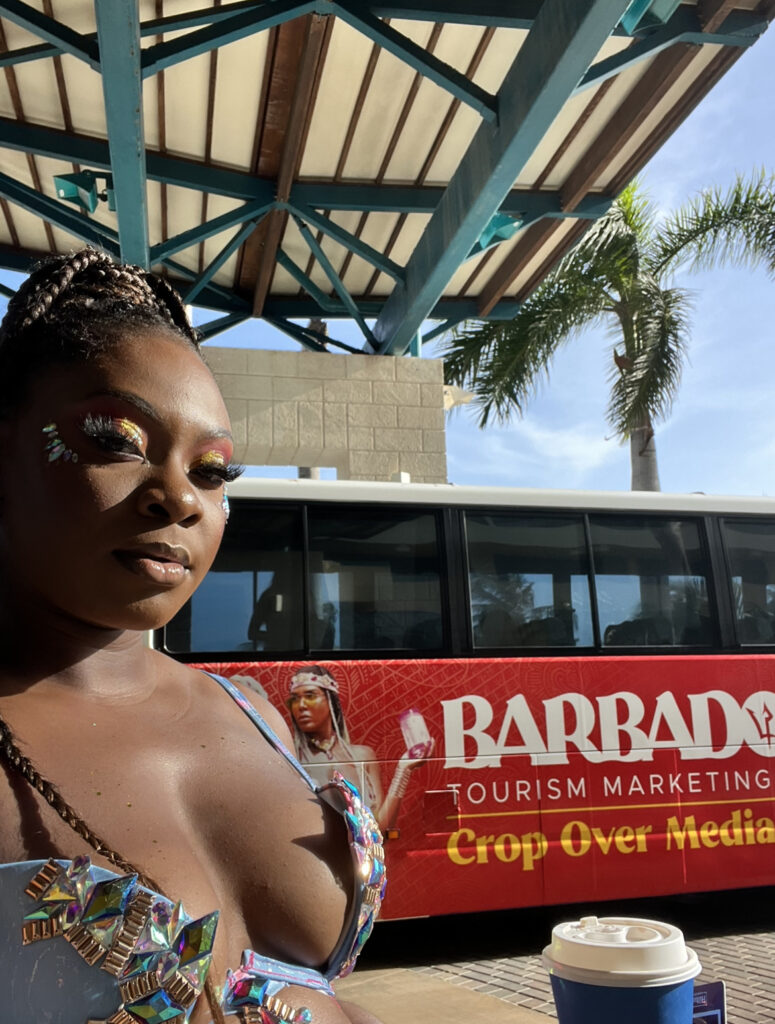 Check out my Barbados content on Instagram to see more videos of my experience
Travel guide to Barbados
About Barbados
A lot of people know Barbados as the country where the famous singer and entrepreneur was born, Rihanna. While Rihanna is a big part of the story of Barbados, there's so much more to the country that not a lot of people know about. First, Barbados is located in the Eastern part of the Caribbean, and was under the British rule for about 300 years. Also, Barbados is known as the home of Rum, as the world's oldest Rum distillery, Mount Gay is located there. Barbados is also full of history, culture and the people are warm and friendly. Did I add? They LOVE to party.
The best time to go to Barbados
Barbados is pretty much an all-year round destination. However, the country has two distinct seasons – wet and dry season. The wet season runs from June to December, and the dry season runs from December through to May. I went to Barbados during the wet season in late July to August and while there were times when it rained, it was very short and didn't last long at all. It was also very sunny, so you could still enjoy some warmth. If you're looking to go for Crop Over, it happens during wet season, but trust me, there is barely any rain and if it does rain, it clears up quickly.
Carnival in Barbados Tips
Scroll down to the bottom of the page to read tips related to Carnival in Barbados
Getting into Barbados
I flew from Toronto to Barbados via Air Canada – there are quite a bit of flights from here. The airport to get to is the Grantley Adams International Airport (BGI). My flight was pretty good and I got to Barbados in good time. Make sure to search for flights in advance so you can snag a decent deal. This is even more important if you are traveling during Crop Over Season as flight prices skyrocket during this busy time.
Regarding COVID checks and travel restrictions, as of July 2022, (please check the official website for any up-to-date information), you had to fill out a travel form and get a QR code before visiting the island. This was pretty straightforward and easy; you can get all the information here. Just recently, all travel restrictions were removed when entering Barbados, whether vaccinated or not.
Where I stayed in Barbados
There are a lot of good hotel options in Barbados. I stayed at the Hilton Barbados Resort located in St.Michael and I had a pretty good stay. Hilton has really awesome ocean views and I hear every room comes with a balcony – mine certainly did. I also enjoyed the restaurant and the service was top-notch. I recommend staying here if you want a comfortable and luxurious stay in a good location. Rates are about $300 per night.
Other places you can stay in Barbados are Sandals Resort Barbados, or even the popular 02 Beach Club and Spa. One thing is for sure – there are lots of properties to choose from.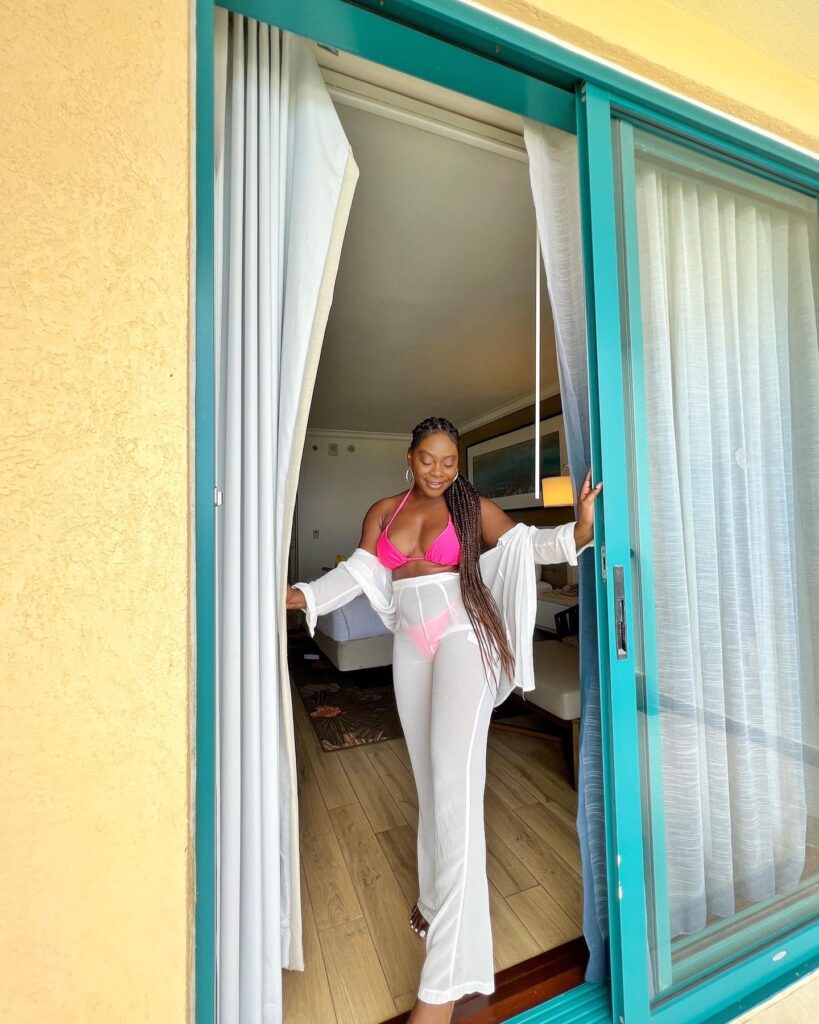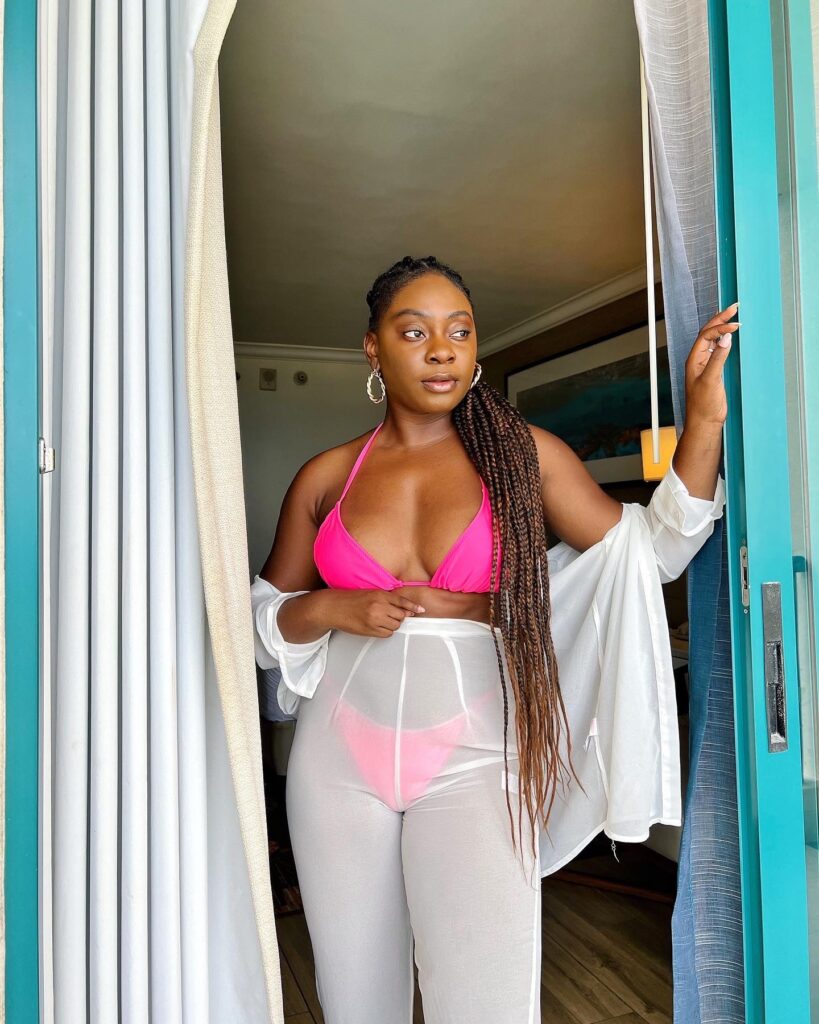 Top things to do in Barbados
Barbados isn't just about the parties – even though they are a great reason to visit. Barbados isn't just about the beaches, but my God, the beaches are stunning. There's so much to see and do in Barbados but here are my top recommended activities for you to take part in, for the full Barbados experience.
1.) Go on a catamaran cruise of the island
A boat cruise is one of the best things to do in Barbados. Being on the water and experiencing the island's beauty is unmatched. You can book one here.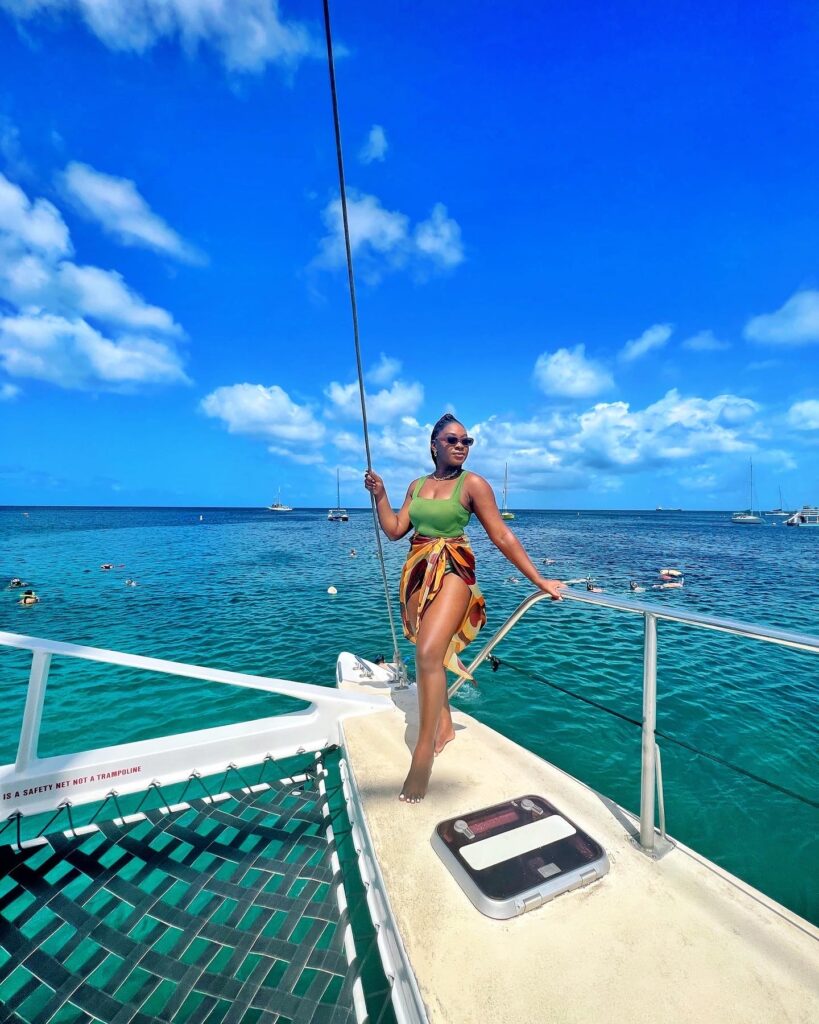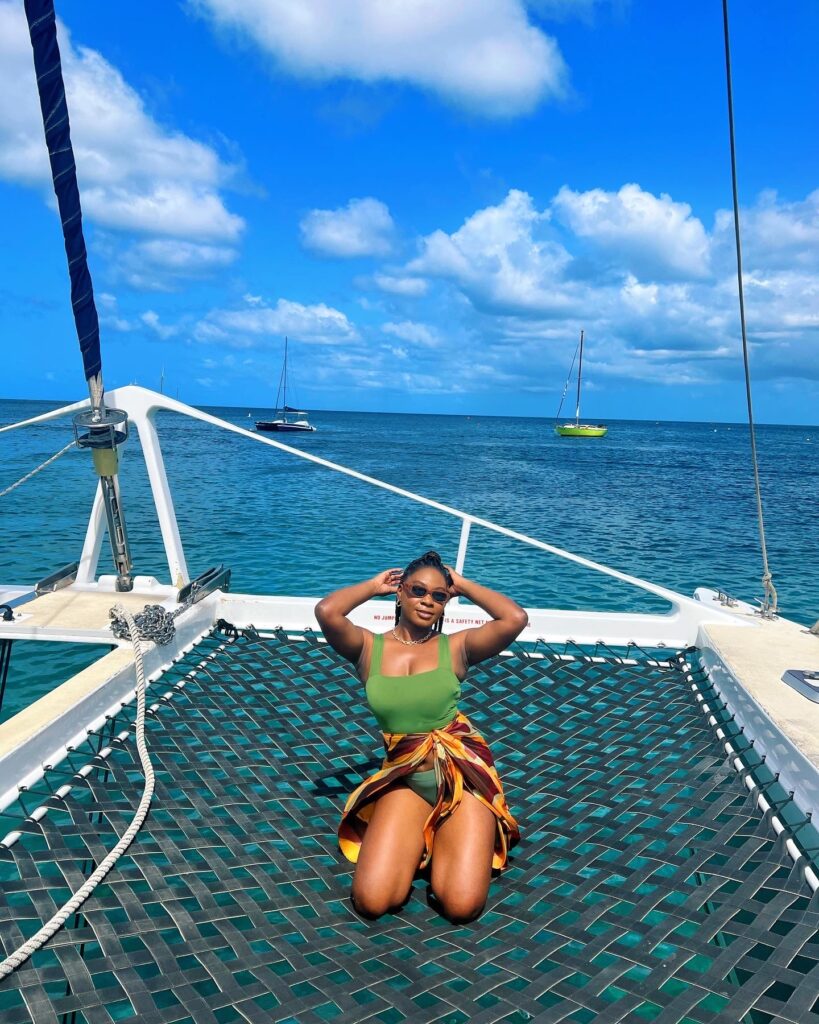 2.) Go Rum Tasting at Mount Gay
Mount Gay is the oldest running rum distillery in the world, and it happens to be in Barbados. So of course this is a must-do when you are there. Rum tasting is a really great way to spend the afternoon. You can book it here.
3.) Tram cave tour at Harrison's Cave
One of my favorite experiences in Barbados was visiting Harrison's cave and doing a tour of an incredible underground cave. I really enjoyed it and it was visually stimulating. I recommend adding this to your itinerary. Here's a link to book the experience.
4.) Visit the beaches in Barbados
I think this goes without saying, but I will mention it anyway. Visiting the beach in Barbados is non-negotiable and you'll be spoiled for choice on which one to visit. My favorite beaches were Pebbles Beach and Brighton Beach. I absolutely loved them both, especially Brighton Beach. You can also do Horseback riding if you are feeling up to it. I definitely enjoyed doing it and it made the beach experience even better. I used Sandy Turf for this experience.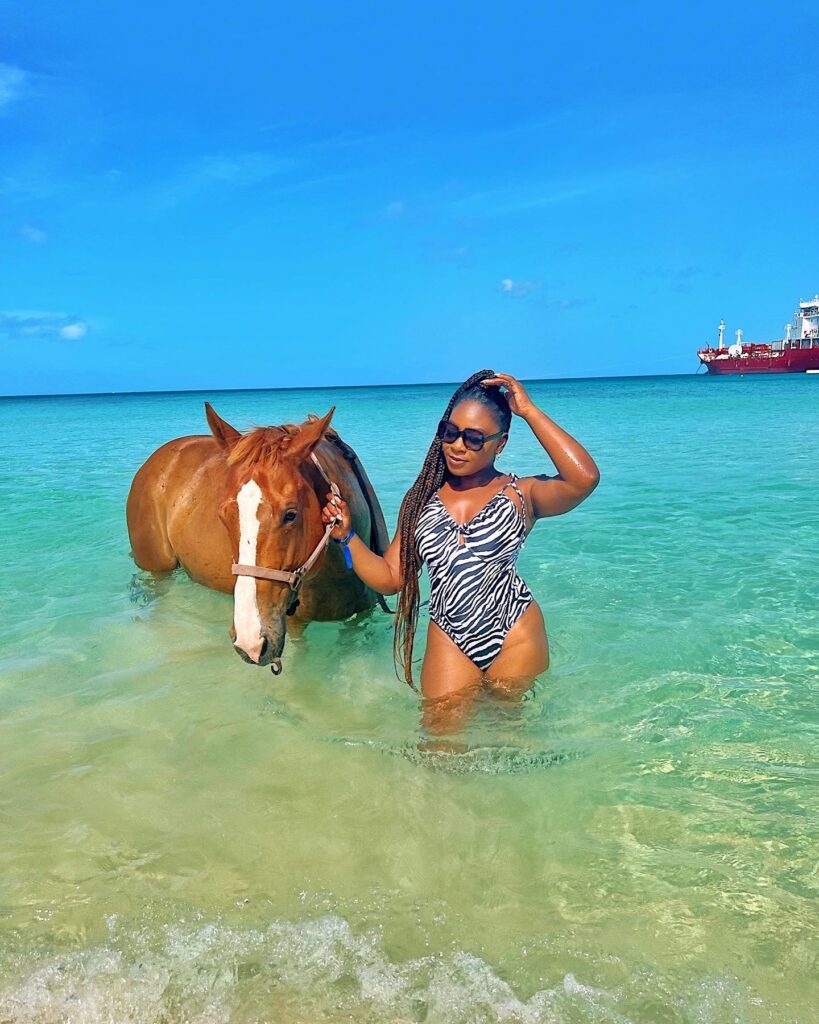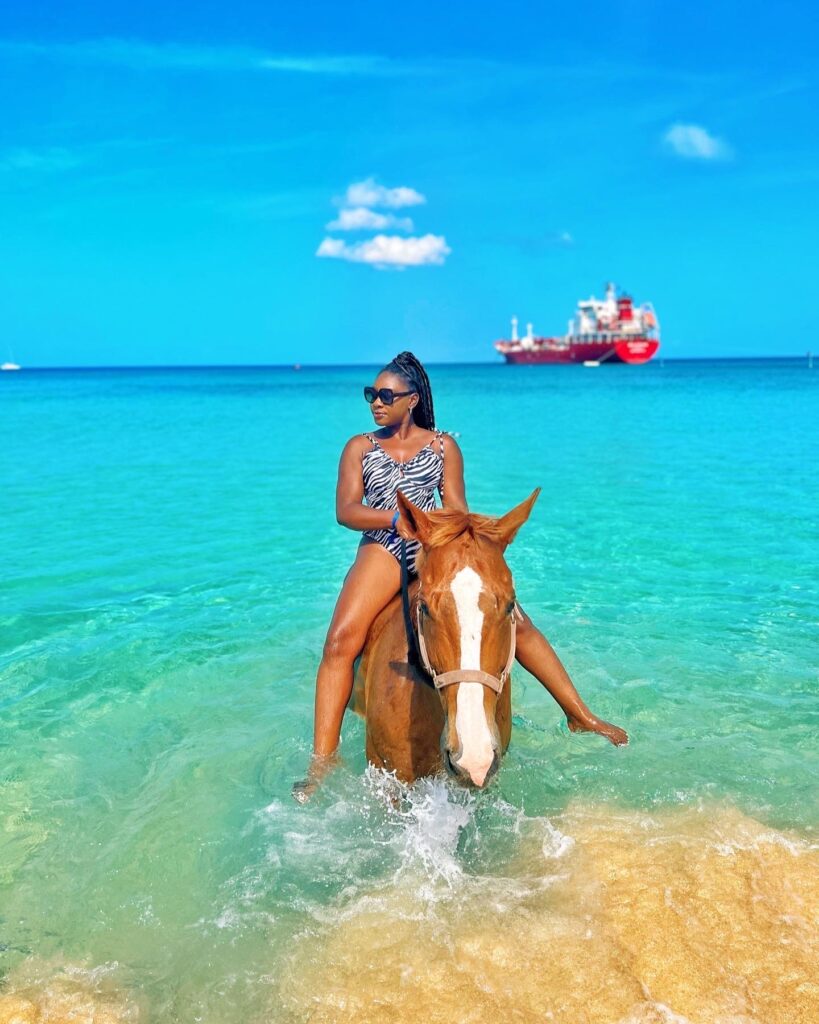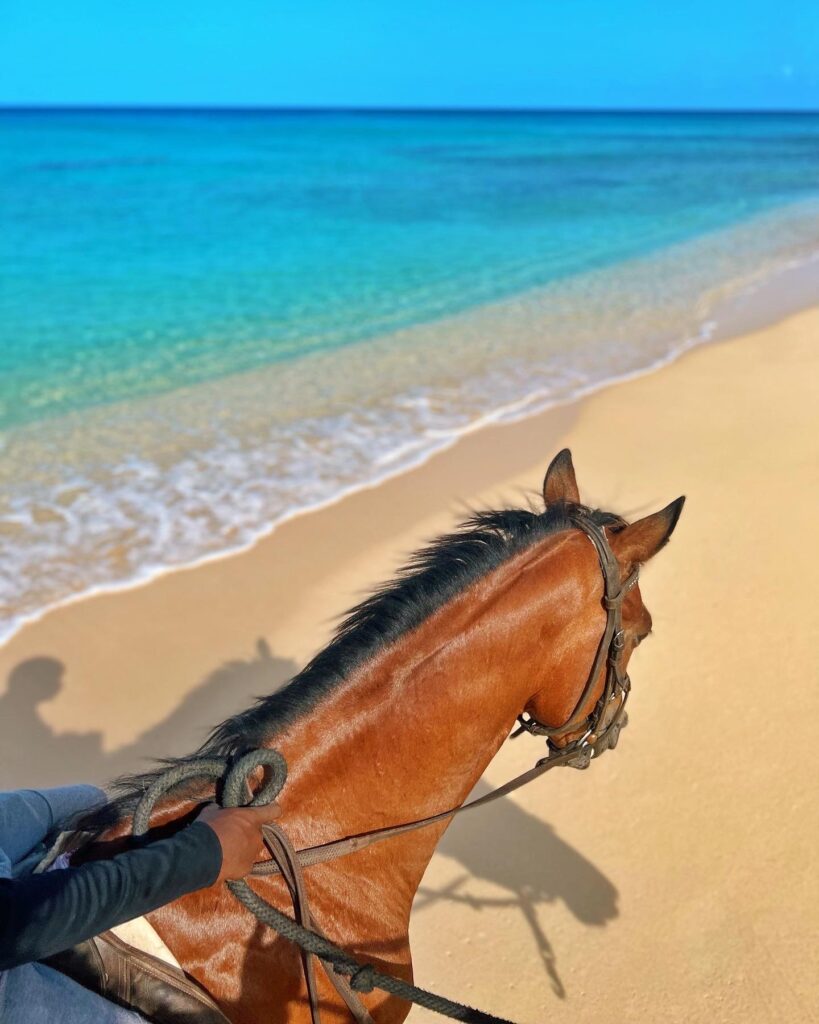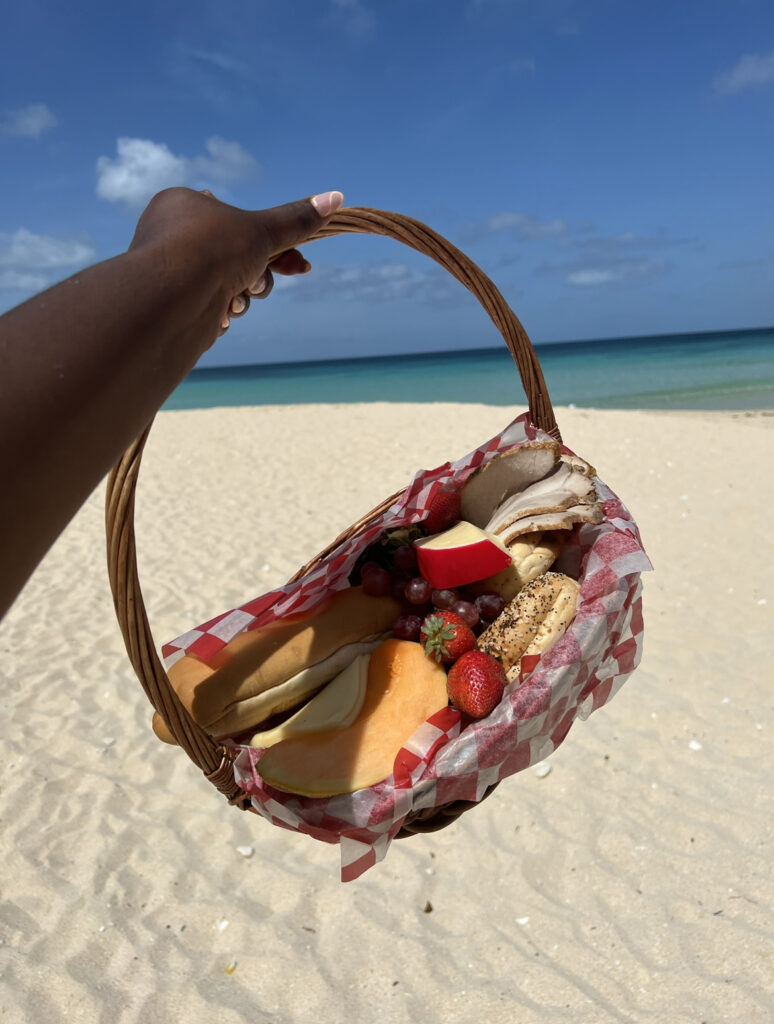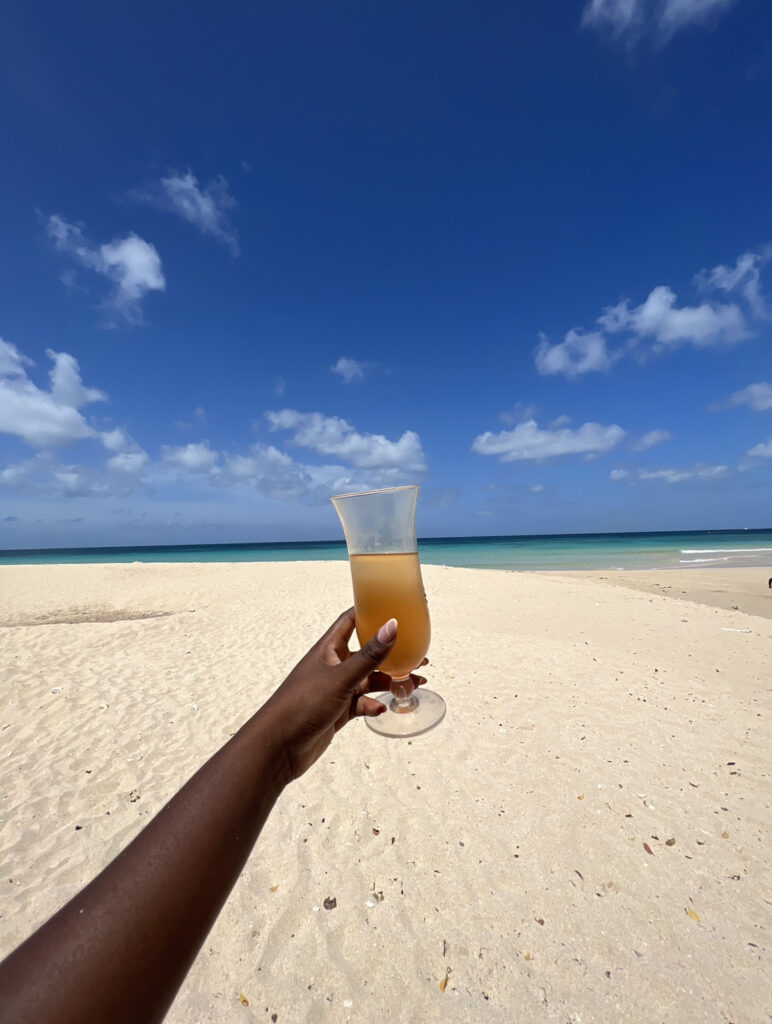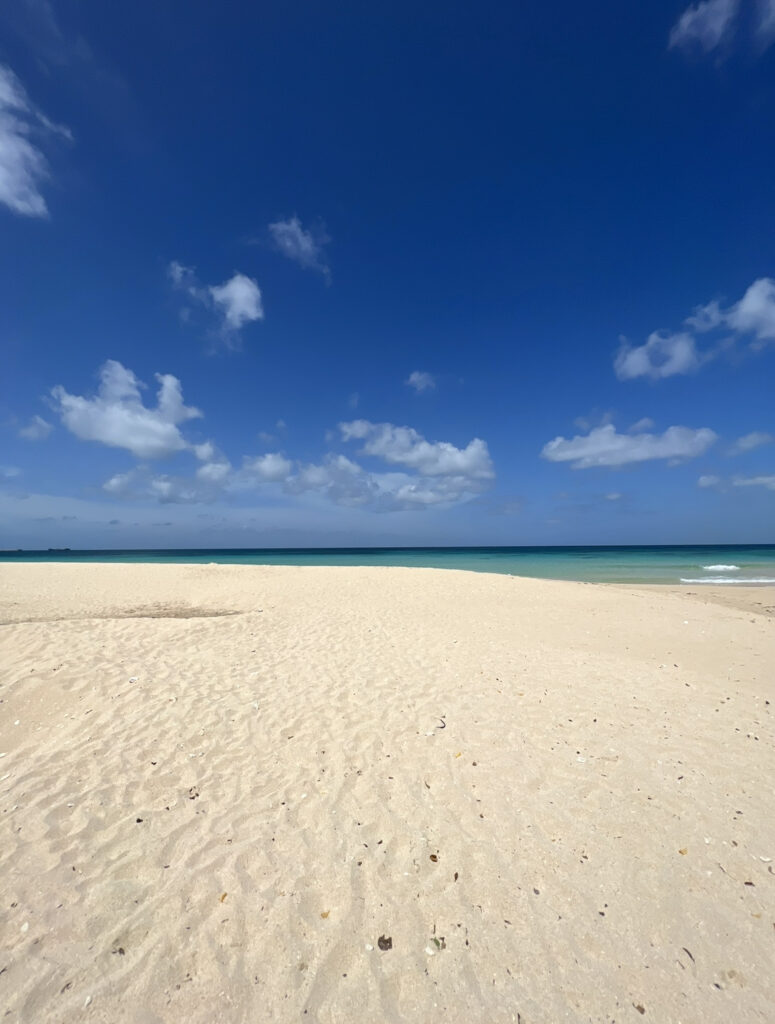 5.) Try fish cakes
If there's any food to try in Barbados, it is definitely fishcakes. Try some at Hot Legendary Fishcakes, and thank me later. I also recommend doing a food tour in Barbados to get to know more about the food and local culture. You can book a food tour here.
6.) Do a tour of the island
I believe this could be your first activity in Barbados. It's a great way to get introduced to the island, history and people. There are a lot of private tours for a full day or half a day, depending on how long you have to spare. But I think this tour is good for learning about the island in depth before fully diving in with other activities. You can book a private island tour here, or a shared island tour here.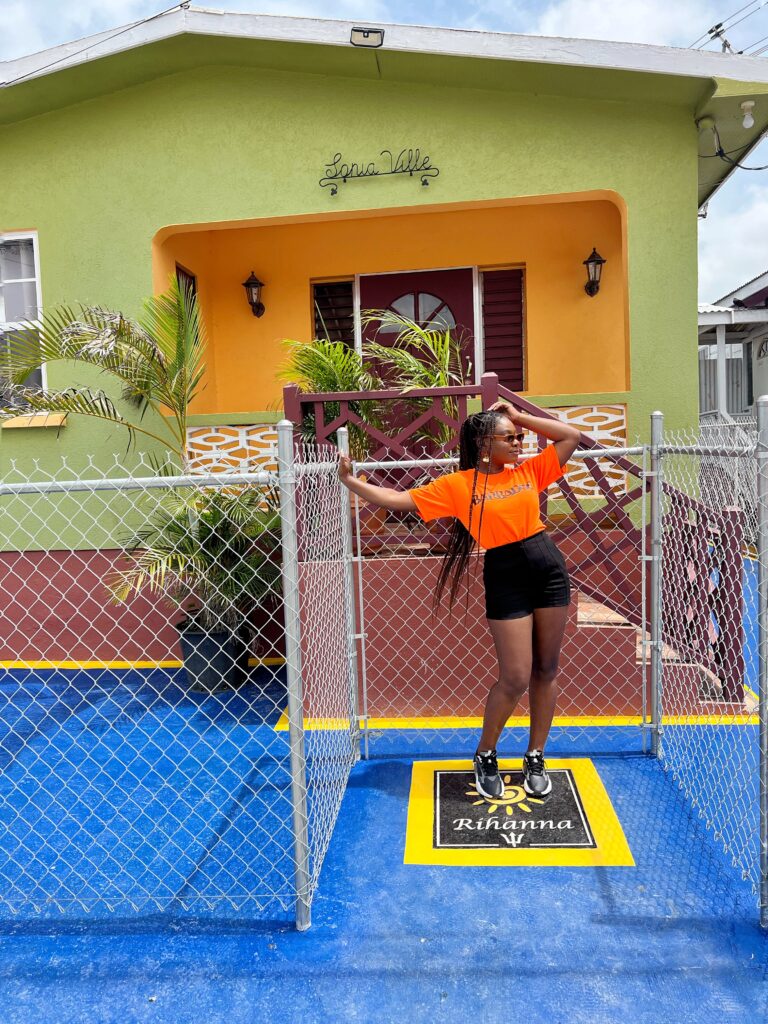 7.) And of course, play Mas in Grand Kadooment if you are going in July/August
If you are going to Barbados in late July to August, you've got to experience the Crop Over carnival and Grand Kadooment in general. This is where you can see the music, food, and very vibrant costumes in action. Take it one step further by actually participating and "jumping in". See below for a whole section on Crop Over and more tips for planning one.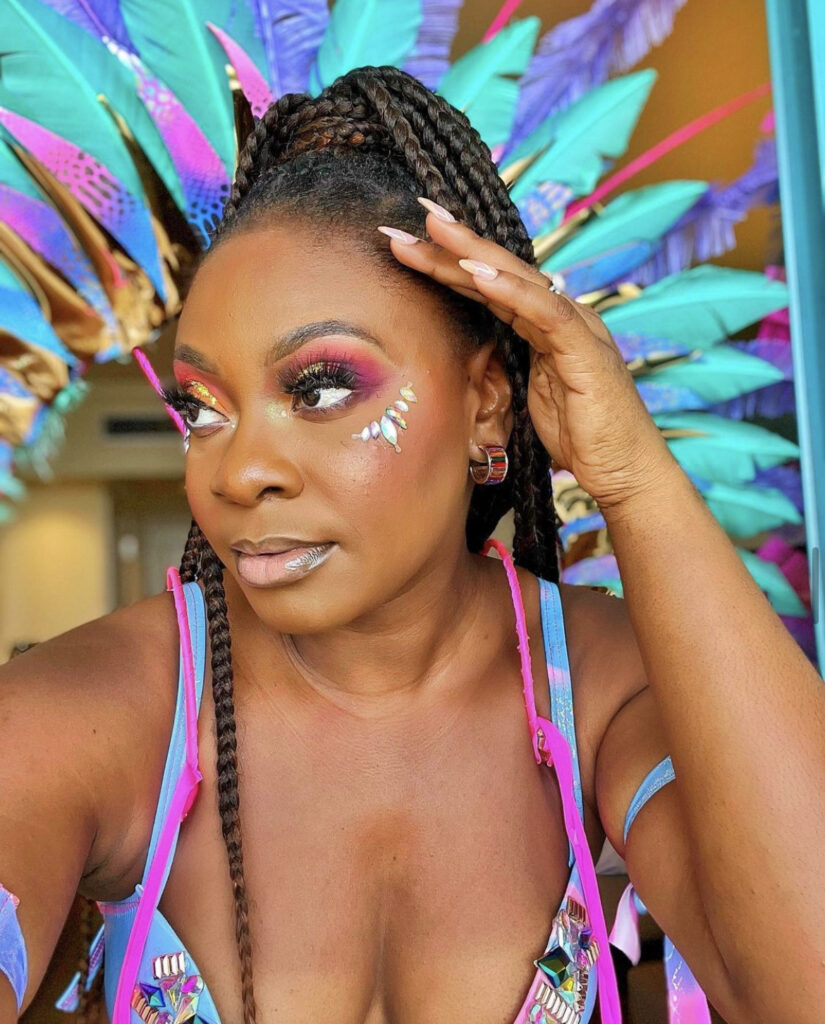 Where to eat? One of my favorite places to eat was La Cabane, a beachside restaurant with some very tasty seafood. I enjoyed eating the ceviche – it was so tasty, and I still dream about it to this day. I highly recommend going there in the late evening and then ending your day there to catch the sunset. Absolutely dreamy.
Things to Know about Crop Over Season
This deserves its own section, so here we go. Crop Over is the famous carnival season in Barbados. This is where you will see the island come to life in a major way. I believe everyone should experience Crop Over at least once in their life. After experiencing it, I want to go back over and over again.
In Barbados, Crop Over happens from June to the first Monday in August. A lot of activities and parties happen during Crop Over, and then the season ends with Grand Kadooment, a day where the costumes, music, and parade happen. I was so happy to attend my first ever Grand Kadooment this year; the experience was one for the books. If you are planning one, here are some things to remember.
1.) Sort out your costume
If you'd like to play Mas, participate in Grand Kadooment and join a parade, you should get your costumes when they are released. Typically, you will choose a band to join for the big day, and that band will have costumes and take care of you on the day. I "jumped" in with Aura Experience, one of the best in Barbados. I got the Santa Monica design with a backpack. I believe that they change designs every year. Costumes start from $500 to as high as $1400. It is one of those bucket list things you do, and it is worth it. Your costumes also come with a package for unlimited drinks, food, security wristbands, breakfast, lunch, etc. It's a whole package. Just make sure not to lose your wristband.
Fun fact – Rihanna's younger brother owns Aura Experience band, so its really a top-notch one that Rihanna herself uses. Who knows? You may bump into her when you visit. She does carnival in Barbados yearly but not this year (2022). Rumour has it its because she just had a baby, which is understandable.
2.) Determine what parties and events you want to attend
During Crop Over, lots of parties and events happen. I encourage you to attend at least three of them to get the full Carnival experience. You can check out the Visit Barbados website as they share a calendar of events yearly. Here is the events calendar from 2022.
My recommended events to attend and the ones I enjoyed the most.
Fore Day morning. (THIS is a must-do, especially if you do it with Native). This party starts at 12 am in the morning and runs until day breaks at around 8 am. Yes, you'll be partying for about 8 hours, but it will be one of the best experiences of your life. I especially like playing with paint, dancing, and drinking. Oh my. An experience I will never forget. Check out Native Caribbean's website for more information. A tip for this day is to wear baby oil on your skin so the paint can come off easily. Also, make sure to stay hydrated always.
The Mimosa Experience. If you love day parties, you'll love this one. It starts pretty early – around 7 am and you can have an all-inclusive experience with lots of food trucks, drinks, alcohol, and music. It's a great way to kick off the day for sure. Check out their page on Instagram.
Lifted Barbados. Another event I really enjoyed was Lifted. This is a classic night party with full Caribbean vibes. Lots of dancing, drinks, vibes and more. If you want to see a real Caribbean party in action, Lifted is the place to be. You can find them on Liftedeventsbarbados on Instagram.
Other events are Bliss, Rise and Revive. There are so many more, but these were the ones I enjoyed the most. Apart from the Visit Barbados website, you may also find some events on My Events Barbados.
Tips for Grand Kadooment day
Make sure to stay hydrated. This is key if you want to enjoy carnival.
Try to get some rest the night before. You will need all the energy you can get.
Don't lose your handbands. You'll need it to access your food and drinks.
Take breaks. It is rather unrealistic to be on the road throughout the day, dancing and drinking. Take regular breaks and then get back on the road.
Everything at your own pace. But have fun.
Conclusion
Barbados is an amazing travel destination any time of the year, but add in the Crop Over carnival experience, and you take it to another level. I highly recommend a visit there, and I thank Barbados tourism for inviting me to their beautiful island for seven days. I'll be back again for sure. Thank you for reading this guide – I hope you found it helpful. Let me know if you have any questions in the comments below.
Going somewhere? Check out more of my travel guides here.