A Travel Guide to Nairobi, Kenya: What to See, Do, Experience
Not many cities in the world are as captivating as Nairobi, Kenya. The city has it all – from delicious food to breathtaking landscapes, a safari and the warmest people you'll meet on your travels. If you're thinking of visiting Nairobi, it's time to start making plans. To help you, I have put together this travel guide of the best things to see, do and experience in Nairobi, Kenya. You are reading: A Travel Guide to Nairobi
Related: Read this post on my first time in Kenya.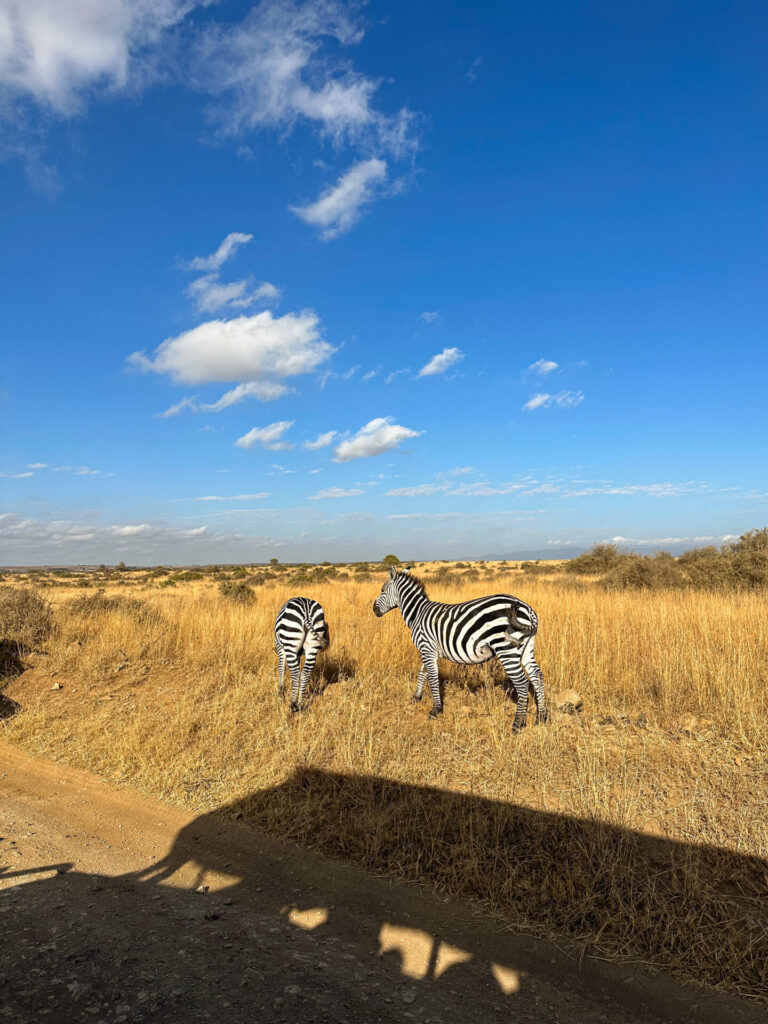 A little about Nairobi, Kenya
Nairobi is the dynamic capital of Kenya. It sits on a high plateau, where skyscrapers and wildlife share the same cityscape.
Picture this: a bustling metropolis with a vibrant culture, where flavors from around the world mingle in street markets, while just outside the city, Nairobi National Park offers a thrilling safari experience, where lions and giraffes roam against the backdrop of modern life. It's a city that everyone needs to experience.
Getting to Nairobi, Kenya
Depending on where you are traveling from, there are a lot of airlines that travel to Nairobi, although you may need to make a few connections. From Kenya Airways itself to Ethiopian Airlines, you would be spoiled for choice on the airline availability to Kenya. However, if you want to travel in ultimate luxury, style and comfort, I recommend using Qatar Airways like I did. I had a short layover in Doha also. It was the most pleasant and comfortable long haul flight ever.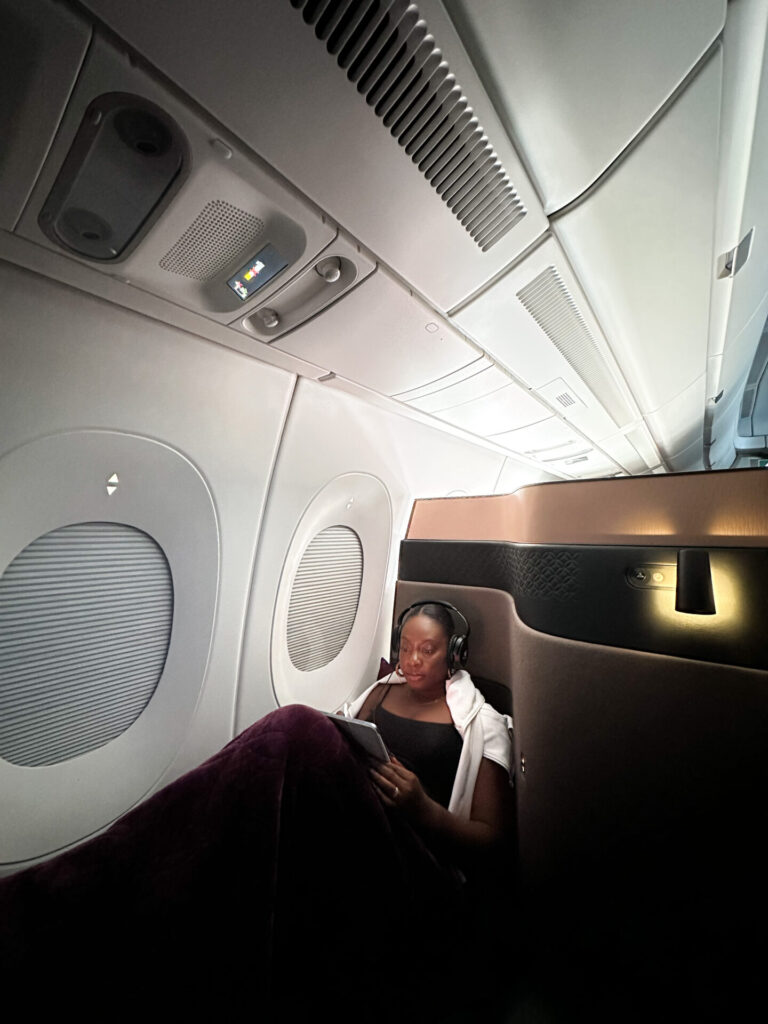 Traveling to Nairobi, Kenya in 2023 – Entry Requirements
If you're considering a trip to Nairobi in 2023 or beyond, it's crucial to stay informed about the entry requirements. As of September 2023, there are no COVID-19-related restrictions or prerequisites for travelers heading to Nairobi, irrespective of their vaccination status.
You may also need a visa to Kenya. I did, even with my Canadian passport. Most nationalities require a visa to Kenya but the good news is, it is pretty straightforward to get. I got my evisa online using a website called iVisa. This is the website I use for most of my visas. My electronic visa to Kenya cost about $55 USD.
Finally, depending on your country of origin, you may need a yellow fever certificate. Make sure to confirm if you need it before traveling to Kenya. Here's the full list of countries that do.
A travel guide to Nairobi
Things to know before visiting Nairobi, Kenya
Before visiting Nairobi, there are some important things to know to ensure a safe and enjoyable trip. Here are some key points to consider:
Visa Requirements: Check the visa requirements for your nationality before traveling to Nairobi. Depending on your country of origin, you may need to obtain a visa in advance or be eligible for a visa on arrival. With my Canadian passport, I got a visa in advance using iVisa and it cost about $55 USD.
Health Precautions: You may need a yellow fever vaccination depending on the country you are traveling from. Check here for details.
Safety and Security: Nairobi is generally safe for tourists, but like any major city, it's important to stay vigilant. Avoid displaying valuable items, be cautious in crowded areas, and use reliable transportation options. 
Currency: The currency in Nairobi is the Kenyan Shilling (KES). It's advisable to carry some local currency for small purchases, but credit cards are widely accepted in hotels, restaurants, and major businesses. There just might sometimes be a foreign exchange fee. I recommend holding cash.
Language: English and Swahili are the official languages in Nairobi. While English is widely spoken, learning a few basic Swahili phrases can enhance your experience and interactions with locals.
Transportation: Nairobi has a variety of transportation options, including taxis, matatus (minibuses), and ride-sharing services like Uber. Uber was reliable and affordable. 
The best time to visit Nairobi: The best time to visit Nairobi largely depends on your personal preferences and the type of experiences you seek. For the best weather, you should visit during the dry season which is between June to September and December to February. 
Power and Adapters: Nairobi uses a 240V electricity supply with British-style Type G plugs. Make sure to bring the appropriate adapters if your devices have a different plug type. I recommend having a universal charger.
Make sure to have travel insurance before you go. In general, don't travel anywhere without travel insurance, including on your trip to Nairobi. Here's the travel insurance I use.
The best time to visit Nairobi
Generally, for the best weather and sunshine, you should go in the dry season which is between June to September and December to February. This also means that it is peak season so prices may be slightly higher. Be sure to book in advance so you still get some good deals.
Where to stay in Nairobi
There are several places to stay in Nairobi but if you are looking for the best of the best, I recommend staying at the Villa Rosa Kempinski hotel. This was my preferred accommodation choice and it did not disappoint. It was a five-star experience like no other. From the stunning architecture to the warm people, I highly recommend staying here when in Nairobi.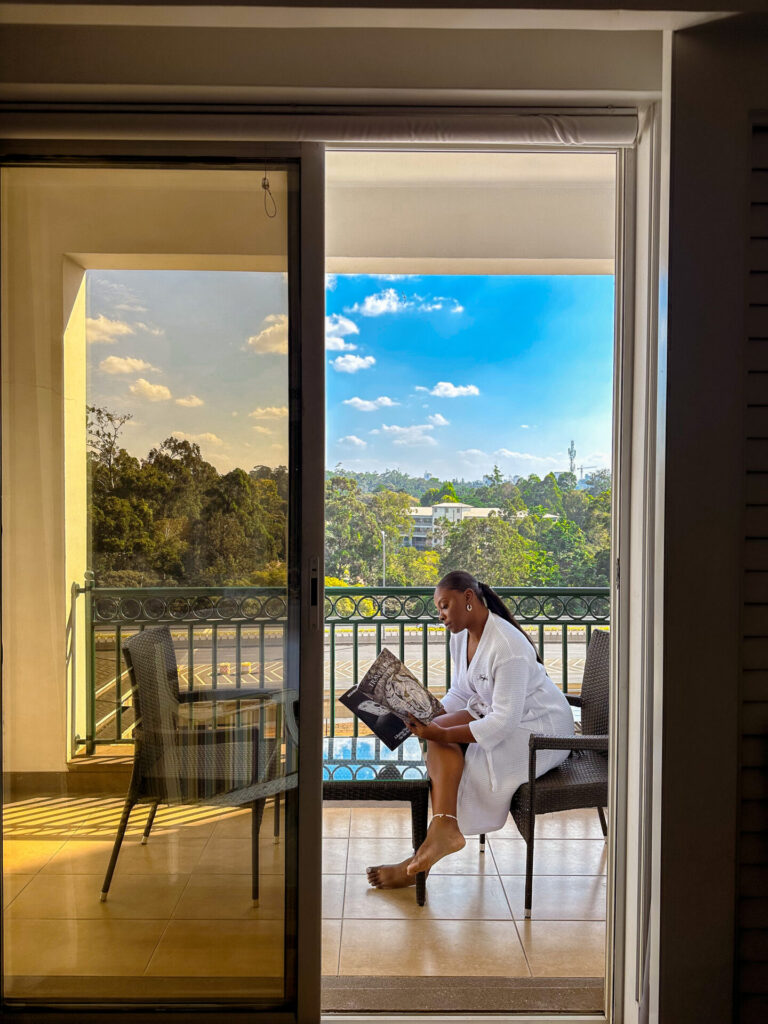 Things to do in Nairobi, Kenya
There are some really awesome things to do in Nairobi and it is perfect for a short trip of about 5-7 days. From safaris at the national park to hanging out with the Maasai tribe in their villages, there will be no time to be bored. Here are some of my recommended things to do.
Visit the Giraffe Center
You can't miss the giraffe center when visiting Nairobi. It is a great way to interact with the giraffes, feed them and enjoy nature. It is about $25 USD to enter but I booked a tour that covered that.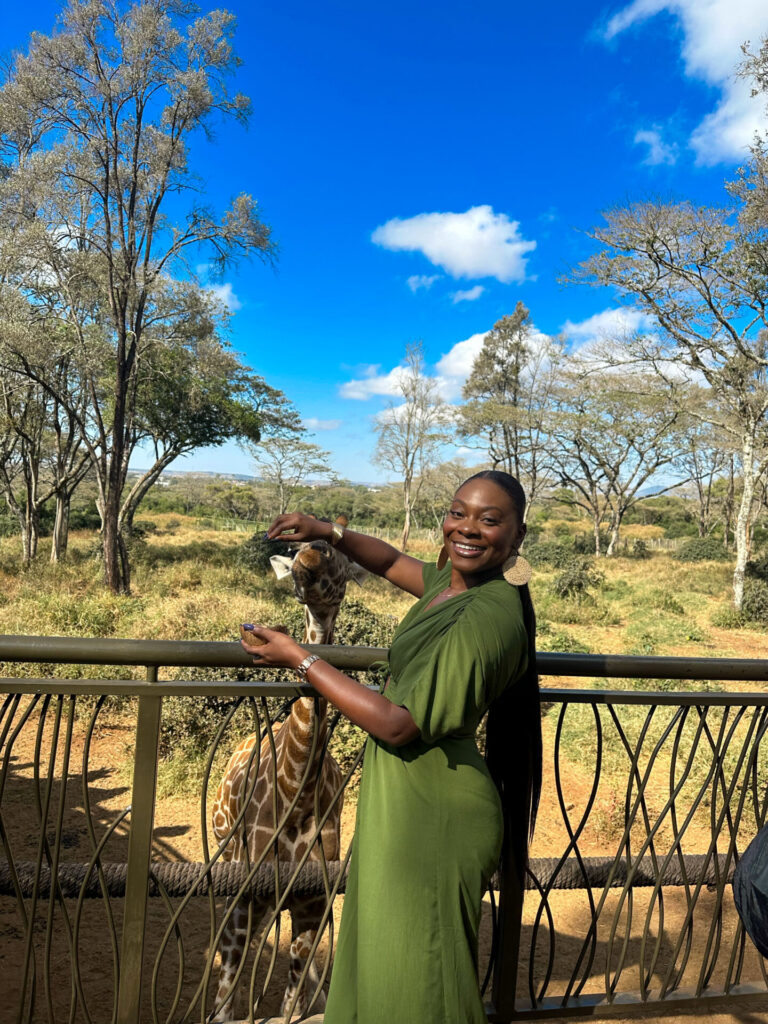 Visit the Elephant Orphanage – Sheldrick Wildlife Trust
You also cannot miss the Sheldrick Wildlife Trust when you visit Nairobi. I loved seeing the elephants being bathe, fed milk and enjoying themselves. This orphanage is doing the great work of taking in endangered elephants, giving them a safe place to stay and exist. You can also adopt an elephant for $50 a year and they will send you the elephant's progress monthly.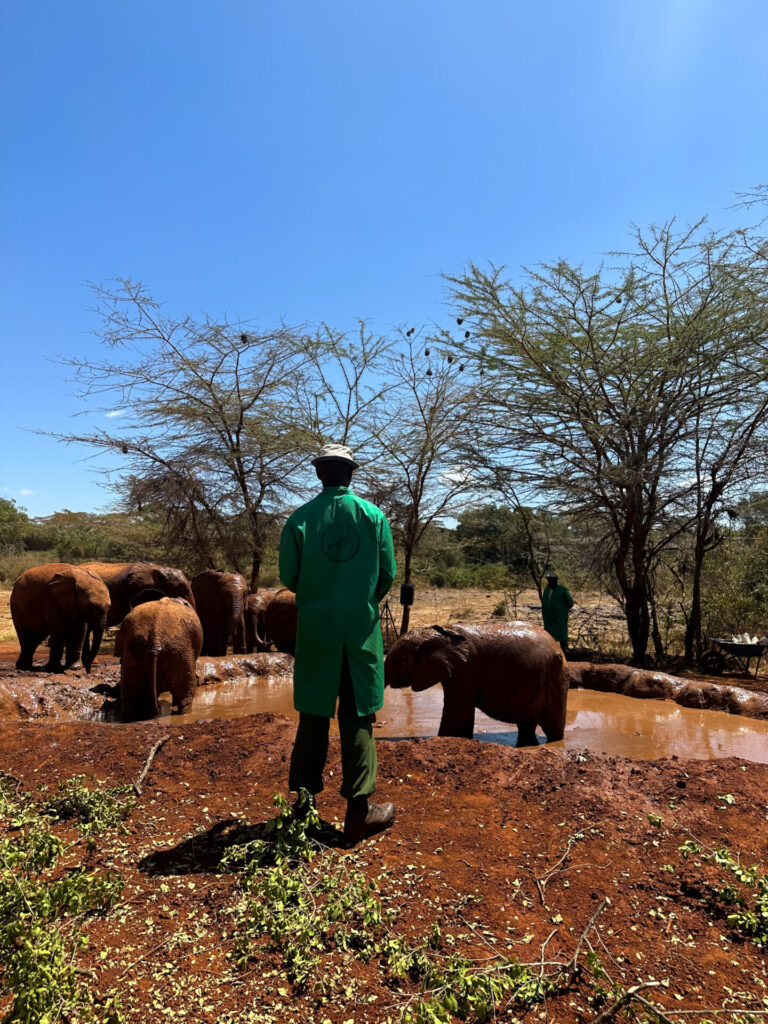 Spend a day with Maasai tribe
Probably one of the most wholesome experience I had in Nairobi was spending a day with the Maasai tribe. I had visited Maasais on a previous trip to Nairobi but this one was very different. It was more intimate and special. I got to learn about their customs, traditions, way of life and most importantly, I made friends. They indeed felt like family and were so excited to have me around.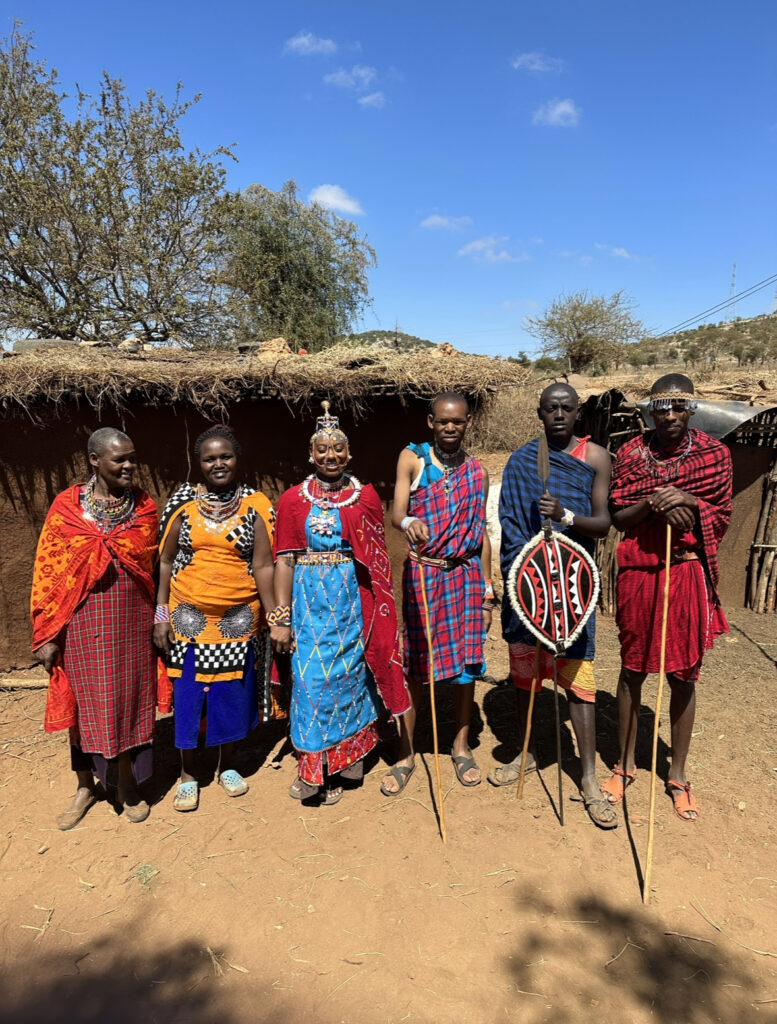 Experience a Safari in Nairobi's National Park
Many people visit Masai Mara national park and you should if you have time. I did on a previous visit to Nairobi and had a great time. However, for those who don't want to do the long drive down to Maasai Mara, the Nairobi National Park is a good option for you. I got to see lions, giraffes, buffalos, zebras and many more animals. The only thing is, there are no elephants there but if you went to the Elephant Orphanage, that shouldn't be too bad. I booked an early morning game drive and it was perfect.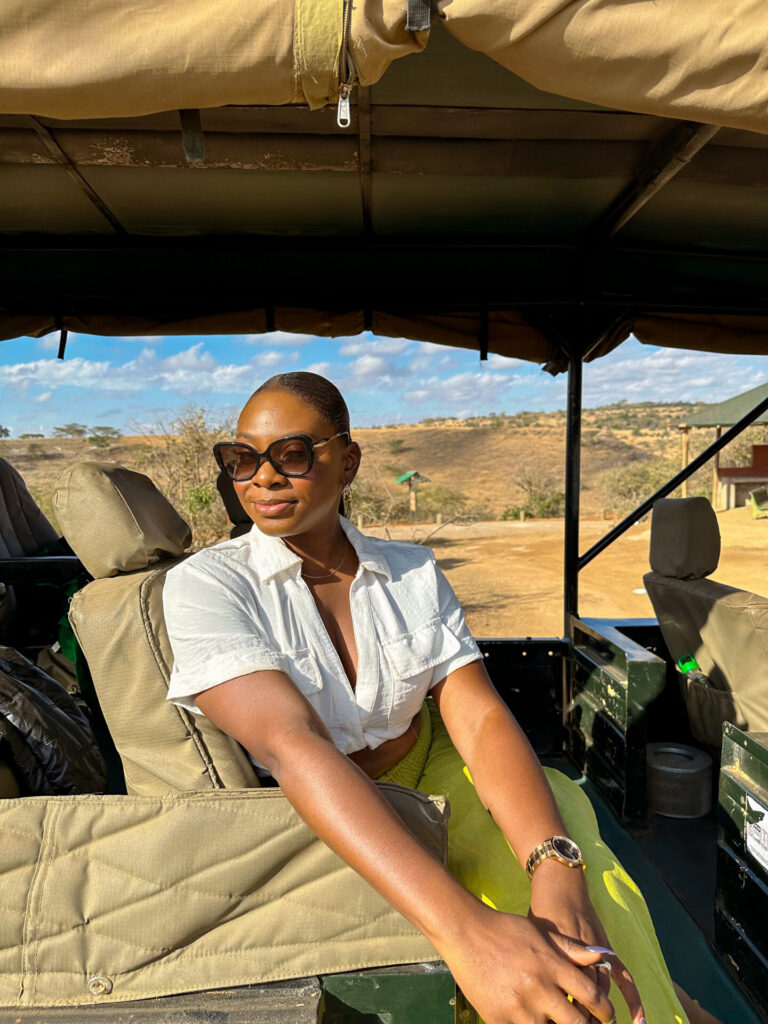 Visit the Maasai Market
If you're into shopping handcrafted items, then the maasai market is the place to be. You can shop from local vendors at very affordable prices. Note that the maasai market is not just one place – the market moves every day and there is a particular place for each day of the week. Be sure to confirm this for the day you want to visit. At the market, you can haggle for the best prices but keep in mind that the prices are already pretty affordable and these people work so hard so bargain, but not too hard 🙂
I recommend going with a local to the market, especially if it is your first time and you are not too familiar with haggling and Nairobi markets.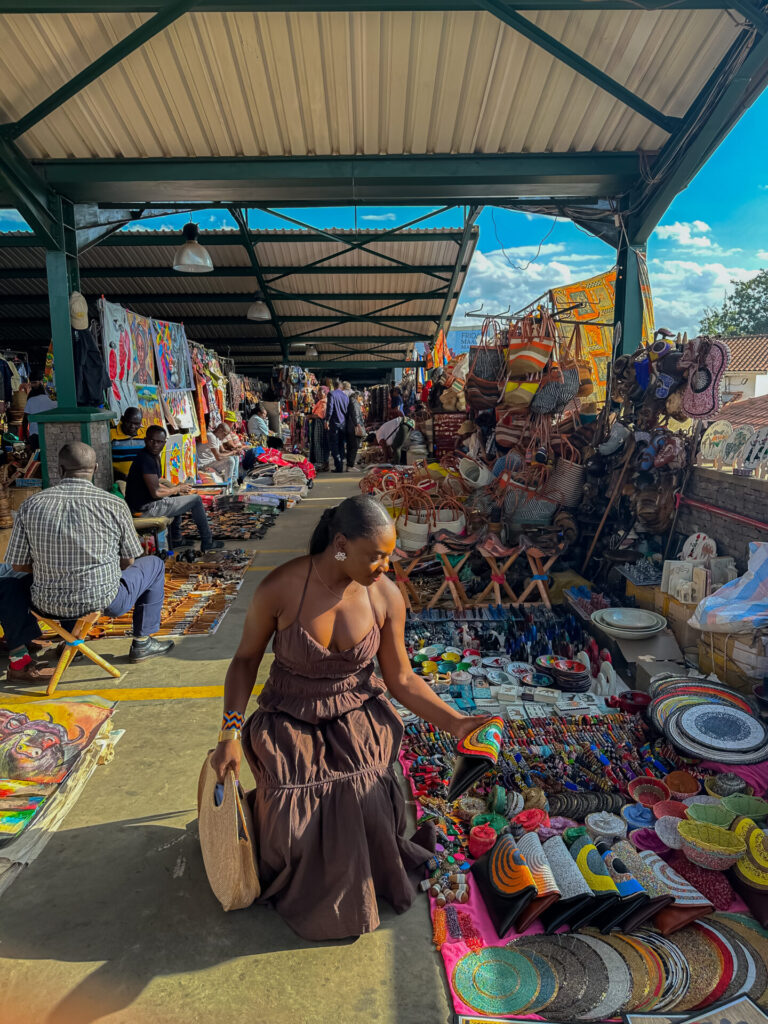 Afternoon tea at Villa Rosa Kempinski
For a laidback experience, you can head to Villa Rosa Kempinski's K Lounge for an afternoon tea experience. It is exquisite and elaborate and its a good way to relax while treating yourself. The afternoon tea experience was about 1500 Kenyan Shillings.
Where to eat in Nairobi. My recommended spots.
While in Nairobi, I had some really great meals but two places stood out to me: Carnivore Restaurant and Cultiva Farm. You've got to check both places out while you are there.
Carnivore Restaurant – Carnivore Restaurant in Kenya is a famous spot known for its all-you-can-eat barbecue menu, including exotic meats like crocodile and ostrich, offering a unique culinary experience in a lively setting. It's the perfect spot for meat lovers.
Cultiva Farm Restaurant – This is a good brunch and lunch spot. The ambiance is stunning and the food is delicious. It is fresh food and really and truly farm-to-table. You can literally see the farm where all the ingredients are grown. I recommend trying their ceviche and their corn on the cob. Both so tasty.
My Nairobi Itinerary
For my second time in Nairobi, I was only there for a short time – about five days. This itinerary is perfect for a short trip as you will see in this travel guide to Nairobi.
Day one – Arrivals. Lunch at Cultiva.
Day two – Half day experience with the maasai tribe of Kenya. Two hour experience at the maasai market. Dinner at Carnivore.
Day three – Elephant orphanage and Giraffe Center experience
Day four – Early morning safari game drive at the Nairobi National Park. Afternoon tea at Villa Rosa Kempinski.
Day five – Spa day and departure
Moving around in Nairobi
Honestly, the best way to move around the city is using Uber. I had a driver for some parts of my journey, especially when going to the maasai community which was about two hours away from town. However, if you are staying within Nairobi, Uber is the most affordable and convenient option.
What to pack to Nairobi
What you pack for Nairobi largely depends on when you visit. Visiting in September means that the weather was dry and hot. But there were some cool mornings and evenings. This is my suggested list.
Clothing: Pack light, comfortable clothing, such as cotton t-shirts, shorts, and dresses. Also, include a lightweight jacket or sweater for cooler evenings.
Footwear: Bring comfortable, closed-toe shoes for walking, hiking and exploring, and a pair of sandals for the beach.
Sun protection: Pack a hat, sunglasses, and sunblock to protect yourself from the sun.
Toiletries: Basic toiletries such as toothbrush, toothpaste, shampoo, and conditioner.
Medications: Pack any prescription medications you may need, and consider bringing over-the-counter remedies for common ailments.
Cash and cards: Bring a combination of cash and credit/debit cards. Cards are widely accepted but cash may be easier to spend.
Travel documents: Make sure you have a passport, visas (if required), travel insurance, and copies of important documents.
Camera: Don't forget a camera or smartphone to capture memories.
Swimwear: Bring swimwear if you plan to visit the beach or pool.
Safety in Nairobi
Is Nairobi safe? Safety while traveling is always a tricky question because that largely depends on several things like who you went with, the activities you did, etc. The first time I visited Nairobi, I went with a friend. Completely safe for us, but we also used a tour company for that trip. This second time around, I went solo. Still felt completely safe and had a tour guide and driver for a part of my journey.
Here are some of my general safety tips for Nairobi:
Traveling safely in Nairobi, like in any major city, requires vigilance and awareness. Here are some safety travel tips for Nairobi:
Choose Accommodations Wisely: Opt for reputable hotels or accommodations in safe neighborhoods. Research and read reviews to make an informed choice. Like I said earlier, I recommend the Villa Rosa Kempinski. There's efficient security upon entry into the property.
Try not to flaunt expensive jewelry, electronics, or large amounts of cash in public. Keep your belongings secure and use a money belt or hidden pouch for valuables.
Transportation: Use registered taxis or ride-sharing services like Uber. Agree on fares in advance or insist on using the meter. Avoid walking alone at night, especially in poorly lit areas.
Be Cautious of Scams: Beware of scams and touts, especially around popular tourist areas. Be skeptical of unsolicited offers or overly friendly strangers.
Do not drink the tap water and if eating street food, make sure it is prepared well or avoid it.
Always have travel insurance and a comprehensive one that covers health, theft, and trip cancellations. Make sure you understand the terms of your policy.
Use ATMs inside banks or secure locations. Be discreet when withdrawing cash.
Finally, trust your instinct. If a situation doesn't feel right, remove yourself from it.
In general, Nairobi is just like most touristy cities – quite safe but still use common sense and do the necessary safety precautions.
Conclusion
In conclusion, Nairobi is a vibrant and exciting city that should definitely be on your travel radar. I hope this guide has provided you with useful information on the best things to do, places to stay, and delicious food options to try. Whether you're interested in culture, wildlife, or urban adventures, Nairobi has something for everyone. So, pack your bags and get ready for an unforgettable journey in this dynamic city! I hope you enjoyed this travel guide to Nairobi.