Everything You Need To Know About Travel: Your FAQs Answered
These days, the curiosity level for travel has peaked. More and more people are stepping out of their comfort zones, uncovering their adventurous sides, yearning to discover new cultures and meet new people, and in general, living their best and authentic lives.
I know that because, I see all the travel posters and all-inclusive deals at the malls in my city, I see it on my Instagram feed #wanderlust, and I see the questions pour into my inbox regularly. Travel is catching on, and I'm here for it.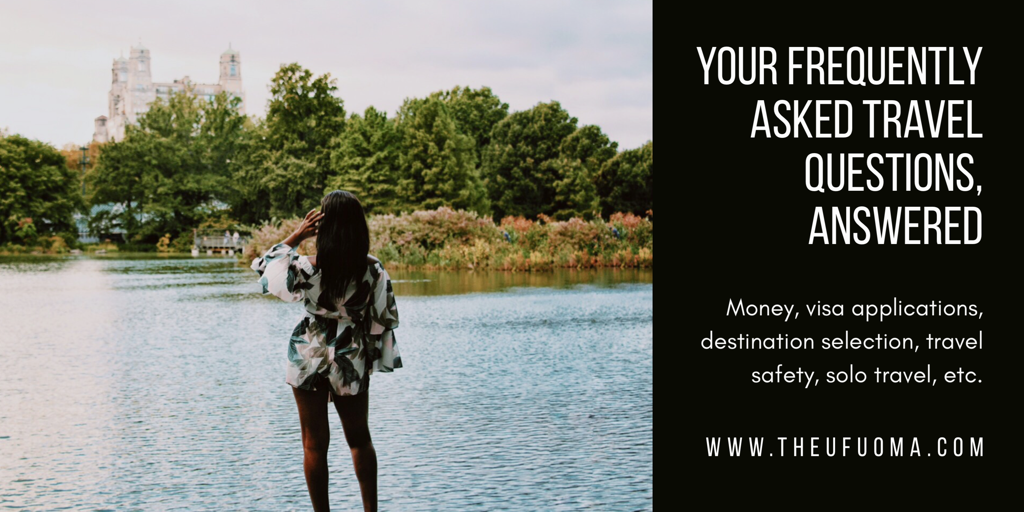 Your Travel Questions, Answered!
While it remains a continuous learning process for me, these are some of the things I have learned from my personal travel experiences and research and they have helped me get increasingly better with every travel. I hope you find it helpful.

How can I get paid to travel the world?
I wish I could give you a more straightforward answer but I unfortunately can't. As you already know, there is no such thing as a free lunch (or is there?) so you will have to work really hard to get an opportunity like that.  As usual, it is easier to get discounted prices on your travel cost, like, a free night stay in a hotel or a free tour in the city you visit. If you're trying to follow that path, you can take baby steps like volunteering abroad or being a travel writer but here are some other options you can look into.
Bonus: Do I get paid to travel the world? No. Well at least, not yet. I fund my own travels.
How can I travel without having a lot of money?
Have a budget and prioritize your spending. Plan ahead of time. Flight deals are typically more expensive when the dates get closer. Ditch your bucket list. To travel affordably, you need to be flexible. Learn how to fund your travels here.
Is it advisable to go on organized group trips (e.g Travel Noire) or plan my trip myself?
It depends on what you are looking for. I have never been on an organized group trip but I imagine they are fun ways to meet new people as well as take the stress of planning a trip off your shoulders. I personally enjoy the thrill of traveling on my own terms but I may participate in a group trip in the future, just for the experience.
When traveling, what are the costs I should be aware of?
Transportation (Flight, Boat, Car/Bus, etc.)
Feeding
Accommodation
Visa fees (if applicable)
Cost of tours and/or activities
I have a full-time job. Do I have to quit my job to travel?
No, you do not have to quit your job to travel if you do not want to. You can find ways to incorporate travel into your life, as it currently is. The summary is, take advantage of long weekends, travel on weekends to nearby places, negotiate more vacation days during job offers, if possible. Here are some other ways.
Bonus: Is travel my full-time job? No, it isn't. I work a 9-5 in a global technology company.
What are your favorite travel tools or apps you use?
I swear byGoogle Flights and Skyscanner to help find great travel destinations as well as compare prices. I love Hopper for flight ticket price predictions. I use Tourlina when I am traveling solo and looking for a female explorer to join me.
What apps do you use to edit your photos and what camera do you use?
My camera gear is a combination of the Sony A6000, Sony A5000, Canon T6s and my iPhone 6s camera. I edit my photos with Snapseed, FaceTune and on rare occasions, VSCO. If I do use VSCO, I like the A4 preset.
Is traveling dangerous and how do I know if the country I want to visit is safe?
Travel isn't necessarily dangerous as long as you find a way to stay safe. Incidents can happen anywhere, including your home country. If you are planning to visit a country, you can check here to see if there is a security warning in the area before you head there. Stay safe, people!
How do you pick your travel destinations?
By being flexible. My go-to for finding great and affordable travel destinations is the Skyscanner app/website. I input my departure city and leave the arrival city to 'everywhere' as well as put in 'whole month' instead of specific dates. This way, it shows me the prices of flight tickets in chronological order (i.e from low to high). It's amazing, try it.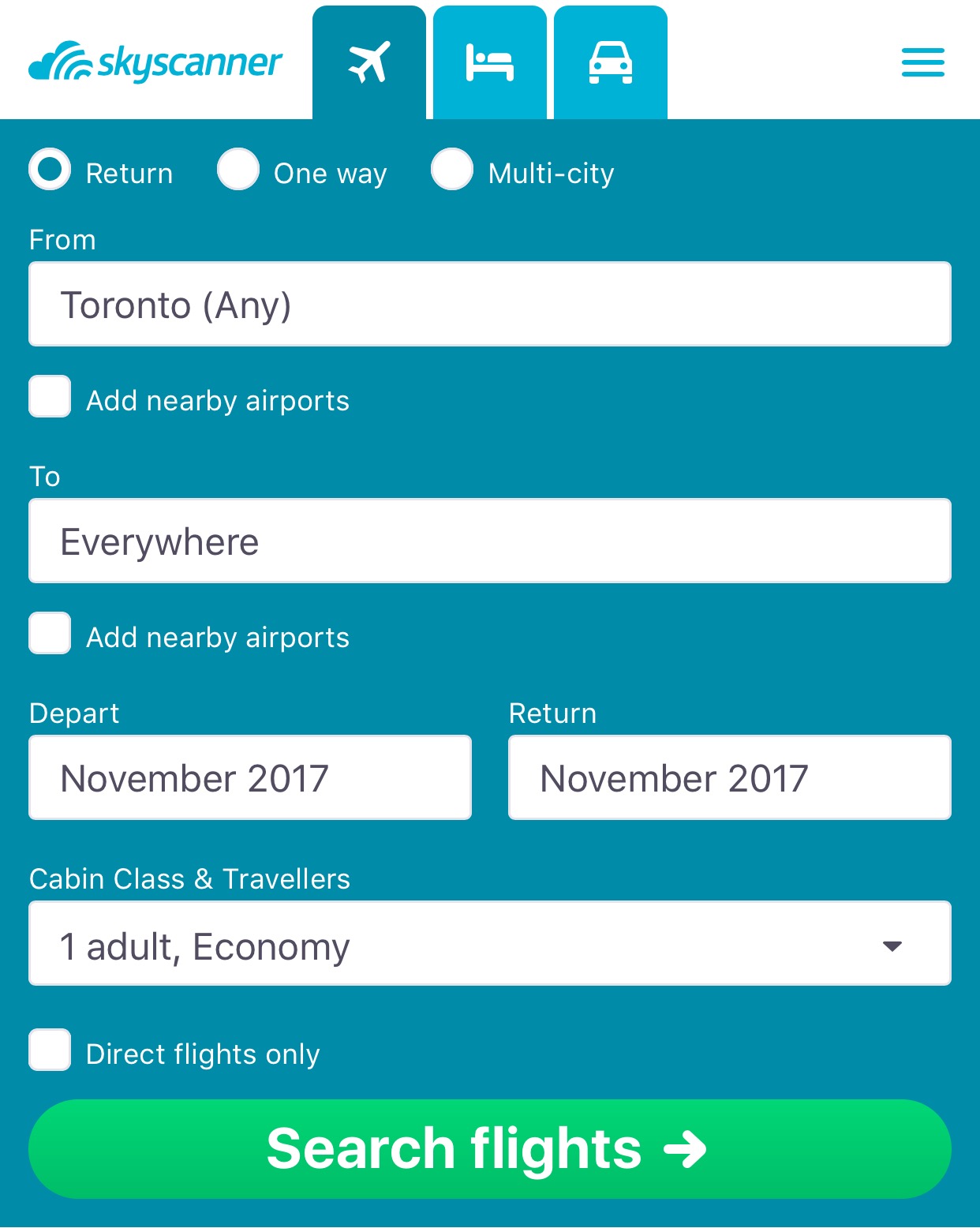 I want to travel but my friends are not interested. How do you get friends to travel with you?
You can't really get anyone to do anything they do not want to do. You should either look into being friends with people who share similar interests with you, or go solo. If going solo is not your thing, you can carefully look for adventurers on the internet, or find locals in the area to hang out with. I like the app Tourlina, an app specifically made to match solo females with the same or similar travel dates and location to each other.
There's always a way around it. First, you can find out the countries where you can go visa free or the ones that provide visa on arrival. Also, having a US Visa helps as you can then visit countries like Mexico, Cuba, Costa Rica, visa free. If you need to apply for visas, you want to do that well in advance. Check out your passport's world ranking here.
Bonus: What passport do I have? A Nigerian passport.
What travel credit cards will you recommend?
I currently have an RBC WestJet credit card and so far, it has not helped too much in terms of accumulating points because I do not fly WestJet all the time. I go where the deals are. I'll say; travel credit cards are only beneficial when you are loyal to a particular airline or you frequently visit a location where an airline flies to often. For people in America, I hear American Express Travel Cards are great.
Where do I stay when I travel?
There are several options; Hotel, Hostel, AirBnB, Couchsurfing. It depends on you, your preference, and your budget. Couchsurfing is basically crashing on the bed of a local for free. You will have to use your good judgement for this. AirBnB is like renting a house or apartment for a couple of days. You can use my code to get $45 off your first booking.
How do I know the cool things to do in a city?
First, determine what you are interested in doing and let that shape your decision. You might also want to see some of the important landmarks and "must-see" places. I always check TripAdvisor first before anything else.
I want to travel solo. Any tips?
Know that you can do it. Do your research about the country you are visiting. Update a loved one about your whereabout. Never admit to anyone you are traveling solo (for safety reasons) Take a selfie-stick or tripod for bomb photos. Here's a great guide to traveling solo.
I am traveling for the first time, what should I know?
Don't forget your passport at home. Haha! Seriously. Get a checklist of the documents you need and go through them before your trip. Arrive at the airport 3 hours prior to departure. You cannot carry liquids more than 100ml in your carry on. More tips here.
In general, what will you tell someone who wants to travel?
Make actionable plans
Draw up a realistic budget
Start putting money away, no matter how little or how long it will take
Stay inspired to see the world
You can start small (e.g a road trip, a staycation, etc.)
Be brave and go for it.
Have fun!
So, these are some of the questions I get asked frequently and I hope you have learned a thing or two from this post. If you have more questions, do not hesitate to drop a comment, I'll be happy to answer and if I can't, I can certainly point you in the right direction.
Are you subscribed to this blog? All you have to do is enter your name and email and you will join my mailing list and get updates on travel tips and inspiration straight to your inbox. Drop your name and email address here.
Curious to know where I have been? Click here to find out and click here to read about my travel experiences. Want tips to help you travel better? Click here.
Thank you for reading and I'll catch you next Friday.