On This Day: Photo Diary and Stories from Costa Rica
Today was a little rough. San Jose Airport wasn't exactly as I had imagined. It was busy, crowded and a little unkempt. I really just wanted to get out of there as quickly as I could.
After scrambling through the enthusiastic cab drivers desperately trying to get passengers in their car, I finally found one who I trusted enough to take me to my hotel. I check into my hotel and it's pretty low budget and small but it works. It's good enough to lay my head for the night. I eat my leftover snacks from the flight and fall fast asleep. It's going to be a long day tomorrow.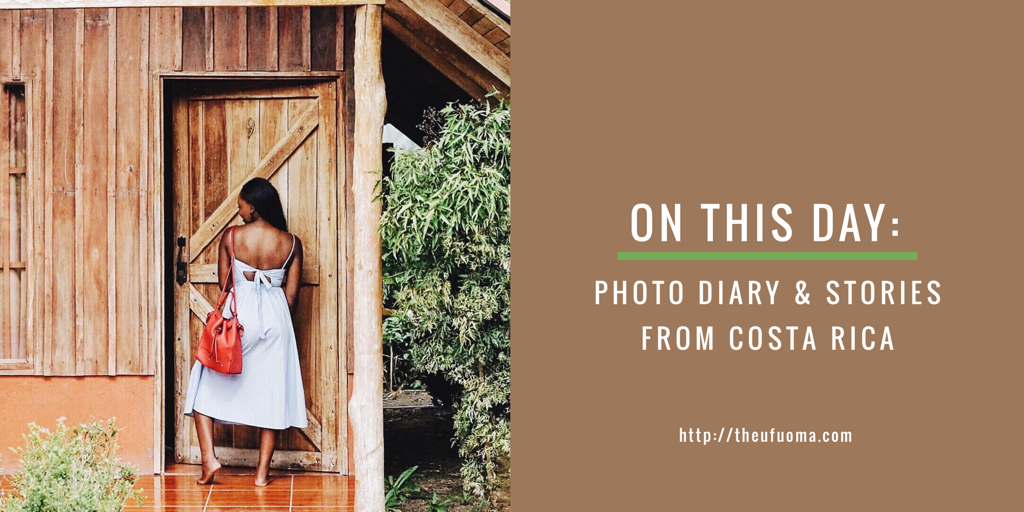 September 14 — 7:00am — San Jose, Costa Rica
Today, I have to be up early to catch a three-hour bus from San Jose to La Fortuna. I hear La Fortuna is the prettier part and I am itching to see why it is so highly rated. I have a bag full of snacks and a cozy blanket so I am ready for the bus ride. I'll try to read a few pages of my current read also, if time permits.
September 14 — 12:00pm — La Fortuna, Costa Rica
What was supposed to be a 3-hr bus ride ended up being 5 hours long. The roads were undergoing construction and the bus was moving at snail pace but I am glad to finally be in La Fortuna. I check into my home for the next few days and I am loving it already. It's quaint and green and smack in the middle of downtown. I have nothing planned out for the rest of the day so I'll catch up on sleep.
September 14 — 4:00pm — La Fortuna, Costa Rica
Oh, snap. This day couldn't go by any faster. I take a quick shower and get dressed. I've made an effort with my look today. I'm wearing my blue dress from H&M which I bought about a year ago, and my favorite sandals from Zara. I head out to lunch which happens to be my first meal of the day. While eating, I meet a tour operator, Gongalo who approached me with a brochure of his services and I may be patronizing him but I have a feeling that he has ulterior motives. You know that gut feeling you get that you cannot quite explain? That. And I do not want to entertain it.
Speaking of, Gonzalo comes back a few hours later to check with me to see if I was still interested. Of course, I am not, so I let him down with a little "no thank you" while pretending to be tired from my trip. He takes the rejection graciously, hops on his bike, and rides off. Whew.
September 14 — 6:00pm — La Fortuna, Costa Rica
It's getting late and I really want to visit a hot spring before dawn. I head over to the front desk and ask the attendant to help call a taxi. Uber doesn't work in La Fortuna. He offers to drive me there himself for a small fee and I agree. While we are headed to Tabacon, he mentions that there is a free hot spring that all the locals visit and I couldn't pass up on that. So, we make a quick detour.
The free springs are pretty cool and relaxing but I am still curious to see Tabacon so I signal to him that I was ready to go and we cut the visit short.  He drops me off and I go into Tabacon. When I lay eyes on Tabacon, I am in awe; it's like a little paradise. I spend the first 30 minutes mouth ajar, taking in the scenery, and then I decide to take a couple of photos as it is already getting dark. Only a few photos in and it starts to pour rain. I pack up my camera, call a taxi, and regretfully head back home, the entire car ride wishing I had set out earlier.
September 15 — 8:00am — La Fortuna, Costa Rica
It's a brand new day and I am over yesterday's regrets. Today is for adventures and I am really excited. I have booked a combination tour of Ziplining and Whitewater Rafting and all of a sudden, I feel a rush of fear envelope me. Can I really do it? I am scared to my bones. I pick up my phone and call my boyfriend who gives me a pep talk and I'm feeling a little brave again. What's life without adventure, anyway?
Up early to take advantage of the free breakfast that the hotel offers, I take a quick shower and head out to the pool area where I'll be having a standard English breakfast of bacon, eggs, and fruits. The staff at the hotel says I look nice and offers to take me a photo. Of course, I do not say no.
September 15 — 11:00am — La Fortuna, Costa Rica
Tour starts in an hour but I have to meet up with the rest of the tour group before then. I pack my bag and wait for the tour bus to come get me from the hotel. Not long after, I hear a honk coming from outside of the hotel. The tour bus is here and it's time to go.
September 15 — 12:00pm — La Fortuna, Costa Rica
The weather is great today, the sun is out and I'm gearing up to get started with today's adventures. The tour instructor approaches our bus to give us some safety instructions and then we are about to start. BRB. I have to stow my phone away so it doesn't get damaged. I'll tell you how it goes.
September 15 — 6:00pm — La Fortuna, Costa Rica
What a day! Today has got to be the most exhilarating day, ever! I've had my healthy dose of adrenaline for the year. I can't believe I ziplined through 7 different cables that went at the speed of 50 mph and 1,024 feet about the ground, deep in the rainforest. And that water rafting? Amazing. I did the level 4 rafting which is basically expert level. How awesome?
We also had a fruit tour and then lunch in between. I'm exhausted now, my muscles are sore and so, I have to call it a night early. But it's been a good day. And oh, Happy Independence Day, Costa Rica.
September 16 — 8:00am — La Fortuna, Costa Rica
It's Saturday and I am headed to Rio Celeste with my new friend, Susie. I met Susie yesterday at the hotel and we hit it off instantly. Susie's Ethiopian, very bubbly and has got a serious Irish accent. I love hearing her speak.
As usual, we hop into our tour bus for the day and we are headed out two hours west to a smaller city. I hear there is a naturally blue river and a gorgeous waterfall and I really want to see it. I just love nature's blues.
September 16 — 2:00pm — Rio Celeste, Costa Rica
Okay, that hike was insane and I really thought I'll cave in and raise my white flag but I survived. We hiked a total of 8km today and that's a new record for me. Thankfully it's over now and we are currently having a complimentary lunch courtesy the tour company. Did I mention how dreamy and beautiful Rio Celeste is? It's absolutely gorgeous and it made that hike totally worth it.
September 16 — 6:00pm — La Fortuna, Costa Rica
I'm back at the hotel after making a quick stop at a convenience store to restock on my bedtime snacks. I do not understand the Costa Rican money just yet and I feel like I may be overpaying for things. #Diaryofaconfusedtourist. I have no plans for the night as it has been such a hectic day. I'll just get some sleep and get ready for tomorrow.
September 16 — 11:00pm — La Fortuna, Costa Rica
I was wrong. I'm having impromptu drinks with a few girls that I met on Friday's tour, and with Susie. We talk about our travels and boys and everything else in between. We laugh our hearts out and order more drinks. It's getting late and we say our goodbyes. Tomorrow is another day.
September 17 — 9:00am — La Fortuna, Costa Rica
Yesterday, I was supposed to head out to another city, Manuel Antonio but I changed my mind. Not only is it really far, I still haven't gotten enough of La Fortuna yet. Looks like I'll be staying here for a couple more days.
Today, I am off to Ecotermales Hot Springs. I hear its really beautiful and cannot wait to see. I want a relaxing day as the last couple of days have been adventurous and a little tedious. Ecotermales is the perfect spot for that, I think.
September 17 — 6:00pm — La Fortuna, Costa Rica
Today was the perfect day and easily the best time I have spent here in Costa Rica. I saw the most beautiful hot springs set in a lush, green natural forest. I met two American – Mexican men and we had great conversations. I also had a lot of cocktails which was pretty awesome. It was a relaxing day and everything I had hoped it to be. I didn't want it to end.
Today, I'm having an early night…
September 18 — 8:00am — La Fortuna, Costa Rica
Today is my last day in La Fortuna. I already have withdrawal symptoms as I will be missing this place very much. Before I start to get ahead of myself, I have one last activity on my list – chasing waterfalls. I am off to Catarata Fortuna to see the beautiful waterfalls. It's a tedious hike but my legs are well rested and ready to go.
September 18 — 1:00pm — La Fortuna, Costa Rica
My legs are totally gone. Rightfully so, as these couple of days have been spent hiking and being really active. It was only a matter of time until they totally caved in.
It is supposed to be a hike back to the hotel but my body downright refuses. I call a taxi and catch my breath a little bit. Today's far from over. I have to head back to San Jose today and again, it's a three hour ride. I'm tired but I must get moving.
September 18 — 6:00pm — San Jose, Costa Rica
I arrived safely to San Jose and head straight to my hotel. This one is a little fancy with nice decors and beautiful accents. I order dinner from the kitchen and devour it like a lion who has just caught a prey after four days. I check my bag to make sure I have my passport and other important documents there, and I call it a night. It's been a day and a half.
September 19 — 8:00am — San Jose, Costa Rica
My flight isn't until 3pm today so I think I may be heading out to town to see what's good. I know everyone says San Jose isn't exactly touristy, but I'll like to still get a sense of the vibe before I leave.
September 19 — 2:00pm — San Jose, Costa Rica
They were right. There's hardly anything interesting to do in San Jose but I am glad I found that out myself. I'm at the hotel and currently packing the rest of my stuff to go to the airport. I feel a little sad on the inside but its been a great trip and one I will not be forgetting in a long time.
September 19 — 4:00pm — Juan Santamarita Airport, Costa Rica
Goodbye, Costa Rica. Maybe we'll meet again someday.
Thank you so much for reading,