How to Get Good Deals on Airfare
With traveling, "I cannot afford it" is probably the most common reason why people never take the plunge. There is the misconception that travel is either too expensive, or something reserved only for the mighty rich. While travel often isn't as easy as grabbing a cup of coffee (oh, I wish!) or forfeiting one in order to rack up on savings, with proper planning, you can make the best of a tight budget and ensure that soon enough, you are on an island somewhere sipping on mojitos.
Airfare is typically the most expensive part of the travel budget. However, there are ways to significantly lower the cost, save on travel and stretch your money even farther.
The key to finding good deals on airfare is by being flexible. When you are flexible with your times and location, a whole world of savings and endless possibilities unfold.
First, my trusted go-to flight search engines
My number one site for finding the best flight deals is skyscanner.com. Skyscanner as the name implies, scans the internet and compares airline prices, and shows them in chronological order from cheapest to most expensive. Sometimes the cheaper option isn't always the best as the layovers can be a bit discouraging but who says you cannot capitalize on a layover and turn it into a new adventure?
I also like to use kayak.com. A great website similar to Skyscanner but also shows Hacker Fares. Hacker fares according to Kayak, "Instead of making you book one round-trip ticket from a single airline, KAYAK plays airfare matchmaker by finding two one-way tickets that together make a round-trip flight. Sometimes that means you might take a different airline home than the one you took to your destination."
Both websites above are my holy-grail flight purchase websites.
Flexibility 101: Using Google Flights
Google flights is a robust tool for all things travel and airfare. Not only does it show you some of the cheapest flights from your destination, it is also useful when you have your flexibility hat on.
With the discover feature, you can find destinations that are cheap and cheerful, and ones that fit your budget too. It also gives a brief description of the things to do in the city. So whether you are a party buff in need of a weekend getaway in Las Vegas, or a foodie who wants to sample the hot meals in Thailand, Google Flights presents you with several options as long as you are open to it.
A great alternative: Skyscanner's 'everywhere' feature.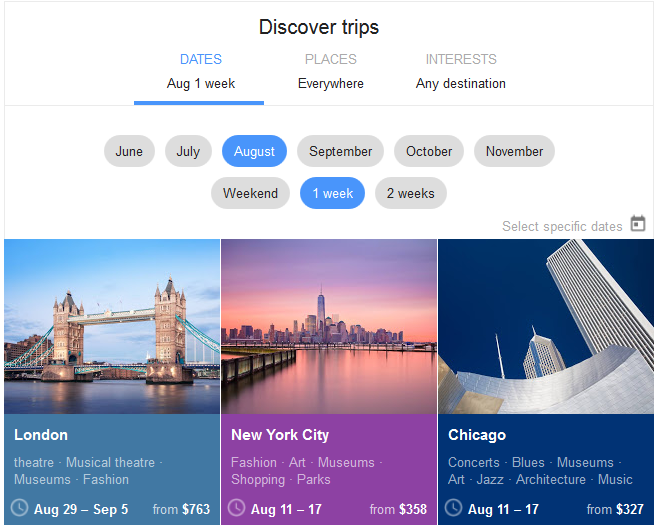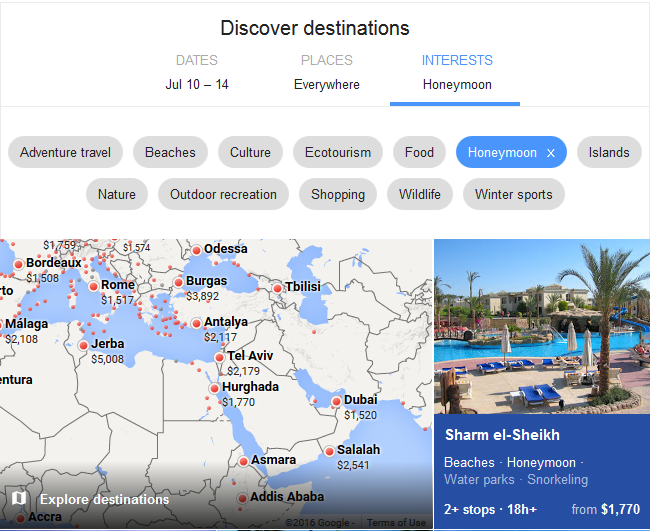 Comparing flight prices with online travel sites
Some websites act like search engines that scan the internet for some of the best deals to your location. It is always best to check at least three of those to ensure you are getting the very best deal. Very often, you will find that there are differences in ticket prices to the exact location and at the same time. Websites like, Kayak, Skyscanner, and Hopper Flights are great for finding the best flight deals.
Signing Up for Price Alerts
Perhaps flexibility just isn't your thing, or you have a specific destination you just must go to, you can start to monitor the ticket prices before eventually committing to it. Sites like Hopper and Kayak also have an inbuilt mechanism that tells you to 'buy now' or 'wait'. From personal experience, the predictions are almost spot on.
You also have the ability to sign up for alerts and you will get an email when there is a price change, in which case you can either take advantage of or move on to the next one.
Below is a real life example of how price alerts can work in your favor.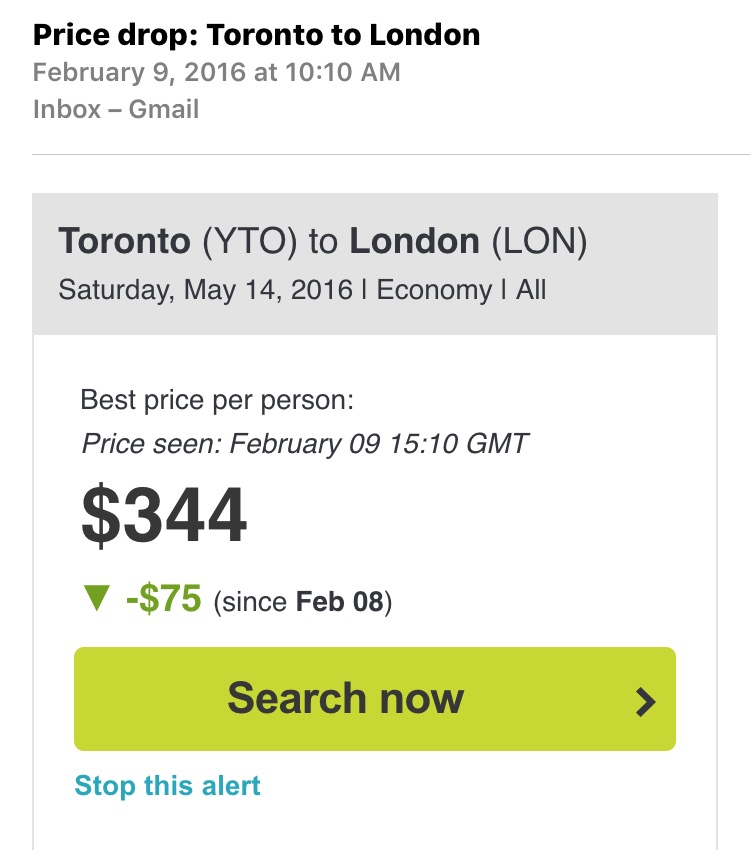 Sign Up To Airline's Newsletters for Travel Deals
Signing up to newsletters of your favorite airlines are also a way to go. If you are as concerned as I am about email spamming, then you can create a separate email account for subscriptions of this nature. You will be notified when there is a seat sale, or a giveaway competition, or a new airline feature. It is always better to stay in the know.
A Change of Airport
Sometimes the difference maker can be the airport you are flying into, especially when going to big cities like New York or London. Flying into JFK Airport is typically more expensive than La Guardia. While they are both in New York, one is more expensive than the other.
Be careful though, if the amount you will be spending on transportation from the alternative airport to your hotel is more than the flight price, then it is not worth it.
Credit Card, Mileage Points, Travel Clubs
If you can, get a credit card that lets you accumulate points on airfare. Some cards even have a signup bonus that is almost the price of a flight ticket. You should also look into signing into a mileage program that allows you to gather mileage points in order to travel for free or get a discount off your airfare. These points can add up fast.
Secret Flying
Secretflying.com is heaven when it comes to travel deals and as they say, those are the deals nobody else knows about. Need I say more? Check them out.
One-Way Ticket vs Round Trip Ticket
Sometimes buying two one-way tickets can be  cheaper than buying one round trip ticket so keep that in mind too.
Extra Tips and Unconfirmed Generalizations
Flying on the weekend is generally more expensive than flying on a weekday.
Clear your cache after doing travel searches, I hear appearing "desperate" by searching for a particular ticket can cause the price to rise from your end- not personally confirmed but worth keeping in mind.
Red eye flights (overnight flights) are typically cheaper than traveling in the day.
Sales on tickets usually occur Tuesdays and Wednesdays.
Buy your tickets 60 days ahead of time.
So, did I miss anything? I hope I have been a little bit helpful- at the very least. Remember, you do not have to be rich to travel, you just have to place value and importance on it, just like you do other things.
If you have found these tips helpful or learned a thing or two, share with your friends and if you want more tips on accommodation, location ideas or whatever else, let me know and I'll do my best to help.
Talk later,

Join my awesome subcribers who get weekly updates on new blog posts, travel deals, tips and more! Let's get you closer to your starting (or continuing) your travel journey.
[wysija_form id="5″]
Save
Save
Save
Save
Save
Save
Save
Save
Save
Save
Save
Save
Save
Save
Save
Save
Save
Save
Save
Save
Save