This App Will Take Your Travel Game to Another Level
I've been traveling now for many years and one thing holds true – I love finding apps, websites and resources that help make my travel life better. Traveling can be stressful or overwhelming and it's important to find ways to travel better and more efficiently.
In 2020 and in the heat of the pandemic, I was on the hunt for an app to help collect all my travel information in one and also keep me up to date on the ever-changing travel restrictions. I also wanted to be more conscious about my carbon footprint and make more intentional steps towards becoming a more sustainable traveler. This was when I found App in the Air.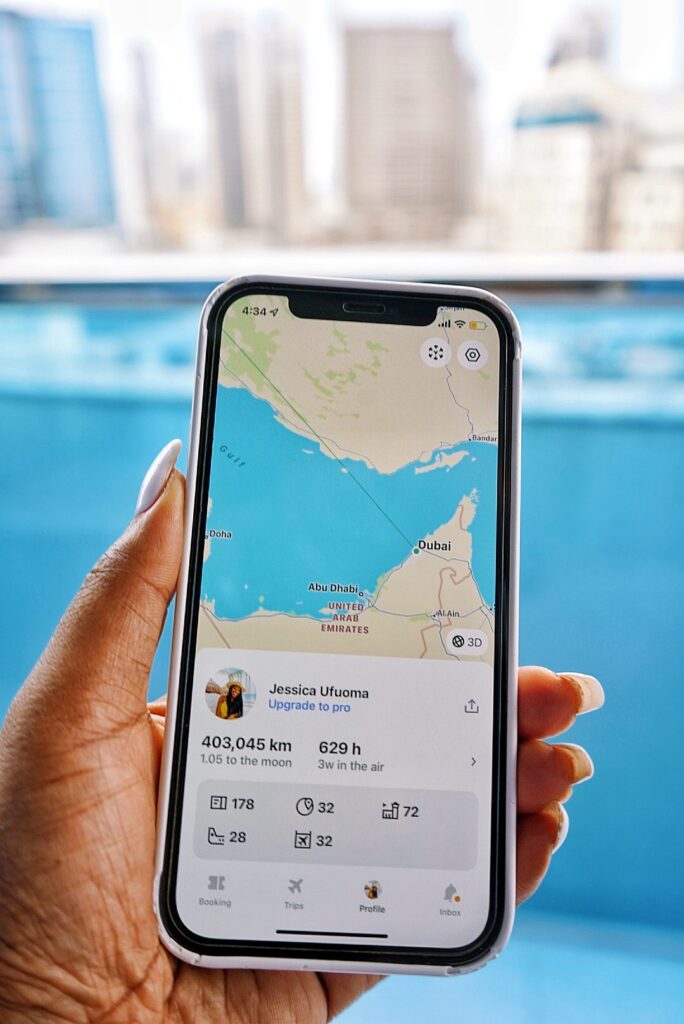 About App in the Air
App in the Air is like having your own personal travel assistant. One thing I really love about the app is how it collects all my travel information in one – from flight and accommodation booking to itineraries, etc. Managing all the moving parts of travel can be very tasking but having a central place to collect and organize all that information, is gold. App in the Air notifies me of important updates to my travel plans, for example, if there's been a gate change or a delay. I can really rest easy knowing that the app is working in my favor and helping me become a more tech-savvy and modern traveler.
Why I love App in the Air
There's a lot I love about App in the Air but one thing I really love about it is that it helps me track my travel milestones. I am very big on tracking the places I have been to and how many cities I've been privileged to visit. This information keeps me going and gives me the inspiration to continue to travel far and wide. I love that App in the Air tracks all my travel milestones for me.
Other features of the app that I love include:
I love the AR luggage measurement feature. This feature allows you to use your phone to check that the dimensions of your luggage are within the airline's limit. After scanning the phone, the app will instantly tell you whether your bag can be carried onboard or if it must be checked in.
Tracking your flight statistics over time
Real-time notifications, on to go notifications
Unlocking achievements based on where you are going and how you fly
Competing with friends and family on the global leaderboard 
Uploading your vaccine certificate and PCR tests for a seamless day of traveling
Knowing international travel restrictions in one place with notifications once you've booked or added a flight in the app
Tracking your loyalty and travel rewards programs in the wallet
Viewing and offsetting your carbon footprint right in the app (App in the Air also plants a tree for every booking). You can use my code "THEUFUOMA" for 20% off your next flight booking on the app.
If you haven't already downloaded App in the Air, you should. Here's your personal invitation. Simply click here.
Getting App in the Air is easy.
Simply download the app on the app store or play store for Android devices. There's a free version of the app but you can also upgrade to the pro for even more features and it will be absolutely worth it. Regardless of what option you decide on, I know that App in the Air is an app every traveler should have and I'm excited to spread the word about this awesome app that makes life easier and travel better because let's be honest – you'll rather spend time enjoying the city you are visiting than worry about every last detail of the planning.
If you'd like to get started on your next adventure, use my code "THEUFUOMA" to take 20% off your next flight booking on App in the Air.
Cheers to being a more organized and savvy traveler.
This post is sponsored by App in the Air but all opinion is mine.