A Travel Guide to Dubai for Beginners: What to See & Do
If my first trip to Dubai recently is any indication, it is that Dubai is one of the best places to visit and that there's so much to see and do there. I'm definitely planning a return visit soon but in this travel guide to Dubai for beginners 2022, I'll share the things I did during my time in Dubai and some tips for those interested in traveling to Dubai, especially as first-timers.
About Dubai, United Arab Emirates
Dubai is a very popular tourist destination with travelers all over the world flocking there. It is the most populous city in the United Arab Emirates (UAE) and actually started off as a small fishing village which eventually blossomed into the metropolitan, vibrant city that it is today. The currency of use in the UAE is the dirhams (AED) and the official language is Arabic, even though English is very widely spoken.
Dubai for first-timers
With so much to do in Dubai, it can get very overwhelming to figure out your itinerary. In fact, the fear of missing out may well and truly kick in as it is so tempting to want to try to do everything. Visiting Dubai is like being a kid in a candy shop – there's just so much good stuff to do. However, it is important to unravel Dubai piece by piece, after all, some things deserve to be saved for later.
Traveling to Dubai in 2022 – The travel restrictions and requirements
I visited Dubai in March of 2022 and the travel restrictions were pretty straightforward. Actually, only a few days before I landed in the Dubai International Airport (DXB) did they remove any COVID test requirements. Essentially, starting February 25, fully vaccinated travelers can now visit Dubai without a PCR test. I had no issues at all getting into Dubai and everything went smoothly with immigration and customs.
Mistakes to avoid and things to know when visiting Dubai
Before I go into the things to do, places to stay, etc, I wanted to share some mistakes to avoid when visiting Dubai, especially as a first-timer. Hopefully, you can avoid these mistakes and learn a few things before your trip to Dubai.
1.) Transportation in Dubai. Uber is expensive. For the first four days in Dubai, I was using the Uber app. Not only was it convenient, but it was also familiar as this is an app I use back home. Little did I know that I was spending more money than I should have. On the fifth day, I learned about the Careem app which was more than half the price of Uber. While the app wasn't as quick and efficient as Uber, with proper advance planning (i.e booking the ride 10 minutes before you have to leave), it definitely worked and saved me some money in the long run. I definitely recommend downloading the Careem app and using it while on your trip to Dubai.
2.) Not booking things in advance. There are certain things you can purchase right on the spot. Things like the tickets to the Dubai Miracle Garden. However, there are certain activities that require advance reservation. Wisdom is knowing the difference. My husband and I really wanted to do the Museum of the Future but were unable to get a spot due to tickets being sold out for our date. I definitely recommend checking the availability of the activities you want to do before you actually book your Dubai dates as this will save you the hassle or disappointment of activities being sold out.
3.) Not haggling properly. Dubai has so many shops and markets (called souks) and it is not unheard of that prices differ based on where you purchase things from. I recommend haggling properly for items you want when shopping, also recommend is going into a local market for your purchases as boutiques generally tend to have a higher cost. I loved shopping at the Grand Souq Bur Dubai located in Old Dubai. They had some of the best items for the best prices.
Essential apps you need for Dubai
By my second day in Dubai, there were certain apps I knew I needed right away. If you are visiting Dubai, make sure to have the following apps on your phone:
Dubai Metro App – If you plan to use public transport.
Careem – Like Uber but much more affordable.
The Dubai Mall app – Helps you navigate the mall very easily.
Talabat – A really good food delivery app for those late night cravings.
Dubai calendar – To see the latest events happening in Dubai.
Travel Guide to Dubai for Beginners 2022: Things to See & Do
In this guide, you will learn some of the very best things to see and do for first-timers in Dubai. And even if you've visited Dubai before, I strongly believe this article will still be useful for you. So definitely keep reading. Enjoy.
Where to stay in Dubai
One thing about Dubai is you wouldn't run out of accommodation options on your trip – that's for sure. However, not all accommodation is created equal. The area in Dubai that you stay in actually has a big impact on your overall experience in the city. You do not want to stay too far away from the main attractions in Dubai. There is the Downtown and Business Bay area, there is the Dubai Marina and Jumeirah area, Old Dubai, Dubai Creek, etc.
I stayed in the Business Bay area and it was one of the best decisions I made. Being Downtown meant I was smack in the middle of all the action and there was no attraction or place of interest that was more than a 20-minute drive. More specifically, I stayed at Hyde Hotel Dubai – a newly opened hotel in the Business Bay area. Because it is a new hotel, all the amenities and facilities were spanking new. I also stayed in the Hyde Me room with a very beautiful view of the Burj Khalifa on the balcony. While my stay here was sponsored by the hotel, I highly recommend this place for a comfortable and seamless stay in Dubai.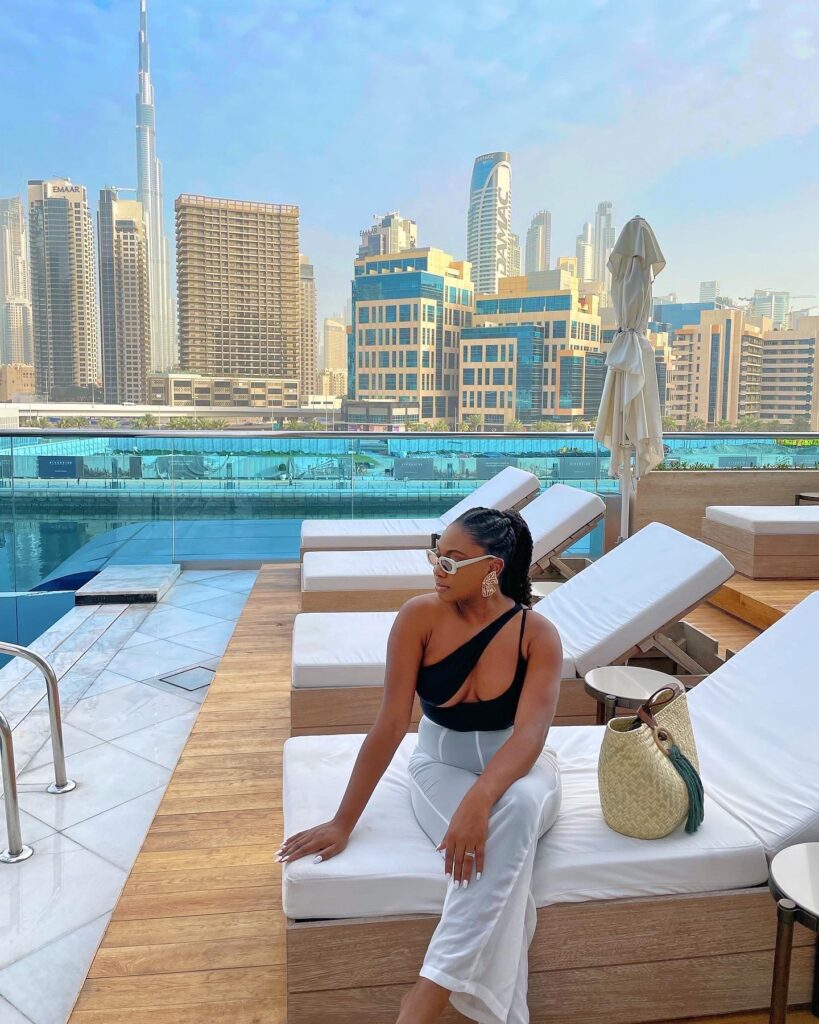 Things to do in Dubai (especially for first-timers)
If you're visiting Dubai for the first time, there are a few bucket-list favorites you should totally indulge in. I call it the Dubai Tourist Classics. Just like going to Paris and visiting the Eiffel Tower, these activities should be ticked off your list when you visit Dubai or its environs.
1.) Private Yacht Sailing along the Dubai Marina
No trip to Dubai is complete without a yacht cruise and if you can afford to splurge a little, then rent a private luxury yacht for about two to three hours. Getting a private yacht in Dubai is not as difficult as it may seem. There are so many boat rental companies. I booked my private yacht experience on Viator using this link. If you don't want to splurge on a private experience, here's a good shared tour you can also sign up for.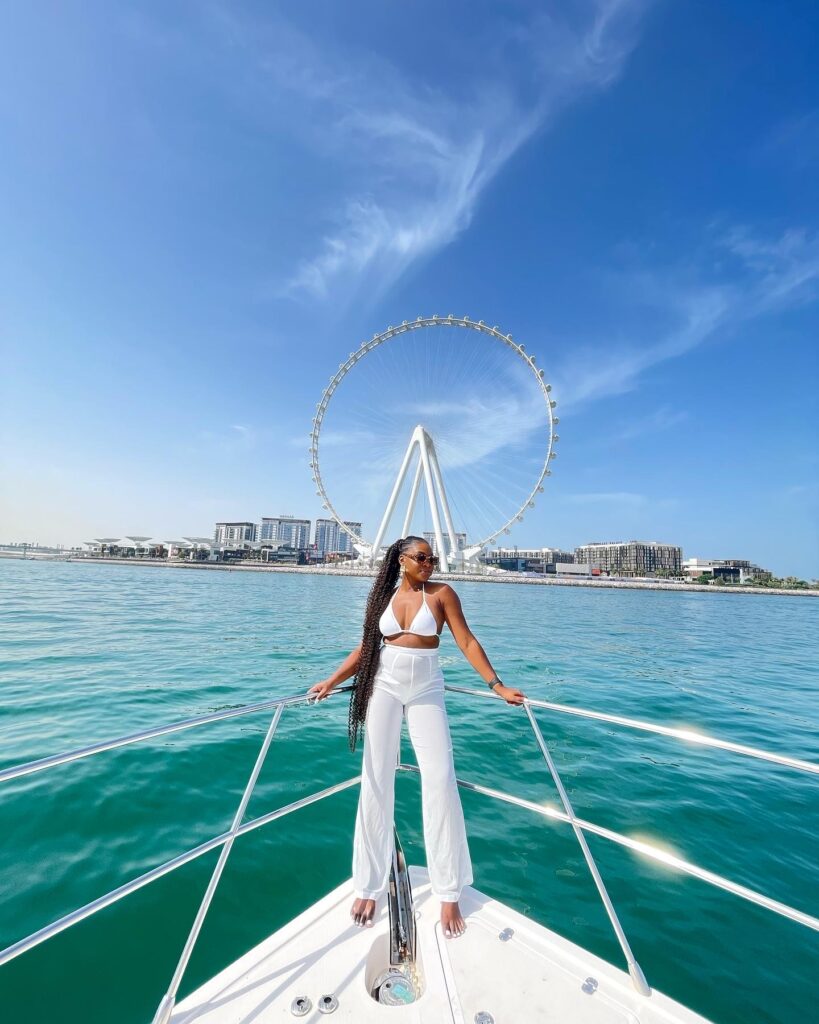 2.) The Dubai Miracle Garden
Dubai is very well known for being grand and the Dubai Miracle Garden is no exception. Once upon a time, this place was a desert and then in true UAE fashion, it was transformed into the most beautiful garden which happens to be the biggest garden in the world with more than 60 million flowers. I enjoyed visiting this garden as not only is it picturesque, the number of flowers you will see is quite impressive and it is a massive space so it doesn't feel as crowded.
I tried purchasing my tickets online and that didn't work but you can easily get a ticket at the entrance which is about 40 AED for adults and ended up getting my ticket at the entrance and it was nice and easy. Highly recommend that.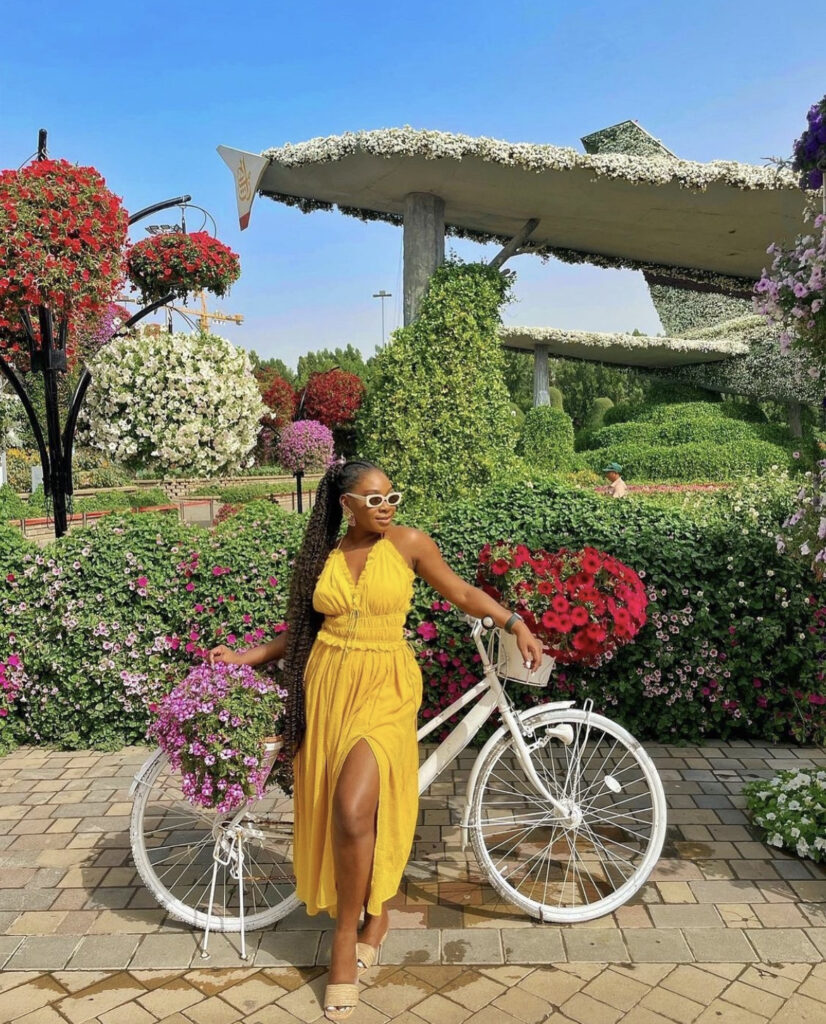 3.) Day trip to Abu Dhabi from Dubai
In my opinion, no Dubai trip is complete without going on a day trip to Abu Dhabi to see the magnificient Sheikh Zayed Grand Mosque – I mean, how could you possibly miss it? Dubai to Abu Dhabi is only less than two hours away which makes it perfect for a day trip. Let's talk about the mosque for a second. The Sheikh Zayed Mosque is a piece of architectural wonder. It features 82 domes, 24-carat gold chandeliers and all the bells and whistles you can imagine.
I particularly like how this is open to everyone, regardless of your religious background for as long as you can be respectful, which includes covering up from hair to toe, especially for women. After purchasing an abaya from the Grand Bur market in Dubai, it still was not enough to go into the Sheikh Zayed Mosque. I had to buy another abaya on site. I hear that it was previously free to rent those abayas but perhaps the pandemic changed all of that.
One thing to note though – you will have to show proof of vaccination and a negative PCR test in order to enter the mosque so definitely keep this in mind.
In terms of tours, there are lots of them you can book online which offers both private and shared transfers to Abu Dhabi. We went private and it cost a little extra but it allowed us customize our trip to our liking and preferred timing. You can book a day trip to Abu Dhabi here.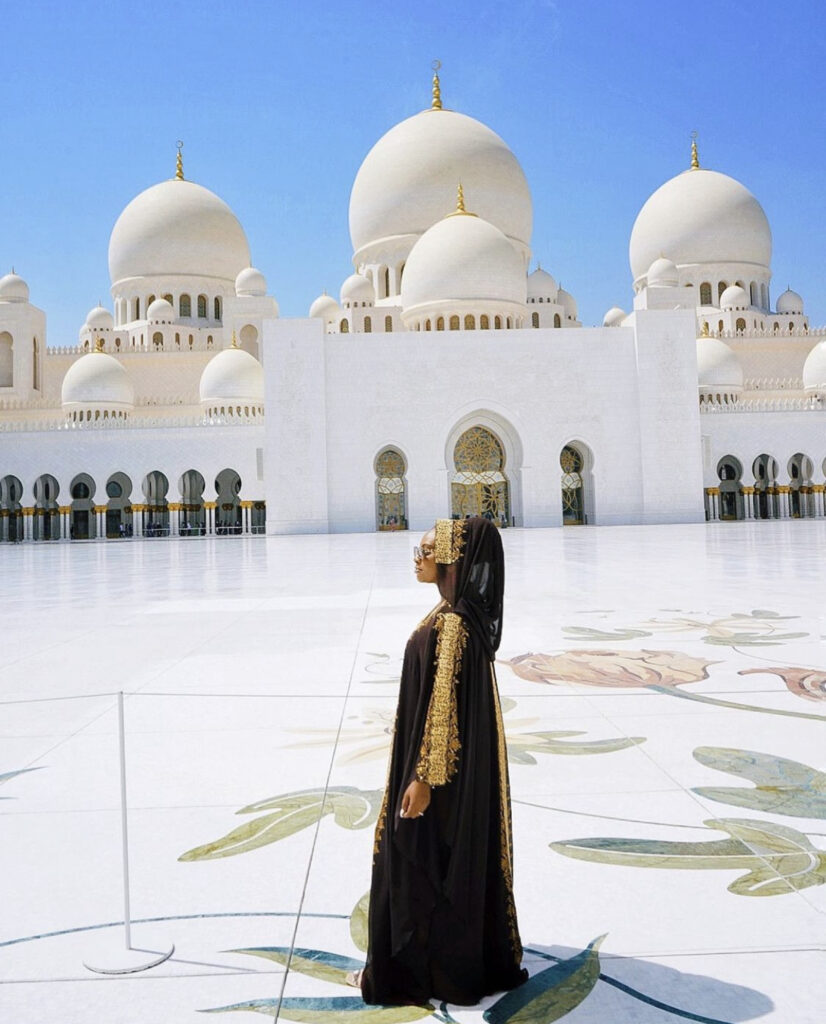 4.) Beach Day at Beach by Five
What is Dubai without visiting a beach club? I definitely had plans to visit a beach club in Dubai and I'm glad I did. There are so many beach clubs to choose from. Some options are Drift Beach Club, Nikki Beach, and so much more. I ended up going to Beach By Five and I loved it there.
Beach by Five is located at the Five Palm Jumeirah hotel and did not need any prior reservation. The way it works is this: There is a minimum spend on food and drinks per person. It was 300 AED for men an 150 AED for women at the time I went in March 2022. This isn't necessarily an entry fee but the minimum amount you have to spend in order to use the property which includes a beach bed and shades.
Note: Make sure to call your preferred beach club in advance to see if they are available for your dates. Otherwise, places like Beach by Five do not require prior reservation.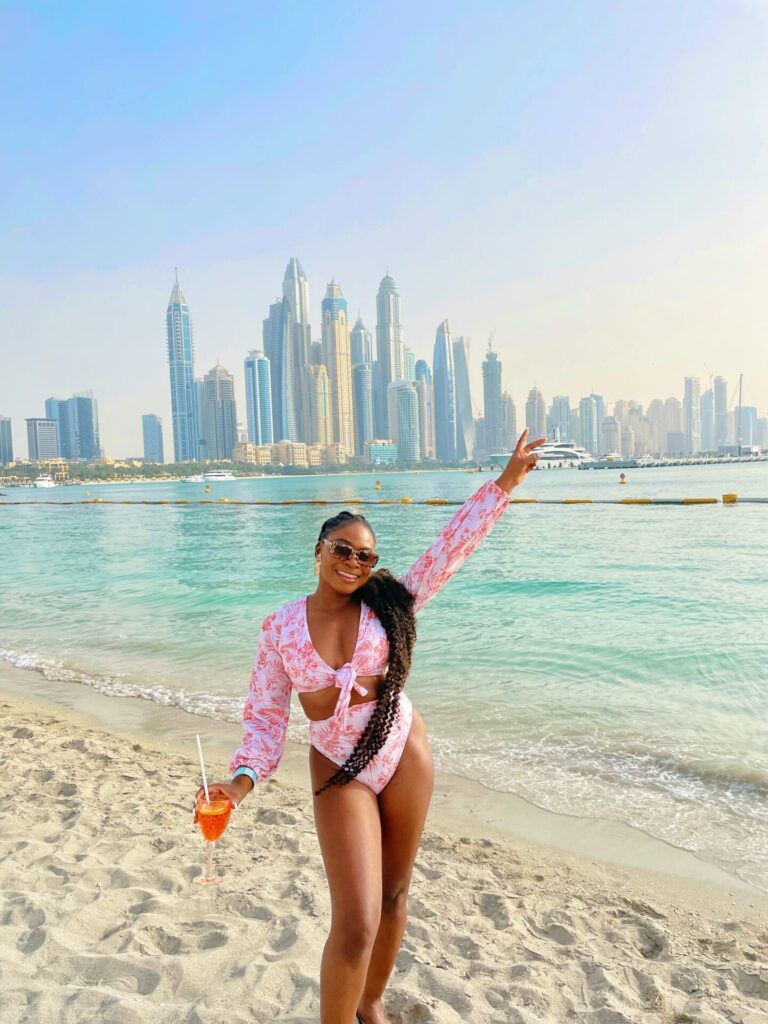 5.) Desert Safari Experience
Yes, I couldn't round up this list without including what is probably the most popular tourist activity in Dubai – the desert safari. This activity is perfect for first timers and an absolutely must-do when you visit Dubai. You can either choose from a morning desert experience or an evening one. I personally recommend the evening one so you can also experience the night show with live performances.
It's easy to book a desert safari experience and there are so many options to pick from. The tour usually includes a dune bashing experience and then you can rent a quad bike for around 100 dirhams. You can sandboard, there's a buffet-style dinner, fire show, henna tattoos, belly dancing – the whole works.
It usually lasts around 4 hours starting around 4pm until 8pm so it is a full and intense night of fun and adventure that you just cannot miss in Dubai. Here's a link to the tour I booked.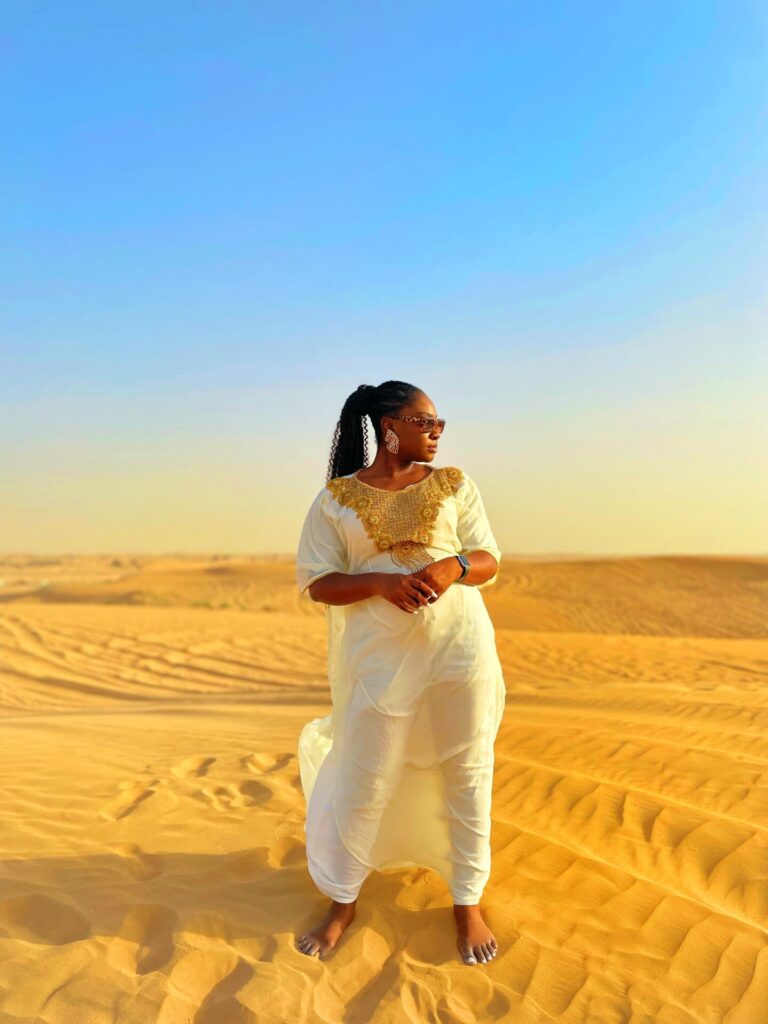 What I have planned for my second visit to Dubai
After covering some of the tourist classics for my first time in Dubai, there's so much I want to do for my second time in Dubai. They include:
Skydiving for the first time.
A dinner in the sky experience.
Museum of the future.
Two days in Abu Dhabi
I would love to venture out to other parts of the UAE as well for about two days.
Explore Old Dubai
Conclusion
With Dubai, you're never running out of options of things to do and it can get quite overwhelming trying to keep up with everything. My advice is to take things slow and not try to rush the experience or do everything at the same time. If you're a first-timer visiting Dubai, I hope this guide helped put together a plan for you. If you found it helpful, feel free to share with your friends and family.
To see more of my free and helpful travel guides, check out this link.
Until next time,
Safe travels,
U.