How Travel is Empowering Your Sisters, Friends, and Girlfriends
A few months ago, I got a heartwarming message from a woman who resides in Bangladesh. I had written a story about Kareemah, a muslim woman who travels the world despite the stereotypes, or challenges she faces. Zainob reached out to me two weeks after with a message I will have a hard time forgetting. (image below.)
Zainob's email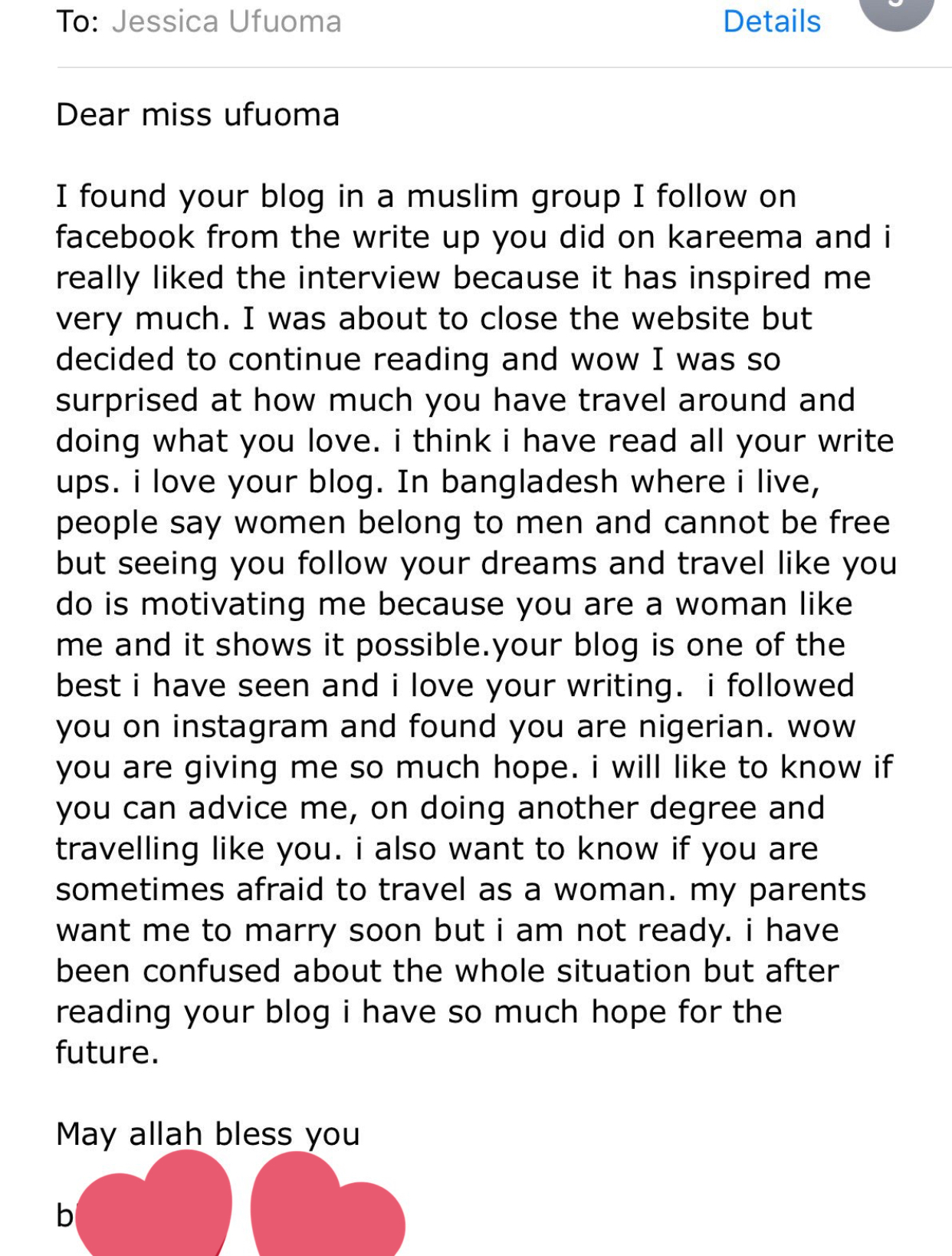 The message served as a timely reminder that traveling, in itself, is powerful. How my adventures around the globe inspired a woman from miles away, is proof of the stuff travel is made of. It can either be movement from one place to another, or a totally life-changing experience. Everyday, I see female travelers breaking new boundaries and attaining new heights, and I know that it sends out positive signals of hope to people like Zainob.
In honor of International Women's Day, (and because this post has been sitting in my drafts for a long time, screaming to come out for fresh air) I am sharing just how travel, as "mundane" or "recreational" as it may seem, is changing lives, and empowering women across the world.
A traveling woman
A woman who travels is everything the world doesn't expect her to be: Independent, care-free, self-sufficient and free. She is in charge, and she knows her place in the world. She values life, and knows that it is up to her and no one else, to build the life that she loves and cherishes. If you see a woman who travels, know that you've met with a powerful being. Travel is an outlet for her, a form of expression, of rebellion and of courage. Travel heals her, and most importantly, empowers her.
A woman who travels is everything the world doesn't expect her to be: Independent, care-free, self-sufficient and free. – Ufuoma

Here's how travel is empowering women around the world.  
Through travel, women are empowered to be the best versions of themselves, live authentic lives, seek knowledge and to forge their own paths.
Travel brings freedom 
Being able to get up and go is a privilege, and an expression of freedom. Every time women venture into new places, they exercise their rights to freedom and independence. There's nothing more powerful than a woman who is free, alive, enjoying herself and is able to do things on her own terms. It simply is magical.
Fosters self-discovery
Travel is a good form of self-discovery for women. Society is constantly changing its standards, especially for women and travel is a great way for a woman to truly look inward and understand who she is, and what makes her tick. New experiences can make a woman more self-aware and when that happens, there is nothing stopping her.
Allows for self-care 
Let's face it, women handle a lot (and maybe men too but this isn't about them.) I personally like the idea of rest through travel as it is a good source of self-care for women. We give so much of ourselves to others, therefore taking time off to tend to our own needs, and let off some steam, is very vital. Imagine what a well-rested and refreshed woman can achieve? Whew.
Promotes Intelligence
Travel helps women remain culturally aware, understand the world around them, and navigate different landscapes, languages and people. A woman who travels is exposed to a wealth of knowledge which not only makes her powerful, but a force that cannot be stopped.
I absolutely love the gift that is travel, especially for women. It's really intriguing to see how much travel has continued to empower women over the years. From not been able to own a driver's license and now making 80% of buying decisions in the household, women are being heard, being seen, and making power moves and I am here for it all.
Dedicating this post to every woman who currently travels, or seeks to travel. Know that you are deserving of new experiences, new places, and new faces. Know that you deserve the adventures that your heart seeks, no matter how young and how old you are. Shout out to all of you.
[bctt tweet="How is travel empowering women all over the world? @theufuoma shares her thoughts. Check it out." username="theufuoma"]
Until next time,

PS: Last year, I wrote about how travel has changed for women. Read it here.