My Best Tips and Advice for Taking Your First Solo Trip
My first solo trip was in 2015 to Paris. As you would imagine, I was terrified, inexperienced, and just didn't know what to expect. There I was, with my little backpack, going to the city of love, alone. But I was tired; tired of waiting for friends to be ready, and I knew it was time to take the plunge.
I did a little research, booked my flights, and off I went. And you know what? It wasn't bad at all. That one experience motivated me to take not one, but ten other solo trips and I haven't looked back since. Just like you, I had my fears. What if I am lonely and don't have a good time? What if something bad happens to me, who do I call? What if I run into trouble? Guess what? Those same things can happen while in your own city, but look at you, right here, right now, alive and breathing, reading this. It's easy to expect the worst of every situation but sometimes it's just fear rearing its ugly head.
Solo travel may be daunting, no doubt. But if you wait for your friends to be ready, you may be waiting a long time. Just do it now, while you can. – Ufuoma
Content of this Article
hide
Putting Solo Travel in Perspective
Think about it. Right now in your city, you probably already do a lot of things alone, whether you have a ton of friends or not. There are certain times when you have to be alone; go to work or school alone, go pick up groceries alone, or maybe you even go to the movies alone. What's to say you can't do some things alone in a foreign country, and best part, only for a couple of days?
Solo travel really isn't all that different. Okay, another scenario. If you wanted to grab say, thai food, you'll probably do a quick google search for the best thai restaurant near you. You know what? Same thing applies abroad. We already have inbuilt survival instincts and principles, all of which can be translated to a totally new city too. Trust me when I say, you've got this!
My Best Solo Travel Tips
After traveling to eleven countries myself, five of which were non-english speaking countries, here are some of my best tips and advice for every solo travelers, especially the ones who are about to do it for the first time. My biggest advice? Stop thinking too much and just do it.
– Do research before your trip
For more awareness
Not intense research as if you were doing a thesis but know the basics of where you are visiting. The culture, currency, how people dress, the latest news in the area, and so on. Confidence comes from knowing what you are doing, where you are going, and having a purpose to your walk. That way, you are able to walk with your head held high and avoid being a victim.
– Stay at a central location
I cannot stress enough how important it is to stay at a central location while solo traveling. Central locations are great because most locals know where it is (in case you get lost.), you don't have to travel too far, or get stuck somewhere. You can do what you have to do, and get back to your accommodation easily.
– Keep your trip short and sweet
To make it less daunting
Don't push it. Keep your trip short and sweet. I always recommend 5 days as I think that is very manageable. It also helps you become less nervous as you know you only have a few days before heading back home. Thinking about an upcoming 10-day solo travel trip is a lot more daunting than thinking about an upcoming 5-day trip, especially when it is your first time.
– Stay at a hostel or Airbnb
To meet new people
Hostels are an excellent, easy way to meet new people, almost guaranteed. The fact that you are traveling alone doesn't mean you have to be alone if you don't want to. I used to think hostels were a terrible mess but after staying in some of the most budget-luxury hostels, I changed my mind. With Airbnb, you'll have a local host who can give you tips on the country and be a point of contact should anything go amiss.
– Join group tours
To meet new people
Group tours are also a great way to meet new people, while doing something fun. So, a ziplining group tour with other people, for example, is a good way to kick off your trip. Sometimes, you end up hanging out with the group for the rest of your trip, or you can say goodbye if it's not your thing. The beauty of solo travel is, you call the shots.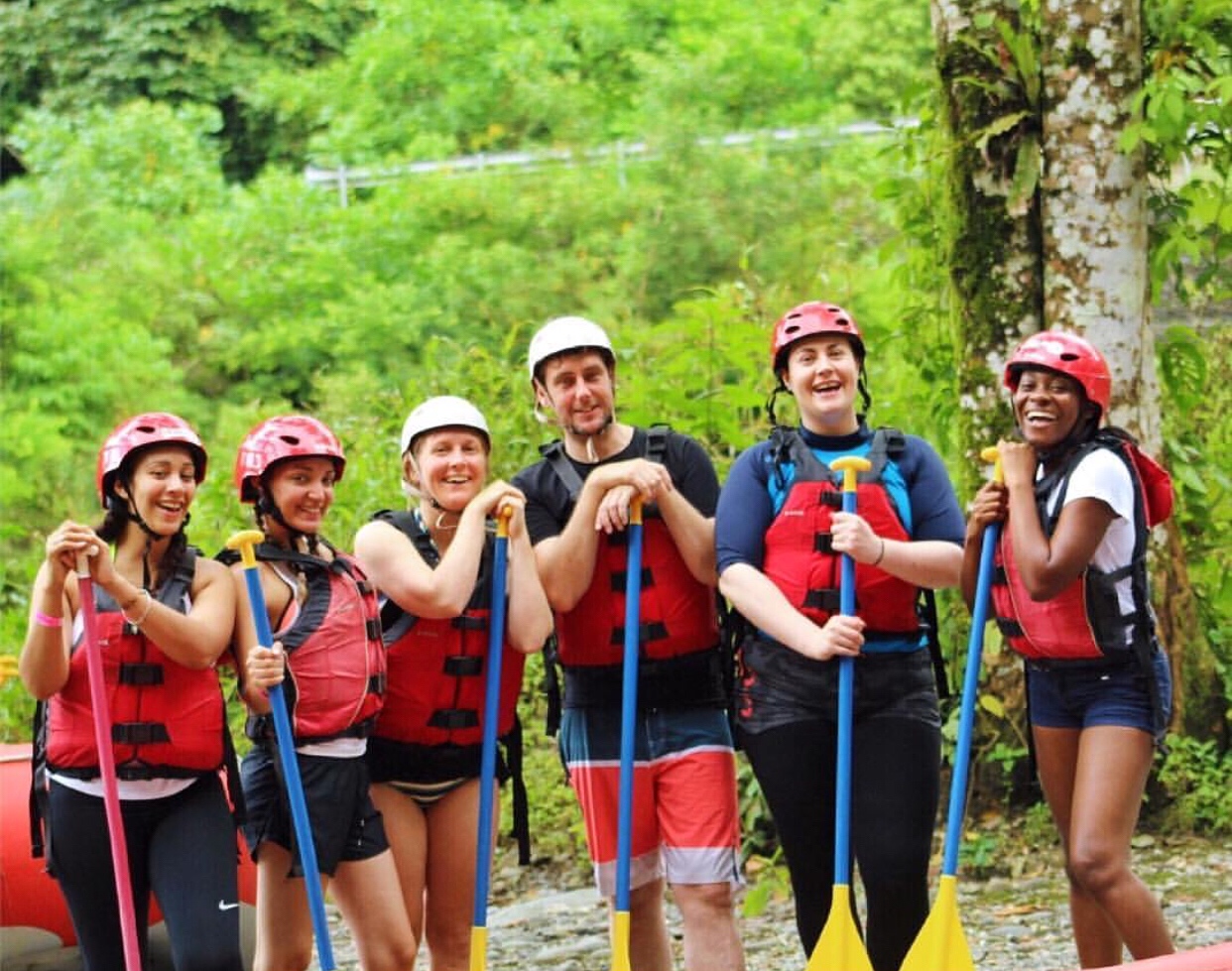 – Take some photos
For memories sake (but who needs a reason, anyway?)
Personally, taking photos while on a solo trip helps me feel like I am not alone. It is almost like I am taking others on the journey with me. You can take photos while traveling solo, you just have to get creative. Tripods, self-timers, selfies, and even asking strangers are great ways to get the shot you want. Most of the photos from my trip to Costa Rica were shot by myself. I'll be sharing a post on how to get great shots while traveling solo, soon on the blog. Keep your eyes peeled for that.
– Pack muted colored clothing
For safety reasons
This is totally up to you, but I like to stick to blacks, nudes, greys, while traveling solo. The idea is to attempt to blend in as much as possible. Of course, things like skin color and mannerism might give away the fact that you aren't from there but I believe wearing toned down outfits makes it a lot less obvious.
– Keep in touch with loved ones and give regular updates
For safety reasons
Always make sure to update someone back home on your every move while traveling. Or at least share your itinerary with them. If you have the 'find my friend' app on iPhone, this will be a very great feature to use. It goes without saying that it is best to stay connected while traveling, so whether that means getting a local sim, or roaming your phone abroad, you want to be in touch with someone back home.
– Fill out your itinerary with things to do
To stay motivated
I honestly cannot count the number of times I tried to chicken out of exploring a new city because I got overwhelmed with fear. Thankfully, I had a full itinerary so that kept me motivated to soldier on. Also, if you can, pre-book some tours before your trip. The thought of seeing your money go to waste will ensure that you do not cancel last minute and actually get out and have a good time. Say no to sleeping in all day when you travel, that's what home is for.

There you go! My best tips and advice for taking your first solo trip. I hope you find it helpful but more importantly, stop waiting for friends and family to be ready to travel with you. You can travel all by yourself, have a great time, and head back home. Yes you can! I hope you take the plunge just like I did three years ago. It's honestly one of the best travel decisions I have made.
For more tips, please subscribe to my blog here, or browse the travel tips section. New posts are up every Fridays.
Are you considering traveling solo for the first time soon? Let me know your thoughts, fears, or concerns in the comment. If you have already traveled solo, what has the experience being like for you? Let's chat in the comments.
[bctt tweet="Tired of waiting for your friends to travel with you?  @theufuoma shares her best tips and advice for a successful first solo trip. Check it out. " username="theufuoma"]
Until next time,
Happy travels.