Six Simple Ways to Be a More Sustainable Traveler
In honor of Earth Day 2020, I am shedding some light on sustainability. Sustainability can be such a big, complex word and for the average person, sometimes overwhelming. You hear it all the time – climate change, environmental consciousness, sustainability, go green but what does it mean in terms of practical, day by day actions? What can you do today to become a more sustainable traveler and person in general?
What sustainability means
I don't want to take you back to geography or environmental science class but sustainability simply means some of the things you can do to avoid the depletion of natural resources. You see, the way our planet works is this – there is a natural ecological balance – birds flying, animals in the jungle, humans roaming the planet, trees growing, etc. That's the natural flow. When you disrupt the natural flow of things, imbalance kicks in and things don't work the way they should.
Why should you care?
Simply put – because you're here. The earth is your home. Just as you clean your physical space and make sure everything in your household is working as they should, it's the same way you should think about the way you operate here on earth. We are all inhabitants of the planet so we should all care.
Six simple ways to be a more sustainable traveler
A lot of the harm that comes to our planet is caused by travelers – from the ones who pick up seashells at the beach and take them home as souvenirs to the ones who pose with sedated tigers in Thailand and the ones who buy plastic bottles and dump them at the next block. We've somewhat being guilty of some of the things but when we know better, we can do better. We can't always go to a green country like Switzerland but we can make tiny steps. Here are some of the simple ways to be a more sustainable traveler.
1.) Find sustainable items as alternatives
It's not always going to be easy to switch all your items to more sustainable ones but when you can choose, go for greener products that are eco-friendly and allow for less waste. I personally keep this in mind when buying items and gravitate towards companies that have sustainable goals in place. For example, my Bali Boo toothbrush that I take with me on my travels. I am looking to purchase bamboo cutlery so I can reuse them when I travel. What are the items you can swap for more sustainable ones?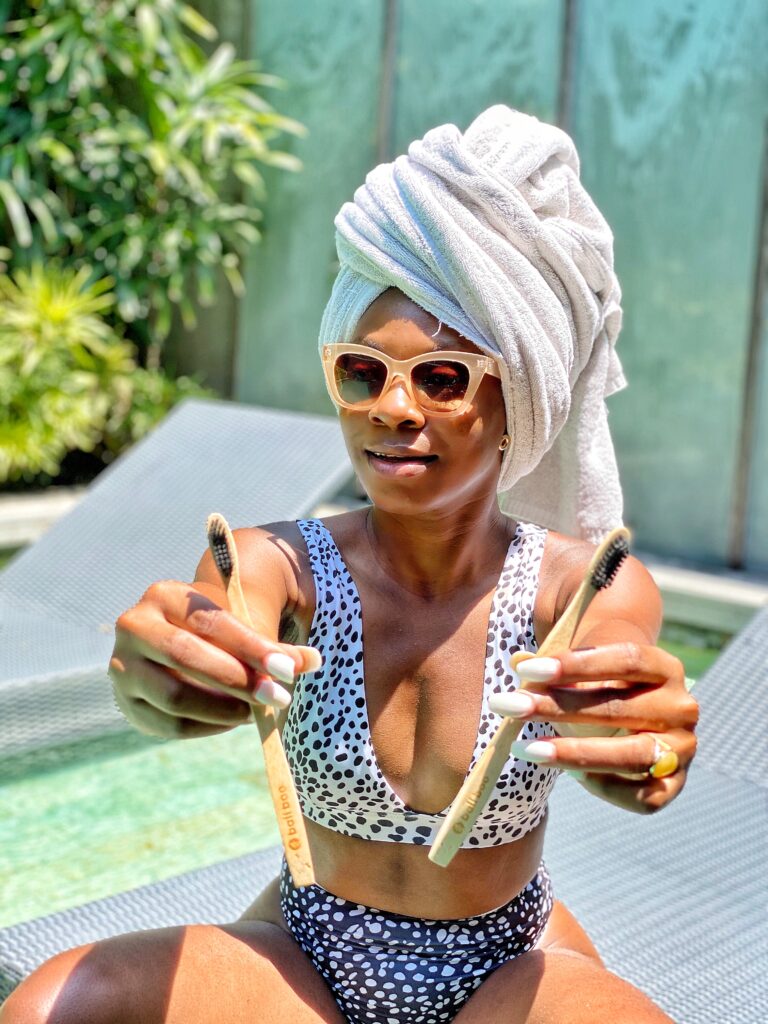 Some of my favorite sustainable and eco-friendly items
a.) Reusable water bottle by Welly
b.) Bamboo toothbrush by Bali Boo
c.) Sunscreen by blackgirlsunscreen
d.) Eco-friendly travel towel by Ariv
e.) Reusable straws by Bali Boo
f.) Reusable cutlery set by Bali Boo
g.) A kindle
2.) Book eco-friendly accommodations
At the beginning of 2019, I made a resolve to choose eco-friendly accommodations when traveling. This is not always going to be easy to find as there are some places where sustainability isn't a priority but I am finding that more green accommodations are springing forth more frequently and this means more options are available for travelers. When in Bali, I stayed at Tanadewa Resort which is an eco-friendly resort. In Singapore, I stayed at Marina Bay Sands Hotel, another hotel that takes sustainability seriously. Keep these factors in mind when shopping for new places to stay. Here's a great list of places.
3.) Choose better transportation options
In general, transport is one of the biggest emitters of greenhouse gases so airplanes aren't the best for the environment. Does that mean you shouldn't travel? No. But it is good to keep in mind that in situations where you can walk or take the train, you should do so. Always think about how you get to your destination and if there's a better way. Trains are the most sustainable means of transportation.
4.) Avoid single-use plastic
One of the simplest day-to-day tasks you can do to reduce carbon footprint is by avoiding single-use plastic. A lot of people buy plastic bottles and use them and dispose them immediately and repeat the cycle. Those plastic bottles fill up the landfills and are bad for the environment. Buying a water bottle and taking it everywhere you go, is a good way to solve this problem.
5.) Leave no trace. AKA leave places how you met them
It's important to leave no trace when you travel and leave places how you met them. How can you do this? Not picking things up and taking them with you (I'm not talking about buying souvenirs). Ever been tempted to pick up seashells at the beach? Seashells are a natural part of the beach and if everyone picked them up, an imbalance is bound to happen. I always recommend taking your own reusable items like cutlery, straws, cups, etc on your trips so you don't have to buy and leave them behind.
6.) Travel off-season when you can
I love traveling off-season when I can, not only is it good for my wallet, it's also good for the environment. I have traveled to countries like Brazil, Guatemala, Costa Rica, Thailand in off-season periods. How does this help? It helps because the popular destinations become less crowded. Overcrowding is one of the biggest issues in traveling and not good for the environment. When you travel at less than peak times, you're doing your part.
Conclusion
It is our collective responsibilities to make better environmental choices and preserve our beautiful planet. I don't know about you but I'd love to one day sit with my grandchildren and show them photos of all the lovely places I have been to and they still be able to go to those places because they are still there and haven't been depleted at all. Happy Earth Day 2020.
What are some of the ways you are being more sustainable as a traveler and in your life in general? Let me know if you learned something new today.