In case you didn't know, after months of work and prepping, I officially launched my first online course, The Art of Travel Blogging (TATB) in September 2019. It was such an emotional experience for me to see what was once a thought in my head, take real form.
It was unreal to see over 30 students sign up to my course and eager to learn from me. It was humbling to say the least.

jessica ufuoma
TATB was first conceptualized in November of 2018 and before I even had the chance to overthink it, I swung into action and got to work. I first created a curriculum that I knew would add value, I then divided the work into chunks that was manageable for me and my ongoing workload and started the development process.
TATB is now OPEN. Spots are limited so sign up to be a part of this revolutionary travel blogging project.
Before I tell you about it, let me share a little about why I launched a travel blogging course.
WHY I LAUNCHED A TRAVEL BLOGGING COURSE
When I first started this travel blog about three years ago, there was barely any information to help guide my journey. Most of the things I learned, I had to teach myself. There wasn't really anyone who I could truly look up to, or whose blog I could model. I launched TATB to provide clarity and direction to new, aspiring or existing help travel bloggers who want to take their blog to the next level. Whether that be to grow their blog, to monetize their blog or to expand their communities. I've never been one to hoard information and I truly believe that is one of the reasons my blog has grown so much. TATB was no different – it is packed with loads of information to help aspiring and new travel bloggers.
My travel blogging course was launched to provide new, aspiring and existing travel bloggers with the tools and skills they need to take their travel blog to the next level. I shared all my 'secrets' that have helped me grow and monetize my travel blog.

jessica ufuoma
DOING THE WORK – THE CREATIVE PROCESS
Doing the work required to bring TATB to life came with lots of sacrifices and sometimes turning down hangouts with friends because I wanted to complete a module. But if I am being quite honest, it was very fun and challenging for me. I love creating, especially when I am positive that what I am creating will add value to others so this made the entire process worth it.
There are 12 modules in TATB: 1.) The art of starting a successful travel blog. 2.) The art of finding your niche. 3.) The art of building your tribe. 4.) The art of growing your audience. 5.) The art of travel photography. 6.) The art of storytelling. 7.) The art of travel content creation. 8.) The art of growing your mailing list. 9.) The art of working with brands. 10.) The art of monetizing your travel blog. 11.) The balancing act. 12.) A travel blogger's toolkit.
THE LAUNCH
I want to say I was skeptical when launch time came but I was pretty confident in the work I had put in and the value of the materials so I was more excited to share with the world and hopefully help someone make their travel blogging journey a little easier. What happened next? One person signed up to the course, and then two people and then six people. I was pretty happy with the number because that meant six people will have more clarity on their travel blogging journey. However, I went to bed and woke up to the realization that 33 people had bought my course. Incredible! Just incredible!
WHAT HAPPENED NEXT
I closed off registration after 33 people had signed up because I wanted to have more one-on-one interaction with the students and really be able to follow up with all of them. Also, we had live practical sessions and I didn't want the room to be too overwhelming for both the students and I.
The course went great. The students were lovely and engaging and I received some really great feedback afterwards. See one of them below from one of my students from Botswana who is set to launch her own travel blog sometime in the future.
OMG! The course was amazing. I enjoyed our live sessions. The learning atmosphere was so encouraging and very calm. Issues were addressed very well and to everyone's satisfaction. As a new travel blogger, I now have knowledge and clue of what steps to follow to have my blog functioning and popping. Watch this space!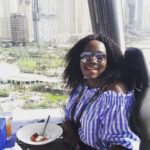 CONCLUSION
I'm really thankful to have a platform that not only allows me share my travels but also my knowledge and expertise to those who want to go down this path as well. I truly believe in this phrase, "when you get, give and when you learn, teach" and this is everything that TATB and this platform in general embodies.
Thank you for reading. TATB 2.0 is NOW OPEN so if you are a travel blogger who wants to supercharge to the next level, SIGN UP HERE.
Got questions about The Art of Travel Blogging (TATB) course? Feel free to comment below or reach out to me privately at info@theufuoma.com and I will be more than happy to answer.