How To Make 2018 Your Year of Travel
This year, we will be adventurous, get out of our comfort zones, and we will travel more. However, those things will not happen without putting in a considerable amount of effort. If travel is one of your goals for 2018, you're in luck as I'll be sharing just how to make 2018 your year of travel.
Are you willing to give up a couple of short-term instant gratifications, to achieve a longer-term goal that might make a difference in your life?
Understanding the why
Why are we prioritizing travel this year? Why is that a goal we should set for ourselves? Popular goals from this year are getting fit, saving more, being debt-free, etc. Why does travel deserve a spot in our year?
To travel and experience new cultures is a great way to grow as an individual. Immersing ourselves in other cultures and getting out of our comfort zones is a good self-development tool. The world is a lot bigger than home and it is important to get out there now and then to learn at its feet. The benefits of traveling are endless.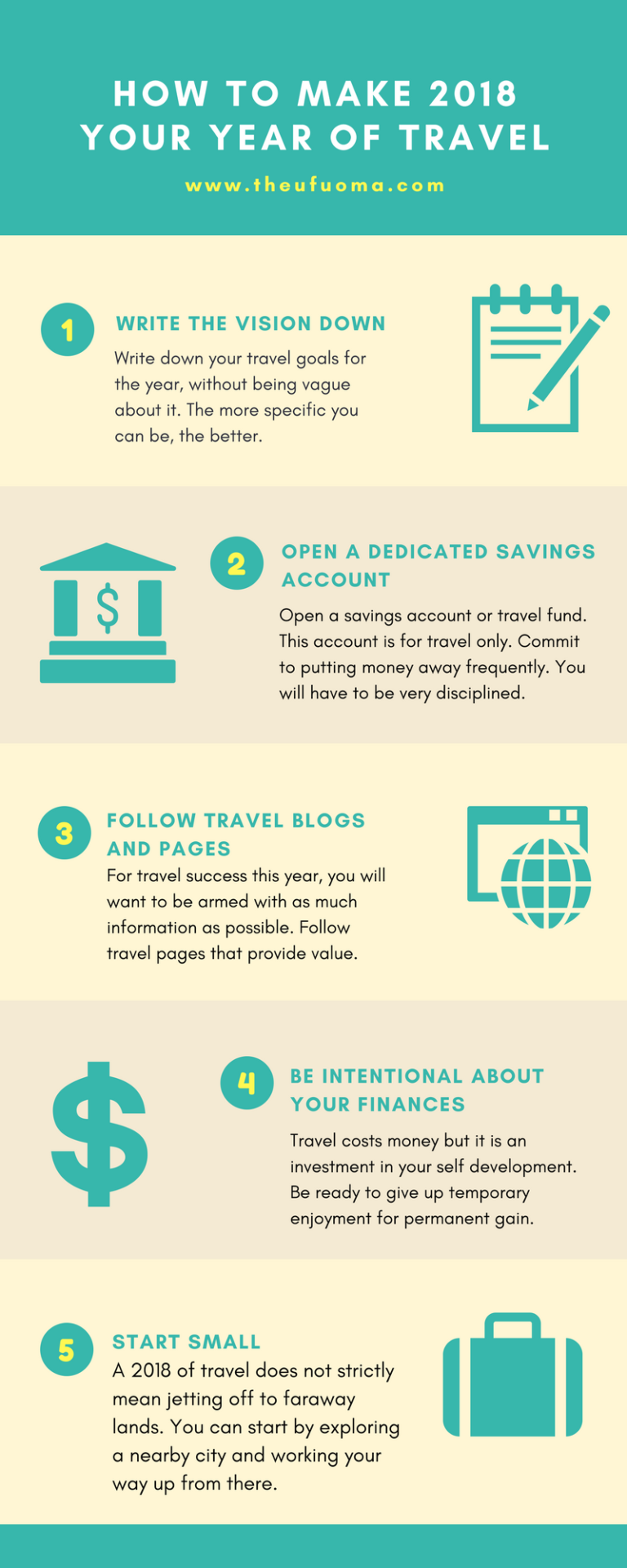 We dream it all the time. A new year beckons and we determine in our hearts to travel and explore this beautiful world around us. BUT, 365 days go by and we haven't met our goals.

This year, you have to switch things up. Get uncomfortable!
[bctt tweet="Want to make 2018 your year of travel? Read this helpful piece by @theufuoma" via="no"]
If you'll like to read more about how to make 2018 your year of travel, I wrote an article last year which I believe is still very relevant. Click here to read!
Read this: Additional Resources
1.) Write your vision down and get more intentional about reaching your travel goals for 2018. I have created a worksheet that can help you visualize it. Download it here.
2.) If you want to learn more about how to always find affordable flight tickets online, this post I wrote will be helpful. I update it with new finds every time.
3.) While being specific about your travel goals and bucket list is great, you should also leave room for flexibility. Here's how ditching my bucket list has helped me travel to more countries.
4.) Start your own travel fund today by building your dedicated travel savings account. Here are some tips on how to get started.
5.) Wondering how to finance your travels? Follow my Travel Finance series here, here and here. I have shared how to fund your travels, money mindsets to adopt, and so much more!
6.) Some of my favorite travel pages for inspiration are travelnoire, cntraveler, culture trip, to mention a few. There are tons of travel resources on the internet.
"An investment in travel is an investment in self."

-Matthew Karsten
Thank you for reading and I wish you a 2018 of awesome travel adventures, growth and fulfilment. If you will like to be updated on new posts on this blog, please subscribe. I share travel tips, deals and advice, every Fridays.
Until next time.
Love and light,