My Traditional Wedding in Lagos, Nigeria: The Most Beautiful Day Ever
On October 29, 2021, I boarded a Lufthansa flight from Toronto to Lagos, Nigeria. We had a five-hour layover at the Frankfurt International Airport and before we knew it, we were on our final leg headed to Lagos, Nigeria – the city where I was born. The last time I went to Lagos was for my sister's traditional wedding in 2018 and this time, I was on my way for mine. It felt surreal and I was mostly excited to see my family and friends and to celebrate love.
Getting into Lagos one week before the wedding
Our wedding was scheduled for November 6 and we landed Lagos exactly a week before on October 30. For many, this would be a frantic moment but for me, I was okay with that. I had scheduled all my fittings and everything else I needed to do physically in Lagos. Besides, as working professionals, we didn't have the luxury of time to stay for so long and we also didn't want to work remotely so one week was a good enough time and it definitely worked out.
The days leading up to the wedding
We got into Lagos on Saturday and I went straight to my family home while Kay (my husband), did the same. On Sunday, I took the time to rest and catch up with my family. It was a full house with many of my relatives coming in from all over the world. Some of them lodged in nearby hotels while a few of them stayed with us at home. I kept looking around thinking to myself, "wow, these people really are here because of me". I caught myself getting emotional every time I had that thought.
After resting on Sunday, on Monday I went straight to business. Fittings, fittings, fittings. I had three outfits made, actually four (including my Introduction outfit. My introduction ceremony was on Thursday November 4) so I had to go and fit them all to make sure, well, they fit. For my second outfit (yoruba aso oke), the designer Mazelle decided she wanted to start it all over again and take my measurements from scratch so it was not even made at all. I did not fret though, I trusted the entire process and knew everything would work out. By Friday night, all my outfits were ready and I was all set for the big day.
The big day – Our Traditional Wedding Ceremony
The day prior to the wedding was probably the busiest day of my life. I got so many phone calls and many people calling to ask questions. From the planner to my guests who still hadn't gotten their access cards to everyone who just wanted to ask me for something. I also had to do some last minute things – like pickup my outfits and get a jewellery set. At about 6pm in the evening, we checked into our hotel Lagos Intercontinental Hotel, I had dinner, took Tylenol, turned off my phone and slept like a baby. I had messaged some key people to say that if they needed anything urgent, they reach out to my sister.
The decision to turn off my phone and sleep early the night before my wedding turned out to be one of the best decisions. I felt well rested and ready for my 6am start.
I got up at 6, said a prayer, had a slow shower and ordered breakfast into the room. My makeup artist Tenny Coco came by at around 7 and the preparations for the day had begun. Shortly after, the photography team and videography team came, my stylist came, my gele stylist came, my wedding assistant of the day came. My hotel room was filled with the glam team – all of them doing their part to make sure I looked and felt the best on my day.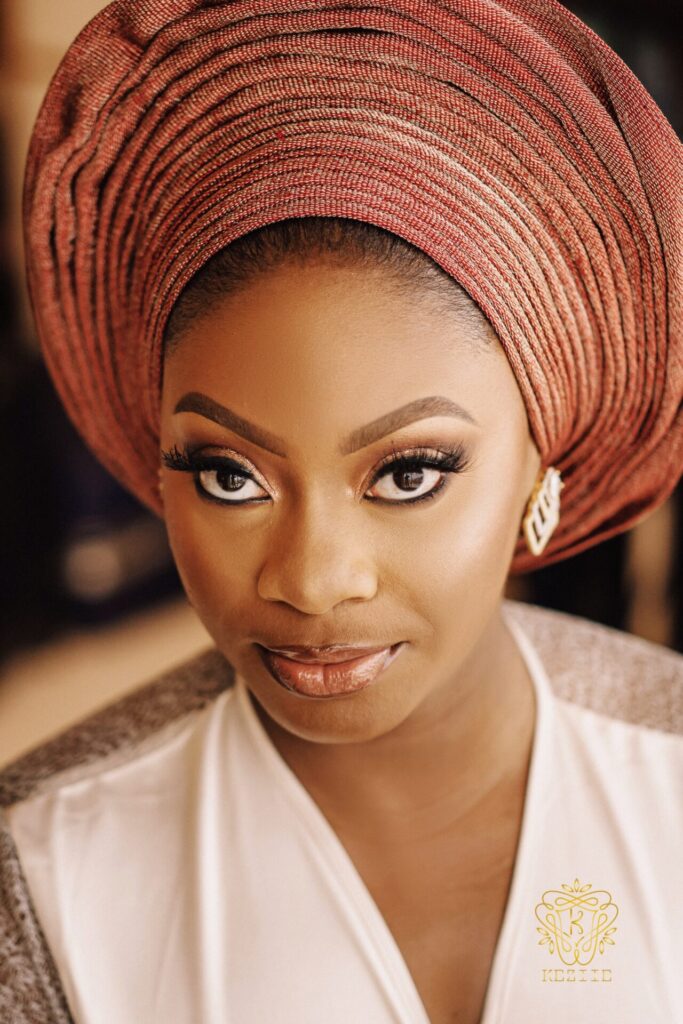 After my make up was done, I proceeded to do a photoshoot of all three outfits. I started with my asooke yoruba outfit, then proceeded to do my last outfit of the day – a modern Urhobo outfit fit for the evening and then the first outfit which was a traditional Urhobo outfit. I wore that last for the photoshoot as that was what I was wearing to the reception. I felt absolutely beautiful in all of them.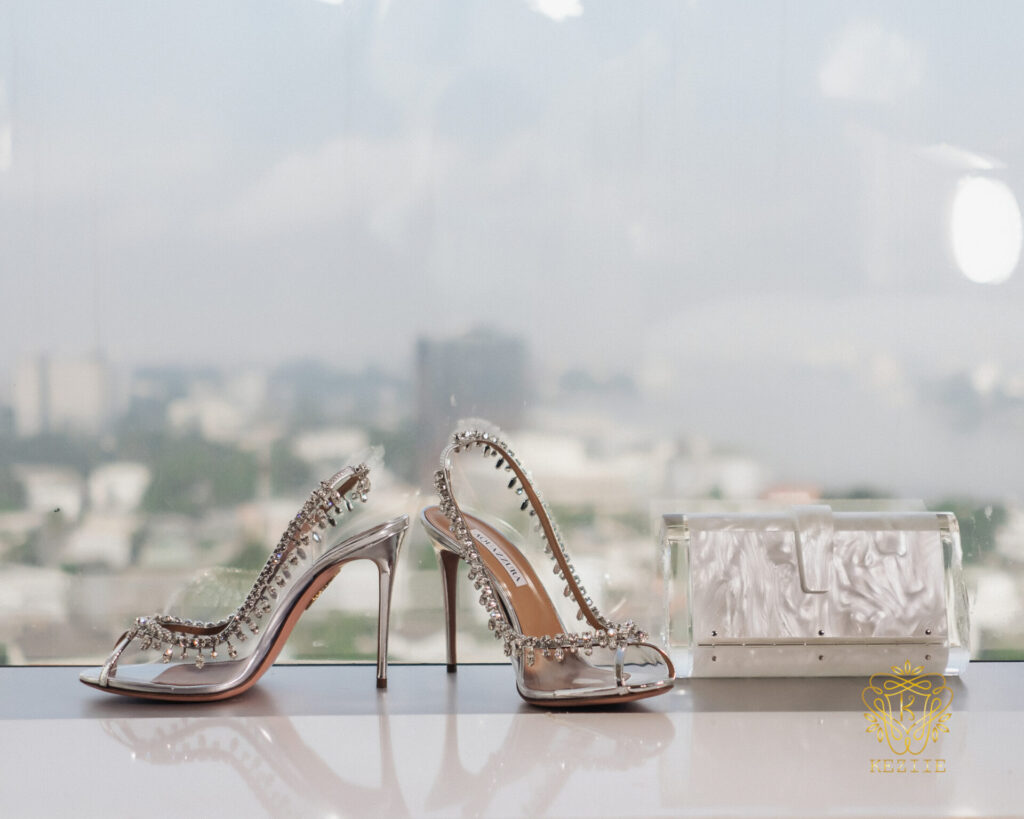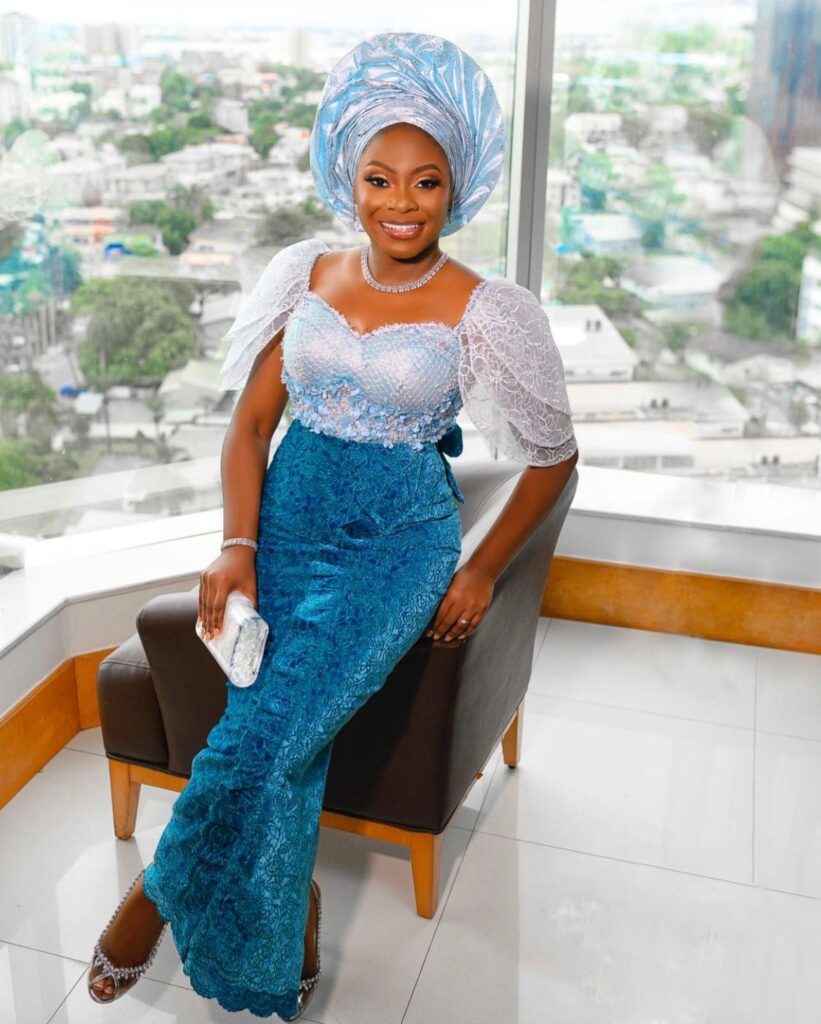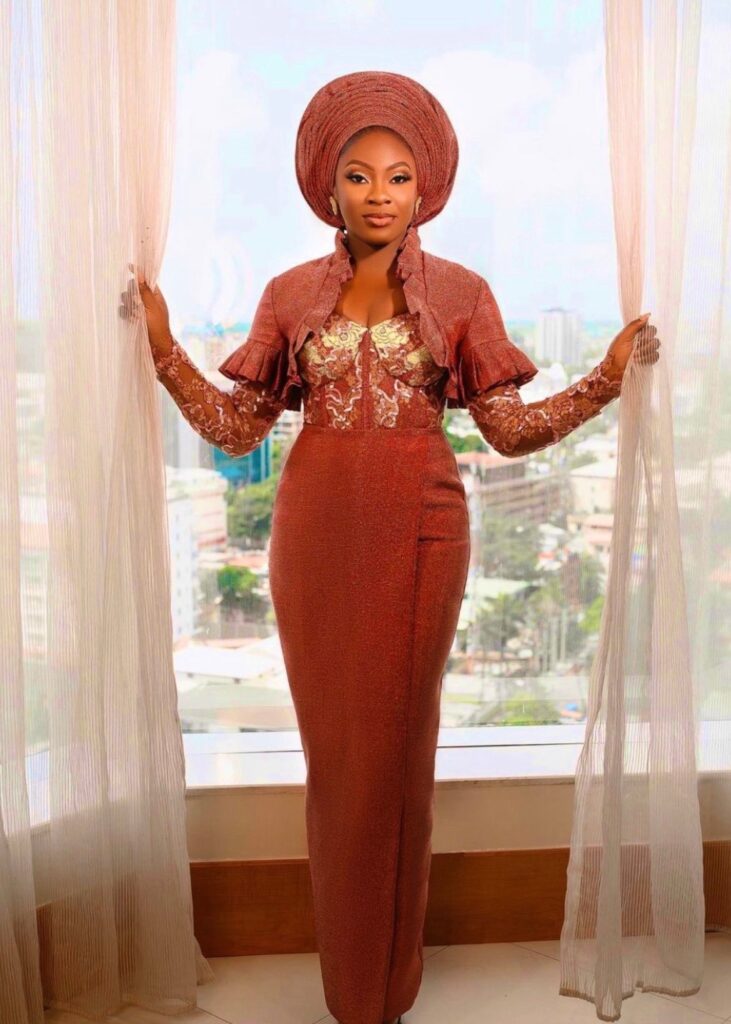 Shortly after my photoshoot was done, my girls joined me in the room and we did some round of photos. Kay also came into the hotel room and we had our little moment. It was such a fun morning/afternoon already and I was looking forward to the rest of the day.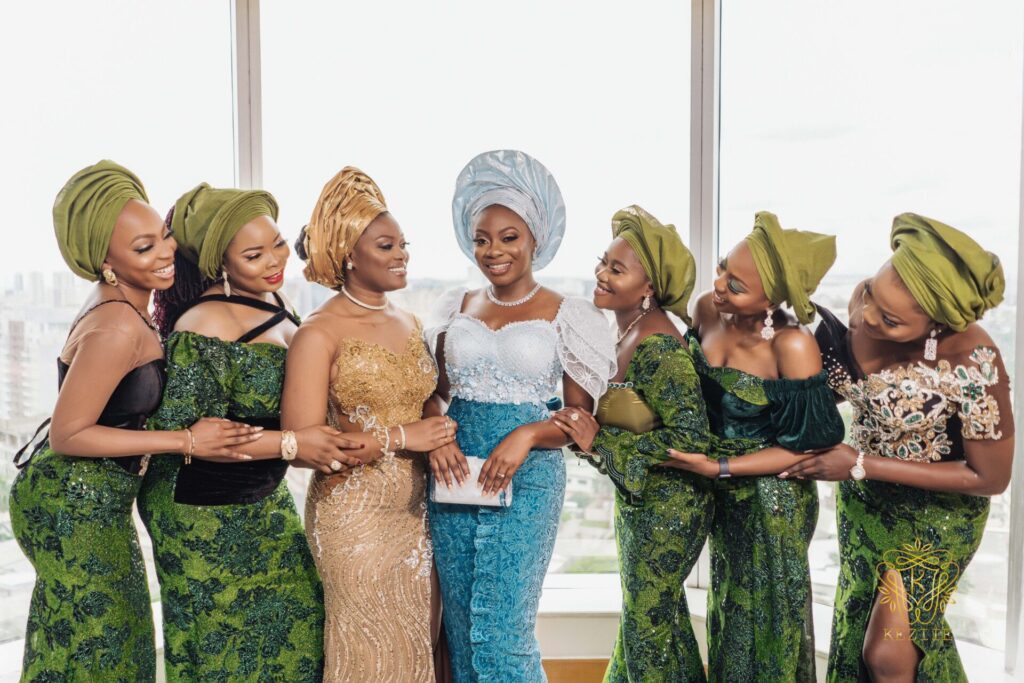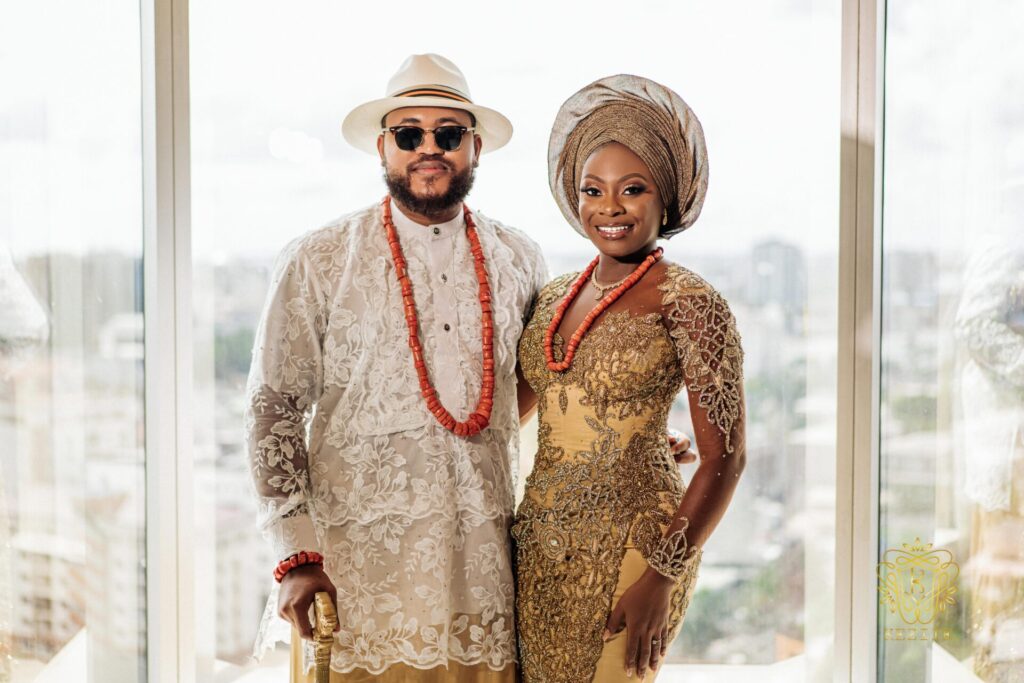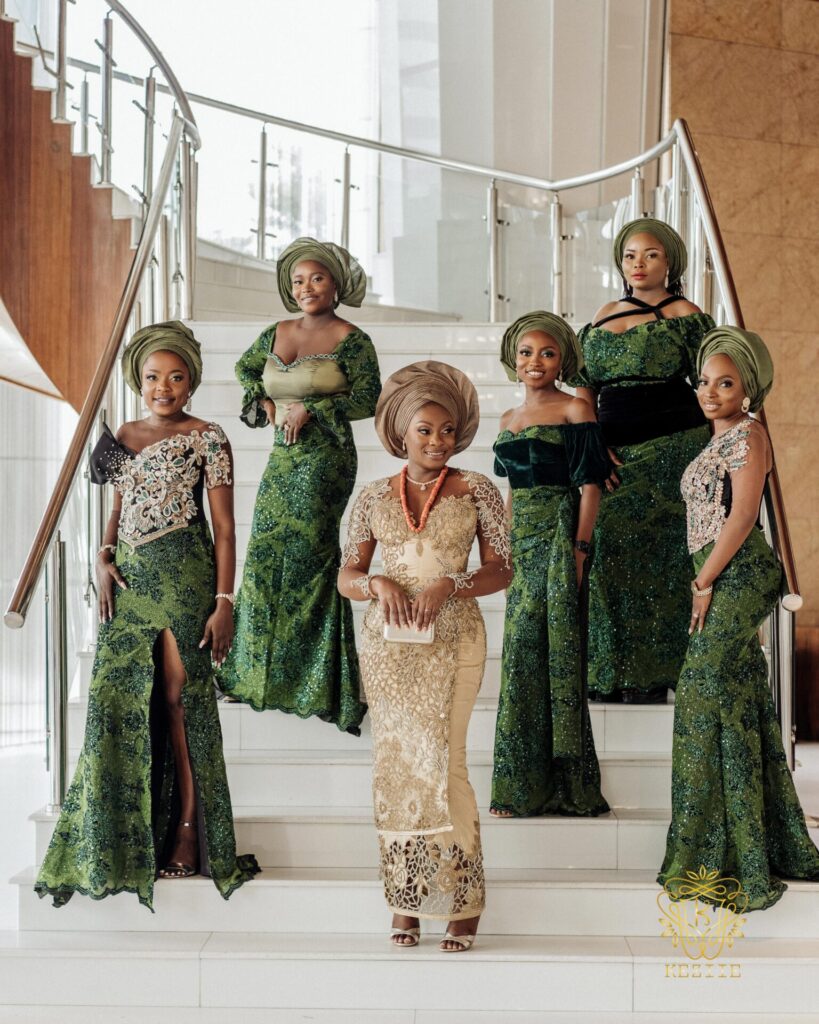 We made our way to the reception which was at the Civic Center, VI. We were welcomed with a palmwine drink which was such a nice touch – I didn't realize I was quite thirsty.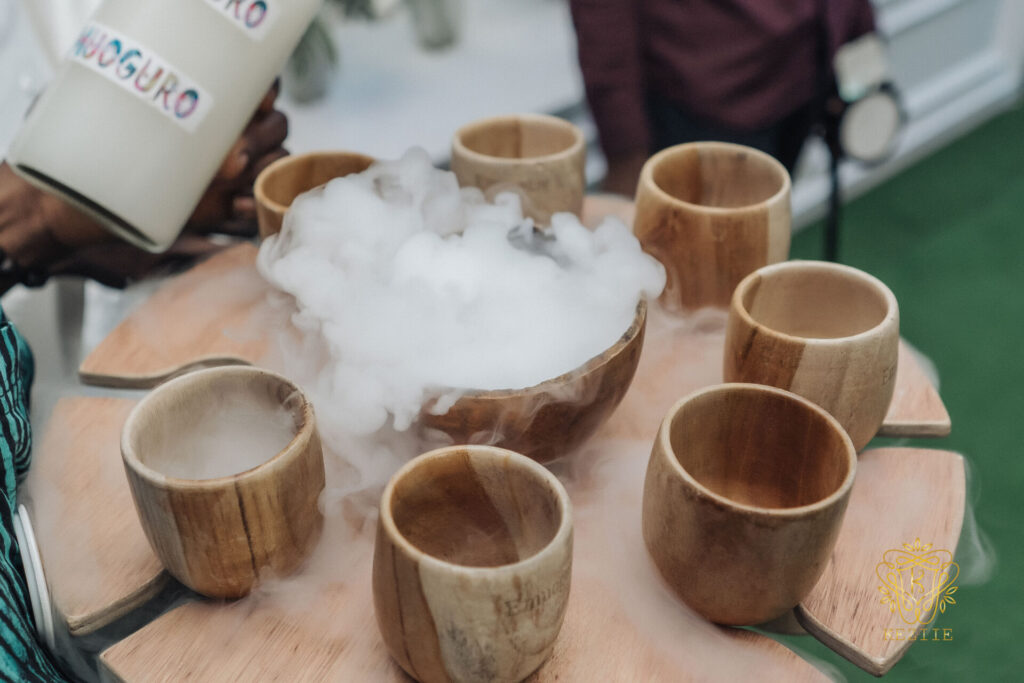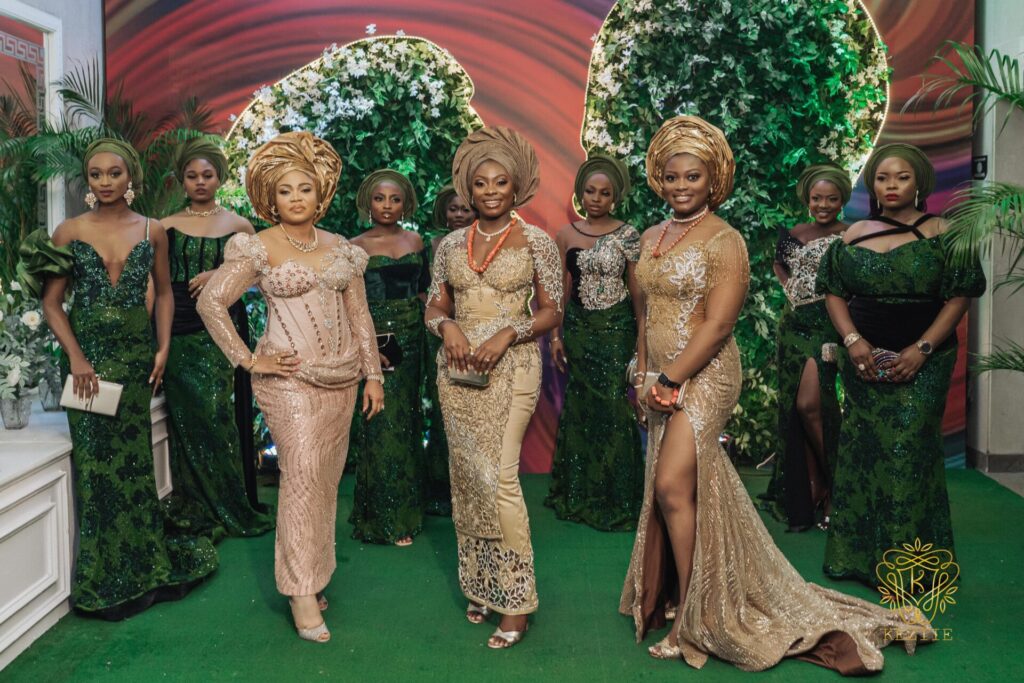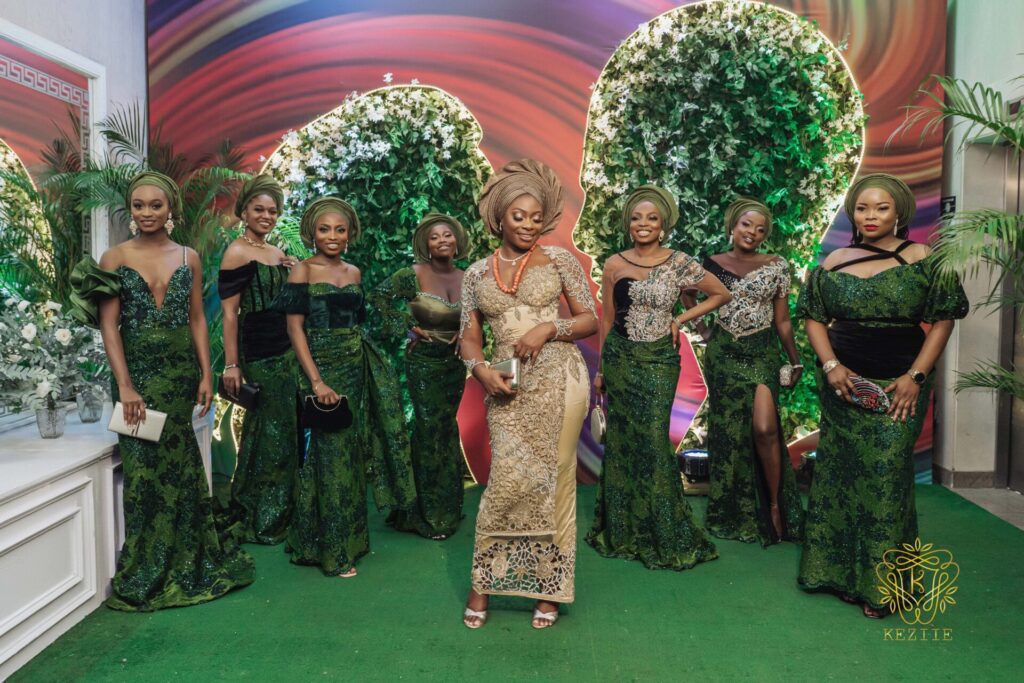 The decoration
My birth month is May and my birth stone is emerald. Let's just say emerald green and the color green in general, is a favorite color. I wanted my traditional wedding to be all shades of green. From the fabric selection for my girls and guests, to the decoration. I literally gasped when I got into the wedding venue – the decoration was everything I wanted and more and photos don't do it justice at all.
We also had a seating chart at the entrance of the venue. I didn't all the photo from it to save the privacy of our guests but it was such a lovely touch.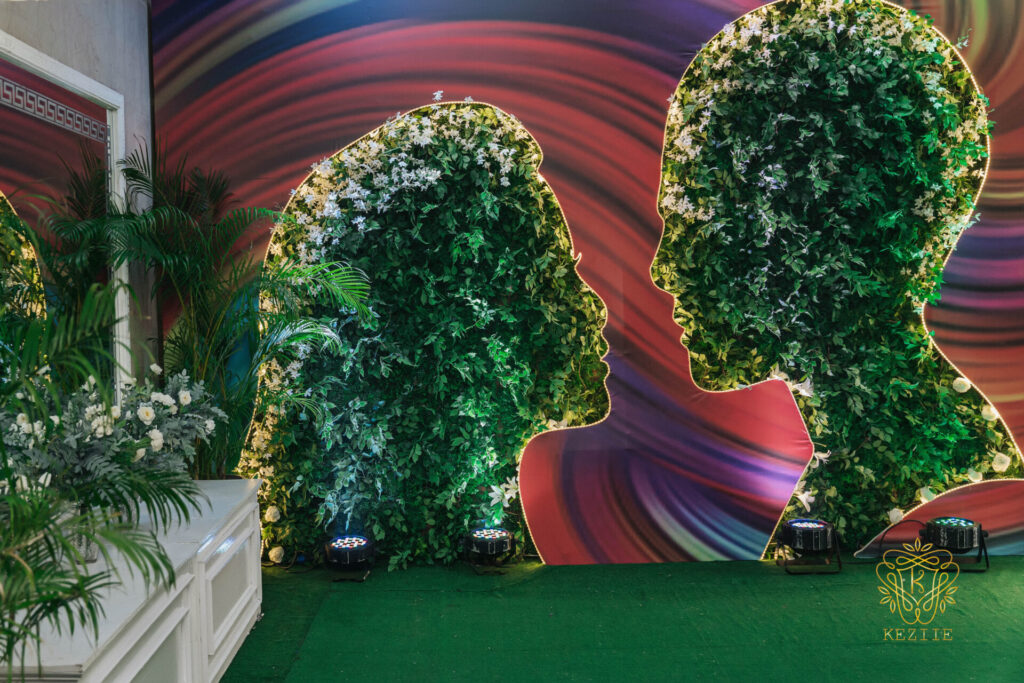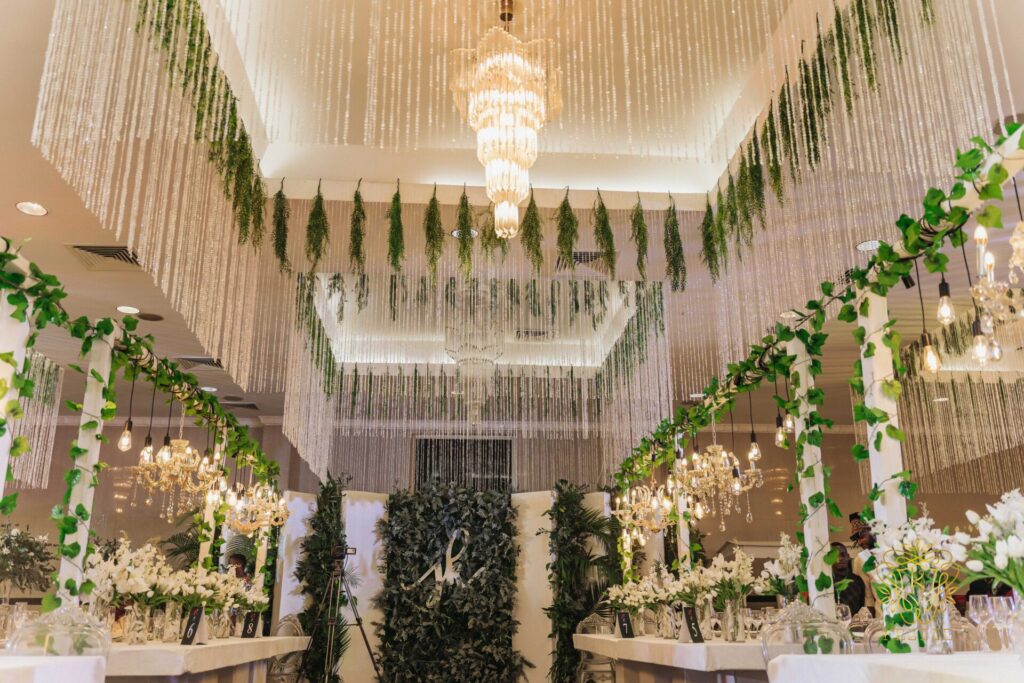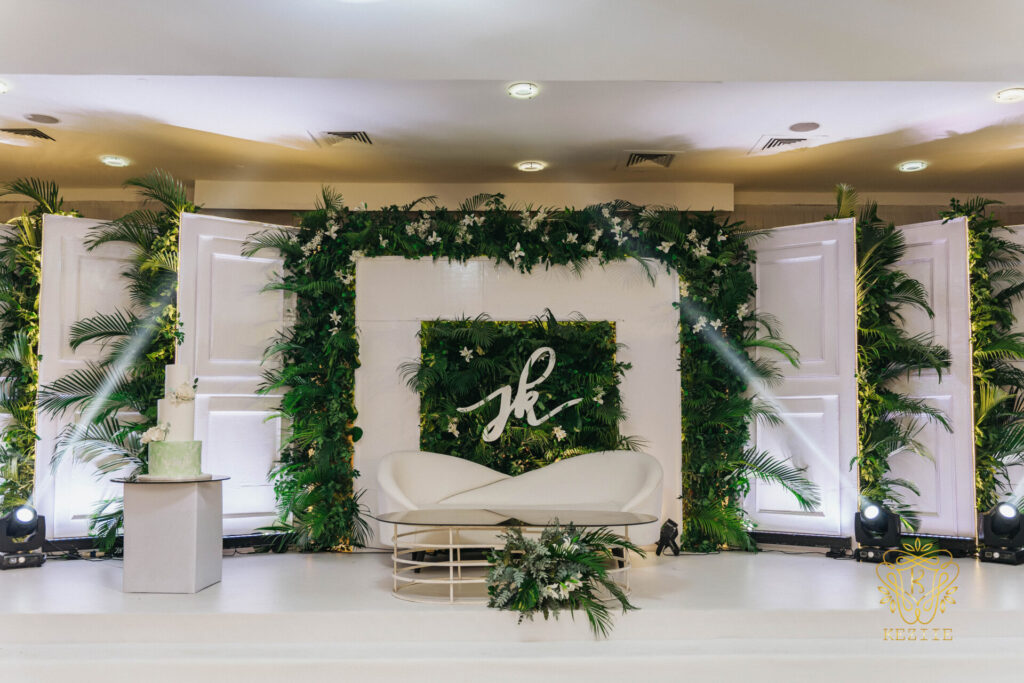 The rest of the day
The rest of the day was amazing. I danced into the venue, greeted the parents, did some other traditional rites, had some fun games played, danced a lot (I can't believe how much dancing we actually did), had some food, and really just took in the whole experience. It was such an amazing day that totally exceeded my expectations. Every single thing went well and I give God all the glory.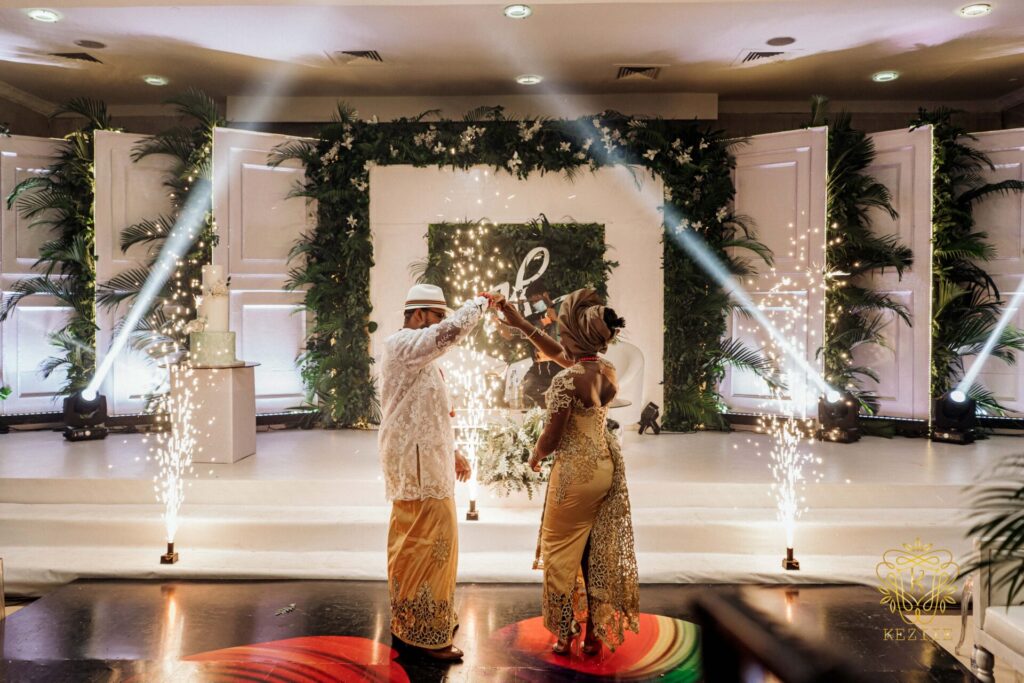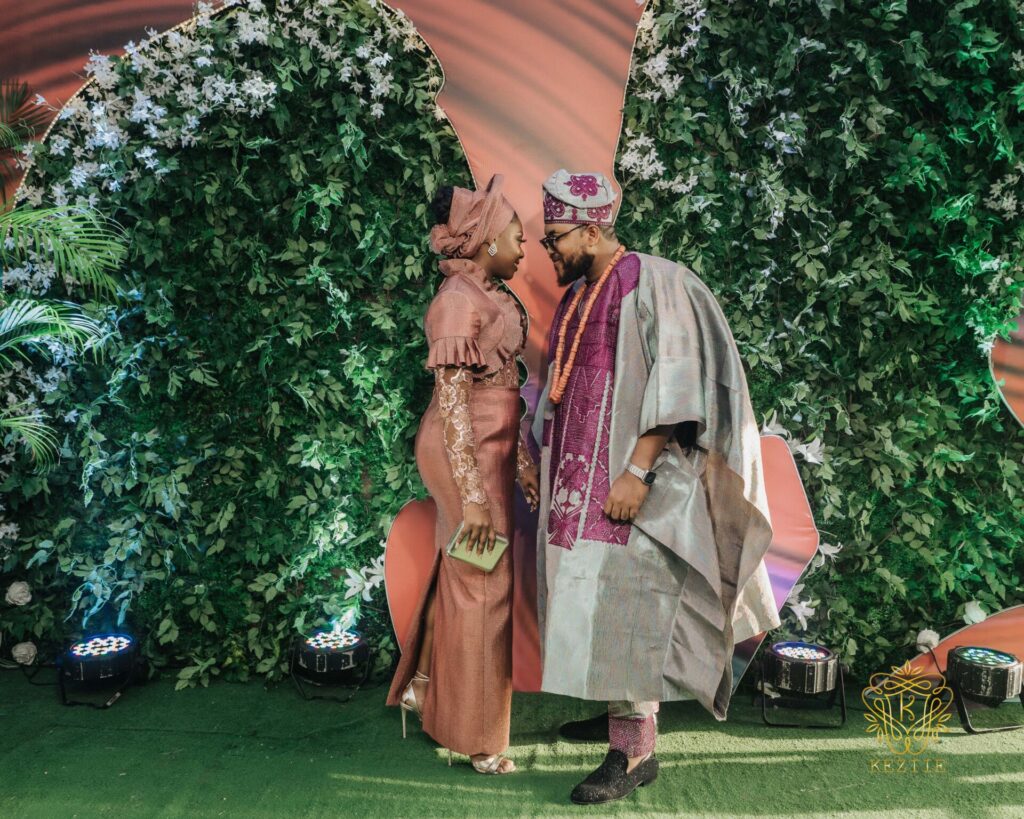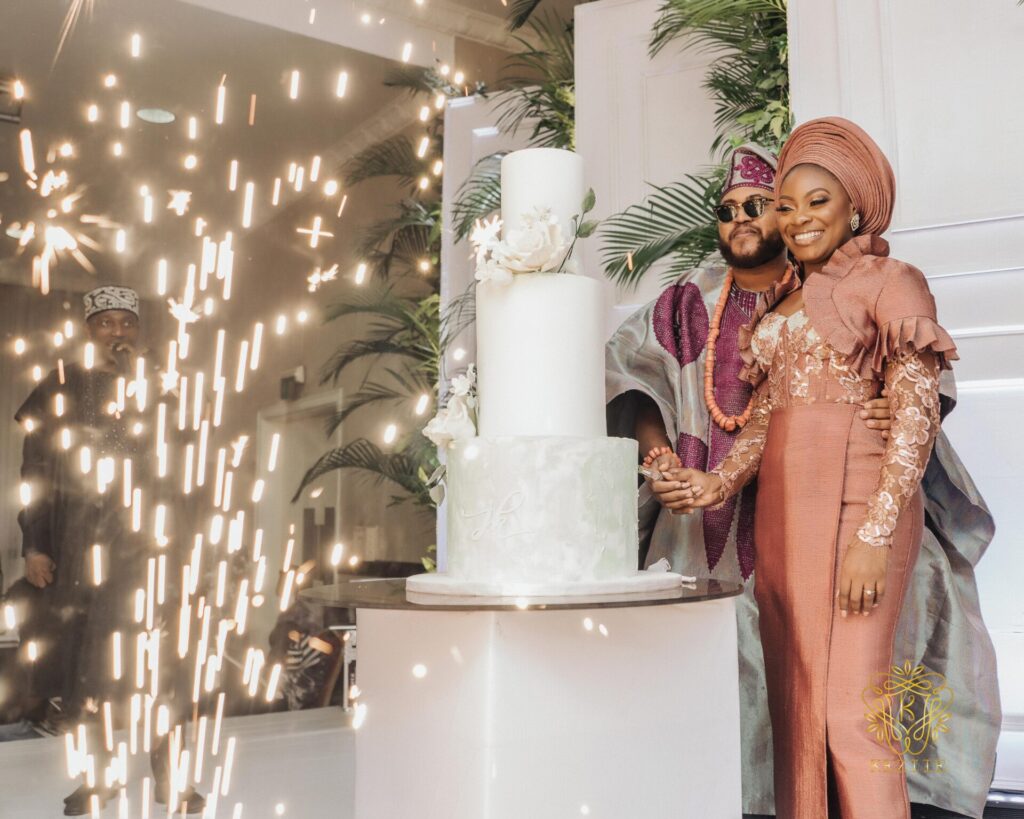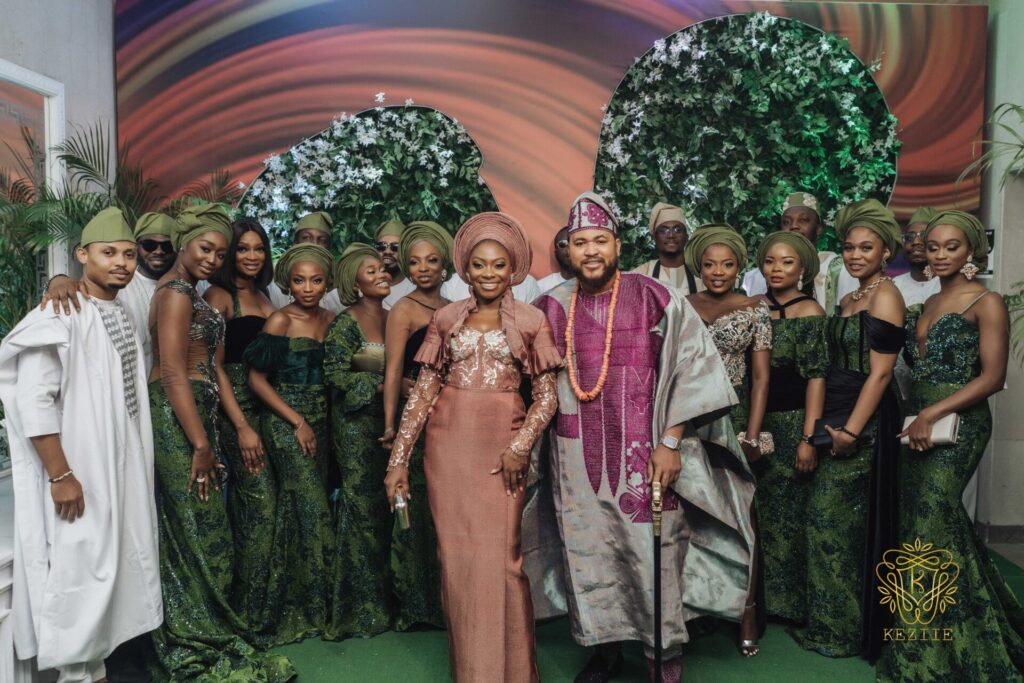 A big thank you to our family and friends for celebrating with us. For all the vendors who made it happen. Thank you for a beautiful day. Thank you to God for everything. #DestinationJK part 1 was a huge success.
Vendor credits
Planner – Bisola Trendy Bee, Bride's stylist – Wardrobe Manager, Decor – 524 Events, Photography – Keziie, Abayomi Akinaina, Videography – Funpe Osobu, Makeup – Tenny Coco, Gele Stylist – Taiwo's Touch, MC – Ayo Miic
Impossible to name every single vendor. From food to drinks to every little detail that made it all happen. Thank you to everyone who came through and did their jobs excellently.
Behind the scenes of planning a wedding
Planning and executing a wedding is no small feat so I wanted to not only share the end results of our fabulous wedding but also wanted to share some behind the scenes of all the efforts to get there.
Behind the scenes – The very beginning – engagement, picking the date
I got engaged on April 21, 2021 in the most beautiful way possible. I had just got back from a solo trip to Puerto Rico and Kay asked me to marry him with my friends and family present (some over Zoom). It was lovely. After basking in the moment for about one week, I immediately got a planner. I chose Bisola Trendy Bee as she is not only an OG in the industry, very influential among vendors but because she executed my sister's traditional wedding well. So, naturally, she was my number one choice.
Both families also started thinking dates. We didn't want a super long engagement so we were looking at getting married in December 2021. Most people go back home in December so we thought it would have been a good time. But on second thought, I changed my mind and proposed we do it in November instead. December is wedding season in Nigeria which means there will be a lot of rush and panic and potentially fatigue. I wanted to avoid it and pick a more "sane" period. So we went with November. I'm so glad to have parents and families that were very understanding all through the planning period. With November as the date, we had more than six months to plan.
As soon as the date was selected, we made a down payment for our venue of choice, Civic Center, VI and immediately got the ball rolling.
The lesson here – Immediately get a planner and decide on a date with your family so you have enough time and structure to plan.
Behind the scenes – The wedding budget and finances
Shortly after picking the date, we started talking budgeting which is one of the most important conversations. Kay and I sat down and decided how much money we wanted to spend for our wedding. Weddings are expensive and I wanted the best for us. Our planner gave us a budget spreadsheet with different vendors to select from. We made our picks and she started getting the invoices from the vendors. One thing that we did that I believe was very helpful was allotting the months we wanted to make full payments for things such that we were able to fully pay for our wedding more than one month before the date. For example, we'll say in May, we're fully paying for food. In June, we're fully paying for decoration, etc. This not only helped our planner align with us but it also gave us dates to work with. This was maybe the biggest game-changer to our peace of mind.
Most people noted that finances are one of the reasons couple disagree during wedding planning but thankfully, for Kay and I, we had very little disagreements. Kay will just say things like, "as long as you are happy, let's go with it!". I'm thankful for it. But in general, I will say that you make sure to have those conversations with your partner very early on and align on your finances.
Truth be told, we went above the budget as there were certain things that came up last minute or even things that increased. For example, our food vendors increased their prices citing the increase in dollar rate as the reason. Hmmm! Anyway, thank God for abundance and provision.
Behind the scenes – Vendors selection
Selecting the vendors for your wedding is so important! While our planner gave us a full spreadsheet of vendors that she recommended, there were some areas I had very strong opinions about. I was very selective about things like make up, decor, photography, videography and the MC. For me, those were the most important. I let her do her thing for the rest of the vendors.
While planning a wedding, know that you can work with your planner and voice out your opinions. Make sure to have a few non-negotiables and worry about those but leave the rest. Don't sweat the small stuff.
Behind the scenes – The outfits and the decision to hire a stylist
Every bride wants to look her best on her day and I was no exception. Shortly after picking a date and venue and all of that, I started mood boarding my looks. I knew I was going to wear more than one outfit as I was marrying a yoruba man and I needed to give a nod to my new culture and family. Shortly into trying to decide the outfits, I knew I needed a stylist. I wanted something unique but I also wanted to go out of my comfort zone of what was expected. I contacted the Wardrobe Manager and the rest is history. Not only did she help me visualize two of my looks, she also helped with fabric sourcing, liaising with the designers, came up with the outfit concepts, etc. It was money well spent as I felt extremely beautiful on my big day.
If you can, hire a stylist – especially if you want to look different and stand out on your day. If you're able to think creatively about your outfits, then you do not need to. I didn't have the time to dedicate to thinking up new concepts so I am really glad I outsourced this part of the wedding planning process. It took a big weight off my shoulders.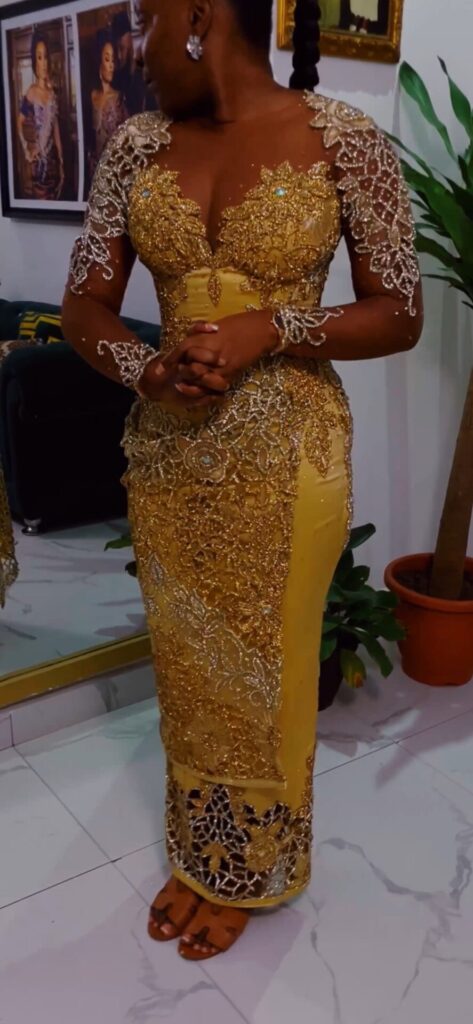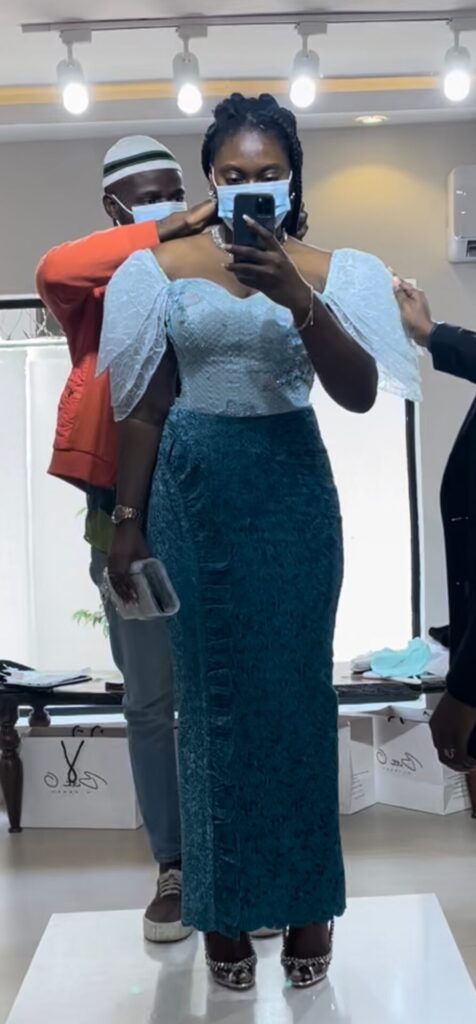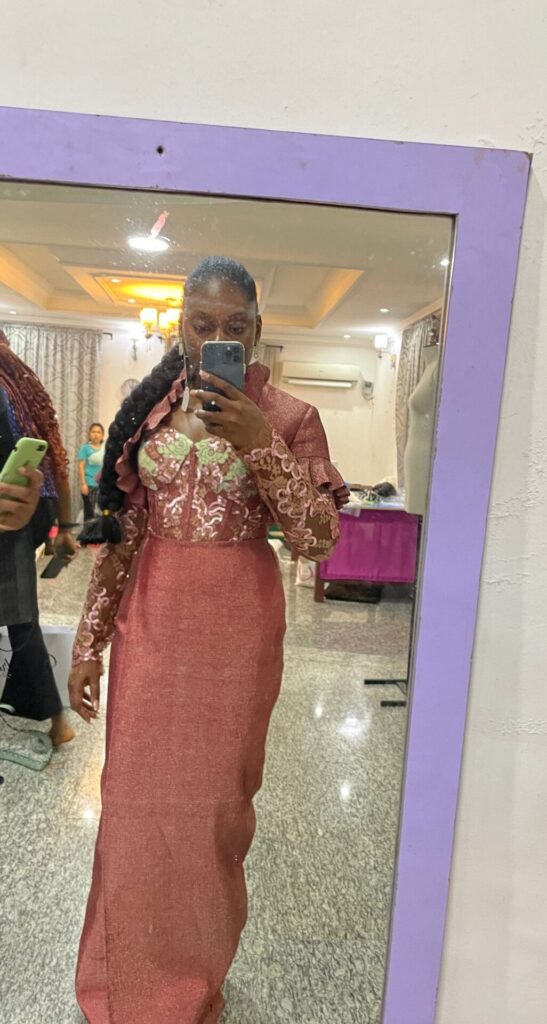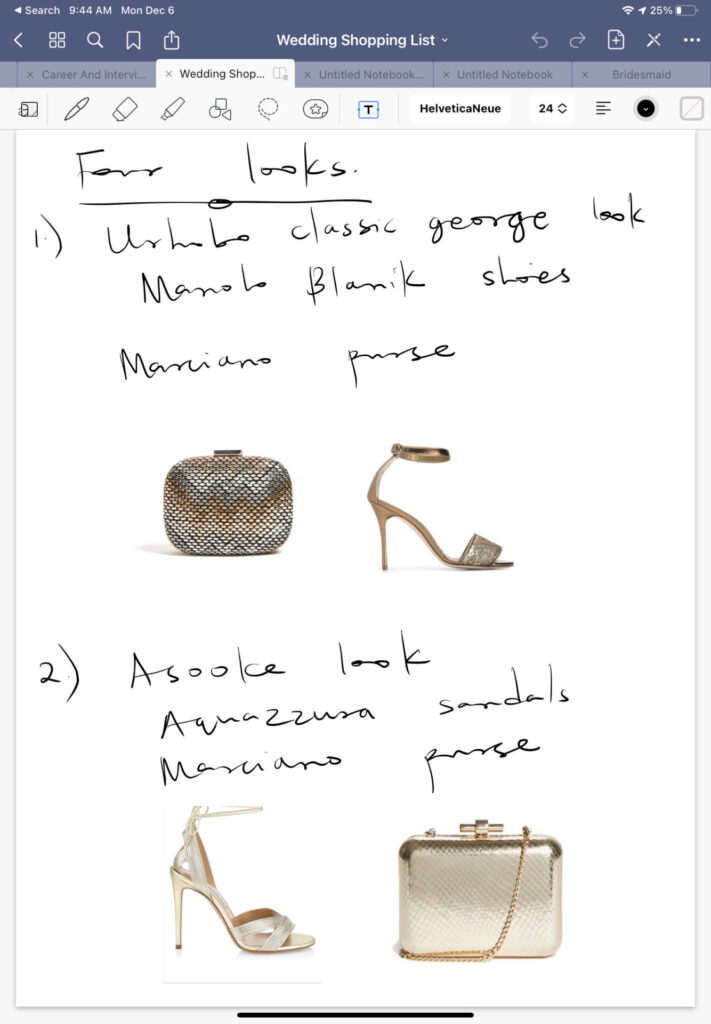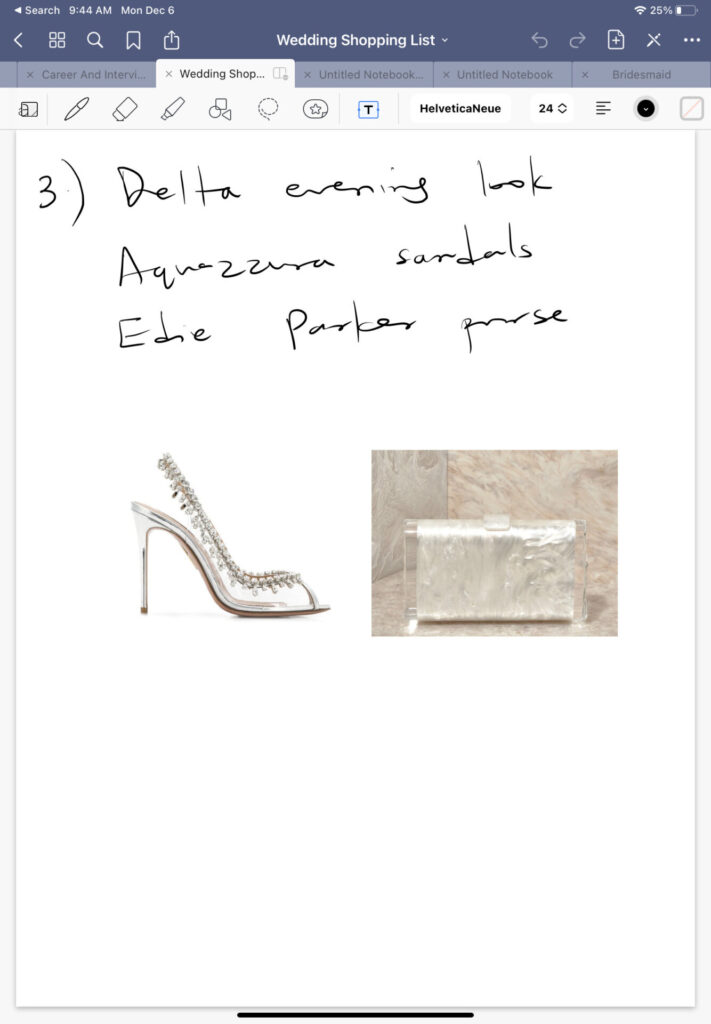 Outfit credits
Urhobo – look one (Gold outfit) – George by Ruvero. Designer – Idiolnupo. Shoes – Manolo Blahnik. Purse – Marciano
Yoruba – look two (Wine asooke) – Designer – Mazelle Bespoke Bridal. Shoes – Aquazzura. Purse – Marciano
Urhobo – look three (Lace and velvet) – Designer – Betho Bespoke. Shoes – Aquazzura. Purse – Edie Parker
Behind the scenes – What stressed me the most
I don't want to give the impression that everything was smooth sailing. While most things were, there were a few stress points throughout the process. Here are some of them:
1.) We had originally planned for 300 guests to comply with COVID-19 protocols and about one and a half months into the wedding, we had to change to 400 guests because we just had way more people who needed to come (mostly from my parent's side of course). With the wedding around the corner, we had to get more food (and if you know anything about Nigerian weddings, you actually work with more than 10 food vendors from the small chops vendor to the ice cream vendor to cocktail vendor, fish vendor, a lot of vendors for food.) I was quite stressed by this but the planner ended up contacting them and getting a revised invoice for the new addition.
2.) When I landed in Lagos one week to my wedding, only one of my outfits was semi ready. In fact, my aso oke had not been made at all. It was no fault of the designer but I had to get my measurement on Monday and picked up my aso oke on Friday. I wasn't necessarily worried as I trusted them but it was such a big risk. However, I trusted the process and it all went well. This would have made any bride stressed but I didn't worry and really just believed it was all going to work out well. On November 5 (the day before the wedding), I had all three outfits with me and slept like a baby.
Conclusion
Thank you so much for reading. I hope you enjoyed it. I may continue to update this post if I remember something I may have missed. Thank you again to everyone who made November 6 a success. Looking forward to many more celebrations together. If you have any questions on wedding planning, especially a Nigerian wedding, don't hesitate to ask.
Until next time,
Jessica