Travel Guide to Bali, Indonesia: Everything You Need to Know
Bali, Indonesia is a collective favorite and on most people's travel list. It's not hard to see why this country is popular among travelers – one small glance of the internet shows an idyllic, beautiful country with floating breakfasts, pools and villas overlooking lush greenery.
I personally wanted a taste of that and wanted to have my own version of the popular 'Eat, Pray, Love' movie. In Bali, there are lots of things to do and I know that it can get overwhelming trying to nail it down but in this guide, I share the top things I did with a link to the activities. This is your complete travel guide to Bali: Everything you need to know. Enjoy.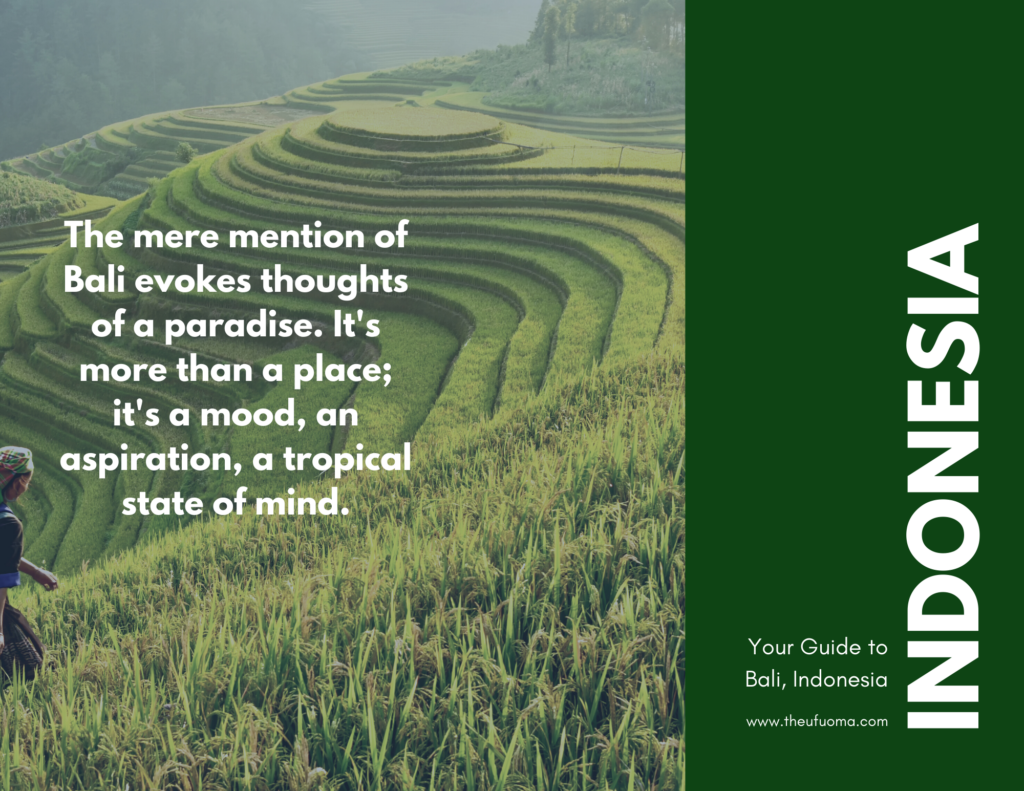 Important details to know about Bali
There are lots of things to see and do in Bali and to get the most out of your trip, you will have to sit for several hours in a car from point A to point B. Don't panic though, because the views and beauty of Bali will be worth the slight inconvenience.
1.) Currency in Indonesia
The Indonesian Rupiah is the currency in use in Indonesia. The Indonesian currency can get really confusing because there are several zeros up to a million. Make sure to check the paper notes very well before giving it out. Many people are known to give out the 100.000 note when they should really be giving the 10.000. Take some care to learn it.
In terms of conversion rates, $1 is 13800 IDR. The USD really is a strong currency in Bali. Use XE Currency to see the most accurate rates everytime. Make sure to carry cash and change for tips while on your trip.
2.) Language in Indonesia
The language spoken in Indonesia is Bahasa Indonesia. However, I found that getting by wasn't difficult at all because there are so many English speakers in Indonesia. To be safe though, download the Google Translate app offline so you can reference it when you need it.
3.) Visa to Indonesia
Certain countries require visas to Indonesia and others do not. It's important to know what side of the spectrum you're on. If you have a US/Canada/UK/Australia passport, you DO NOT need a visa. If like me you have a Nigerian visa, read my post to learn how you can get one. To figure out if you need a visa, check out this website.
4.) Getting around in Bali
If you were to ask me the most convenient way to move around in Bali, I'd definitely recommend getting a private driver. Having a private driver was key. All you have to do is tell the driver your itinerary (see mine below) and you're good to go. Most drivers charge a total of $50 per day for 10 hours. This does not include entry fees to the attractions. Reach out to Made on +62 822 4756 4000 on Whatsapp. Absolutely amazing service and communication.
Other means of transportation: Scooter (if you can drive one), for quick short distances within town, download the GRAB App. It's like Uber but for South East Asian countries.
5.) Best time to visit Bali
I visited Bali in December during the christmas period and it was still really hot and humid even though it was supposed to be the rainy season. Yes, it did rain in Bali but they were short downpour and the skies cleared up again. Personally, I'd say this is a great time to visit.
For the very best weather, go between April to October. Less humidity, lots of sun. To save money, the best time to go is May, June and October. With that being said, Bali is indeed a good all-year-round destination.
6.) Wi-fi and Internet Connectivity in Bali
Bali is home to lots of digital nomads so getting wifi will not be a problem at all, especially in popular tourist spots like Ubud. To be safe though, and because you'd be moving around a lot, it is recommended that you have either a SIM Card or a pocket wifi. For Sim card, you can get yours here and pick up at the airport. For pocket wifi (recommended), you can get yours at travelwifi.com. Use my code THEUFUOMA for 10% off.
The Top Things to Do in Bali, Indonesia
In this post, I share some of the top things to do in Bali, Indonesia.
1.) Stay in a Balinese villa
What's a trip to Bali without staying in a villa? I stayed at a beautiful villa with a private pool in Ubud called Tanadewa Ubud. Not only is this place stunningly beautiful with an infinity pool, it is also a sustainable hotel with some of the best customer service I have ever experienced. I stayed one night at the courtyard villa (comes with a private pool) and the remaining nights at the suite (no private pool) and it cost $270 and $100 USD respectively.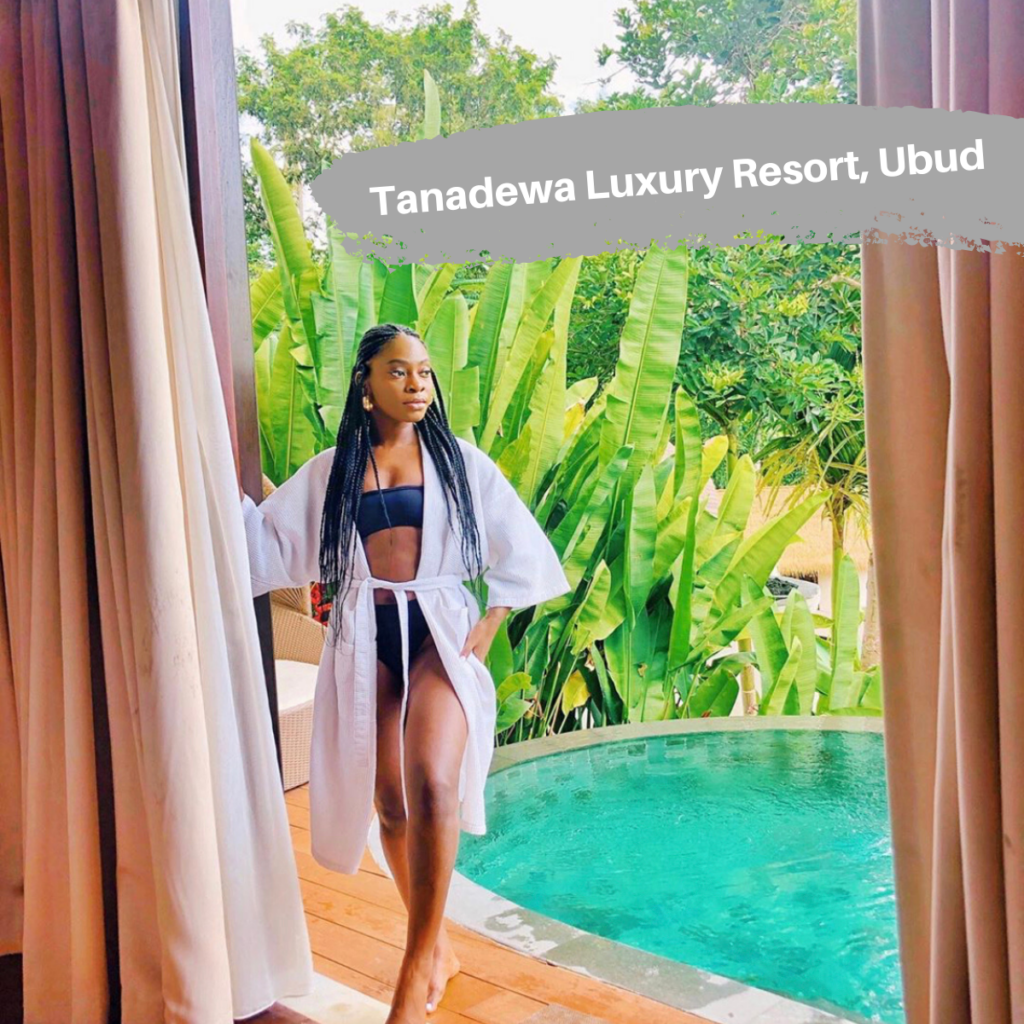 During my time in Seminyak, I stayed at the iVilla Seminyak and this is just luxury redefined. Both hotels are luxury hotels but Bali has lots of hotels and villas on offer that fit every budget. Check out AirBnB or Booking.com for options and be sure to read the reviews.
Location: Ubud
2.) Experience a Balinese style floating breakfast
The first time I ever saw a photo of a floating breakfast was in Bali – it became wildly popular on the internet and I knew I wanted to experience it for myself. I did mine at my hotel (Tanadewa Ubud) and it cost me about $30. The breakfast spread was beautiful and even better, the food tasted amazing. I highly recommend having a floating breakfast in Bali and most villas you stay in will have it on offer.
Cost of floating breakfast: $30 per basket.
Location: Ubud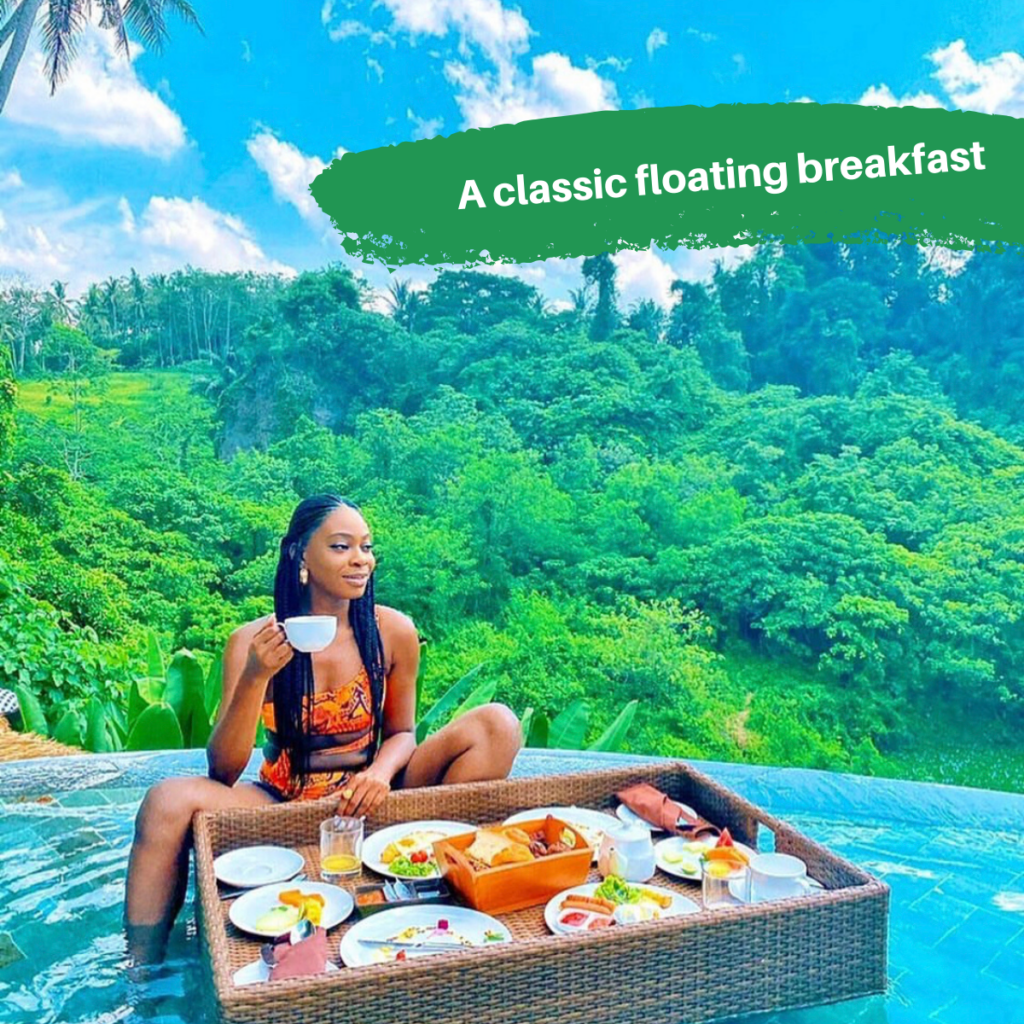 3.) Visit the Rice Terrace called Tegallalang
Rice is a major part of Balinese culture so visiting a rice terrace and seeing it first hand is something you should totally do when in Bali. There are lots of them around town but if you are in Ubud, the Tegallalang Rice is a beautiful one to make a stop at.
Cost of entry into Tegallalang: 15,000 Rupiah/ $1
Location: Ubud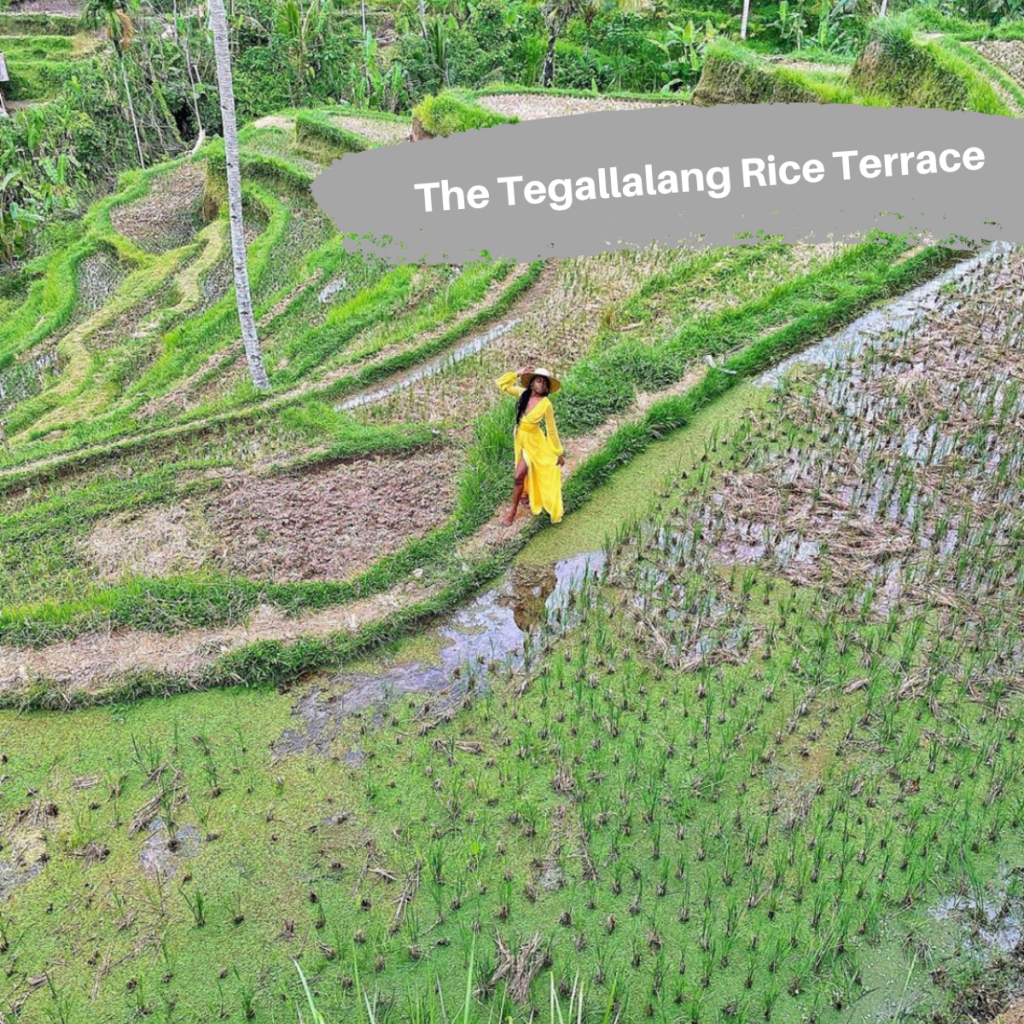 4.) Experience the Real Bali Swing
Imagine visiting Bali and not experiencing the Bali swing. Don't be that person. There are lots of swings around town but I decided to go to the pioneer Bali swing – where it all began. The owners even called it The Real Bali Swing. For a price of $35, you can ride on the swing as well as take photos in the other picturesque setups. There are dresses for rent there if that's something you are up for. We paid about $14 extra for "professional" photos by the workers there but it ended up not being worth it. Check out their package options here.
Cost of this experience: $35.
Location: Ubud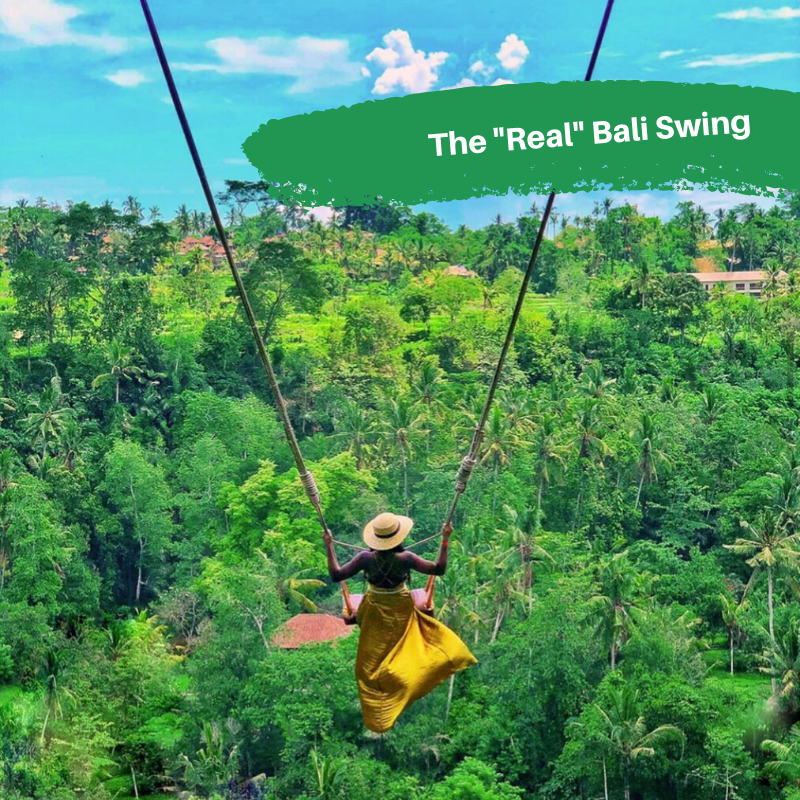 5.) Relax at a flower bath
Bali is known for its wellness and spa scene and of course, it's famous flower baths. There are several options for this in Ubud (and everywhere else in Bali) but I had to go to the Kaveri Spa to get mine. It's an experience called The Celebration of Flowers and it cost about $100. A bit on the pricier side compared to other spas in Ubud but the service is top-class. If you're interested in booking, make sure to do so well in advance as spots in this place gets filled up quickly. Check it out here.
Cost of this experience: $100
Location: Ubud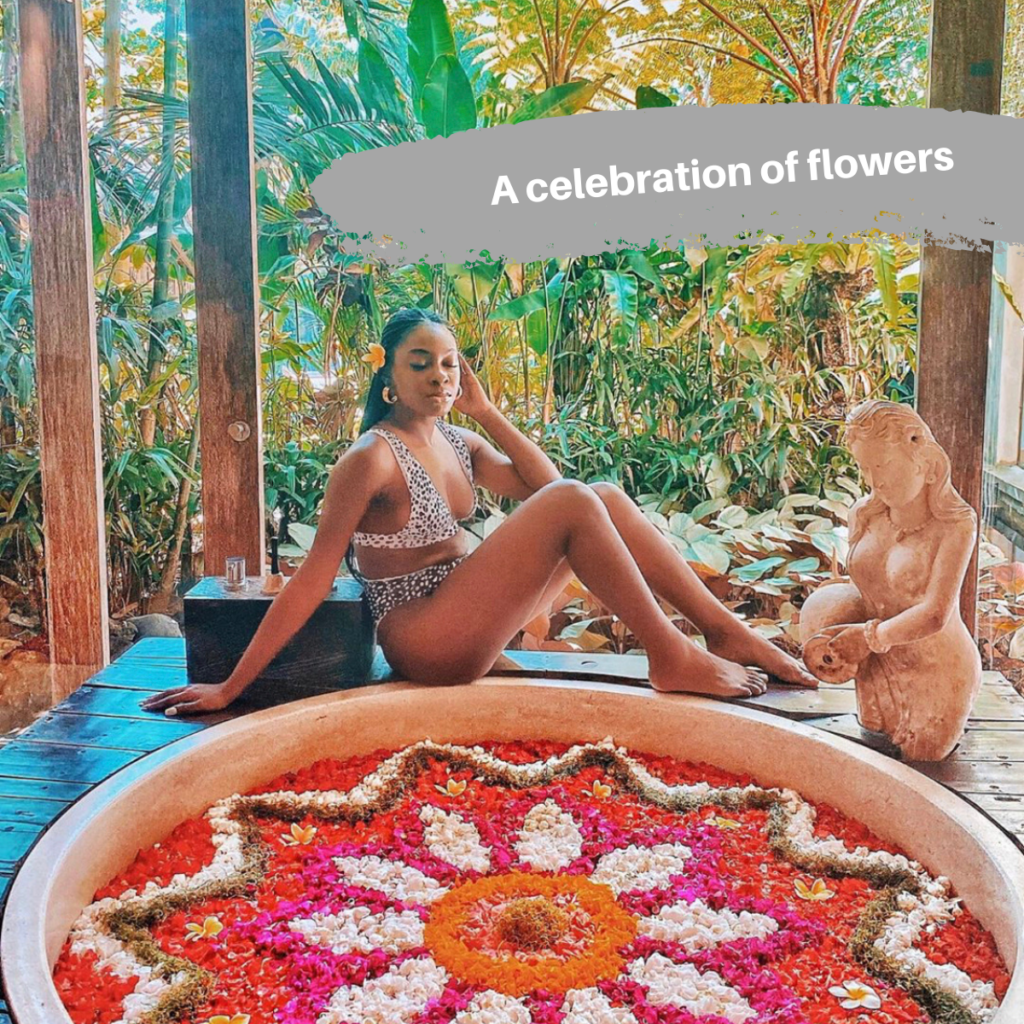 6.) Visit the picturesque Wanagiri Hidden Hill
For the instagram and nature lovers, the Wanagiri Hidden Hill is an amazing place to see and gasp at the natural wonders of Bali. Set at the hill of the twin lake, this place is every picture lovers dream. For a total price of 20,000 Rupiah ($1.5), you have the entire place to yourself. It is about two hours away from Ubud.
Cost of entry into Wanagiri: 20,000 Rupiah/$1.5
Location: Bali North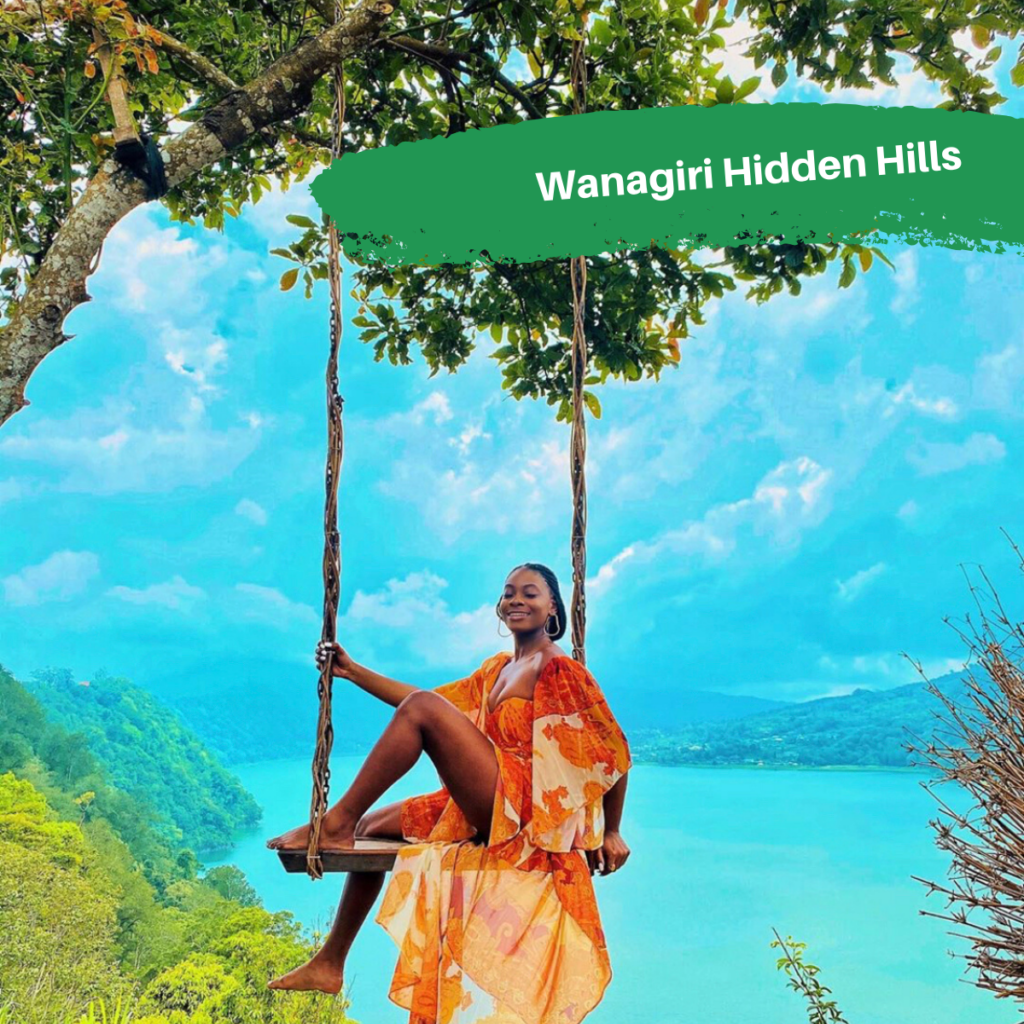 7.) Stop by at the Handara gates
This is one of the famous iconic spots in Bali, and mostly nothing more than a photo-op but still good to go see it for yourself. You can expect to see a long line of people waiting their turn so you may want to go a little earlier to beat the crowd. Entry fee to this place is 30,000 rupiah. It's located in Northern Bali so good to combine with Wanagiri Hidden Hill above.
Cost of experience: 30,000 rupiah/$2
Location: Bali North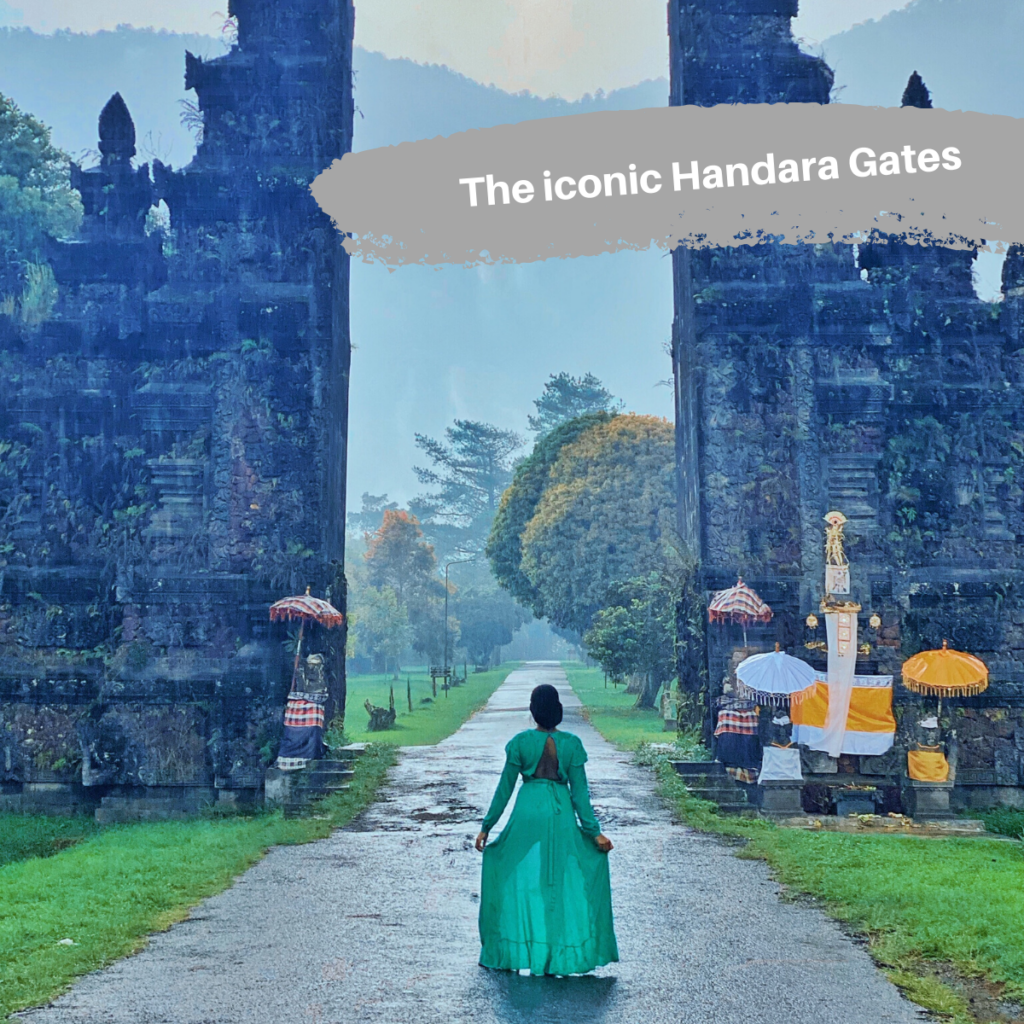 8.) Visit the iconic Ulun Danu temple
The Ulun Danu temple is to Bali what the Eiffel tower is to Paris – not-to-be-missed. While there are lots of temples in Bali, this one is popular because it is the only one that floats on water – super cool. Entry to this place is pricier than most as it cost 50,000 rupiah. It is also located in Northern Bali.
Cost of experience: 50,000 rupiah/$4
Location: Bali North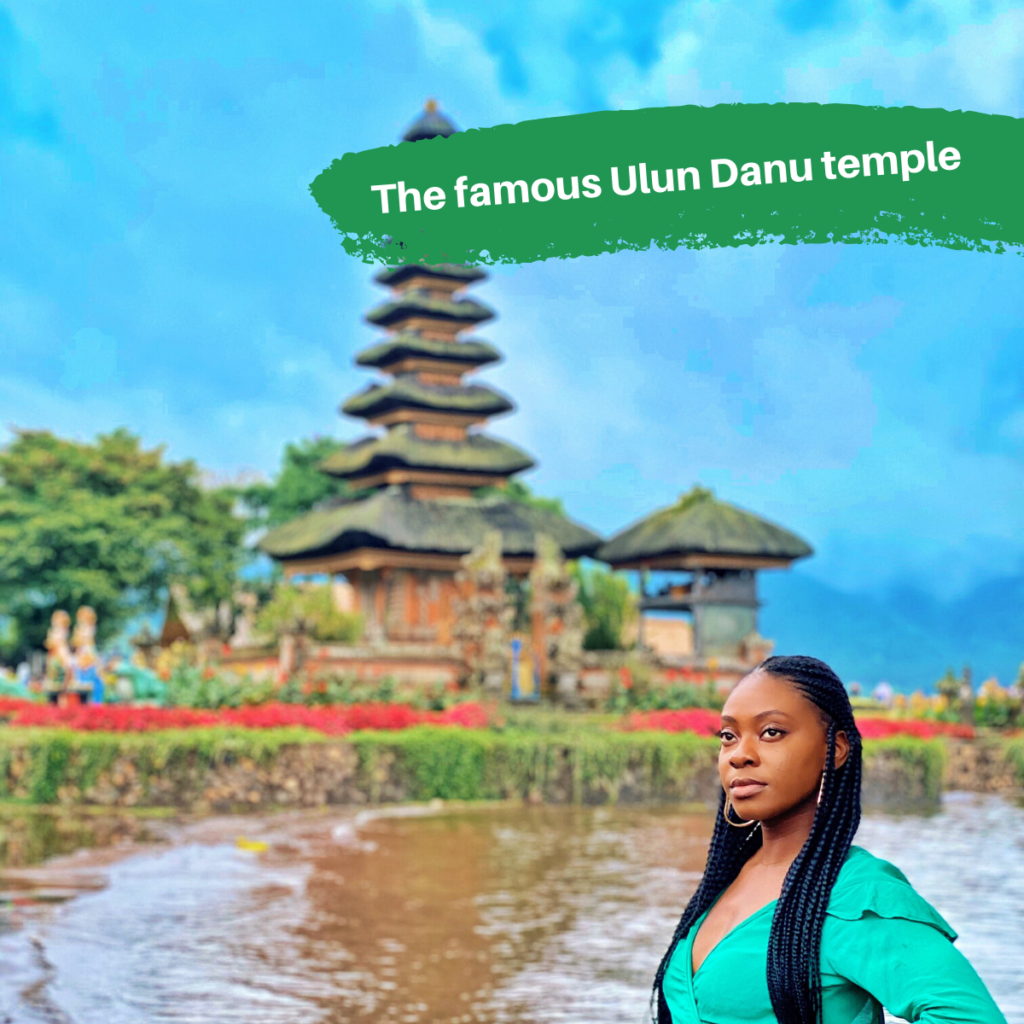 9.) Unpack the day at the Banyumala twin waterfall
What good is going to Bali without visiting a waterfall? Might as well stay home. There are lots of beautiful waterfalls in Bali but I went to the Banyumala waterfall – a very tasking hike but the views were worth it and it was somewhat secluded. Highly recommend you make it here if you can.
Cost of experience: Free entry but you tipping is encouraged.
Location: Bali North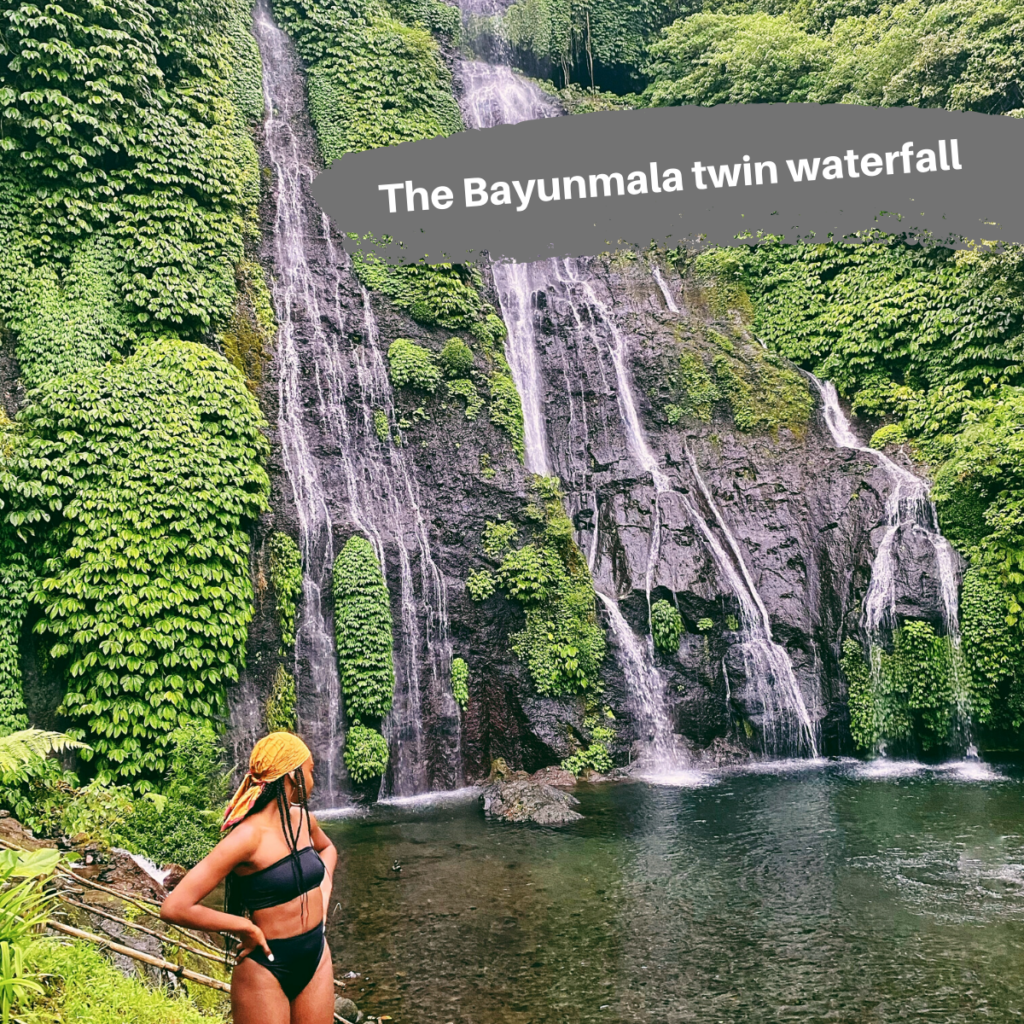 10.) Take a day trip to Nusa Penida
Nusa Penida is a stunning island in SouthEast Bali and a must-stop on your trip to Bali. Getting to Nusa Penida is no small feat as you have to first sail away for about 40 minutes, drive for another hour and a half and do a hike up to see the beach. But the views will make up for all the inconvenience. There are a lot of things to see and do in Nusa Penida but seeing Kelingking beach and Diamond beach is a must. You can book your tour with Beyond Bali Fast Boats. There are several packages. Whatsapp +6281353979588.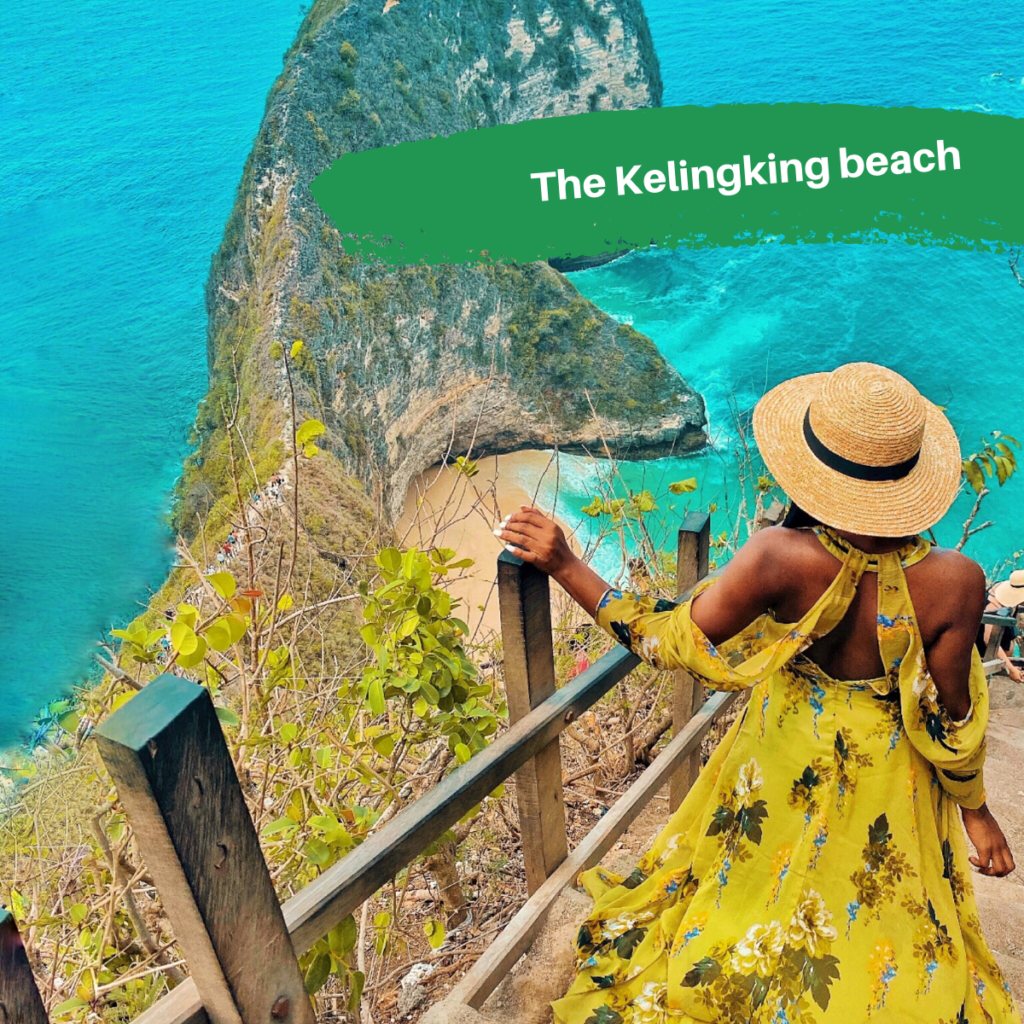 Cost of experience: 800,000 rupiah/$60
Location: Southeast Bali
11.) A divine trek with Ngurah
I had the pleasure of doing the most fulfilling experience I had in Bali – hanging out with a real life Balinese priest and learning about the customs and culture of Bali. Bali can be very touristy so I highly recommend indulging in a cultural experience such as this. Ngurah, the Balinese priest was the kindest and purest person I have met on my travels. You can book an experience with him here.
Cost of experience: $65
Location: Sidemen, Bali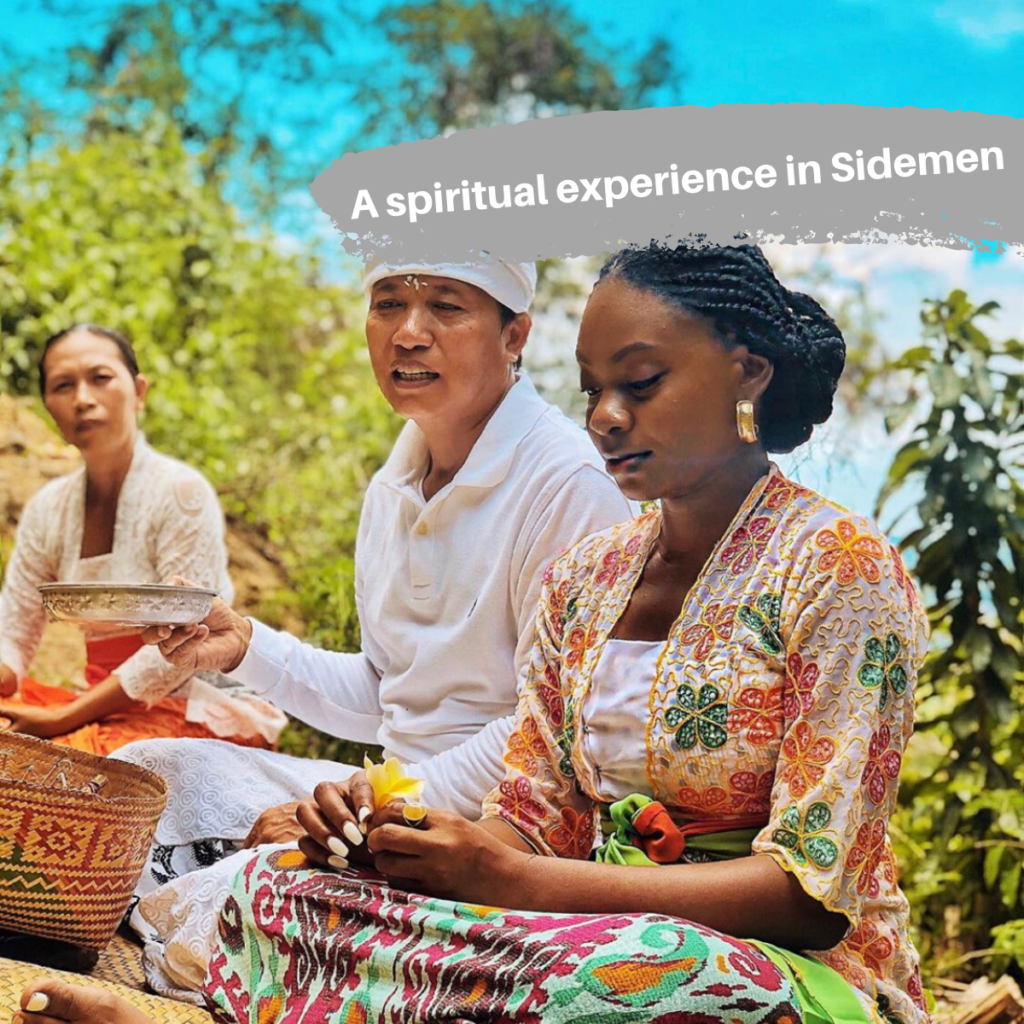 12.) The famous Gate of Heaven
If you've done any kind of research on Bali, or even scrolled for five seconds on your Instagram, chances are you have come across a photo from the Gates of Heaven. While the photos come out looking great, this whole place is an illusion that doesn't exist. Before you add this to your itinerary, be sure to read my brief review here so you aren't shocked or disappointed. This place is located at the Lempuyang Temple. You are required to wear a sarong before you are allowed entry. Sarongs are provided at the temple.
Cost of this experience: Entry is fee. Sarongs are 10,000 rupiah. Donations welcome.
Location: East Bali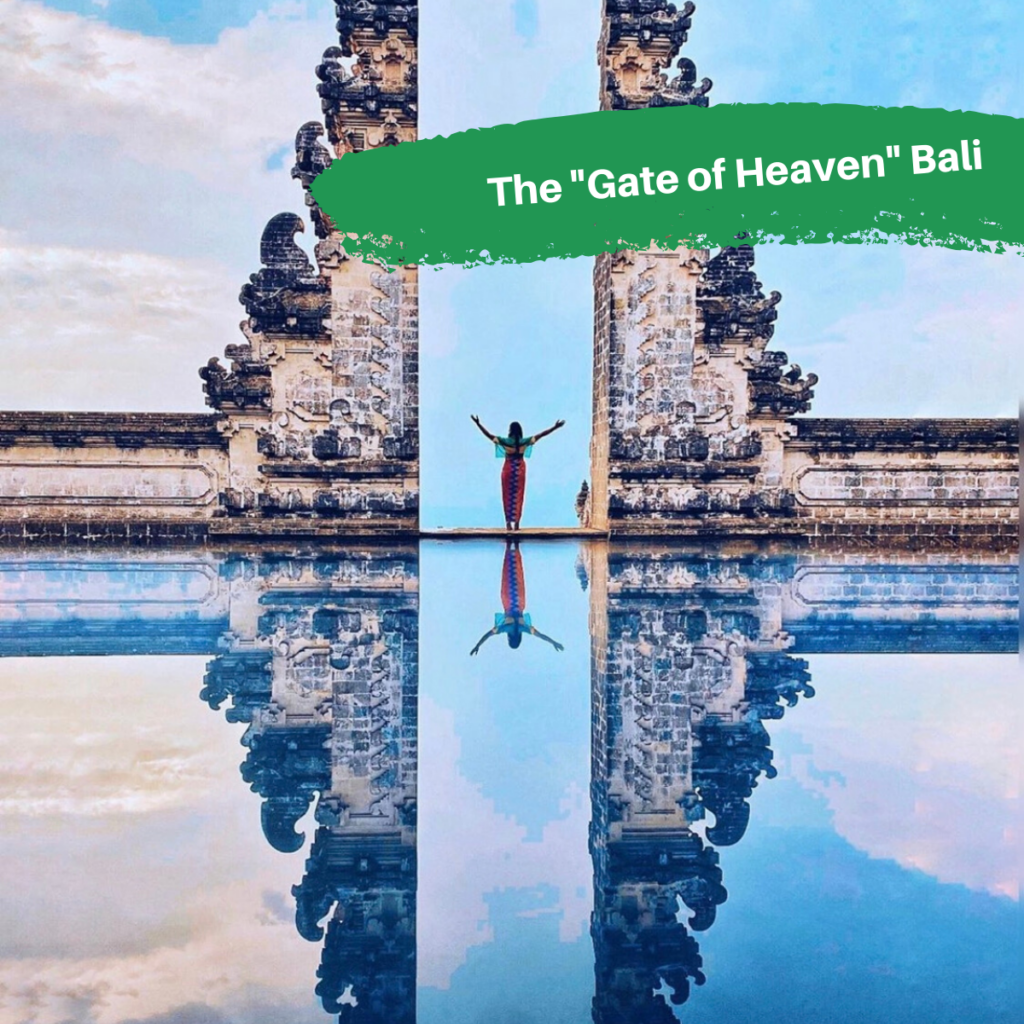 13.) Visit the Tirta Gangga (aka Water palace)
I visited the Tirta Gangga after the Gate of Heaven. They are within the same vicinity, so why not? Tirta Gangga is a scenic location that was a former royal palace in Bali. You can feed fish, take in the views and have a slow day here. The entrance fee to this place is 30,000 rupiah.
Cost of experience: 30,000 rupiah/$2.5
Location: East Bali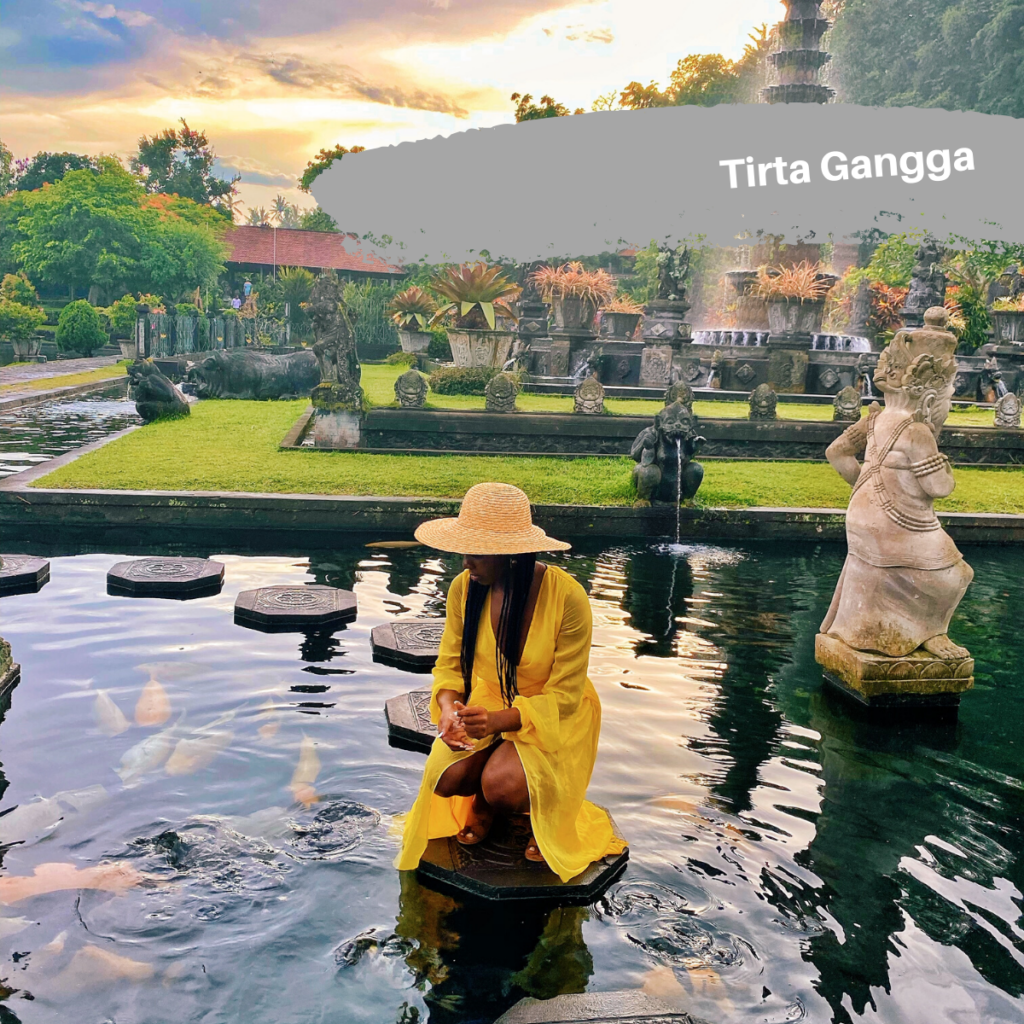 A 7-day itinerary for Bali
As you can already tell from the above, there's a lot to see and do in Bali, Indonesia. It's good to keep in mind that you cannot absolutely do everything so pick and choose the most important activities for you. Here's my itinerary for one week – hope it gives you an idea of how to organize your trip. If you are staying longer, you can schedule rest days in between.
Day 1 – Arrivals. Check in at Tanadewa Ubud. Arrange transportation through hotel.
Day 2 – Kick off the day with yoga at Tanadewa. Followed by a floating breakfast. Set off to town in Ubud and do the Bali Swing, Tegalalang Rice Terrace and end the day at the Kaveri spa.
Day 3 – Off to the North of Bali. Make stops at Wanagiri Hidden Hills, Handara Gates, Ulun Danu temple and Banyumala Waterfalls. In that order.
Day 4 – Off to South East Bali. Day trip to Nusa Penida. Make stops at Kelingking beach and Diamond Beach. The driver usually suggests Crystal Bay but you're the boss of your trip and can steer it in whatever direction you want. Diamond beach was far more stunning.
Day 5 – A divine trek. Spend an entire day with a Balinese priest and soak up all the culture. Afterwards, switch over to a new villa in Seminyak. I stayed at the luxury villa called iVilla. Absolutely beautiful.
Day 6 – Off to East Bali. Your first stop is the Lempuyang Temple, aka Gate of Heaven and then go to the Tirta Gangga palace after. End the day at a luxury spa in Seminyak called Sundari Day Spa.
Day 7 – Departures.
Budgeting and cost of a Bali adventure
Your cost in Bali will depend on what your budget is. I typically love luxury experiences as much as I can – so I hardly compromise on a decent accommodation or comfort. However, Bali is pretty well-priced in the sense that you can get everything you want within your budget.
Your major cost will be Flights + Accommodation + Tours + Food. My tours and the prices attached should give you an idea. In general, I believe $1000 is more than enough for a week in Bali if your budget is mid-range. Find activities that fit within your budget.
For flights, check out skyscanner.com. For accommodation, check out booking.com or airbnb.com. For tours, check out Getyourguide or preferably, reach out to Made on +62 822 4756 4000 on Whatsapp to arrange a driver for you.
Conclusion: Go see Bali!
There's no place in the world like Bali. It's by no means a perfect place but it is one everyone should visit at least once in their lives. I know this guide will be helpful for you and I have made it as detailed as possible. If there's anything else you'd like to know that's not already covered, feel free to ask me in the comments section.
Like it? Pin it!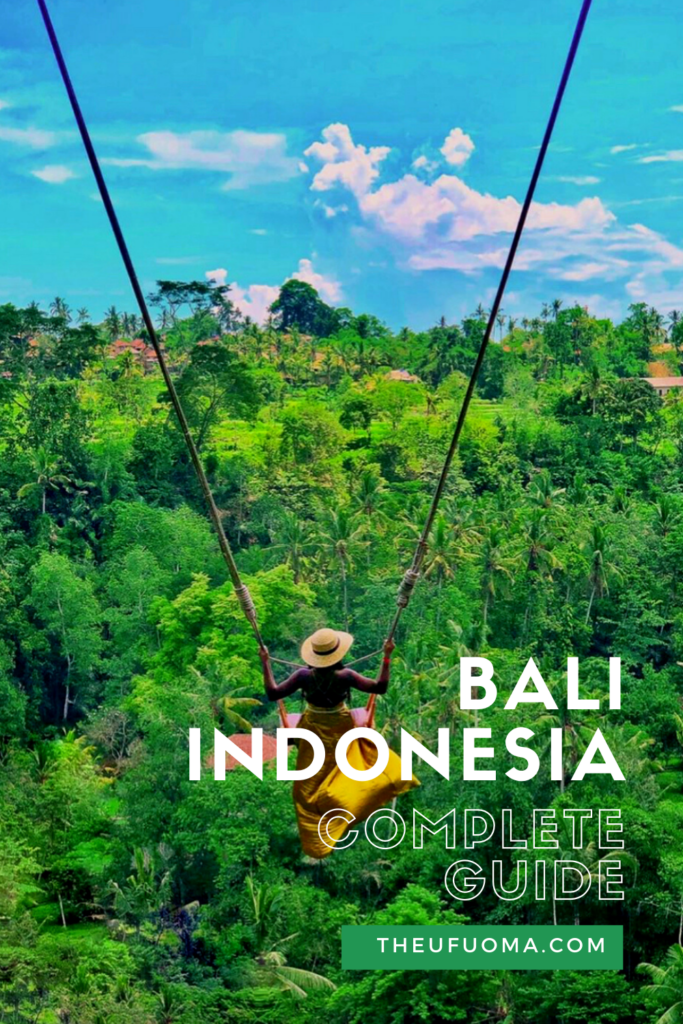 Want to travel in 2020? I wrote a book with 100 travel hacks to help you be on your way. BUY it here.
Thank you for reading.