Seven Days in Jordan: Wadi Rum, Petra, Dead Sea, Amman
In March of 2022, I made a 12-hour journey down to Jordan from Toronto, Canada. I flew with British Airways and had a layover in London for about five hours. Jordan has always been on my travel list so imagine the excitement to finally be heading there. Dare I say, Jordan has now become one of my favorite countries ever. In this post, I will share snippets of my Seven Days in Jordan: Wadi Rum, Petra, Dead Sea, Amman. Hang on tight, we're going on an amazing journey.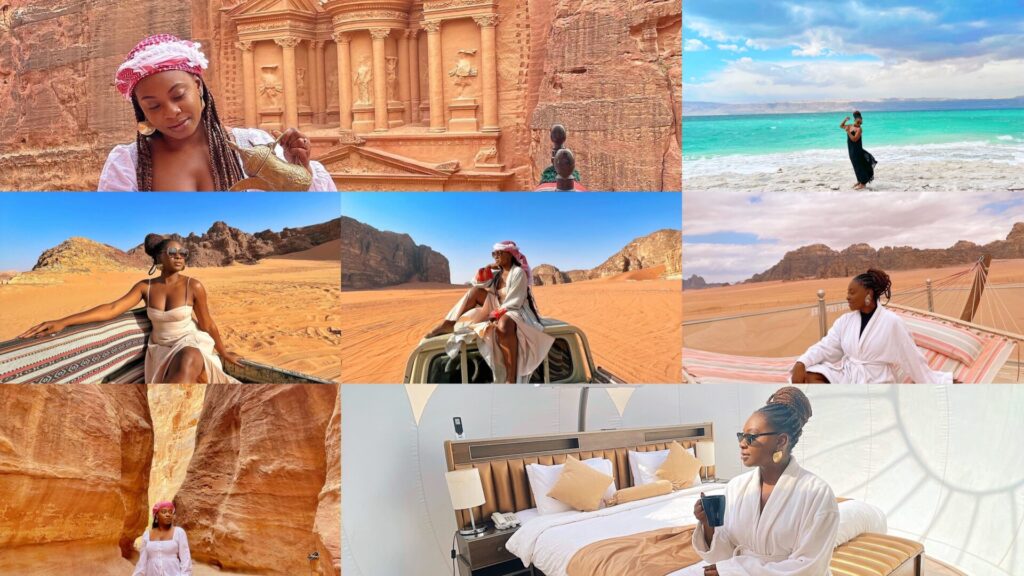 How Jordan happened
Jordan was a group trip that I hosted with my travel company gojolley. I created gojolley to help others travel and these group trips are a perfect way for that to happen, especially for those who are not very comfortable traveling solo themselves. So in March, I led about 10 other women through Jordan and we explored the city of Wadi Rum, Petra, Amman and the Dead Sea together. It was a lot of fun.
Why Jordan?
Jordan is a place I've wanted to visit for quite some time now. I'm not sure how it showed up on my bucket list but I believe I had seen some photos of Petra floating on the internet and I thought "oh, this looks amazing". Also, I love checking out the wonders of the world and Petra just happens to be one of them. Jordan is beautiful and I really was craving a big, grand, and beautiful adventure that was beyond the beach escapes I was indulging in throughout the pandemic.
The preparation for Jordan
There's a lot of work that comes with preparing for any trip, let alone a trip as big and complex as Jordan is. Now, add in the fact that this was a group trip I was planning, and that made it even more tasking. But planning trips is what I do so I was definitely up to the task. I'll spare you the details of planning a group trip and focus on my personal experiences in this article.
1.) Let's start off with visas
If you have an American or British or Canadian passport, you qualify for a visa on arrival when you get to Jordan. However, as someone with a Nigerian passport, it does get quite complicated. Thankfully, I was able to apply for a pre-approval visa online through a website by the Ministry of Interior. If you have a Nigerian passport, you must apply for this pre-approved visa before entering Jordan otherwise you won't be able to enter.
I did not want to take any chances so I paid for the urgent processing and it cost me around $150 USD to process. For the urgent processing, it took about three days to approve so it was pretty quick.
Note: If you live in Nigeria, applying for this visa is a totally different process so please check in with a consulate or anyone who you know has traveled to Jordan from Nigeria.
2.) Knowing what to pack
Once my visa was ready and approved, I got excited and immediately started thinking about what to pack. Jordan is a conservative country so make sure to dress appropriately. As a foreigner, you wouldn't have to cover your hair as a woman but it is important to keep your arms and legs covered. Maxi dresses will be your best bet. I loved shopping at places like Asos, Zara, and Oh Polly for my Jordan outfits. I also packed scarves and some warm clothing because it can get very cold at night, especially in the desert.
3.) The Jordan Pass
One thing that helped make my Jordan experience better was having a Jordan pass. The Jordan pass gives you entry to some places in Jordan, including Petra. It also saves you money on the visa on arrival fee which is around 35 JOD. I got the Jordan explorer pass for 75 JOD (about 106 USD) and I think it was worth it. It gives you two entries into Petra and Petra alone cost 50 JOD to enter once, so right off the bat, you get value from this pass. You can get the Jordan pass here.
My seven-day experience in Jordan
Now that all that good information is out of the way and you have a little bit of context, here are some of my experiences in Jordan featuring the cities of Amman, Petra, Wadi Rum, and the Dead Sea – in that order.
Starting off in Amman
Most Jordan adventures kick off in the city of Amman, Jordan's capital city. Many people start off here because the major airport, the Queen Alia International Airport is located here. Upon getting to the airport, the driver took me to a wonderful spot for shawarma called Chi Shawarma. The chicken shawarma there was amazing. By the way, if you go to Jordan, eating shawarma is a must. Anyway, after a tasty first bite of Jordan, we went straight to our hotel in Amman called the Four Seasons Amman.
Four Seasons is a lovely hotel chain and the one in Amman is no exception. I recommend this place if you want a luxurious, peaceful stay with great service. It is also very centrally located in Amman and made it easy to move around.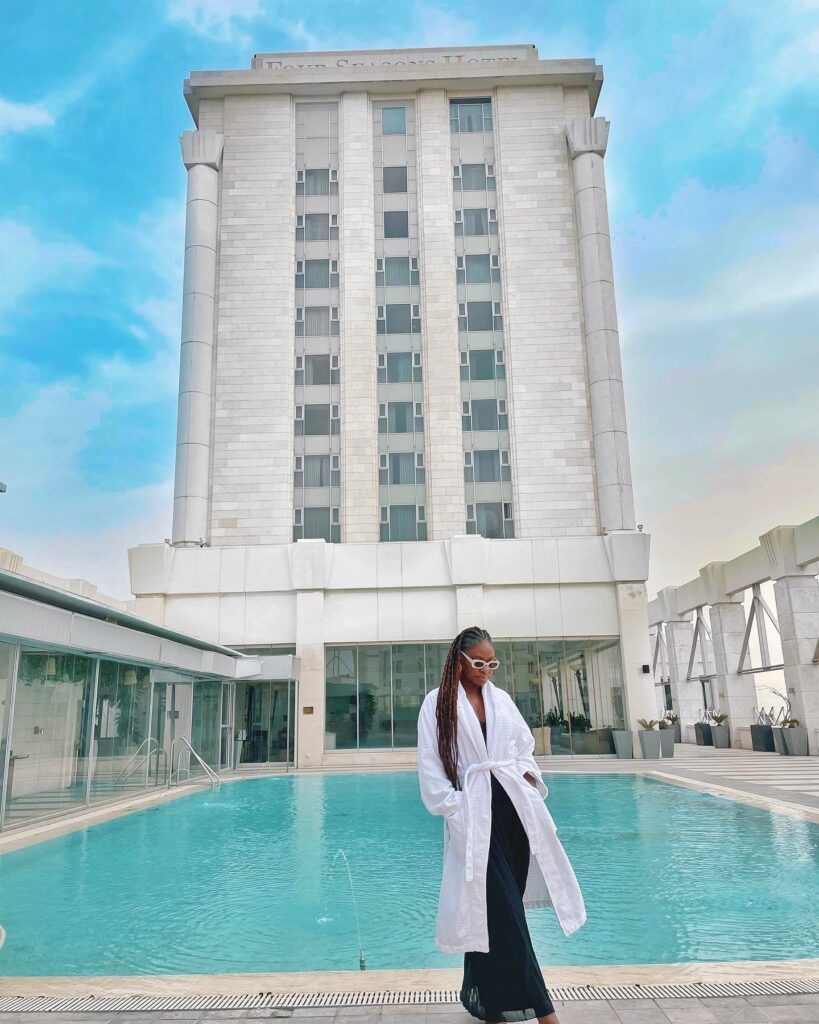 When in Amman, I recommend visiting the Amman Citadel, the Roman Amphitheater, the King Abdullah Mosque and also walking the streets of Amman and having some street food. I know a lot of people skip Amman but I think it is worth exploring so you can learn a bit of the history and the culture.
I had the best time eating new food and exploring the ancient city of Amman. Here is a tour I booked on Viator.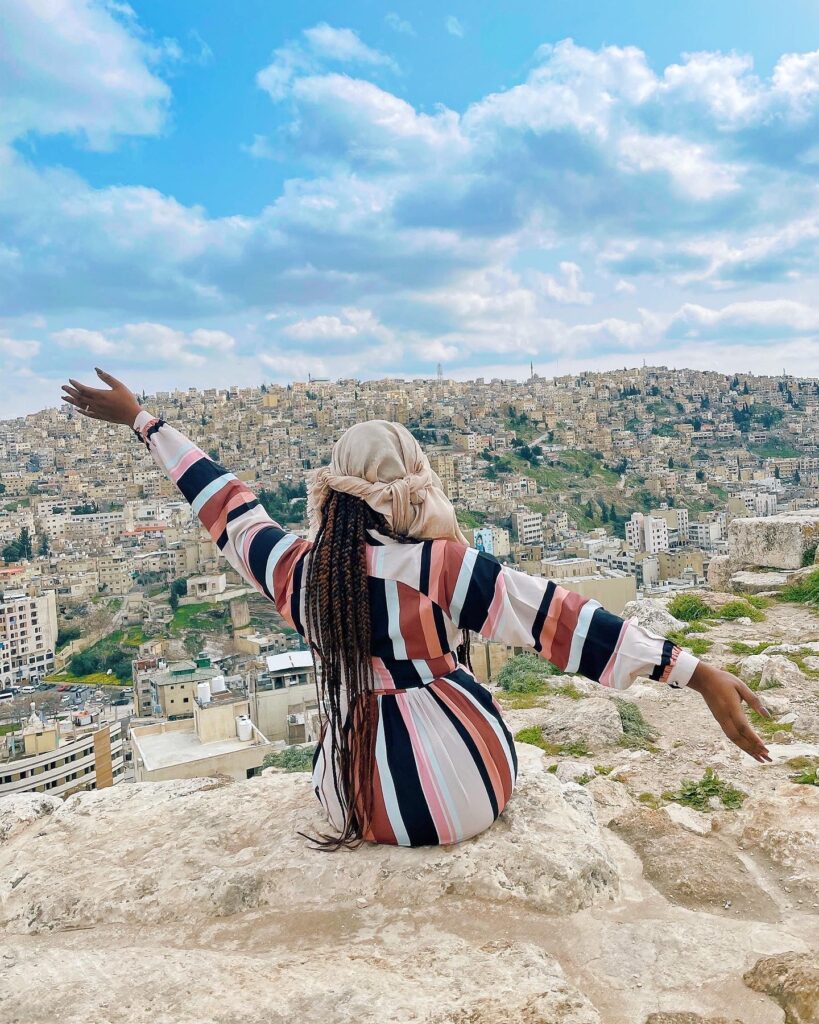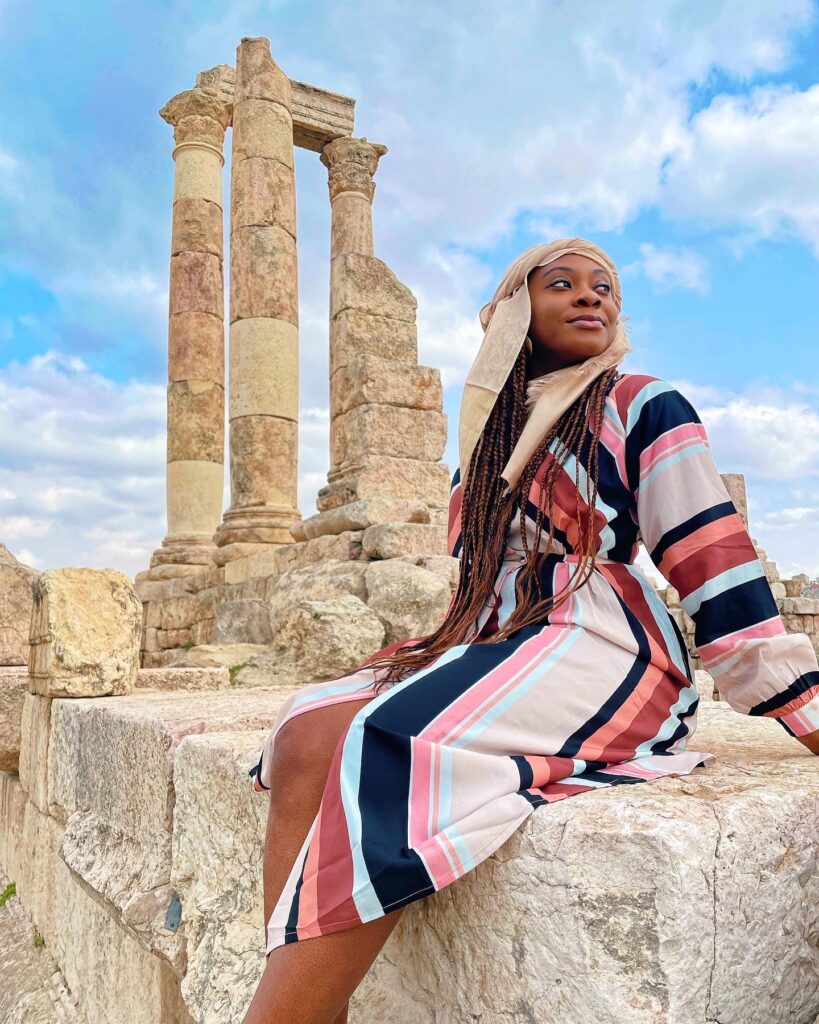 Next up: Two days in Petra
After an amazing two days in Amman, we went on a three-hour journey to Petra which is located in Wadi Musa. Petra is of course the star of the show in Jordan so you can imagine my excitement about finally going there. We went on a relaxing road trip to Petra with stops along the way and the hours definitely flew by. When we got to Petra, we checked into our hotel called Movenpick Petra which is right opposite the entrance to Petra.
I recommend staying overnight at Movenpick Petra as it is very convenient and will make your Petra adventures that much easier. I dropped my bags and off I went to explore the beautiful Petra.
Petra – Wonder of the World
Petra certainly did not disappoint. It was grand in every sense and felt like being on a different planet. The monastery looks awesome like something straight from a movie scene. Honestly, everyone needs to see the place. I totally fell in love with it and the whole experience was everything I hoped for. When you get to Petra, you can ride on a camel, hike to see more views of the place, etc. I recommend having a tour guide show you around. You can get a tour guide from the entrance and it is included in your ticket.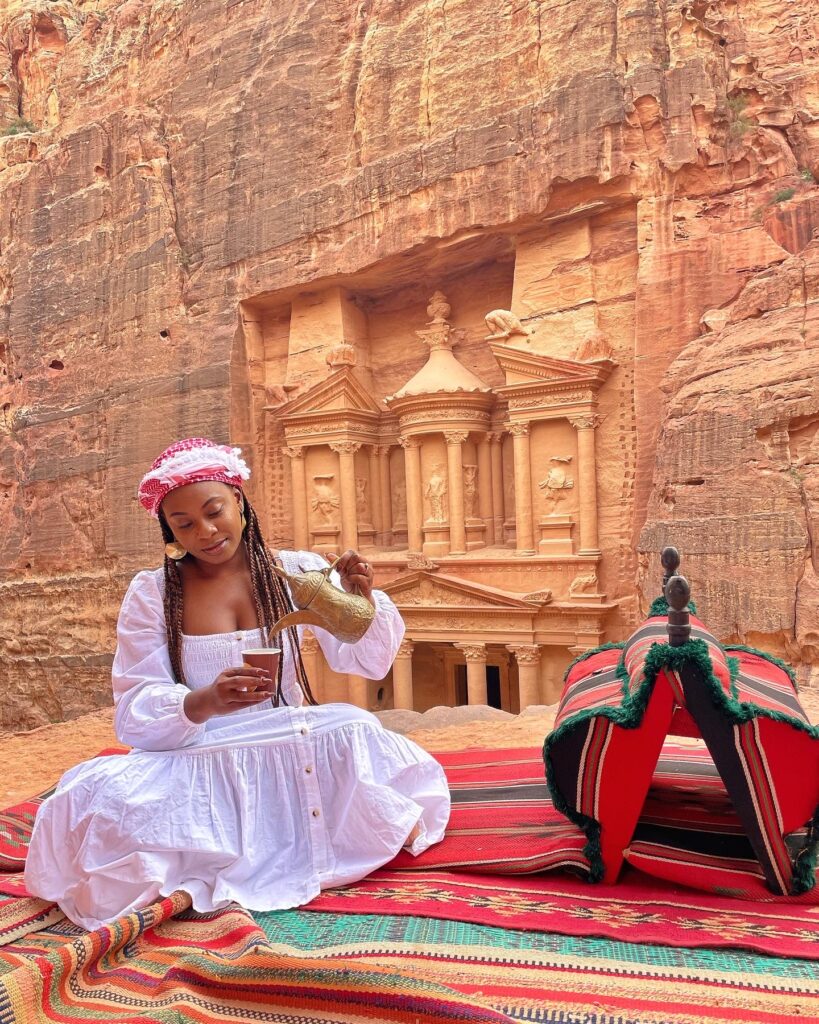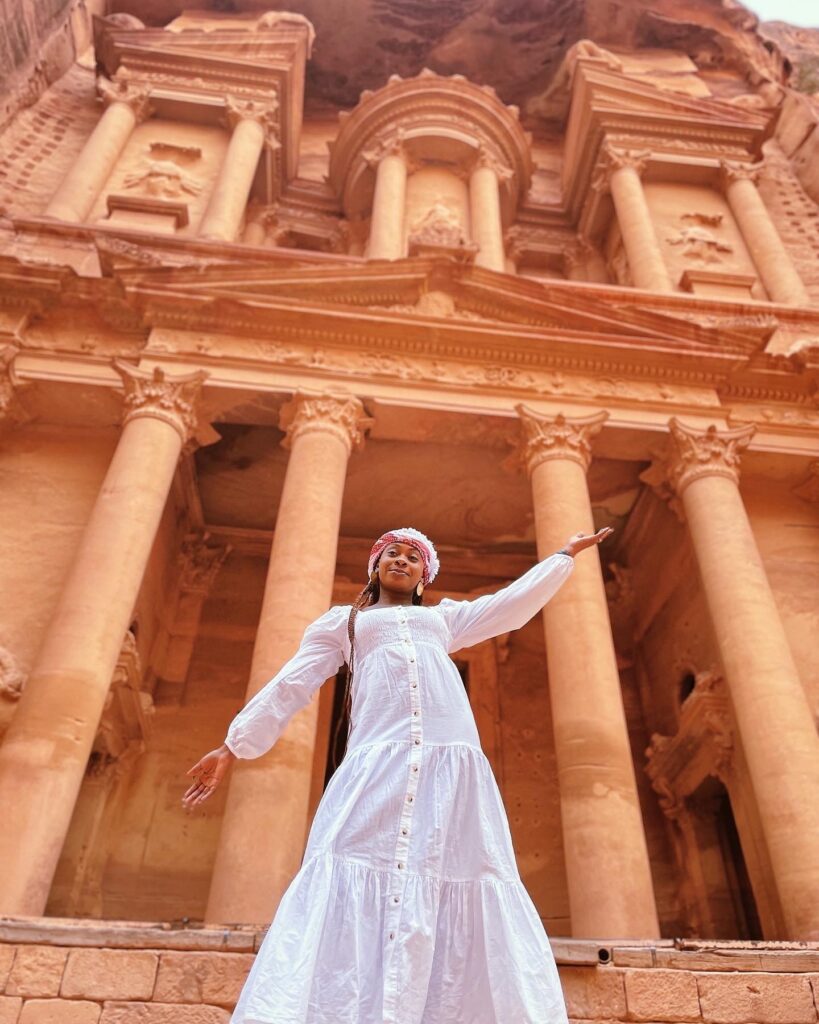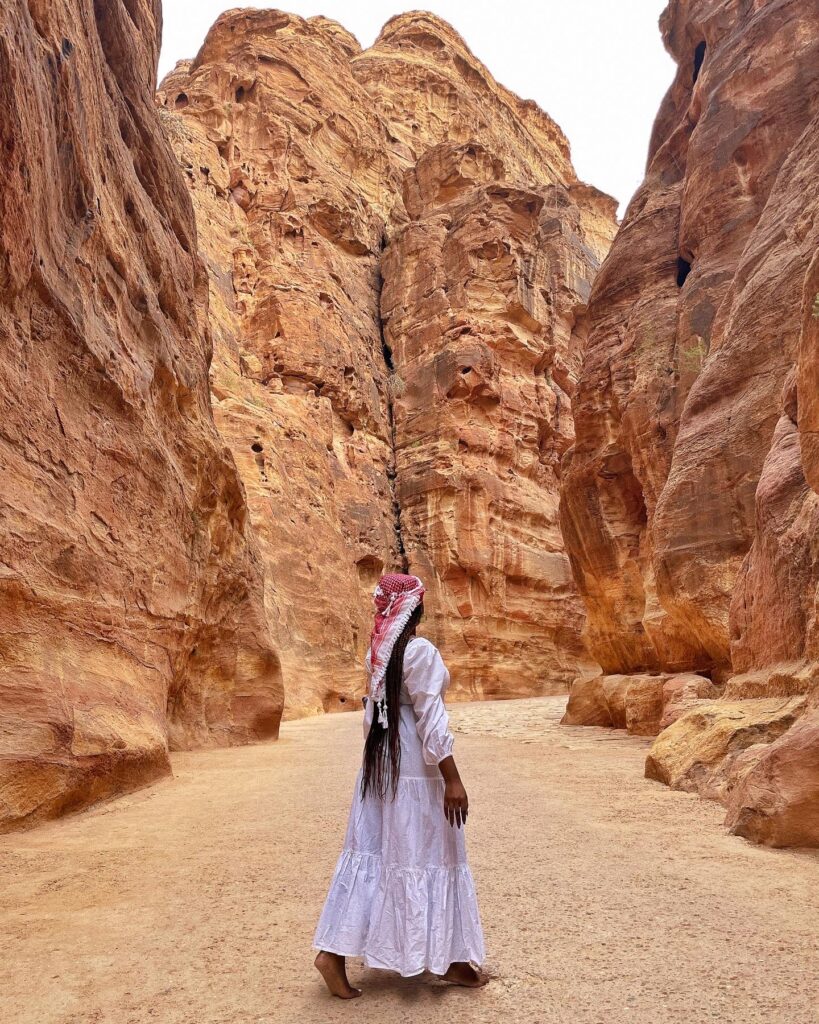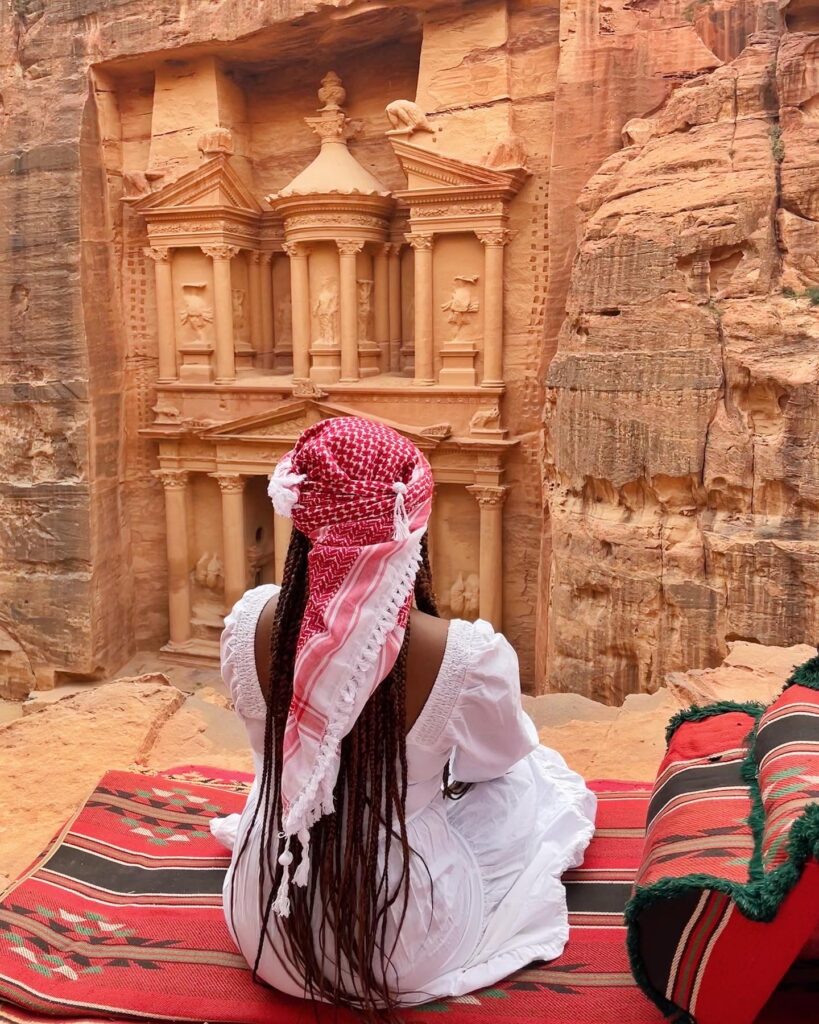 After Petra comes Wadi Rum – Two days in Wadi Rum
After soaking in all the goodness of Petra, it was time to go to Wadi Rum – the valley of the moon. Just when I thought it couldn't get any better than Petra, boom – Wadi Rum proved me wrong. Wadi Rum is truly something special. When you get there and see it for the first time, you know exactly why this place is often compared to Mars. We checked into our awesome, awesome hotel, the Bubble Luxotel Hotel and this was a big part of the experience.
Let's talk about the Bubble Luxotel Hotel
This hotel deserves its own separate post but before that happens, I'll share it here. Imagine waking up to the stars and living in a bubble for a night. Nothing will prepare you for the awesomeness that is the Bubble Luxotel Hotel. I stayed in their King room in the bubble and it was beyond words. It also came with a hammock, hot tub and incredible views of Wadi Rum. A brilliant experience!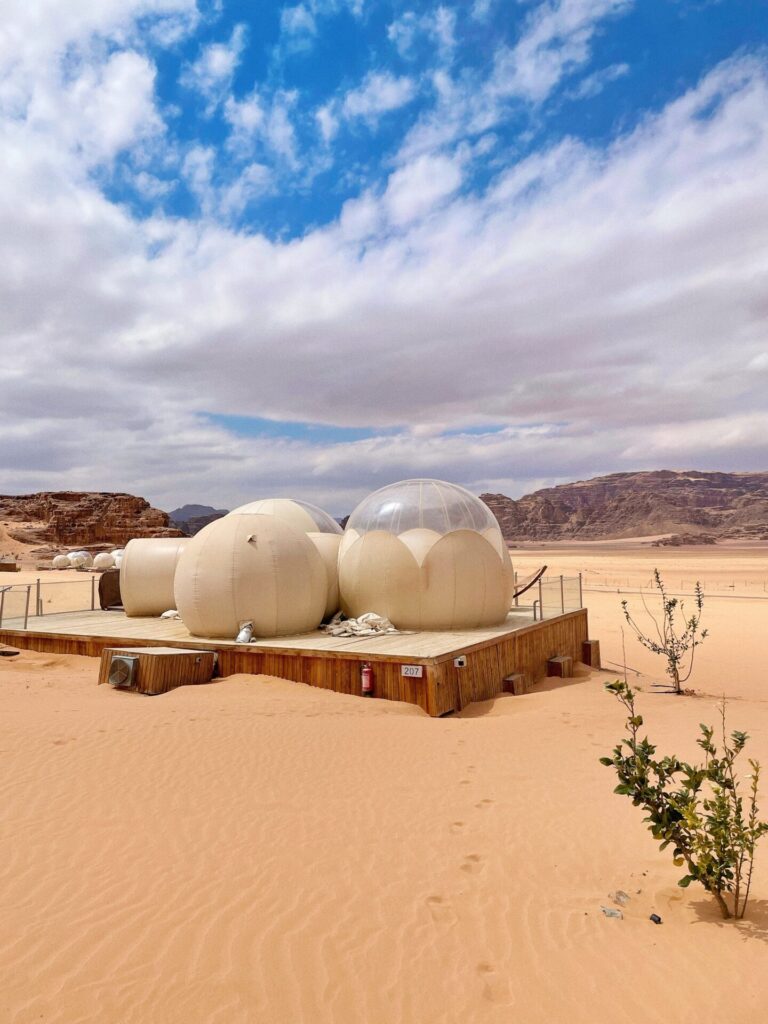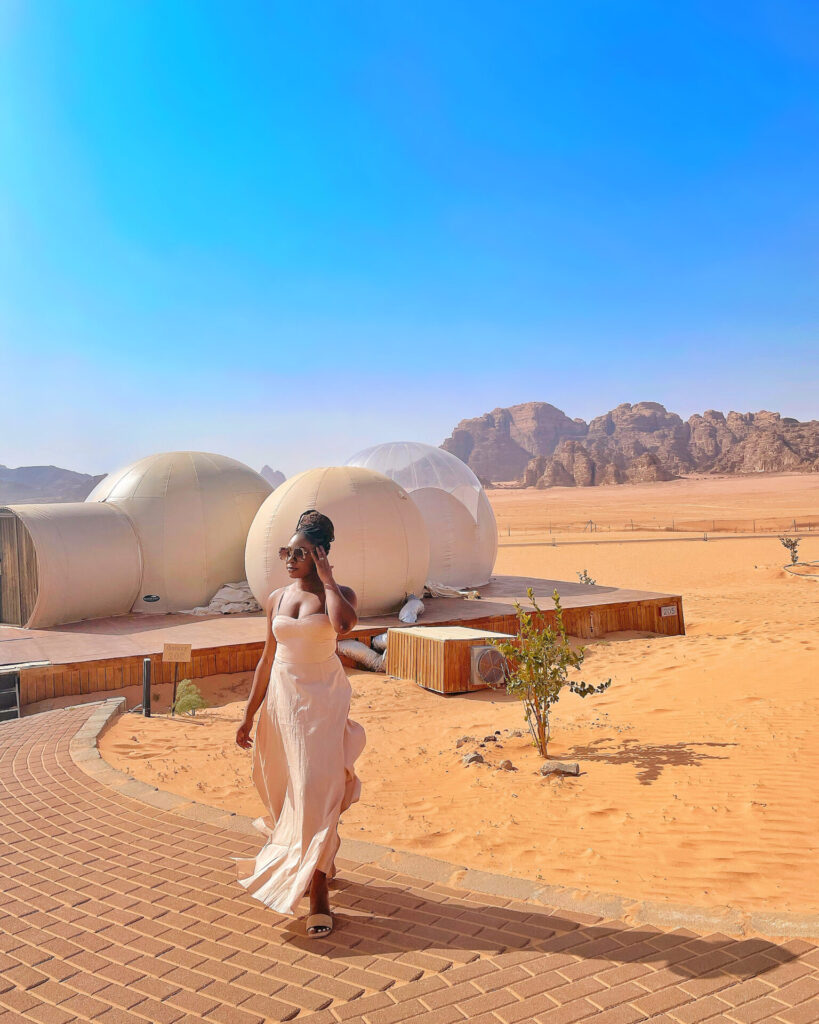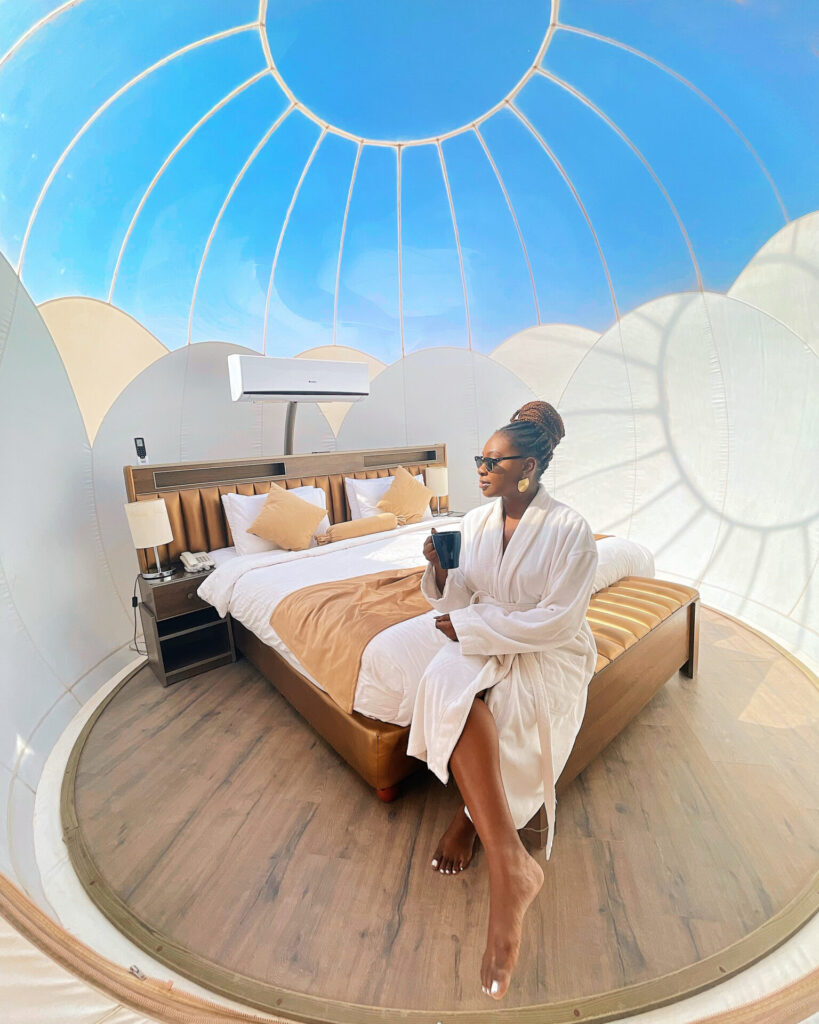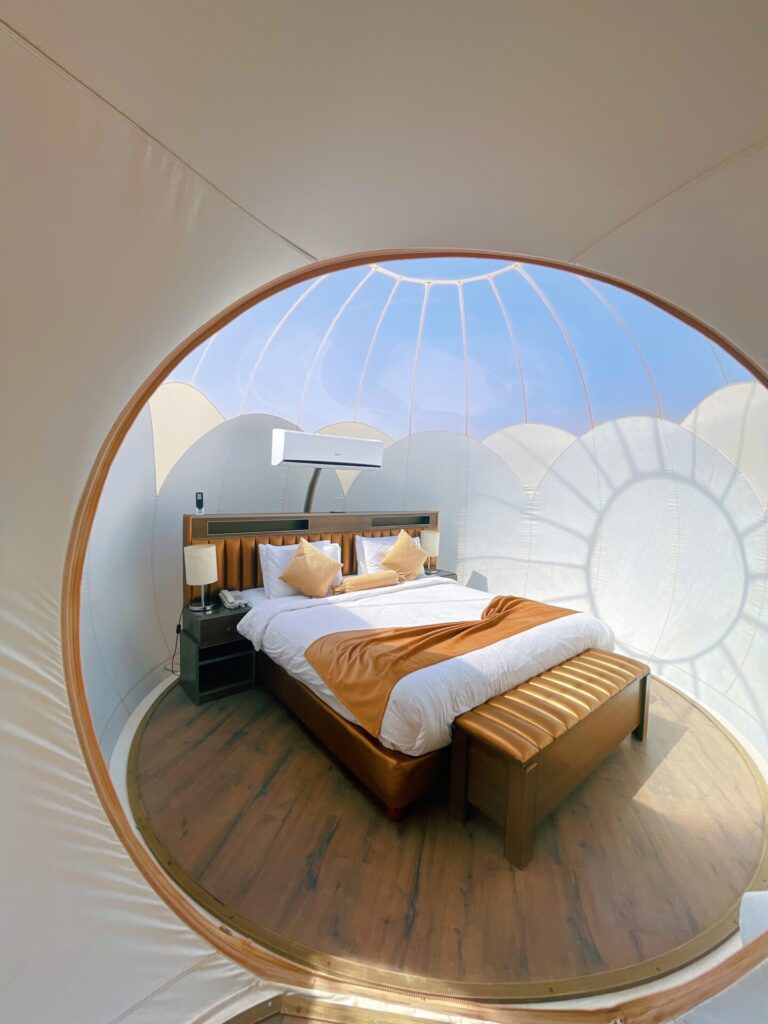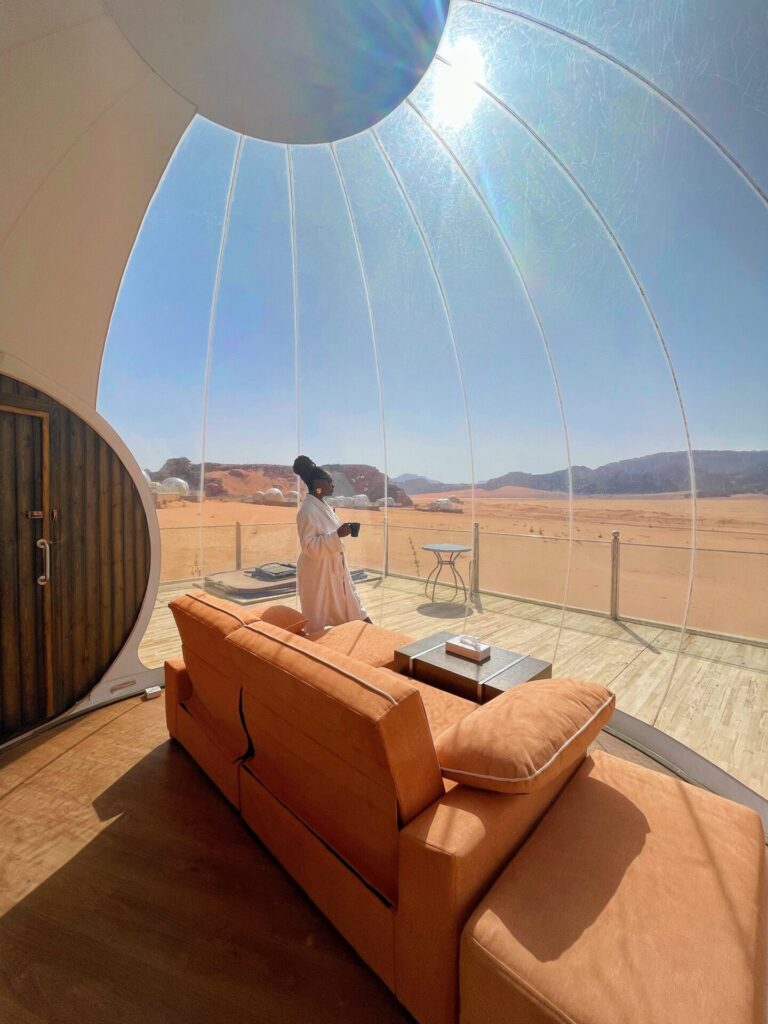 After taking in the bubble room, we went on the most beautiful sunset tour of Wadi Rum. It was cold but it was such a fulfilling experience. We made stops along the way and learned a bit more about the history of Wadi Rum. We caught the sunset and made our way back to the hotel for dinner. Overall, it was a 10/10 experience in Wadi Rum.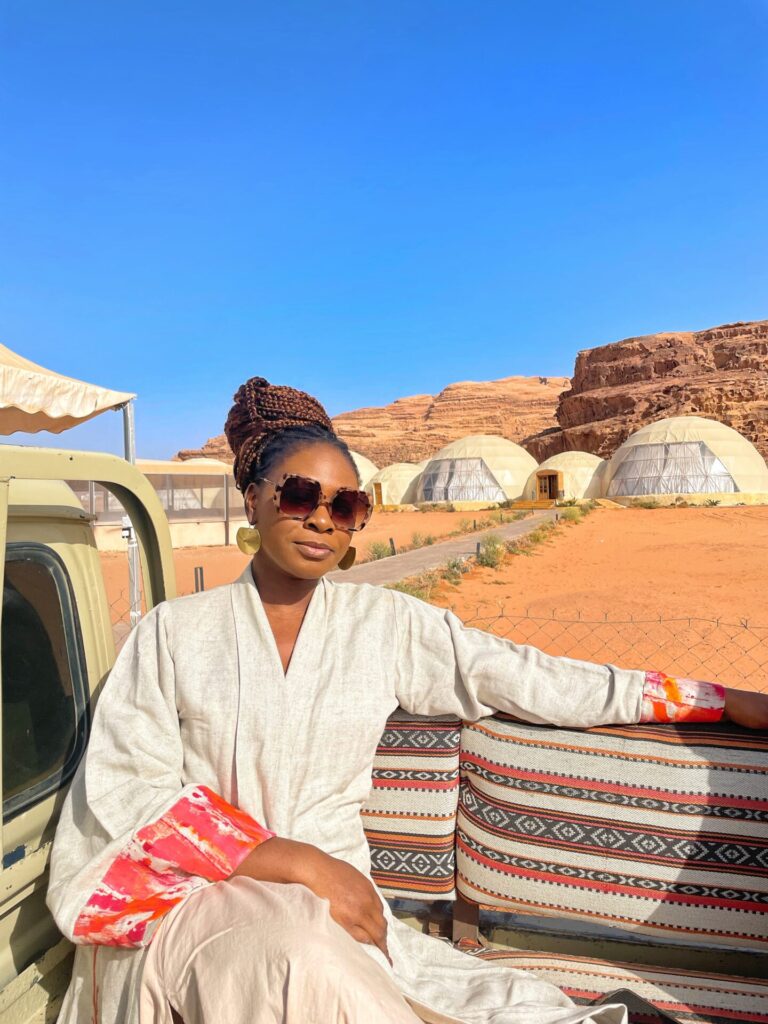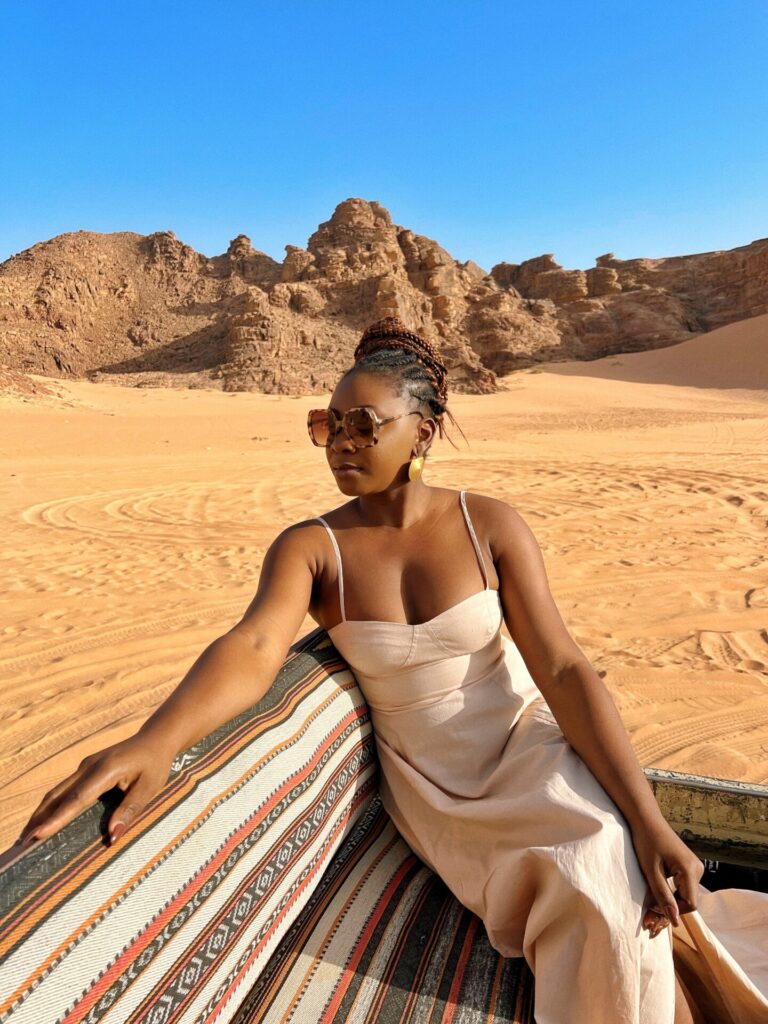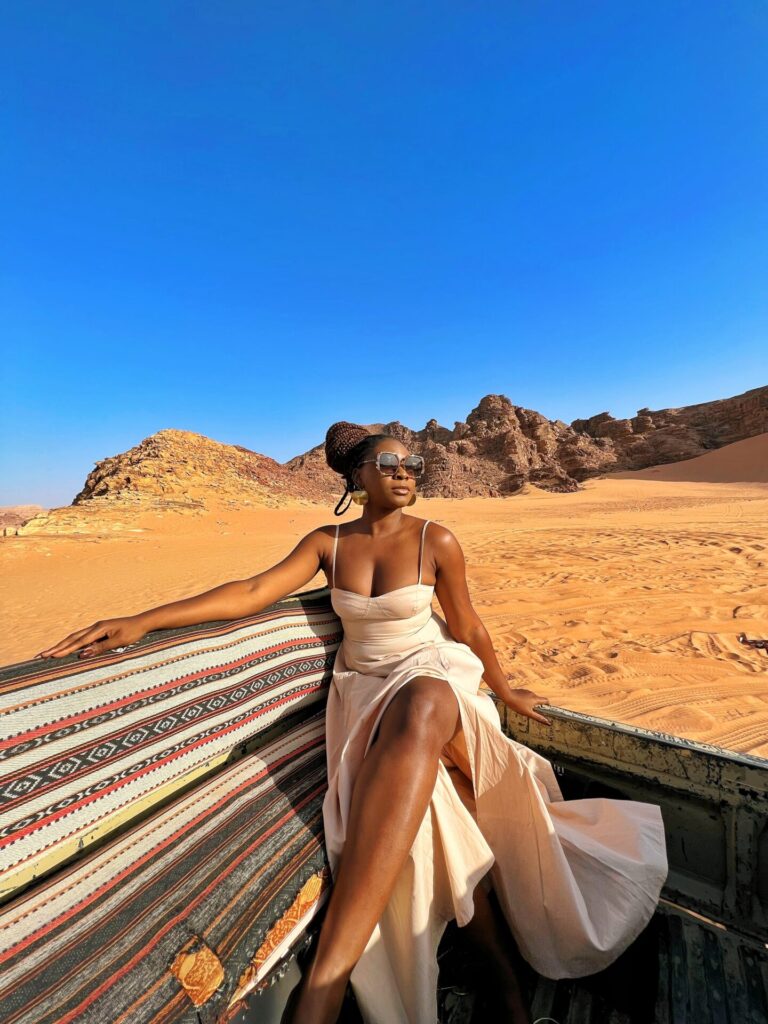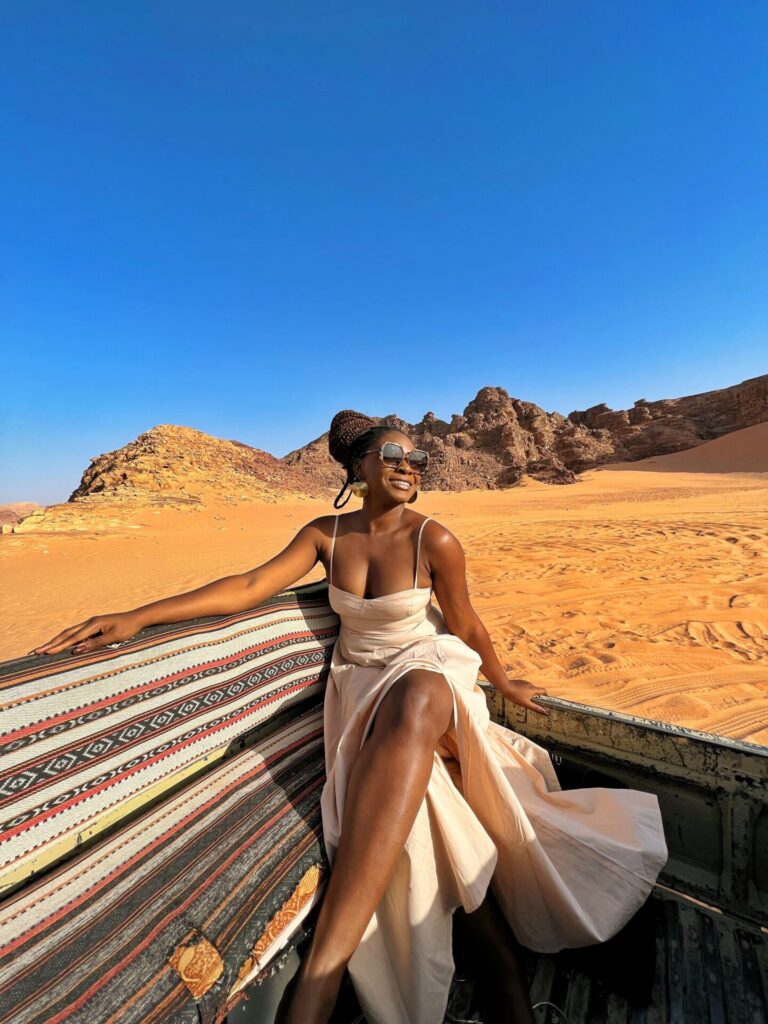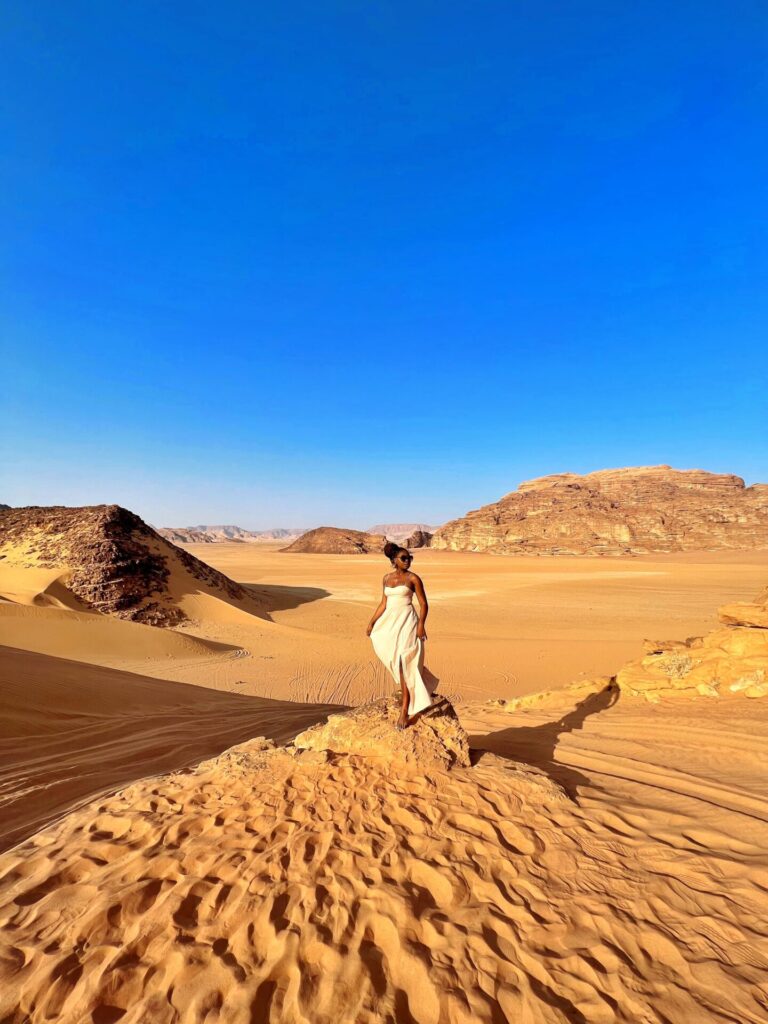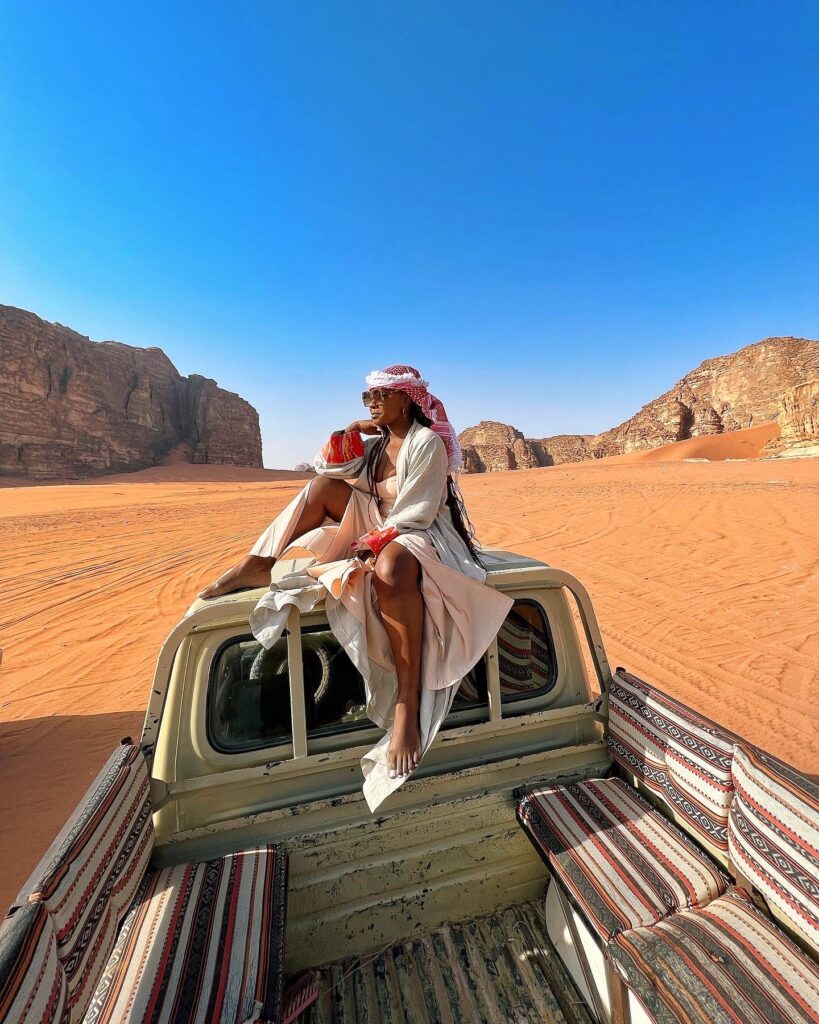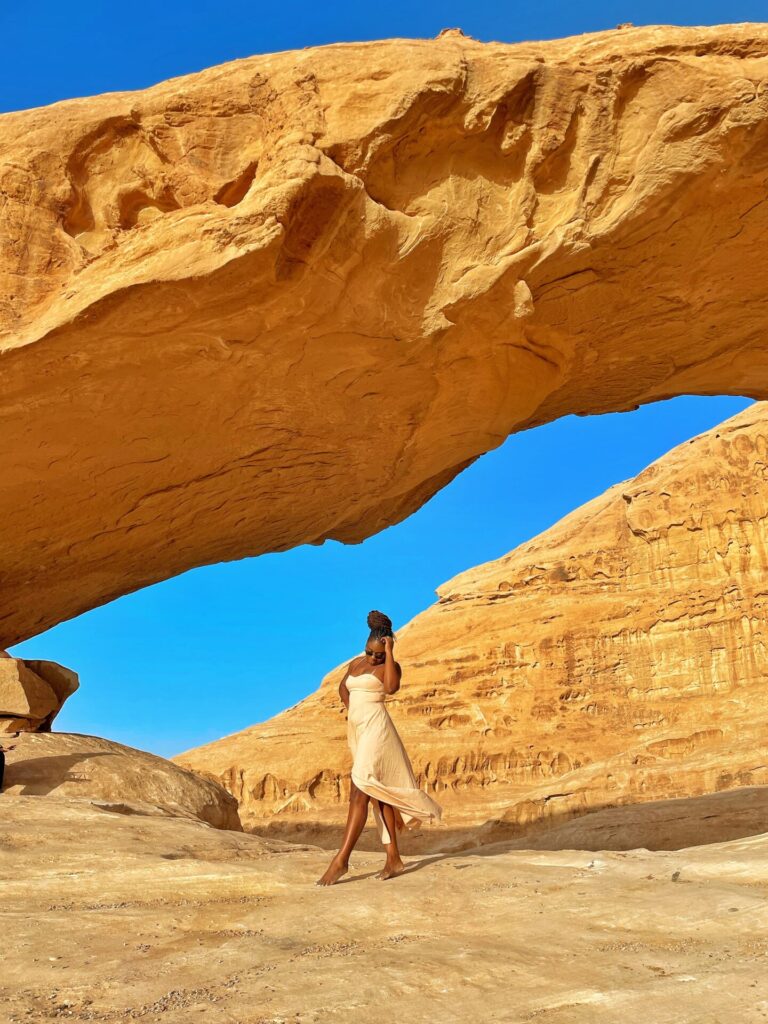 We spent just a night in Wadi Rum and then the next day headed back to Amman. The drive from Wadi Rum to Amman was around four hours and again, this flew by because of the great music, awesome company and amazing driver.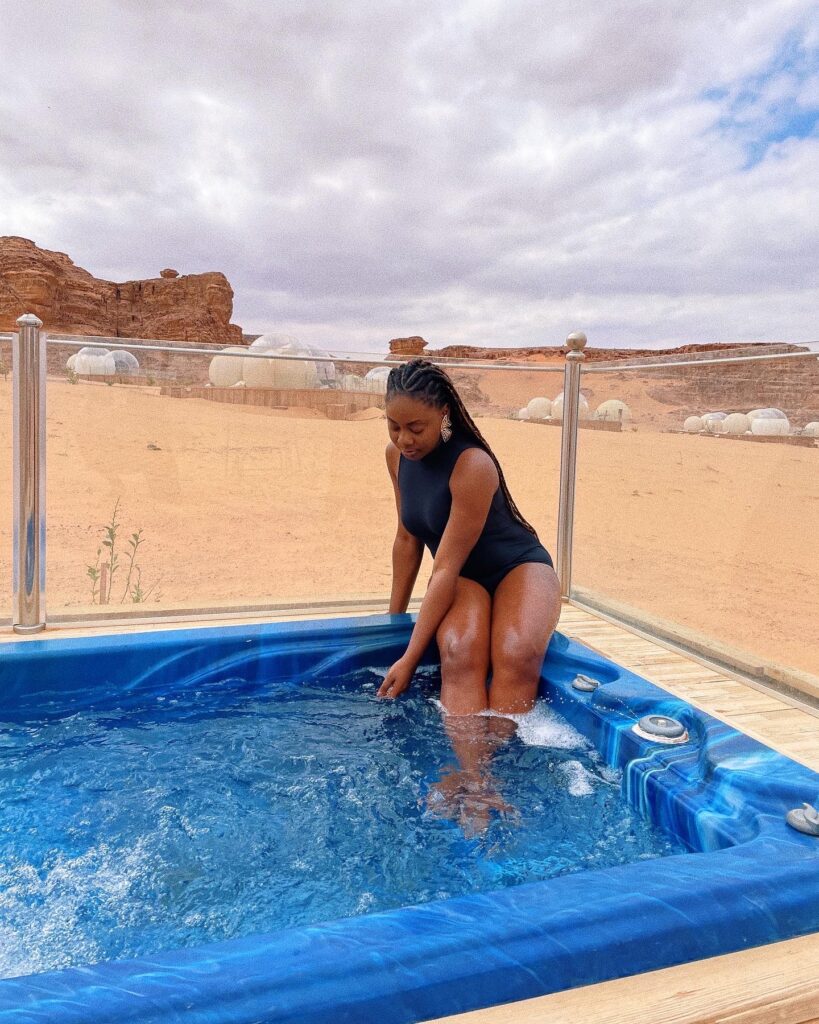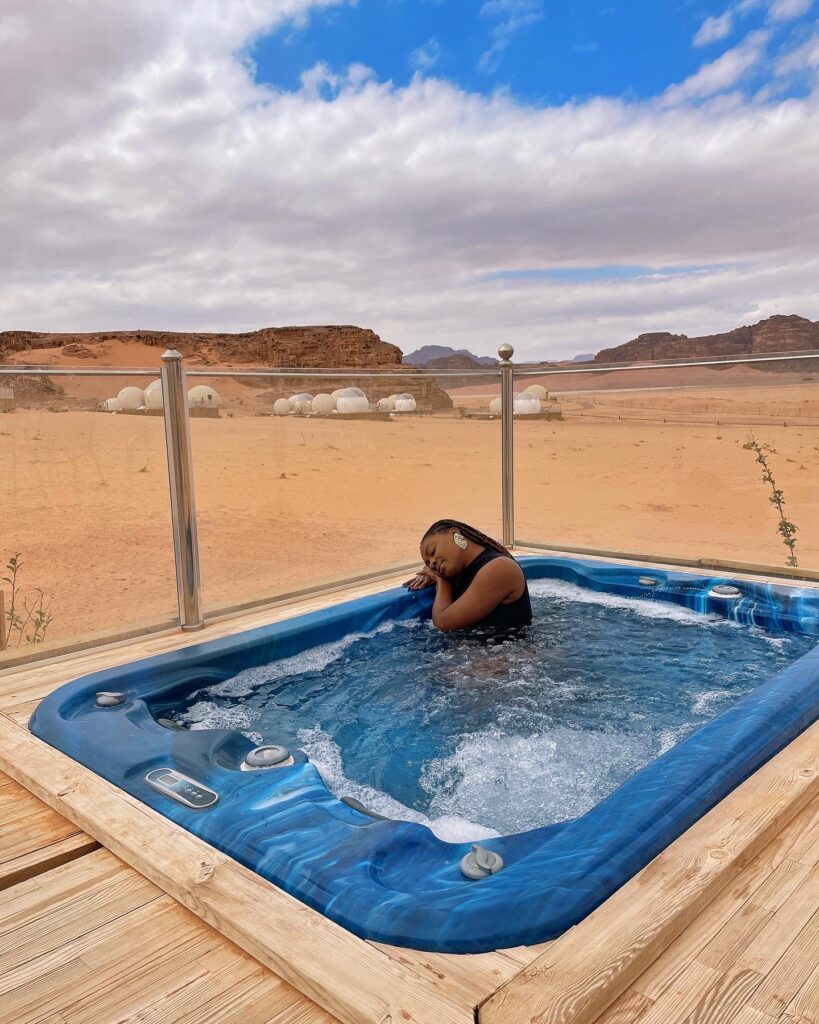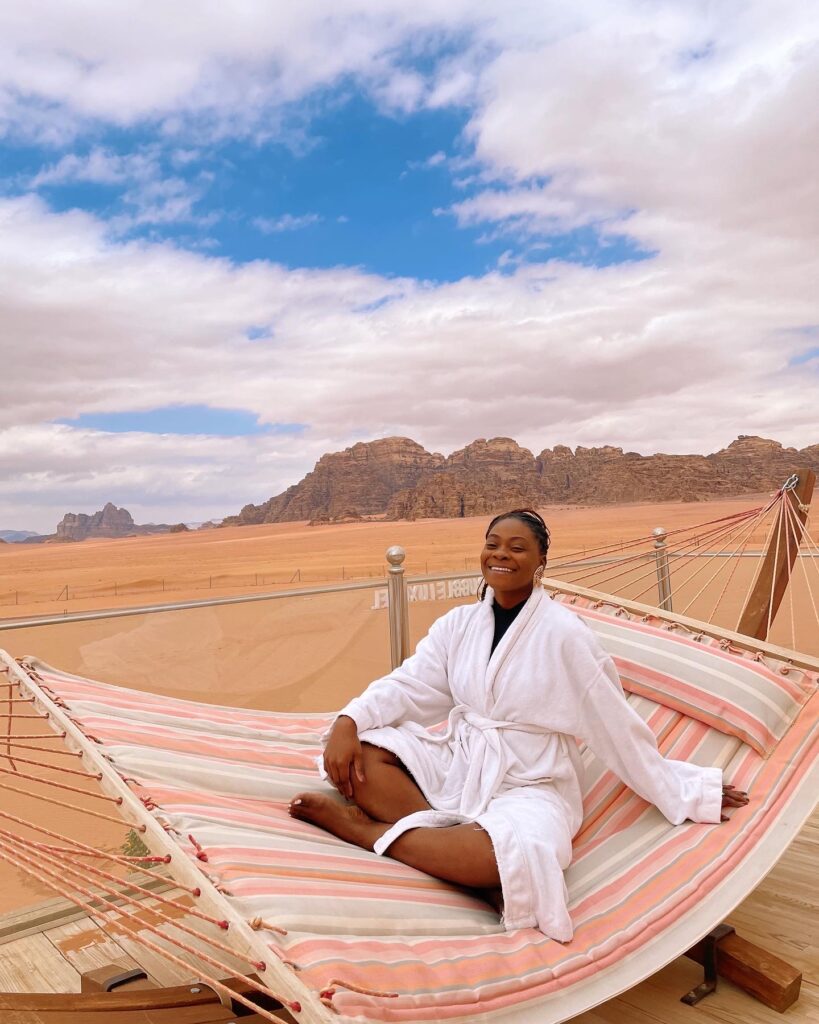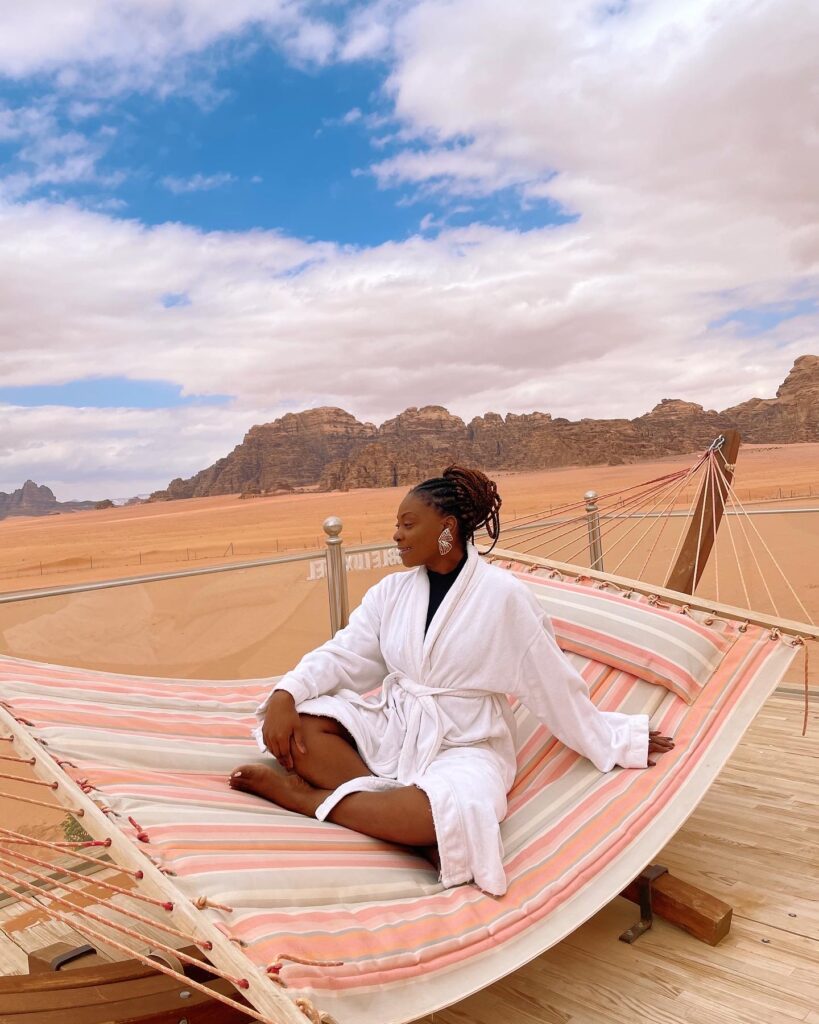 Amman to the Dead Sea – One day
No trip to Jordan is complete without seeing the Dead Sea, so we had to. Thankfully, the Dead Sea is less than an hour from Amman so that worked out for us perfectly. Early in the day, we set out for our adventure at the Dead Sea and the drive down there was very scenic. I learned that Jerusalem was very close and the Dead Sea is bordering Jordan and Israel. The history in Jordan is fantastic and you'll learn so much about the world here.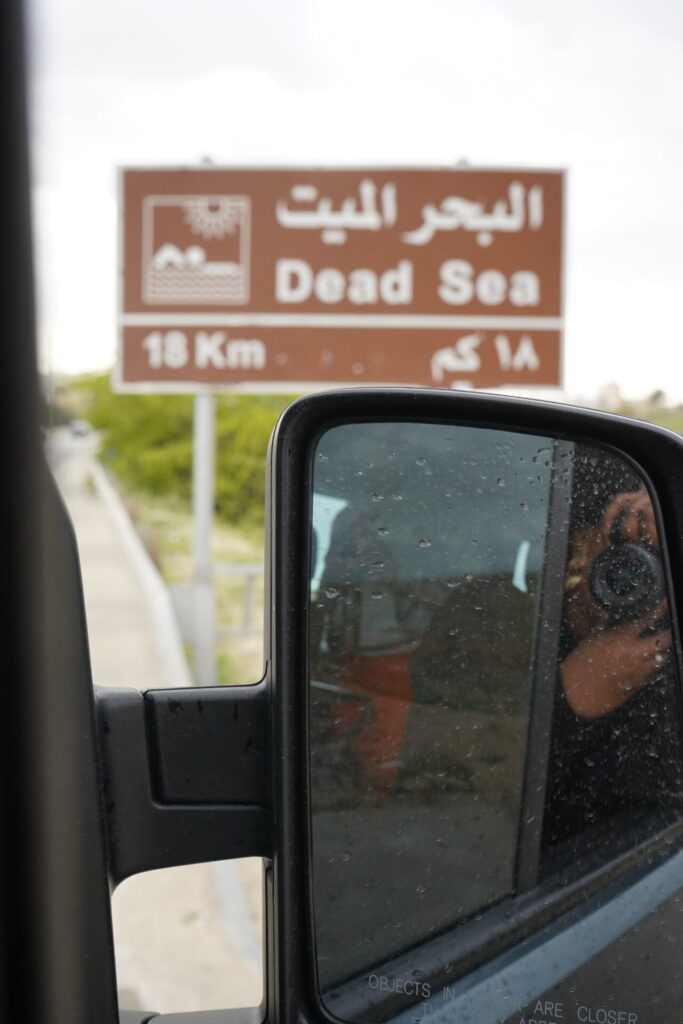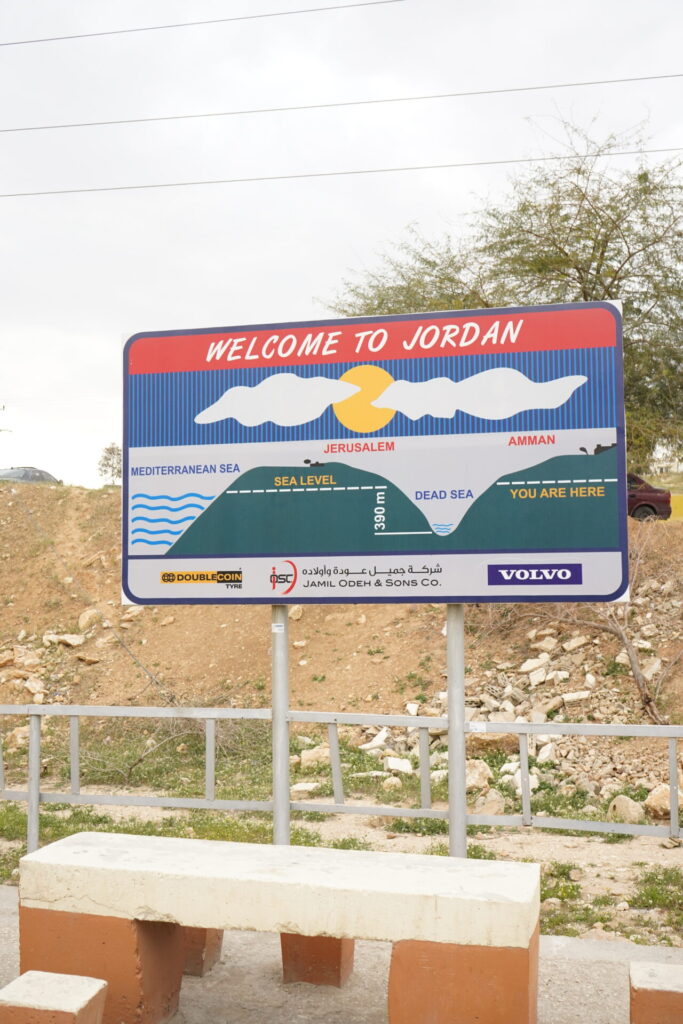 First, it was important to find a beautiful beach with stunning views of the Dead Sea so that's what we did. I was so impressed to see the turquoise blue water at the Dead Sea. I was not expecting that. Unfortunately, I am not sure where this exact location was but it was north of our drive to the Movenpick Dead Sea resort where we got a day pass to use the hotel facilities.
If you have a driver, ask him or her to show you a nice beach (or should I say lake?). You may have to do a bit of a hike down like we did as it is a sloppy hill but it will be well worth it.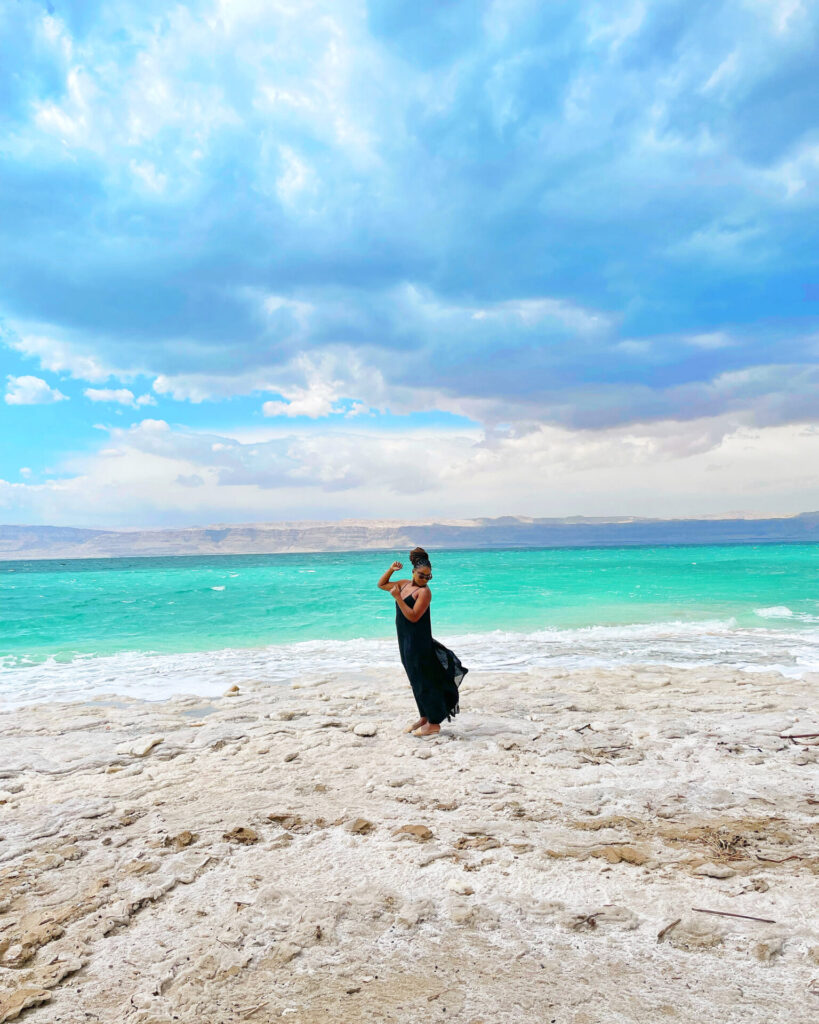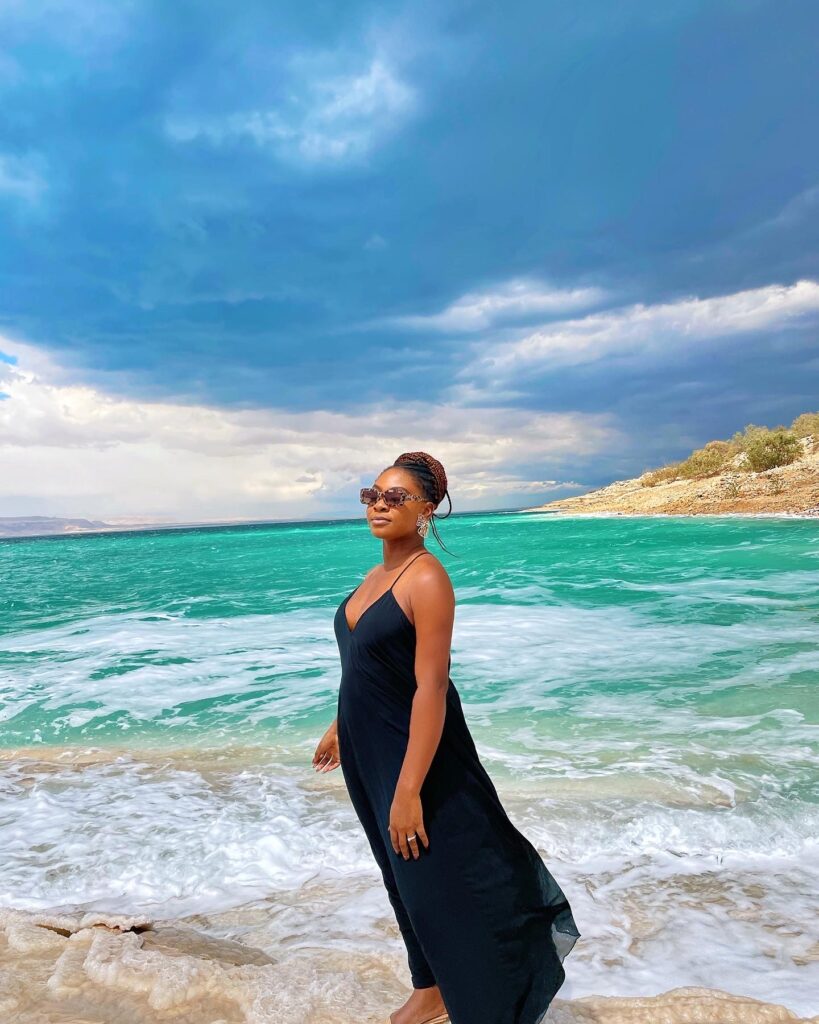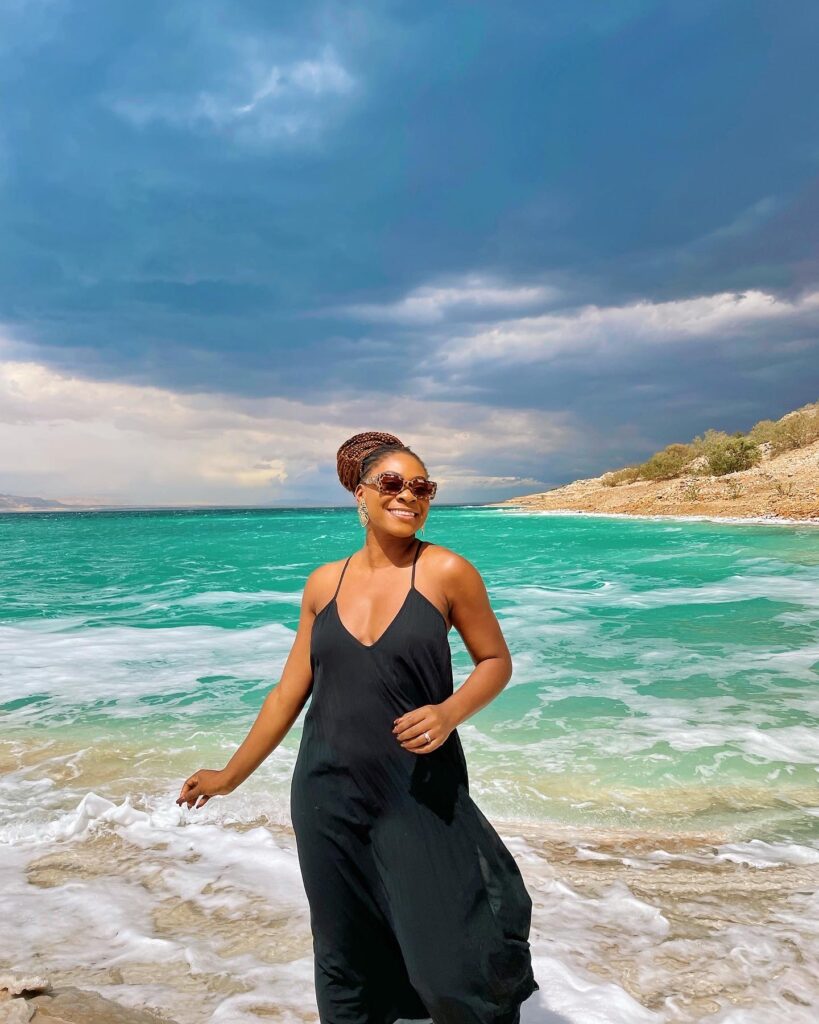 After enjoying the views at the free location we found, we made our way to the Movenpick Dead Sea resort for a day. We got a day pass for about $70 USD per person and that gave us access to the hotel properties and one meal. At the hotel's beach, we had a nice mud bath experience which is just a must-do when in Jordan and specifically at the Dead Sea. The Dead Sea minerals are great for the skin and who doesn't like good skin? You can also ask to bottle up the mud and salt to take back home with you.
After spending some time enjoying the Dead Sea, we went back to Amman for our last night in Jordan. Words can't describe how amazing the entire experience was. You have to see it for yourself. You had to be there.
Some things to keep in mind about Jordan
1.) The Jordan currency took me by surprise. It's not a lot of times that I travel to countries with a currency stronger than the US dollars or Euros or even Pounds. Yes, the Jordan currency is stronger than the pounds and this isn't exactly a cheap place to visit but keep in mind when exchanging currency. The best currency to take with you is the US dollar and you can exchange it at the bank for a good rate.
2.) Haggling in Jordan – There are so many things that you can shop for in Jordan. From the Dead Skin skincare products to handcrafted bags, etc. My first day in Amman, I bought two handcrafted bags and they cost me about 100 JOD which I thought was a deal. Upon getting to Petra, I saw those same bags for 10 JOD each – talk about a steep price difference. When in Jordan, make sure to haggle or wait till you get inside Petra to shop as I found that things were significantly cheaper there. In summary, don't buy from the first place you see without comparing prices.
3.) Language in Jordan – Some people speak English but not a lot. We used a tour guide and English-speaking driver who could help us get around easily. I definitely recommend getting a guide and driver for Jordan or opting for English-speaking tours which you can find on Viator.
4.) Safety in Jordan – One question I got asked a lot was, "Is Jordan safe?" and now that I have gone there and returned, I will say a resounding yes. Jordan felt completely safe even for women. There was never a time when I felt my safety was compromised or anything fishy happening. Jordan as a country is safe.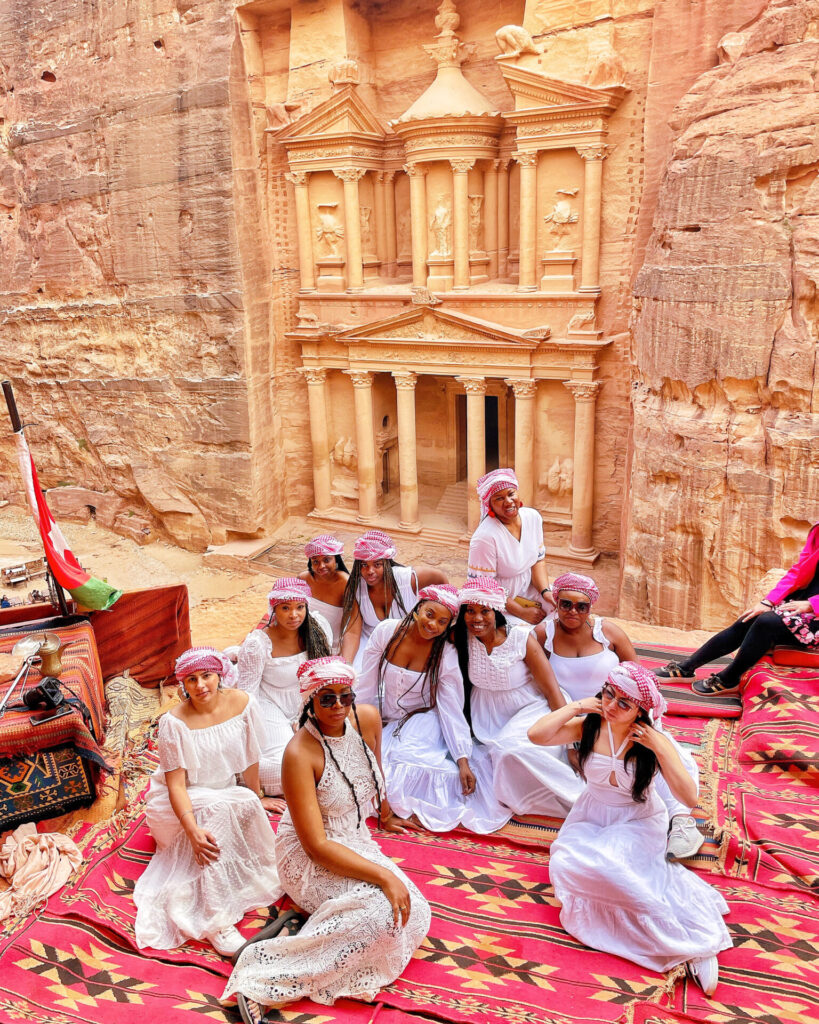 Conclusion – seven days in Jordan
Seven days in Jordan is not a very long time but it is good enough to experience some awe-inspiring adventures in Jordan. From city bites in Amman to historical Petra to dreamy moments in Wadi Rum and serene moments at the Dead Sea, Jordan will leave you inspired for a long time to come. I'm so happy I got to cross this country off my list and can't wait to return someday in the future.
If you'd like to experience Jordan next year with my company Gojolley, sign up for the waitlist here. If you loved reading this, drop a comment for me. I always love hearing from you.
Thank you for reading.