A First Timer's Travel Guide to Cape Town, South Africa
For the first time ever, I traveled to Cape Town, South Africa this February and had the most incredible time. As a first-timer, I wasn't fully sure what to expect. Yes, photos online looked magical, but was it really that stunning in person? A resounding yes. From the breathtaking landscapes to the vibrant culture, Cape Town is a city that truly captures the heart. In this post, I'll be sharing my top recommendations for things to see, do, and eat in Cape Town, based on my personal experiences. If you're planning your first trip to Cape Town, here is a first-timer's travel guide to Cape Town, South Africa. I hope this guide will be a helpful and inspiring resource for you.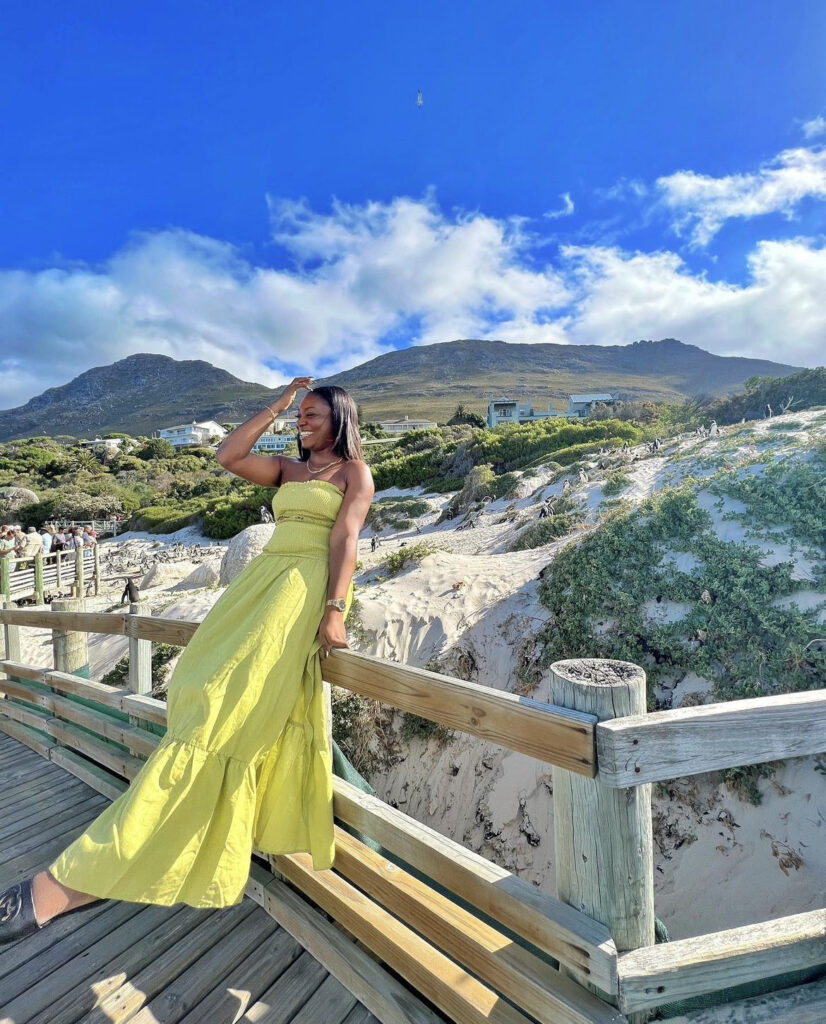 Content of this Article
hide
A First Timer's Travel Guide to Cape Town, South Africa
A little about Cape Town, South Africa
Located on the southwestern coast of the African continent, Cape Town is a city of incredible diversity and natural beauty. It's home to iconic landmarks like Table Mountain and Cape Point, as well as a rich history and culture that reflects the country's complex past. From the bustling streets of the city center to the picturesque beaches and vineyards of the surrounding areas, Cape Town has something for everyone. As the legislative capital of South Africa, it's also an important hub for politics, business, and tourism, attracting millions of visitors from around the world each year.
Getting to Cape Town, South Africa
Depending on where you are traveling from, there are a lot of airlines that travel to Cape Town, although you may need to do a few connections. Coming from Toronto, Canada, I flew using Ethiopian Airlines and had a short layover in Addis Ababa. I upgraded to business class for a more comfortable flight at a fraction of the cost so it worked out well. The journey was smooth and I liked the selection of food they offered. If you're coming from the US, Delta and KLM are some of the best flights to take down there.
Traveling to Cape Town, South Africa in 2023 – Entry Requirements
If you're planning to visit Cape Town in 2023, it's important to be aware of any entry requirements for South Africa. As of March 2023, there are no COVID-19-related restrictions or requirements for travelers visiting Cape Town, regardless of their vaccination status. However, you should still check with your airline and the South African government website for any updates or changes to entry requirements.
It's also important to note that if you're visiting from a West African country or have recently traveled to a country where yellow fever is endemic, you may be required to provide proof of yellow fever vaccination upon arrival in South Africa. While I have one, I did not need to show it as I was traveling from Canada.
Things to know before visiting Cape Town, South Africa
Before you pack your bags and head off to Cape Town, there are a few things to keep in mind.
Rent a car or use Uber: Cape Town is a sprawling city with plenty to see and do beyond the city center, so it's recommended to rent a car or use Uber to get around. Uber is a popular and convenient option as it is cheaper, safer, and more reliable than traditional taxis. It's also easy to use, and you can pay through the app.
English is widely spoken: While South Africa has 11 official languages, English is widely spoken and you will have no issues with language barriers when visiting Cape Town. Many people also speak Afrikaans, and you may hear Xhosa or Zulu spoken in certain areas.
Check if you need a visa: US, UK, and Canadian passport holders do not need a visa for stays of up to 90 days. However, it's always a good idea to check the latest visa requirements with the South African embassy or consulate in your home country. Also, make sure your passport is valid for at least six months beyond your intended stay.
Be aware of load shedding: Load shedding is a term used in South Africa for scheduled power outages. These outages are planned to reduce the demand on the power grid and prevent blackouts. If you're visiting Cape Town during load shedding, it's important to come prepared with a portable charger for your phone or other devices. You can check the schedule for load shedding on the website of the local utility company, Eskom.
The best time to visit: The best time to visit Cape Town is between November and March when the weather is warm and sunny. However, this is also peak tourist season, so expect higher prices and crowds during this time. If you want to avoid the crowds, visit during the shoulder season from April to May or September to October. The winter months from June to August are also a good time to visit if you don't mind cooler temperatures and occasional rain.
Make sure to have travel insurance before you go. In general, don't travel anywhere without travel insurance, including on your trip to Cape Town. Here's the travel insurance I use.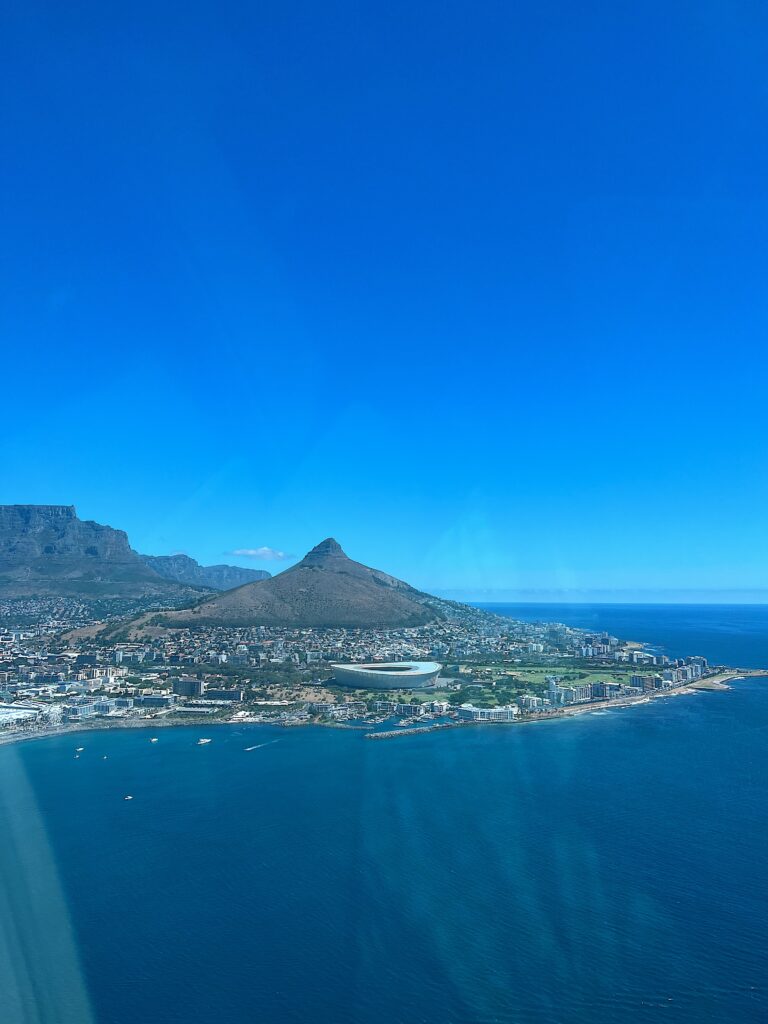 The best time to visit Cape Town
Generally, for the best weather and sunshine, you should go in the summer months between November and March but keep in mind that prices are high and places might be crowded. However, from experience traveling in February, I had no issues with crowds at all, places were actually quite empty and pleasant to navigate.
In summary, the best time to travel to Cape Town is during the summer months (November to March) if you want warm and sunny weather. The shoulder season (April to May and September to October) offers pleasant weather with fewer crowds. The winter months (June to August) have cooler temperatures and occasional rain, but lower prices and opportunities for indoor activities. Ultimately, Cape Town is a year-round destination, so the best time to visit depends on your interests and preferences.
Where to stay in Cape Town
There are many hotels in Cape Town to choose from, depending on your budget, preferences, and needs. For my recent stay, I chose to book at the Rockefeller Hotel, located in the heart of Cape Town's city center.
The hotel is conveniently located near popular attractions, restaurants, and shops, making it a great base for exploring the city. The rooms are spacious and stylishly decorated, with modern amenities to ensure a comfortable stay. Additionally, the hotel features an on-site restaurant, rooftop pool and bar, and fitness center, providing guests with a range of facilities to enjoy during their stay.
However, Cape Town has many other areas to consider, such as Camps Bay, the Southern Suburbs, and more, depending on your preferences and budget.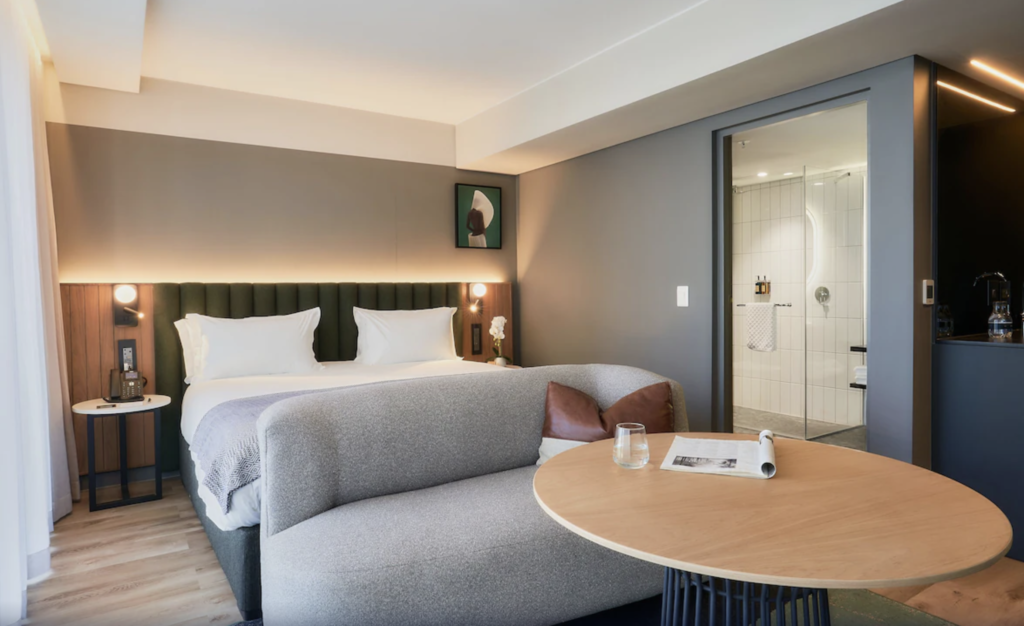 Things to do in Cape Town, South Africa
If there's one place that has an endless amount of things to do, it is Cape Town. There will not be a dull moment, and as a first-timer, it can get overwhelming knowing how to structure your days or even what you need to do on your first visit. Here are my top 10 recommendations for you.
1.) Indulge in a wine tasting experience in Stellenbosch
A wine tasting experience in Stellenbosch is a must-do activity when visiting Cape Town. Located about an hour's drive from the city, Stellenbosch is one of South Africa's oldest and most renowned wine regions. During my visit, I had the opportunity to taste a variety of wines at different wineries, including Oldenburg, Mitre's Edge, and Thelema. Each winery offered a unique experience, showcasing a range of varietals and styles. Whether you're a wine enthusiast or a casual drinker, Stellenbosch's beautiful vineyard landscapes and diverse wineries make for an unforgettable day trip from Cape Town.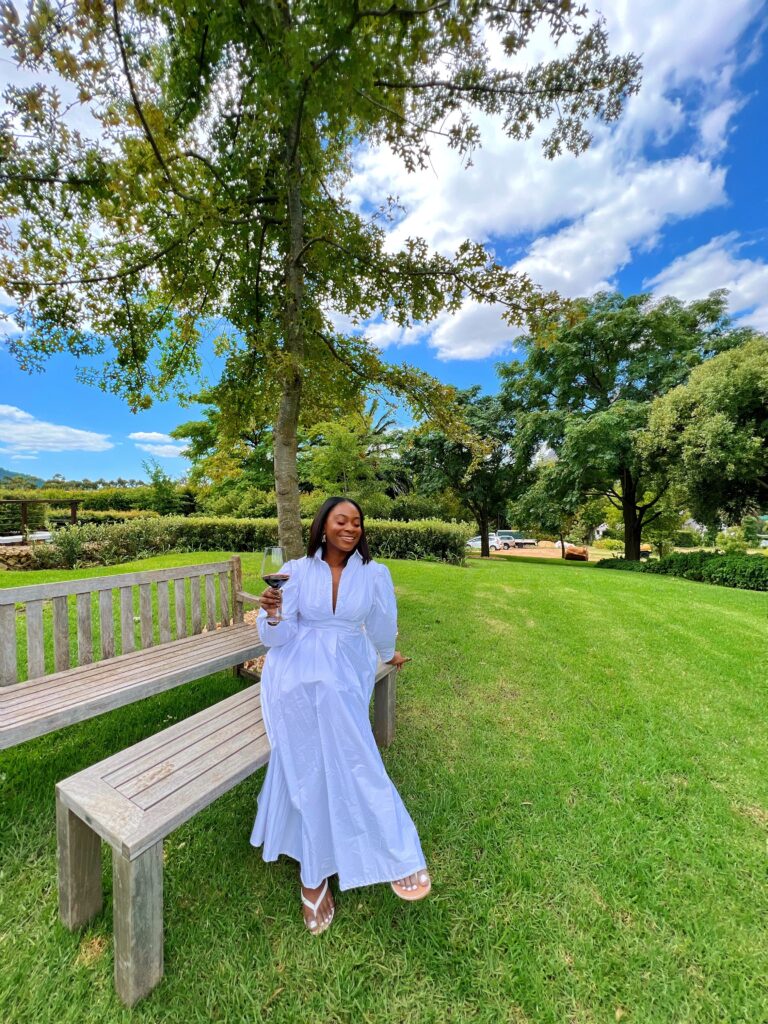 2.) Do a Helicopter tour of the city
A helicopter ride over Cape Town is an exhilarating experience that offers breathtaking views of the city's most iconic landmarks. During my 20-minute ride, I soared over Table Mountain, Lion's Head, and other notable sights. The aerial perspective provides a unique and unforgettable way to appreciate the city's natural beauty and architecture. Whether you're looking for a romantic date idea or a thrilling adventure, a helicopter ride over Cape Town is a must-do activity.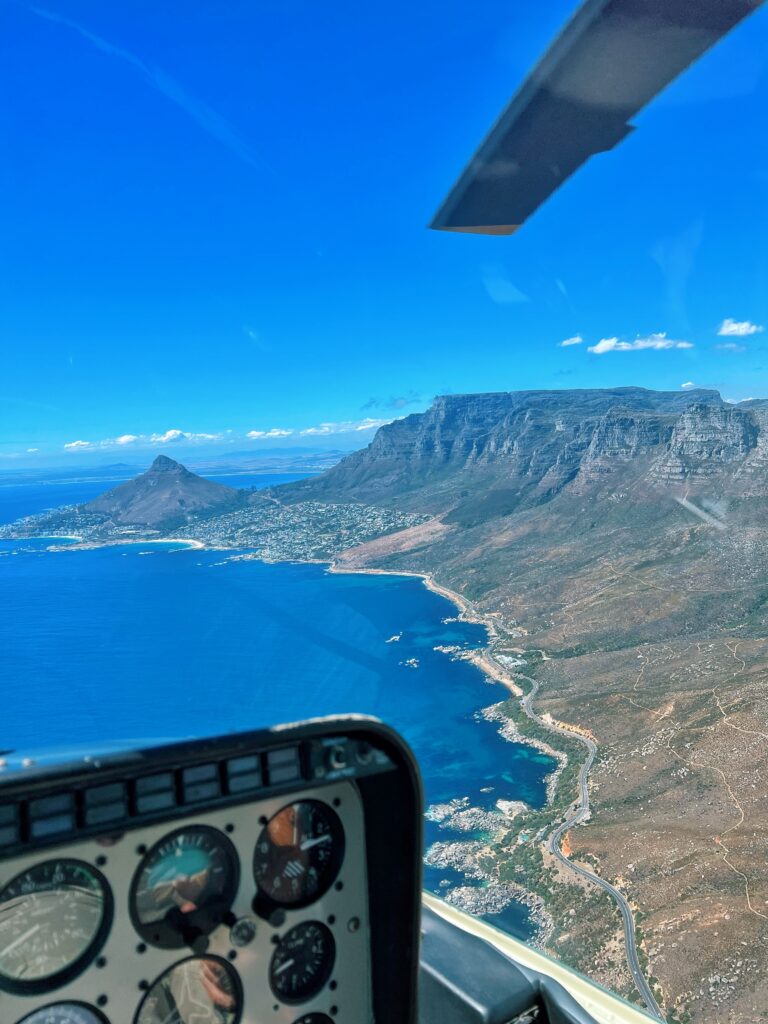 3.) See the African penguins at Boulders Beach
Visiting the African penguins at Boulder's Beach is a popular activity for tourists and locals alike. The beach, located in Simon's Town, is home to a colony of endangered African penguins. While I was not able to get up close to the penguins due to the demarcation and bridge, I still enjoyed seeing them in their natural habitat from afar. The boardwalk provides a safe and comfortable way to observe these unique creatures as they waddle along the beach and swim in the ocean. A trip to Boulder's Beach is a fun and educational activity for all ages, and a great way to support conservation efforts for these beloved birds.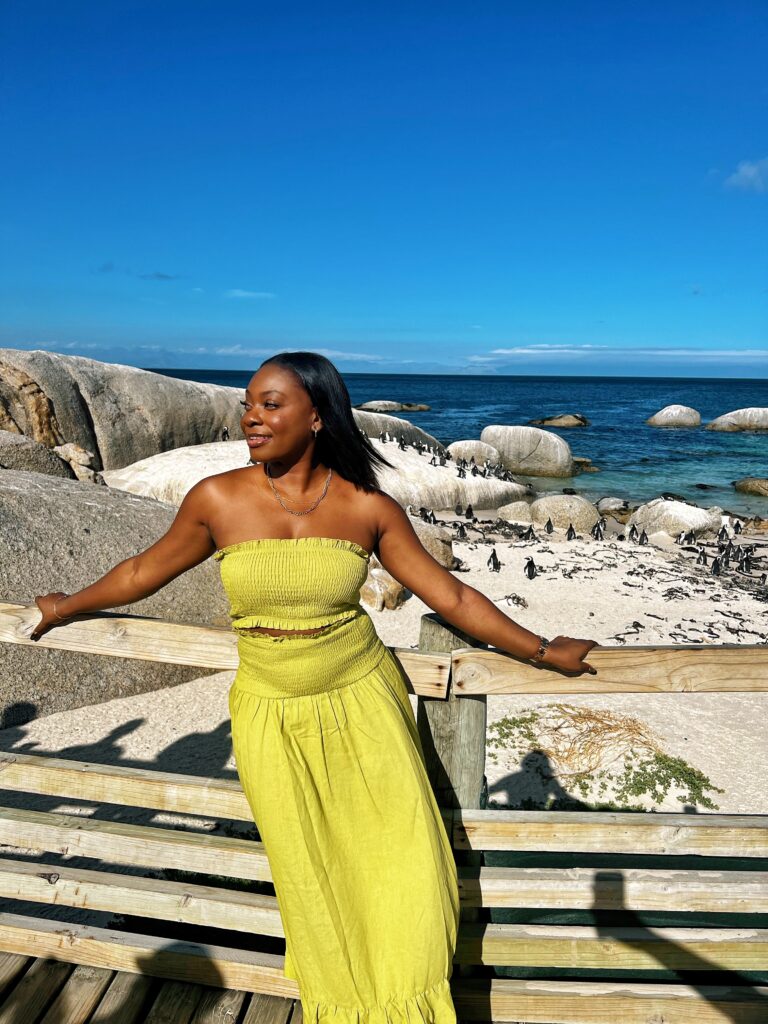 4.) Visit Robben Island to learn about South African's history
If you're interested in South African history and the fight against apartheid, I highly recommend visiting Robben Island. The island is just off the coast of Cape Town and used to be a prison for political prisoners like Nelson Mandela. During the tour, former prisoners guide you through the prison and share their stories. You'll also see the limestone quarry where prisoners were forced to work and visit Nelson Mandela's cell, which is now a museum. Visiting Robben Island is a powerful experience that shows the struggle for freedom and equality in South Africa's past.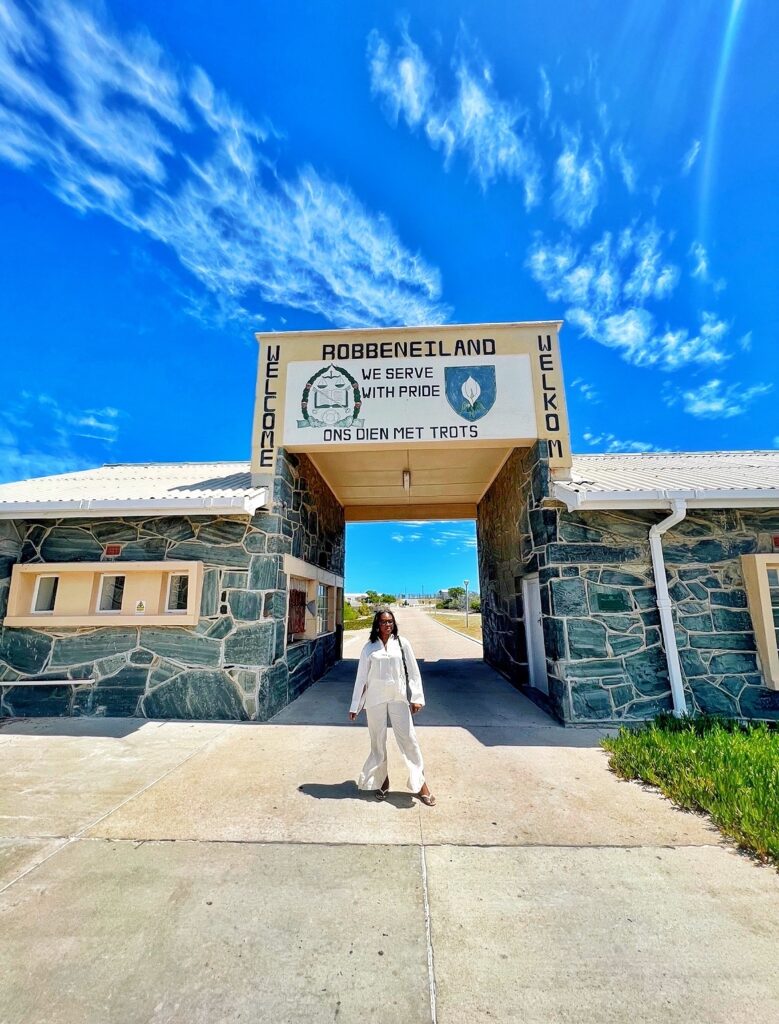 5.) Paraglide in Signal Hill
Paragliding off Signal Hill was definitely one of the highlights of my trip to Cape Town! I have to admit, I was pretty nervous at first, but facing my fear and taking the leap was truly exhilarating. As we soared high above the city, I felt like I was on top of the world, taking in the breathtaking views of Table Mountain, the ocean, and the city below. It was an experience I'll never forget and I highly recommend it to anyone who's up for an adventure.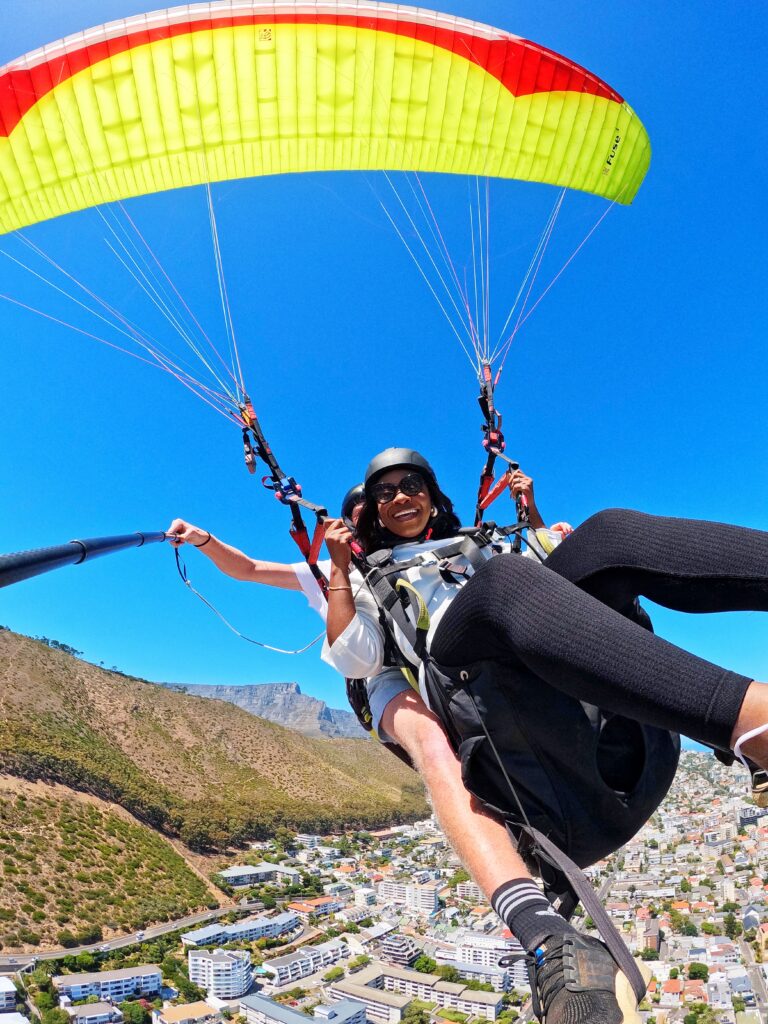 6.) Enjoy a Safari day at Aquila Game Reserve
Go on a safari adventure at Aquila Game Reserve, located just a few hours away from Cape Town. You can spot a variety of wildlife, including the Big Five, and enjoy the beautiful scenery. It's a great way to get a taste of the South African wilderness and experience something truly unforgettable. This was one of my favorite activities and I highly recommend adding it to your Cape Town itinerary.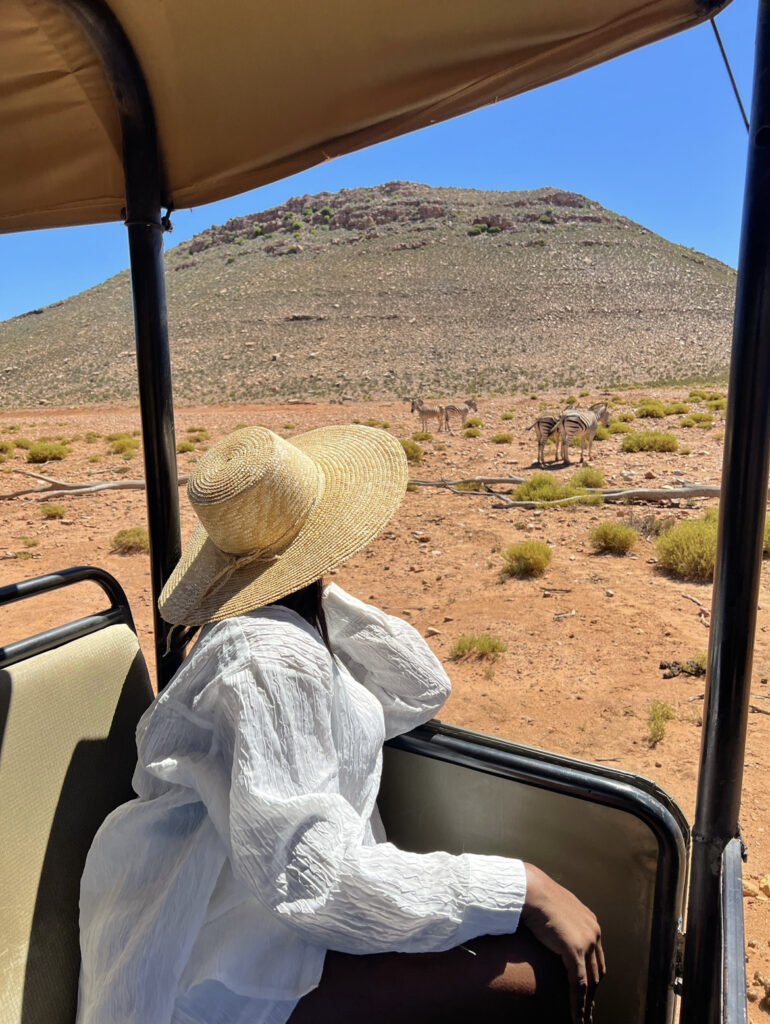 7.) Explore Table Mountain by Cable Car
One of the highlights of my trip to Cape Town was taking the cable car up to the top of Table Mountain. It's an absolute must-do for anyone visiting the city. The views from the top are breathtaking and the experience of being so high up in the clouds is exhilarating. Once at the top, I spent hours exploring the different trails and viewpoints. It's truly a unique and unforgettable way to experience one of the world's most iconic landmarks.
Tip: You can buy your Table Mountain Cable Car tickets in advance. Just know that it only opens everyday starting at 8am so you cannot go up before then. Hiking is however open at all times. You also cannot buy Table Mountain tickets from external websites.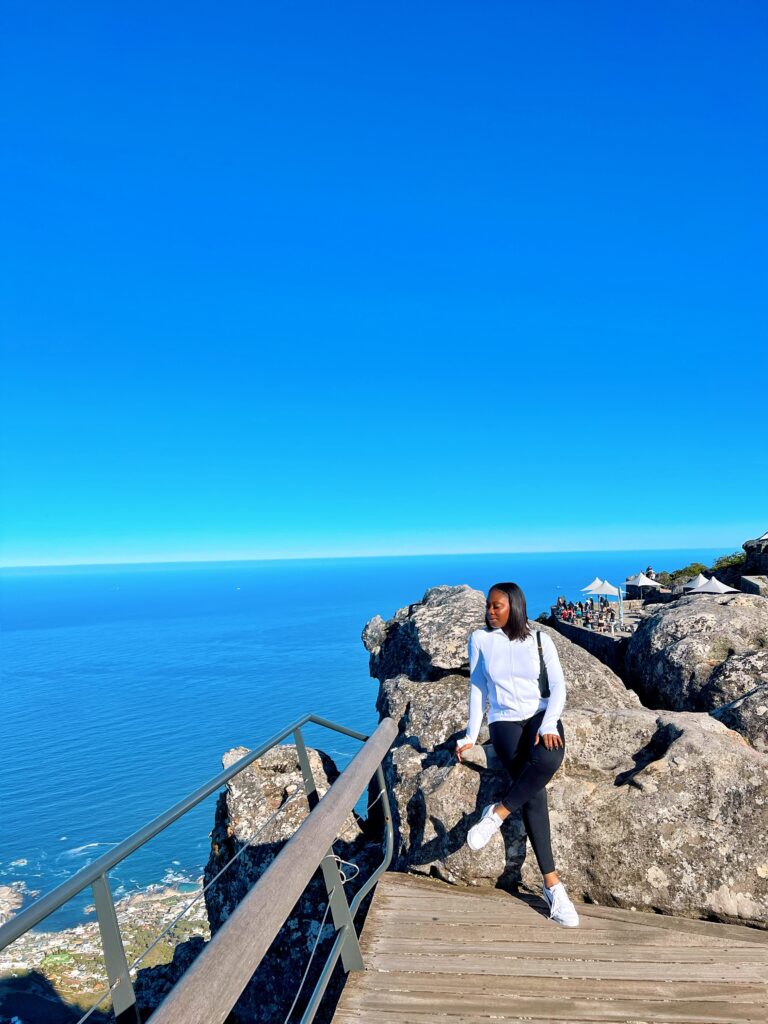 8.) Do a Cape Peninsula Tour (Cape Point and Cape of Good Hope)
One of the best ways to see the stunning natural beauty of Cape Town is by taking a Cape Peninsula tour. This full-day tour takes you along the rugged coastline of the peninsula, stopping at scenic lookout points and picturesque towns along the way. Highlights of the tour include Chapman's Peak Drive, a winding coastal road with breathtaking views, and the Cape of Good Hope, the southwesternmost point of Africa. The Cape Peninsula tour offers a perfect mix of stunning natural beauty, fascinating history, and charming coastal towns.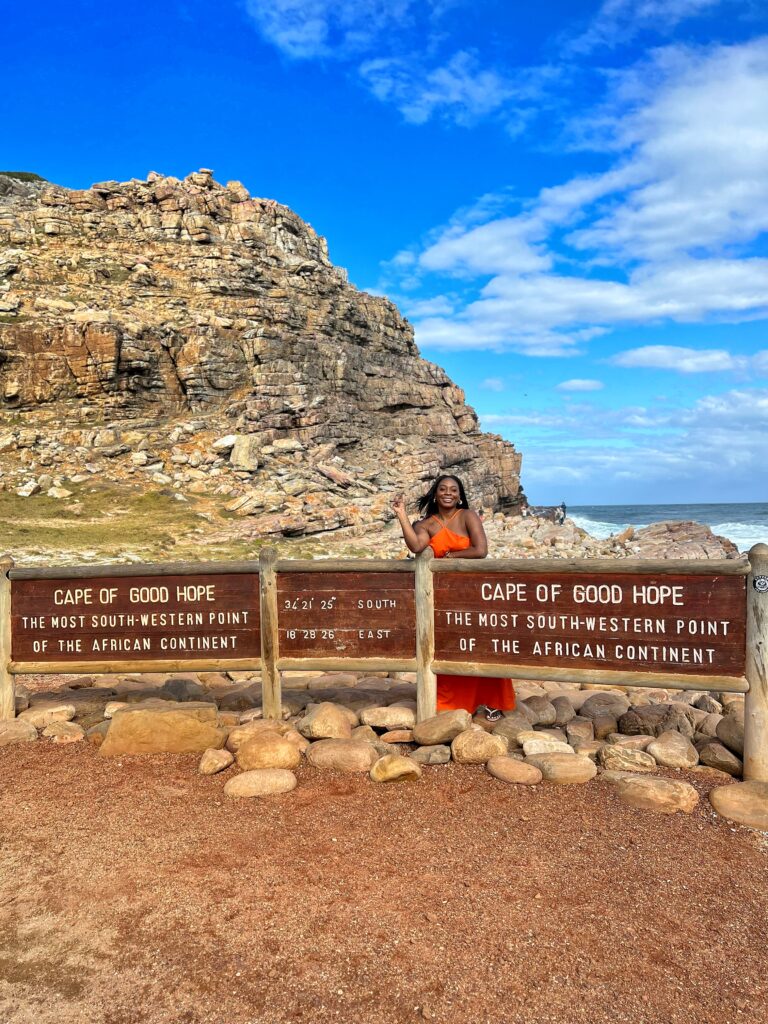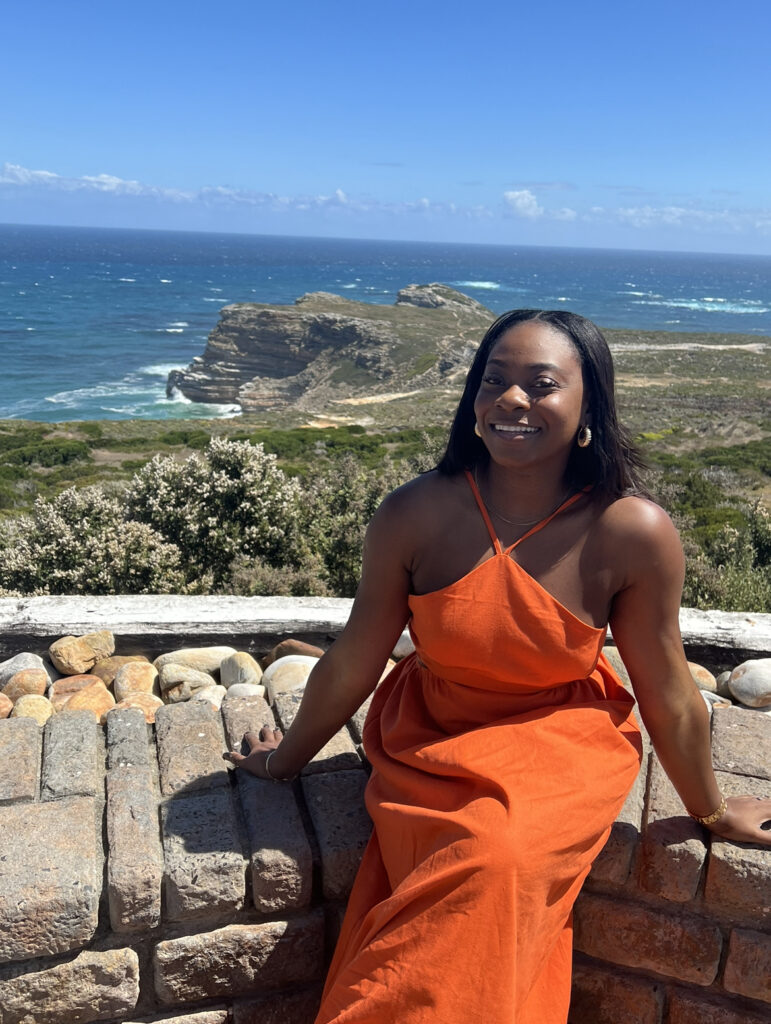 9.) Explore the colorful streets of Bo-Kaap
Exploring the colorful streets of Bo-Kaap is a vibrant and cultural experience that is not to be missed. The area is known for its bright and colorful houses, steeped in history and cultural significance. A visit to Bo-Kaap is a great way to learn about the area's history and the culture of its residents. Like I did, you can also take it a step further by doing a Cape Malay cooking class. After exploring Bo-Kaap, head over to a home in Bo-Kaap to learn how to cook Cape Malay dishes and learn more about the culture.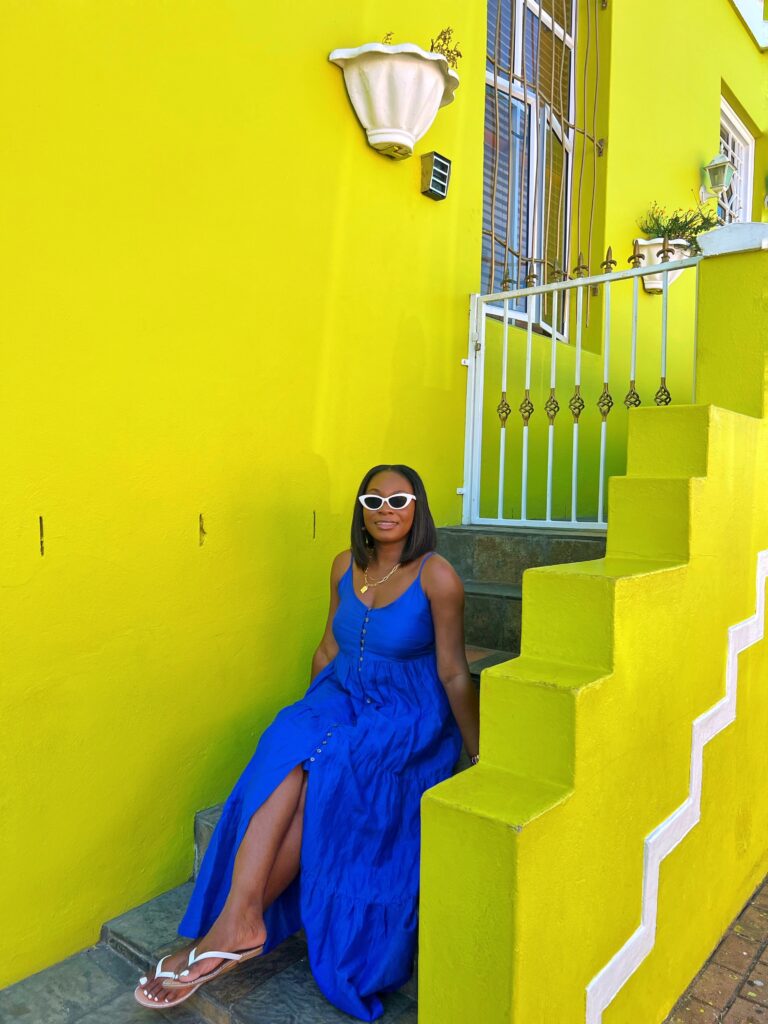 10.) Spend the day on the Llandudno Beach
Finally, spend the day on the pristine Llandudno Beach. This secluded beach is nestled between two rocky outcrops, providing a peaceful retreat from the bustling city. The crystal-clear waters and soft sand make it an ideal spot for swimming, sunbathing, and surfing. If you're lucky, you might even spot some dolphins or whales in the distance. The beach is surrounded by stunning cliffs and offers breathtaking views of the Atlantic Ocean. Don't forget to bring your sunscreen, snacks, and drinks as there are no restaurants or shops nearby. This is the perfect spot for a relaxing day in the sun.
TIP: You do not need to book anything as entry is free. I used Uber to get to Llandudno beach – it is quite far away (about 40 minutes away). One thing to note is that, if you go too early and want to return early, you may struggle to get an Uber ride back. I had to call the driver to pick me up as I waited over an hour to get an Uber back. I got there at 7am and wanted to leave at 10am.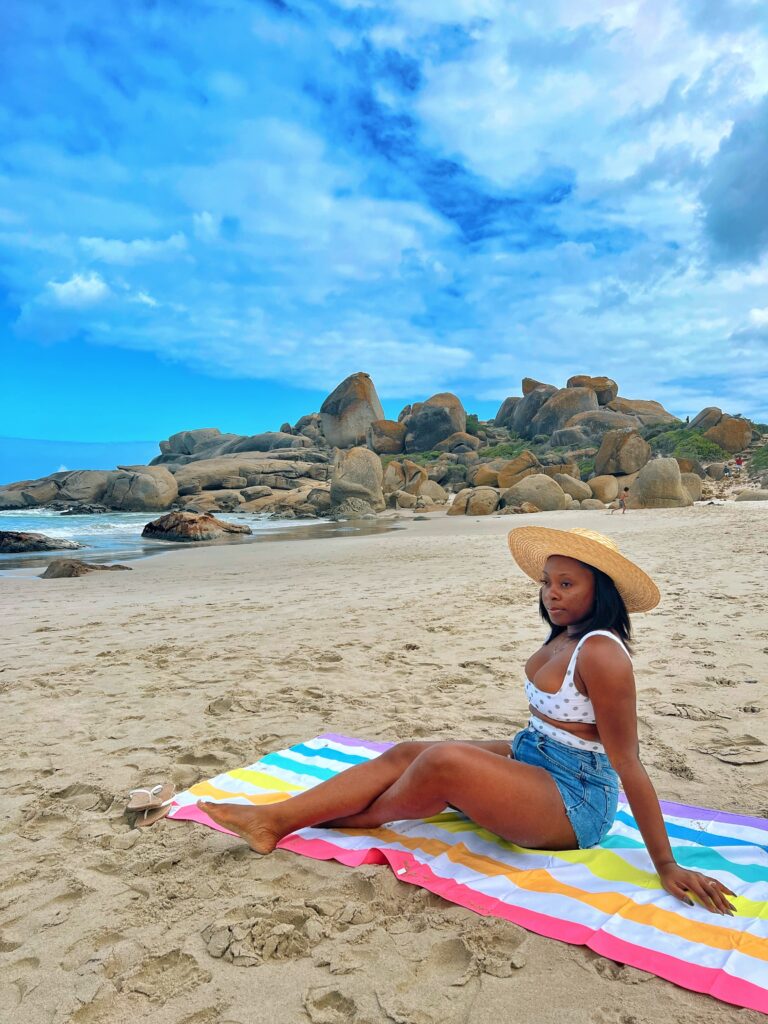 Where to eat in Cape Town. My recommended spots for food and drinks.
Cape Town's culinary scene does not disappoint, and I was truly impressed by how great the food is. I got to try a lot of restaurants during my stay there and here are some of the ones I can confidently recommend.
Gold Restaurant. This one stands out because they have a 14-course menu of African food from different African regions, they also have live music and dance performances. In a nutshell, it is a must-have food experience in Cape Town.
Sevruga Restaurant. If you're looking for a chic restaurant for brunch with views of the waterfront, this is the one. I loved having cocktails here.
Bilboa Restaurant in Camps Bay is a seafood lover's dream. I also enjoyed the stunning sunset views from there. Perfect dinner location.
Baia Seafood Restaurant. Another great seafood spot, I enjoyed the catch of the day fish served here.
Boschendal Restaurant in Stellenbosch is great too. I enjoyed the Bobotie (traditional South African dish) they served there.
My favorite drinks and party place was at Ayepyep. They had some really good vibes and a mix of afrobeat, RnB and amapiano. Perfect for a night out in town.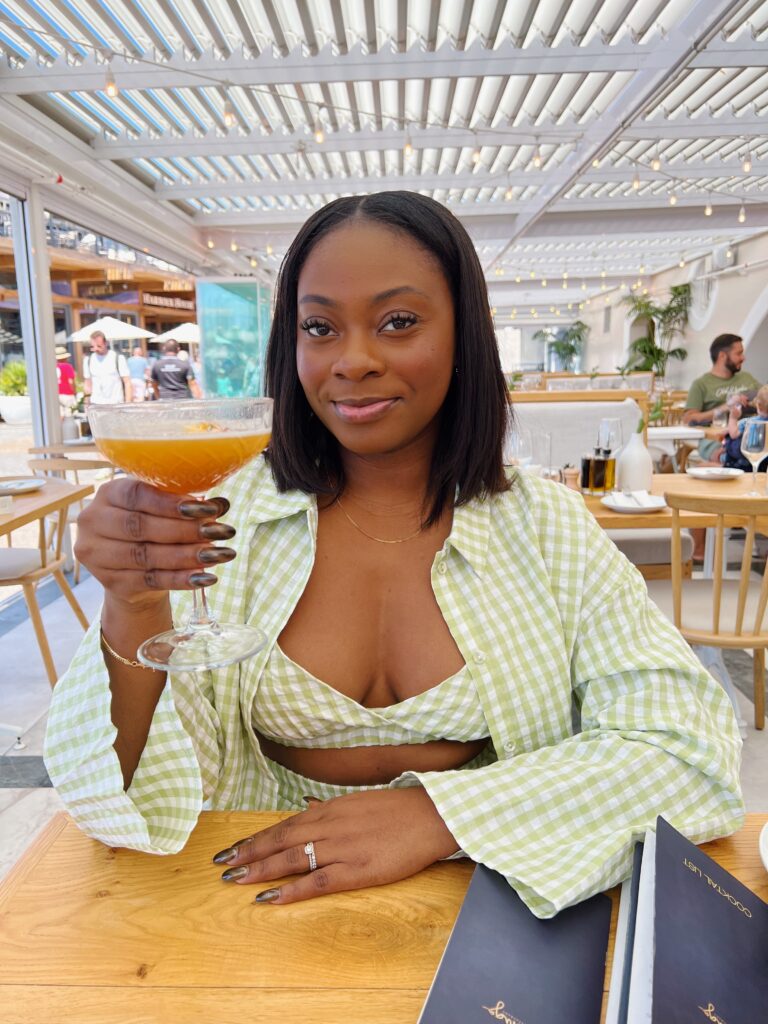 My 7-day Cape Town Itinerary
Believe it or not when I say I got to do all of these amazing things in the space of 7 days in Cape Town. If you don't have too much time but still want to enjoy everything Cape Town has to offer, here's my itinerary that you can definitely steal and use for your trip.
Day one – Arrivals, settling in, dinner at the hotel's restaurant.
Day two – Morning: Helicopter tour of the city. Lunch at Servega Restaurant. Afternoon: Boulder's Beach to see the penguins.
Day three – Full day tour of the Cape Peninsula (Chapman's Peak Drive, Cape Point, Cape of Good Hope).
Day four – A day trip to Stellenbosch for a wine tasting experience.
Day five – Morning: Paragliding at Signal Hill. Late Afternoon: A tour of Bo-Kaap and Cooking class in Bo-Kaap.
Day six – Full day Safari day at the Aquila Game Reserve.
Day seven – Half day tour of Robben Island.
Day eight – Departures (this day does not count in the itinerary).
Moving around in Cape Town
Using Uber is a convenient and affordable way to get around Cape Town. The service is widely available and the fares are generally cheaper than taking a taxi. Additionally, since payment is done through the app, there is no need to worry about carrying cash or negotiating fares. However, if you prefer to have more control over your transportation, renting a car is also a viable option. Keep in mind that driving in Cape Town can be challenging, with narrow and winding roads in some areas, so it's important to be cautious and familiarize yourself with the local traffic rules. Alternatively, you can also use the city's MyCiti Bus service, which operates on a reliable schedule and covers many popular areas in the city.
You can book your Cape Town airport transfer here. I used this company and loved their service. They can also take you around if you want a private driver for your trip.
What to pack to Cape Town
What you pack for Cape Town largely depends on when you visit. I'll say though, that Cape Town weather can be unpredictable, even in the summer months. While the summer features lots of sunshine, there can be moments of wind, cloud and rain so one thing you definitely want to pack is a light jacket. Here are some other things to take with you.
Clothing: Pack light, comfortable clothing, such as cotton t-shirts, shorts, and dresses. Also, include a lightweight jacket or sweater for cooler evenings.
Footwear: Bring comfortable, closed-toe shoes for walking, hiking and exploring, and a pair of sandals for the beach.
Sun protection: Pack a hat, sunglasses, and sunblock to protect yourself from the sun. The sun in Cape Town can be intense.
Toiletries: Basic toiletries such as toothbrush, toothpaste, shampoo, and conditioner.
Medications: Pack any prescription medications you may need, and consider bringing over-the-counter remedies for common ailments.
Cash and cards: Bring a combination of cash and credit/debit cards. Cards are widely accepted but cash may be easier to spend.
Travel documents: Make sure you have a passport, visas (if required), travel insurance, and copies of important documents.
Camera: Don't forget a camera or smartphone to capture memories.
Swimwear: Bring swimwear if you plan to visit the beach or pool.
Safety in Cape Town
Is Cape Town safe? This is a question many people ask and it is something I also wondered about. I personally had no issues in Cape Town and will share some tips below on how I stayed safe, but did want to say that safety is a global concern and no matter where you travel to, you should always be cautious. Whether it is in the US or in South Africa. Here are some safety precautions I took.
I traveled with my travel group and company Gojolley and there is safety in numbers. Traveling in a group helped us all stay safe and confident. If you can't join a group tour, you can still go yourself but I recommend having a local guide or driver to take you around.
Be aware of your surroundings: Like everywhere you travel to, stay alert and be aware of your surroundings. Avoid walking alone at night, avoid isolated areas, and don't carry large amounts of cash or valuables.
Don't use your phone while walking on the street. Your phone can be snatched out of your hands. This also applies to being in traffic, winding down the glass and using your phone. Keep your phone in a bag under your seat. Be smart.
Watch your belongings: Keep an eye on your belongings, especially in busy tourist areas where pickpocketing can be a problem. Consider using a money belt or other secure storage option for valuables.
Never take all your cash or valuables with you. Only take what you need for the day.
Try to get a hotel with a room safe so you can put your valuables like passport, jewelry, cash and more in there.
Use caution when taking taxis: Official taxis are the safest way to get around, but make sure the taxi is registered and the driver has proper identification. It's best to ask your hotel or restaurant to call a taxi for you or just use Uber.
Get travel insurance: Make sure you have comprehensive travel insurance that covers medical expenses and emergency evacuation. You can get one here.
Cape Town is very touristy location and you will often see a lot of people in the day time. There's not much to worry about as long as you take the regular safety precautions, stay alert and avoid dark alleys. Always share your location with a trusted family or friend.
Conclusion
Cape Town is a must-visit destination and there's something for everyone. I hope this travel guide to Cape Town was helpful in planning your future trip. With its rich history, breathtaking views, vibrant culture, delicious food, and stunning beaches, Cape Town is a destination that is sure to leave you coming back for more. Don't forget to comment below with your thoughts and let me know if you have any further questions. I wish you a fantastic trip to Cape Town, South Africa!
Love this guide? Browse more travel guides on my blog here.