A Guide to Planning A Girlfriends' Getaway to Las Vegas!
Viva Las Vegas! Vegas is always, always a good idea. In my opinion, it is the ultimate girlfriend getaway so if you are looking for a place to have a great time with your ladies, this is the spot.
ABOUT LAS VEGAS
Once an abandoned desert in the 20th century, Las Vegas transformed drastically into a major metropolitan city in the United States. Vegas is a buzzing city with bright city lights and some of the world's best casinos. When Vegas was called the "Entertainment Capital of the World", nobody lied.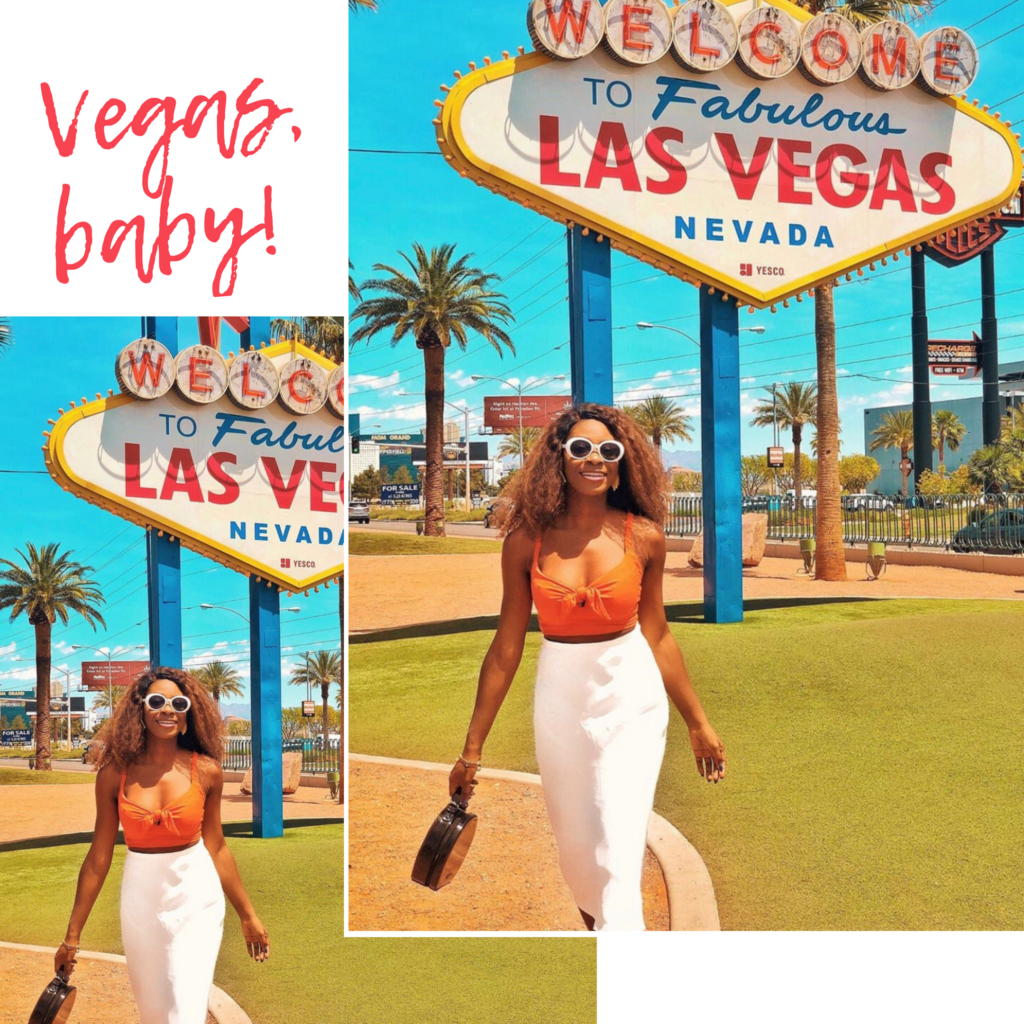 QUESTIONS TO ASK BEFORE THE TRIP
Before heading out anywhere with friends, it is important to ask the right questions to make sure everyone is on the same page. But this is especially true for Las Vegas. How much you enjoy Vegas hinges so much on the people you go with and what their preferences are.
Questions include:
How much are we willing to spend on the trip?
Are we going for fine-dining, budget dining or a mix of both?
How much are we willing to splurge on a hotel? Are we staying on the Vegas Strip or outside?
How much partying are we doing? Where do we draw the line?
WHAT TO WEAR IN VEGAS
The weather in Vegas is mostly mild all year round and it gets really sunny in the Summer time of course. Bring your bright and breezy clothes for the day time, bikini pieces, fun sunglasses & a beach bag (technically no beaches but something to carry your bikini, flats and sunscreen in, ya dig?)
For the night time, come with your club/lounge fits. Dark, muted dresses with a bold lip look better at night are my personal favorites but you can throw on a fierce red and minimal make-up. Your call.
Vegas is a fun place to be, let your outfits reflect that.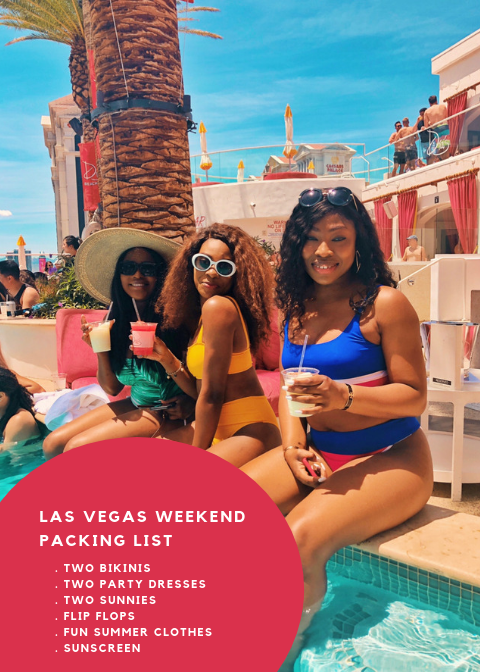 WHERE TO STAY IN VEGAS
Vegas is pretty small and no where is more than 20 minutes away. Most places are within a 10-minute driving distance so it wouldn't matter so much where you choose to stay in terms of accessibility.
You can either stay on the Vegas Strip or outside the Vegas strip. If you want to be at the heart of all the action, staying on the Vegas Strip is your best bet. Of course, this will be a more expensive option. We stayed at the Berkeley Las Vegas resort which just outside the strip and an affordable, convenient option. After all the buzz in the day in town, a quiet night outside of the strip was much appreciated.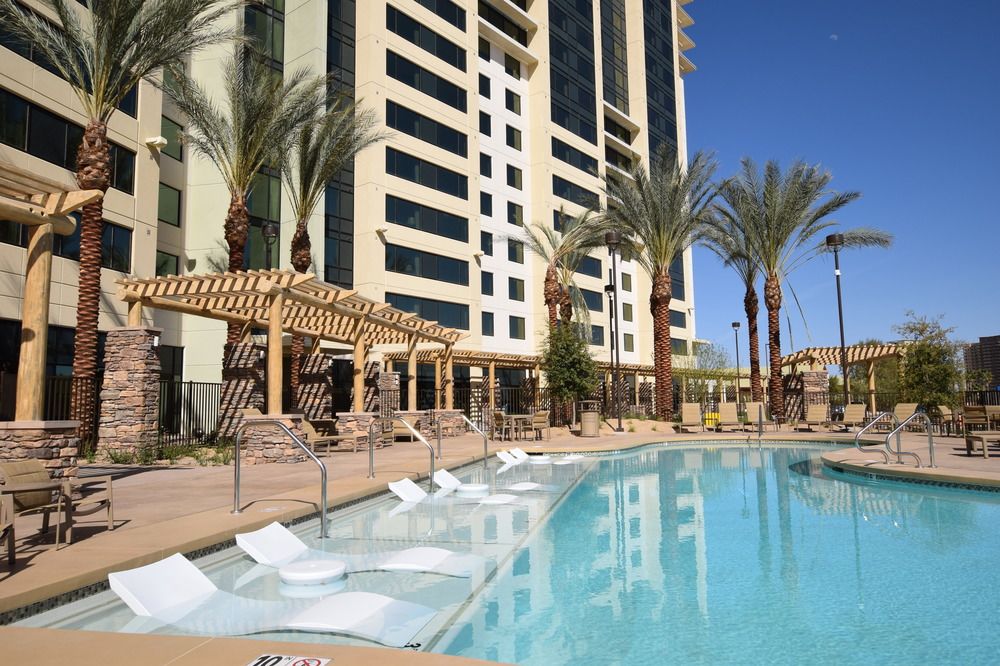 BUDGETING IN VEGAS – HOW MUCH DO YOU NEED?
Let's talk money because, muy importante.
Vegas has a reputation for being an expensive city but I found it quite reasonably priced. Of course, your spendings will depend on what your budget is and how much you are willing to doll out. My budget was mid-range so not crazy-baller-rich-wives-of-atlanta type budget and not broke-college-student-life budget either but somewhere in the middle. I believe Vegas can fit whatever end of the spectrum you find yourself. You'll just have to cut down on cocktails or drinks or food and transportation and avoid the Casinos at all costs.
I'll say for a weekend trip, $500 is a reasonable spending budget to have a swell time. Of course, you can go higher or lower. There IS wiggle room.
WHAT TO DO IN VEGAS
Your options in Vegas are typically as follows: Beach party, clubs, casinos, eat, sleep, repeat. That's really why you came here – to have a bloody good time with friends. However, you must pick wisely as there are so many options and it can get overwhelming.
Party, clubs, casinos, eat, sleep, repeat
My friends and I did our fair share of those but infused it with some adventure and sightseeing. Here's what we did.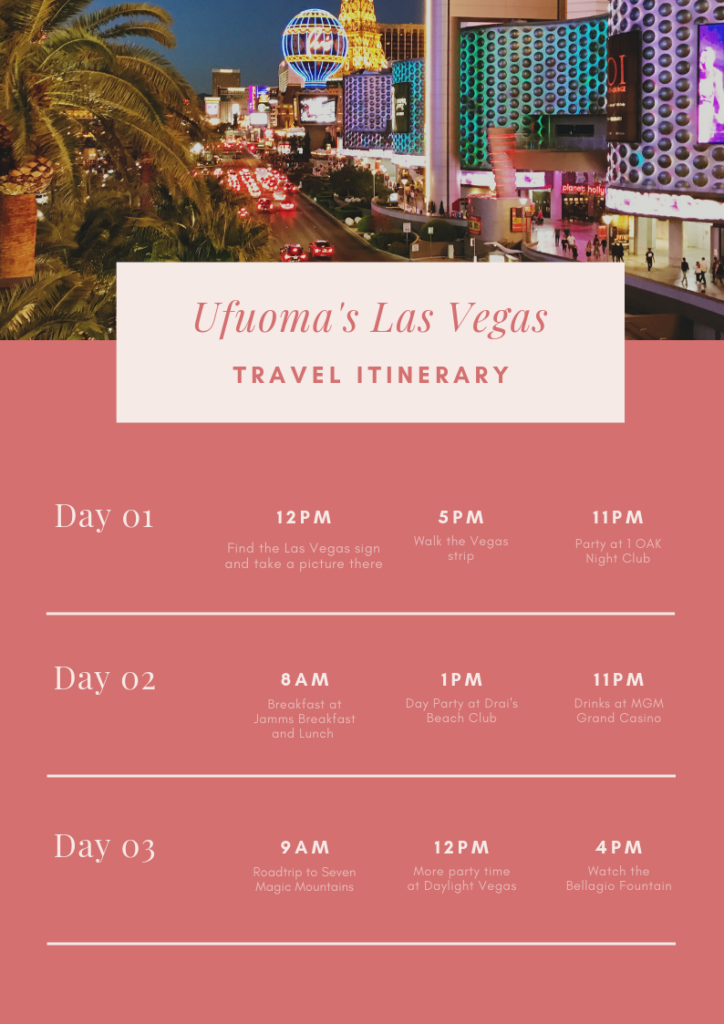 PARTY VEGAS
There are a lot of beach clubs and day parties scattered around town so reviews on google with a dash of gut feeling helped us narrow it down to the best two which we visited on separate days.
DRAI'S BEACH CLUB – A RELAXED BEACH CLUB SETTING WITH LOTS OF BEACH BALLS AND ENTHUSIASTIC PARTIERS.
Where the party at? Vegas! Yes, Vegas!
This beach club was my favorite – the music (mostly contemporary and pop) was good and the people were really chill. There were actually people dancing in the pool and not just hanging around. Tickets online were about $25 for women but they stopped selling tickets on the day of our visit which turned out to be a blessing in disguise as tickets at the gate were $20.
They had a locker where you could store your stuff so you just took yourself to the pool. The locker cost $20. They also had drinks too – how much you spend is entirely up to you.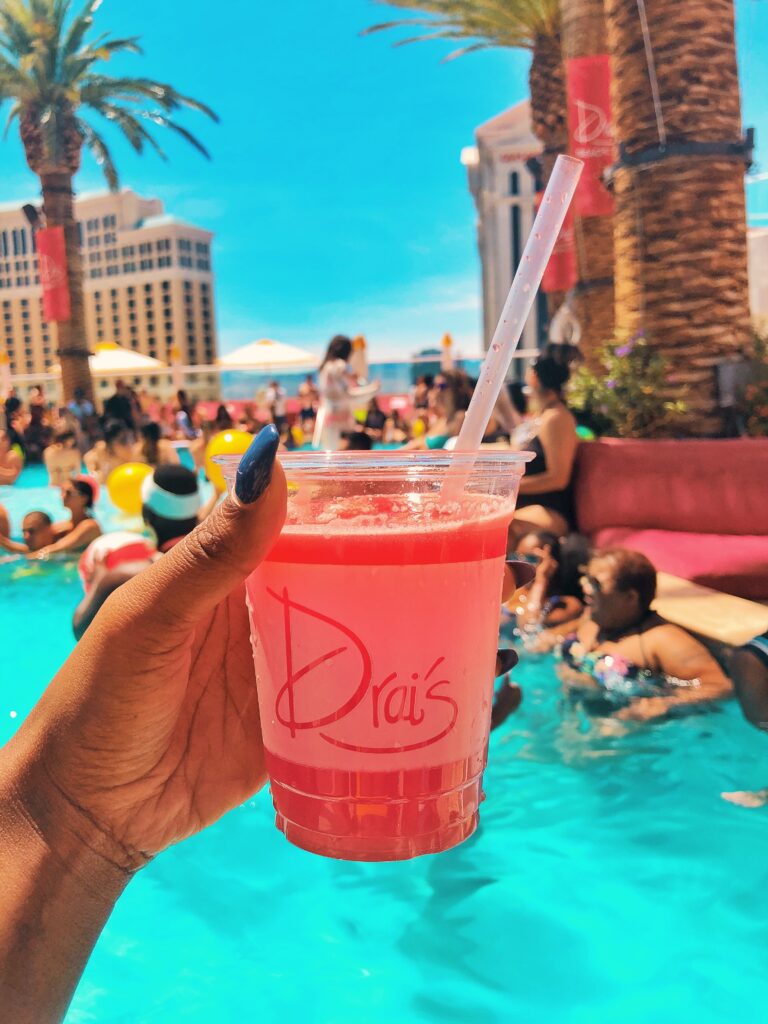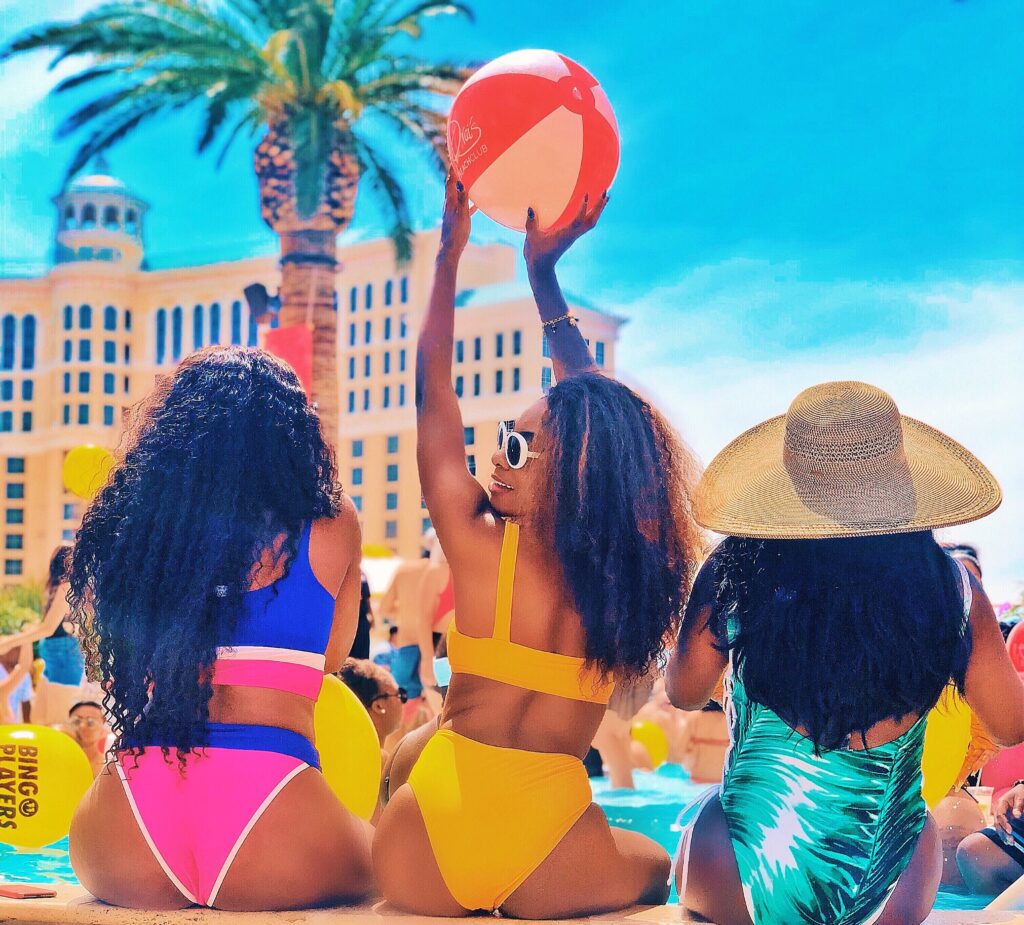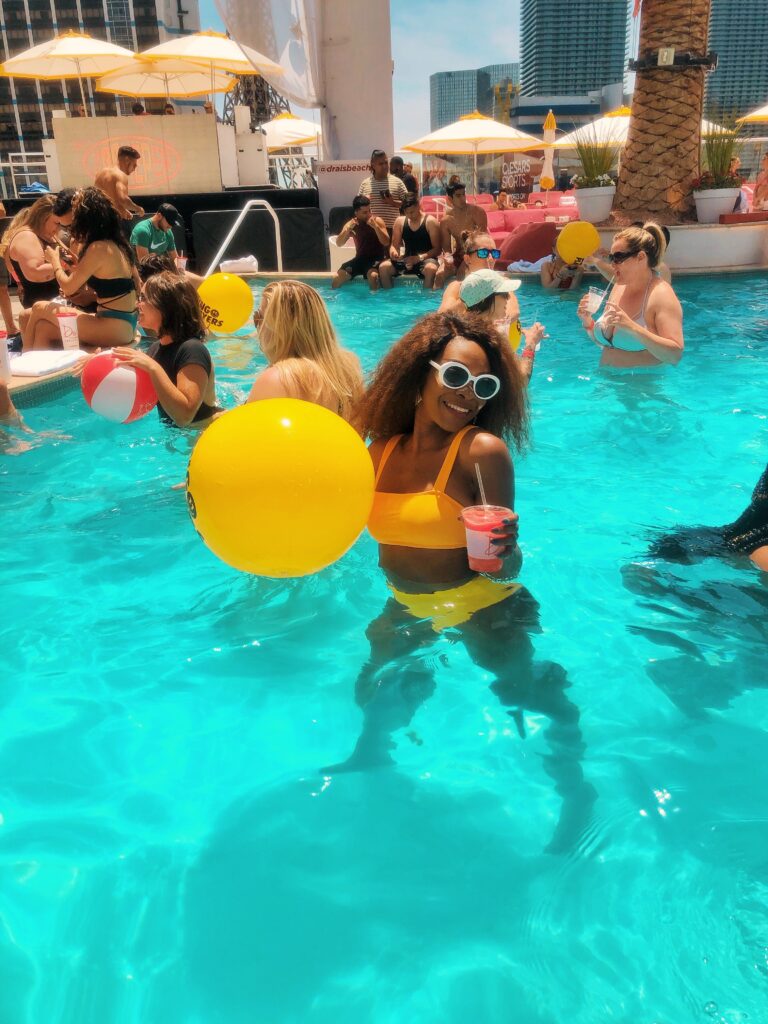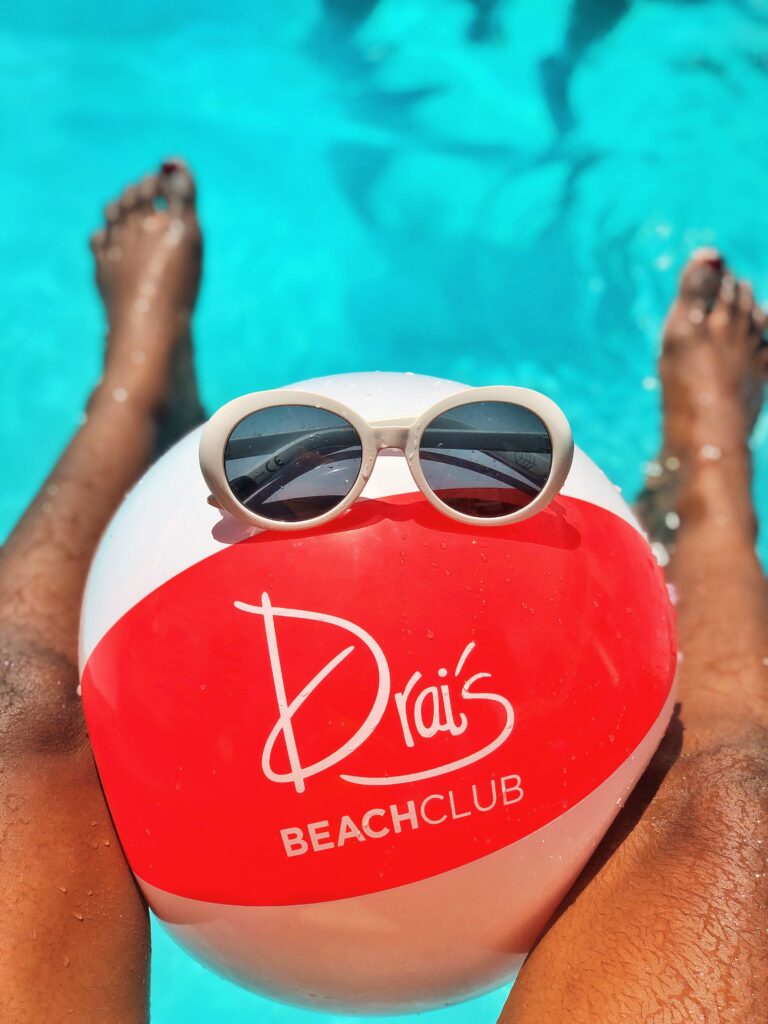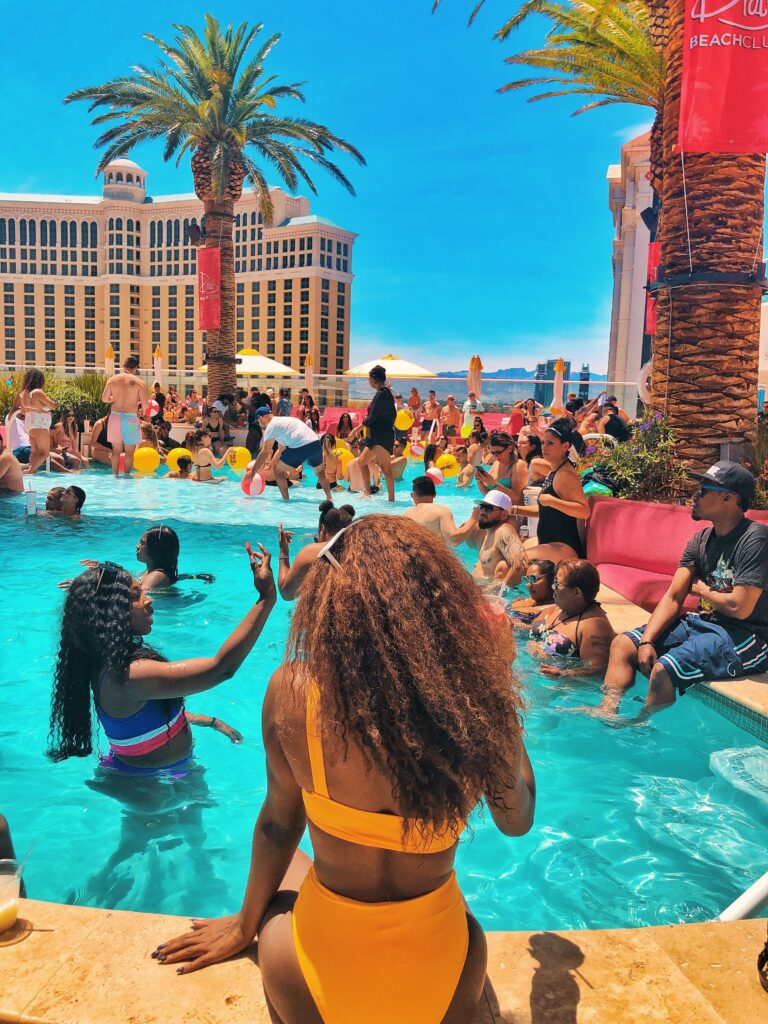 This was another favorite. The music was mostly a mix of hip-hop, rap, trap music (eeek!) and afrobeats which I quite liked. I'll say this is the most Vegas you can get in one shot. The people were a bit mellow for how great the sound was but it wasn't a bad day party either.
While there were lockers, we didn't need any as there was enough space to leave our stuff. This beach club was quite massive compared to Drai's. Entry fee: $25 for women.
A relaxed atmosphere with a stellar DJ? Daylight Vegas it is!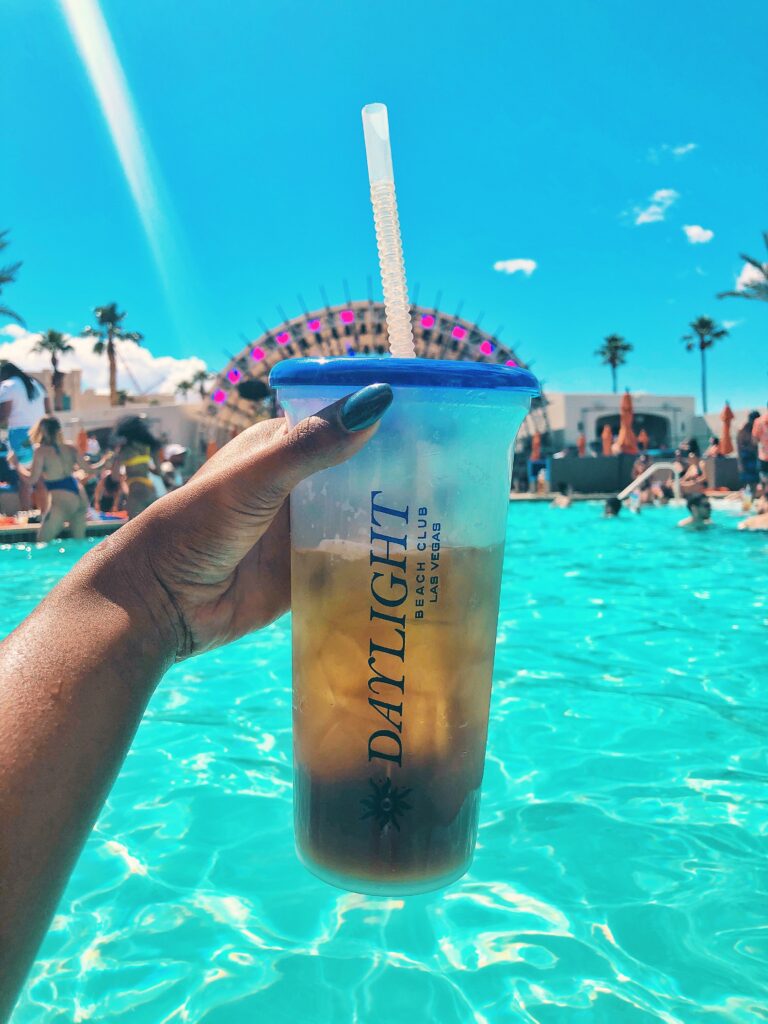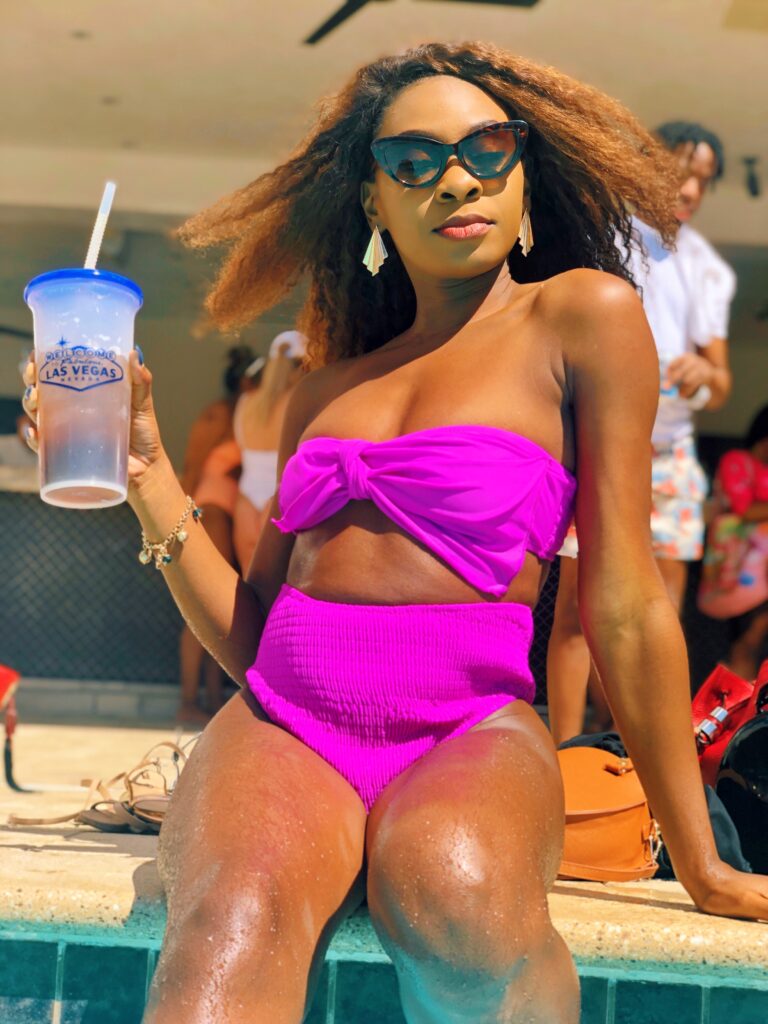 SIGHTSEEING VEGAS
Amidst all the parties in Vegas, don't forget to sneak in a little sightseeing into your schedule. A great way to do so is to walk the Vegas strip at night and make sure to catch the Bellagio fountain as it is a great little icing on the cake. Vegas has a touch of European-ness to it with some replicas of the Eiffel Tower taking centre stage downtown. Take a photo or two, grab icecream from the sideways and just take in the sights of Vegas.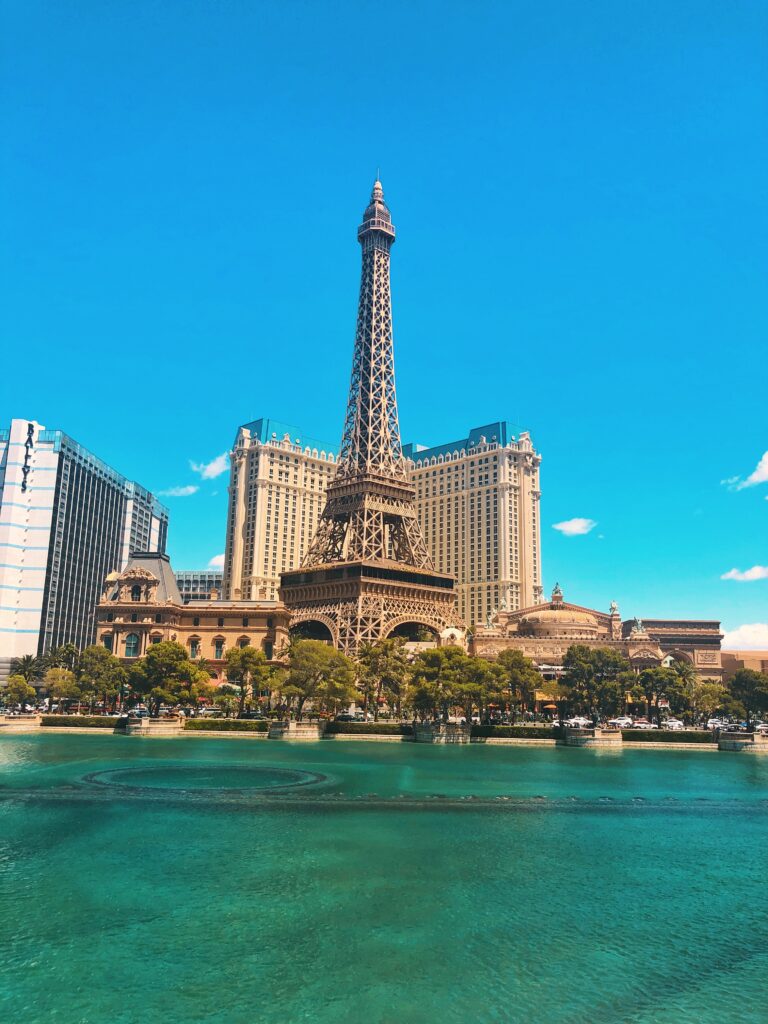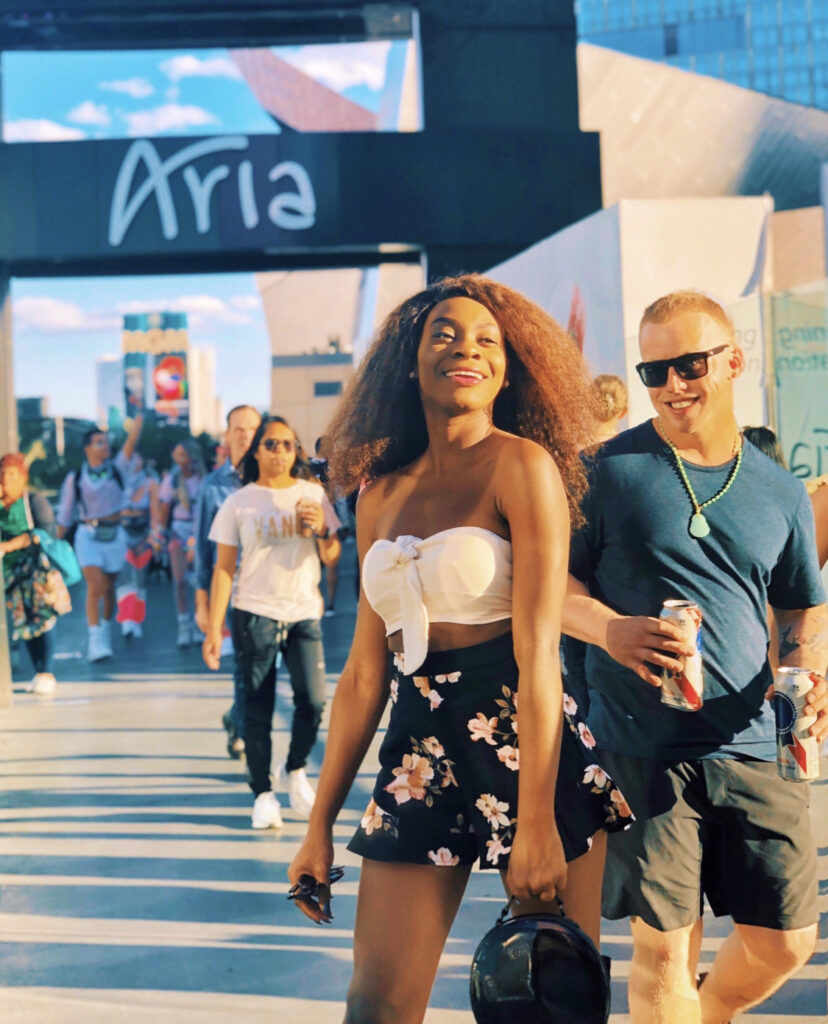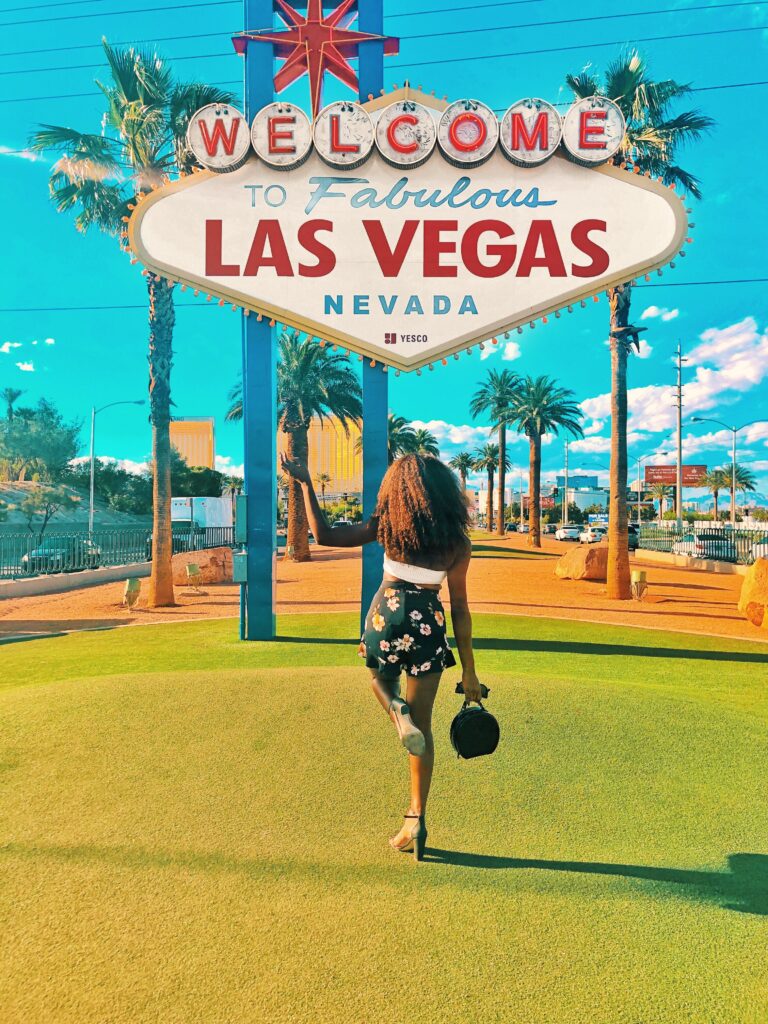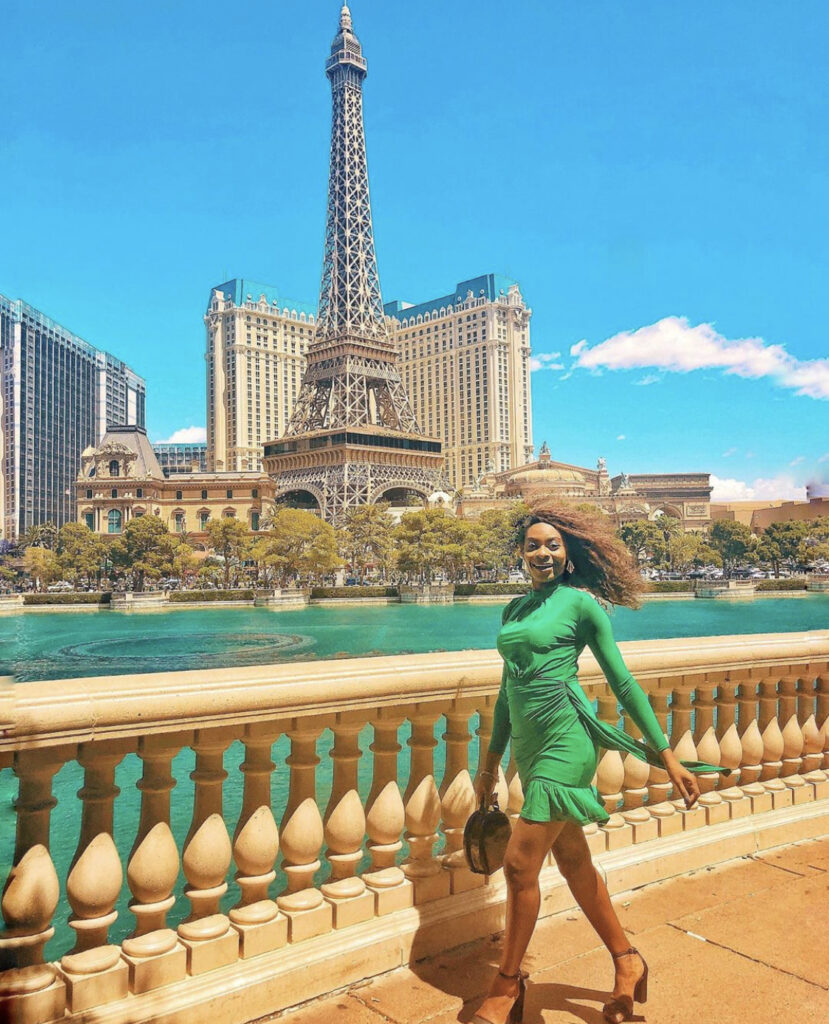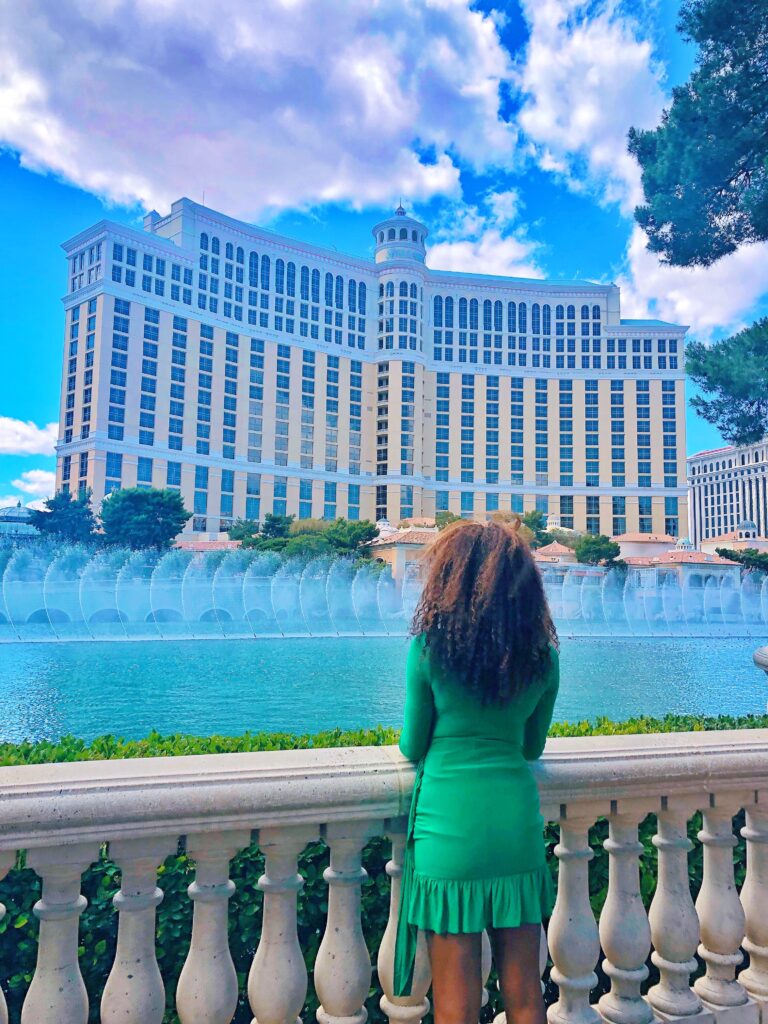 ADVENTURE VEGAS
Is there any room for adventure in Vegas? Absolute YES. We drove south of Las Vegas to the very beautiful Seven Magic Mountain which has been on my list since forever. It was a dream come through seeing the beautiful art installation and the burst of color. It is such a great addition to any trip to Vegas so bring on your girls to this cool spot.
Cost in total was about $45 by Uber both ways which isn't too bad for what you get. There's not much to do other than gaze at the art installation and take some cool photos (bring you're A game, okur!) but it will be well worth the trip.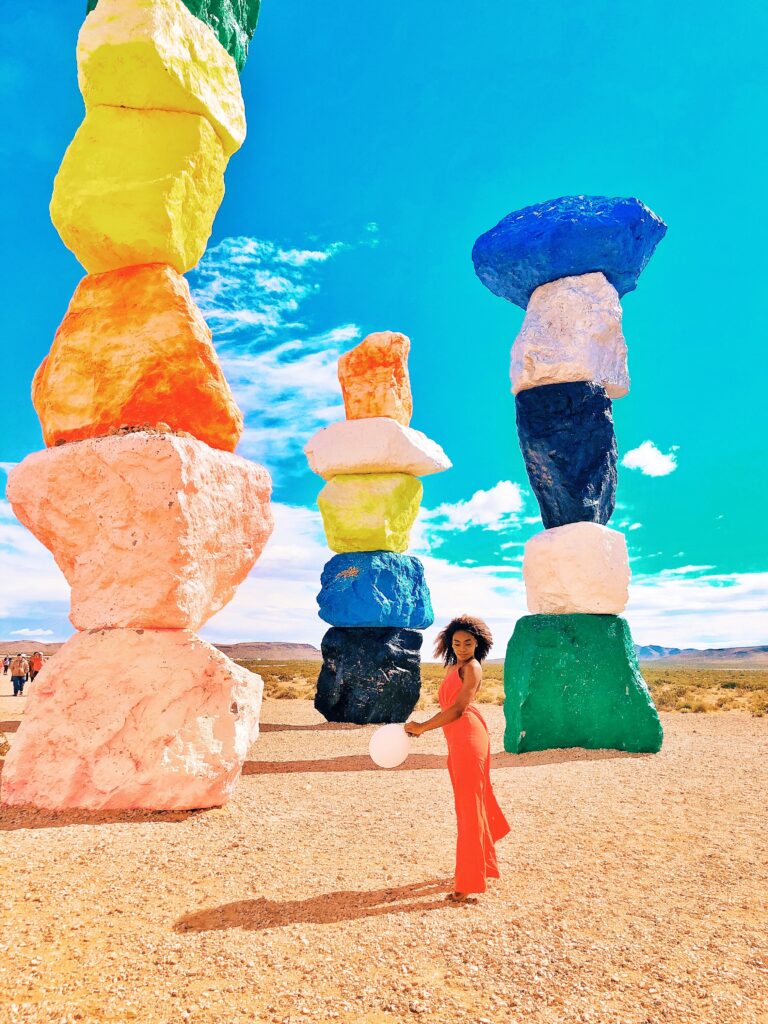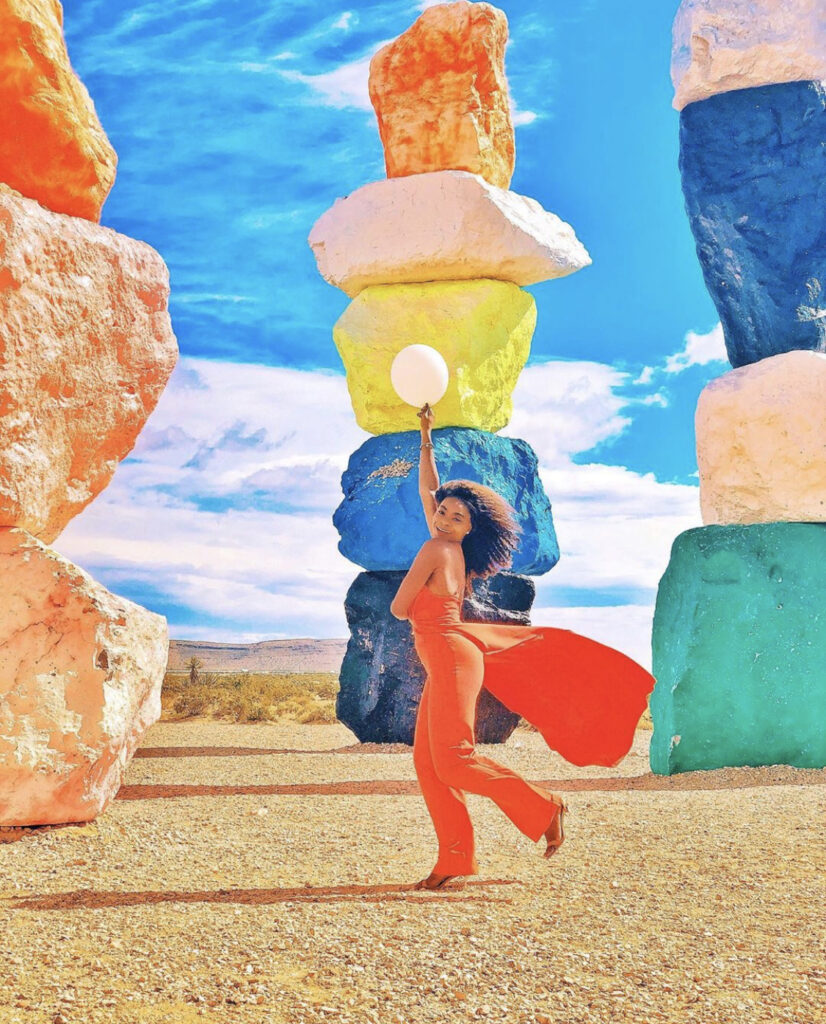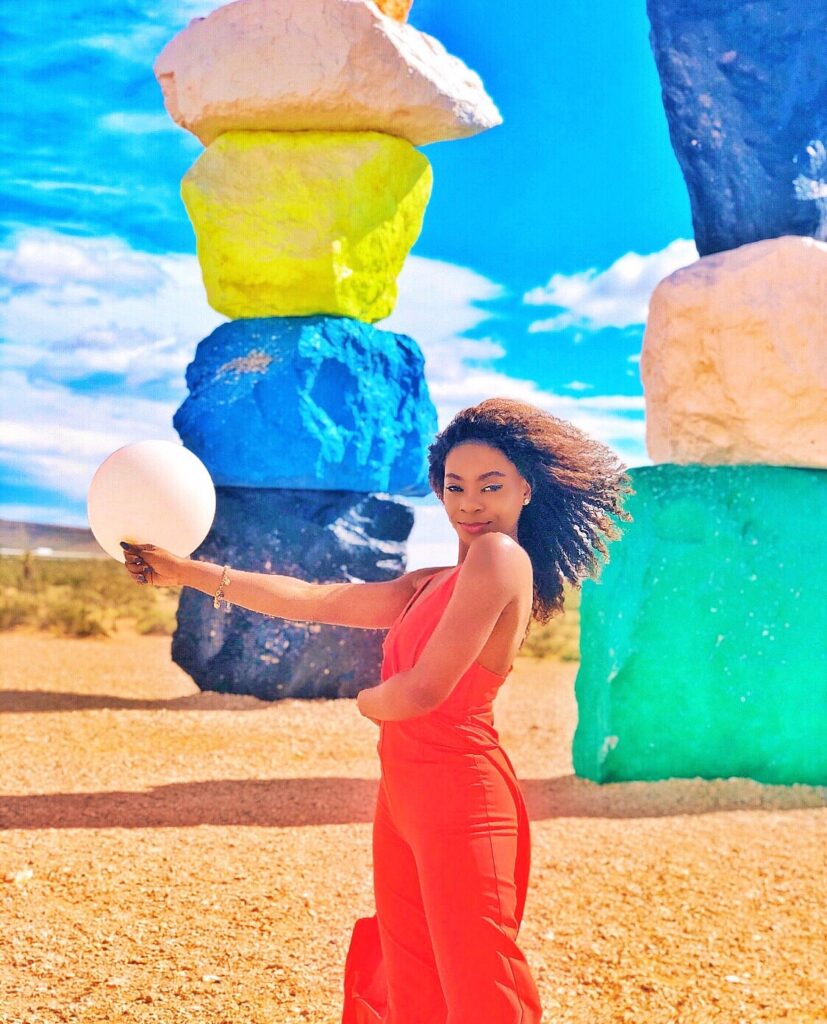 EAT AND GAMBLE
By way of gambling and casinos, my friends and I did not indulge, not judging, maybe just not our thing. But if it is indeed your thing, definitely head on over to MGM Vegas for the time of your life, I hear.
There are a ton of eateries in Vegas to match every budget. We found some really cool spots on the Vegas strip for quick bites and we had breakfasts daily at Sundaze courtesy of our resort's free breakfast.
CONCLUSION
Someone said Vegas was a place you had to go at least once in your lifetime and I absolutely agree. If you're looking for a great destination for a girls (or boys') getaway, Vegas is the place. I hope you found this Vegas guide helpful. There's a lot to do in Vegas but this was what I did and it was one of the most memorable experiences, ever!
Subscribe to this blog to follow my travel journey and great travel tips straight into your inbox. Follow me on Instagram and Twitter – cool things happen there!
Until next time,
Thank you for reading.