One Fine Afternoon in Martha Brae, Jamaica
Our first adventure in Jamaica was a trip to Martha Brae River. The night before, we made plans to get up bright and early the next morning to kick-start our adventures but there was no cheating nature, as we were too exhausted from catching flights the previous day. You are reading: One fine day in Martha Brae, Jamaica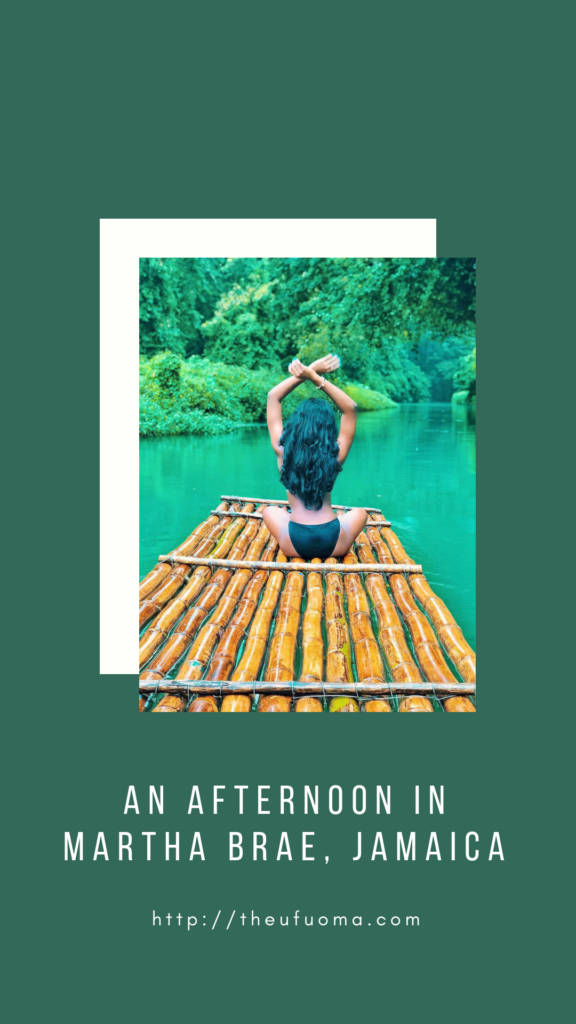 After a lot of feet-dragging, coffee top-ups and some necessary pep-talk, the group was finally ready for some Jamaican adventure. We hopped into our shuttle bus with Mrs. Jennifer behind the steering wheel and made our way down to Trelawny in Northern Jamaica, where the Martha Brae river was located.
We were greeted with complimentary fruit punches, a Jamaican's way of saying, "welcome". It was a humid day and the drinks came in very handy.
That afternoon, Martha Brae was devoid of tourists, an unusual occurrence for a place as beautiful, serene and popular as it was. Not complaining, we split ourselves into equal groups of two's and paid the $35 fee for a 2-person raft.
I was okay to watch the rest of the group go before me and wiggle their way into the bamboo rafts; partly because I felt somewhat responsible for their safety but mostly because I had sighted an interesting looking man who looked very Jamaican and also had his dreads tucked into his hat, with some parts of it still hanging loose. I wanted so badly to land him as a tour guide, or at least get to know his name – there was something about his aura that intrigued me.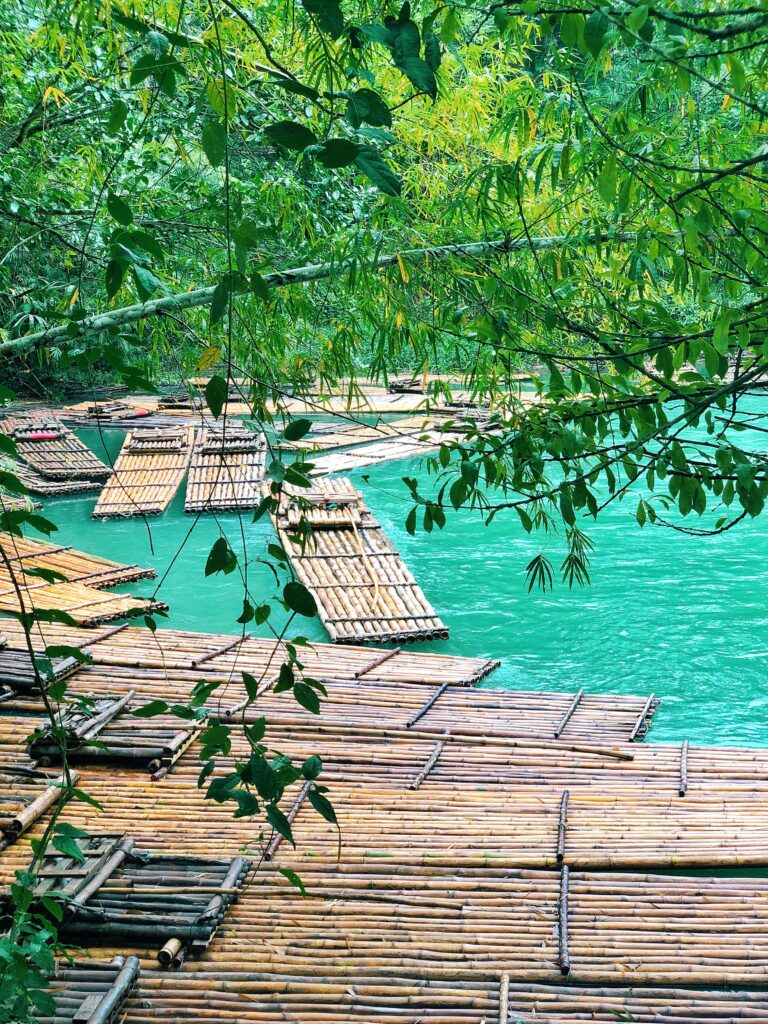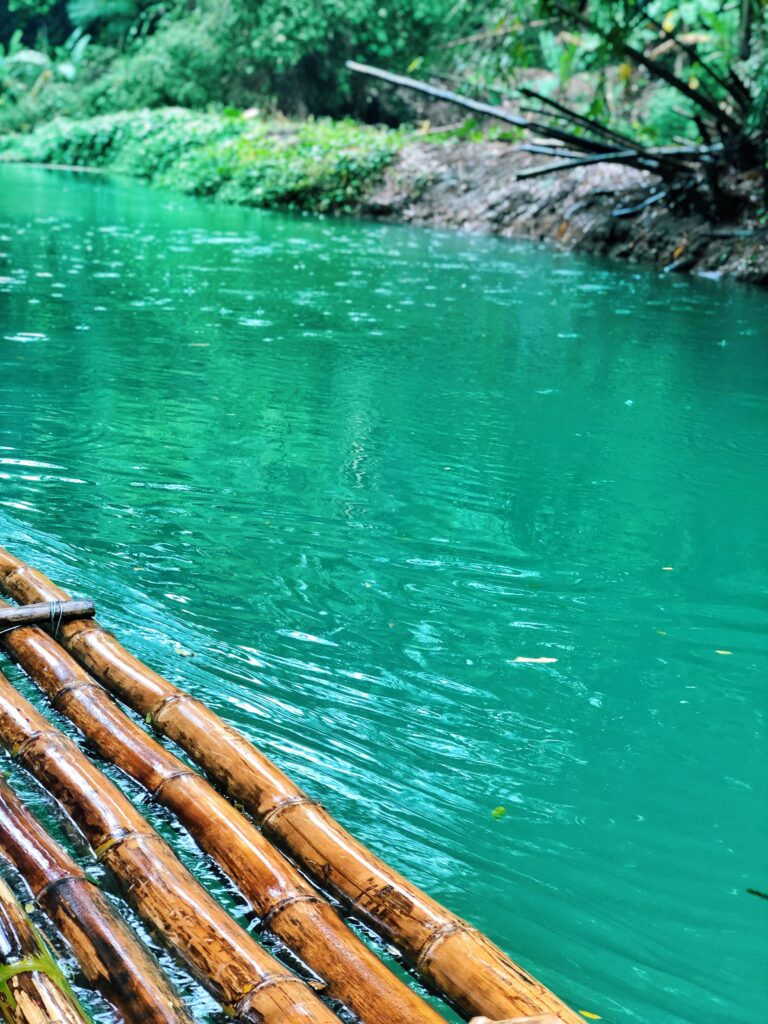 As luck will have it, Derick pulled over in his bamboo raft and stick and announced that he was going to be our guide for the day. I did a mental dance and got into the raft with my partner, Alero.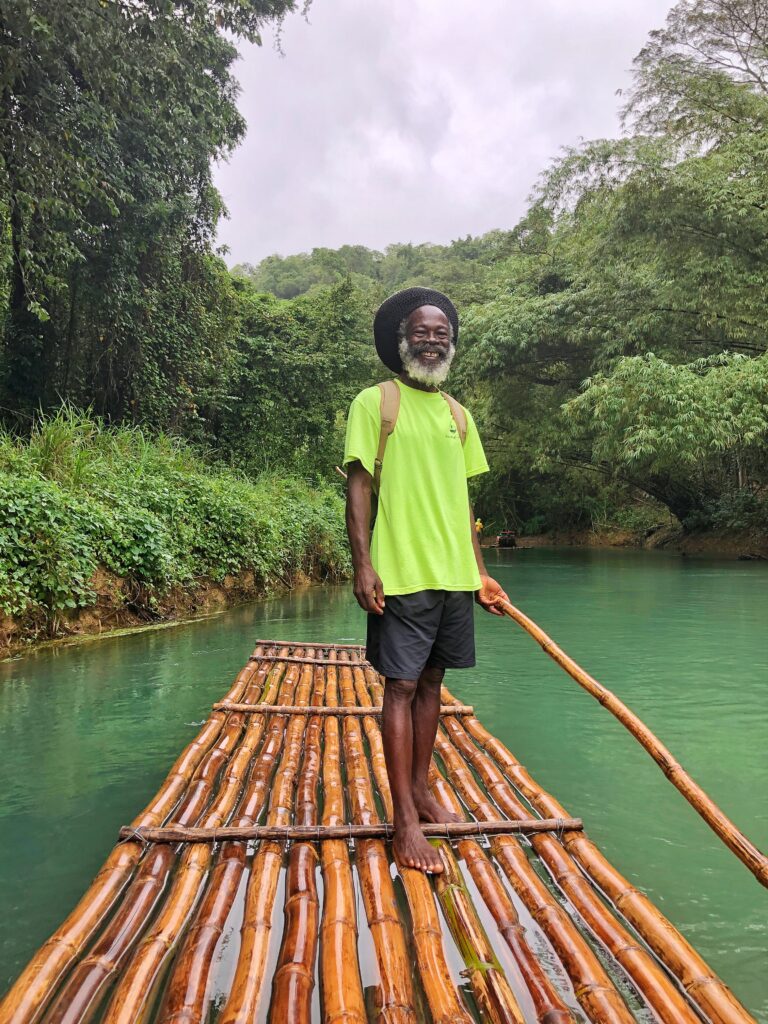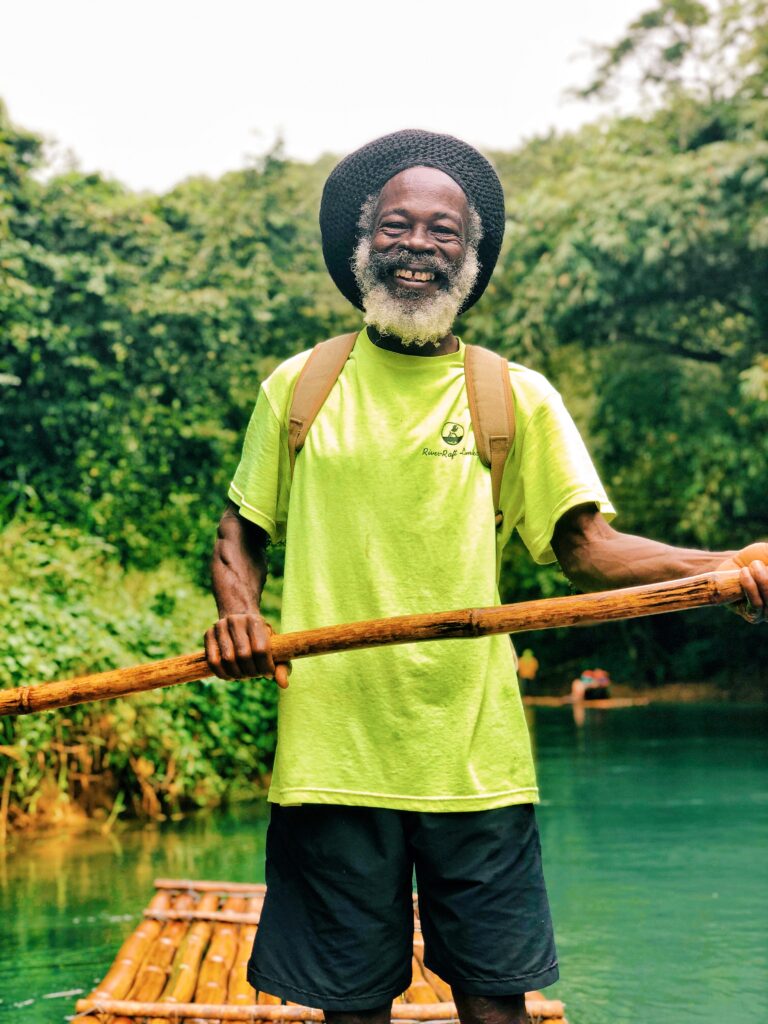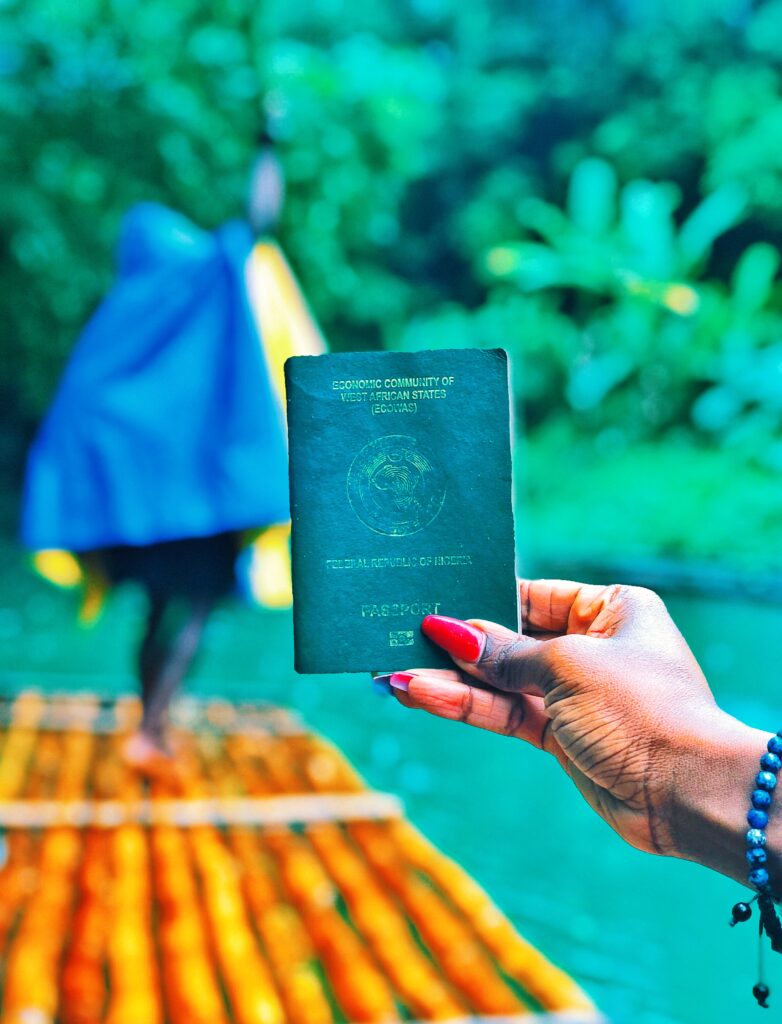 Derick did an amazing job and added extra pizazz to the experience. From him, I learned about how Jamaicans were affected by slavery and their yearnings to go back to their African roots. I also learned about the Rastafarian culture, being one himself, he gave a moving recount of everything they had been through. Derick was passionate and you could feel that in the way he told his stories and how his eyes lit up. He had the brightest and most calming smile. He laughed out loud and sometimes snorted in the process. He was kind, patient and cheerful and was okay to move slowly through the rivers of Martha Brae.
When a fellow rafter mentioned how slow we were going, Derick replied saying, "the race is not to the swift". And whether that be while on a bamboo raft or navigating through life in general, his statement holds true.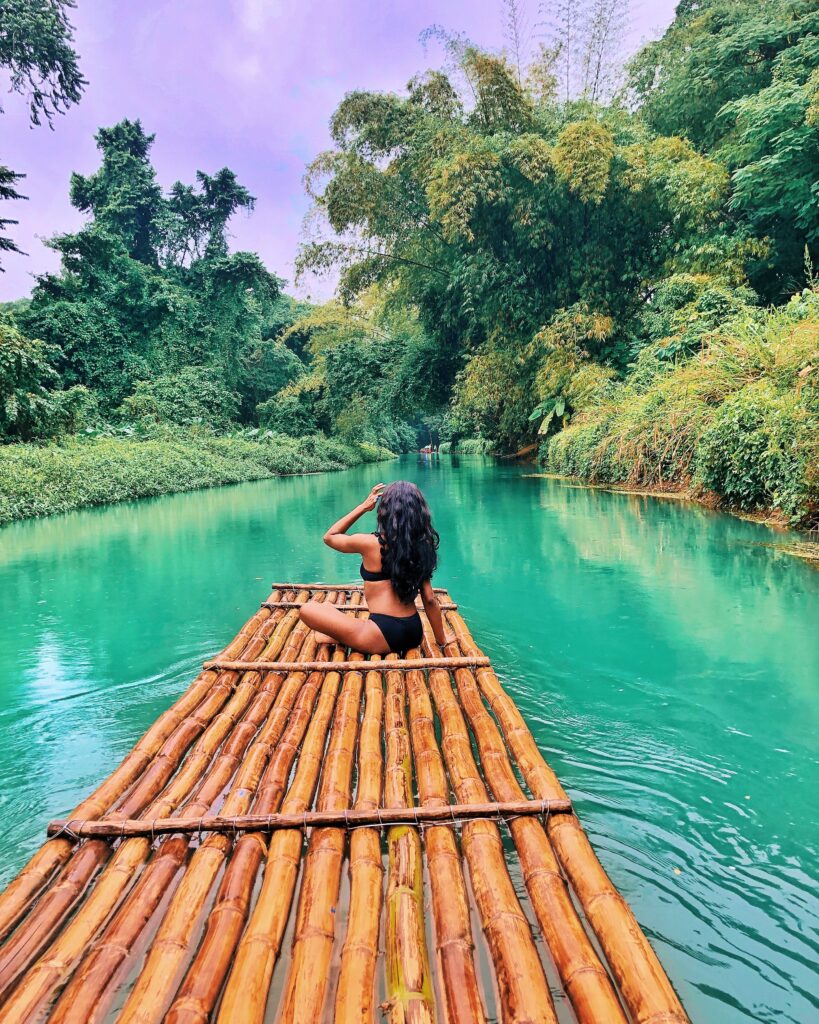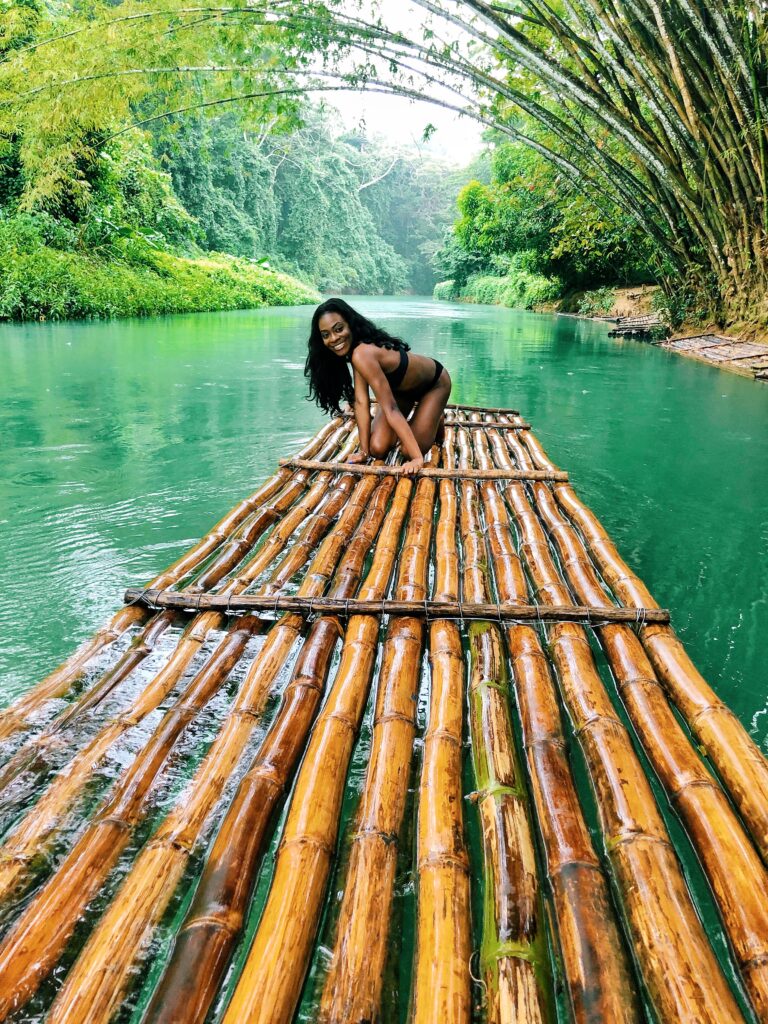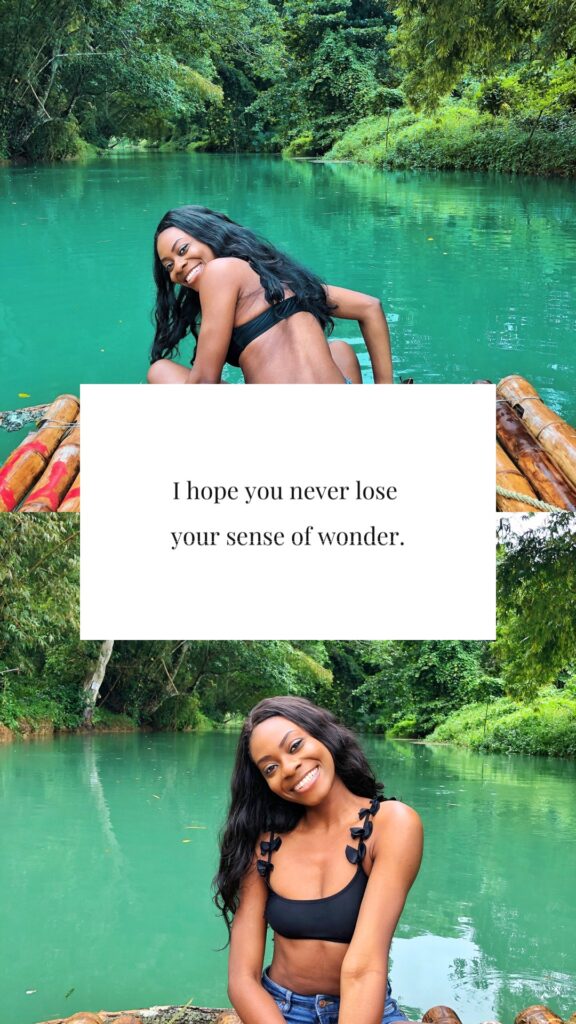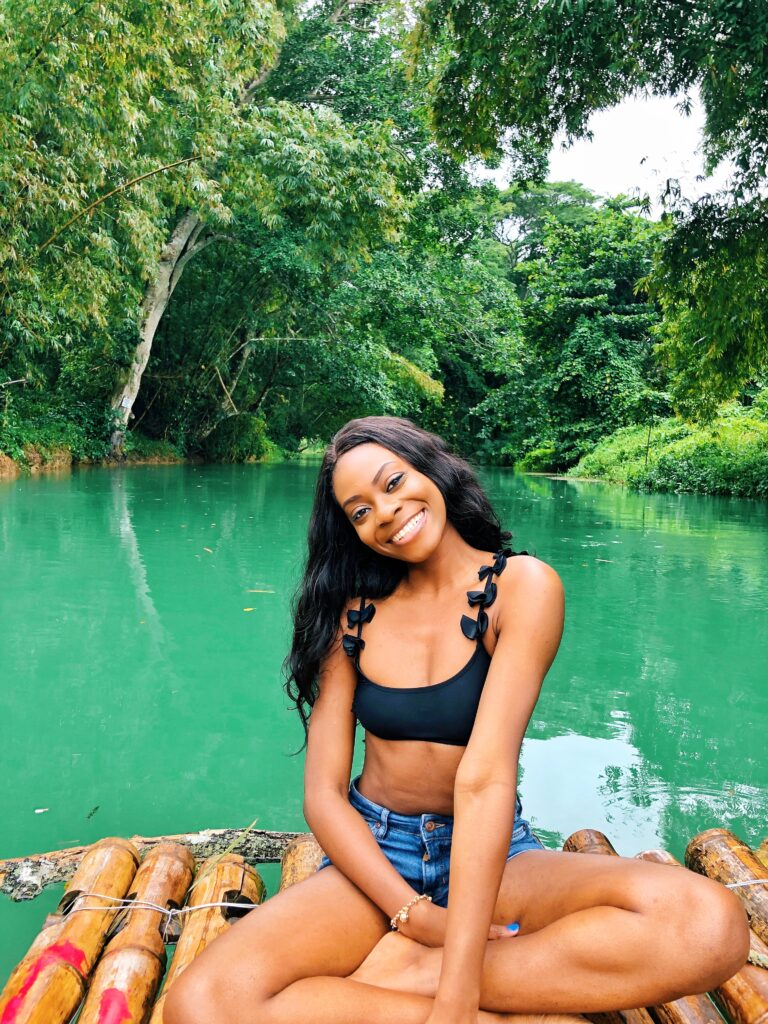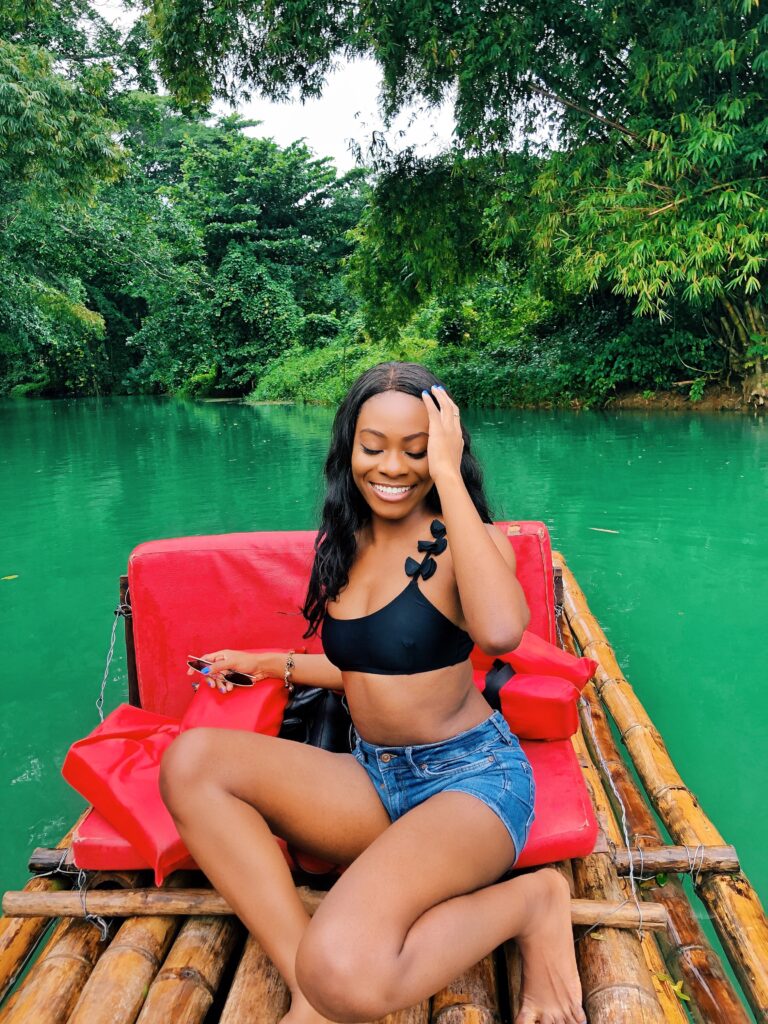 We continued to sail away and then the clouds started to change color; from a sunny blue to a cloudy grey. The thunder roared and it started to pour rain. Derick went and got his raincoat to shield himself and his hair from the rain. As he was about to put on his hoodie, he gave us a mischievous glance and revealed his locks, those precious locks fell all the way to his knees – the sheer beauty.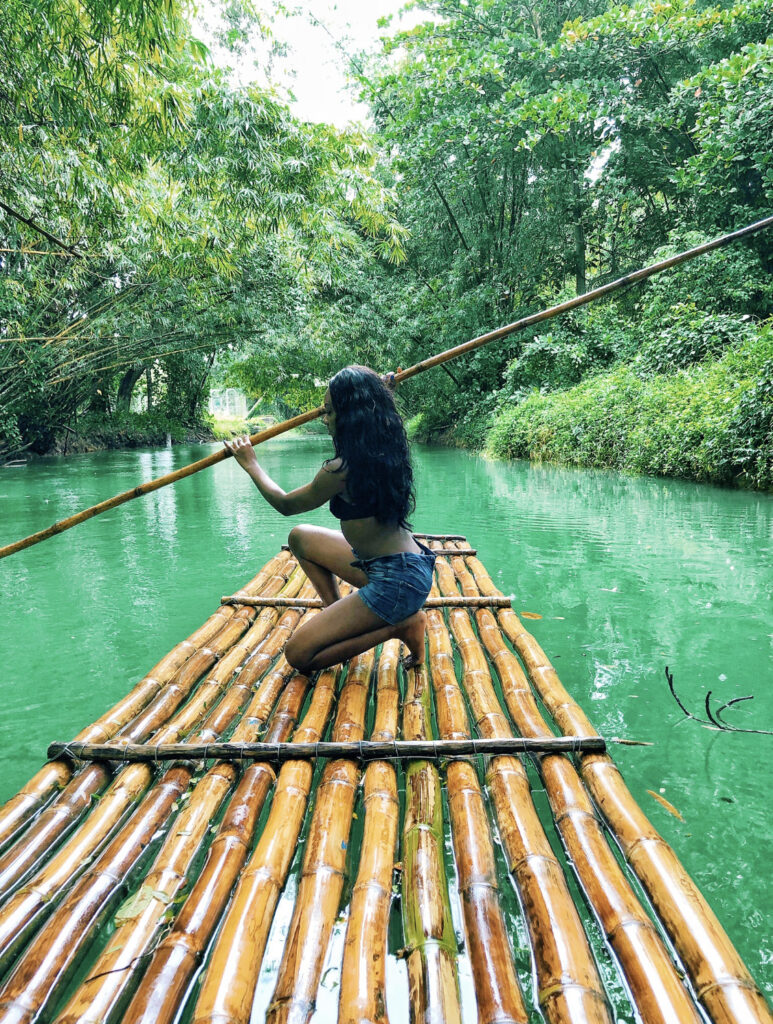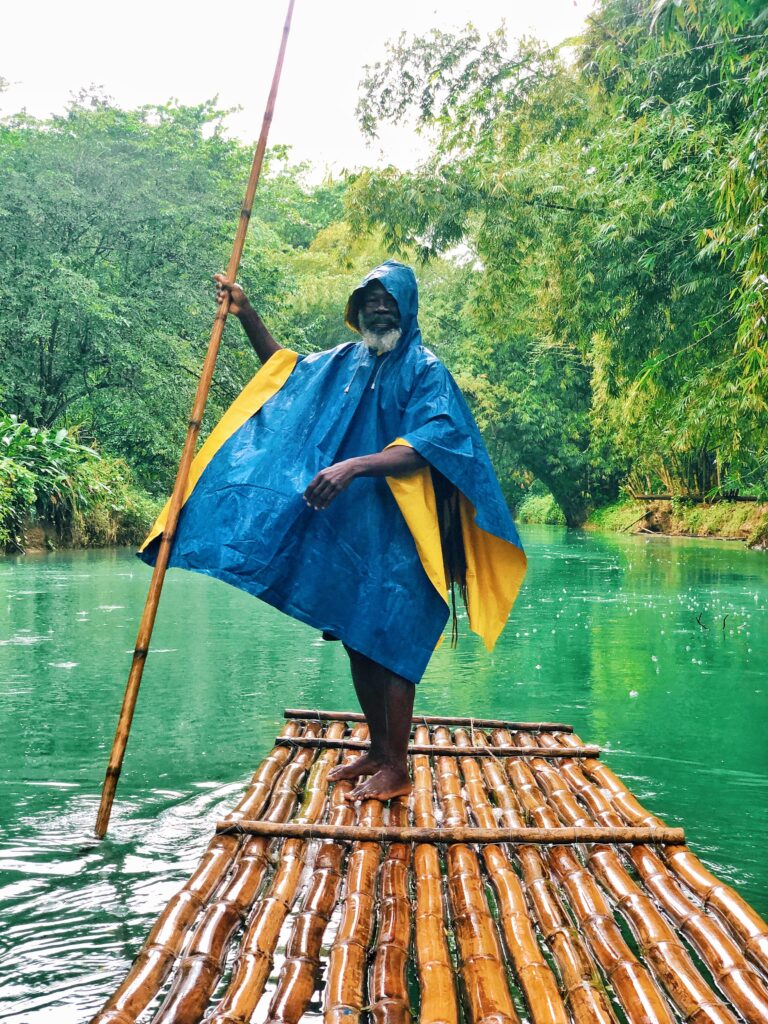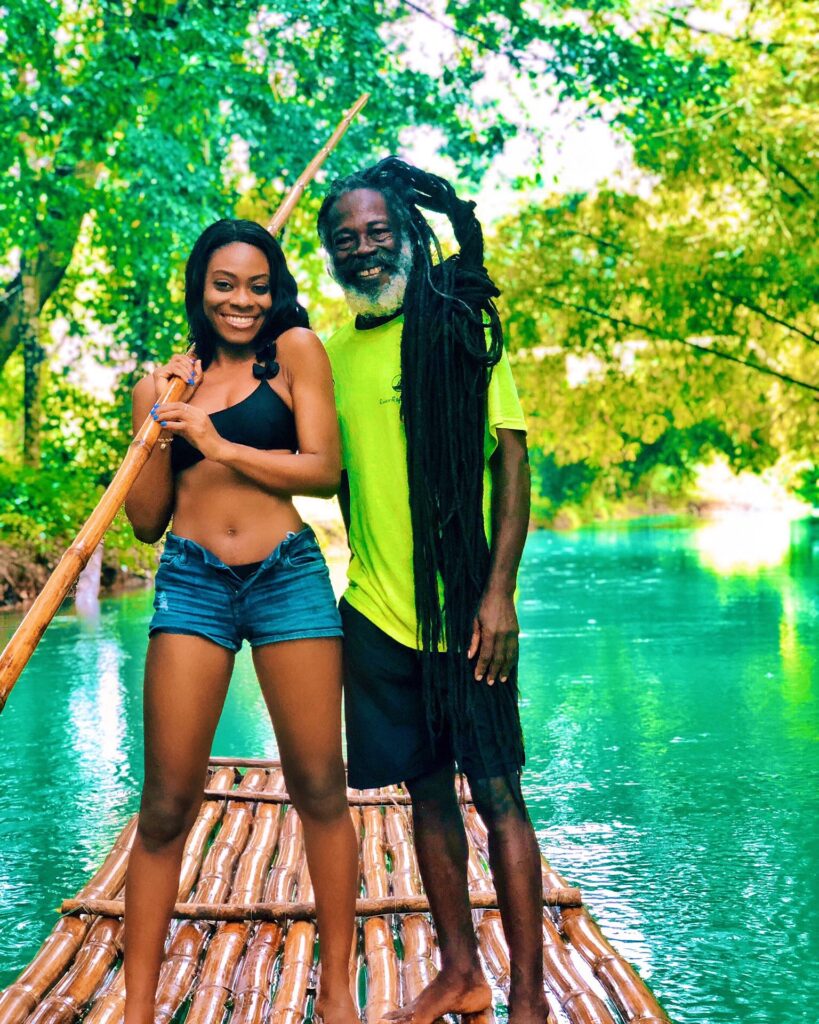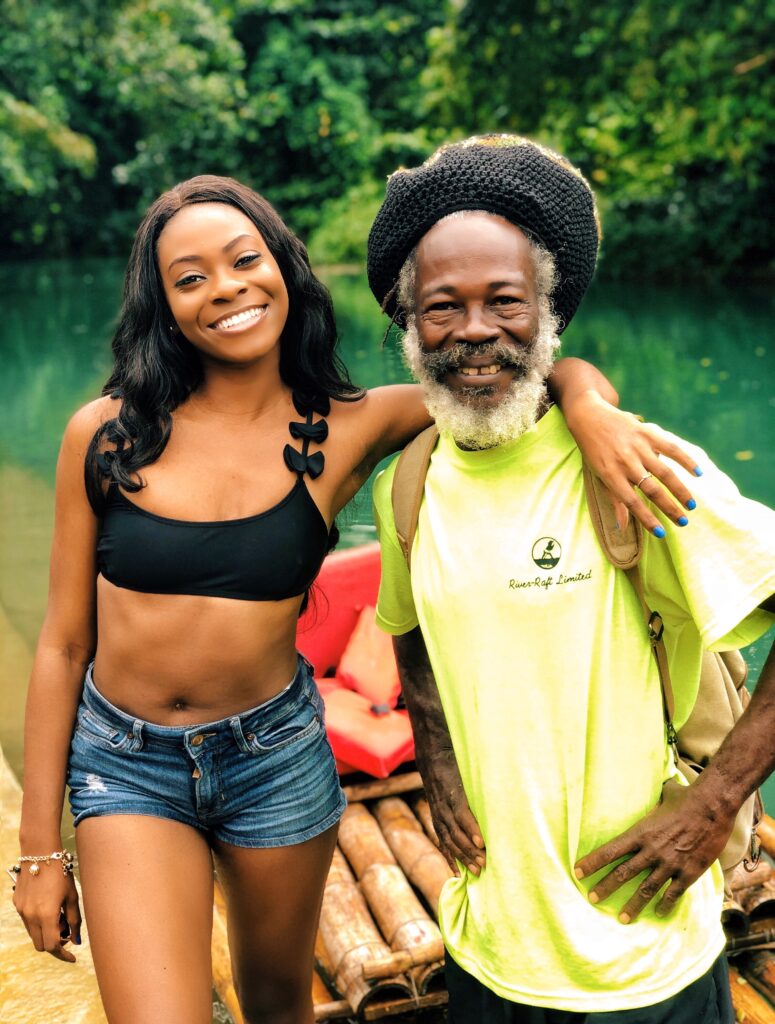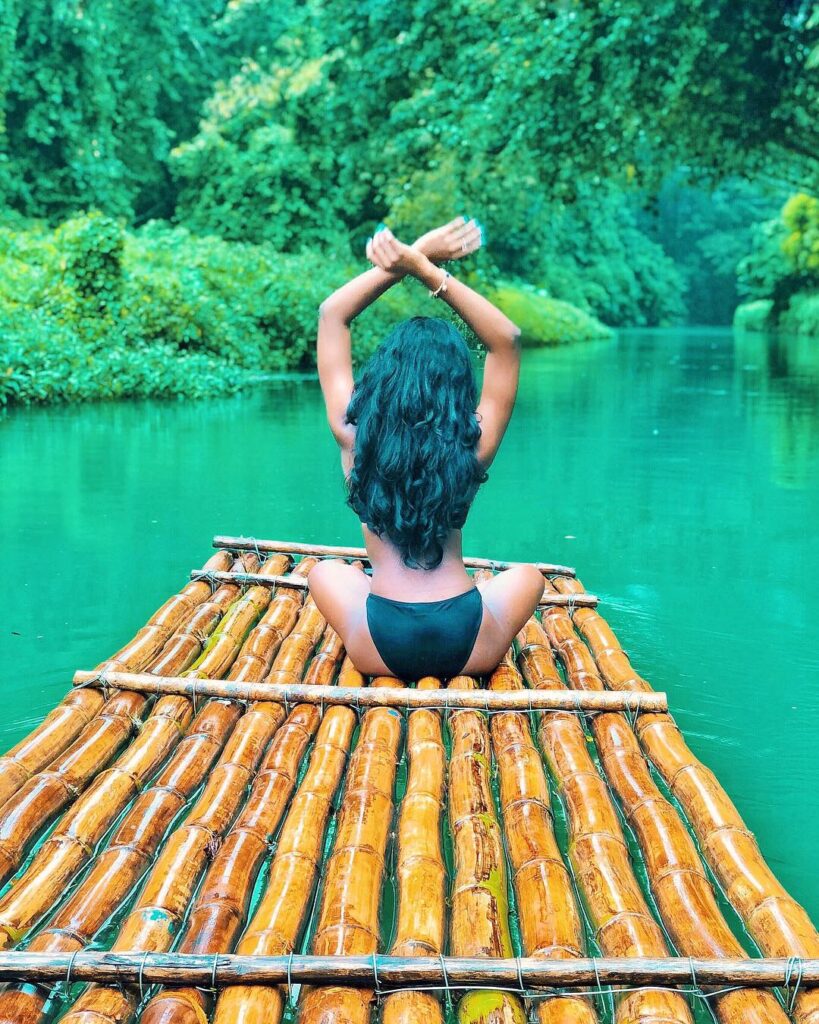 Overall, it was a memorable experience and a nice introduction into what eventually turned out to be an amazing Jamaican holiday. I'd love to go back – maybe one day.
Planning a trip to Jamaica? Read my travel guide HERE.
Thank you for reading. Subscribe to my blog to read more of my adventures. Follow me on Instagram and Twitter, let's be friends.
Until next time,