Pre-travel Diaries: A Friendship Reunion in Bermuda
Some travels are more special than others, and this is one of them. I will reunite with one of my best friends in Bermuda in a few days and I couldn't be more excited. Seeing my friend after three years while traveling to a new country means I am totally eating my cake and having it.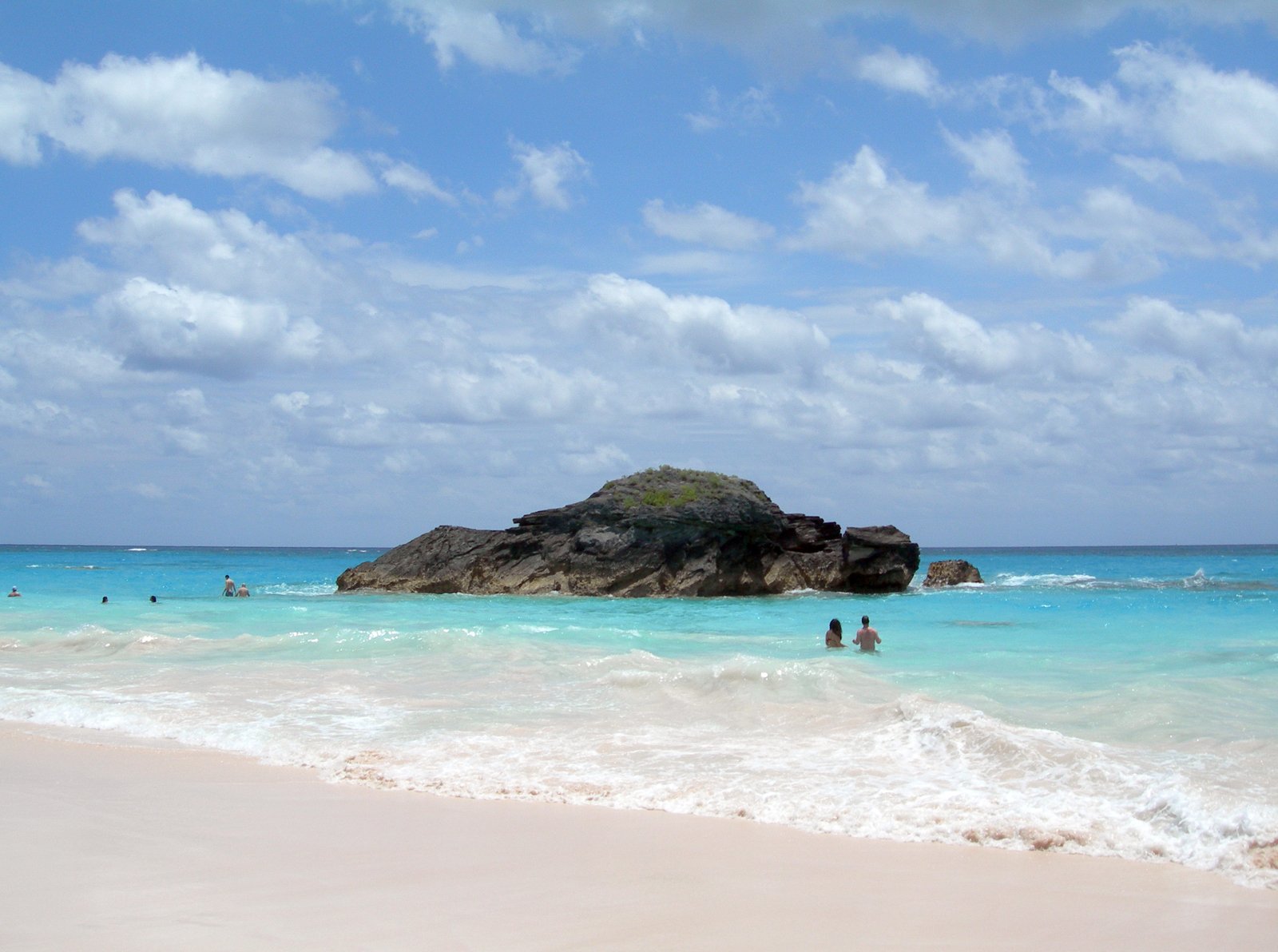 Photo: Horseshoe Bay Bermuda. Credit: Unsplash
A Friendship Reunion in Bermuda
Titi and I met in 2013 when I had a bank job back home in Nigeria. She was one of the first friends I made while working there and even though bank jobs are quite stressful, especially in Nigeria, having great friends like Titi definitely made the experience a little easier to cope with. Titi and I were inseparable, we did everything together, and soon enough, people started referring to us as "twins".
Fast forward to the end of 2014, I had to leave the country to pursue a Master's degree in Canada. It was totally last minute for me as it took me sometime to make up my mind to take such a bold life decision. When I broke the news to Titi, she was obviously not very pleased. However, we made sure to keep in touch in hopes of seeing each other one day soon. It took more than three years, but, as fate would have it, it is finally happening.
"Jessica, let's plan a trip together in 2018." – Titi
Those were the magic words that ignited the possibilities of a reunion and of course, I didn't need a lot of convincing. Reuniting with my friend and traveling to somewhere new? Count me in!
The planning process began, and after moving things here and there, dates were picked and flights were booked.
Why Bermuda?
This is the part where I tell you that Bermuda has always been on my bucket list since I was a little girl? Wrong. Matter of fact, Bermuda had never crossed my mind until this year when we were considering different options. In true ditching-my-bucket-list fashion, I saw an opportunity to visit a country I hadn't seen so many people visit, and I took it. It also helps that it is such a beautiful country, with one of the best beaches in the world. As a true beach bum, this is always a winner.
My Bermuda Itinerary
What's lined up for Bermuda? Researching Bermuda has shown me that you can be beachside throughout your vacation and wouldn't run out of things to do. However, I'll love to explore more than the beaches and learn a little about the culture and history. See below my 4-day Bermuda itinerary. As always, itineraries aren't cast-in-stone and things can always be moved around. If you're considering Bermuda, this itinerary is a good mix of beach time, adventure, and history immersion.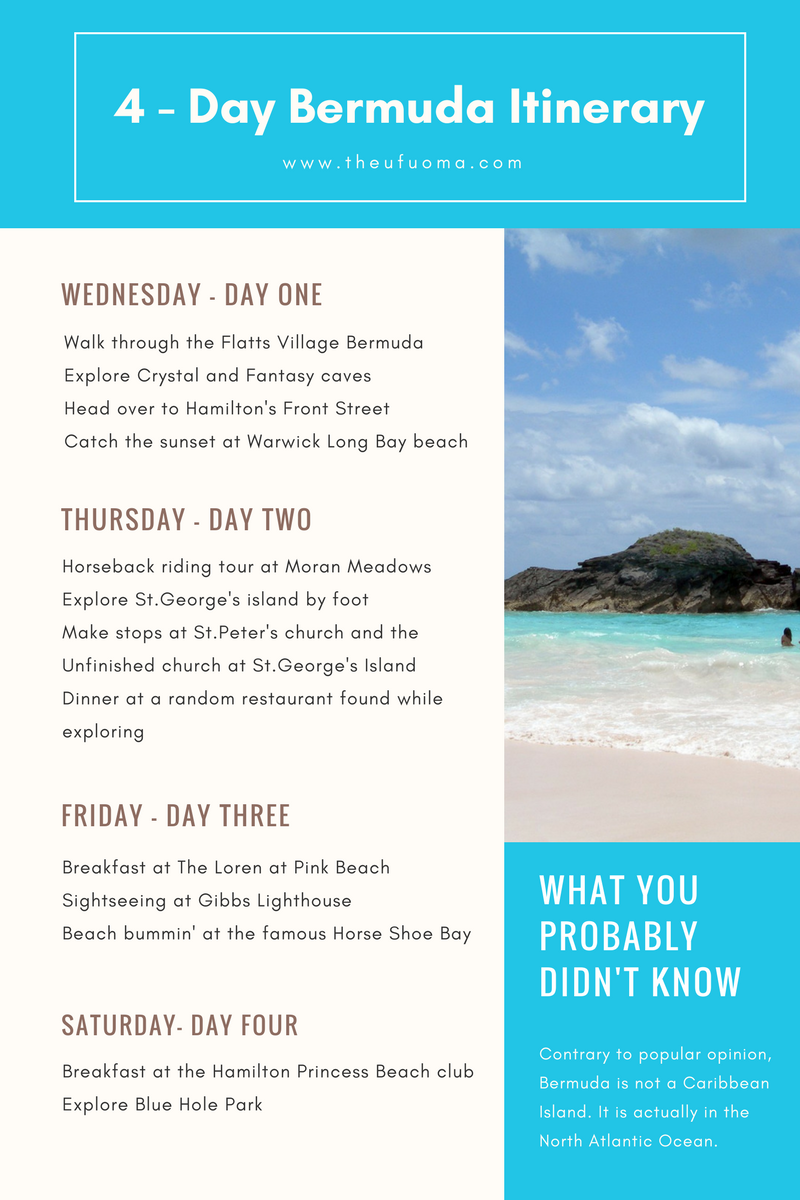 How I prepared for the trip
I booked a cute oceanside bed and breakfast on Bermuda Rentals.
I stalked the Bermuda tourism board website  for resources and activities to do in Bermuda. I have to say, I have never come across a more visual appealing, yet useful tourism board site in a while. This was a breath of fresh air.
I booked my horseback riding tour with Moran Meadows in advance, they sell out fast.
I checked to see if I needed a visa. I didn't need one with my Nigerian passport and my United State's visa.
Things to know before you leave
I hear Bermuda is EXPENSIVE. So, keep that in mind, I sure will.
Do you need a visa? You do not need one if you have a valid US visa. More on Bermuda visa requirements here.
You will not be allowed to enter Bermuda if your visa or passport expires 45 days after your intended departure. Check your expiry dates, people!
The country's currency is the Bermudian dollar, which is on par with the USD. Cards are widely accepted too.
The weather in March is in between sunny and a little chilly. Be sure to take some warm outfits and maybe a light sweater for times when it gets chilly. More on the Bermuda weather here.
Don't forget to have fun! 
As usual, I'll be sharing my adventures in Bermuda on my Instagram, Twitter and here on my blog. Follow me to see photos, stories and videos from my trip. I can't wait to explore the country and come back to give a more authentic recap of my experience.
Have you heard of Bermuda, or have you visited the country yet? Let me know in the comments below.
Until next time,
Happy travels.

Subscribe to my blog for more travel content, tips, and experiences.