Our Intimate Wedding Ceremony in Santorini, Greece
One day on June 18, 2021, as I was skimming through Pinterest for the umpteenth time looking for wedding inspiration, I saw an image that stopped me in my tracks. It looked peaceful, serene and breathtakingly beautiful. I showed my sister the picture and we both danced so happily. I had finally found a place I saw myself getting married in.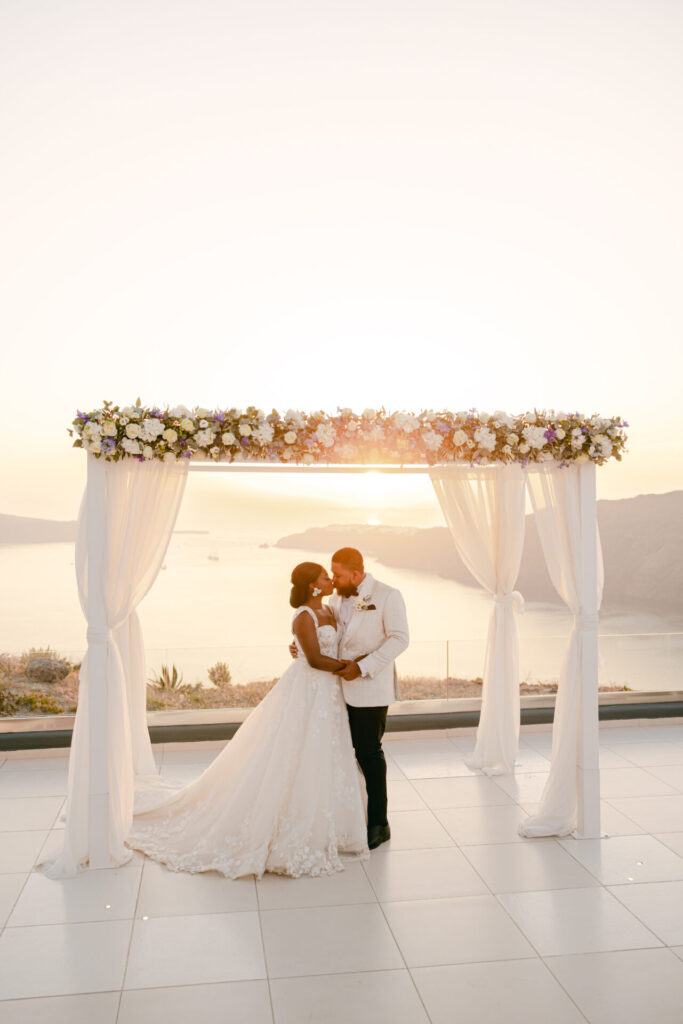 You see, a few weeks leading up to that moment, I had started looking seriously for a destination wedding venue. I knew it was somewhere in Europe and after making some inquiries, I felt more and more disappointed as nothing I saw was speaking to me. I skimmed through castles in Portugal and Chateaus in the South of France and while they were all lovely, it just wasn't cutting it for me. Until of course, I came across this venue in Santorini, Greece.
I quickly picked up the phone to call my fiance (now husband) and in his true fashion, he said "if that's what you want". Indeed, that was what I wanted. We made a deposit payment, secured our dates (May 18 was the only available date in 2022 so we really had no choice but in retrospect, it couldn't have been more perfect.) and I heaved a sigh of relief. We still had our traditional wedding in November to plan before going full steam on the wedding in Santorini but securing the venue and dates was the big first step towards what eventually became our dream wedding day.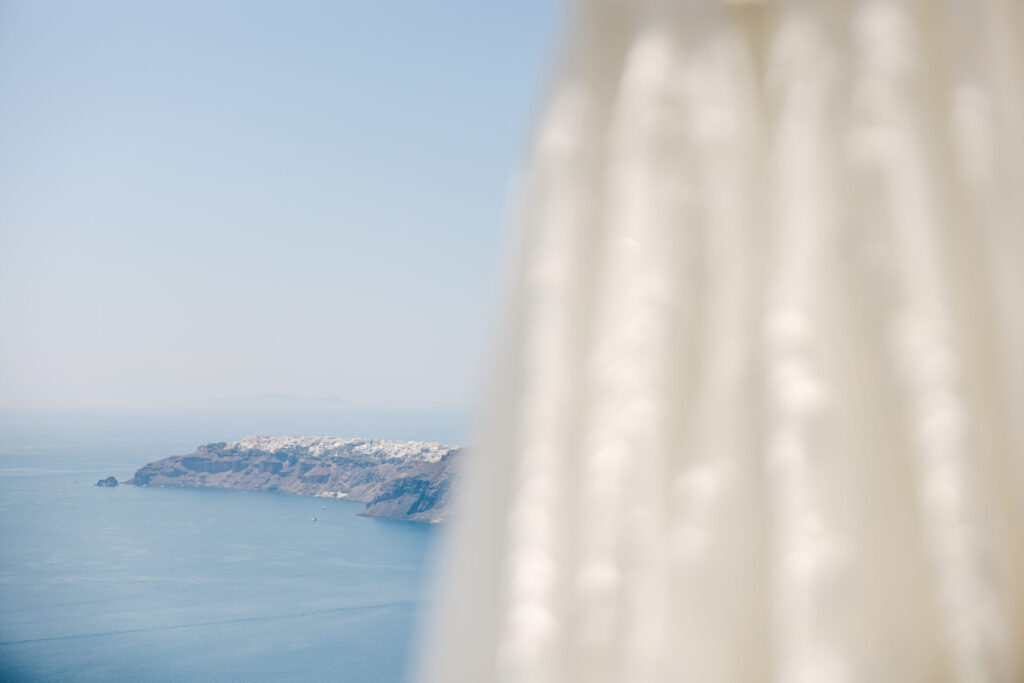 The preparation leading up to the wedding
There's so much that goes into planning a destination wedding. After securing our venue and dates in June 2021, we completely shifted gears to planning our traditional wedding in Lagos, Nigeria which happened in November. Once that was complete, we gave ourselves some time off in December to not talk about anything wedding. I sent our 'save the dates' in December and that was it.
The real preparation began in January 2022. This was when we started looking for a wedding planner (we ended up using our venue's in-house wedding planner), photographer, videographer and making sure our guests had all the information they need. Much to my surprise, my Santorini wedding was more logistic-intensive than my Lagos wedding and it was just something I did not see coming. I will write a guide on planning a destination wedding soon.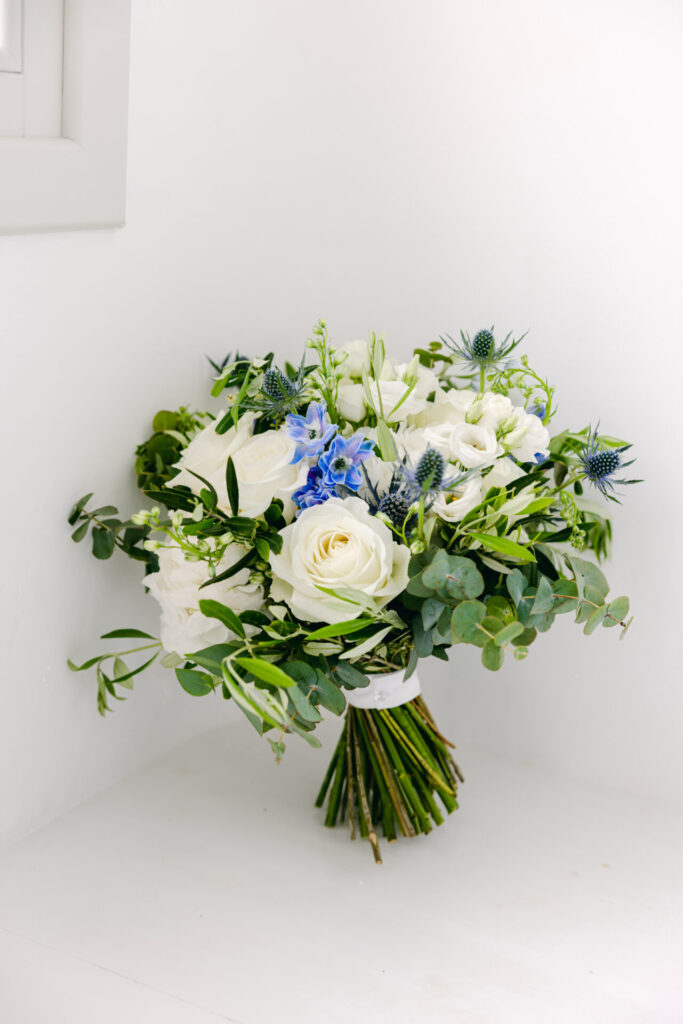 Heading to Santorini, Greece for the wedding
Our wedding was slated for Wednesday, May 18 and so my husband and I boarded a 7 pm flight from Toronto to Athens on Friday, May 13. There are no direct flights to Santorini from Toronto. We landed in Santorini on May 14 and rested for the rest of the day. On May 15, we went to see our venue in real life for the first time and i t was even more beautiful than the Pinterest photos. We walked through the final details with the planner, did a tour of the venue, and left to enjoy the rest of our time in Santorini before the wedding.
For three days leading up to the wedding, together with our guests, we had a wonderful time. From sailing the beautiful island of Santorini in a private yacht to visiting a beach club for some afternoon cocktails and food, to exploring the nightlife in Fira and turning it up in the club, it was beyond perfect and such a special way to celebrate with our guests.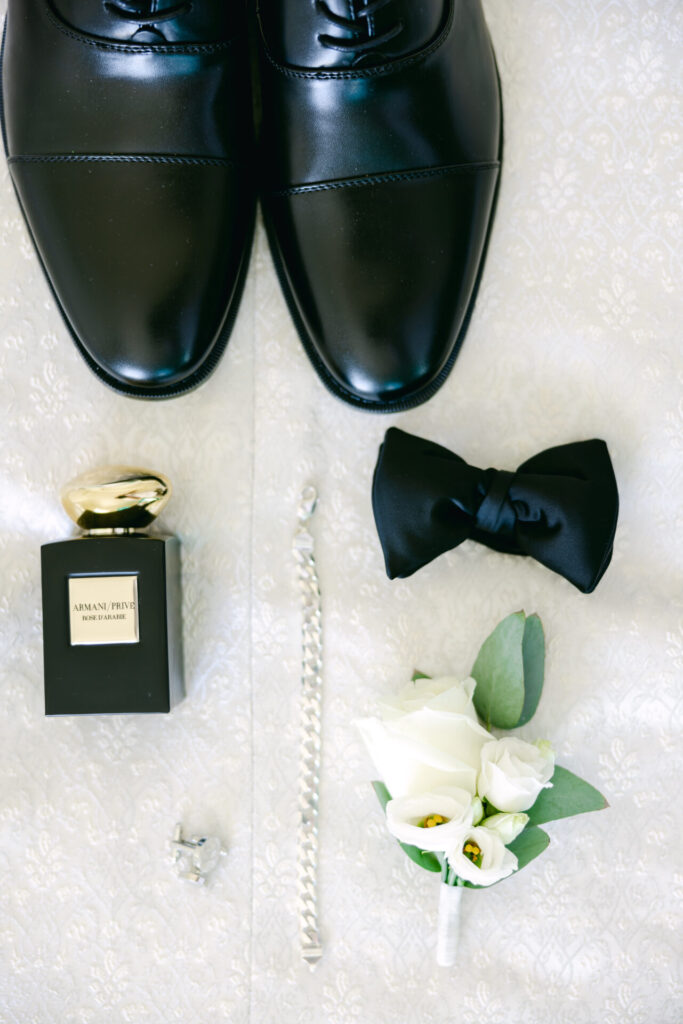 The big day on May 18
The day we had been waiting for was finally here. Our ceremony was not until 4 pm so I had a little bit of a slow morning. I woke up at about 7 am (after having a full night of 8 hours of sleep), caught the beautiful sunrise, said a prayer and then ordered room service breakfast at my beautiful bridal suite in Rocabella Santorini. Shortly after, my glam squad was here from the UK. They had flown in the night before to help me look my best for my day. We started getting ready at 9 am and time flew by so quickly. At about 1 pm, my bridesmaids started arriving at the hotel for some group photos and I was done getting ready at around that time as well.
The photographer came into the hotel suite at around 2 pm and between posing for the photographer, doing videos with my ladies and everything else in between, it was 4 pm already. It was important that we started the ceremony on time so that everything else lined up perfectly. There's always a specific time when the sun sets in Santorini and we wanted to make sure the timing was right. I ended up being about 40 minutes late but that didn't matter – everything was as perfect – from the weather to the ambience and everything else in between.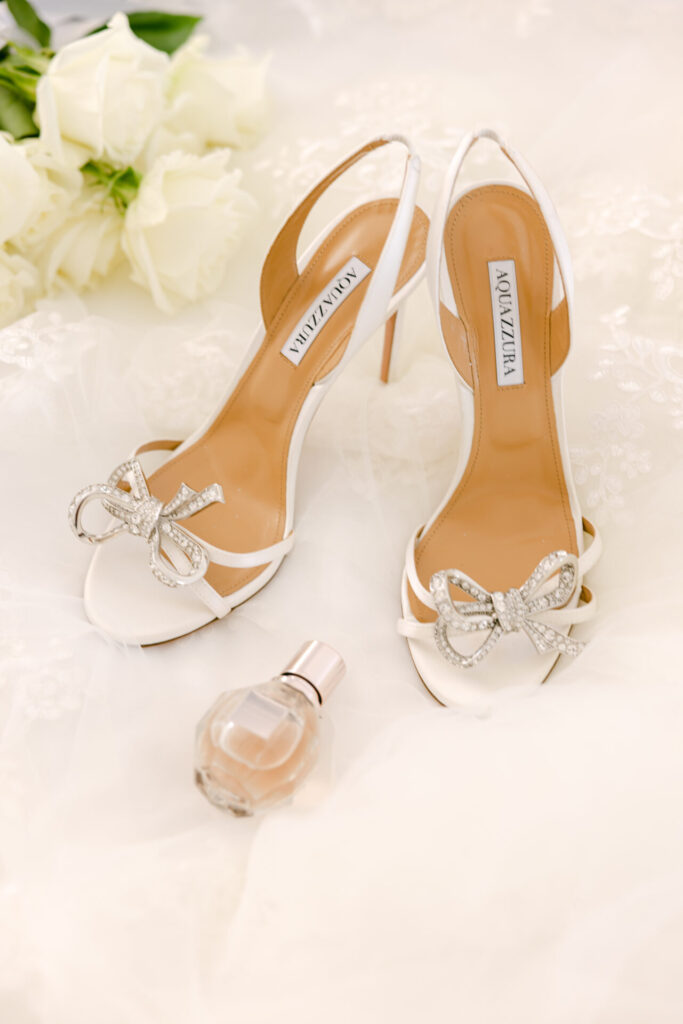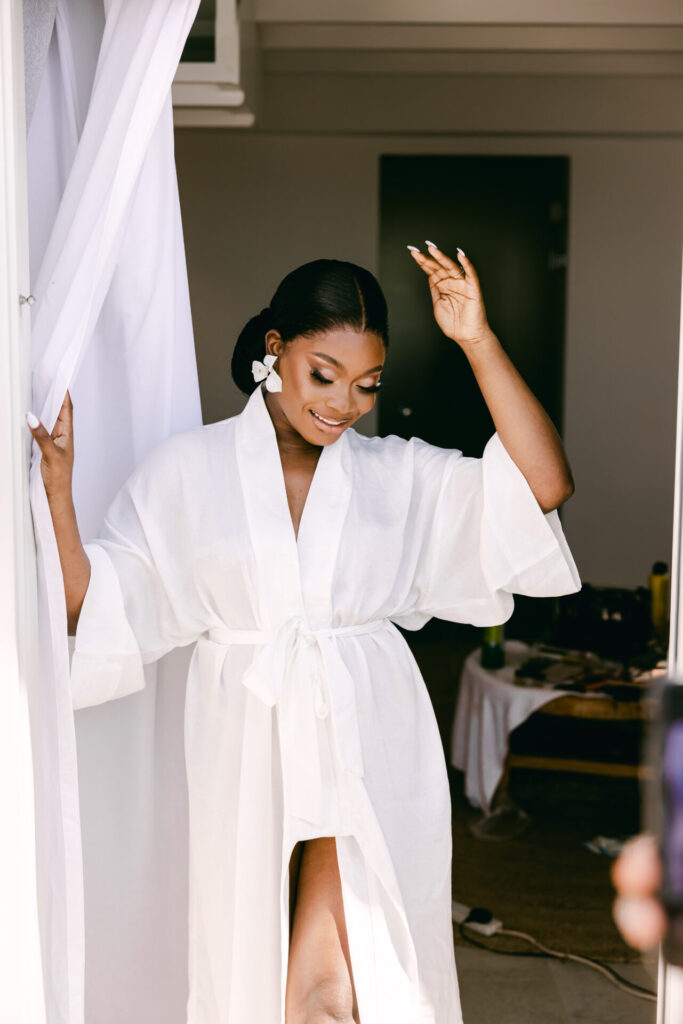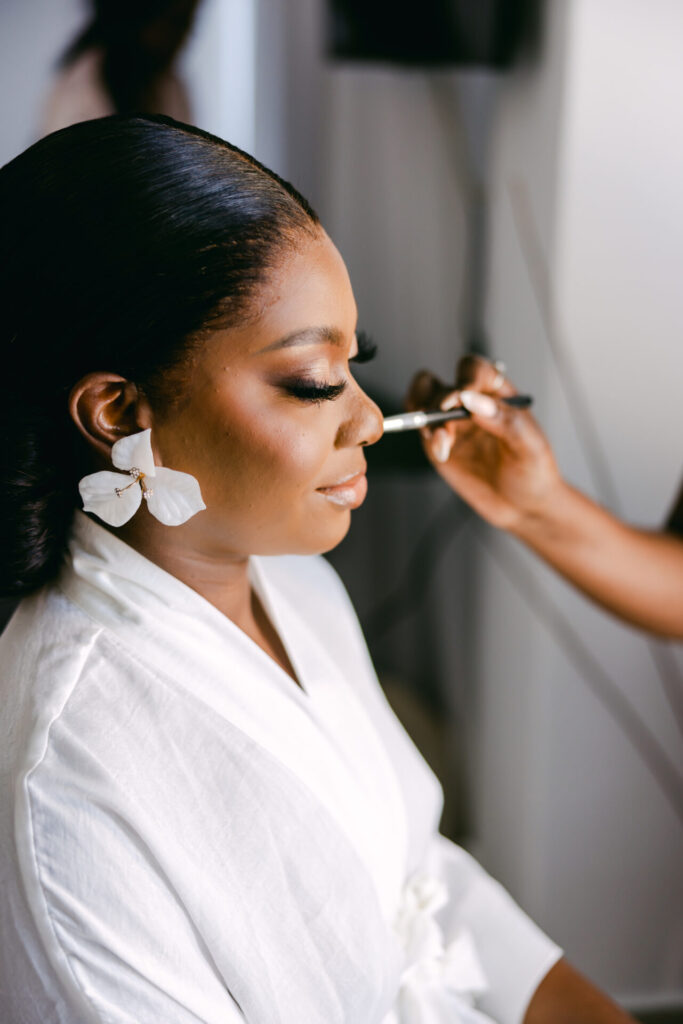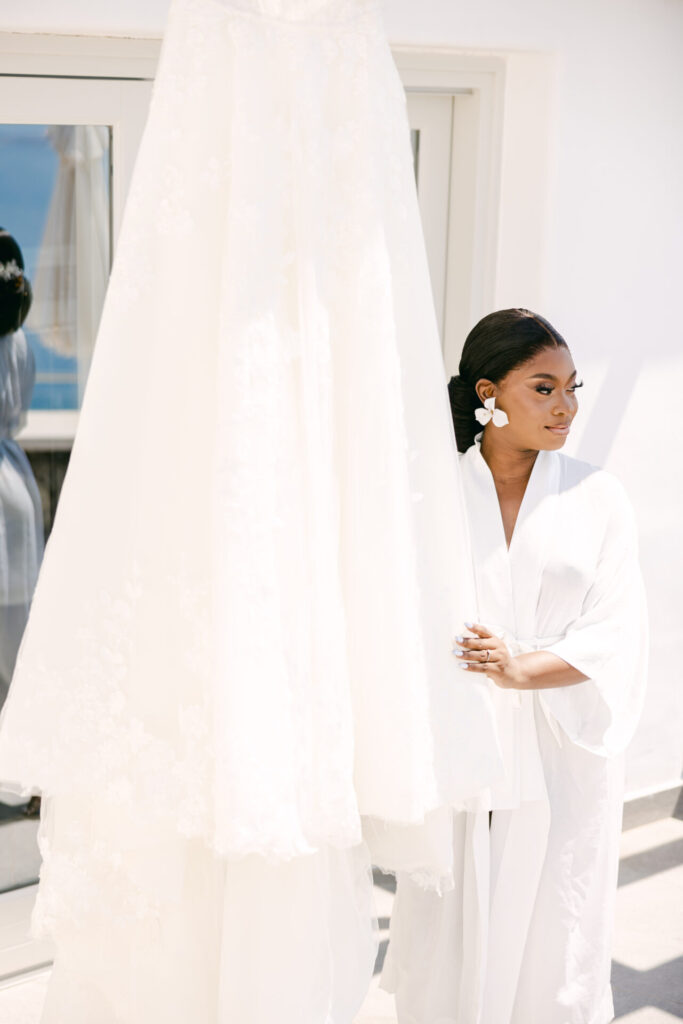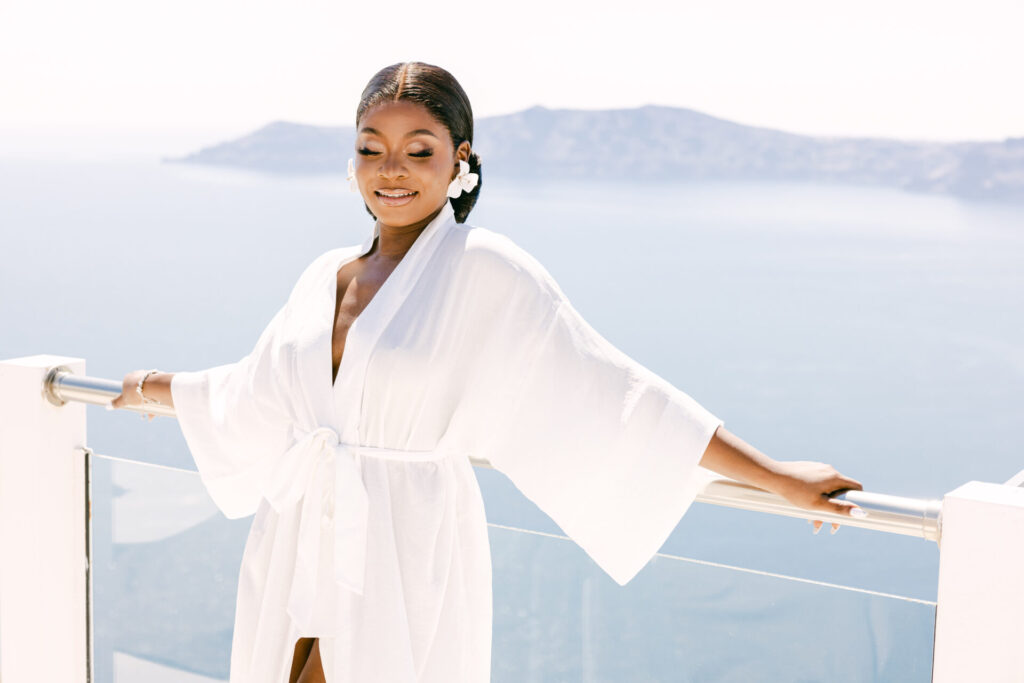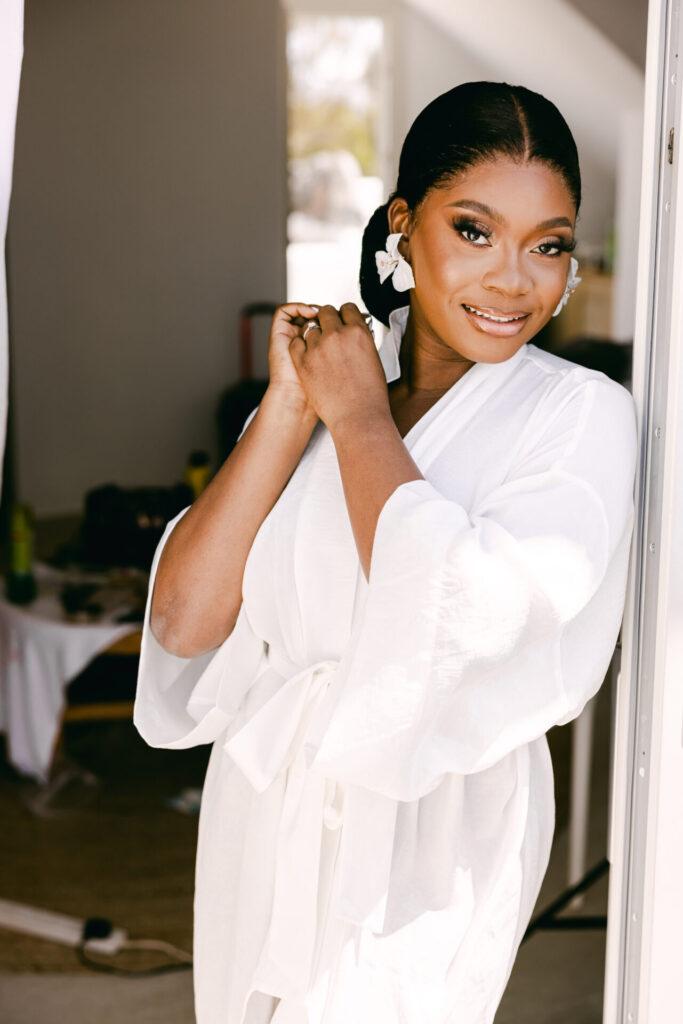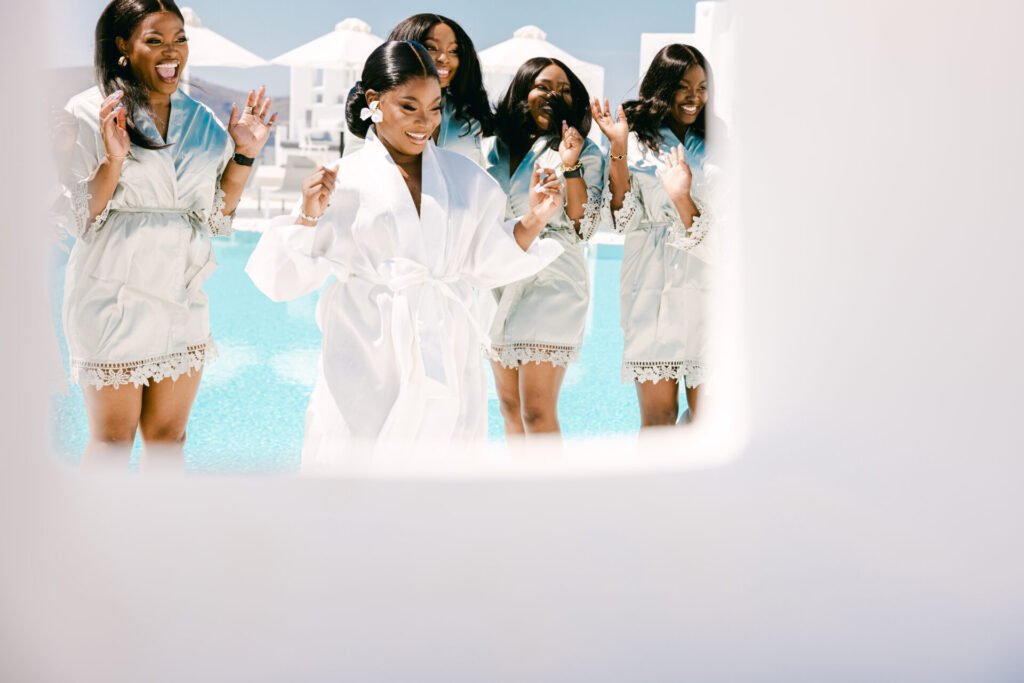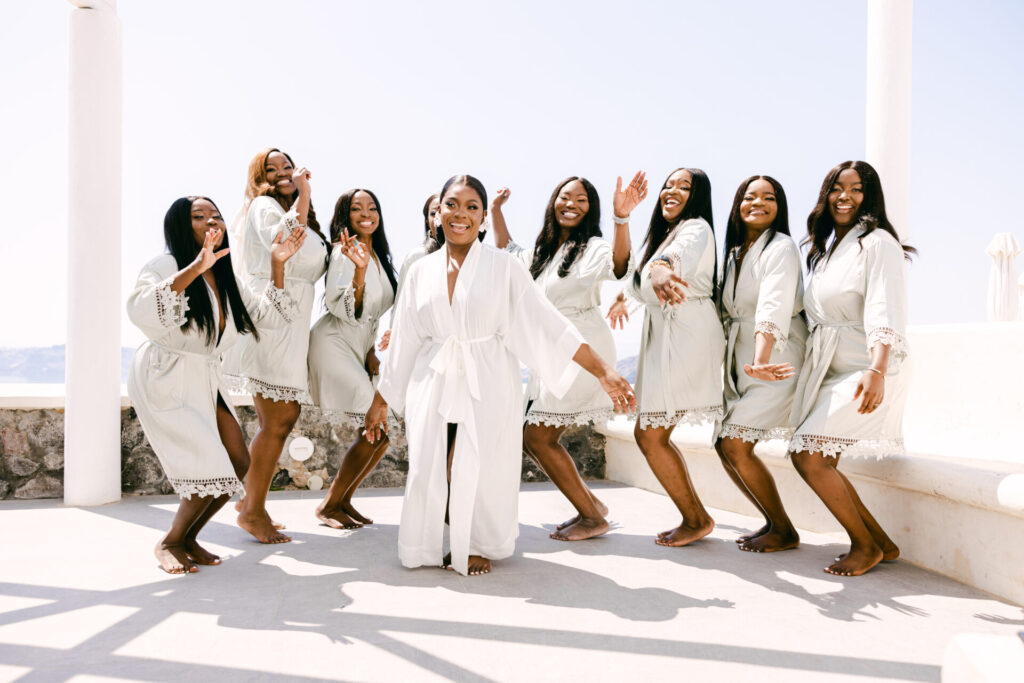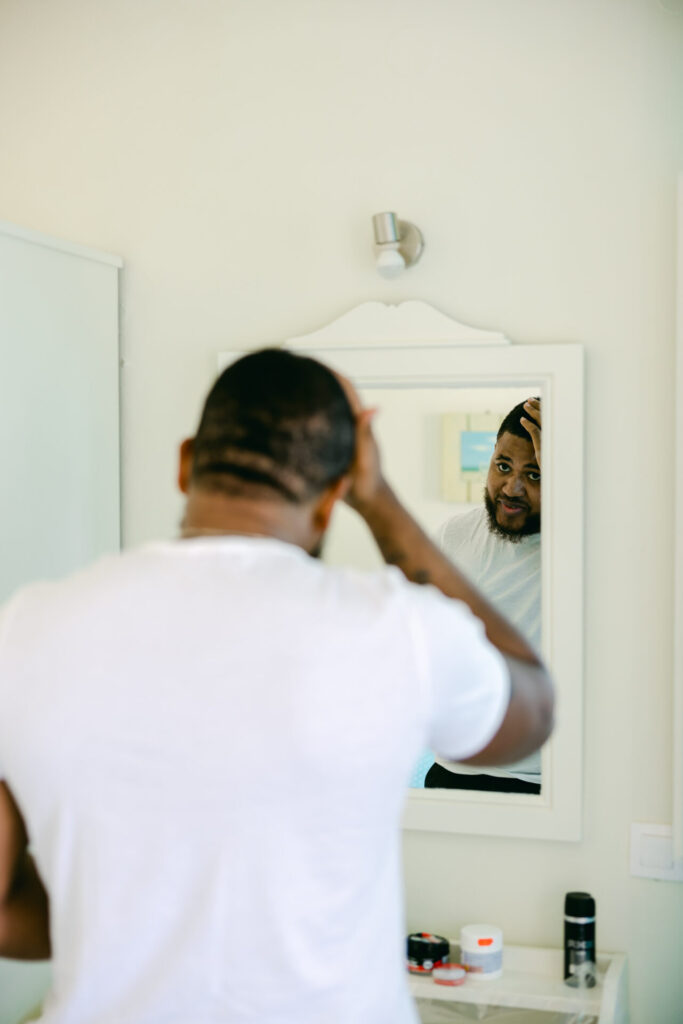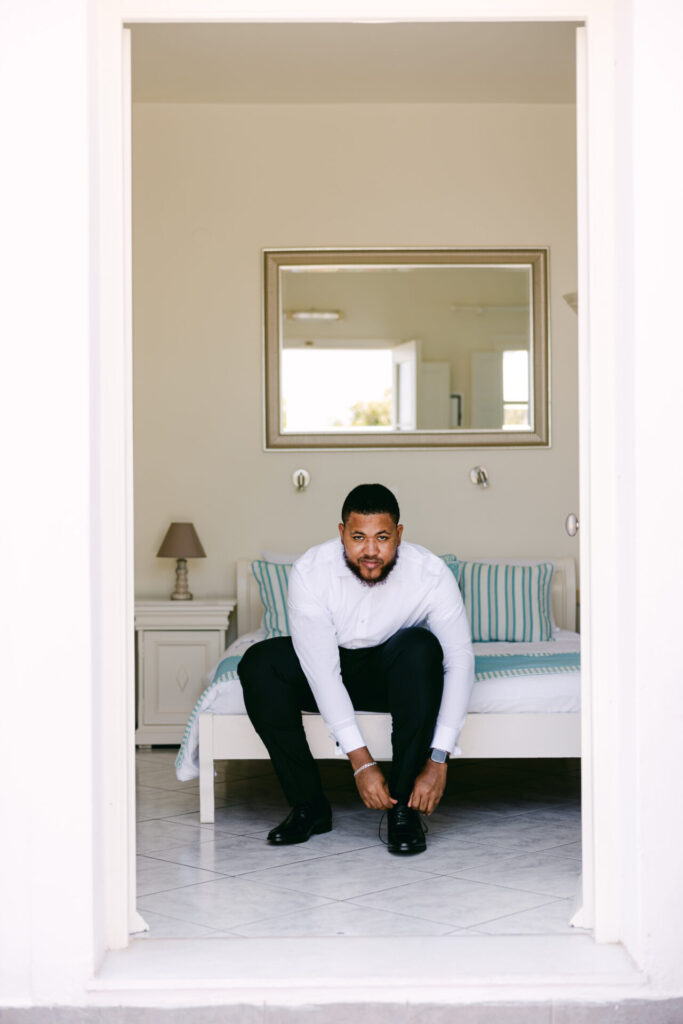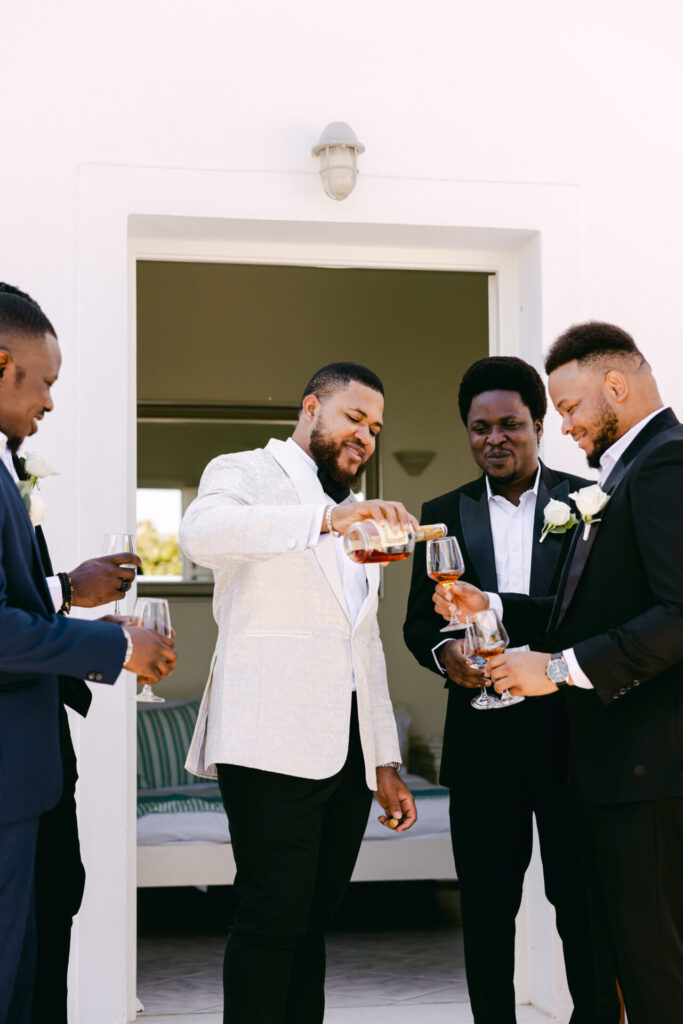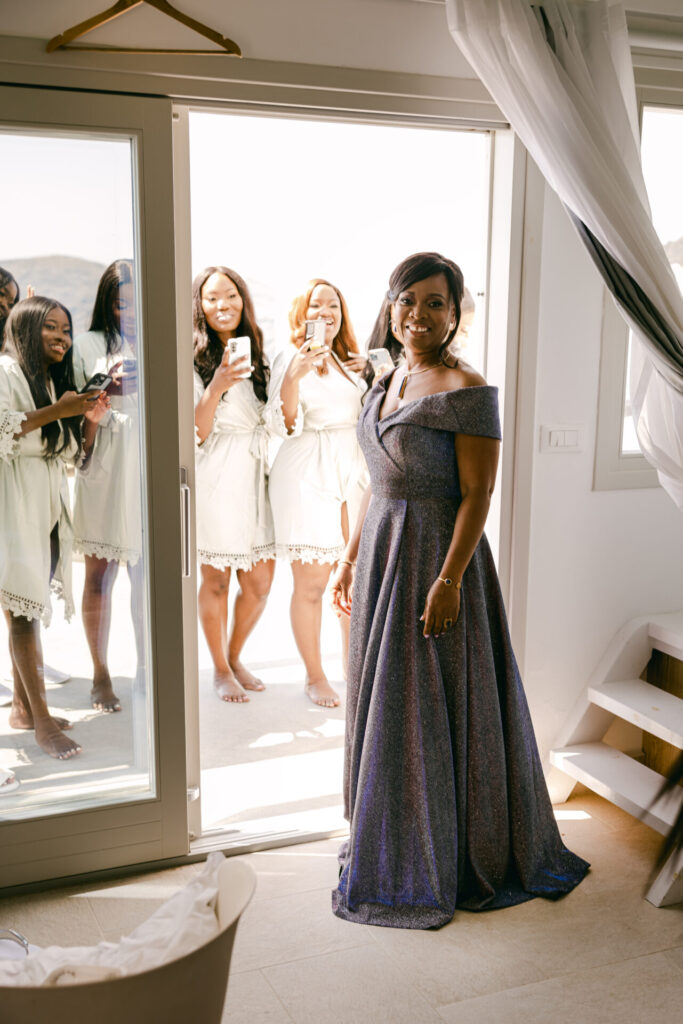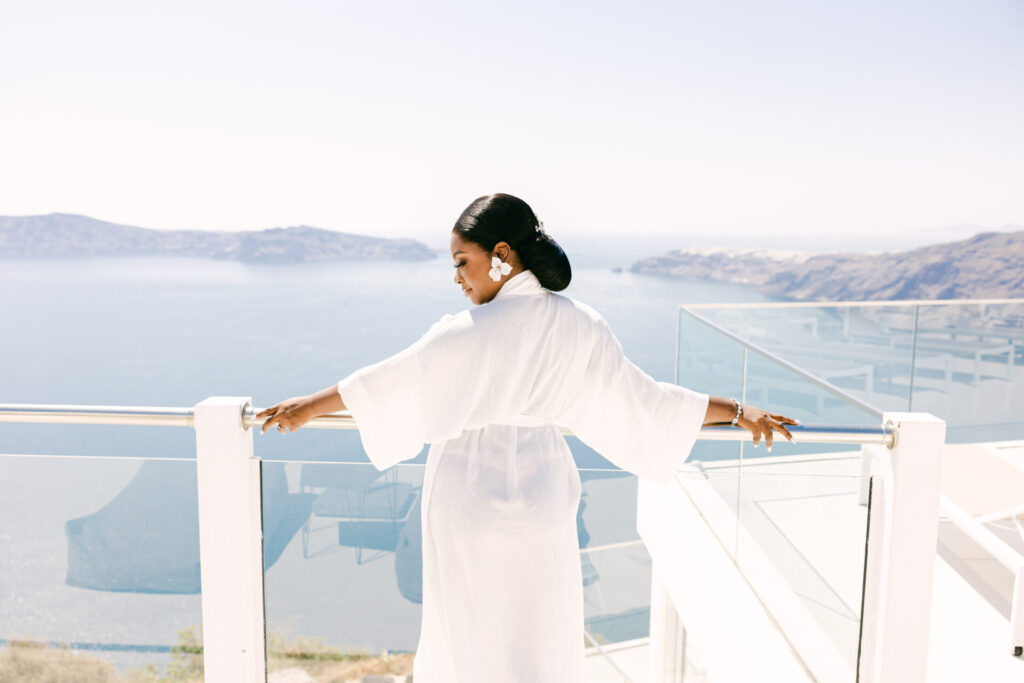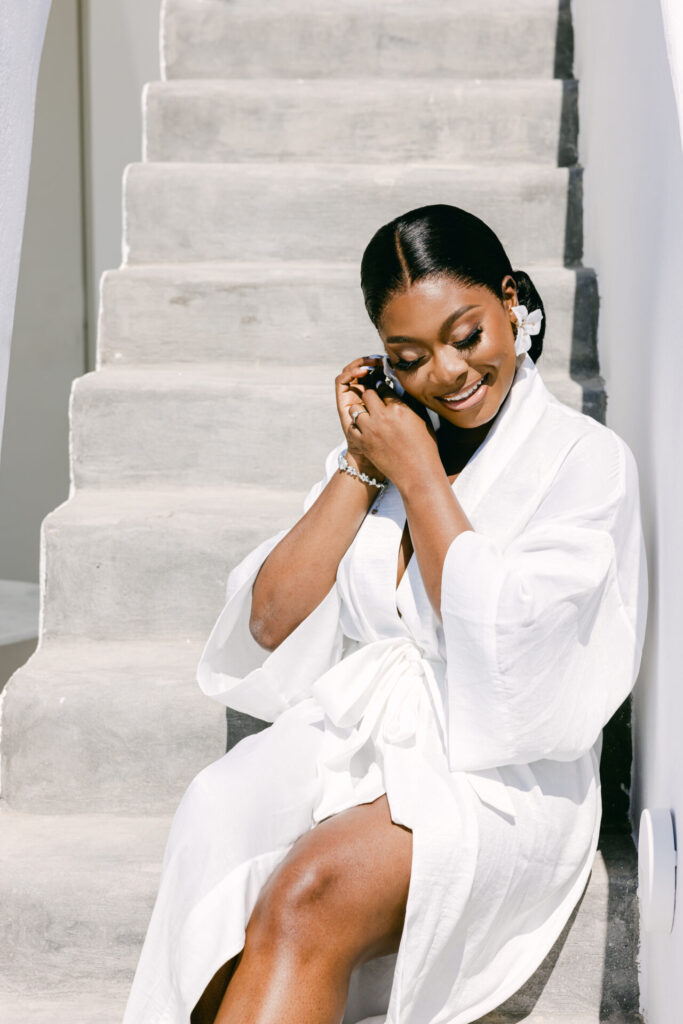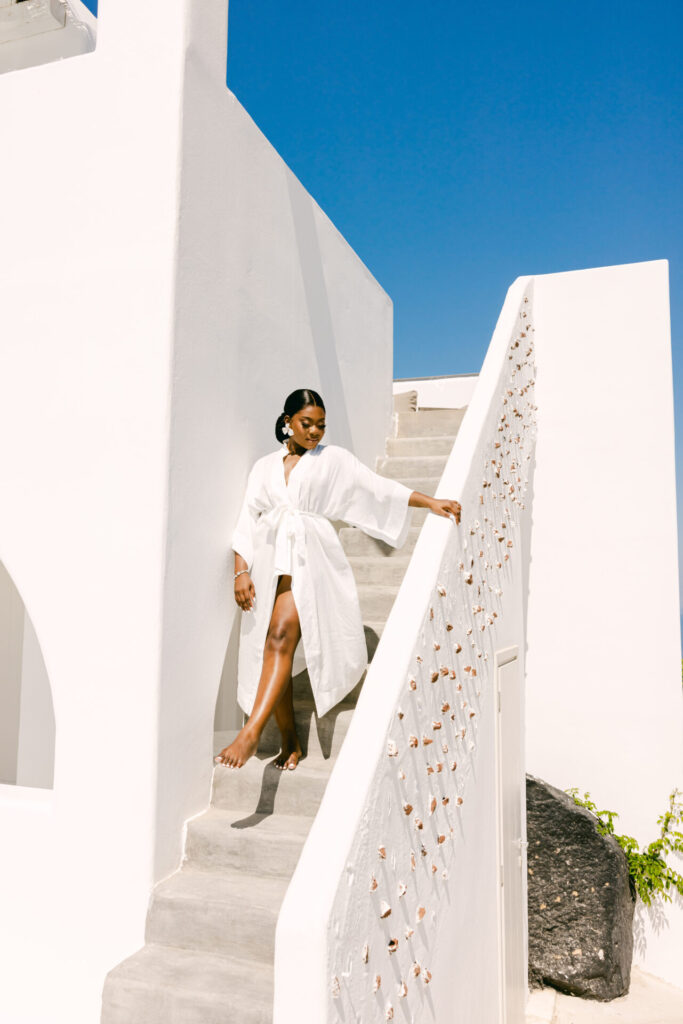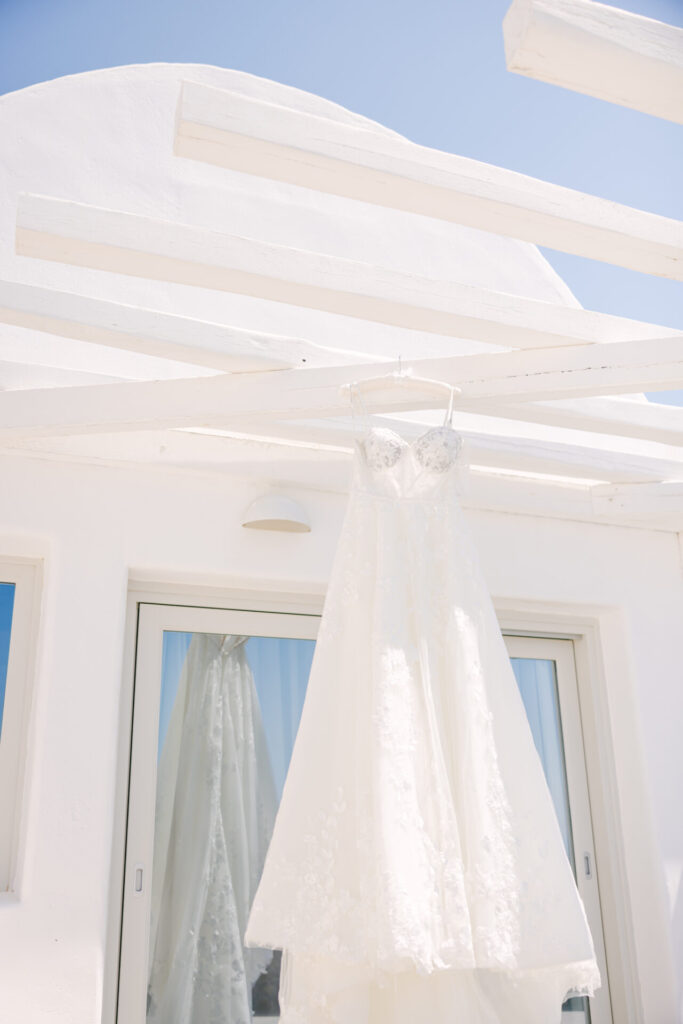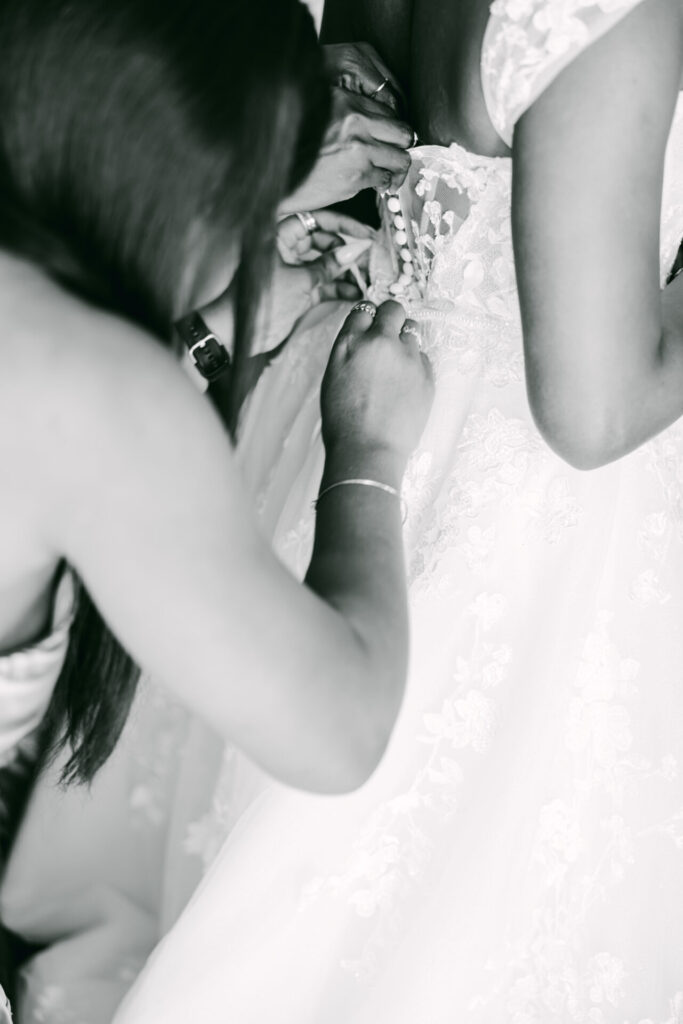 The ceremony
Everyone else was already seated at about 4 pm and I walked down the aisle with my dad (who looked handsome in a white Turkish tuxedo) at about 4:40 pm. It was the most special walk. I had chosen the song Thinking Out Loud by Ed Sheeran and the atmosphere was just blissful. We said our vows in front of our closest family and friends, tears were shed and it was so romantic doing so overlooking the stunning caldera views of Santorini. The greek officiant led the ceremony and after about 25 minutes, it was over and we were officially pronounced man and wife and signed our marriage certificate.
We walked down the aisle as man and wife to the song "love on top" by Beyonce and our loved ones sprayed us white rose petals as we made our way down. We were met with our first glass of prosecco and some finger food, took some group and personal shots at the gazebo and left for a photo shoot in town while the guests enjoyed their cocktail hour. Our outdoor wedding ceremony was beyond dreamy.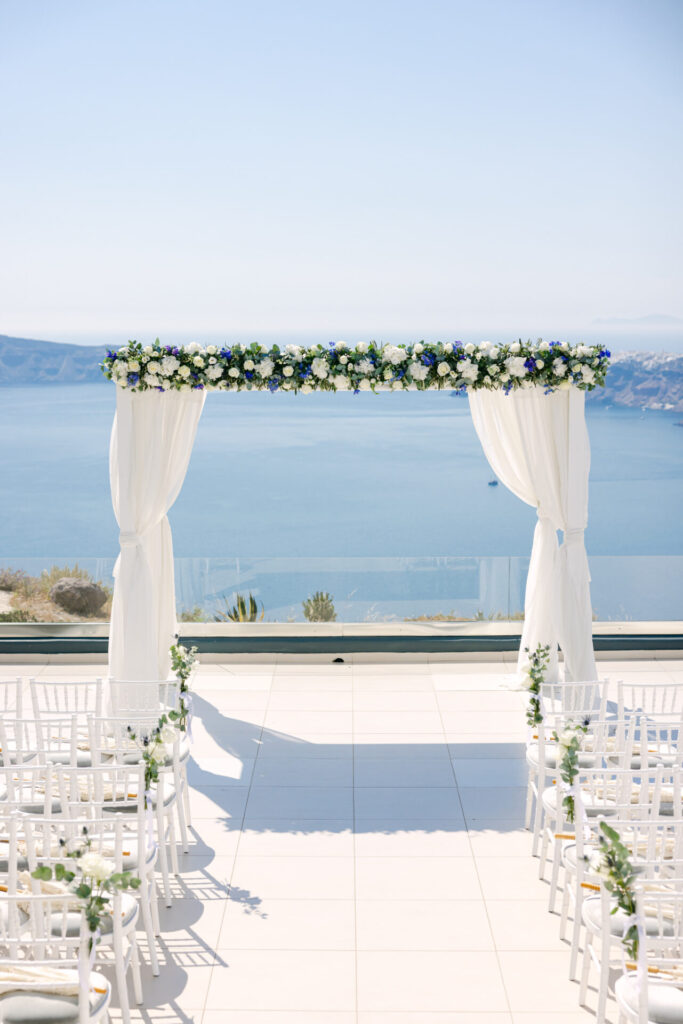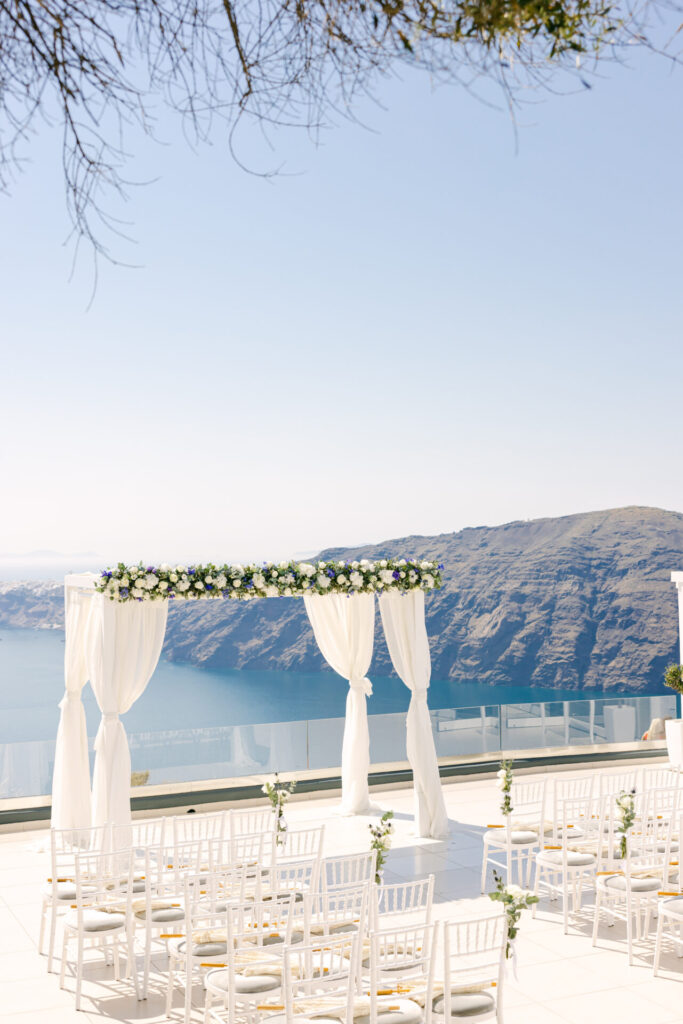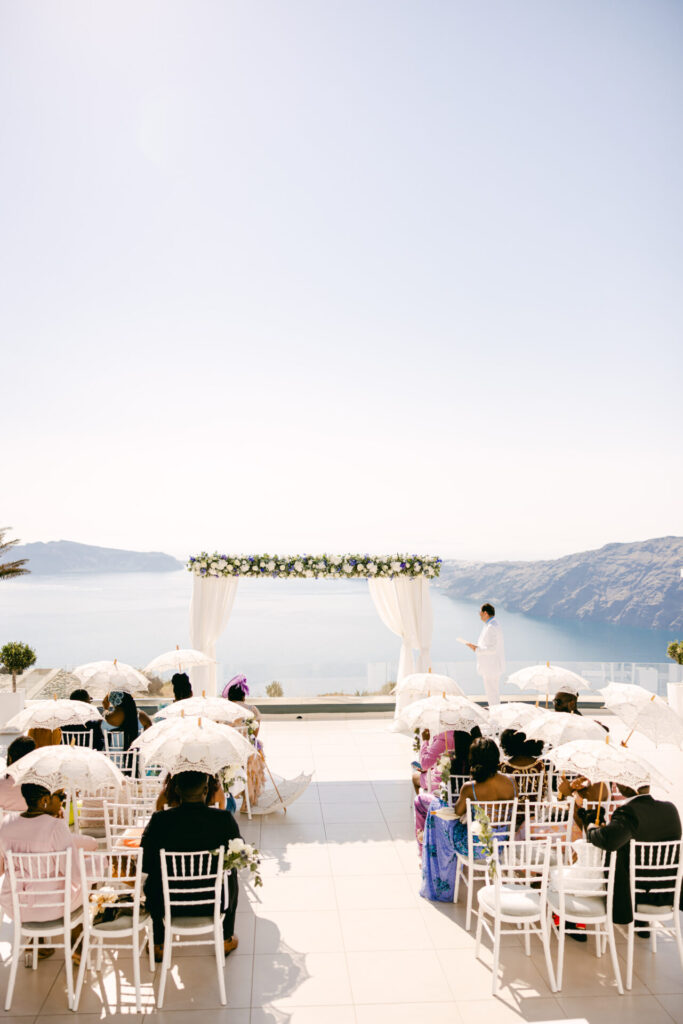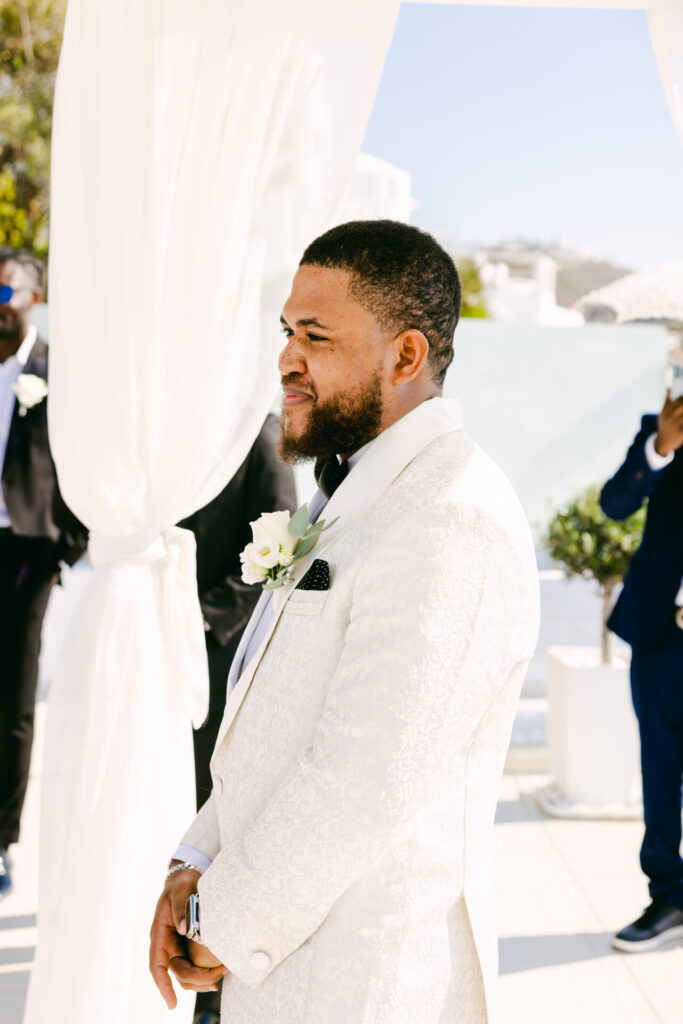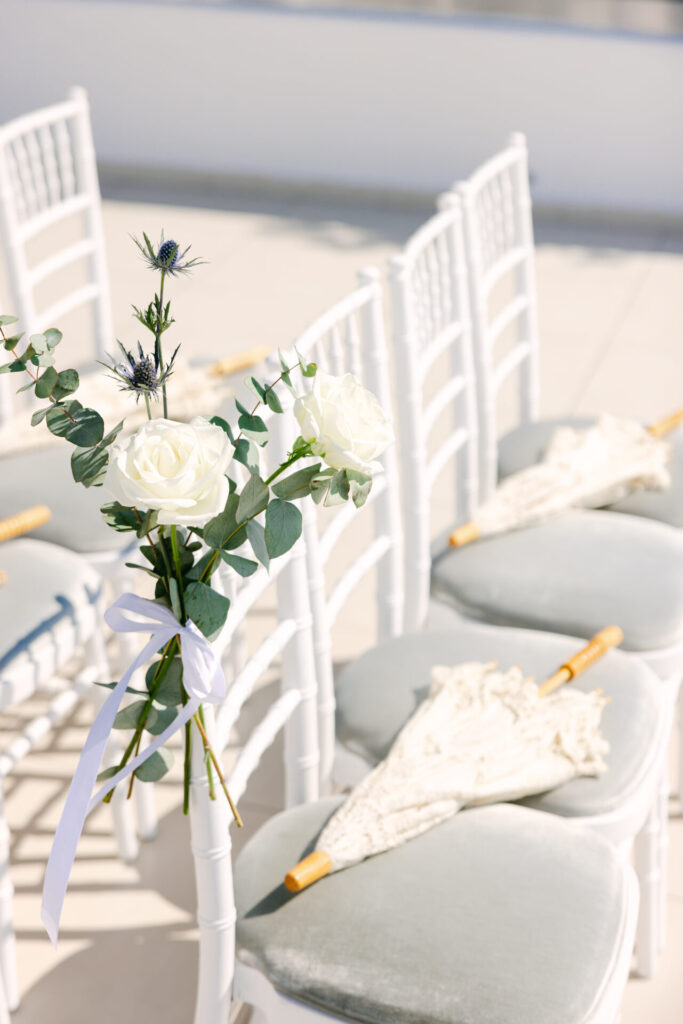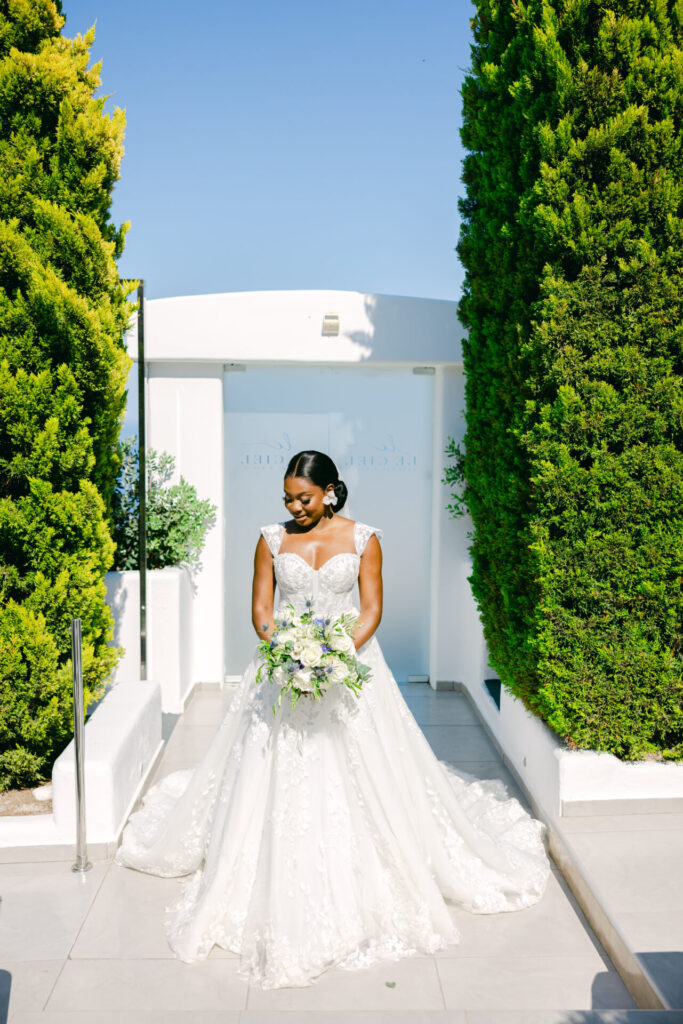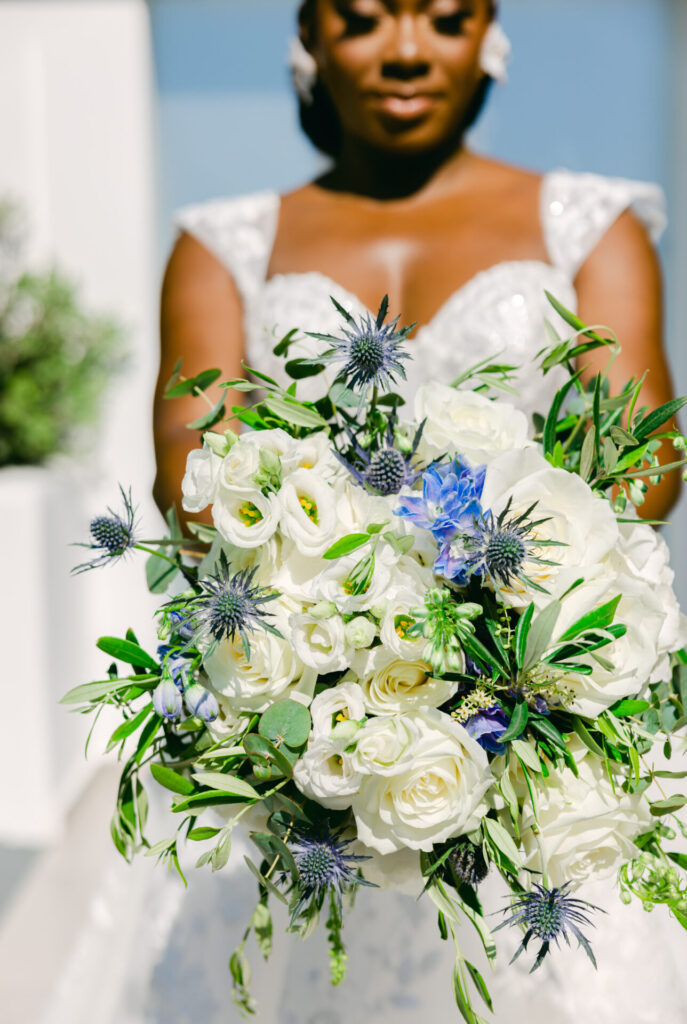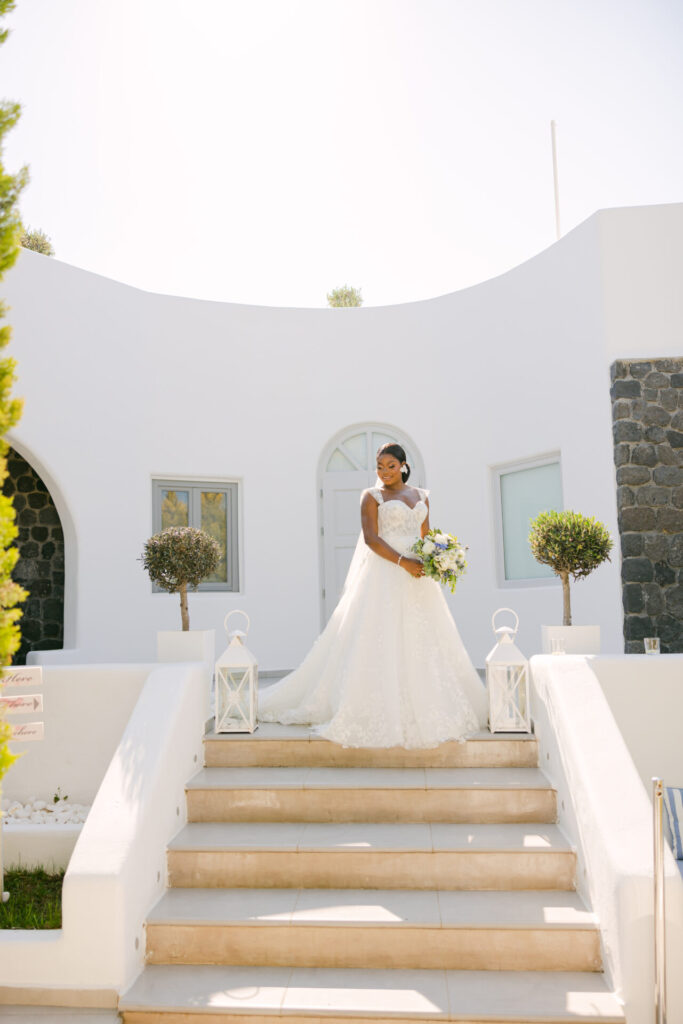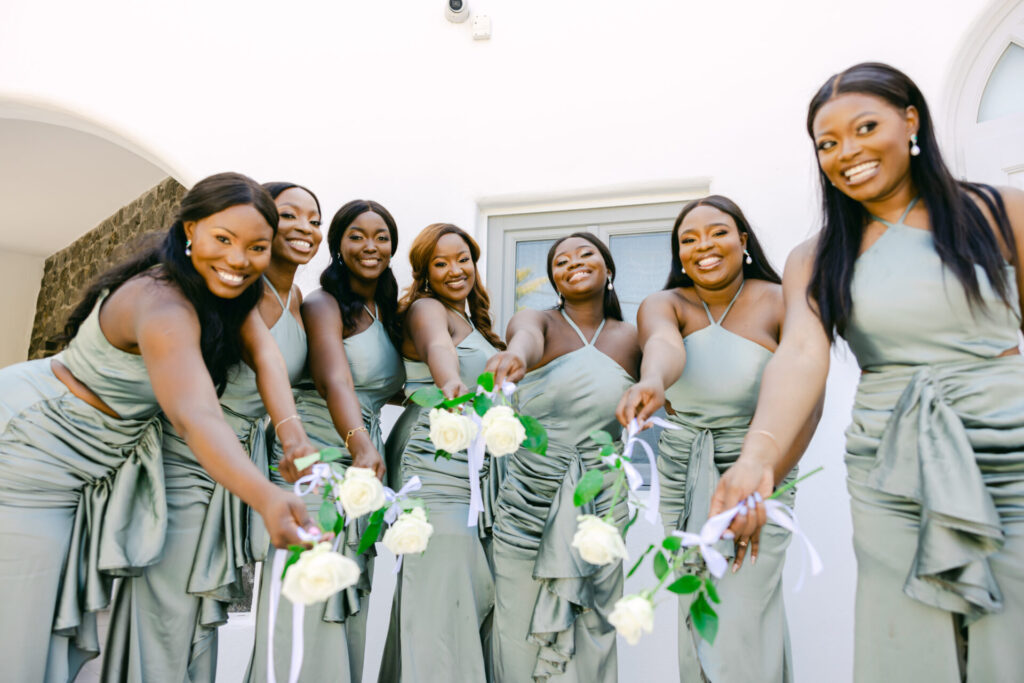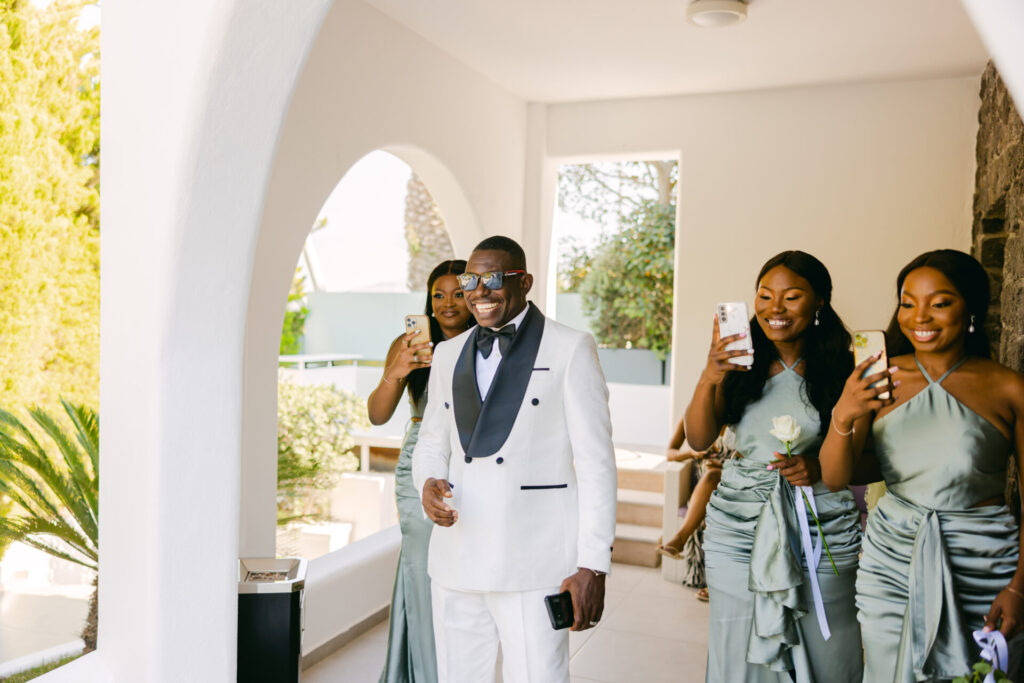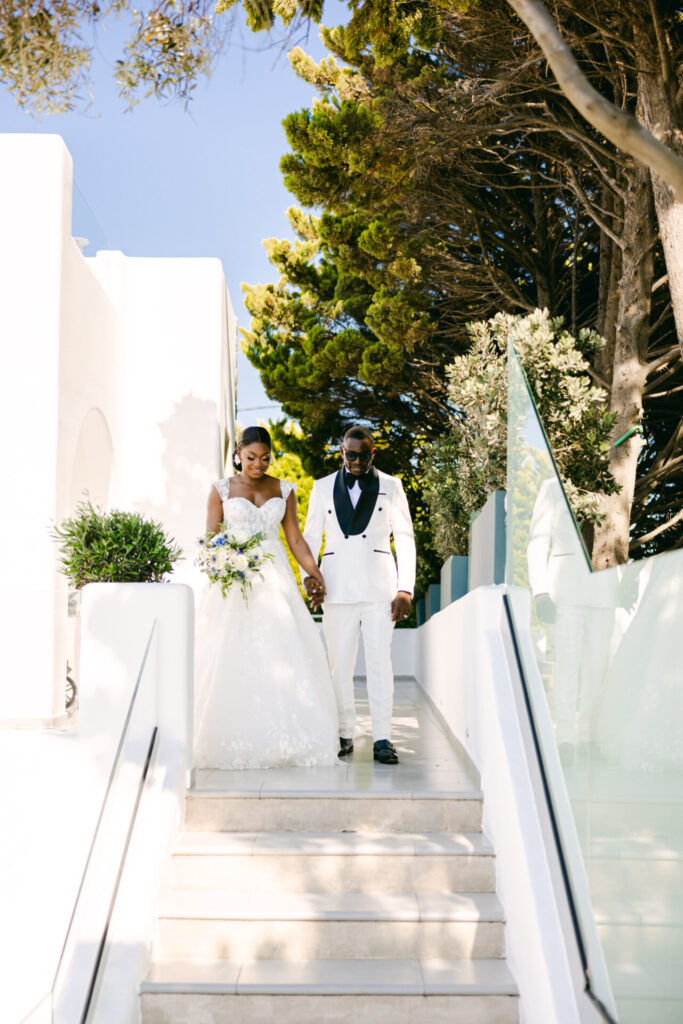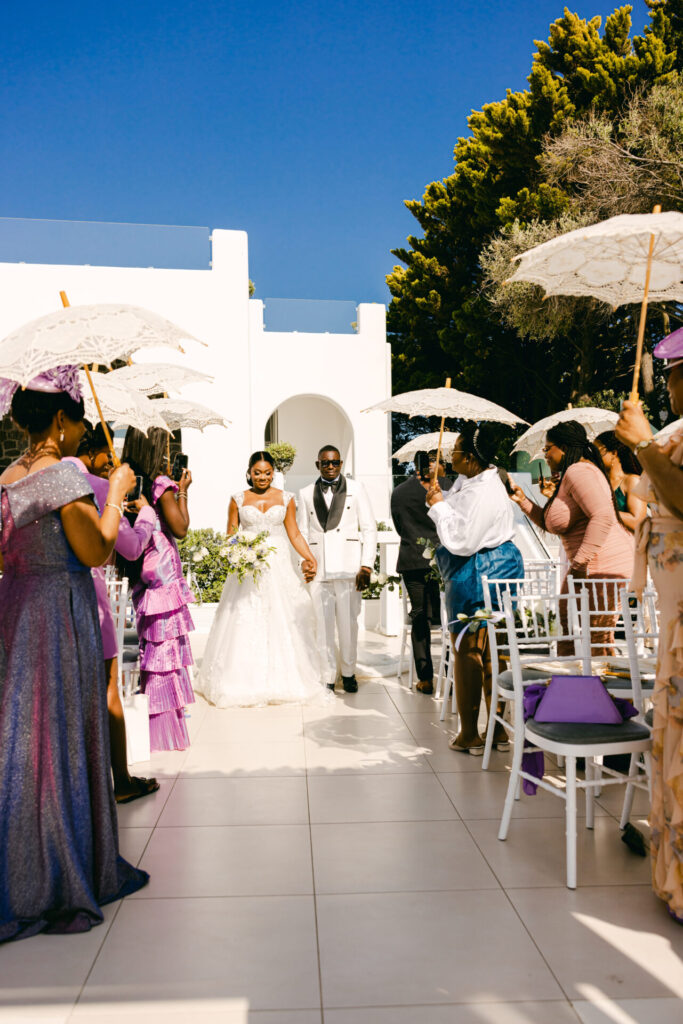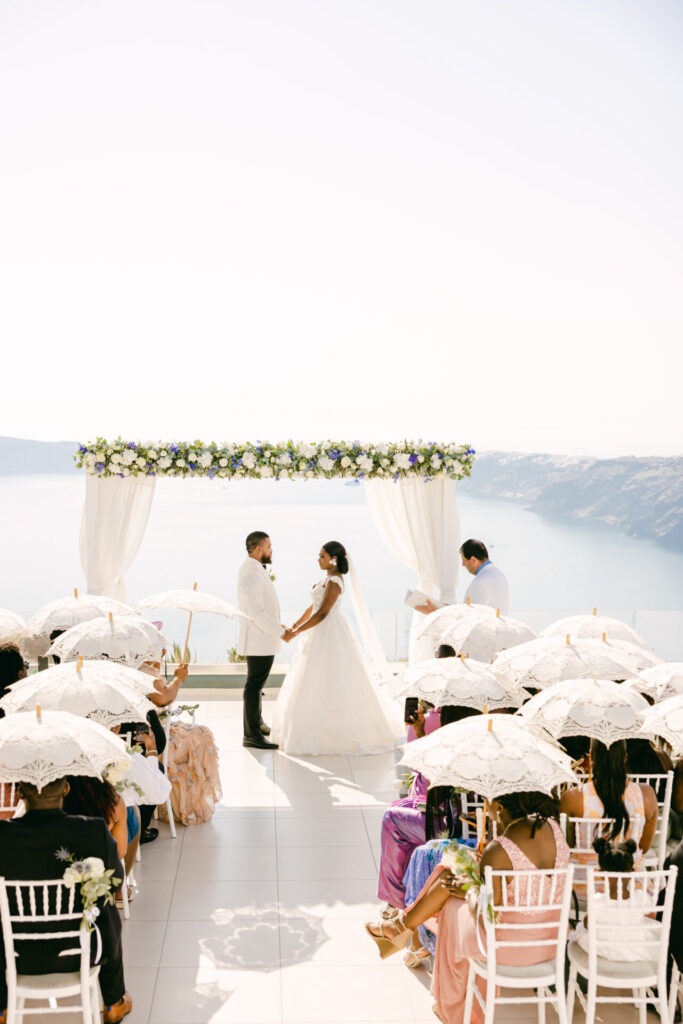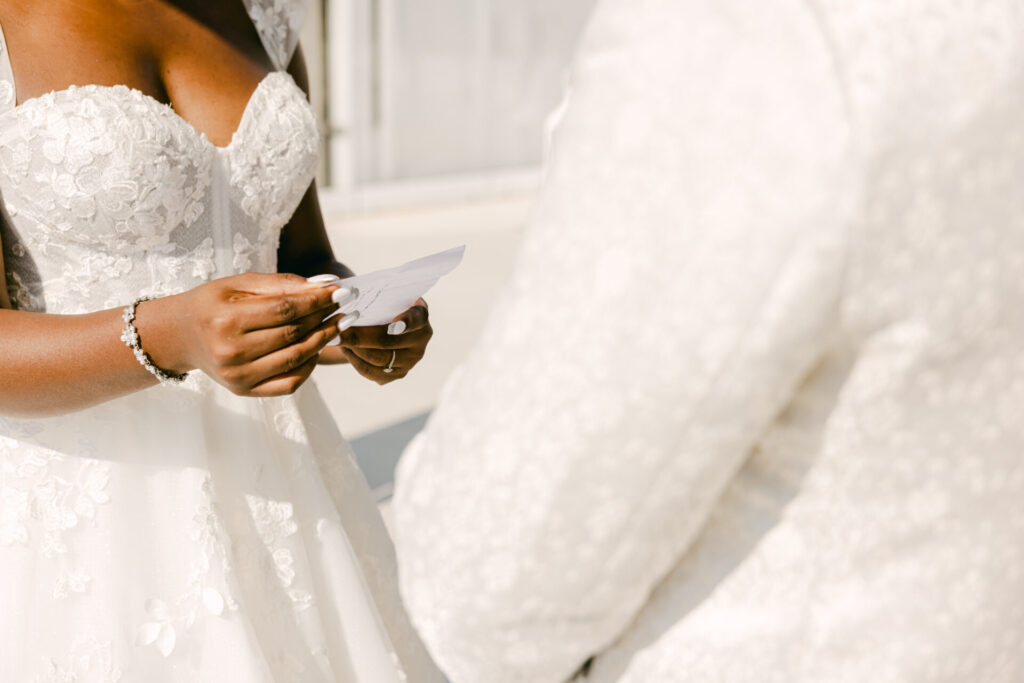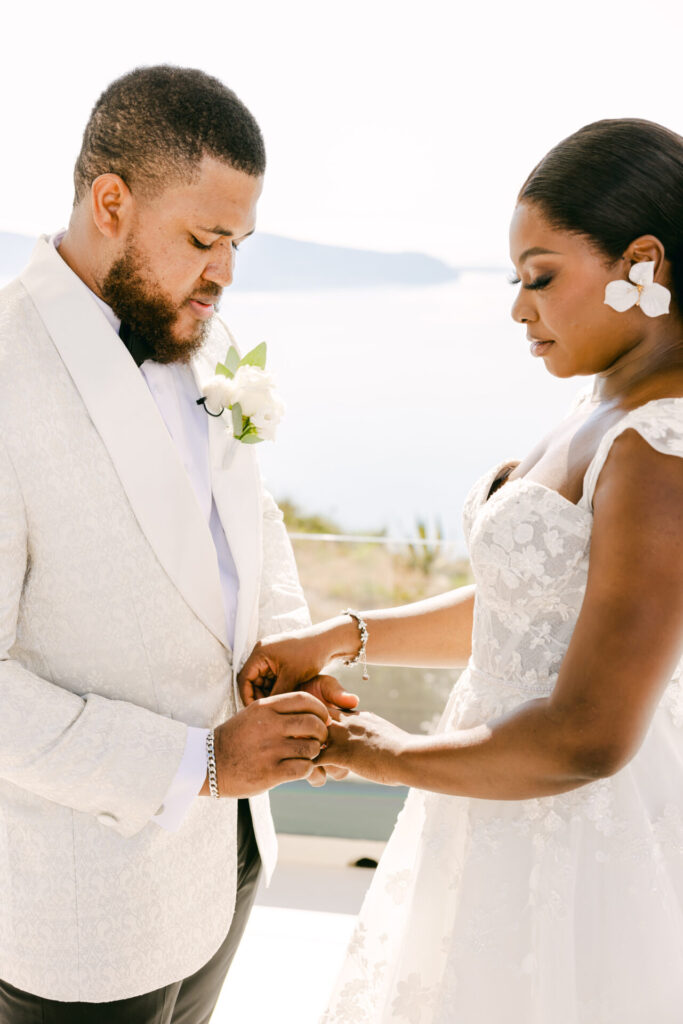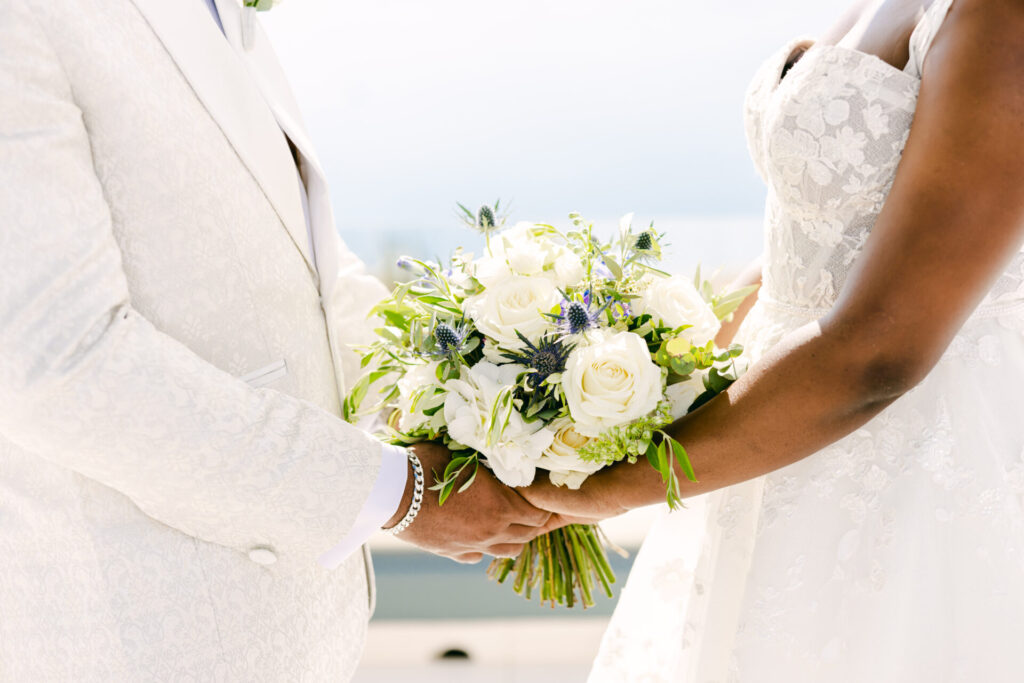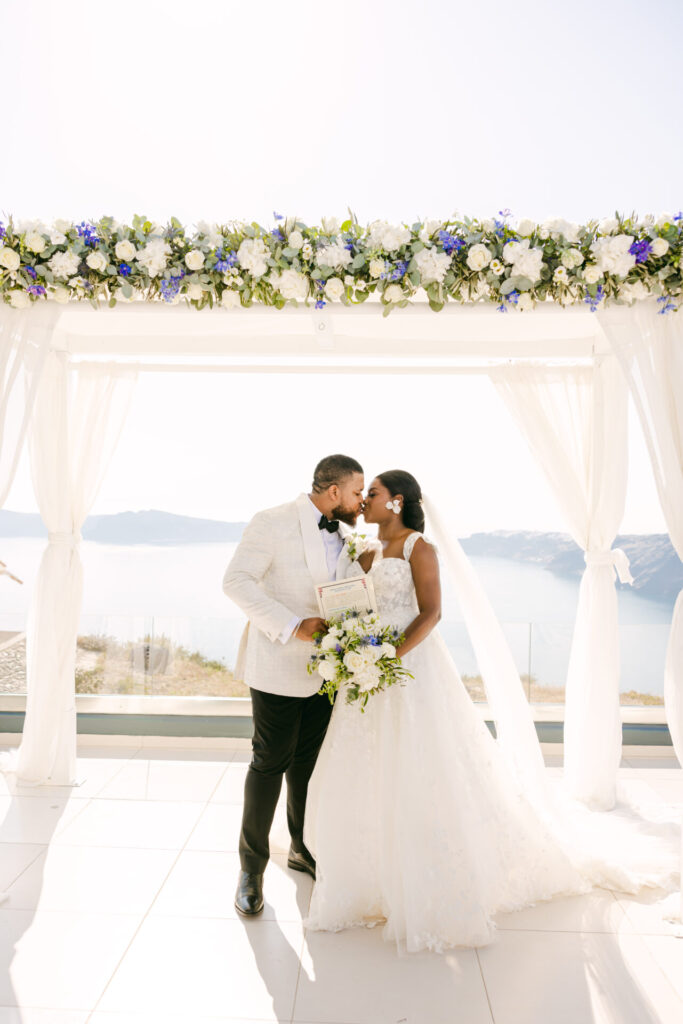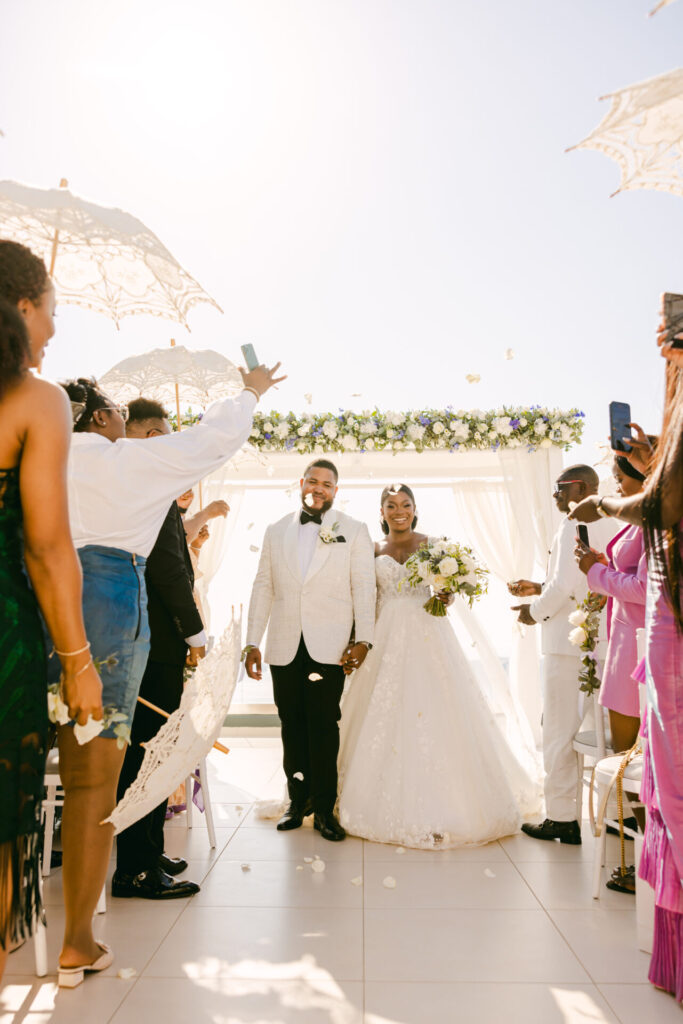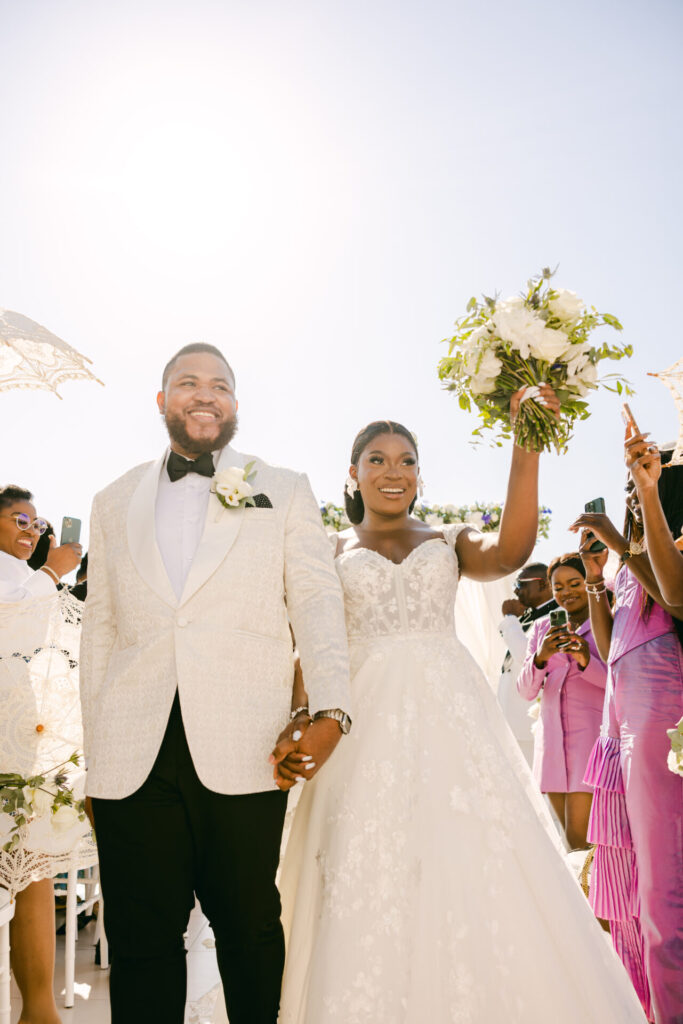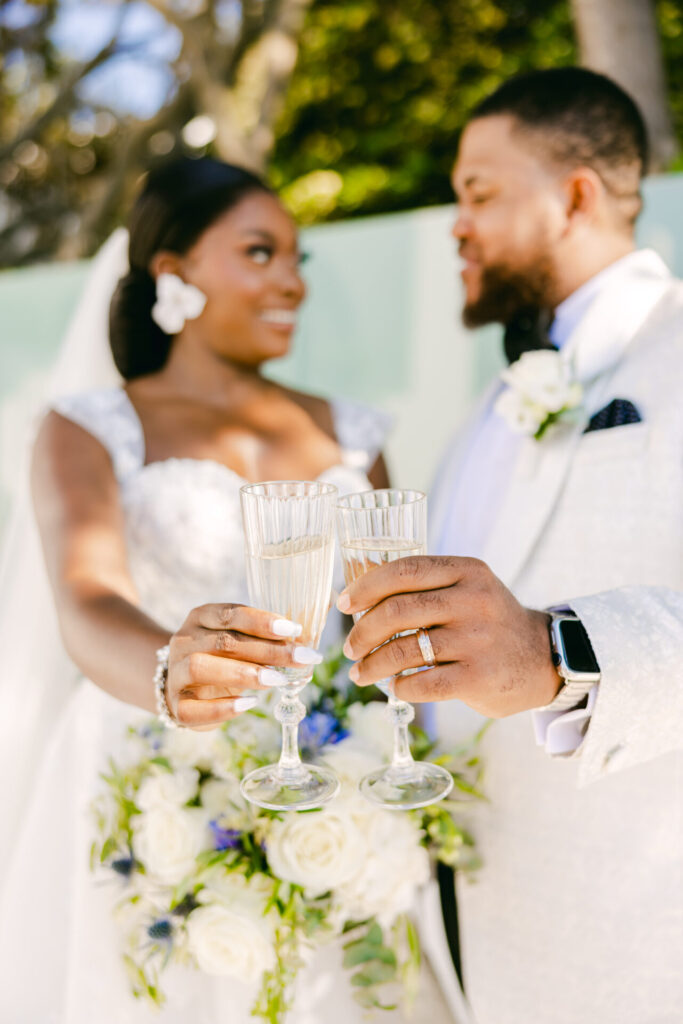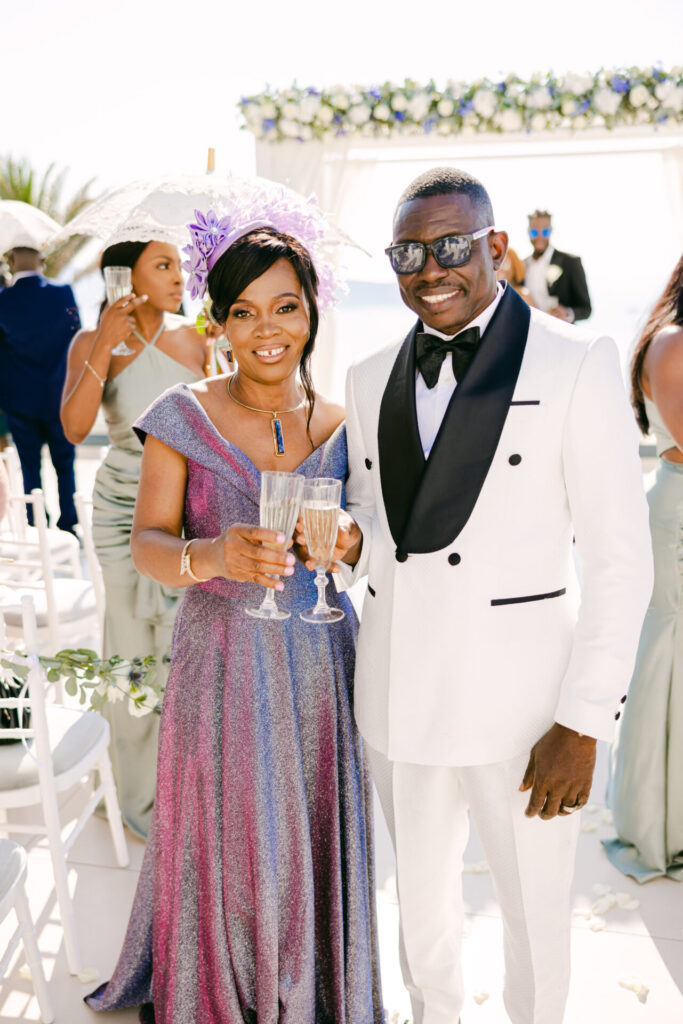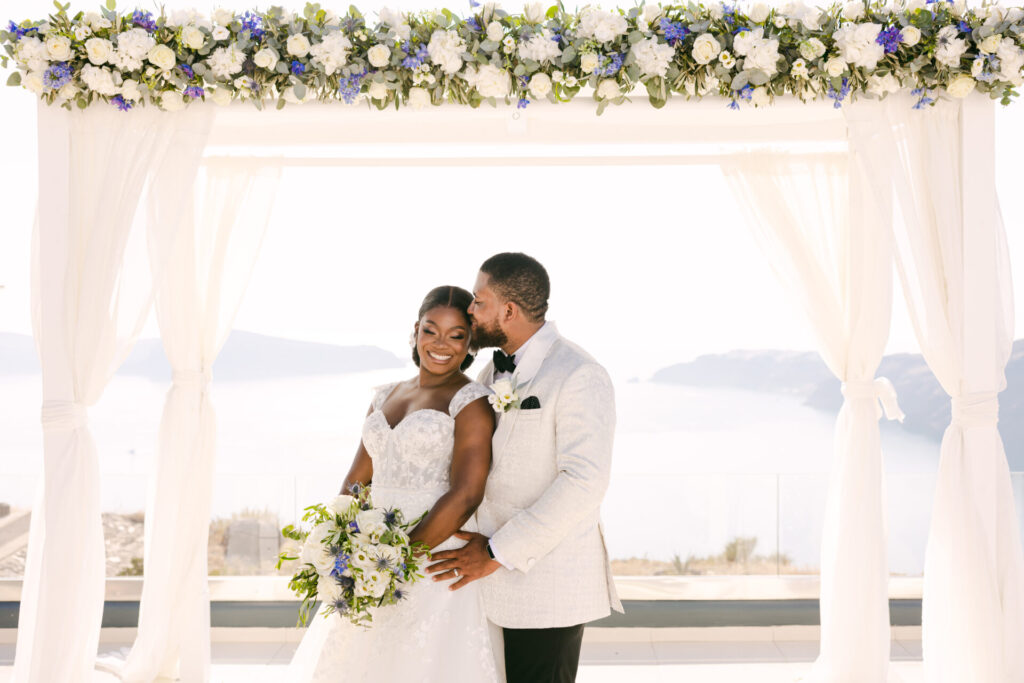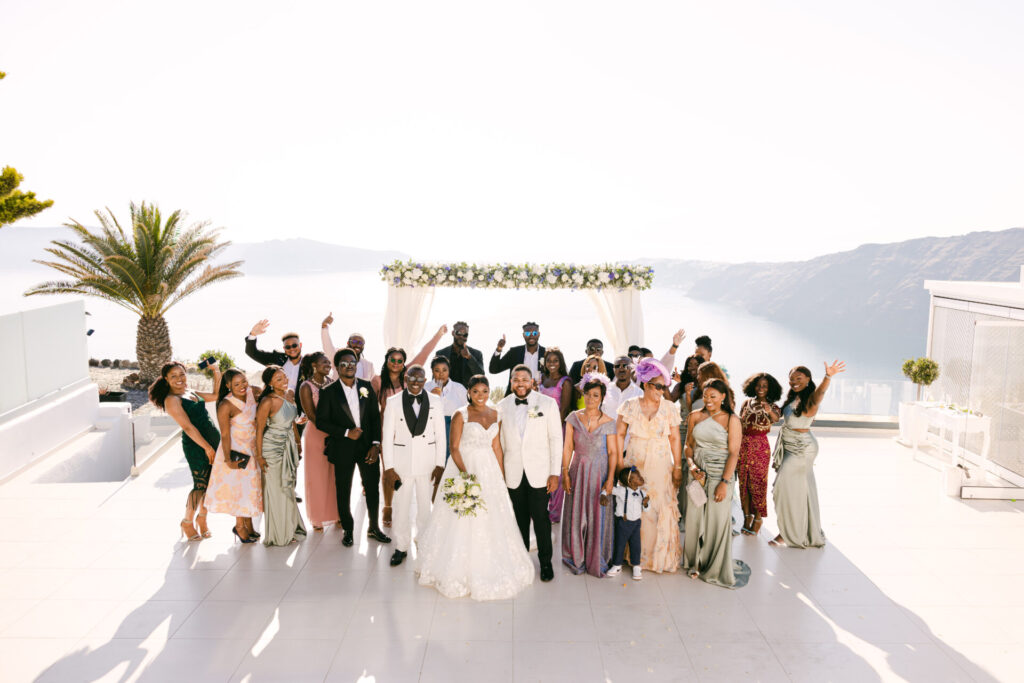 The Reception
Later on, at about 6 pm, it was reception time. We had gotten back from our photoshoot in the city and then danced in to Adekunle Gold's High along with our bridal party. It was officially the start of our reception and the DJ held it down for the rest of the evening. We had speeches, tears were shed (again! Only happy tears though), and we had unlimited drinks and an open bar (Very pricey but I recommend it). There was not one empty glass in the room and the service at the venue was incredible. We did our first dance outside at sunset hour, there were fireworks and it was just perfect. Our first dance song was If I Ain't Got You by Alicia Keys. I also danced with my dad and Kay (my husband) danced with his mum.) I had an outfit change to an avant-garde-inspired white ensemble by BethO Official (a Nigerian designer).
We had our meals, got entertained by traditional greek dancers, danced till we could dance no more, ate till we could do so no more and partied the night away until 1 am the next morning. I got back to the hotel suite with so much joy overflowing on what was the most beautiful day ever and a lot of gratitude for my friends and family who flew in to make the day complete.
(Vendor credits at the end of the post).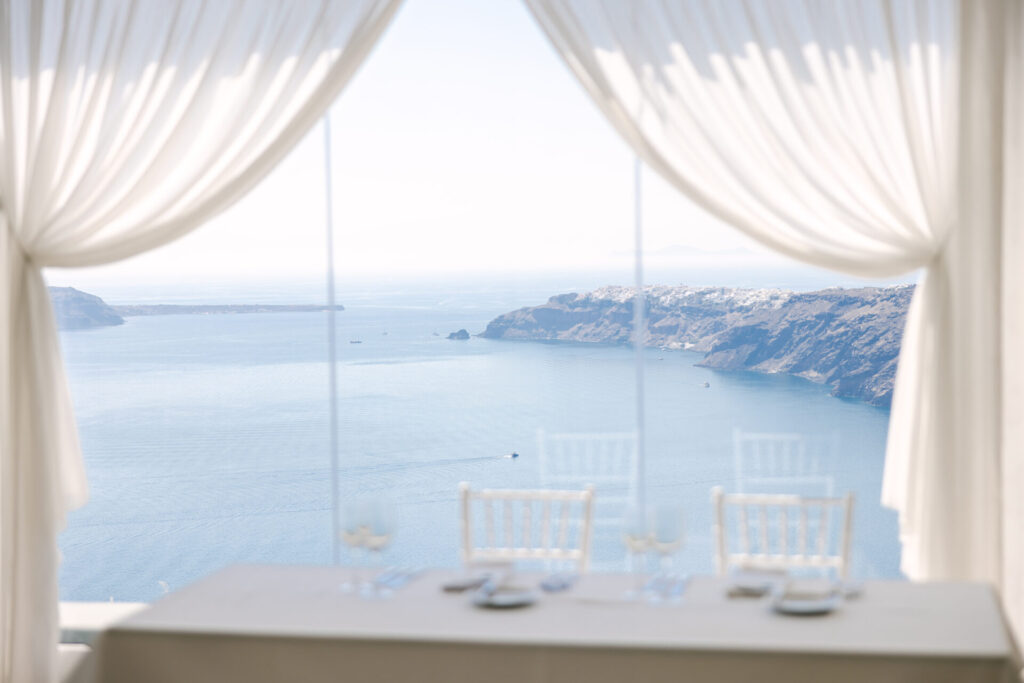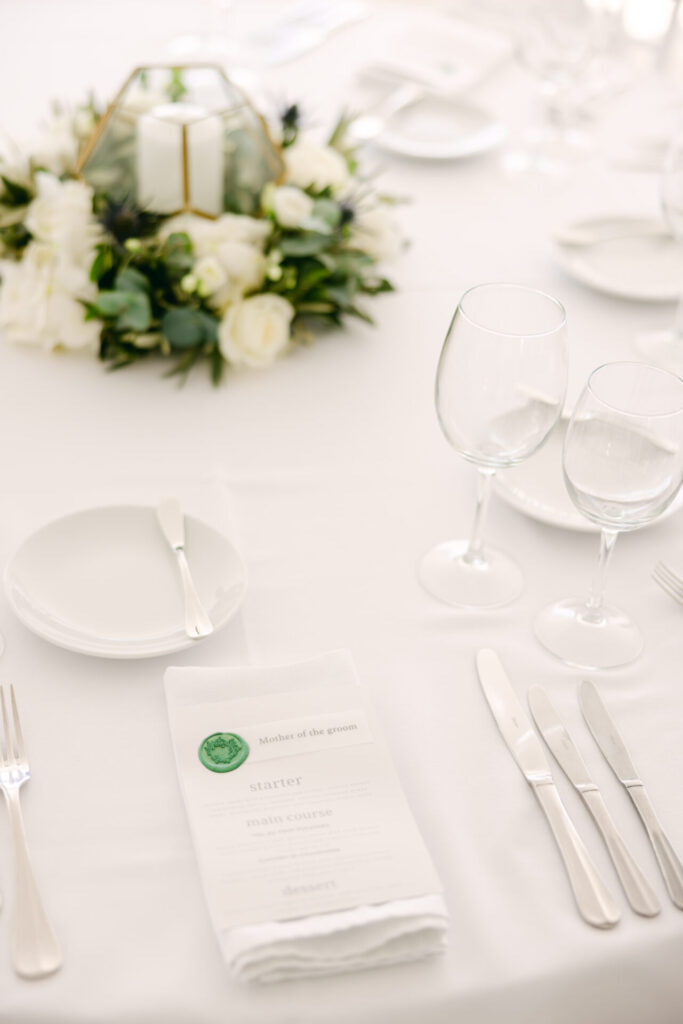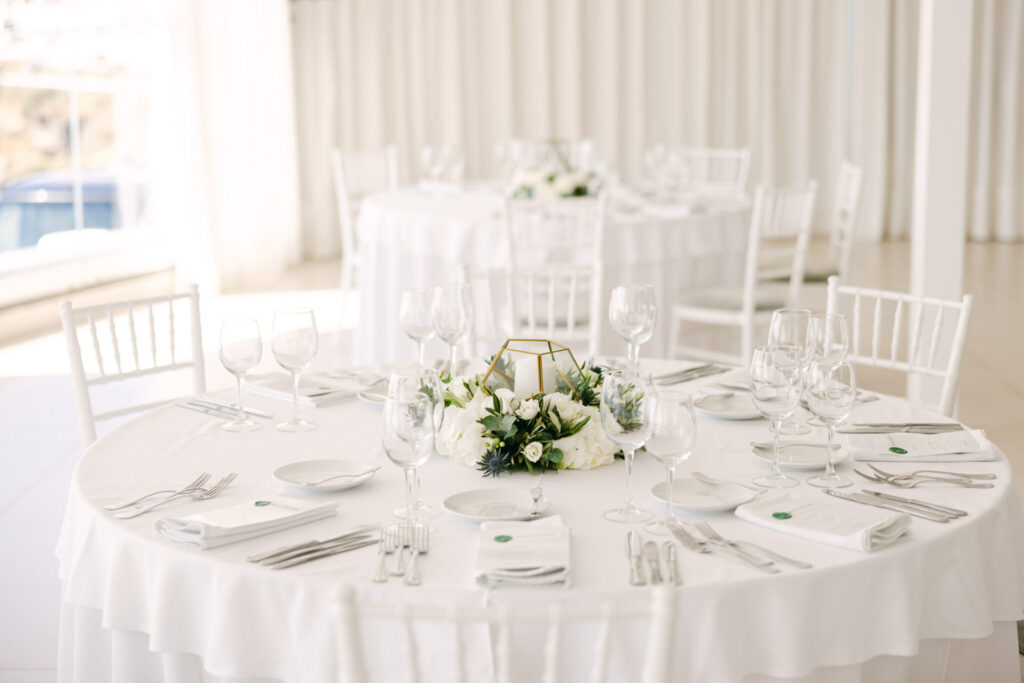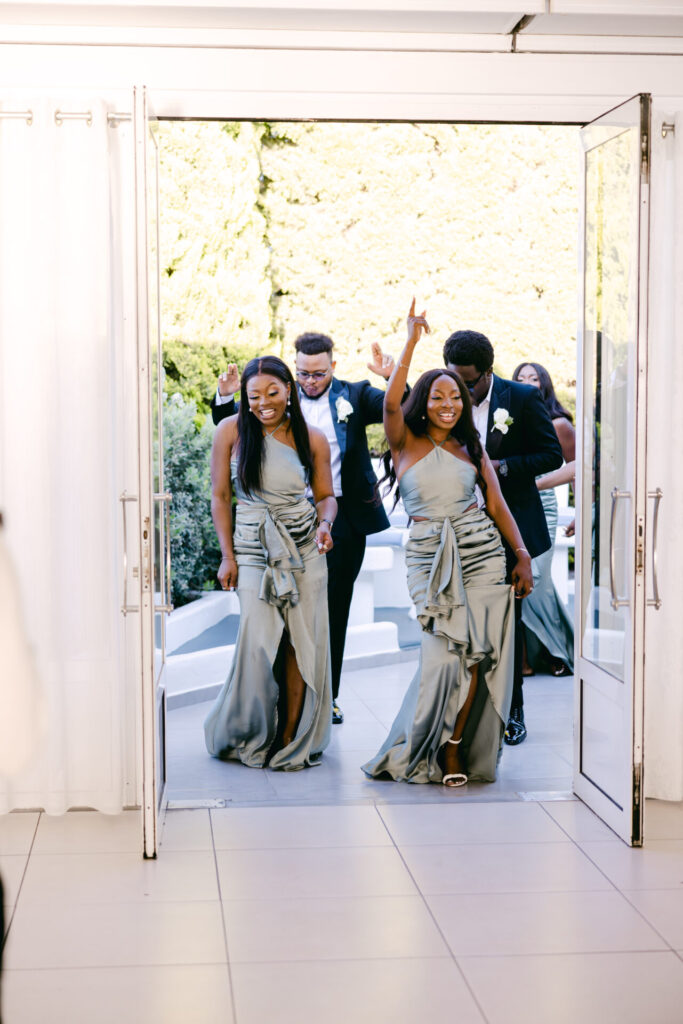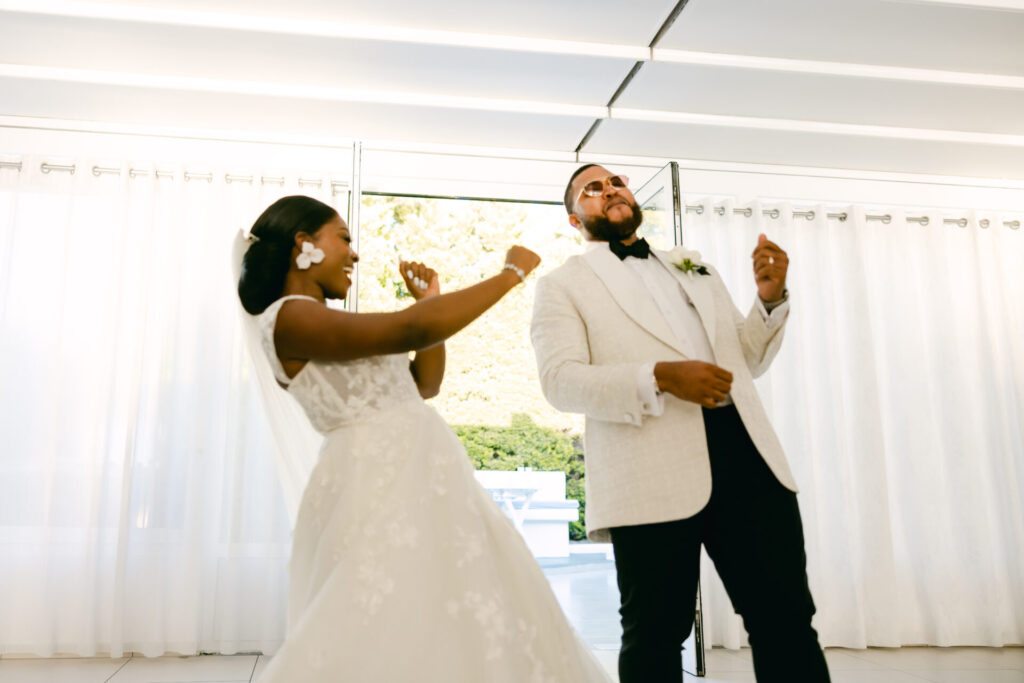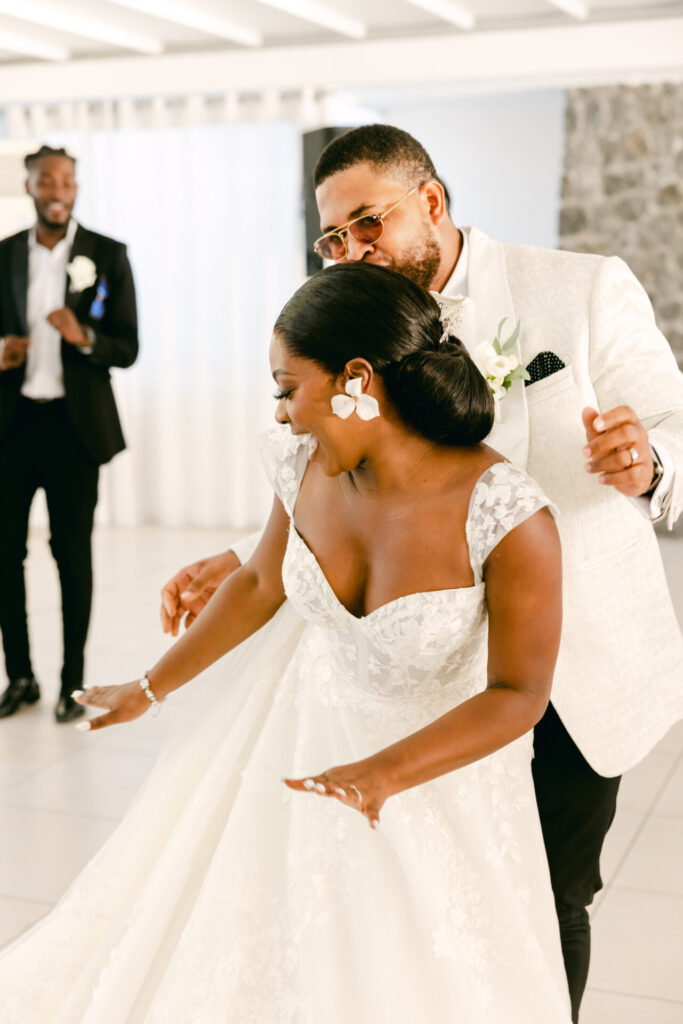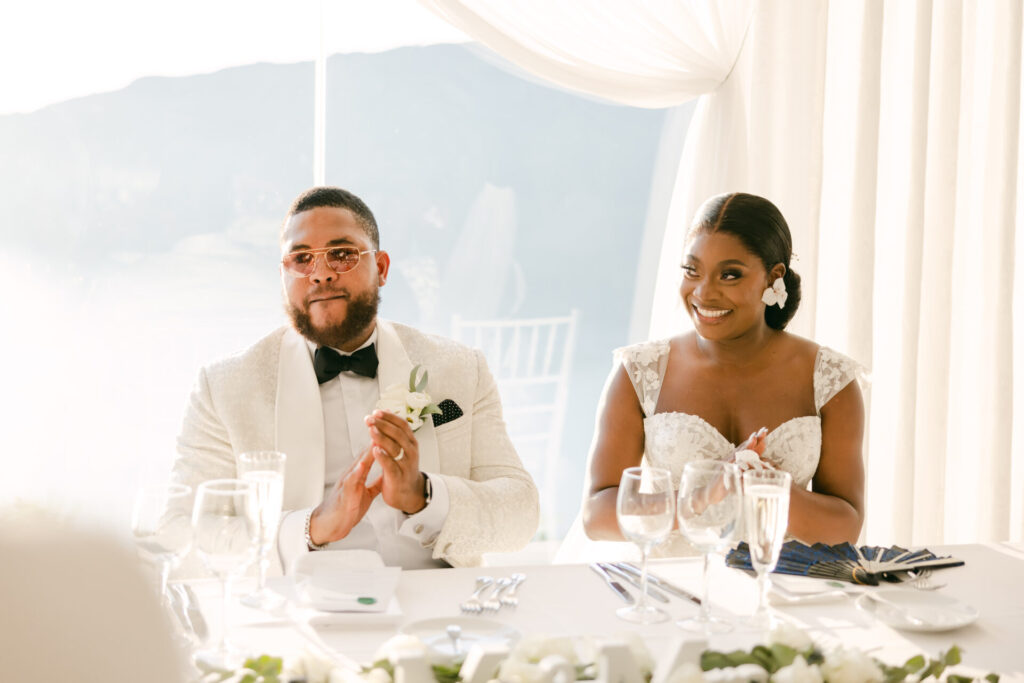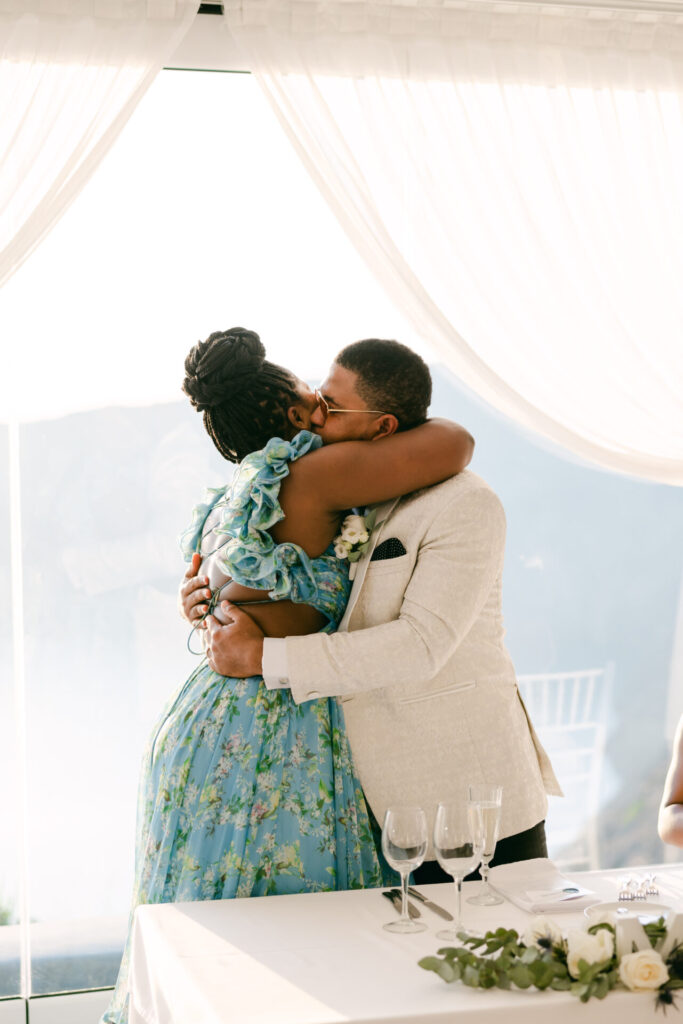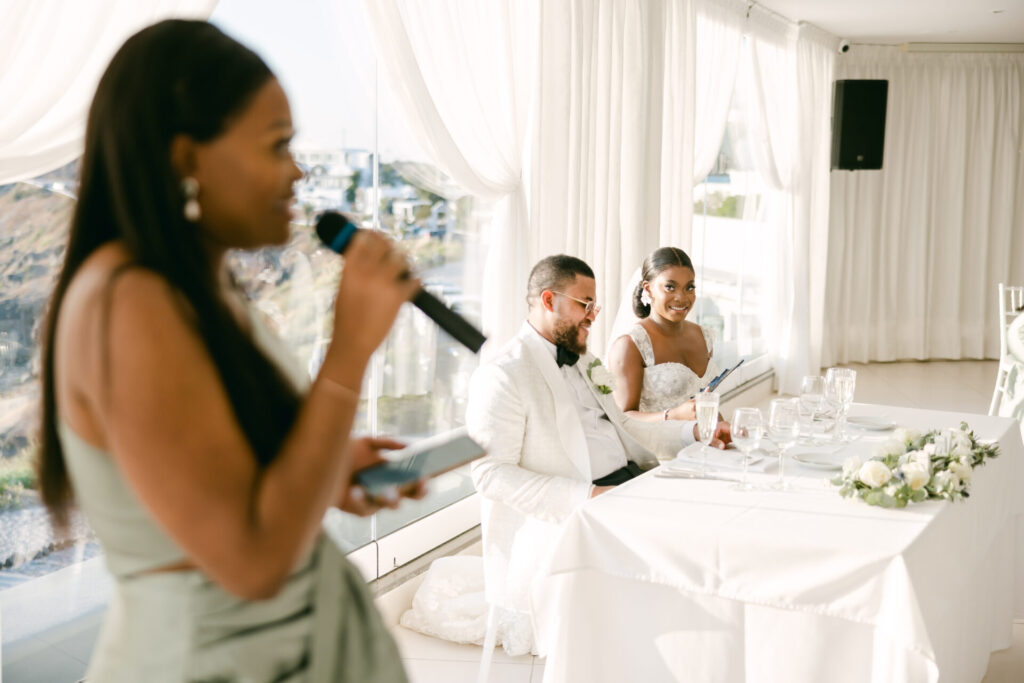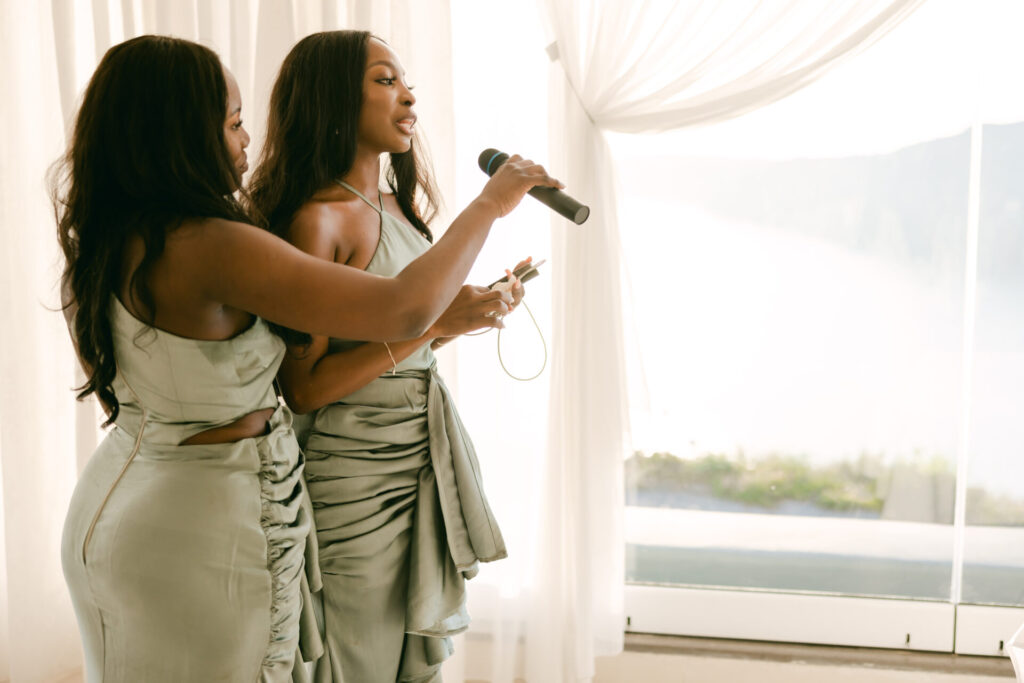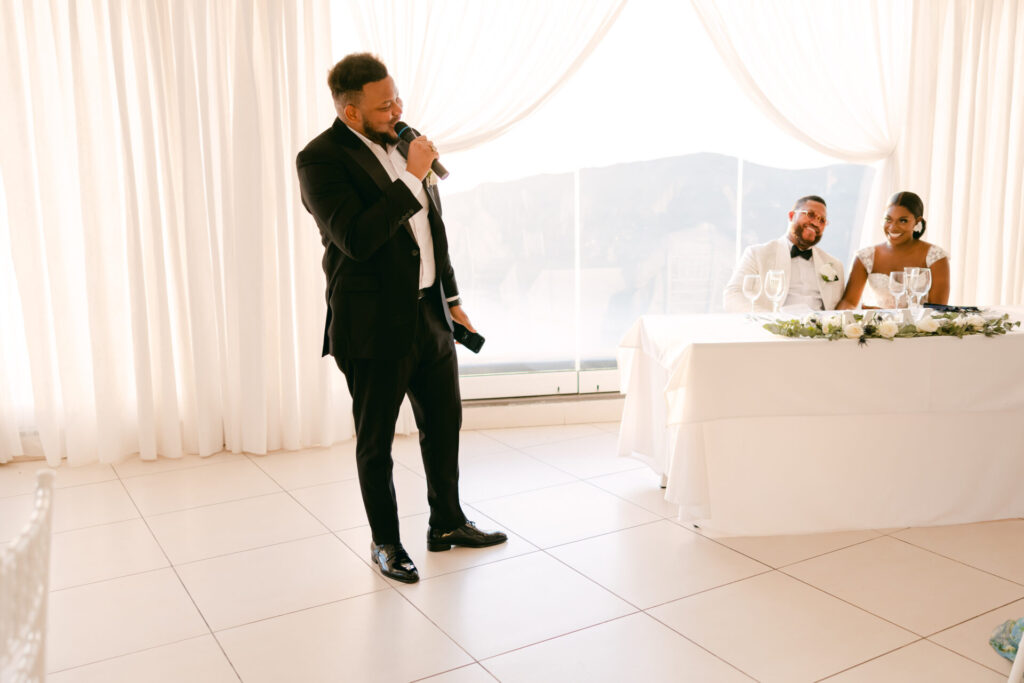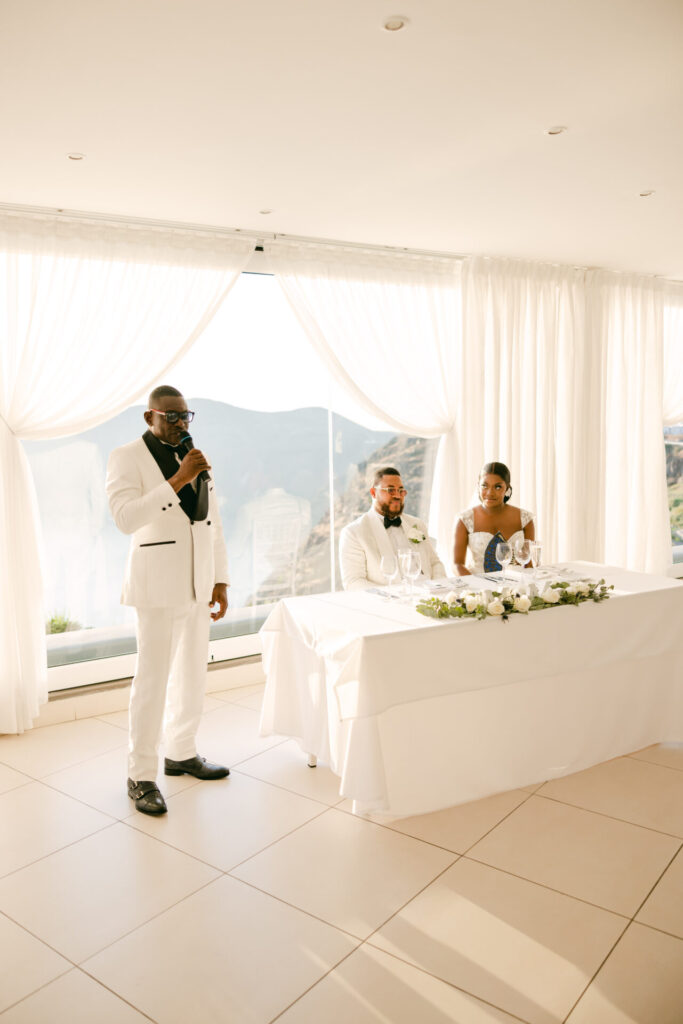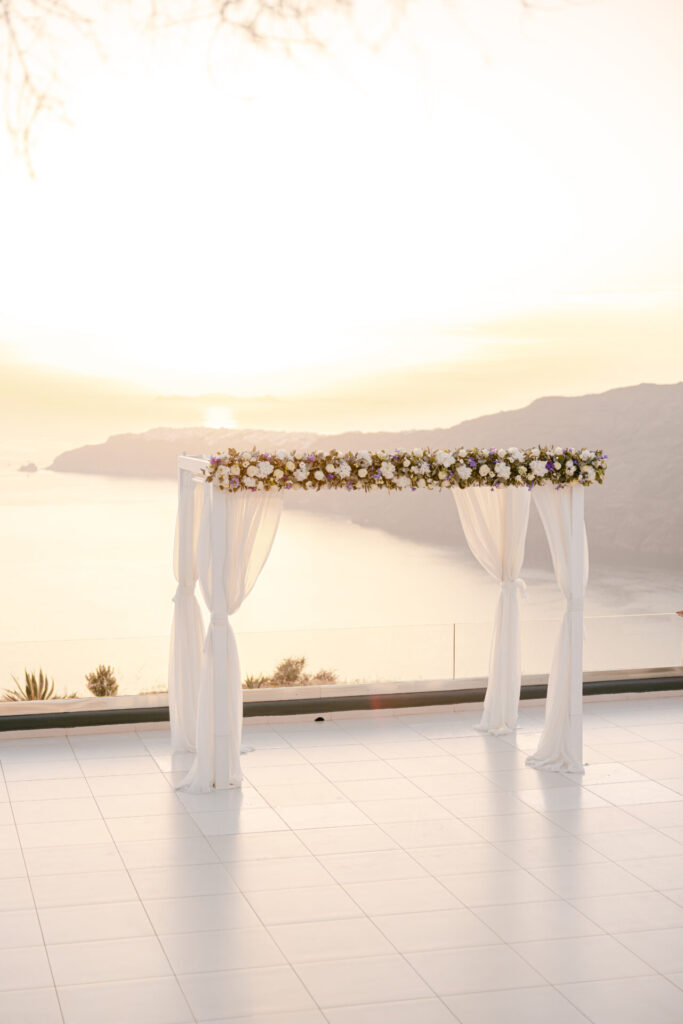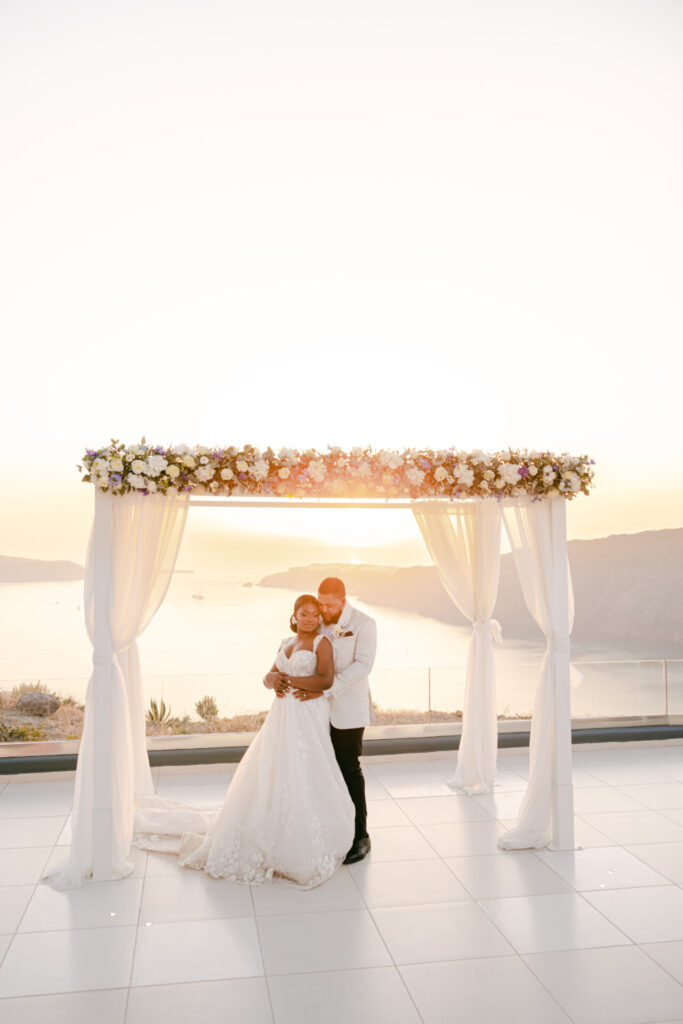 Our photoshoot in Imerovigli, Santorini, Greece
While our guests were enjoying cocktail hour, our photographer took us to some beautiful spots in Santorini to take some photos. Here are a few of them. I absolutely loved this moment we shared together on our big day – not only did it allow for some beautiful photos, it let us bond and talk and have a moment alone together.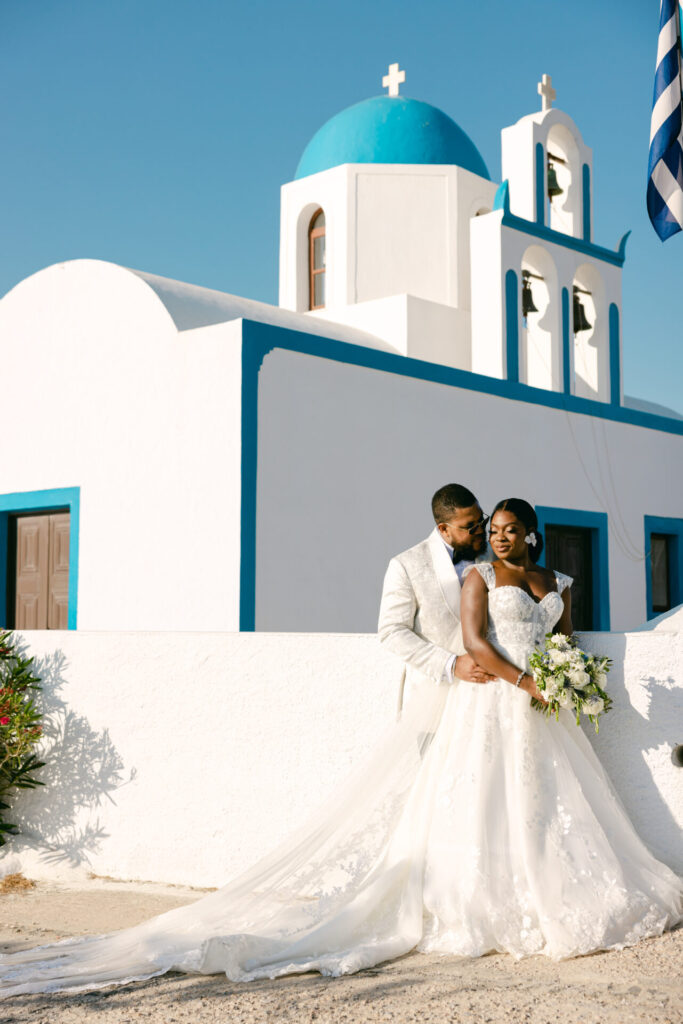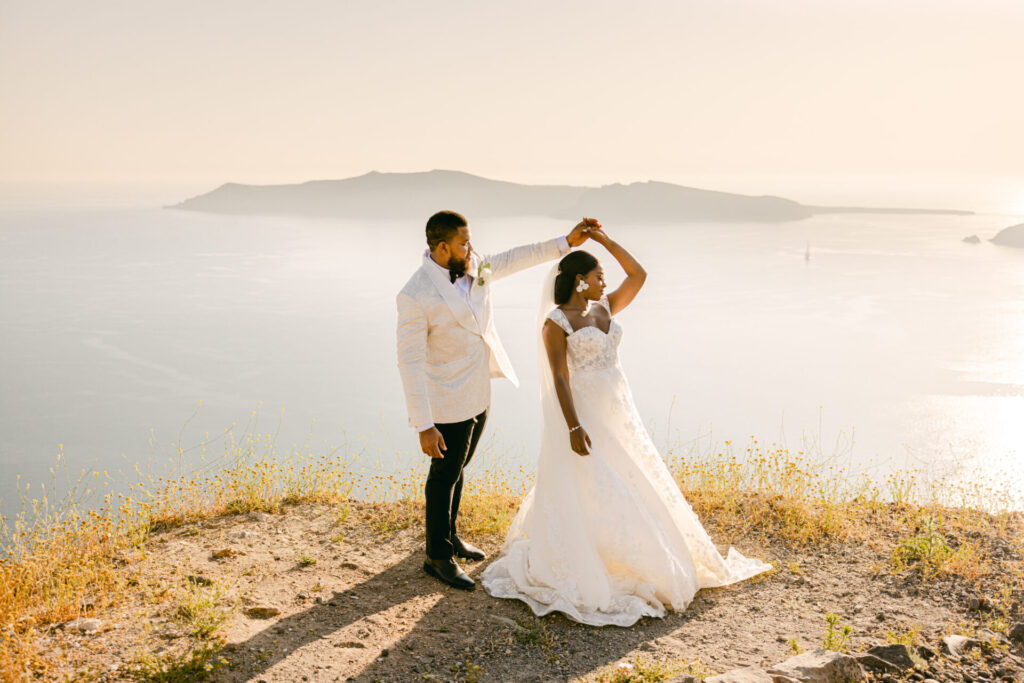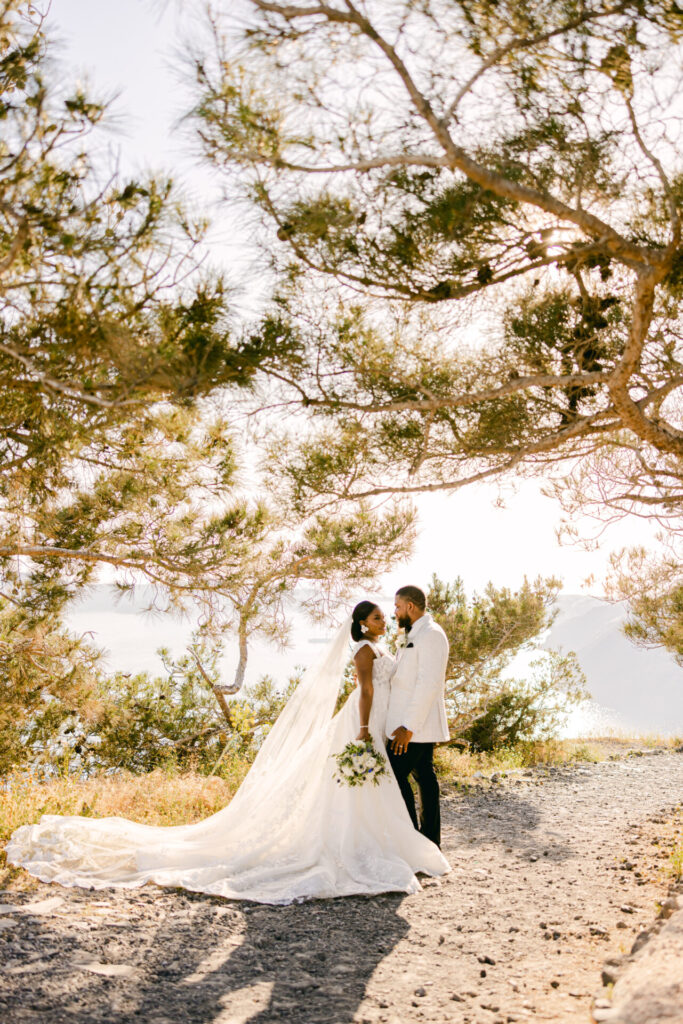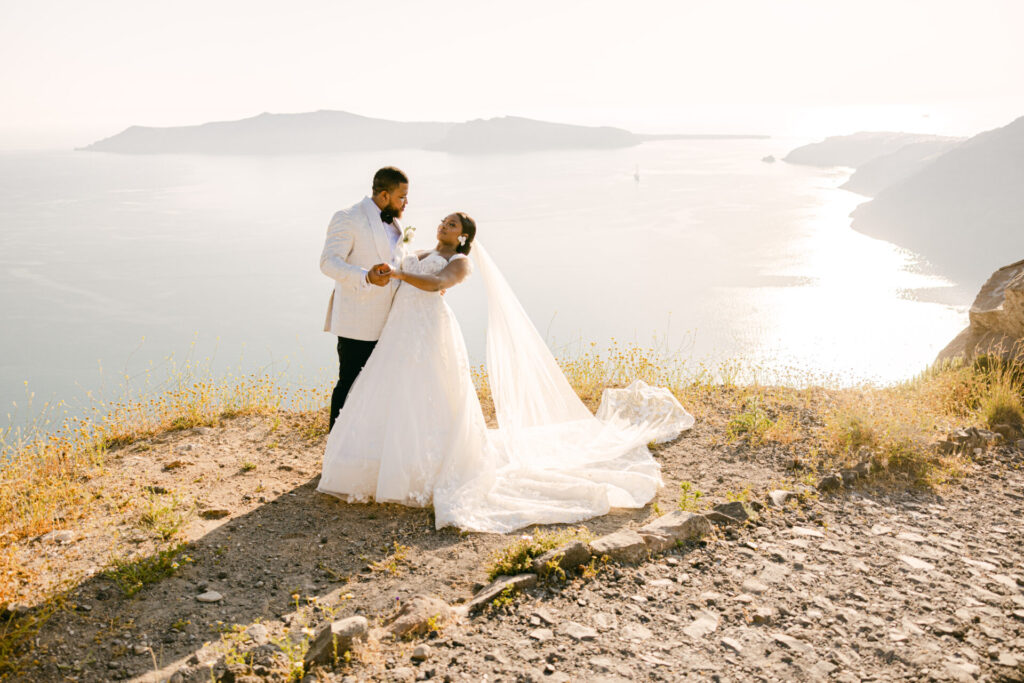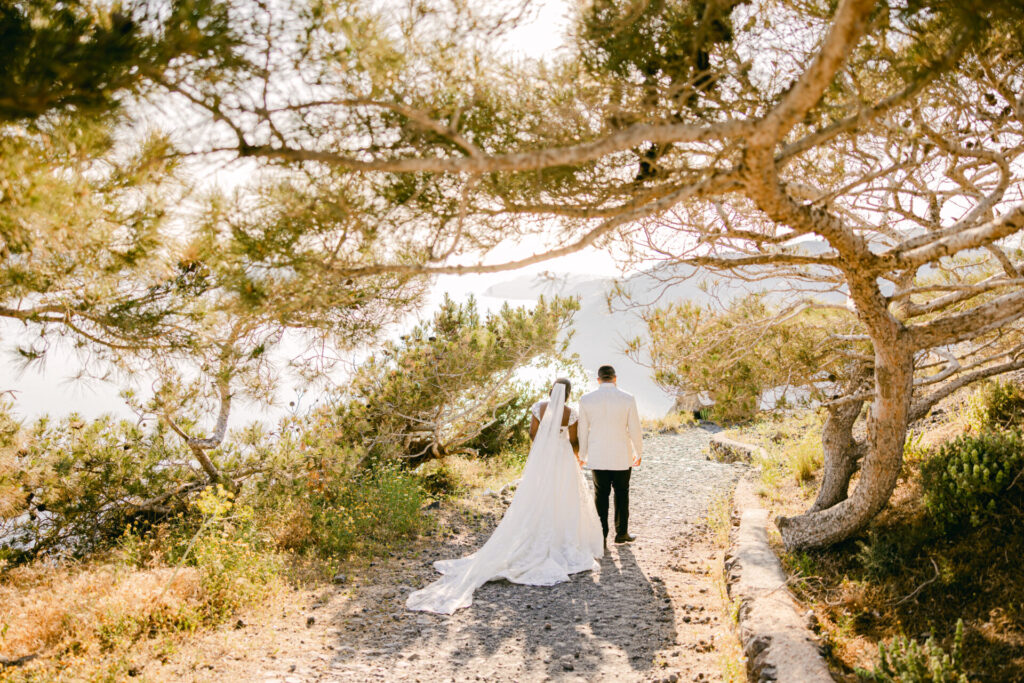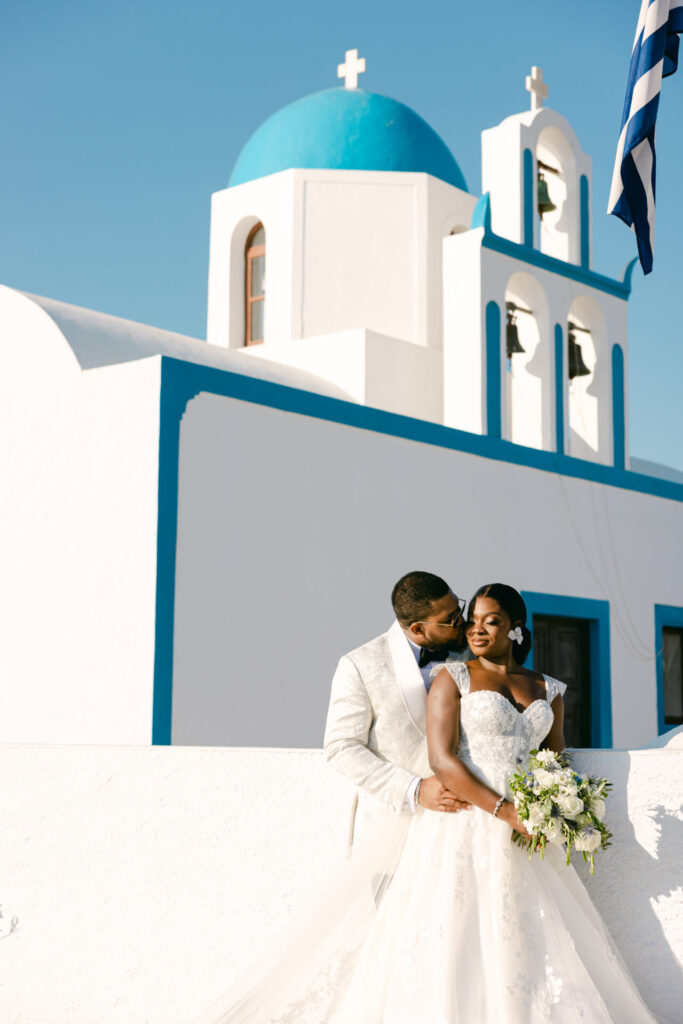 Conclusion
If ever there was a perfect day, then May 18, in a beautiful corner of Greece, would be it. I'm so grateful for what was an incredibly beautiful day and thankful to God for making it all go smoothly and beyond what we could ask for. Thank you to all our amazing family and friends who made it down there. Every single one of you hold a special place in our hearts and may joy continue to be the overaching theme for the rest of our lives.
Vendor credits
Venue – Le Ciel Santorini
Planners – Le Ciel Santorini Planning Team
MC – Folly fresh
Photographer: Kimonas Photography
Videographer: Silver Lining Cinematography
Hairstylist: Papachi
Makeup Artist: The Queen Hadassah
Bride's first dress: Pronovias Barcelona
Bride's second dress: BethO Couture
Bride's shoes: Aquazurra
Groom's shoes: Calvin Klein
Groom's suit: Kimono Kollection
Bridesmaids' dresses: Ibilola Ogundipe
Thank you to everyone who made the day awesome. And thank you for reading.