Steal My Itinerary: 10 Super Cool Things I did in Thailand
If you ever made it to Thailand, what are some of the things you'd indulge in? Off the top of my head, I know I'd eat great Thai food, visit some temples, go to the beach and hang out with Asian Elephants. Well, I did visit Thailand and did so much more. Here are 10 Super Cool Things I did in Thailand.
Steal my itinerary is a segment that shows you what I did so that maybe, just maybe you can find inspiration for your own trip.
SIDE NOTE: CLICK HERE TO READ MY COMPREHENSIVE GUIDE ON PLANNING A BUDGET-FRIENDLY TRIP TO THAILAND.
1.) Went Temple Hopping
One of the coolest things I did in Thailand was hop from temple to temple because why not? Besides that, there are just way too many beautiful temples to indulge in. From Wat Arun to Grand Palace to Wat Pho, I had a great time seeing them all. Read the full experience here. Cool level – 4/5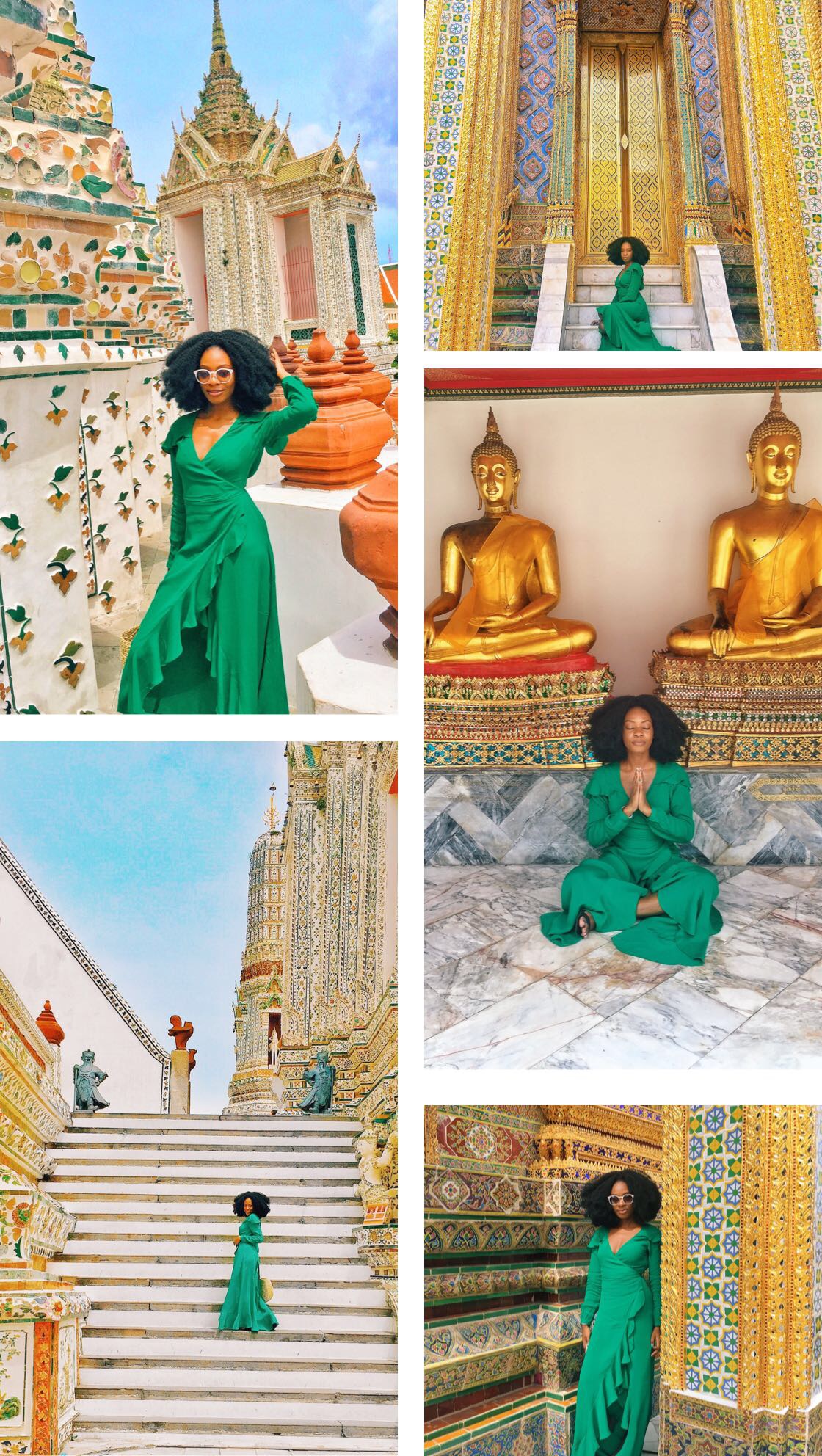 2.) Day Trip to Ayutthaya
Not like there wasn't anything else to do in Bangkok, but my heart was yearning for something a little different, so I took a two hour train from Bangkok to Ayutthaya. Ayutthaya is a beautiful and historical city with magnificent ruins and old looking temples. I had to indulge! Cool level – 3.5/5
Book here
3.) Visited the Floating Market
What's Thailand without visiting the floating market? Would have been incomplete for me. I took a day out to ride wooden boats through the vibrant floating markets of Thailand. It was cool to see all the vendors in one sitting and buy as many Thai souvenirs (read: food) as my wallet could carry. Cool level – 4.5/5
4.) Island Hopped in Phuket
For some beach and relaxation, I headed over to Phuket and explored the Phi Phi Islands. I had a great time seeing all the beautiful beaches, mountains and rock formations. I also formed a great relationship with my tour guide which I wouldn't be forgetting in a while. Cool level: 4/5
5.) Took a Thai Cooking Class
Besides Nigerian food (pardon my bias), my favorite food to eat is thai food. Not only is it tasty, it is flavorful, exactly how my food pallete likes it. It only made sense to learn how to cook it and replicate at home. It was a great day where we started out picking fresh ingredients from the farm and taking it to the table. Cool level: 4.5/5
Book here
6.) Visited the White Temple
The most beautiful thing I have ever seen! I made it over to Northern Thailand's Chiang Rai just to see this magnificent Thai temple and it definitely blew me away. The beauty of this place is unrivalled and I am so glad I got the chance to go. Cool level: 5/5
Book here
7.) Visited the Long Neck Tribe
I had heard so much about the Long Neck Tribe and wanted to experience it for myself. I had mixed feelings visiting this place as I am not in agreement with some of the practices toward women wearing those heavy metals on their necks but have to be respectful of other traditions. Cool level: 3.5/5
Book here
8.) Hung out with Elephants in Chiang Mai
What a day it was bathing elephants, feeding them and playing with them. My dreams of seeing Asian elephants came through in a major way and I will never forget this experience, ever! Read the full experience here. Cool level: 5/5
9.) Ate my way through Thailand
What's a trip to Thailand without stuffing my face to some of the finest cuisine on the planet? From cheap and tasty street food and night food markets to restaurant hopping in Phuket, I loved how Thailand came through for my taste buds. For a picky eater like me, I was so impressed, but hardly surprised – I mean, it's Thailand! Cool level: 4/5
10.) Got a Thai Massage
I ended my time in Thailand by treating myself to Thai massage. I am not sure but I believe the Thais have special hands gifted for massages. It was epic. Cool level: 3.5/5
Thank you for reading. I hope you steal my itinerary on your trip to Thailand. Please subscribe to keep up with other steal-worthy destinations I will be sharing in future.
Until next time,