Anyone ever seen one of those travel quotes that read, "quit your job, buy a ticket and never return" and let out a heavy sigh because that's only a dream for you? Perhaps you saw it while at your desk at work and you're longing to be somewhere else with a cocktail in hand and some vitamin sea. You don't have to quit your job. Here's how to travel while working full-time.
The idea of quitting a job to travel has been romanticized by so many including the media. While it seems like the norm now, it is not the easiest decision to make. There are a lot of things to be considered, such as finances, family, a stable future and career. To most people, keeping a job is the only option they have right now and they just have to figure out how to work around it. If you are one of those who want to work and still wander, here are some helpful tips you can adopt.
Hang on a bit, before I go into this, I'll like to quickly mention that 55% of Americans do not take all their paid vacations. While this might be due to several reasons that are sometimes personal, it might also be because we live in a generation of "no days off" when really, everyone needs to take some time to recharge and rejuvenate. There are plenty health benefits to it so not taking time off is no bueno.
That said, here are some ways that you can travel while having a full-time job.
PLAN YOUR TRAVELS AROUND HOLIDAYS AND (LONG) WEEKENDS
Bank holidays are sacred to me and I am sure it's the same for people who like to travel but have a job they have to clock-in to everyday. Every year, get a calendar and plan to travel around the days when you get longer weekends so you do not have to actually use up any vacation days at work and still get to travel. You can also go for short trips during the weekends that will help you relax and have some great leisure time.
MAKE — USE OF YOUR ALLOTTED VACATION DAYS
A lot of employees are scared to take time off work because they think they will be perceived as lazy or uncommitted to the job. I don't believe that should be the case. Once you view your days off as a benefit which you have worked for, then you will take it. You do not have to travel, you can take those days off to sit at home and enjoy some downtime while sipping tea. You wouldn't turn down your pay check so why turn down your allotted vacation days when it is your entitlement?
ACCEPT THAT YOUR TRIP MIGHT BE DIFFERENT FROM THAT OF OTHERS AND THAT'S OKAY
Sometimes what holds us back is the comparison. You want to be like that travel blogger who you see jetting off to a new city every weekend but fail to understand that your situation is different. You might not travel like someone who has the luxury of time on their hands or who can backpack through Europe all summer that's okay. You might have to settle for three days in a new city and not be able to go to all the popular landmarks listed on TripAdvisor, and that's okay too.
KICK-ASS WHILE AT WORK
Wherever you are, be all there. It's so tempting to spend your work hours dreaming about where you would rather be but that is just not advisable for you and your career. Give a hundred percent to your job while you are there. After all, it is where the travel funds are coming from. Also, it is a lot easier to get the time off when your supervisor is aware of the value that you bring. Don't be a slacker at work.
TAKE ADVANTAGE OF BUSINESS TRAVEL
If your job allows you to travel, you're in luck. Take an extra one or two days during business travel to sneak in some personal adventures of your own. If you are in the job market for a new job, you can target the jobs that require traveling. Otherwise, look for opportunities to travel for business within your company if you can.
ON MONEY, MONEY, MONEY
Ideally, having a full time job can provide some financial support to help with your travels. In an ideal world, that is. But then there's real life which comes with responsibilities. Also, because you are traveling within a strict schedule such as on holidays and long weekends, the cost increases due to the high demand. To navigate this, you have to be wise and plan properly. Here's how to get good deals on airfare and how to set up a travel fund.
MAKE TRAVEL A PRIORITY
After all, said and done, if travel is not a priority, it's not going to happen and you will not know how to take windows of opportunities that inevitably pop up. If you make travel a priority, which you really don't have to if it's not your cup of tea, you will set realistic goals and find ways to make it happen.
TRAVELING WITH A FULL TIME JOB FROM AN HR PERSPECTIVE
From an HR perspective, I collaborated with Ezinne Okwuosa of www.zinnyfactor.com to share her tips and thoughts on traveling while having a full time job. Here's what she had to say:
Zinny: I believe that taking time off work is essential and that's why it is also backed up by labor regulations. From an HR standpoint, I am of the opinion that you should make use of your time off. Some companies don't allow you carry it over to the next year.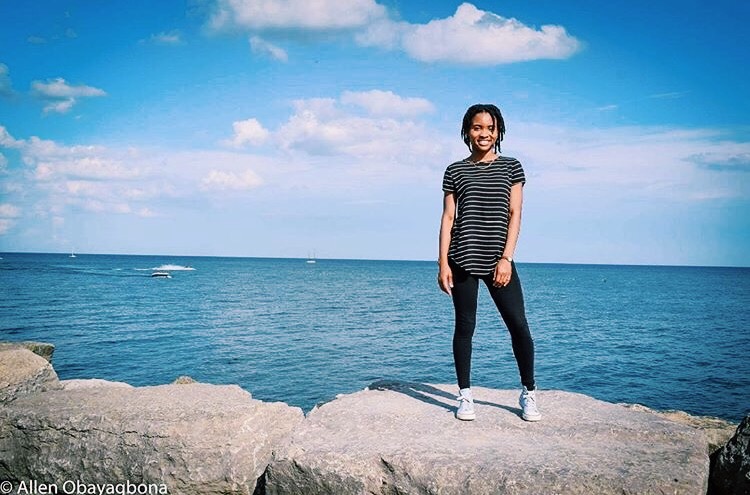 Zinny's suggestions:
Tell your boss early enough about your travel plans because he/she may need to approve.
Develop a relationship with your boss so he/she knows about your love for travel and possible plans.
Produce quality work on your tasks before your trip so that there are no raised eyebrows when you leave.
Try to work partially when traveling; respond to urgent emails if you can. Of course, you should have set up an automatic response email notifying people of your absence from work.
I believe it is important for employees to take time off to relax and rejuvenate. This ensures that they live a balanced and healthy lifestyle.
Thanks for your contribution, Ezinne. Definitely check out her blog for all things work-related.
---
How do you manage traveling with a full time job? Share your experience in the comments below. I'll love to learn from you.
Enjoyed this post and found it helpful? Subscribe below for more tips and share with your friends. They too might find it helpful.
[wysija_form id="5″]
Till next time,