Four Days in Singapore: Tips, Activities, Cost
A trip to Singapore is one that's guaranteed to leave you inspired long after the trip is over. I've always wanted to visit Singapore and when the window of opportunity came, I took it wholeheartedly. Keep reading to see how I spent Four Days in Singapore: Tips, Activities, Cost.
ABOUT SINGAPORE
Singapore is located in Southeast Asia and is an island-city state. Singapore was first joined to Malaysia until 1965 when it became independent. Singapore is a financial and technological powerhouse with one of the strongest economies in the world. Its currency, the Singaporean dollar is on par with the US Dollar.
MY FOUR DAYS BREAKDOWN IN SINGAPORE
Four days in Singapore was the perfect amount of time to experience the country. The country is only 721.5 km². To put this in perspective, New York is 783.8 km². My cab driver mentioned that we could drive through the whole of Singapore in 50 minutes. I say all of this to say, you don't need that much time to fully experience the country.
Day one – Arrivals and Settling In
I arrived at Singapore's only airport – Changi Airport and this was the perfect introduction to Singapore. Changi Airport has been named the Best airport in the world and it's hard not to see why. If you're flying into Singapore, make sure to take some time to experience this airport as it is one for the books.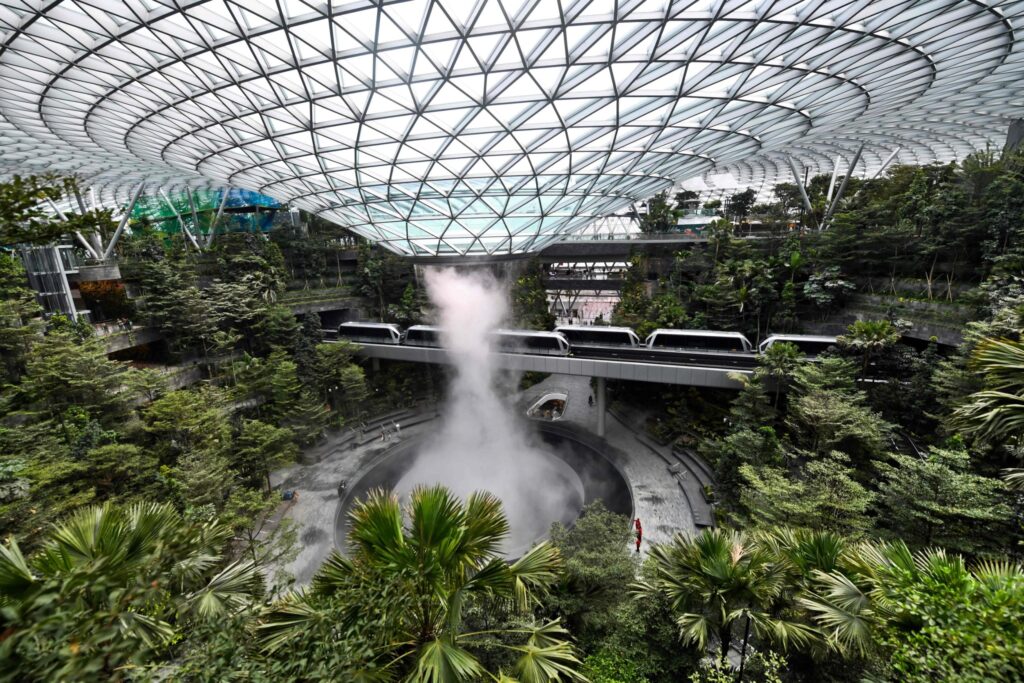 CHECKING INTO – MARINA BAY SANDS
Marina Bay Sands is Singapore's premier hotel. Simply put, it's the place to stay when in Singapore. It's a luxury hotel destination that also houses the world's largest infinity pool. Upon spotting this hotel months before my trip, I knew I had to stay here. Did it meet my expectation? Absolutely yes!
TIP – The Marina Bay Sands is a hot spot in Singapore so it is always fully booked. Make sure to plan in advance if you want to stay here.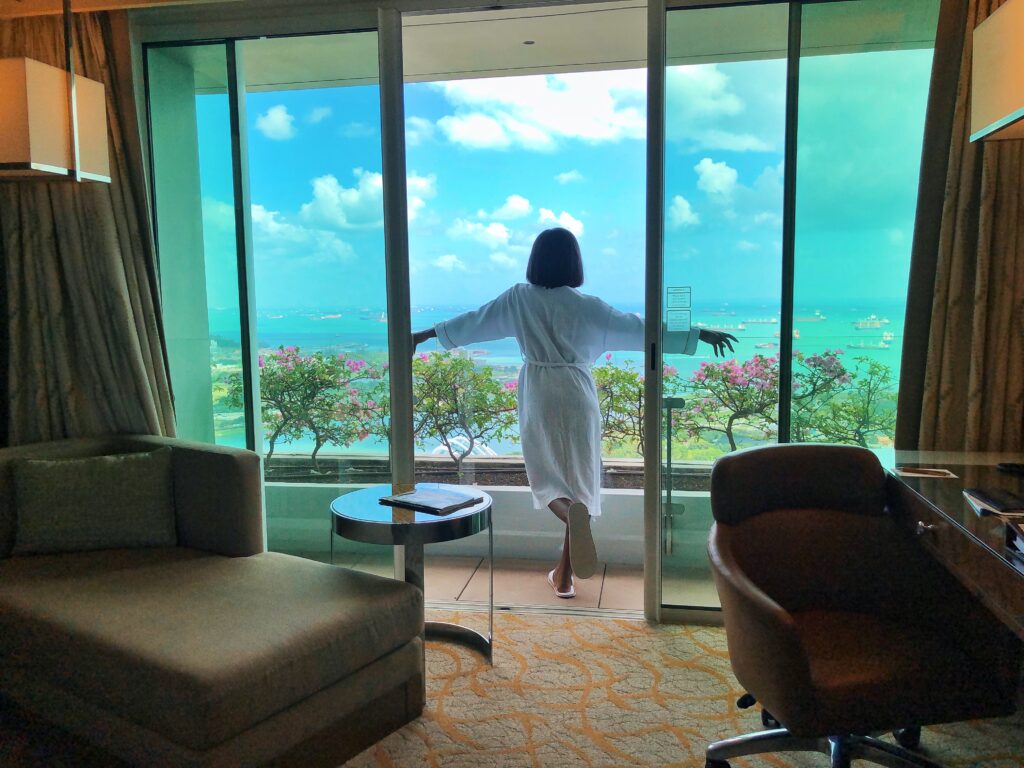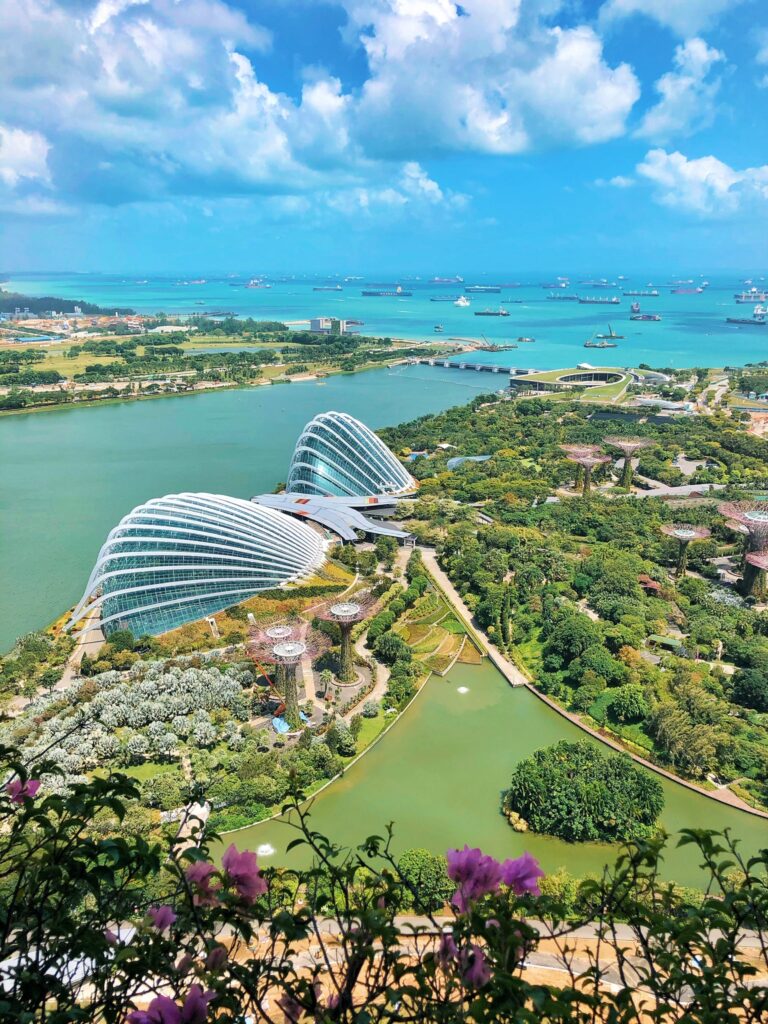 COST of my deluxe room with harbour views – $389 USD per night – taxes not included.
Day two – Infinity pools and city tours
I started off day two at the famous rooftop pool in the hotel. This is not a regular infinity pool – this is the world's largest infinity pool so of course, I had to make a stop there. I attempted to beat the crowd by getting there at 5 am (the pool opens up at 6 am) but I failed as there were lots of other people who had the very same plan. Regardless, I was able to enjoy myself as the pool was large enough to accommodate everybody. And oh, those views were stunning.
The world's largest infinity pool – mARINA BAY SANDS
Located at the hotel, Marina Bay Sands in Singapore is the world's largest infinity pool. It is 340m high and overlooks the impressive skyline of Singapore. This infinity pool is only accessible to hotel guests as you'd need your room tag to go in – no day passes allowed.
TIP: For the best experience, come here early in the day – I recommend 5 am just before sunrise. You get to watch the magnificent sunshine over the skyline of Singapore and beat the crowd a little. It would be worth the extra effort.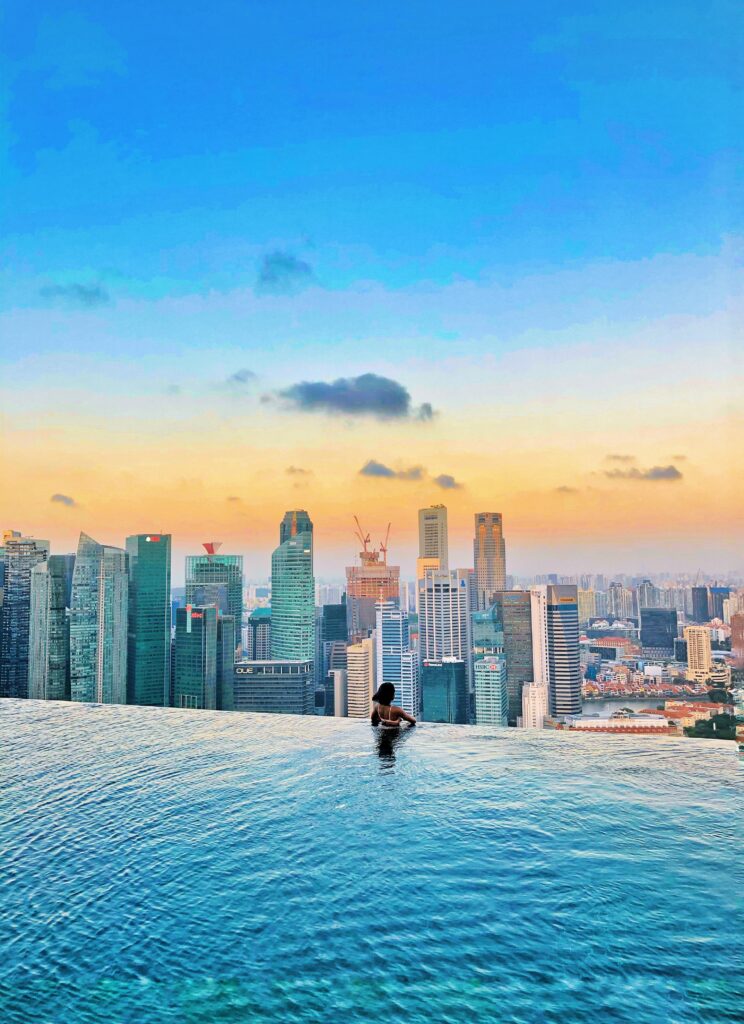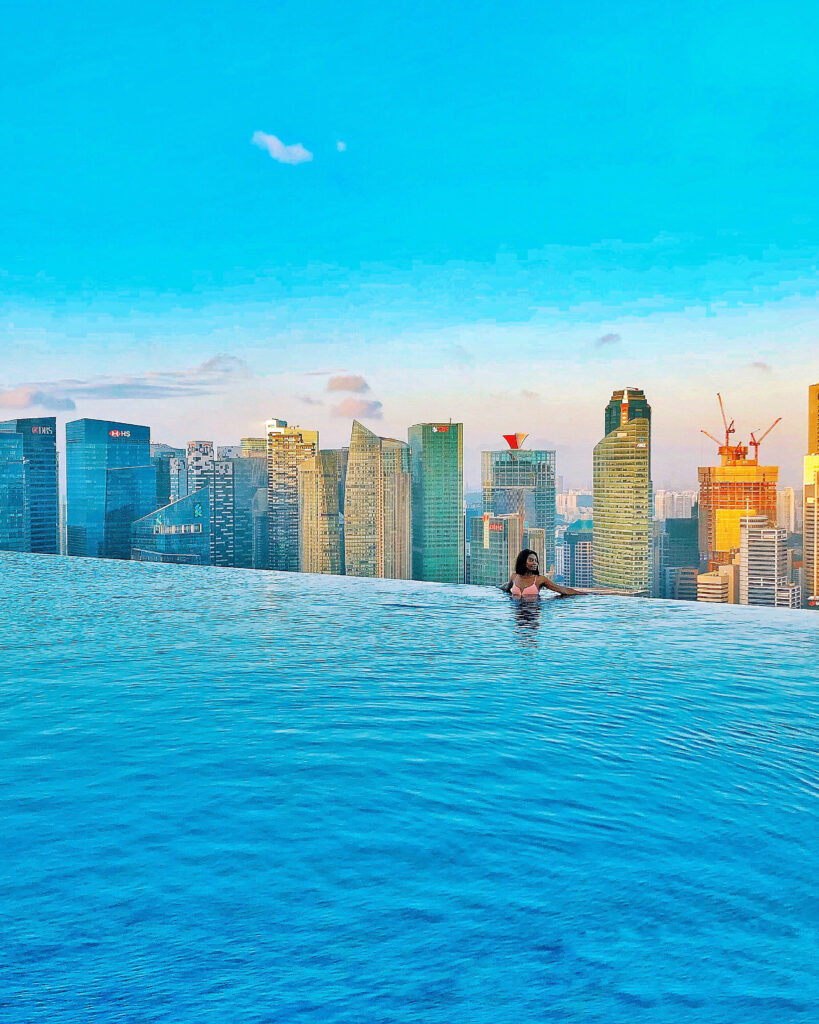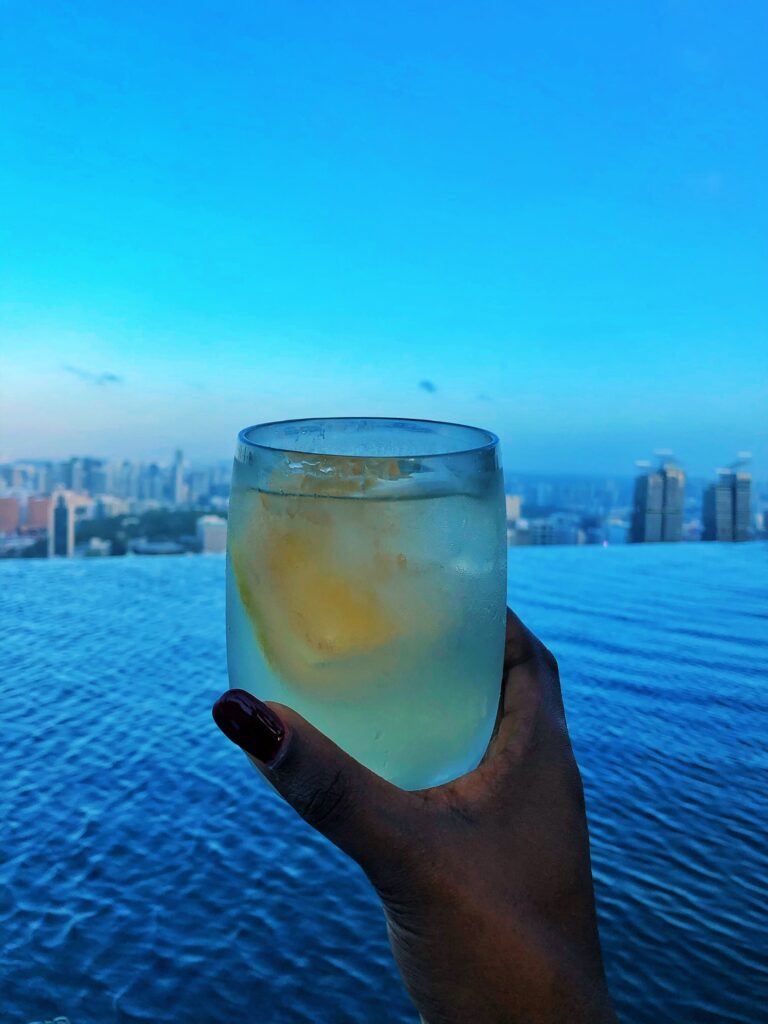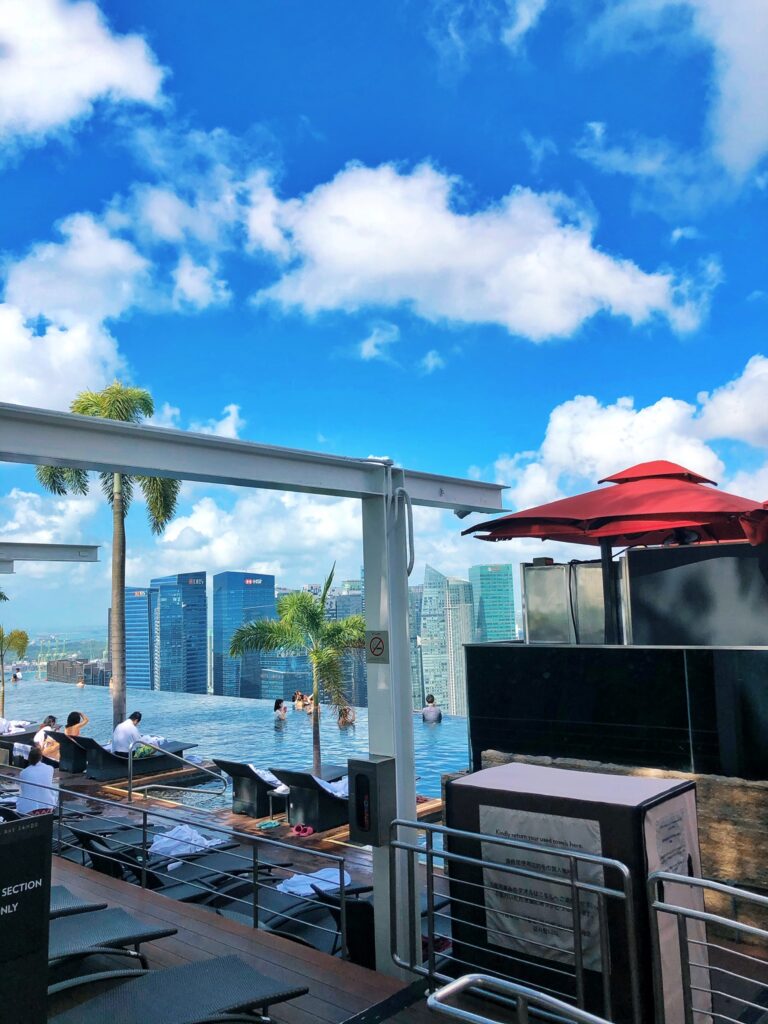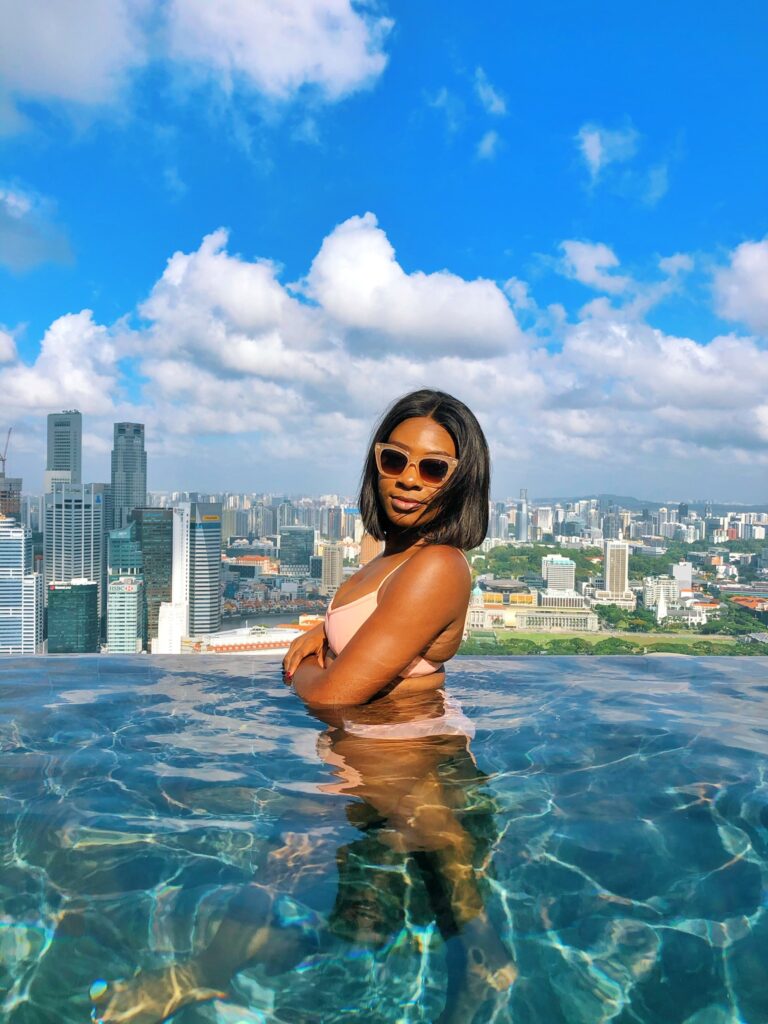 CITY TOUR – EXPLORING SINGAPORE (GARDENS BY THE BAY)
Soon after cooling off at the rooftop pool, my legs were itchy to begin exploring. The great thing about staying at Marina Bay Sands is that I was in the thick of the action and most of the things I wanted to do were within walking distance. I wanted to see the Gardens by the Bay and it was right behind the hotel. I recommend seeing the Gardens by the Bay both in the morning and at night time. The night show is PHENOMENAL.
TIP: For the best experience, get a ticket for and go to the OCBC Skyway to see the gardens from a different viewpoint. The Skyway bridge is quite windy and shaky but truly nothing to worry about. The cost is SGD 8 and can be bought at the entry.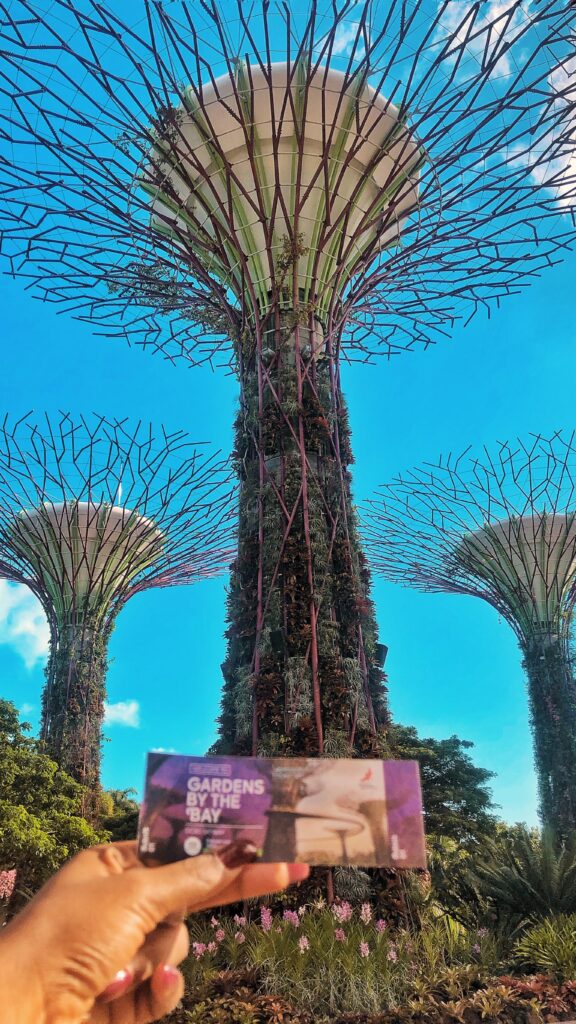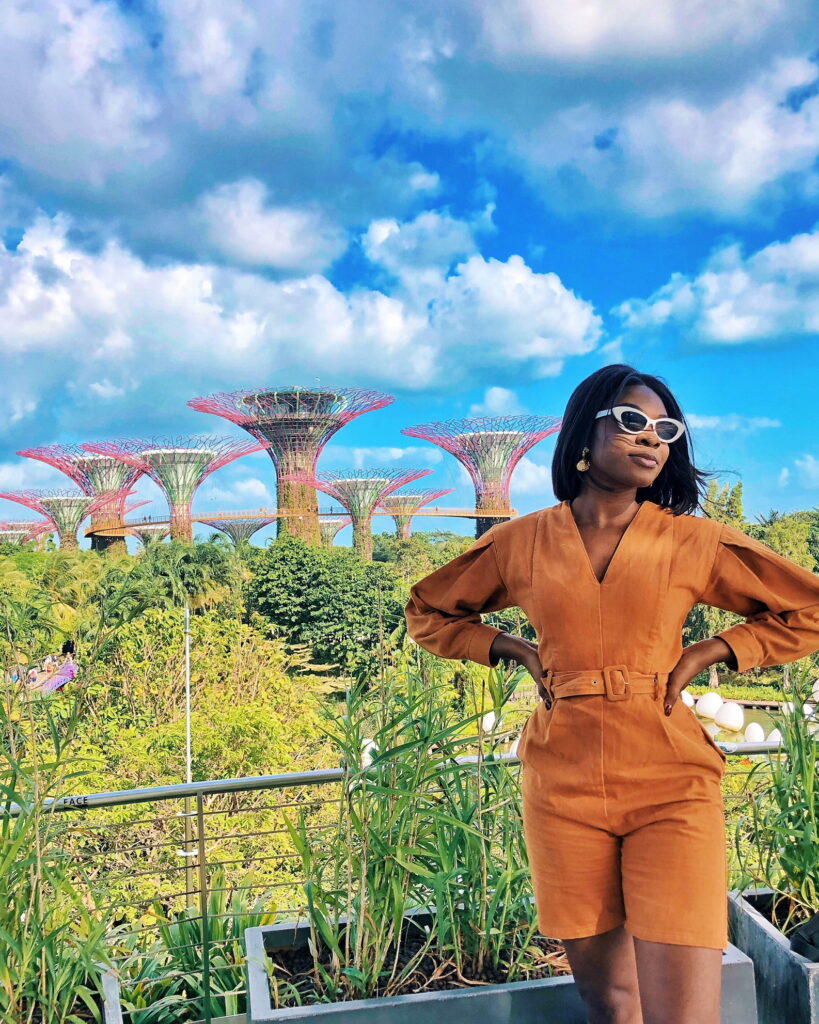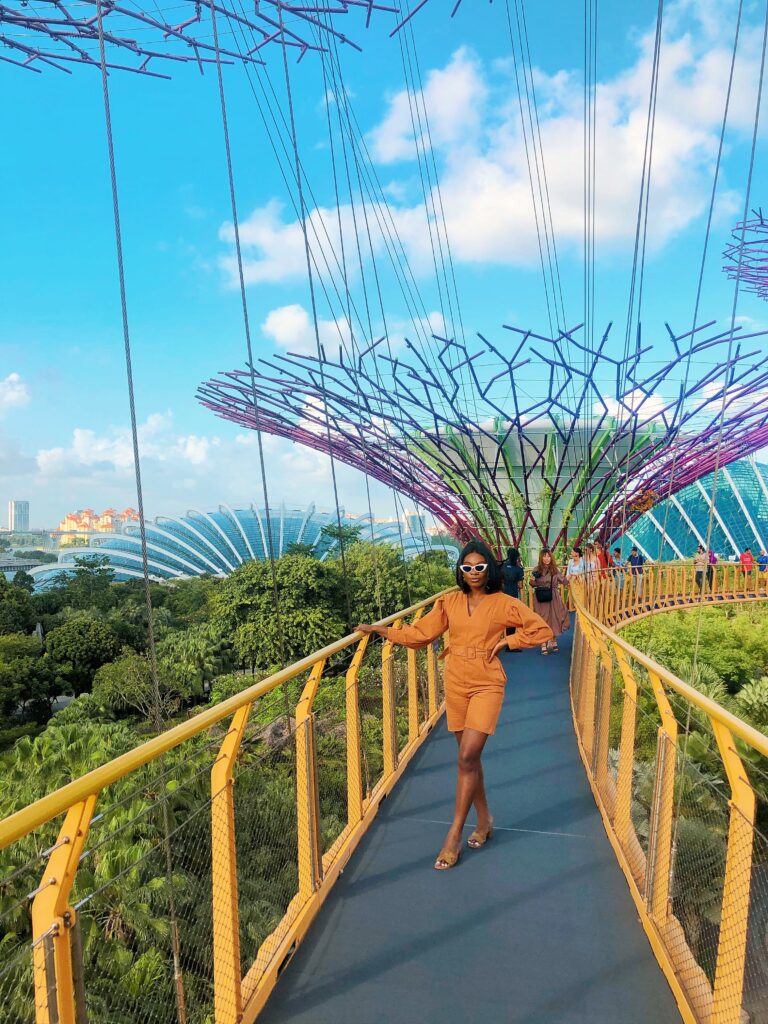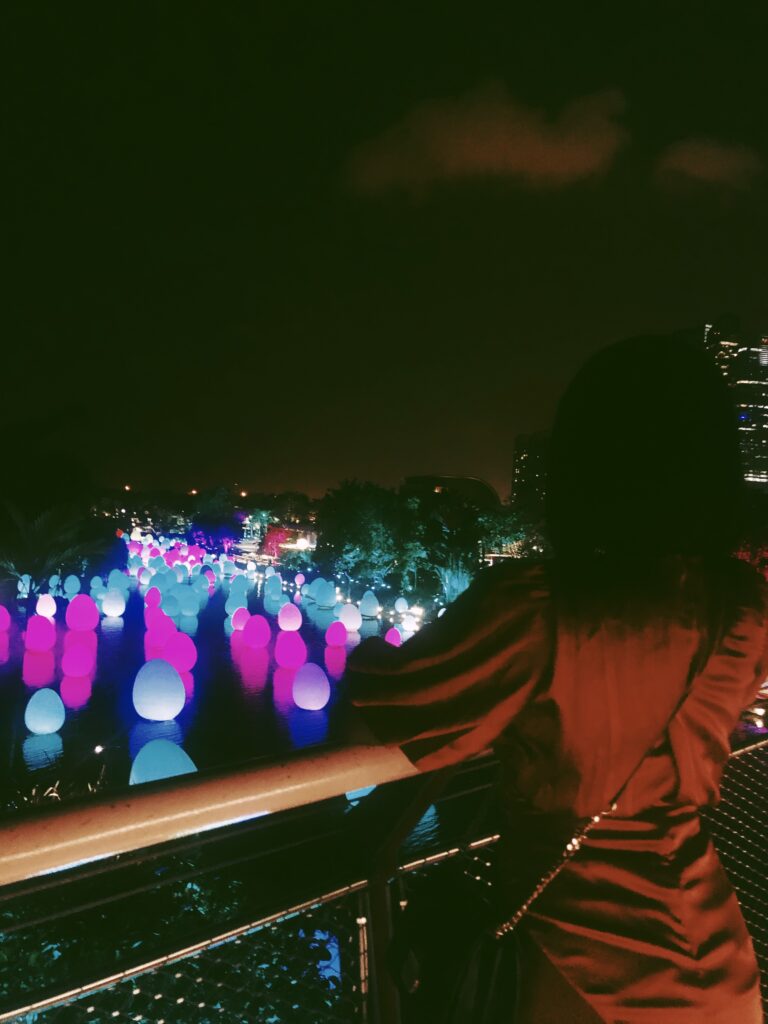 Day four – China Town and more Singapore exploration (Merloin)
My fourth day in Singapore was pretty chill but one thing I wanted to do was go to China Town and do a little food tour – which I did. I barely took any photos but this place certainly pulled me in and I had a great time getting lost here. Afterward, I met up with Jonathan – a photographer from Airbnb experiences who took some photos of me at the Merloin.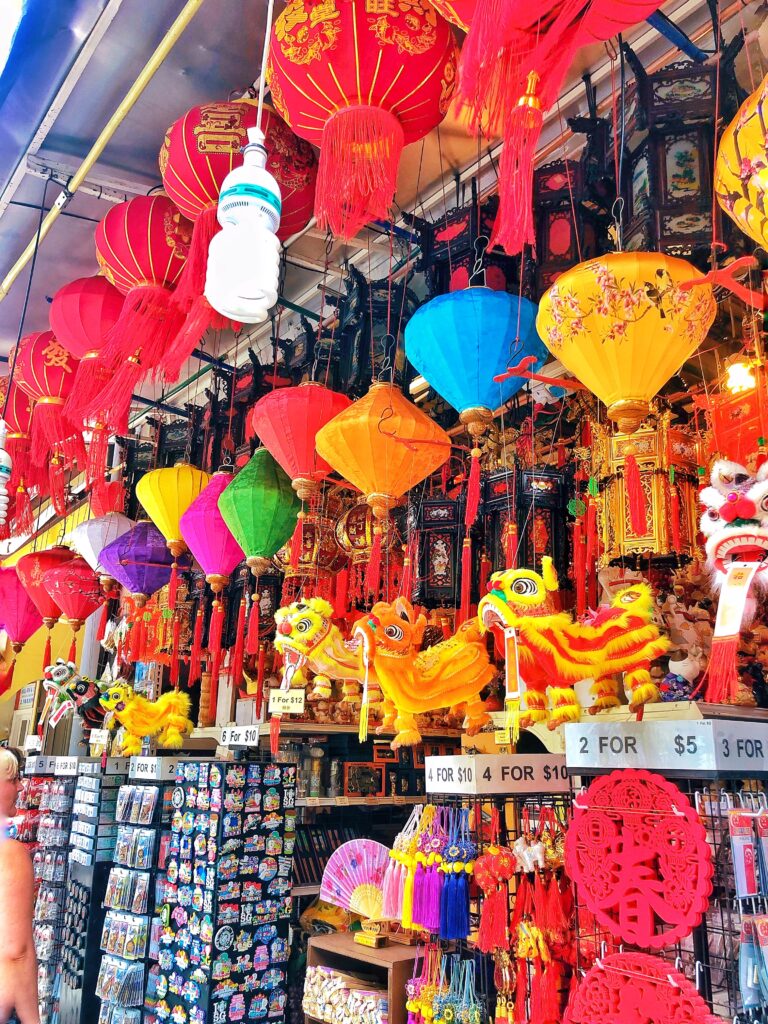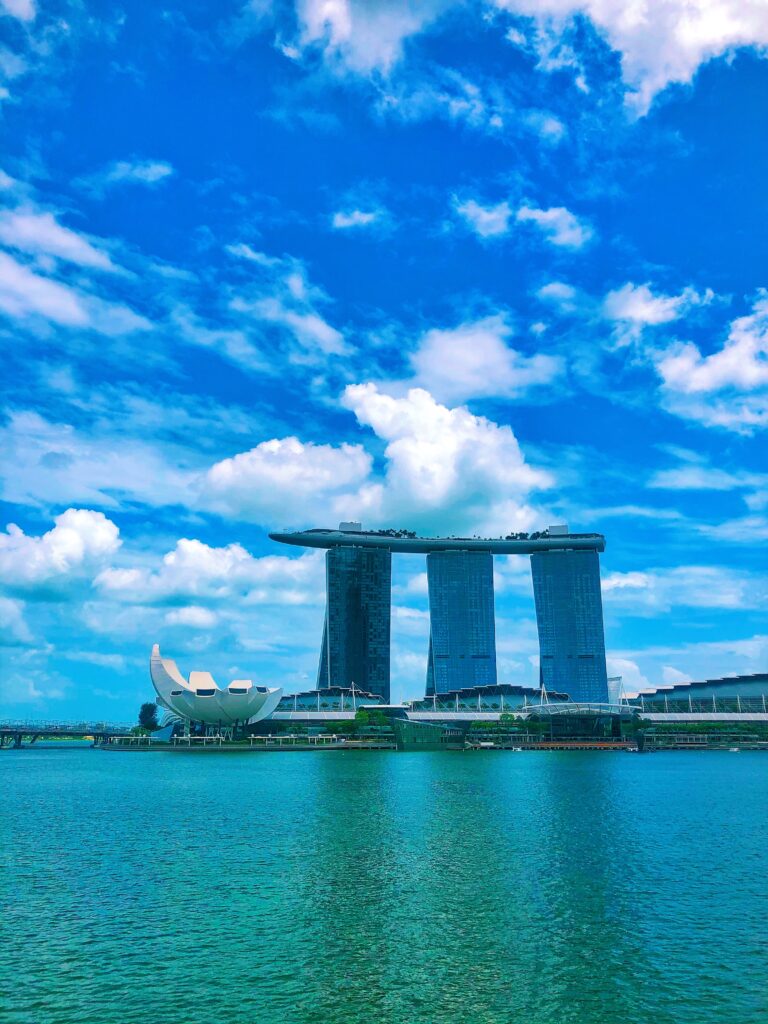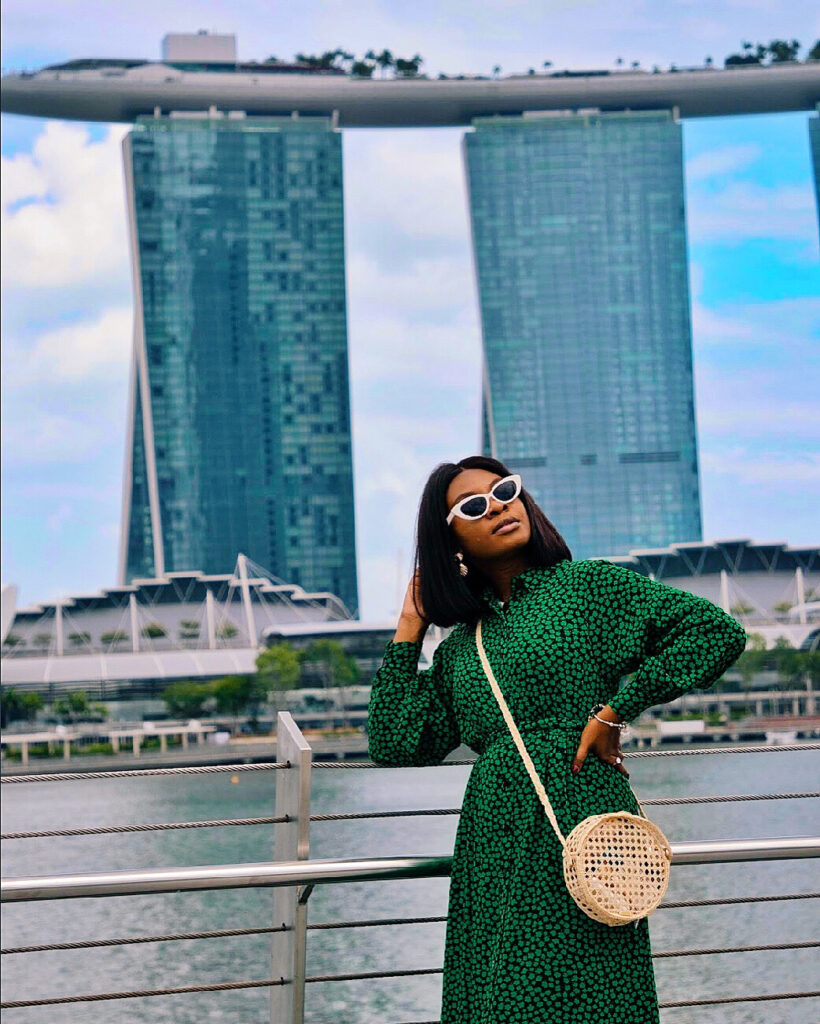 Day four – Sentosa Island
There are only a few countries/cities where you can get both beach and city in a heartbeat – I can think of Rio De Janeiro and Miami, Florida and that list gets shorter and shorter. I love that with Singapore, you can get the very best of both worlds – World-class architecture and skylines AND a beautiful island coast. Enter Sentosa Island.
TIP: Sentosa Beach is a great place to add to your Singapore itinerary and getting there was easy. I took a 20-minute Grab ride and it was quick and easy. There are lots of activities to do there but I wanted a relaxing beach day.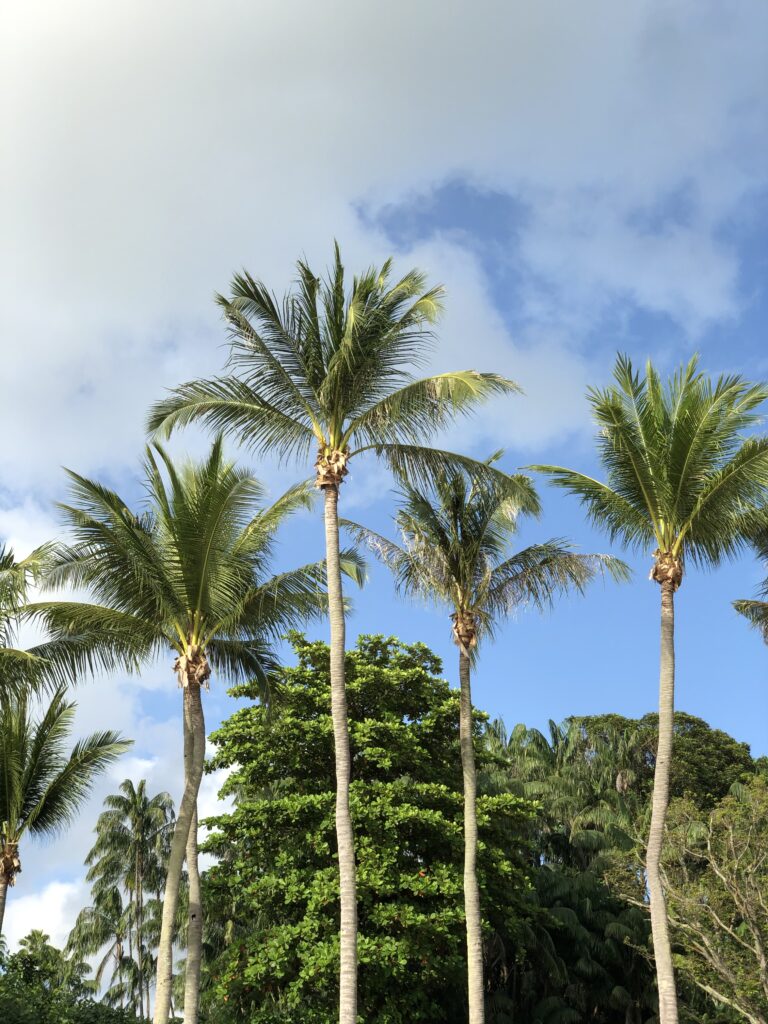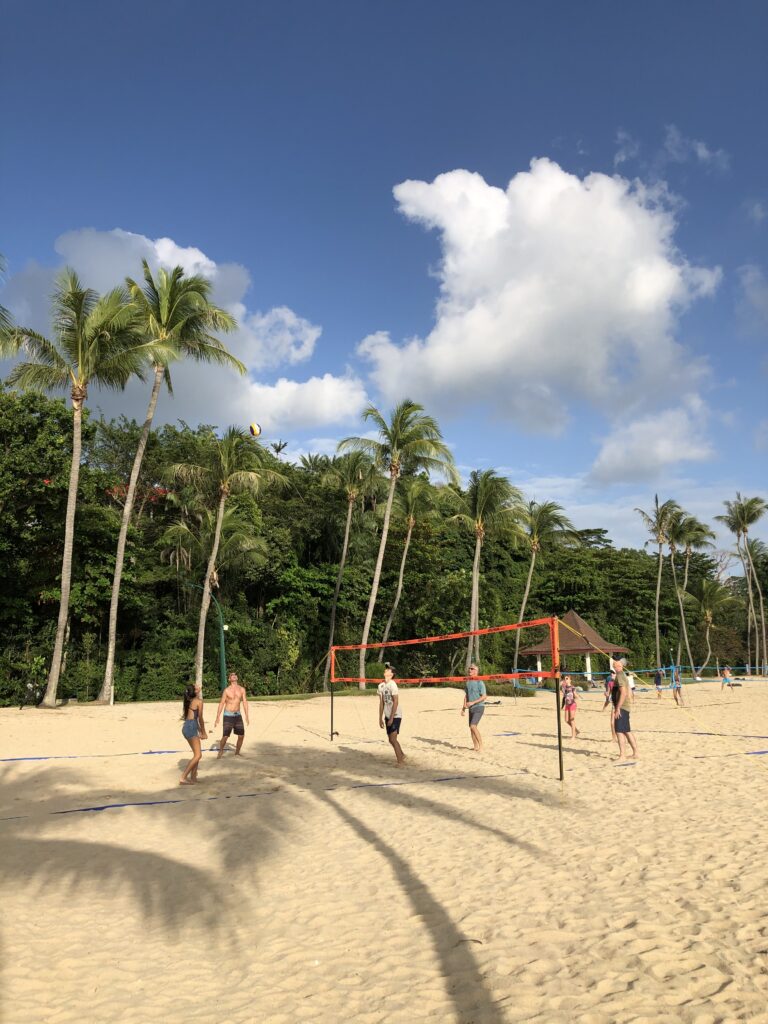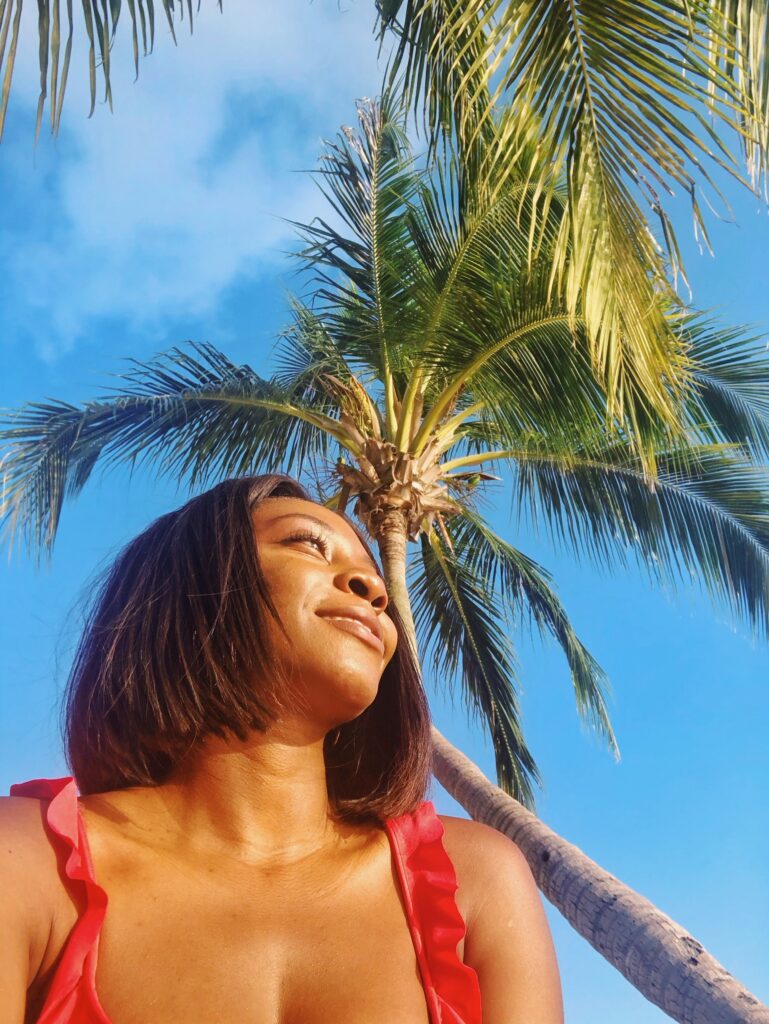 Conclusion
Four days in Singapore was the perfect amount of time to spend there. As you probably already can tell, I was looking for a very relaxing and quiet stay with a little bit of historical sightseeing here and there. There's a lot more to do in Singapore but this is exactly how I had envisioned my own stay there. If I ever return, I'd go to the Art and Science Museum and stay at the Marina Bay Sands AGAIN.
Ever been to Singapore? Is it on your list of countries to visit? I'd love to hear your thoughts in the comments!